The wages of sin is death, but for those who reject God's love and grace, there awaits an even greater punishment. Hell is a place of eternal separation from God, a lake of fire prepared for the devil and his angels. There, the unrepentant will experience never-ending anguish and despair.
Though God takes no pleasure in punishing the wicked, justice demands that those who choose evil face the consequences of their rebellion. Just as criminals are locked away to protect society, so too must the violently opposed to truth be quarantined in hell.
Hell is not merely the absence of God's presence, but the experience of his active wrath being poured out against sin. The fiery torment awaits all who die in their trespasses, having stored up God's wrath against themselves throughout their unrepentant lives.
The Bible warns that on judgment day, many will cry out "Lord, Lord" only to hear those dreadful words "I never knew you; depart from me." For them, it will be too late. The door will shut and they will be eternally separated from the God they rejected.
Dear friends, now let's see the Bible scriptures below that talk about this solemn topic. The promise of fiery judgment should compel us to repentance and faith in Christ, who bore God's wrath on the cross so that we would not have to.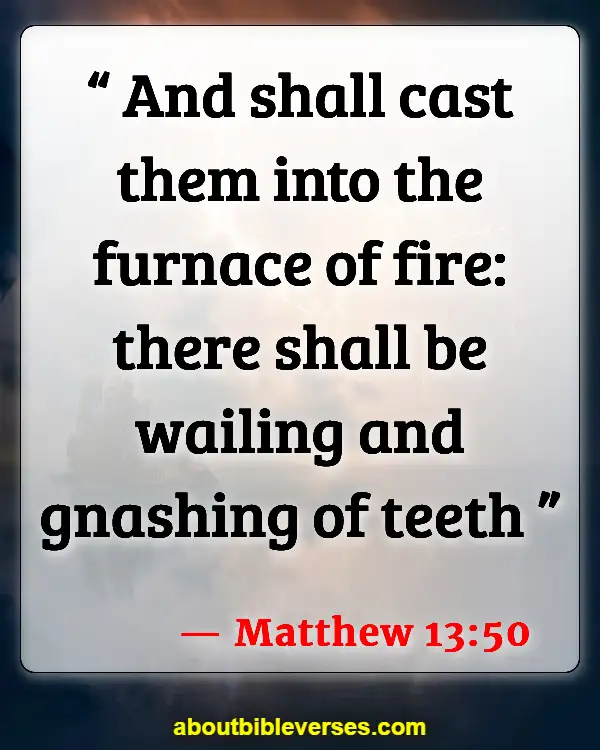 Matthew 13:50
"And shall cast them into the furnace of fire: there shall be wailing and gnashing of teeth"
Mark 9:48
"Where their worm dieth not, and the fire is not quenched"
Luke 12:5
"But I will forewarn you whom ye shall fear: Fear him, which after he hath killed hath power to cast into hell; yea, I say unto you, Fear him"
2 Thessalonians 1:9
"Who shall be punished with everlasting destruction from the presence of the Lord, and from the glory of his power"
Revelation 14:11
"And the smoke of their torment ascendeth up for ever and ever: and they have no rest day nor night, who worship the beast and his image, and whosoever receiveth the mark of his name"
Revelation 20:10
"And the devil that deceived them was cast into the lake of fire and brimstone, where the beast and the false prophet are, and shall be tormented day and night for ever and ever"
Revelation 21:8
"But the fearful, and unbelieving, and the abominable, and murderers, and whoremongers, and sorcerers, and idolaters, and all liars, shall have their part in the lake which burneth with fire and brimstone: which is the second death"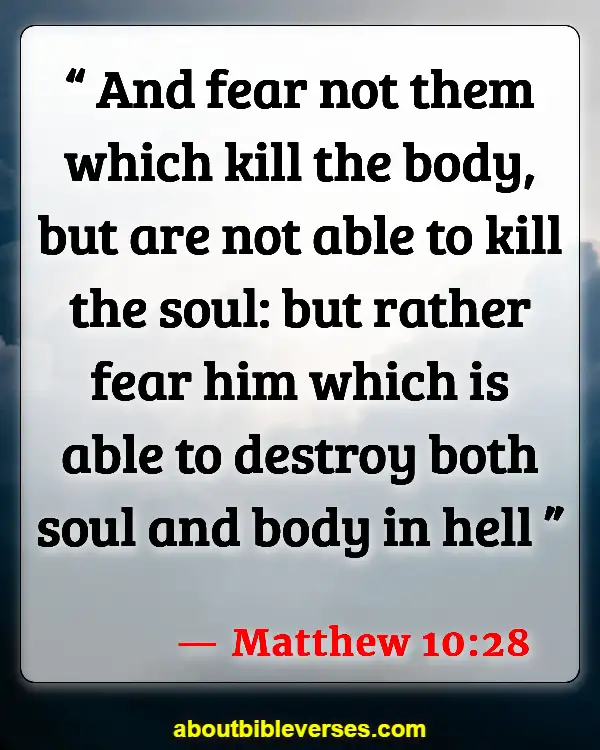 Matthew 10:28
"And fear not them which kill the body, but are not able to kill the soul: but rather fear him which is able to destroy both soul and body in hell"
Matthew 13:42
"And shall cast them into a furnace of fire: there shall be wailing and gnashing of teeth"
Matthew 25:41
"Then shall he say also unto them on the left hand, Depart from me, ye cursed, into everlasting fire, prepared for the devil and his angels"
Matthew 5:22
"But I say unto you, That whosoever is angry with his brother without a cause shall be in danger of the judgment: and whosoever shall say to his brother, Raca, shall be in danger of the council: but whosoever shall say, Thou fool, shall be in danger of hell fire"
Matthew 5:29
"And if thy right eye offend thee, pluck it out, and cast it from thee: for it is profitable for thee that one of thy members should perish, and not that thy whole body should be cast into hell"
Matthew 5:30
"And if thy right hand offend thee, cut it off, and cast it from thee: for it is profitable for thee that one of thy members should perish, and not that thy whole body should be cast into hell"
Matthew 8:12
"But the children of the kingdom shall be cast out into outer darkness: there shall be weeping and gnashing of teeth"
Matthew 22:13
"Then said the king to the servants, Bind him hand and foot, and take him away, and cast him into outer darkness, there shall be weeping and gnashing of teeth"
Matthew 24:51
"And shall cut him asunder, and appoint him his portion with the hypocrites: there shall be weeping and gnashing of teeth"
Luke 13:28
"There shall be weeping and gnashing of teeth, when ye shall see Abraham, and Isaac, and Jacob, and all the prophets, in the kingdom of God, and you yourselves thrust out"
2 Peter 2:4
"For if God spared not the angels that sinned, but cast them down to hell, and delivered them into chains of darkness, to be reserved unto judgment"
Revelation 19:20
"And the beast was taken, and with him the false prophet that wrought miracles before him, with which he deceived them that had received the mark of the beast, and them that worshipped his image. These both were cast alive into a lake of fire burning with brimstone"
Revelation 20:14
"And death and hell were cast into the lake of fire. This is the second death"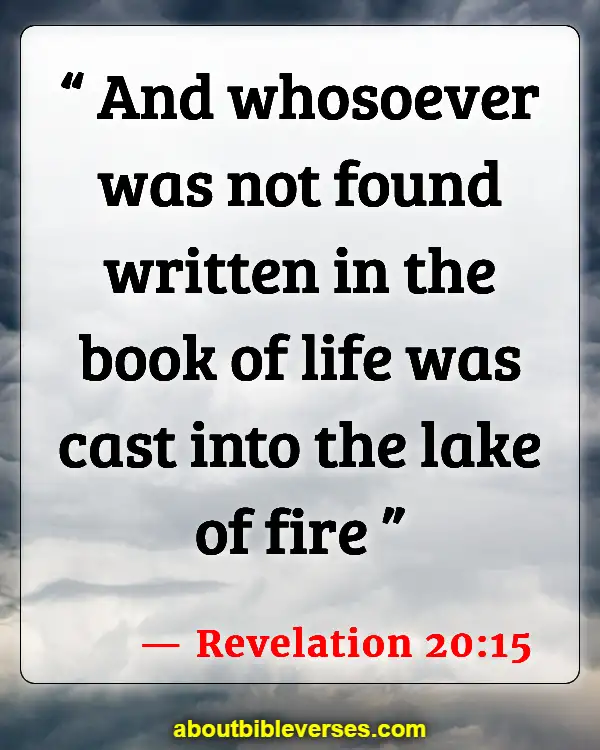 Revelation 20:15
"And whosoever was not found written in the book of life was cast into the lake of fire"
Luke 16:24
"And he cried and said, Father Abraham, have mercy on me, and send Lazarus, that he may dip the tip of his finger in water, and cool my tongue; for I am tormented in this flame"
Luke 16:28
"For I have five brethren; that he may testify unto them, lest they also come into this place of torment"
Acts 2:27
"Because thou wilt not leave my soul in hell, neither wilt thou suffer thine Holy One to see corruption"
2 Thessalonians 1:8
"In flaming fire taking vengeance on them that know not God, and that obey not the gospel of our Lord Jesus Christ"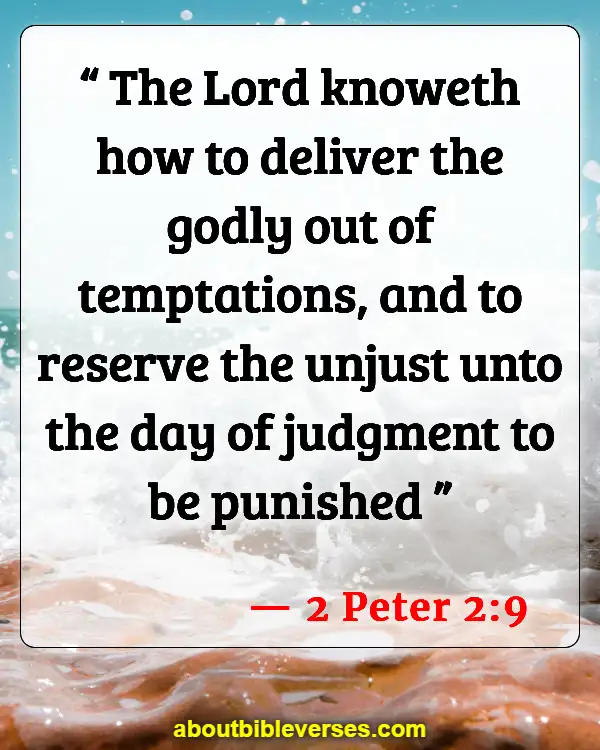 2 Peter 2:9
"The Lord knoweth how to deliver the godly out of temptations, and to reserve the unjust unto the day of judgment to be punished"
Revelation 2:11
"He that hath an ear, let him hear what the Spirit saith unto the churches; He that overcometh shall not be hurt of the second death"
Revelation 9:2
"And he opened the bottomless pit; and there arose a smoke out of the pit, as the smoke of a great furnace; and the sun and the air were darkened by reason of the smoke of the pit"
Revelation 9:5
"And to them it was given that they should not kill them, but that they should be tormented five months: and their torment was as the torment of a scorpion, when he striketh a man"
Revelation 11:7
"And when they shall have finished their testimony, the beast that ascendeth out of the bottomless pit shall make war against them, and shall overcome them, and kill them"
Revelation 17:8
"The beast that thou sawest was, and is not; and shall ascend out of the bottomless pit, and go into perdition: and they that dwell on the earth shall wonder, whose names were not written in the book of life from the foundation of the world, when they behold the beast that was, and is not, and yet is"
Revelation 20:1
"And I saw an angel come down from heaven, having the key of the bottomless pit and a great chain in his hand"
Revelation 20:3
"And cast him into the bottomless pit, and shut him up, and set a seal upon him, that he should deceive the nations no more, till the thousand years should be fulfilled: and after that he must be loosed a little season"
Revelation 20:13
"And the sea gave up the dead which were in it; and death and hell delivered up the dead which were in them: and they were judged every man according to their works"
1 Corinthians 6:9
"Know ye not that the unrighteous shall not inherit the kingdom of God? Be not deceived: neither fornicators, nor idolaters, nor adulterers, nor effeminate, nor abusers of themselves with mankind"
Galatians 5:21
"Envyings, murders, drunkenness, revellings, and such like: of the which I tell you before, as I have also told you in time past, that they which do such things shall not inherit the kingdom of God"
Hebrews 10:29
"Of how much sorer punishment, suppose ye, shall he be thought worthy, who hath trodden under foot the Son of God, and hath counted the blood of the covenant, wherewith he was sanctified, an unholy thing, and hath done despite unto the Spirit of grace?"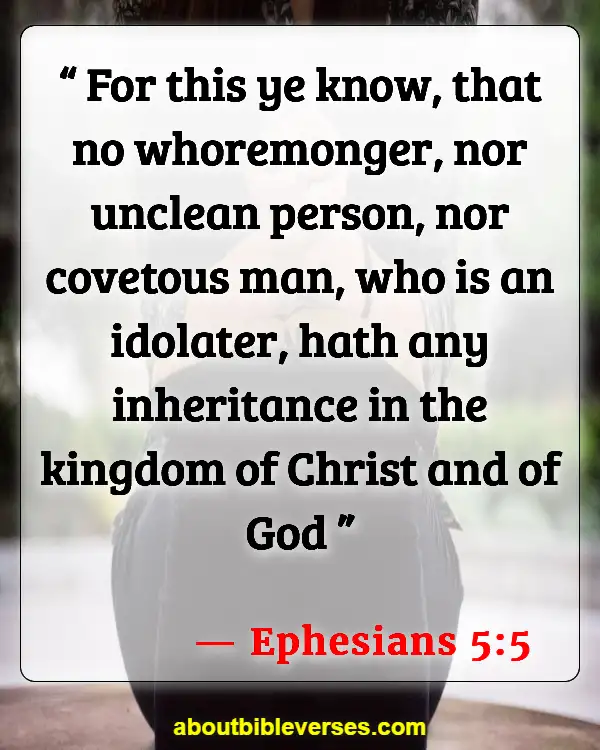 Ephesians 5:5
"For this ye know, that no whoremonger, nor unclean person, nor covetous man, who is an idolater, hath any inheritance in the kingdom of Christ and of God"