Dear friends, in this life we will all face trials and tribulations. They come in many forms – illness, financial hardship, loss of loved ones, broken relationships. It's easy to ask "Why me?" and become discouraged when difficulties arise. However, the Bible teaches us an important perspective on suffering.
God promises that He will be with us in our pain. When we feel alone, He is there. When we feel too weak to go on, He will carry us. His grace is sufficient for every trial we face.
God also uses problems to strengthen our faith and develop our character. As we rely on Him during hardships, we learn to trust Him more. Our trials produce perseverance and hope. Suffering helps us grow in wisdom and maturity.
So next time trials come, don't despair. Rest in the knowledge that God is using this for good in your life. Rely on His strength to see you through. He will never leave you or forsake you. Place your hope in the God of all comfort. He promises joy in the morning after weeping through the night. Keep your eyes fixed on the eternal prize.
Dear friends now let's see the Bible scriptures below that talk about Problems And Trials.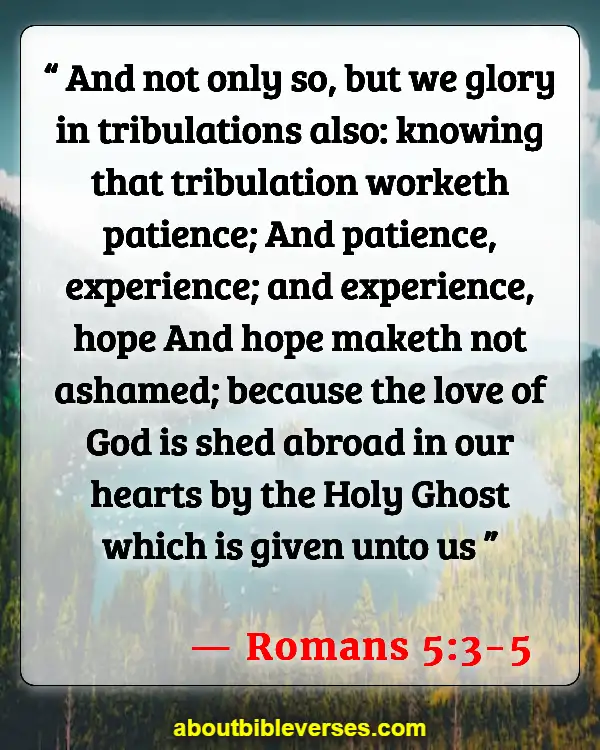 Romans 5:3-5
"And not only so, but we glory in tribulations also: knowing that tribulation worketh patience; And patience, experience; and experience, hope: And hope maketh not ashamed; because the love of God is shed abroad in our hearts by the Holy Ghost which is given unto us"
Romans 12:12
"Rejoicing in hope; patient in tribulation; continuing instant in prayer"
James 1:12
"Blessed is the man that endureth temptation: for when he is tried, he shall receive the crown of life, which the Lord hath promised to them that love him"
2 Timothy 3:12
"Yea, and all that will live godly in Christ Jesus shall suffer persecution"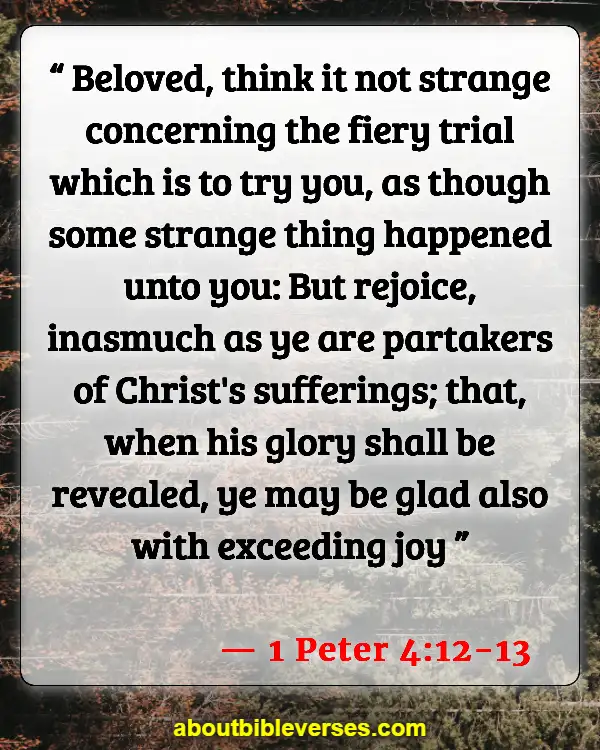 1 Peter 4:12-13
"Beloved, think it not strange concerning the fiery trial which is to try you, as though some strange thing happened unto you: But rejoice, inasmuch as ye are partakers of Christ's sufferings; that, when his glory shall be revealed, ye may be glad also with exceeding joy"
Matthew 11:28-30
"Come unto me, all ye that labour and are heavy laden, and I will give you rest. Take my yoke upon you, and learn of me; for I am meek and lowly in heart: and ye shall find rest unto your souls. For my yoke is easy, and my burden is light"
2 Timothy 2:10
"Therefore I endure all things for the elect's sakes, that they may also obtain the salvation which is in Christ Jesus with eternal glory"
2 Timothy 4:5
"But watch thou in all things, endure afflictions, do the work of an evangelist, make full proof of thy ministry"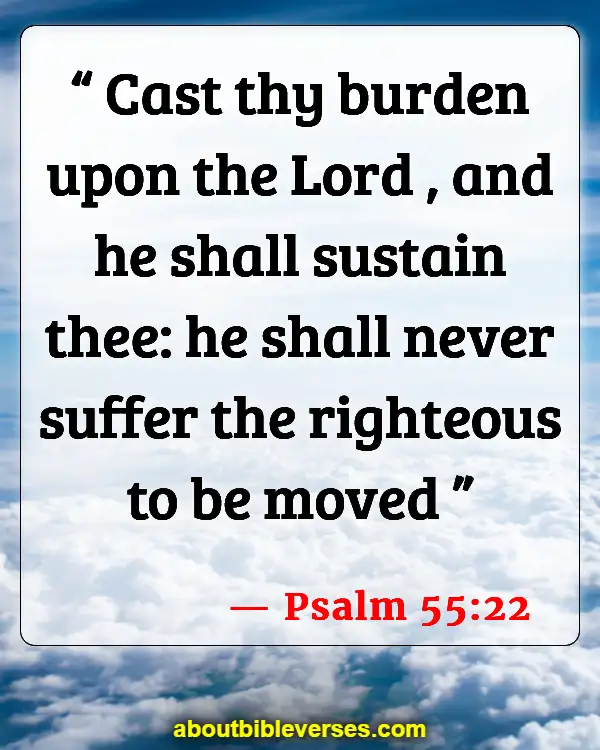 Psalm 55:22
"Cast thy burden upon the Lord , and he shall sustain thee: he shall never suffer the righteous to be moved"
2 Corinthians 6:4-5
"But in all things approving ourselves as the ministers of God, in much patience, in afflictions, in necessities, in distresses, In stripes, in imprisonments, in tumults, in labours, in watchings, in fastings"
Isaiah 41:10
"Fear thou not; for I am with thee: be not dismayed; for I am thy God: I will strengthen thee; yea, I will help thee; yea, I will uphold thee with the right hand of my righteousness"
2 Corinthians 4:16-18
"For which cause we faint not; but though our outward man perish, yet the inward man is renewed day by day. For our light affliction, which is but for a moment, worketh for us a far more exceeding and eternal weight of glory; While we look not at the things which are seen, but at the things which are not seen: for the things which are seen are temporal; but the things which are not seen are eternal"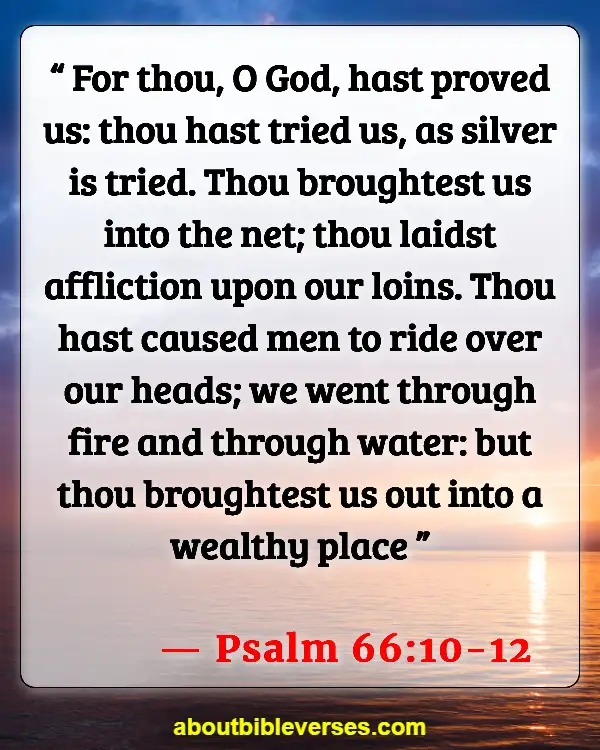 Psalm 66:10-12
"For thou, O God, hast proved us: thou hast tried us, as silver is tried. Thou broughtest us into the net; thou laidst affliction upon our loins. Thou hast caused men to ride over our heads; we went through fire and through water: but thou broughtest us out into a wealthy place"
Romans 8:28
"And we know that all things work together for good to them that love God, to them who are the called according to his purpose"
Romans 8:18
"For I reckon that the sufferings of this present time are not worthy to be compared with the glory which shall be revealed in us"
James 1:2-4
"My brethren, count it all joy when ye fall into divers temptations; Knowing this, that the trying of your faith worketh patience. But let patience have her perfect work, that ye may be perfect and entire, wanting nothing"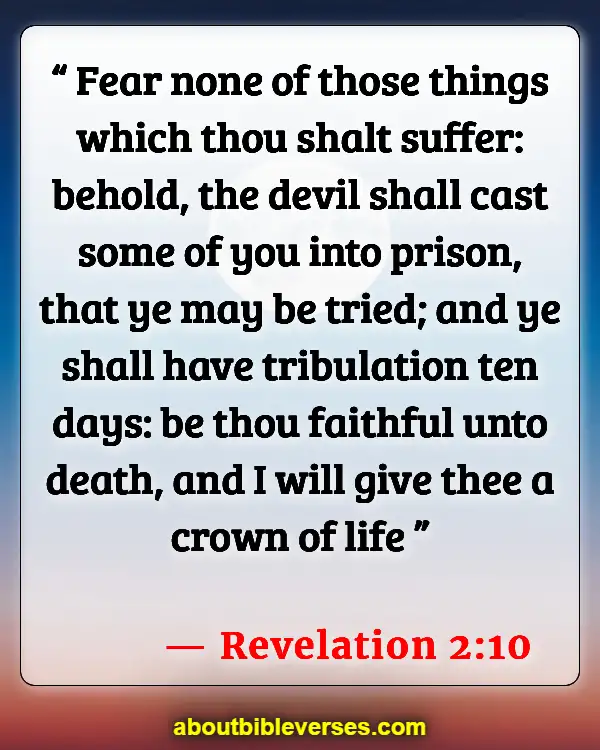 Revelation 2:10
"Fear none of those things which thou shalt suffer: behold, the devil shall cast some of you into prison, that ye may be tried; and ye shall have tribulation ten days: be thou faithful unto death, and I will give thee a crown of life"
1 Peter 4:12
"Beloved, think it not strange concerning the fiery trial which is to try you, as though some strange thing happened unto you"
1 Peter 4:19
"Wherefore let them that suffer according to the will of God commit the keeping of their souls to him in well doing, as unto a faithful Creator"
Acts 14:22
"Confirming the souls of the disciples, and exhorting them to continue in the faith, and that we must through much tribulation enter into the kingdom of God"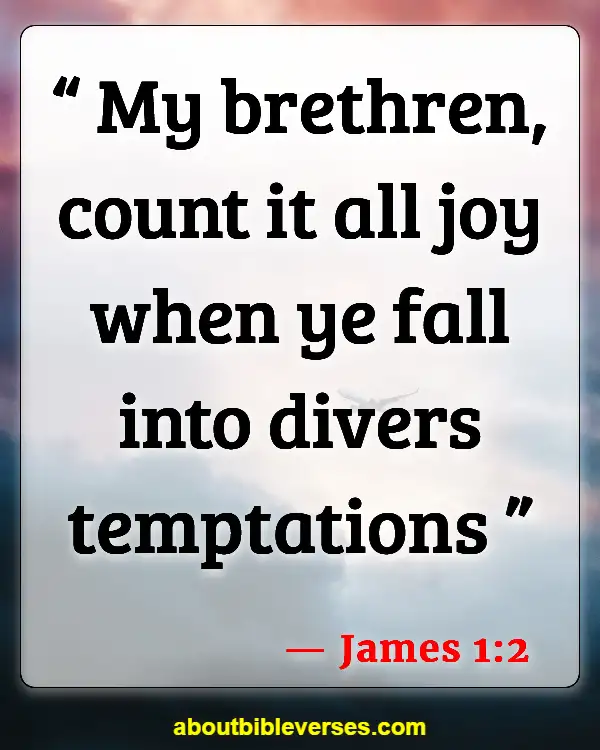 James 1:2
"My brethren, count it all joy when ye fall into divers temptations"
1 Peter 5:9
"Whom resist stedfast in the faith, knowing that the same afflictions are accomplished in your brethren that are in the world"
Psalm 119:71
"It is good for me that I have been afflicted; that I might learn thy statutes"
2 Corinthians 4:8-9
"We are troubled on every side, yet not distressed; we are perplexed, but not in despair; Persecuted, but not forsaken; cast down, but not destroyed"
2 Thessalonians 1:6-7
"Seeing it is a righteous thing with God to recompense tribulation to them that trouble you; And to you who are troubled rest with us, when the Lord Jesus shall be revealed from heaven with his mighty angels"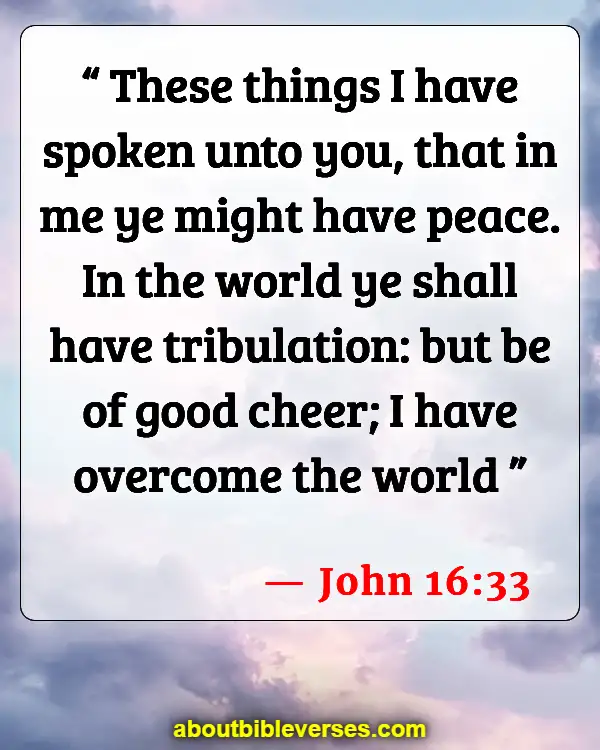 John 16:33
"These things I have spoken unto you, that in me ye might have peace. In the world ye shall have tribulation: but be of good cheer; I have overcome the world"
Psalm 46:1-3
"God is our refuge and strength, a very present help in trouble. Therefore will not we fear, though the earth be removed, and though the mountains be carried into the midst of the sea; Though the waters thereof roar and be troubled, though the mountains shake with the swelling thereof. Selah"
2 Timothy 1:8
"Be not thou therefore ashamed of the testimony of our Lord, nor of me his prisoner: but be thou partaker of the afflictions of the gospel according to the power of God"
2 Corinthians 1:3-4
"Blessed be God, even the Father of our Lord Jesus Christ, the Father of mercies, and the God of all comfort; Who comforteth us in all our tribulation, that we may be able to comfort them which are in any trouble, by the comfort wherewith we ourselves are comforted of God"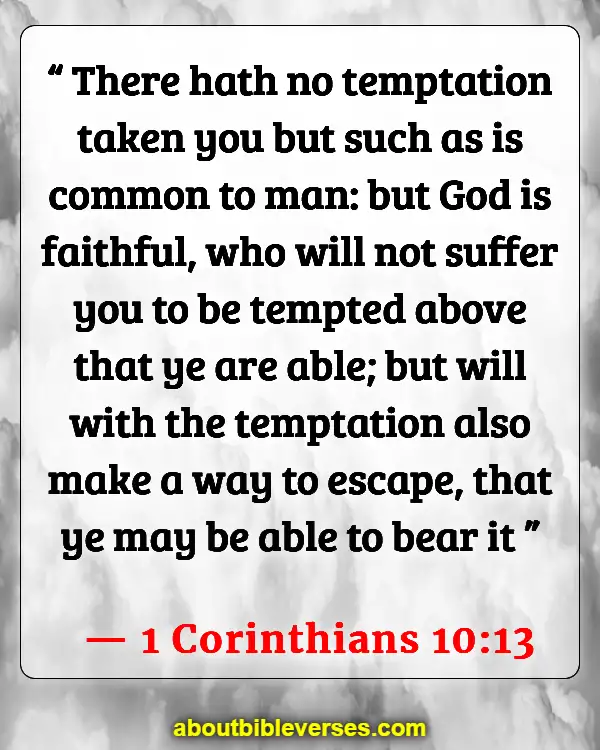 1 Corinthians 10:13
"There hath no temptation taken you but such as is common to man: but God is faithful, who will not suffer you to be tempted above that ye are able; but will with the temptation also make a way to escape, that ye may be able to bear it"
2 Timothy 2:3
"Thou therefore endure hardness, as a good soldier of Jesus Christ"
Hebrews 12:11
"Now no chastening for the present seemeth to be joyous, but grievous: nevertheless afterward it yieldeth the peaceable fruit of righteousness unto them which are exercised thereby"
1 Peter 5:10
"But the God of all grace, who hath called us unto his eternal glory by Christ Jesus, after that ye have suffered a while, make you perfect, stablish, strengthen, settle you"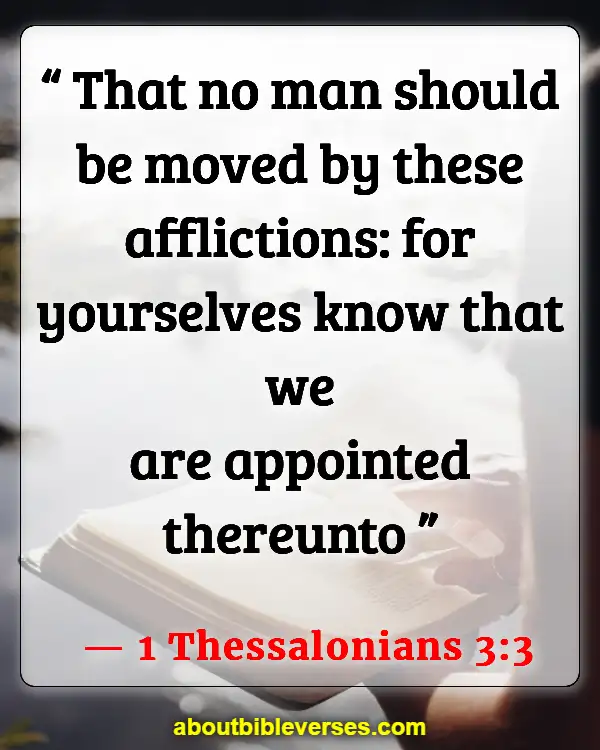 1 Thessalonians 3:3
"That no man should be moved by these afflictions: for yourselves know that we are appointed thereunto"
1 Peter 4:1-2
"Forasmuch then as Christ hath suffered for us in the flesh, arm yourselves likewise with the same mind: for he that hath suffered in the flesh hath ceased from sin; That he no longer should live the rest of his time in the flesh to the lusts of men, but to the will of God"
2 Corinthians 12:9-10
"And he said unto me, My grace is sufficient for thee: for my strength is made perfect in weakness. Most gladly therefore will I rather glory in my infirmities, that the power of Christ may rest upon me. Therefore I take pleasure in infirmities, in reproaches, in necessities, in persecutions, in distresses for Christ's sake: for when I am weak, then am I strong"
1 Peter 2:20
"For what glory is it, if, when ye be buffeted for your faults, ye shall take it patiently? but if, when ye do well, and suffer for it, ye take it patiently, this is acceptable with God"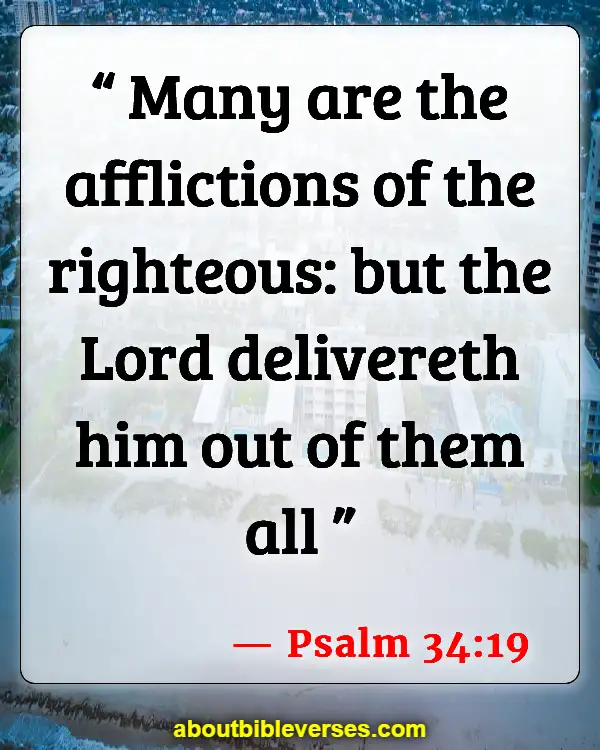 Psalm 34:19
"Many are the afflictions of the righteous: but the Lord delivereth him out of them all"