Dear friends, pride and humility are opposing forces that shape our character. Pride leads us to think more highly of ourselves than we ought, making us self-centered and causing us to look down on others. In contrast, humility recognizes our failings and limitations, leading us to esteem others above ourselves.
The Bible warns that pride goes before destruction. When we are prideful, we stop relying on God and make ourselves the center of our universe. This arrogance blinds us to our faults and misguides our steps. However, God resists the proud and gives grace to the humble.
Humility recognizes that all we have comes from God. With humility, we acknowledge our dependence on Him, seeking His will above our own. This mindset values others and considers their needs as more important than our own. It enables us to serve joyfully, without needing recognition or praise.
The proud mind fixates on status, promotions, and the esteem of others. But the humble heart finds contentment in lifting up Christ, not self. It is not occupied with self-importance, but focused on eternal priorities.
Dear friends, may we reflect Christlike humility in our words, thoughts and actions. Let us esteem others, consider their interests, and point them toward our gracious Savior.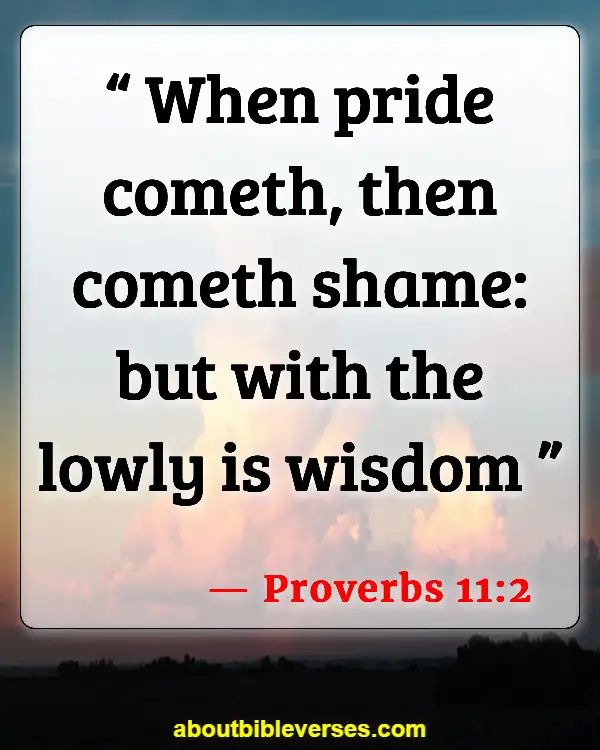 Proverbs 11:2
"When pride cometh, then cometh shame: but with the lowly is wisdom"
Proverbs 16:18
"Pride goeth before destruction, and an haughty spirit before a fall"
Proverbs 29:23
"A man's pride shall bring him low: but honour shall uphold the humble in spirit"
Proverbs 18:12
"Before destruction the heart of man is haughty, and before honour is humility"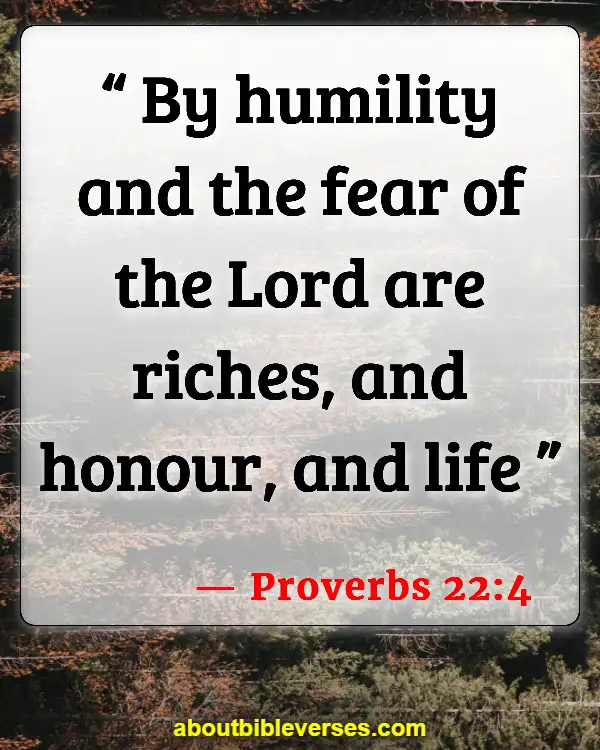 Proverbs 22:4
"By humility and the fear of the Lord are riches, and honour, and life"
Proverbs 15:33
"The fear of the Lord is the instruction of wisdom; and before honour is humility"
Proverbs 8:13
"The fear of the Lord is to hate evil: pride, and arrogancy, and the evil way, and the froward mouth, do I hate"
Proverbs 13:10
"Only by pride cometh contention: but with the well advised is wisdom"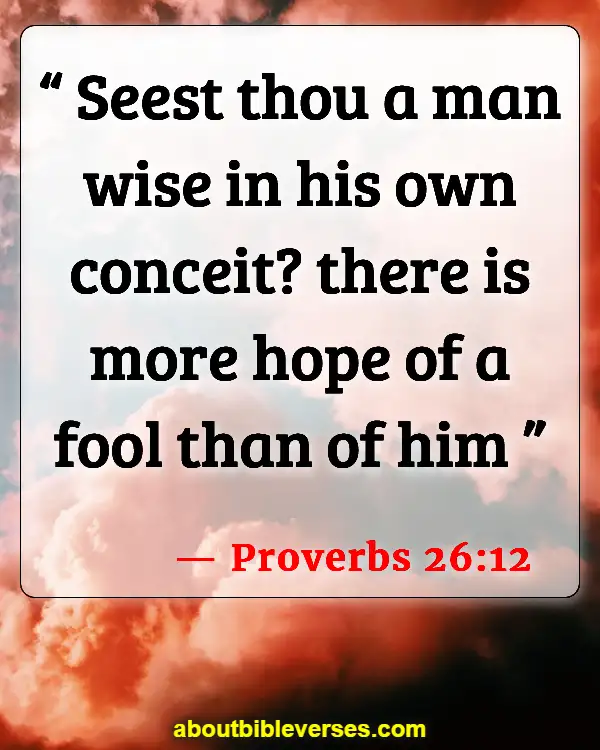 Proverbs 26:12
"Seest thou a man wise in his own conceit? there is more hope of a fool than of him"
Proverbs 28:26
"He that trusteth in his own heart is a fool: but whoso walketh wisely, he shall be delivered"
Proverbs 14:3
"In the mouth of the foolish is a rod of pride: but the lips of the wise shall preserve them"
Proverbs 21:4
"An high look, and a proud heart, and the plowing of the wicked, is sin"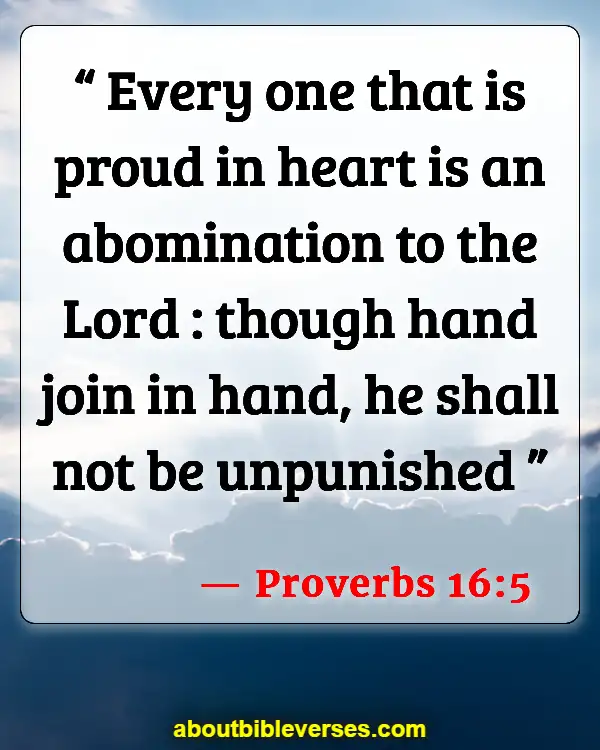 Proverbs 16:5
"Every one that is proud in heart is an abomination to the Lord : though hand join in hand, he shall not be unpunished"
Proverbs 27:2
"Let another man praise thee, and not thine own mouth; a stranger, and not thine own lips"
James 4:6
"But he giveth more grace. Wherefore he saith, God resisteth the proud, but giveth grace unto the humble"
James 4:10
"Humble yourselves in the sight of the Lord, and he shall lift you up"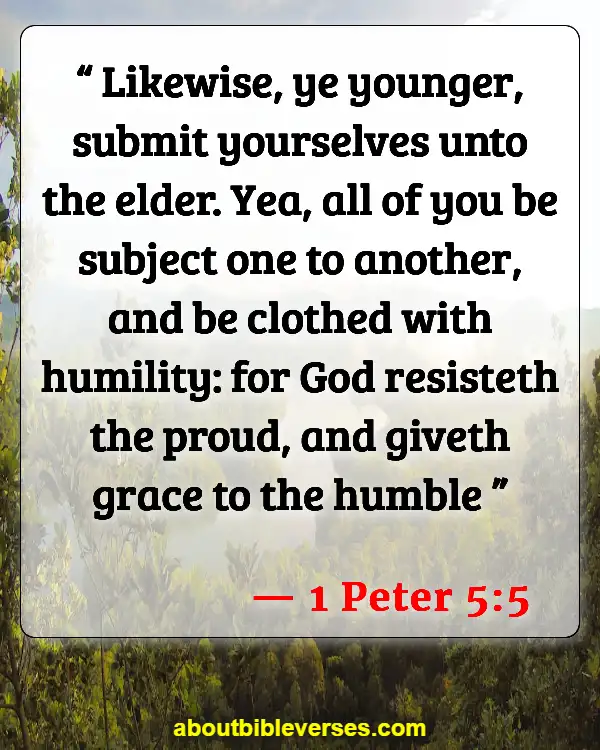 1 Peter 5:5
"Likewise, ye younger, submit yourselves unto the elder. Yea, all of you be subject one to another, and be clothed with humility: for God resisteth the proud, and giveth grace to the humble"
1 Peter 5:6
"Humble yourselves therefore under the mighty hand of God, that he may exalt you in due time"
Matthew 23:12
"And whosoever shall exalt himself shall be abased; and he that shall humble himself shall be exalted"
Luke 14:11
"For whosoever exalteth himself shall be abased; and he that humbleth himself shall be exalted"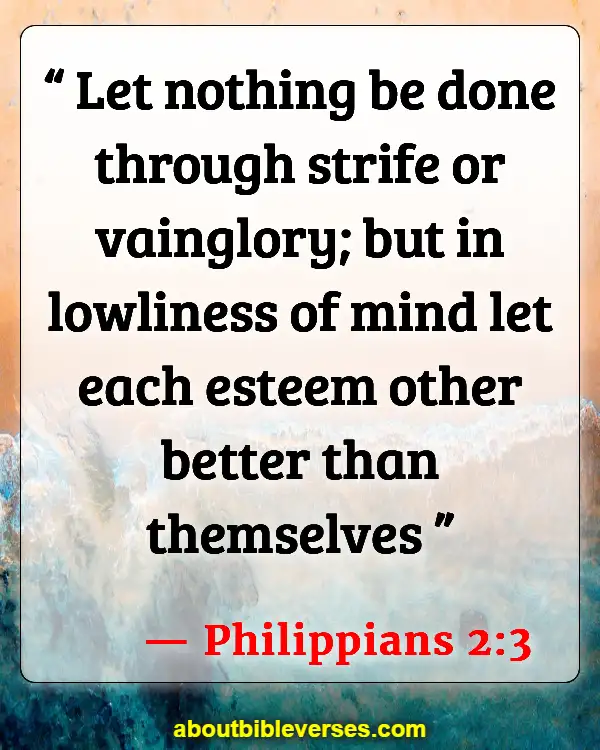 Philippians 2:3
"Let nothing be done through strife or vainglory; but in lowliness of mind let each esteem other better than themselves"
Philippians 2:8
"And being found in fashion as a man, he humbled himself, and became obedient unto death, even the death of the cross"
Colossians 3:12
"Put on therefore, as the elect of God, holy and beloved, bowels of mercies, kindness, humbleness of mind, meekness, longsuffering"
Ephesians 4:2
"With all lowliness and meekness, with longsuffering, forbearing one another in love"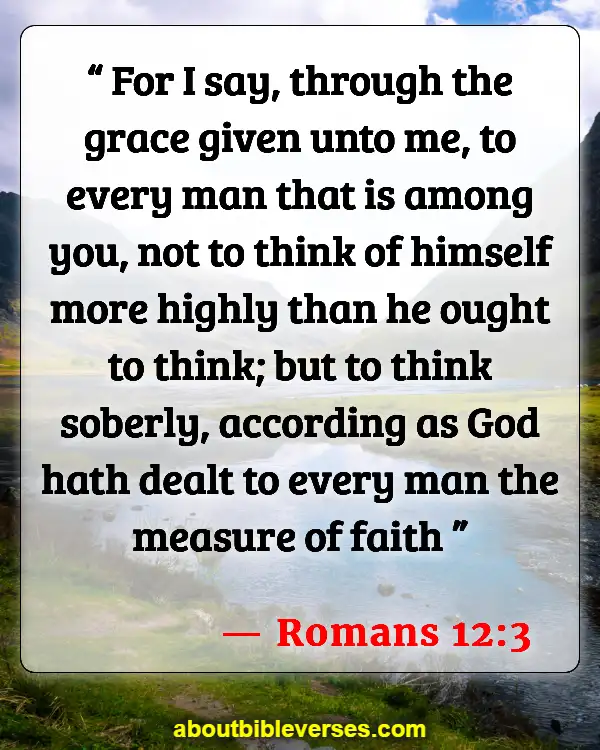 Romans 12:3
"For I say, through the grace given unto me, to every man that is among you, not to think of himself more highly than he ought to think; but to think soberly, according as God hath dealt to every man the measure of faith"
Romans 12:16
"Be of the same mind one toward another. Mind not high things, but condescend to men of low estate. Be not wise in your own conceits"
Micah 6:8
"He hath shewed thee, O man, what is good; and what doth the Lord require of thee, but to do justly, and to love mercy, and to walk humbly with thy God?"
Zephaniah 2:3
"Seek ye the Lord , all ye meek of the earth, which have wrought his judgment; seek righteousness, seek meekness: it may be ye shall be hid in the day of the Lord 's anger"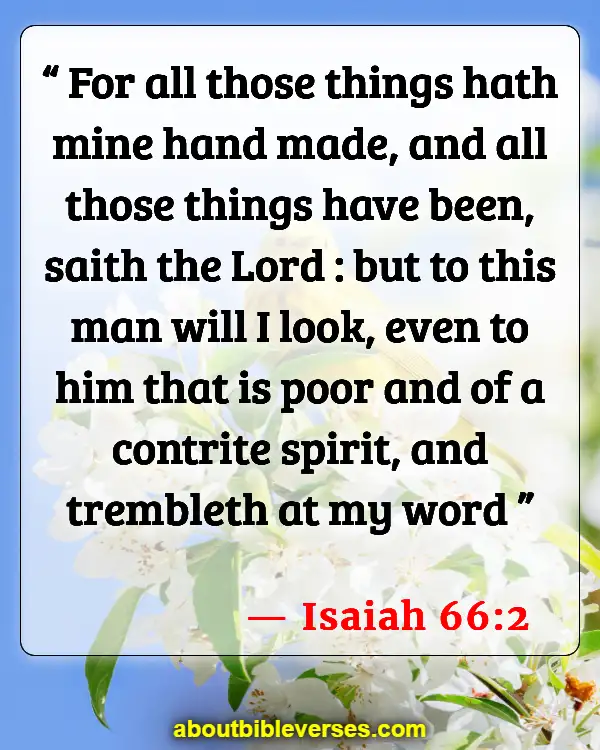 Isaiah 66:2
"For all those things hath mine hand made, and all those things have been, saith the Lord : but to this man will I look, even to him that is poor and of a contrite spirit, and trembleth at my word"
Jeremiah 9:23
"Thus saith the Lord , Let not the wise man glory in his wisdom, neither let the mighty man glory in his might, let not the rich man glory in his riches"
Jeremiah 49:16
"Thy terribleness hath deceived thee, and the pride of thine heart, O thou that dwellest in the clefts of the rock, that holdest the height of the hill: though thou shouldest make thy nest as high as the eagle, I will bring thee down from thence, saith the Lord"
Obadiah 1:3
"The pride of thine heart hath deceived thee, thou that dwellest in the clefts of the rock, whose habitation is high; that saith in his heart, Who shall bring me down to the ground?"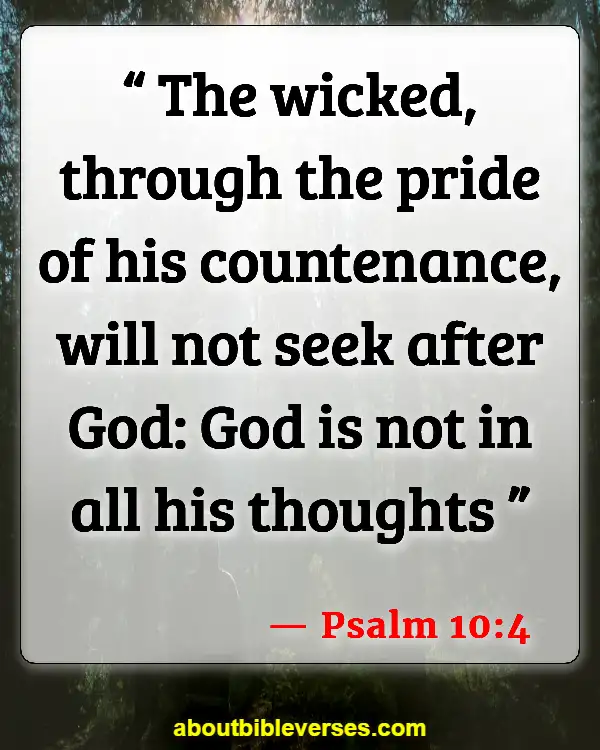 Psalm 10:4
"The wicked, through the pride of his countenance, will not seek after God: God is not in all his thoughts"
Psalm 25:9
"The meek will he guide in judgment: and the meek will he teach his way"
Psalm 37:11
"But the meek shall inherit the earth; and shall delight themselves in the abundance of peace"
Psalm 138:6
"Though the Lord be high, yet hath he respect unto the lowly: but the proud he knoweth afar off"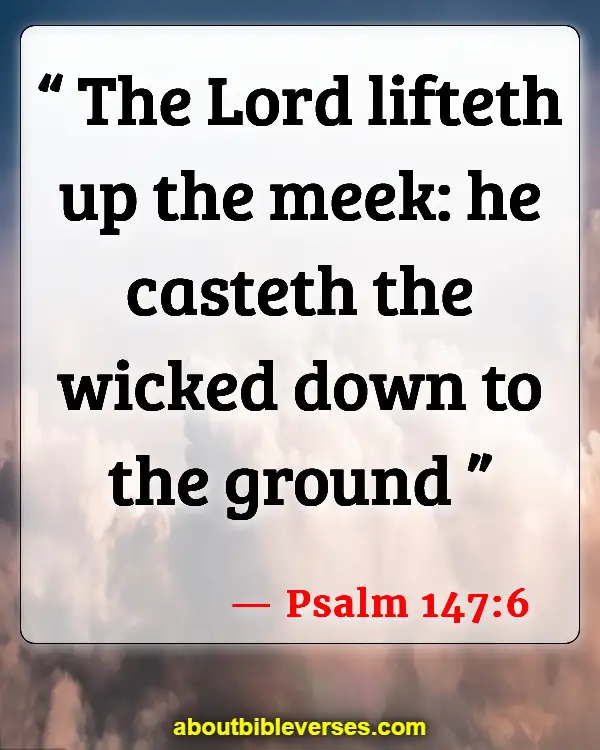 Psalm 147:6
"The Lord lifteth up the meek: he casteth the wicked down to the ground"
Psalm 149:4
"For the Lord taketh pleasure in his people: he will beautify the meek with salvation"
Job 22:29
"When men are cast down, then thou shalt say, There is lifting up; and he shall save the humble person"
Job 36:11
"If they obey and serve him, they shall spend their days in prosperity, and their years in pleasures"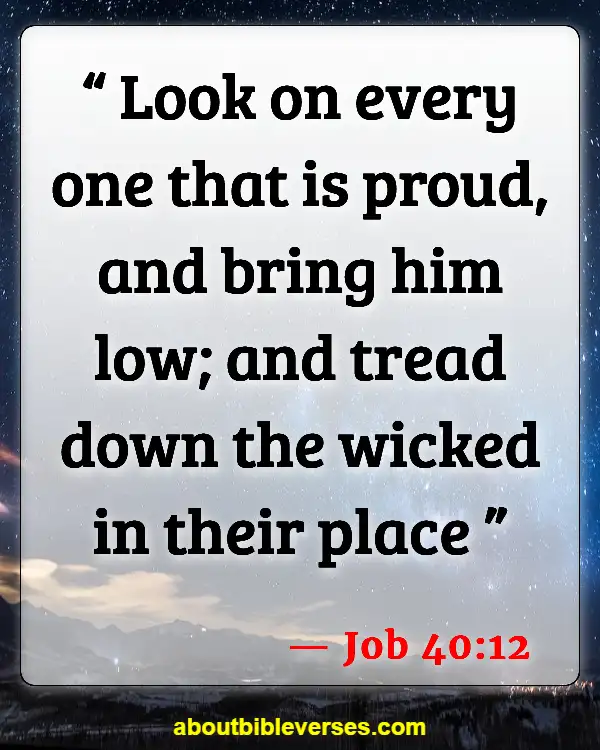 Job 40:12
"Look on every one that is proud, and bring him low; and tread down the wicked in their place"