Hello, dear friends welcome to our site in the name of Jesus Christ. Today we will see what the Bible says about praying with the wrong motive. If you like today's post then definitely comment and share.
The Bible says that our prayers are not answered when we have a wrong motive in that prayer and that prayer is only for the purpose of self-indulgence. Because our God is great and He is loving and righteous so He does not listen to any wrong intention prayer and does not fulfill it.
If we look at King Solomon's life, we will see when God asked him, what do you want? Then Solomon did not ask for anything for himself. He asked, "Lord, give me wisdom on how to manage this great people of yours." Then God gave him abundant wisdom and blessings.
Let our prayers to God be unselfish because God sees our hearts and will surely give us what we need. The Bible says that your prayer must have faith and in that prayer, you should look not only at your own interests but also at the interests of others.
Let us now see more Bible verses below that will help us understand more how to pray to God properly.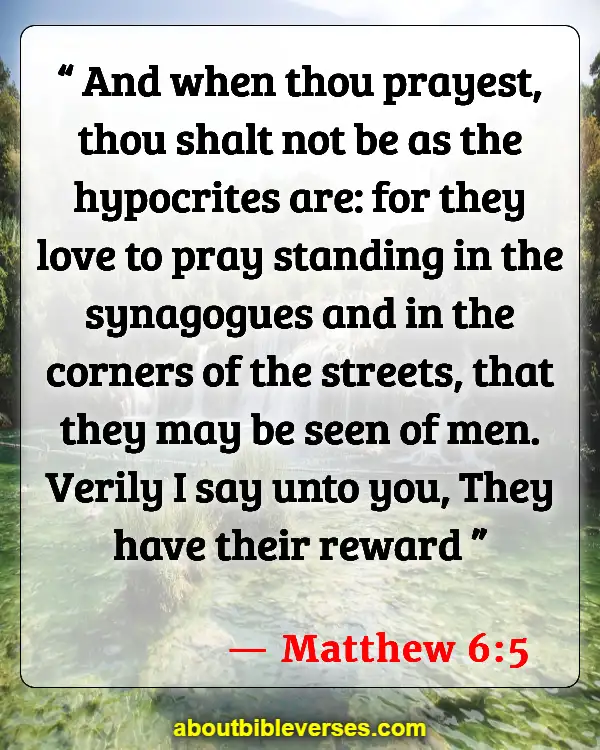 Matthew 6:5
"And when thou prayest, thou shalt not be as the hypocrites are: for they love to pray standing in the synagogues and in the corners of the streets, that they may be seen of men. Verily I say unto you, They have their reward"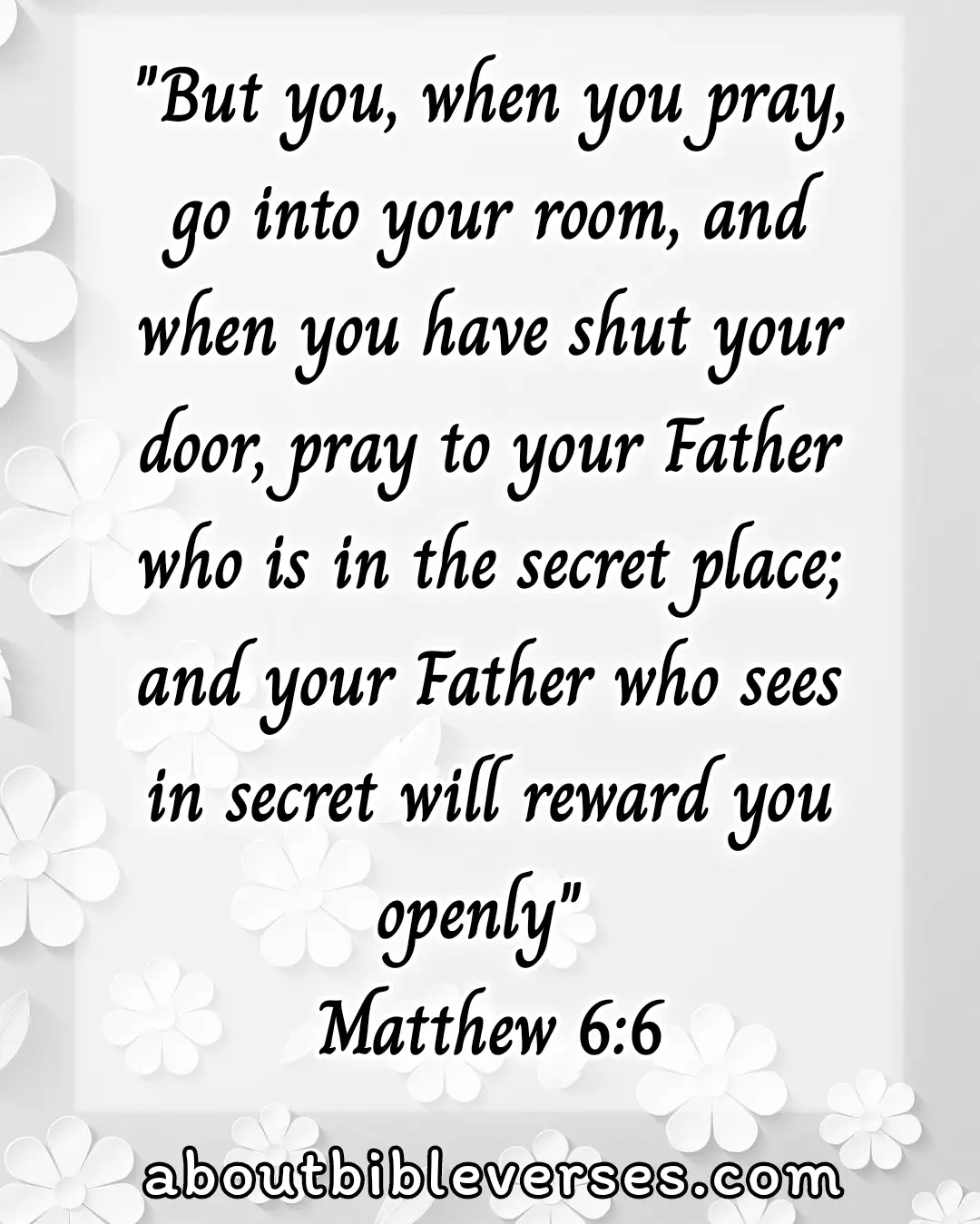 Matthew 6:6
"But thou, when thou prayest, enter into thy closet, and when thou hast shut thy door, pray to thy Father which is in secret; and thy Father which seeth in secret shall reward thee openly"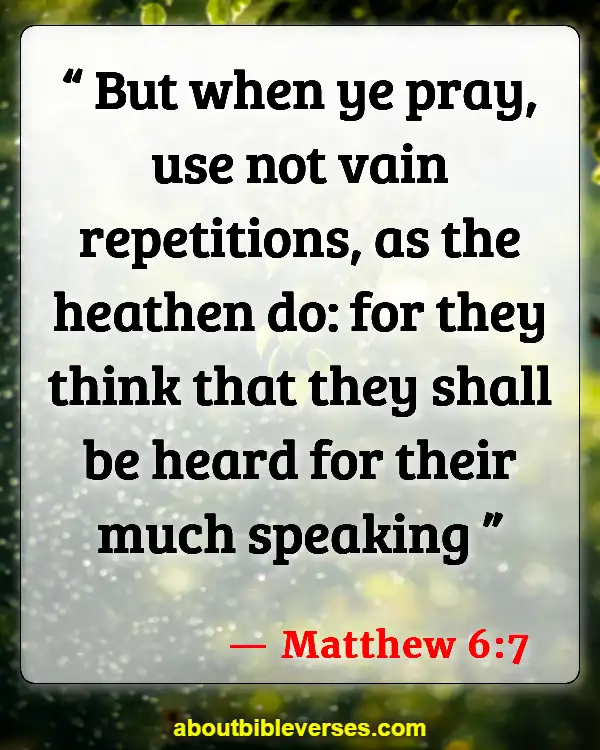 Matthew 6:7
"But when ye pray, use not vain repetitions, as the heathen do: for they think that they shall be heard for their much speaking"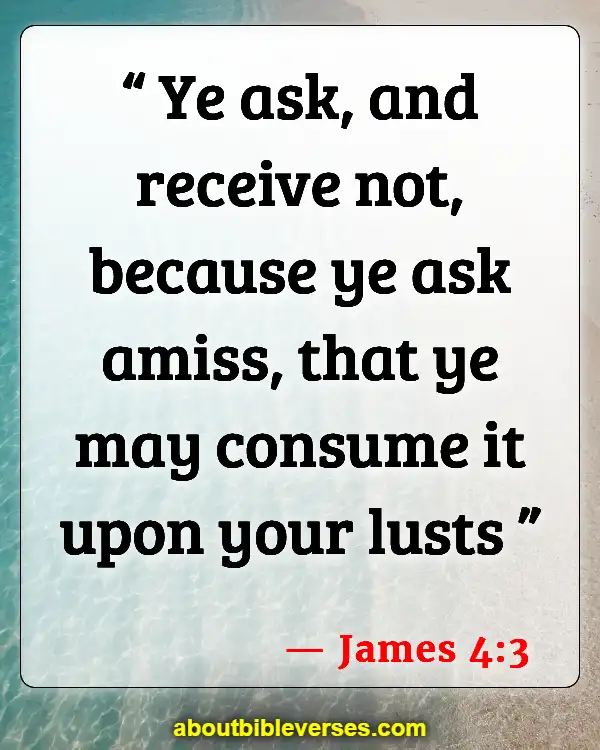 James 4:3
"Ye ask, and receive not, because ye ask amiss, that ye may consume it upon your lusts"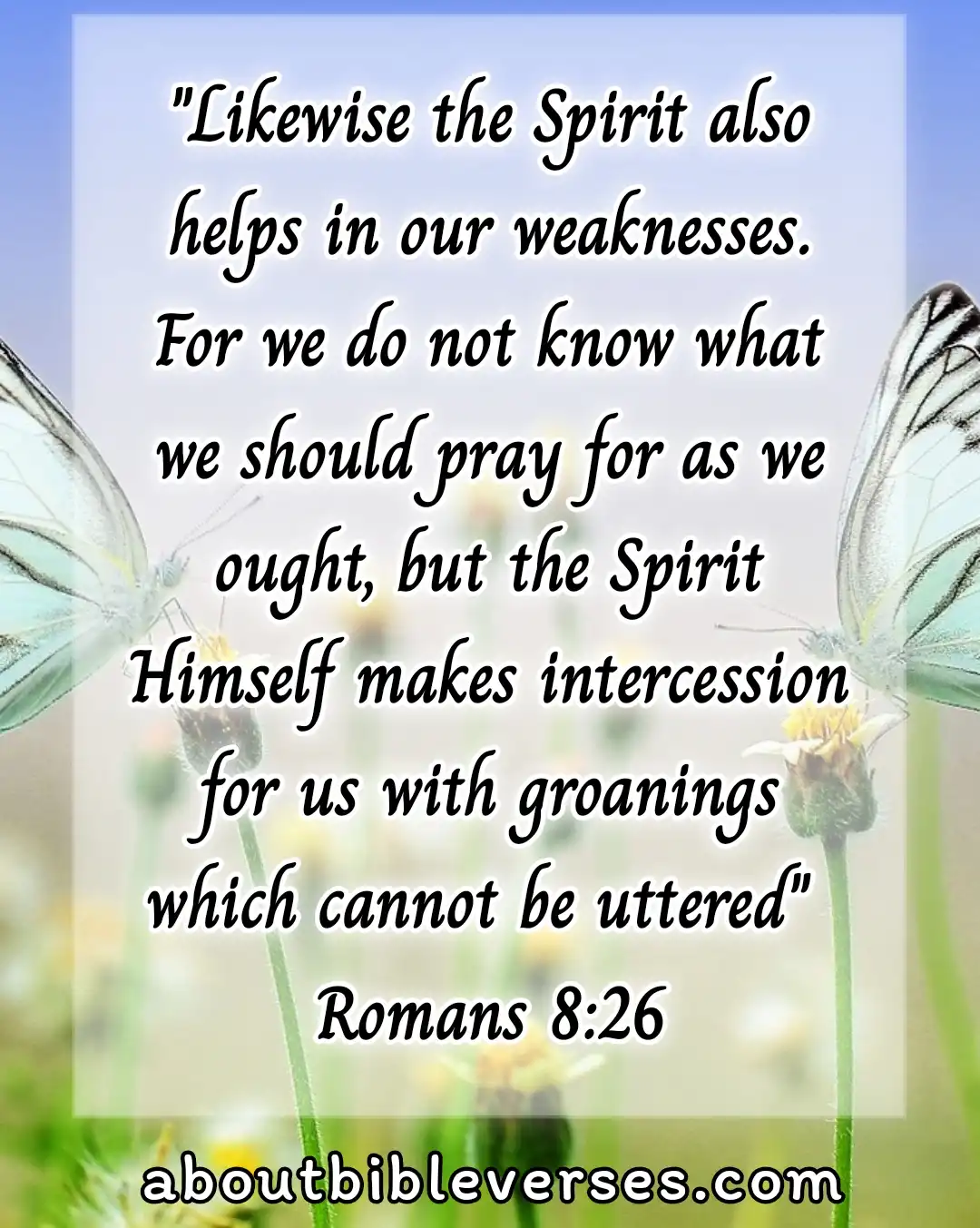 Romans 8:26
"Likewise the Spirit also helpeth our infirmities: for we know not what we should pray for as we ought: but the Spirit itself maketh intercession for us with groanings which cannot be uttered"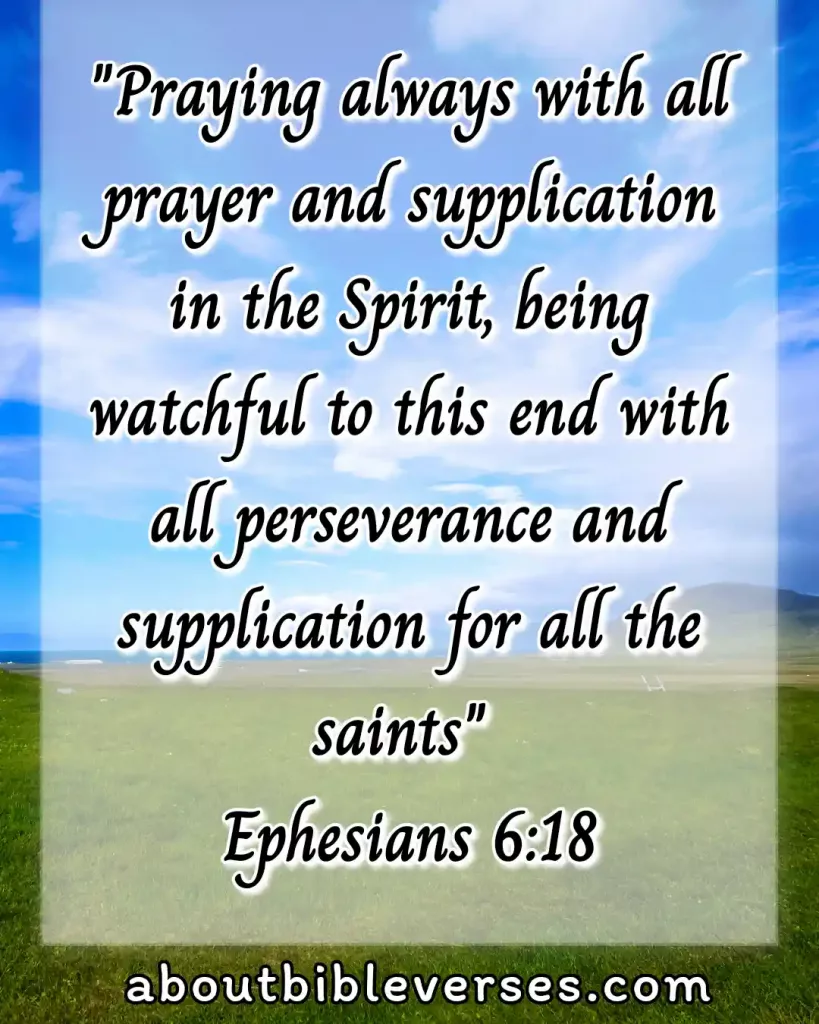 Ephesians 6:18
"Praying always with all prayer and supplication in the Spirit, and watching thereunto with all perseverance and supplication for all saints"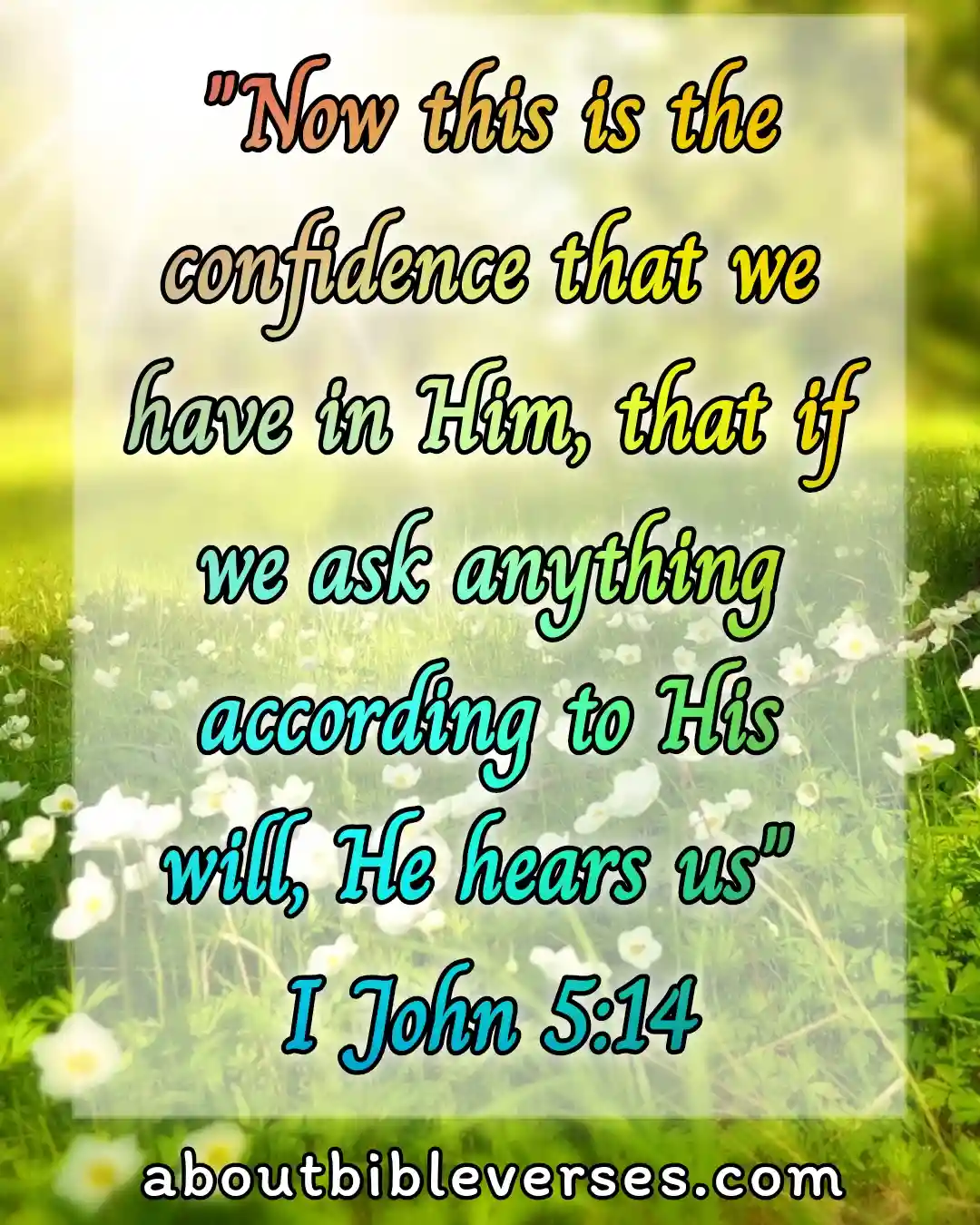 1 John 5:14
"And this is the confidence that we have in him, that, if we ask any thing according to his will, he heareth us"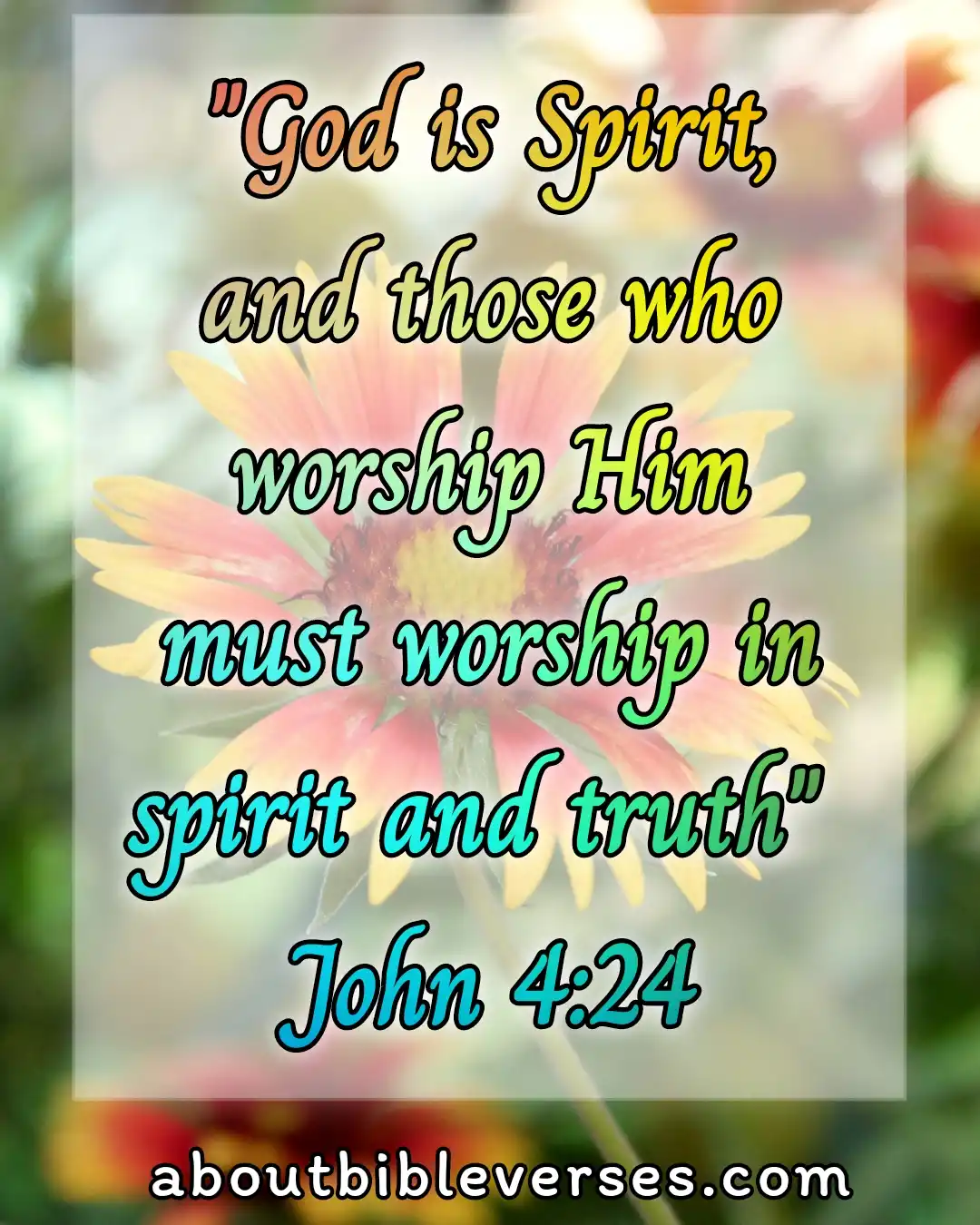 John 4:24
"God is a Spirit: and they that worship him must worship him in spirit and in truth"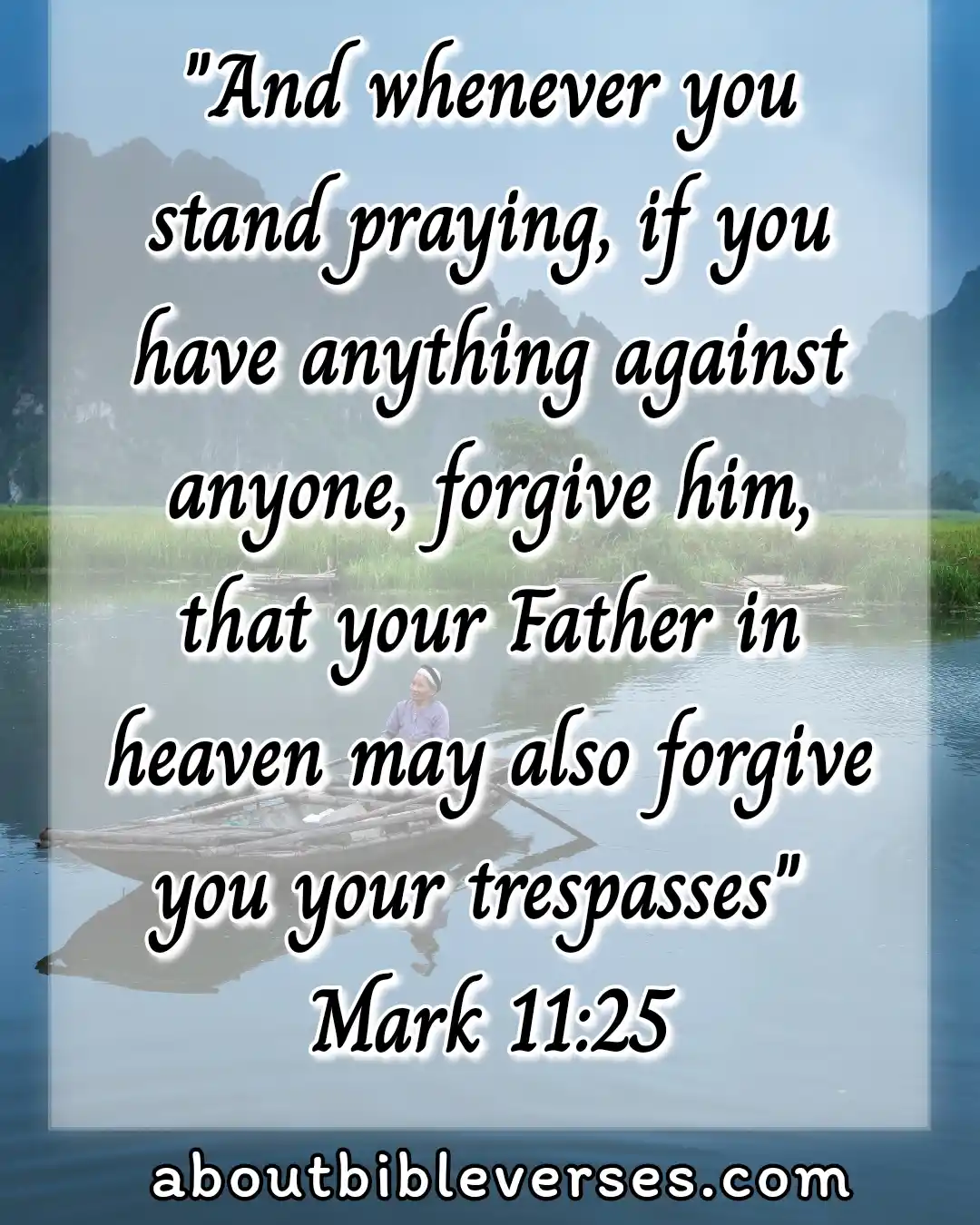 Mark 11:25
"And when ye stand praying, forgive, if ye have ought against any: that your Father also which is in heaven may forgive you your trespasses"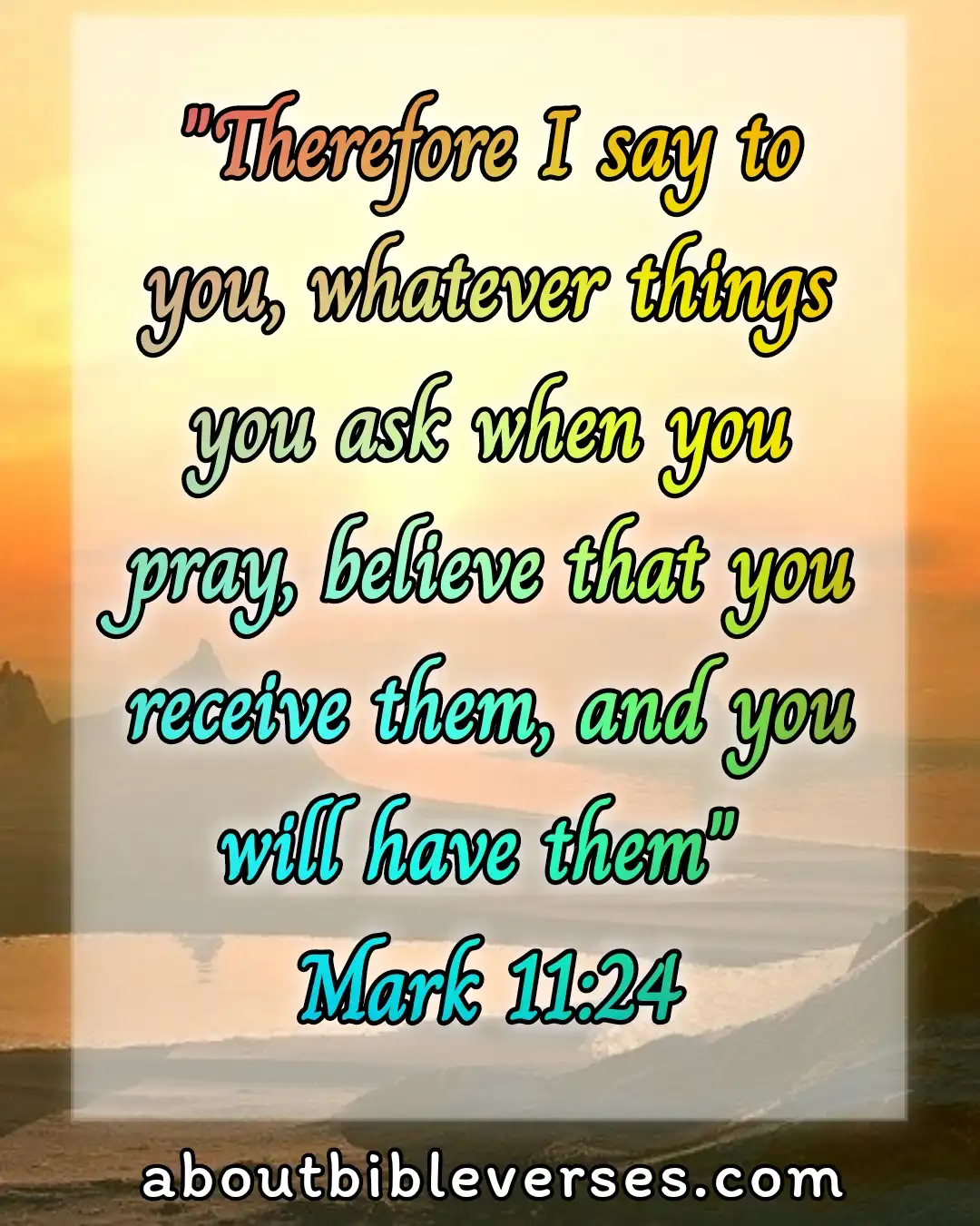 Mark 11:24
"Therefore I say unto you, What things soever ye desire, when ye pray, believe that ye receive them, and ye shall have them"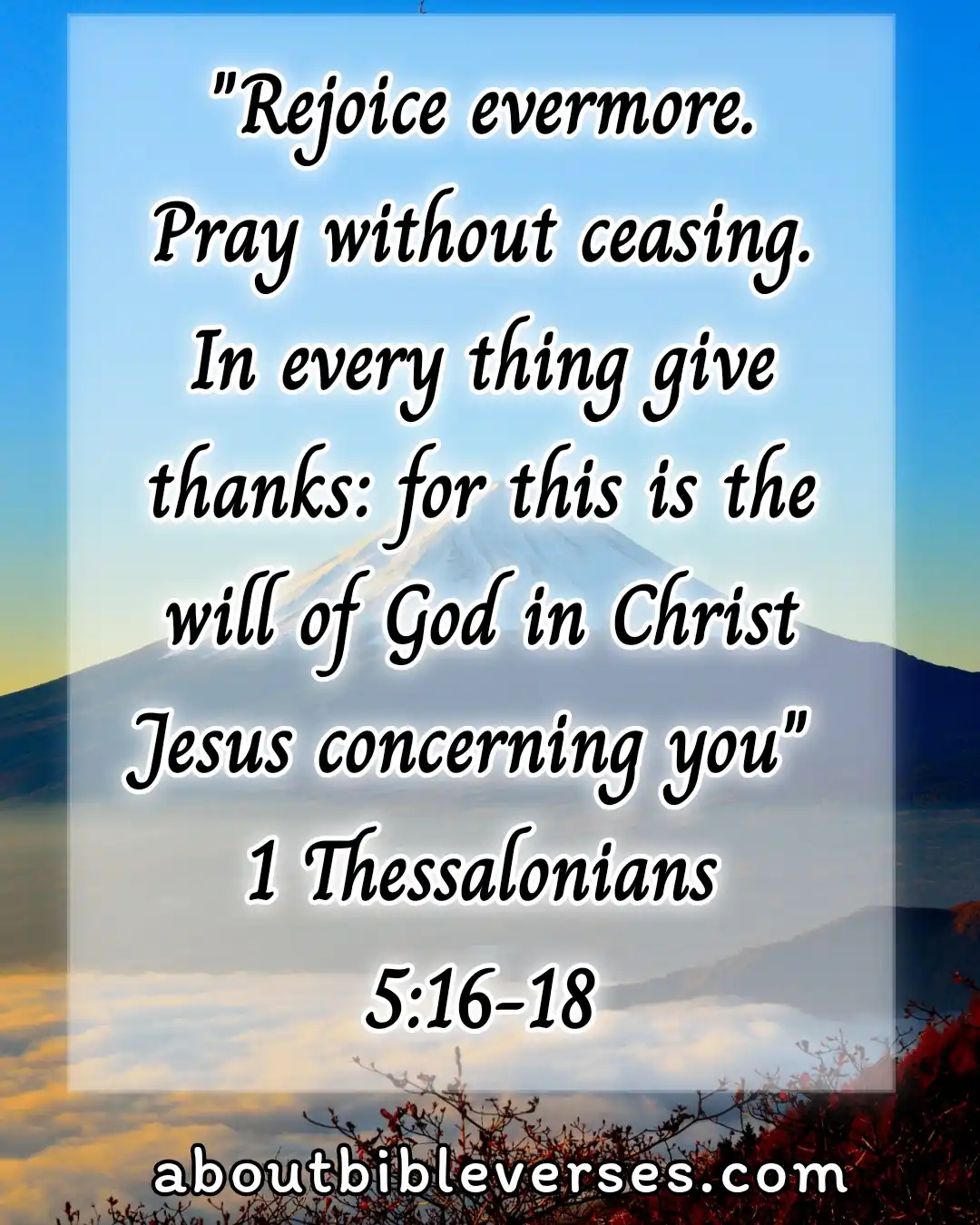 1 Thessalonians 5:16-18
"Rejoice evermore.Pray without ceasing.In every thing give thanks: for this is the will of God in Christ Jesus concerning you"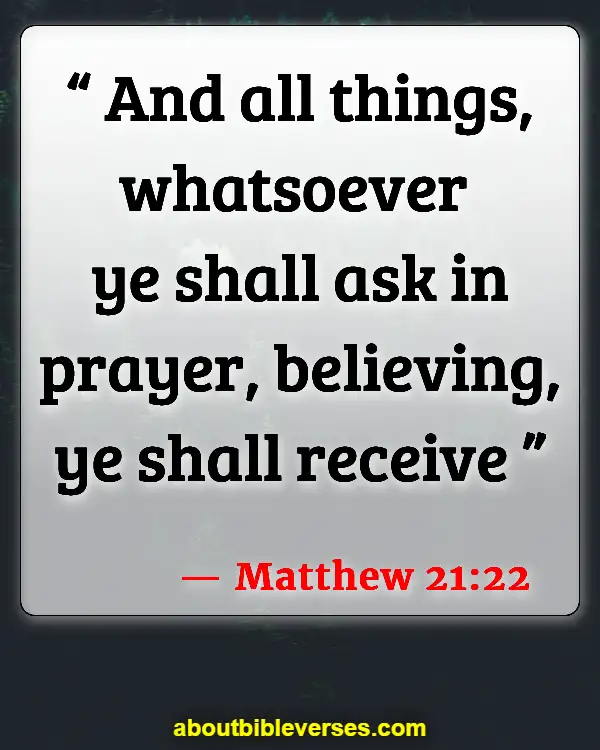 Matthew 21:22
"And all things, whatsoever ye shall ask in prayer, believing, ye shall receive"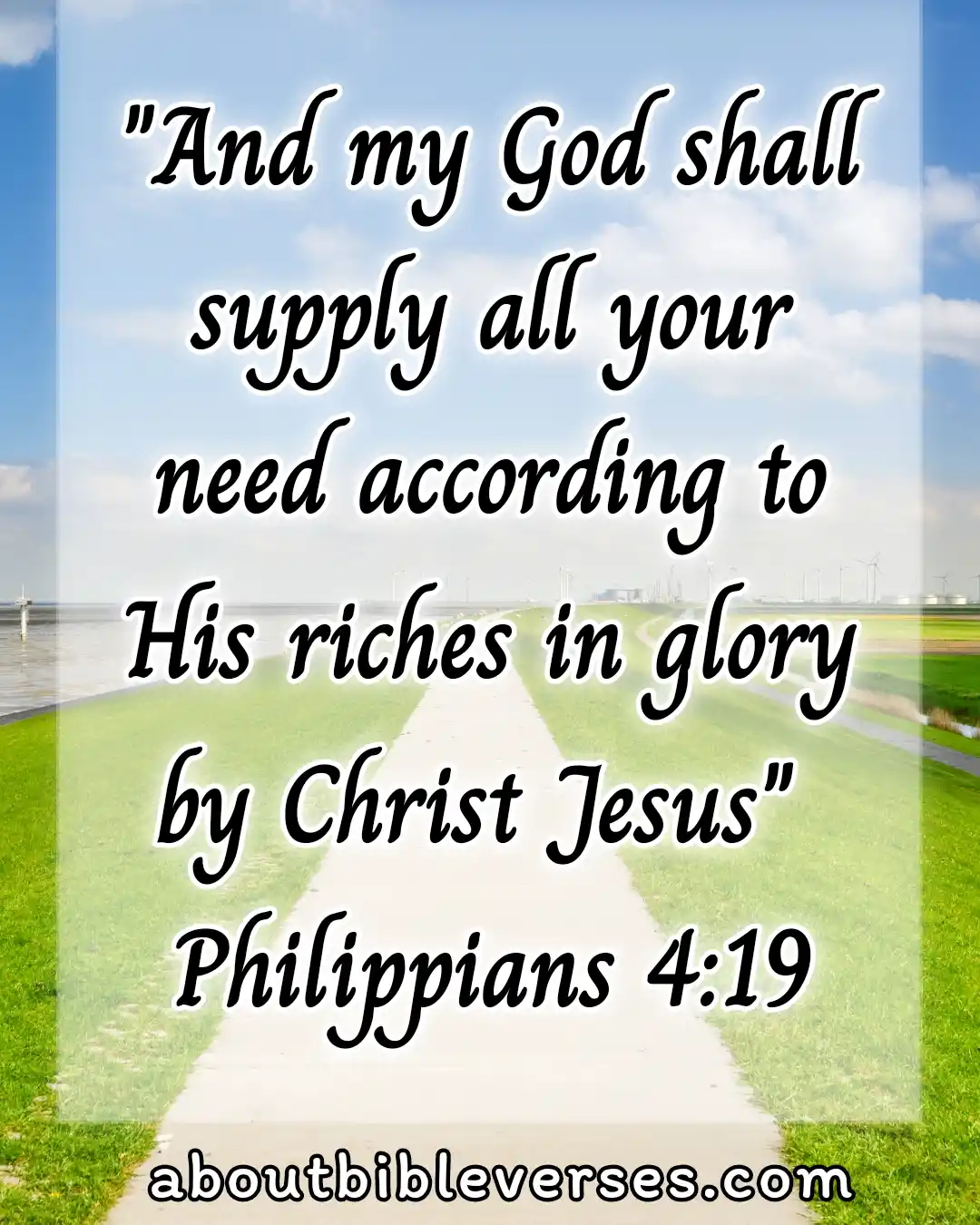 Philippians 4:19
"But my God shall supply all your need according to his riches in glory by Christ Jesus"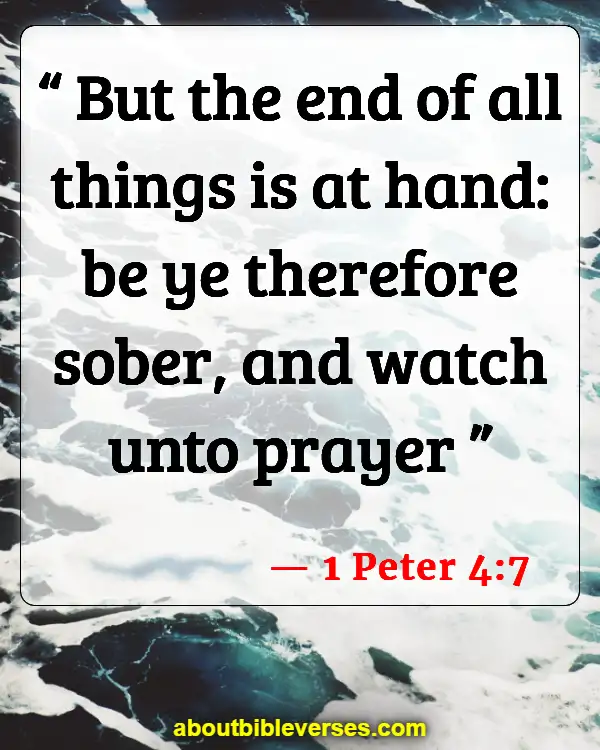 1 Peter 4:7
"But the end of all things is at hand: be ye therefore sober, and watch unto prayer"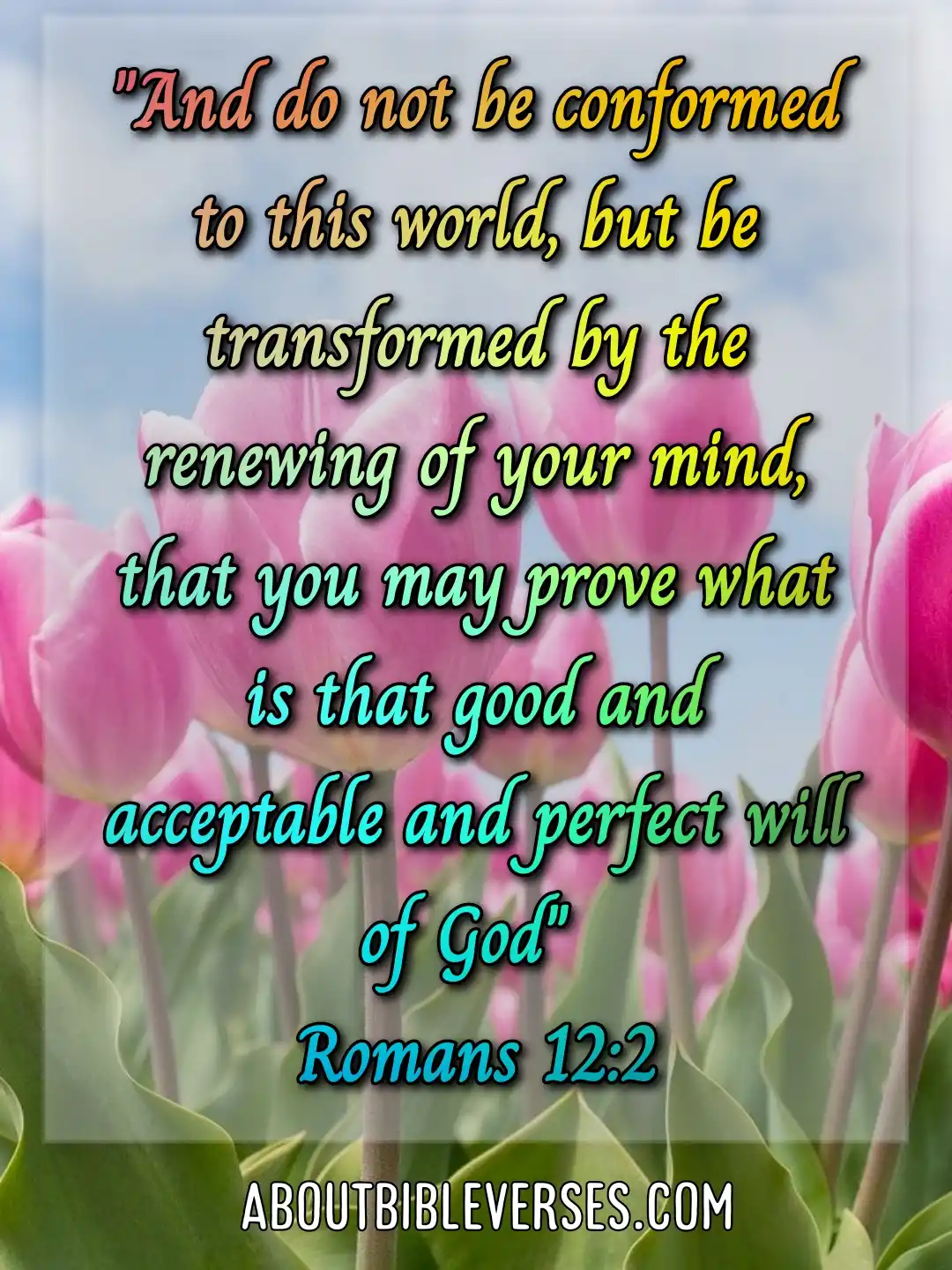 Romans 12:2
"And be not conformed to this world: but be ye transformed by the renewing of your mind, that ye may prove what is that good, and acceptable, and perfect, will of God"