Dear friends, showing hospitality to others is such an important part of living our faith. As followers of Christ, we are called to generously open our homes and lives to those around us.
This could look like having someone over for a meal, letting a friend or neighbor borrow something they need, or even just being willing to listen to someone who is going through a tough time.
Showing this kind of generosity takes practice and intention. It means always being ready to take care of people, not just when it seems convenient to us but thinking of it as a way of life.
Remember that by welcoming others you welcome Christ. People will experience God's gracious presence through our hospitality. And we will reap blessings by giving cheerfully without expecting anything in return.
Dear friends, may we generously give and gratefully receive as we practice biblical hospitality. Now let's explore some scriptures that teach more about living hospitably as followers of Jesus Christ.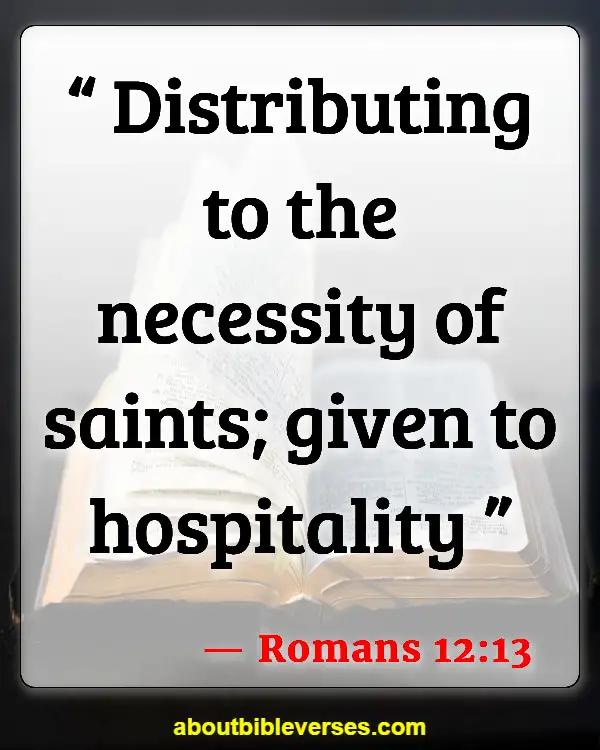 Romans 12:13
"Distributing to the necessity of saints; given to hospitality"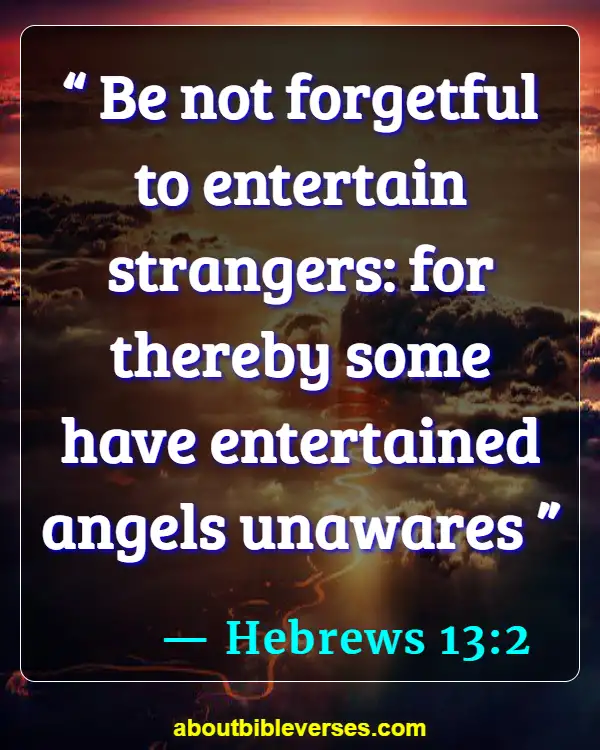 Hebrews 13:2
"Be not forgetful to entertain strangers: for thereby some have entertained angels unawares"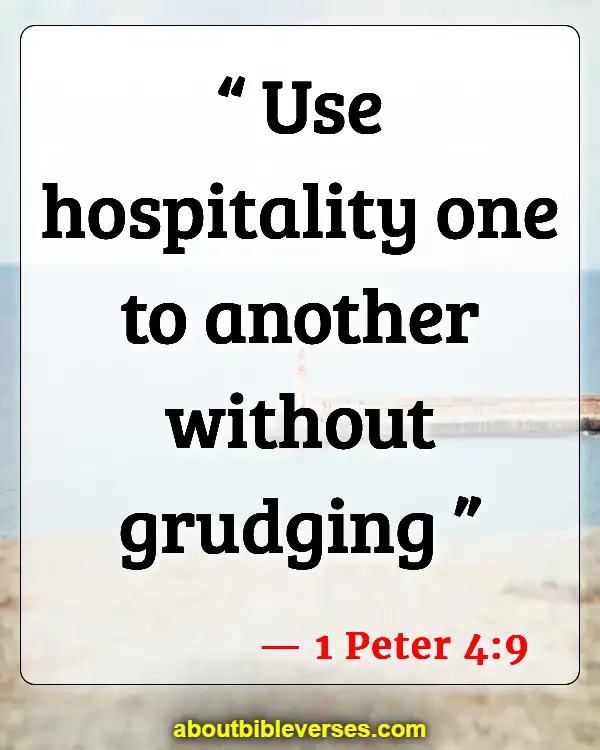 1 Peter 4:9
"Use hospitality one to another without grudging"
1 Timothy 5:10
"Well reported of for good works; if she have brought up children, if she have lodged strangers, if she have washed the saints' feet, if she have relieved the afflicted, if she have diligently followed every good work"
Matthew 25:35
"For I was an hungred, and ye gave me meat: I was thirsty, and ye gave me drink: I was a stranger, and ye took me in"
Luke 14:13-14
"But when thou makest a feast, call the poor, the maimed, the lame, the blind: And thou shalt be blessed; for they cannot recompense thee: for thou shalt be recompensed at the resurrection of the just"
3 John 5-8
"Beloved, thou doest faithfully whatsoever thou doest to the brethren, and to strangers; Which have borne witness of thy charity before the church: whom if thou bring forward on their journey after a godly sort, thou shalt do well: Because that for his name's sake they went forth, taking nothing of the Gentiles. We therefore ought to receive such, that we might be fellowhelpers to the truth"
Leviticus 19:34
"But the stranger that dwelleth with you shall be unto you as one born among you, and thou shalt love him as thyself; for ye were strangers in the land of Egypt: I am the Lord your God"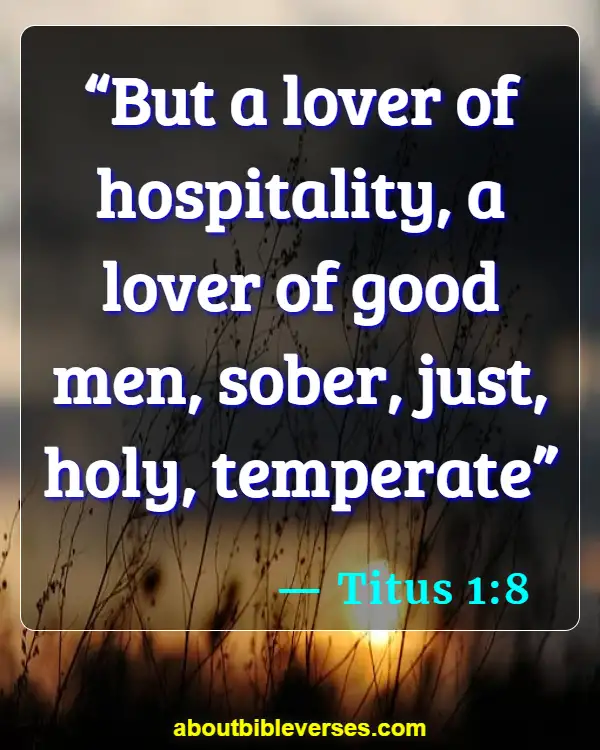 Titus 1:8
"But a lover of hospitality, a lover of good men, sober, just, holy, temperate"
1 Timothy 3:2
"A bishop then must be blameless, the husband of one wife, vigilant, sober, of good behaviour, given to hospitality, apt to teach"
Matthew 10:40-42
"He that receiveth you receiveth me, and he that receiveth me receiveth him that sent me. He that receiveth a prophet in the name of a prophet shall receive a prophet's reward; and he that receiveth a righteous man in the name of a righteous man shall receive a righteous man's reward. And whosoever shall give to drink unto one of these little ones a cup of cold water only in the name of a disciple, verily I say unto you, he shall in no wise lose his reward"
Mark 9:41
"For whosoever shall give you a cup of water to drink in my name, because ye belong to Christ, verily I say unto you, he shall not lose his reward"
Luke 11:5-8
"And he said unto them, Which of you shall have a friend, and shall go unto him at midnight, and say unto him, Friend, lend me three loaves; For a friend of mine in his journey is come to me, and I have nothing to set before him? And he from within shall answer and say, Trouble me not: the door is now shut, and my children are with me in bed; I cannot rise and give thee. I say unto you, Though he will not rise and give him, because he is his friend, yet because of his importunity he will rise and give him as many as he needeth"
John 13:34-35
"A new commandment I give unto you, That ye love one another; as I have loved you, that ye also love one another. By this shall all men know that ye are my disciples, if ye have love one to another"
Romans 15:25-27
"But now I go unto Jerusalem to minister unto the saints. For it hath pleased them of Macedonia and Achaia to make a certain contribution for the poor saints which are at Jerusalem. It hath pleased them verily; and their debtors they are. For if the Gentiles have been made partakers of their spiritual things, their duty is also to minister unto them in carnal things"
1 Corinthians 10:31-33
"Whether therefore ye eat, or drink, or whatsoever ye do, do all to the glory of God. Give none offence, neither to the Jews, nor to the Gentiles, nor to the church of God: Even as I please all men in all things, not seeking mine own profit, but the profit of many, that they may be saved"
Galatians 5:13-14
"For, brethren, ye have been called unto liberty; only use not liberty for an occasion to the flesh, but by love serve one another. For all the law is fulfilled in one word, even in this; Thou shalt love thy neighbour as thyself"
Colossians 3:23-24
"And whatsoever ye do, do it heartily, as to the Lord, and not unto men; Knowing that of the Lord ye shall receive the reward of the inheritance: for ye serve the Lord Christ"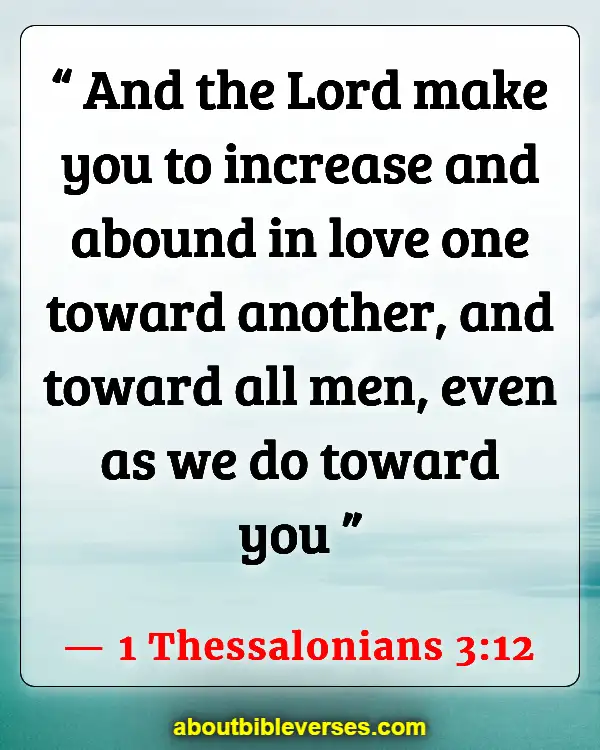 1 Thessalonians 3:12
"And the Lord make you to increase and abound in love one toward another, and toward all men, even as we do toward you"
1 Thessalonians 5:14-15
"Now we exhort you, brethren, warn them that are unruly, comfort the feebleminded, support the weak, be patient toward all men. See that none render evil for evil unto any man; but ever follow that which is good, both among yourselves, and to all men"
1 Timothy 6:17-19
"Charge them that are rich in this world, that they be not highminded, nor trust in uncertain riches, but in the living God, who giveth us richly all things to enjoy; That they do good, that they be rich in good works, ready to distribute, willing to communicate; Laying up in store for themselves a good foundation against the time to come, that they may lay hold on eternal life"
James 1:27
"Pure religion and undefiled before God and the Father is this, To visit the fatherless and widows in their affliction, and to keep himself unspotted from the world"
1 Peter 4:10-11
"As every man hath received the gift, even so minister the same one to another, as good stewards of the manifold grace of God. If any man speak, let him speak as the oracles of God; if any man minister, let him do it as of the ability which God giveth: that God in all things may be glorified through Jesus Christ, to whom be praise and dominion for ever and ever. Amen"
2 Peter 1:5-7
"And beside this, giving all diligence, add to your faith virtue; and to virtue knowledge; And to knowledge temperance; and to temperance patience; and to patience godliness; And to godliness brotherly kindness; and to brotherly kindness charity"
Revelation 3:20
"Behold, I stand at the door, and knock: if any man hear my voice, and open the door, I will come in to him, and will sup with him, and he with me"