Hello dear friends, welcome to our site in the name of Jesus Christ. Today we will look at the Bible Scriptures About Peace And War In KJV. If you like today's post then definitely comment and share.
Dear Friends, Bible also calls us to seek paths of peace and reconciliation. Jesus Christ, our Savior, preached love for enemies and turned the other cheek. He taught that peacemakers are blessed, for they shall be called children of God.
As believers, we must strive to be peacemakers in a troubled world, spreading God's love and forgiveness. Let us remember the words of the Apostle Paul, who encouraged us to live in harmony with one another and to do all we can to live peacefully.
God desires peace, not war. As followers of Christ, we are called to be peacemakers in a broken world plagued by violence. Though we live in a fallen creation where war is a tragic reality, we must work to reduce conflict, promote reconciliation, and restore relationships.
Dear friends now let's see the Bible scriptures below that talk about Peace And War.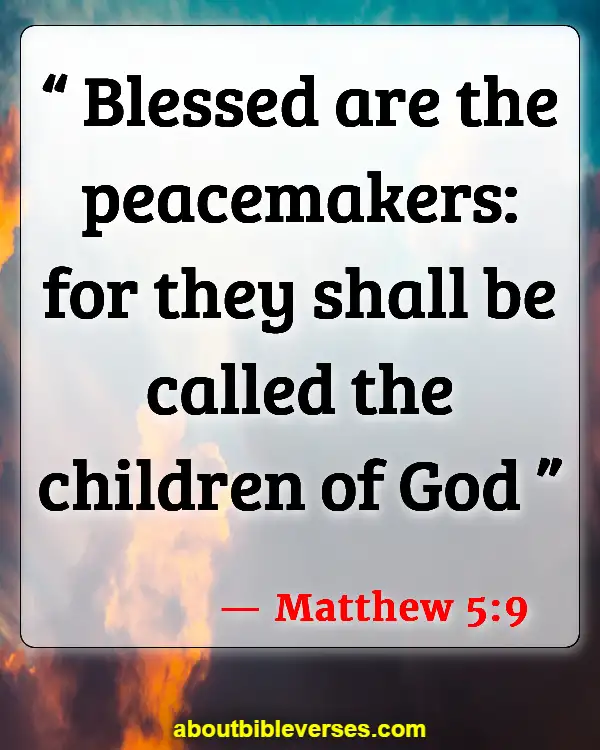 Matthew 5:9
"Blessed are the peacemakers: for they shall be called the children of God"
James 4:1
"From whence come wars and fightings among you? come they not hence, even of your lusts that war in your members?"
Romans 12:18
"If it be possible, as much as lieth in you, live peaceably with all men"
Ephesians 2:14
"For he is our peace, who hath made both one, and hath broken down the middle wall of partition between us"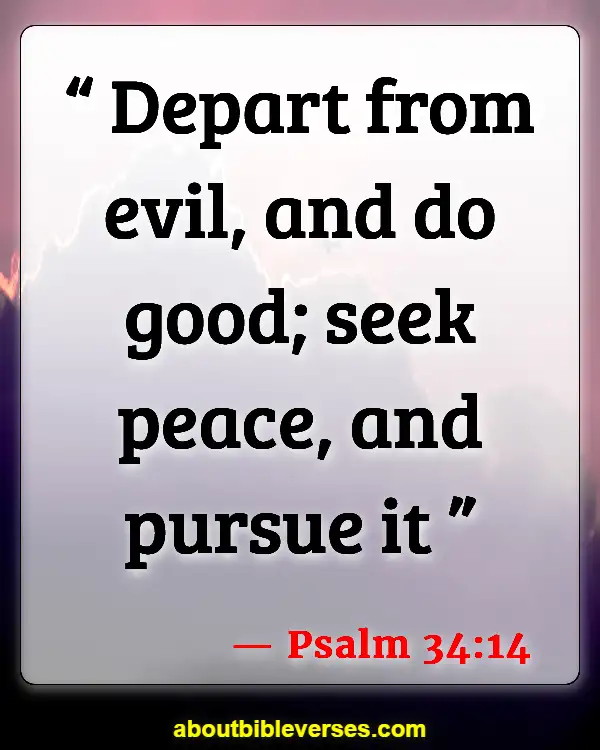 Psalm 34:14
"Depart from evil, and do good; seek peace, and pursue it"
Proverbs 20:3
"It is an honour for a man to cease from strife: but every fool will be meddling"
2 Corinthians 13:11
"Finally, brethren, farewell. Be perfect, be of good comfort, be of one mind, live in peace; and the God of love and peace shall be with you"
1 Peter 3:11
"Let him eschew evil, and do good; let him seek peace, and ensue it"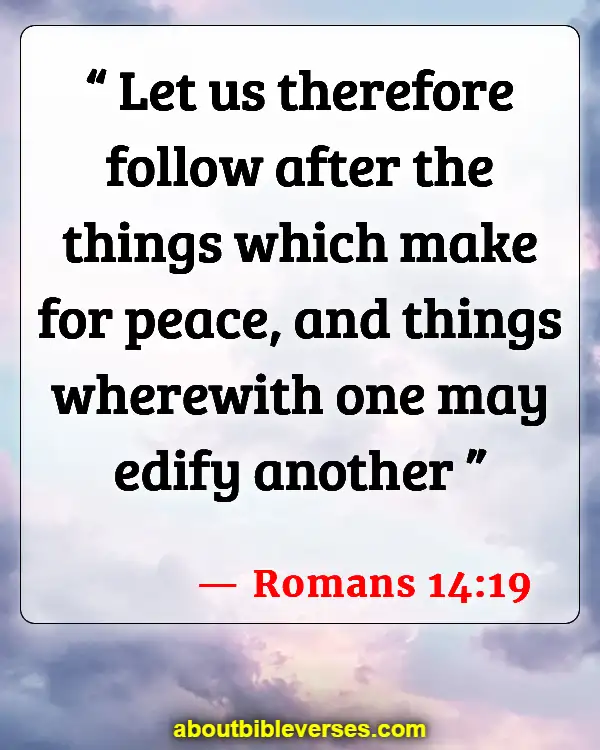 Romans 14:19
"Let us therefore follow after the things which make for peace, and things wherewith one may edify another"
Hebrews 12:14
"Follow peace with all men, and holiness, without which no man shall see the Lord"
James 3:18
"And the fruit of righteousness is sown in peace of them that make peace"
Proverbs 12:20
"Deceit is in the heart of them that imagine evil: but to the counsellors of peace is joy"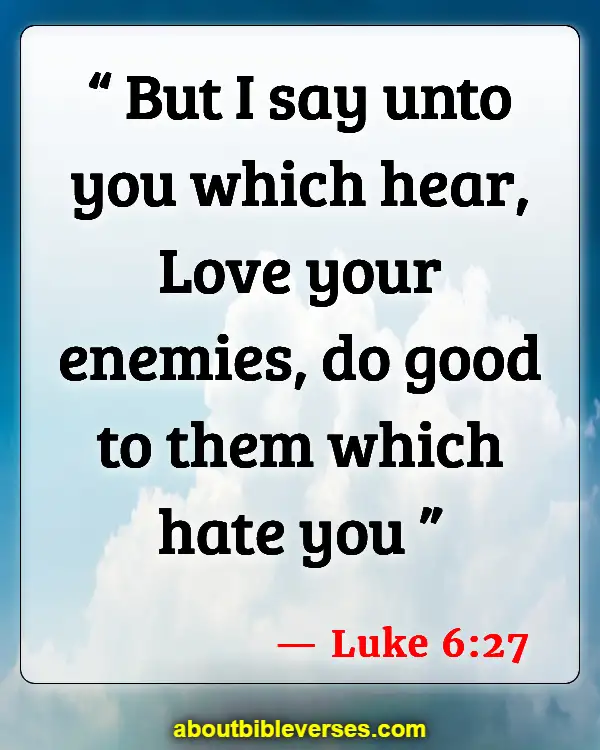 Luke 6:27
"But I say unto you which hear, Love your enemies, do good to them which hate you"
1 Timothy 2:2
"For kings, and for all that are in authority; that we may lead a quiet and peaceable life in all godliness and honesty"
1 Peter 5:7
"Casting all your care upon him; for he careth for you"
Psalm 120:7
"I am for peace: but when I speak, they are for war"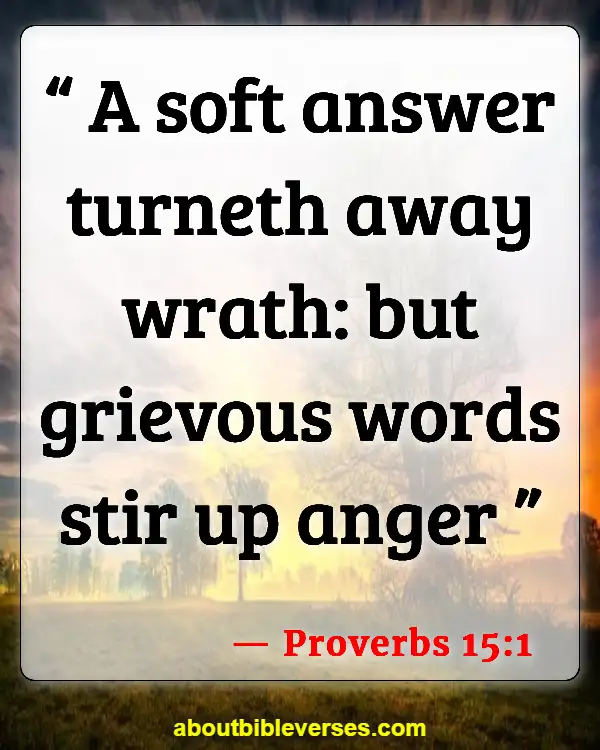 Proverbs 15:1
"A soft answer turneth away wrath: but grievous words stir up anger"
Proverbs 16:7
"When a man's ways please the Lord , he maketh even his enemies to be at peace with him"
Proverbs 25:21-22
"If thine enemy be hungry, give him bread to eat; and if he be thirsty, give him water to drink: For thou shalt heap coals of fire upon his head, and the Lord shall reward thee"
Romans 12:20
"Therefore if thine enemy hunger, feed him; if he thirst, give him drink: for in so doing thou shalt heap coals of fire on his head"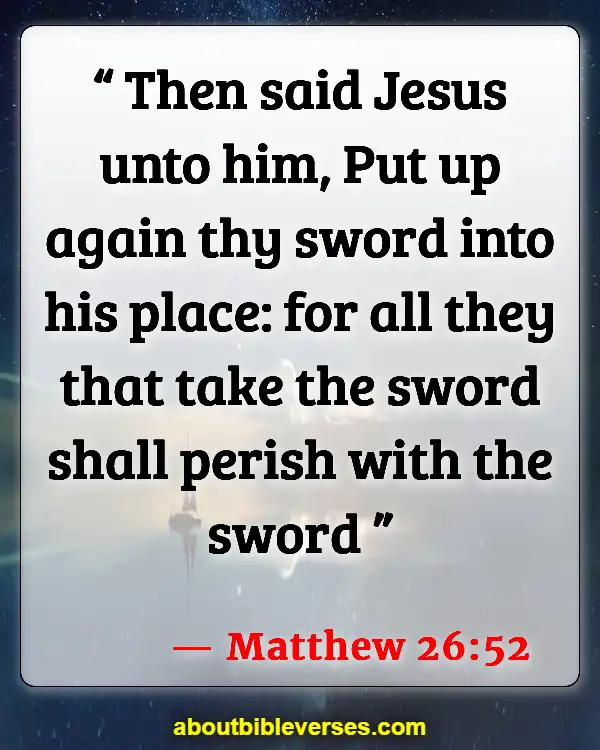 Matthew 26:52
"Then said Jesus unto him, Put up again thy sword into his place: for all they that take the sword shall perish with the sword"
Micah 4:3
"And he shall judge among many people, and rebuke strong nations afar off; and they shall beat their swords into plowshares, and their spears into pruninghooks: nation shall not lift up a sword against nation, neither shall they learn war any more"
Ecclesiastes 3:8
"A time to love, and a time to hate; a time of war, and a time of peace"
Isaiah 60:18
"Violence shall no more be heard in thy land, wasting nor destruction within thy borders; but thou shalt call thy walls Salvation, and thy gates Praise"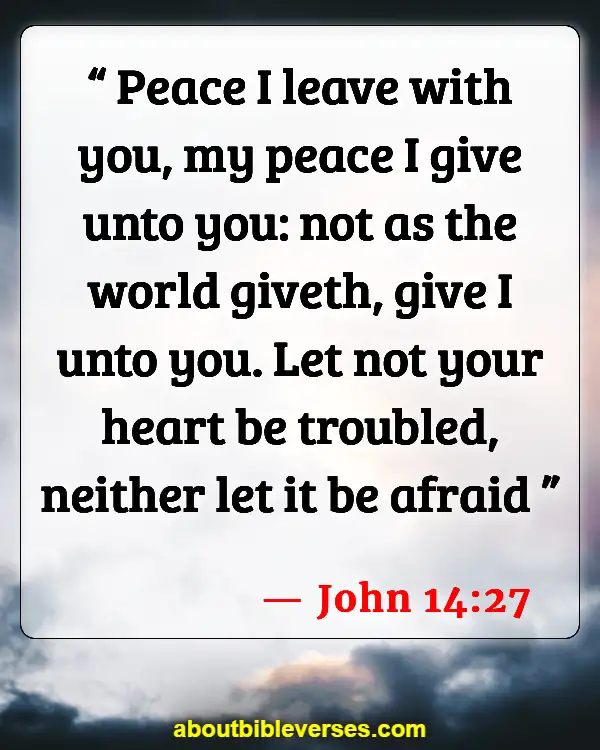 John 14:27
"Peace I leave with you, my peace I give unto you: not as the world giveth, give I unto you. Let not your heart be troubled, neither let it be afraid"
Romans 5:1
"Therefore being justified by faith, we have peace with God through our Lord Jesus Christ"
2 Thessalonians 3:16
"Now the Lord of peace himself give you peace always by all means. The Lord be with you all"
Colossians 3:15
"And let the peace of God rule in your hearts, to the which also ye are called in one body; and be ye thankful"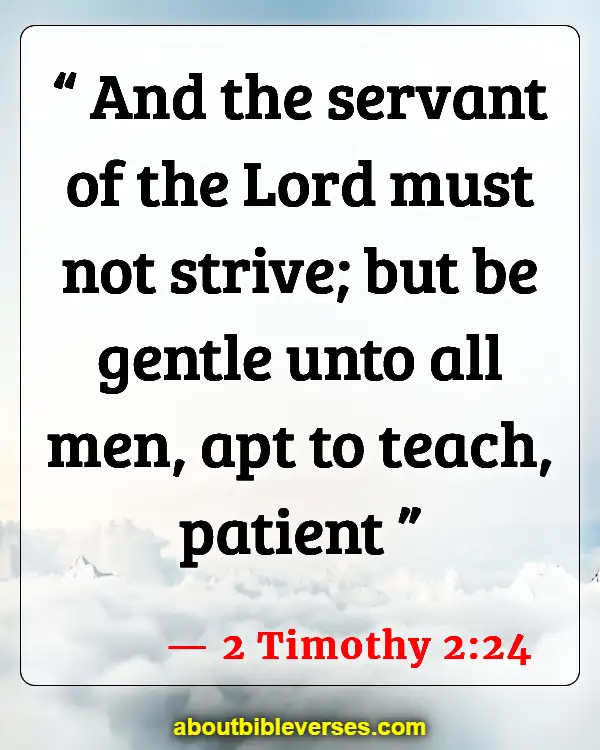 2 Timothy 2:24
"And the servant of the Lord must not strive; but be gentle unto all men, apt to teach, patient"
Hebrews 12:11
"Now no chastening for the present seemeth to be joyous, but grievous: nevertheless afterward it yieldeth the peaceable fruit of righteousness unto them which are exercised thereby"
James 3:17
"But the wisdom that is from above is first pure, then peaceable, gentle, and easy to be intreated, full of mercy and good fruits, without partiality, and without hypocrisy"
1 Peter 3:9
"Not rendering evil for evil, or railing for railing: but contrariwise blessing; knowing that ye are thereunto called, that ye should inherit a blessing"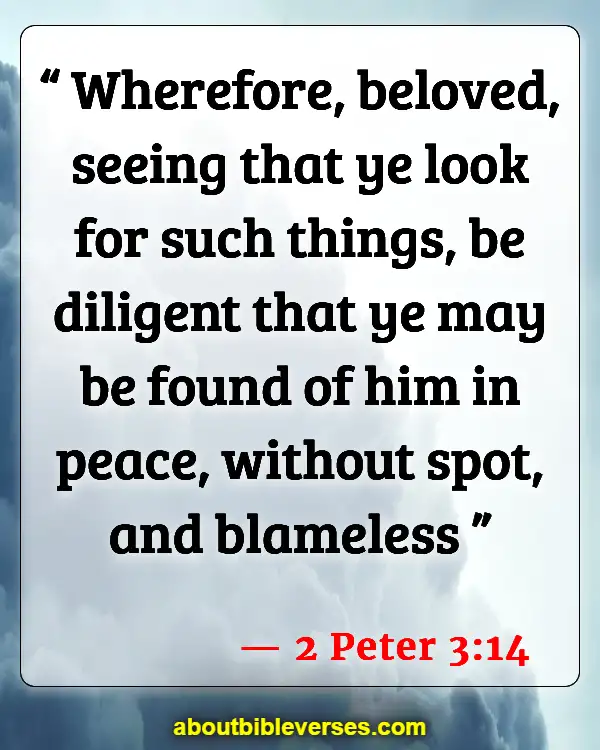 2 Peter 3:14
"Wherefore, beloved, seeing that ye look for such things, be diligent that ye may be found of him in peace, without spot, and blameless"
1 John 4:18
"There is no fear in love; but perfect love casteth out fear: because fear hath torment. He that feareth is not made perfect in love"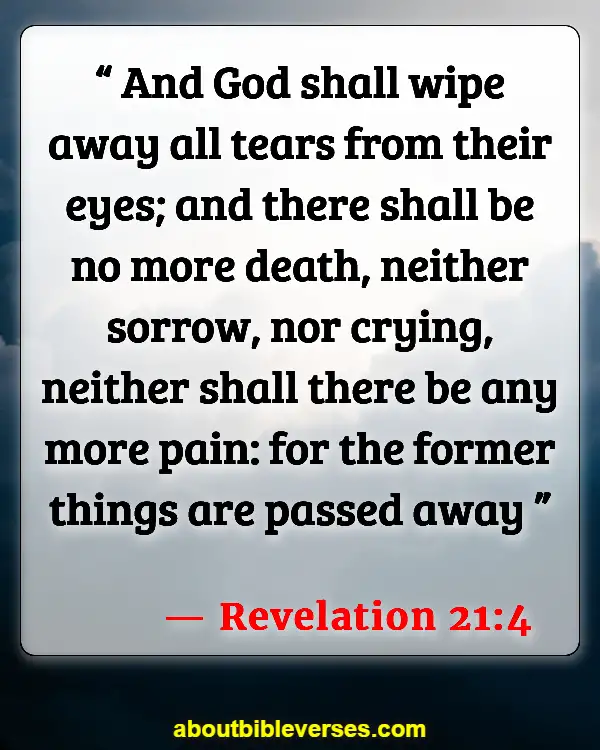 Revelation 21:4
"And God shall wipe away all tears from their eyes; and there shall be no more death, neither sorrow, nor crying, neither shall there be any more pain: for the former things are passed away"
F&Q:
Q: How can we find inner peace amidst life's challenges?
A: Through prayer, trust in God's plan, and surrendering our worries to Him, we can find the true inner peace that surpasses understanding.
Q: Can wars ever be justified from a biblical perspective?
A: While war is a consequence of humanity's fallen nature, there are instances where the defense of justice and protection of the innocent may be justified. However, war should always be approached with humility and as a last resort.
Q: How can we be peacemakers in our communities?
A: By embracing humility, showing love and compassion, seeking forgiveness and reconciliation, and promoting understanding between individuals and groups.
Q: Does peace mean the absence of conflict?
A: Not necessarily. True peace is a state of harmony and spiritual contentment, even in the midst of trials. Conflict may still arise, but with peace in our hearts, we can overcome them with grace and love.
Q: What role does forgiveness play in attaining peace?
A: Forgiveness is a cornerstone of peace. Through forgiveness, we release ourselves and others from the burden of resentment, opening the door to healing and reconciliation.