Dear friends, In the Bible we find a profound teaching about the virtue of patience and God's perfect timing. Throughout the Bible, we see examples of individuals who demonstrated patience and trust in the Lord's plan, even when facing challenging circumstances.
Patience, my brothers, and sisters, is a divine virtue bestowed upon us by the Almighty. It is a humble acknowledgment that we are not in control of everything, but rather, we place our faith in the hands of our loving Creator. Just as a farmer patiently waits for the harvest after planting the seeds, so must we wait upon the Lord and His perfect timing.
In the book of Genesis, we read the story of Abraham and Sarah, a couple who desired a child but were barren in their old age. Despite their doubts and impatience, they remained faithful to God's promise. And in His perfect timing, God blessed them with a son, Isaac, fulfilling His divine plan.
The Psalms, the songs of ancient poets and prophets, often speak of waiting upon the Lord. "Wait for the Lord; be strong and take heart and wait for the Lord" (Psalm 27:14). Such verses remind us that our patience is not in vain but rather a powerful act of surrender and dependence on God's wisdom.
Remember, dear brethren, that God's timing is perfect and beyond our comprehension. So, let us take comfort in the teachings of the Bible, embracing patience and trusting in God's divine plan. May we grow in faith, knowing that His timing is impeccable and that through patience, we can experience His wondrous blessings in ways we never imagined. Amen.
Dear friends now let's see the Bible scriptures below that talk about Patience And God's Timing.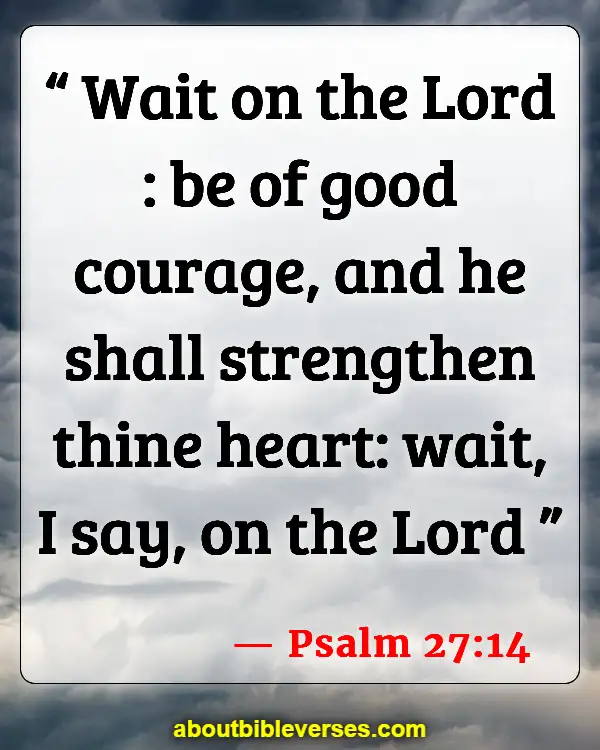 Psalm 27:14
"Wait on the Lord : be of good courage, and he shall strengthen thine heart: wait, I say, on the Lord"
Ecclesiastes 3:1
"To every thing there is a season, and a time to every purpose under the heaven"
Psalm 37:7
"Rest in the Lord , and wait patiently for him: fret not thyself because of him who prospereth in his way, because of the man who bringeth wicked devices to pass"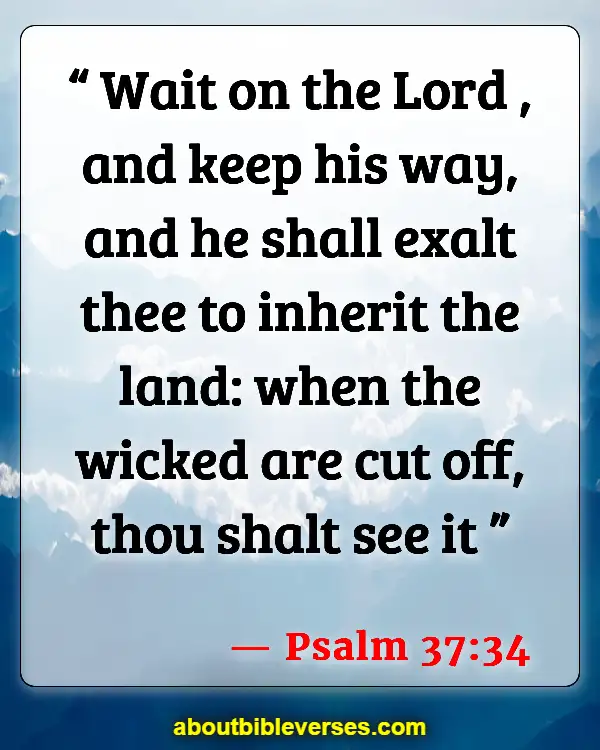 Psalm 37:34
"Wait on the Lord , and keep his way, and he shall exalt thee to inherit the land: when the wicked are cut off, thou shalt see it"
Psalm 130:5
"I wait for the Lord , my soul doth wait, and in his word do I hope"
Isaiah 40:31
"But they that wait upon the Lord shall renew their strength; they shall mount up with wings as eagles; they shall run, and not be weary; and they shall walk, and not faint"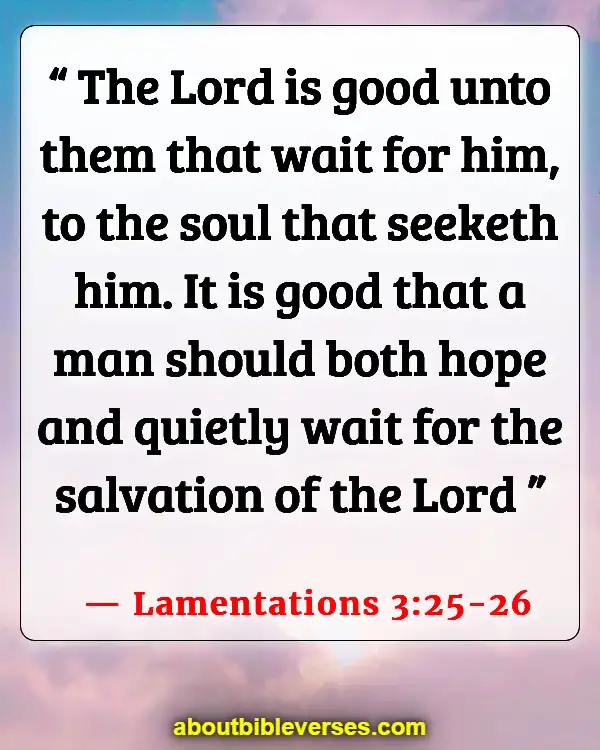 Lamentations 3:25-26
"The Lord is good unto them that wait for him, to the soul that seeketh him. It is good that a man should both hope and quietly wait for the salvation of the Lord"
Micah 7:7
"Therefore I will look unto the Lord ; I will wait for the God of my salvation: my God will hear me"
Romans 2:6-7
"Who will render to every man according to his deeds: To them who by patient continuance in well doing seek for glory and honour and immortality, eternal life"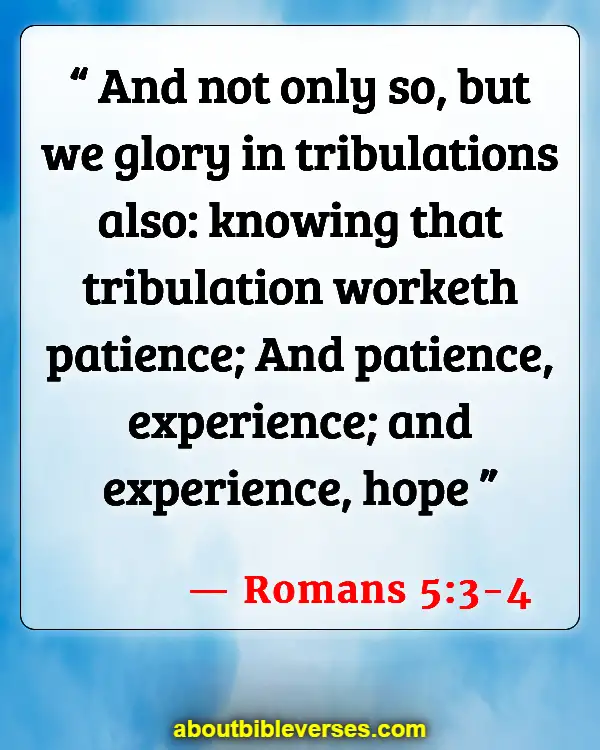 Romans 5:3-4
"And not only so, but we glory in tribulations also: knowing that tribulation worketh patience; And patience, experience; and experience, hope"
Romans 8:25
"But if we hope for that we see not, then do we with patience wait for it"
Romans 12:12
"Rejoicing in hope; patient in tribulation; continuing instant in prayer"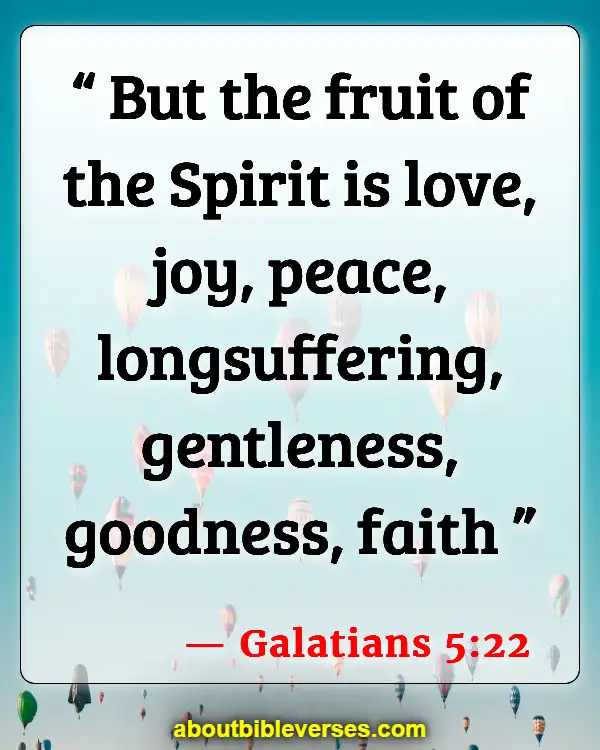 Galatians 5:22
"But the fruit of the Spirit is love, joy, peace, longsuffering, gentleness, goodness, faith"
Galatians 6:9
"And let us not be weary in well doing: for in due season we shall reap, if we faint not"
Ephesians 4:2
"With all lowliness and meekness, with longsuffering, forbearing one another in love"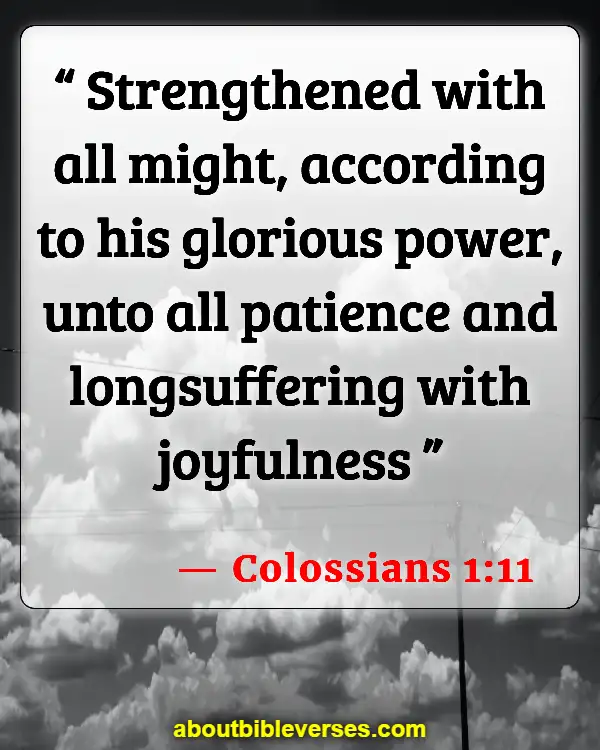 Colossians 1:11
"Strengthened with all might, according to his glorious power, unto all patience and longsuffering with joyfulness"
Colossians 3:12
"Put on therefore, as the elect of God, holy and beloved, bowels of mercies, kindness, humbleness of mind, meekness, longsuffering"
1 Thessalonians 5:14
"Now we exhort you, brethren, warn them that are unruly, comfort the feebleminded, support the weak, be patient toward all men"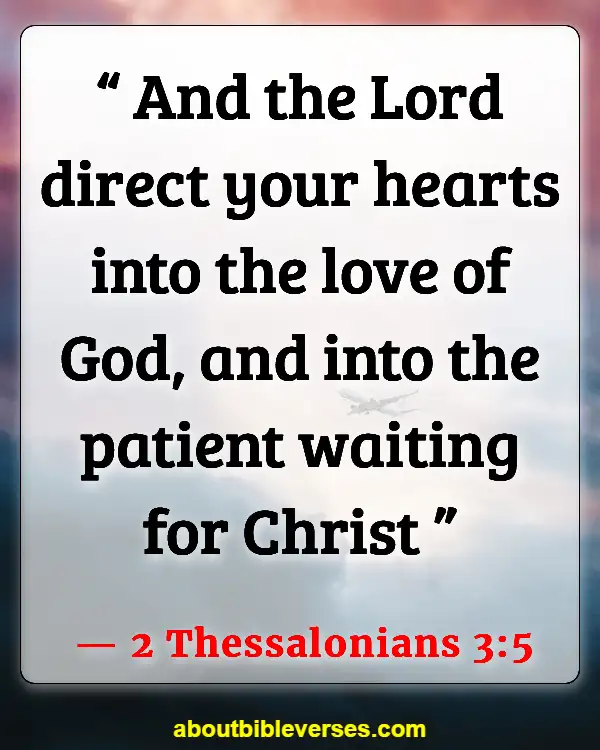 2 Thessalonians 3:5
"And the Lord direct your hearts into the love of God, and into the patient waiting for Christ"
1 Timothy 1:16
"Howbeit for this cause I obtained mercy, that in me first Jesus Christ might shew forth all longsuffering, for a pattern to them which should hereafter believe on him to life everlasting"
2 Timothy 2:24
"And the servant of the Lord must not strive; but be gentle unto all men, apt to teach, patient"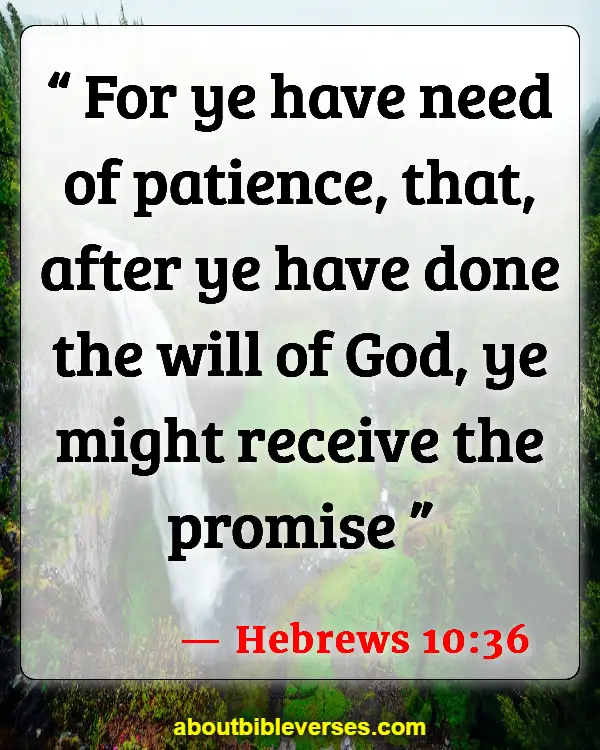 Hebrews 10:36
"For ye have need of patience, that, after ye have done the will of God, ye might receive the promise"
James 5:7-8
"Be patient therefore, brethren, unto the coming of the Lord. Behold, the husbandman waiteth for the precious fruit of the earth, and hath long patience for it, until he receive the early and latter rain. Be ye also patient; stablish your hearts: for the coming of the Lord draweth nigh"
1 Peter 2:20
"For what glory is it, if, when ye be buffeted for your faults, ye shall take it patiently? but if, when ye do well, and suffer for it, ye take it patiently, this is acceptable with God"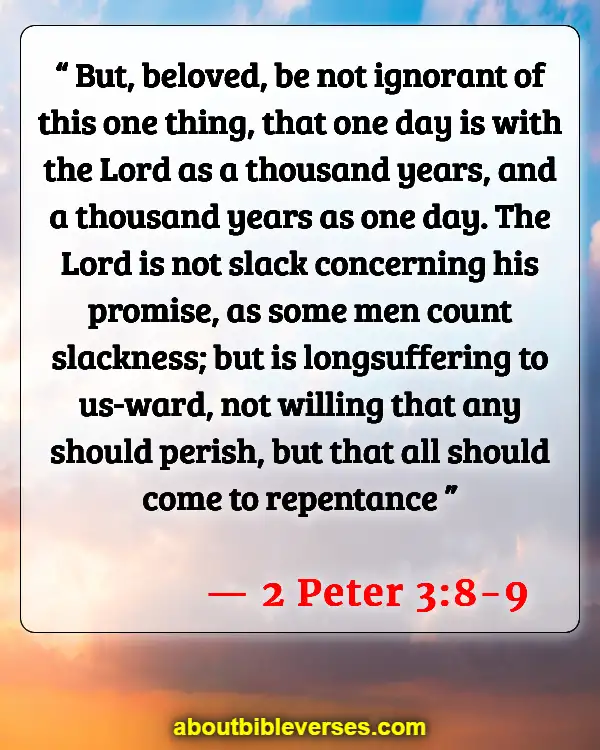 2 Peter 3:8-9
"But, beloved, be not ignorant of this one thing, that one day is with the Lord as a thousand years, and a thousand years as one day. The Lord is not slack concerning his promise, as some men count slackness; but is longsuffering to us-ward, not willing that any should perish, but that all should come to repentance"
2 Peter 3:15
"And account that the longsuffering of our Lord is salvation; even as our beloved brother Paul also according to the wisdom given unto him hath written unto you"
Revelation 2:2-3
"I know thy works, and thy labour, and thy patience, and how thou canst not bear them which are evil: and thou hast tried them which say they are apostles, and are not, and hast found them liars: And hast borne, and hast patience, and for my name's sake hast laboured, and hast not fainted"
Revelation 14:12
"Here is the patience of the saints: here are they that keep the commandments of God, and the faith of Jesus"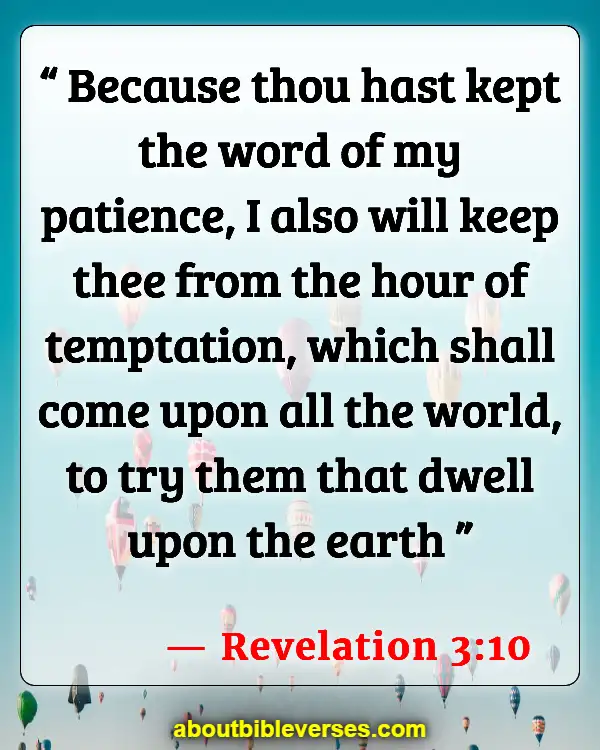 Revelation 3:10
"Because thou hast kept the word of my patience, I also will keep thee from the hour of temptation, which shall come upon all the world, to try them that dwell upon the earth"