Dear friends, in the sacred pages of the Bible, we find wisdom and guidance on the matter of not giving up on a relationship. Just as our Heavenly Father never gives up on His relationship with us, He teaches us the importance of perseverance and enduring love in our human relationships.
The Bible also reminds us that love is patient and kind, and it does not give up. This love, described in 1 Corinthians 13, calls us to bear all things, believe all things, hope all things, and endure all things. This is the love that mirrors God's love for us – a love that never gives up, even when faced with difficulties.
God cares deeply about our marriages and families. He wants to see relationships restored, not abandoned. Healthy relationships take work and sacrifice from both partners. Rather than focusing on each other's flaws, we must look to God for strength to address our own shortcomings. As we seek spiritual growth, God will shape us into more loving, forgiving, and selfless partners.
So, dear friends, let's see the Bible scriptures below that talk about not giving up on a relationship.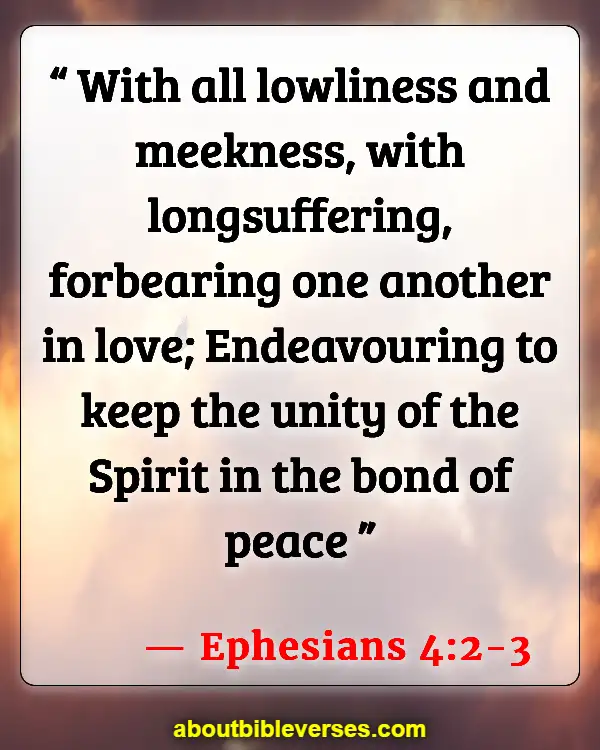 Ephesians 4:2-3
"With all lowliness and meekness, with longsuffering, forbearing one another in love; Endeavouring to keep the unity of the Spirit in the bond of peace"
1 Corinthians 13:4-7
"Charity suffereth long, and is kind; charity envieth not; charity vaunteth not itself, is not puffed up, Doth not behave itself unseemly, seeketh not her own, is not easily provoked, thinketh no evil; Rejoiceth not in iniquity, but rejoiceth in the truth; Beareth all things, believeth all things, hopeth all things, endureth all things"
Colossians 3:13
"Forbearing one another, and forgiving one another, if any man have a quarrel against any: even as Christ forgave you, so also do ye"
Proverbs 10:12
"Hatred stirreth up strifes: but love covereth all sins"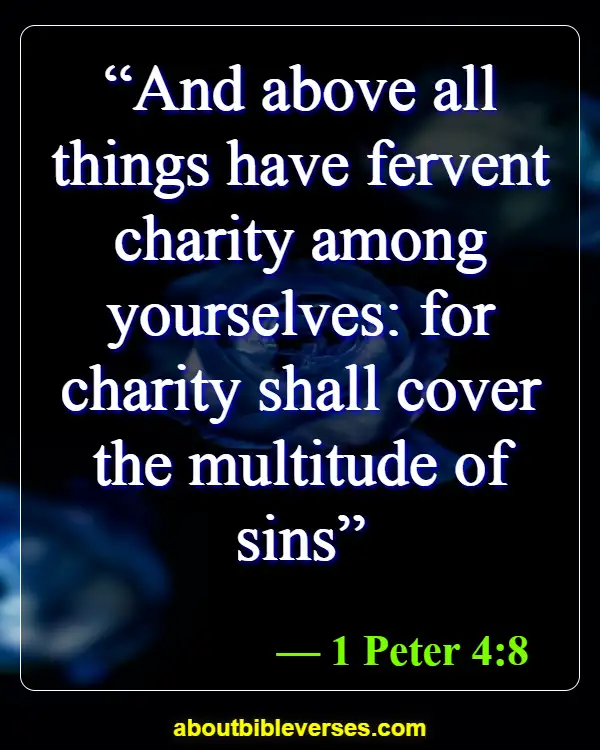 1 Peter 4:8
"And above all things have fervent charity among yourselves: for charity shall cover the multitude of sins"
Romans 12:18
"If it be possible, as much as lieth in you, live peaceably with all men"
Romans 14:19
"Let us therefore follow after the things which make for peace, and things wherewith one may edify another"
Ephesians 4:32
"And be ye kind one to another, tenderhearted, forgiving one another, even as God for Christ's sake hath forgiven you"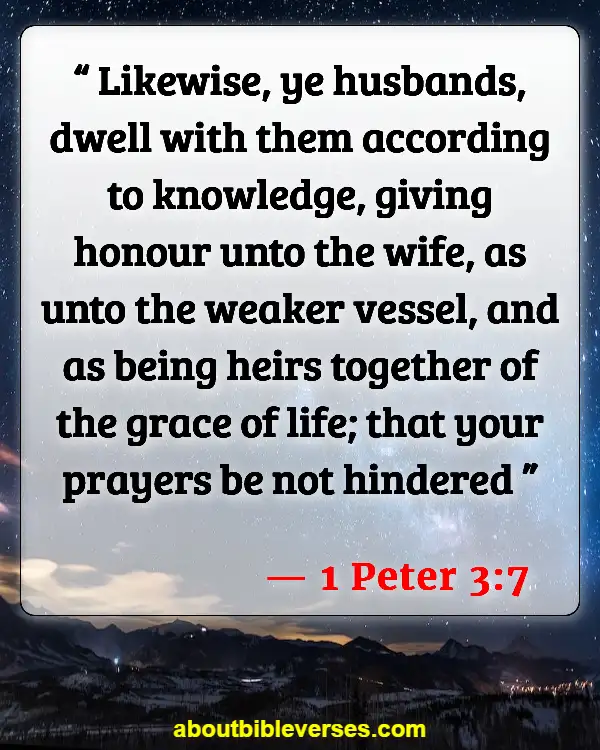 1 Peter 3:7
"Likewise, ye husbands, dwell with them according to knowledge, giving honour unto the wife, as unto the weaker vessel, and as being heirs together of the grace of life; that your prayers be not hindered"
1 Corinthians 7:10-11
"And unto the married I command, yet not I, but the Lord, Let not the wife depart from her husband: But and if she depart, let her remain unmarried or be reconciled to her husband: and let not the husband put away his wife"
Proverbs 17:17
"A friend loveth at all times, and a brother is born for adversity"
Proverbs 15:1
"A soft answer turneth away wrath: but grievous words stir up anger"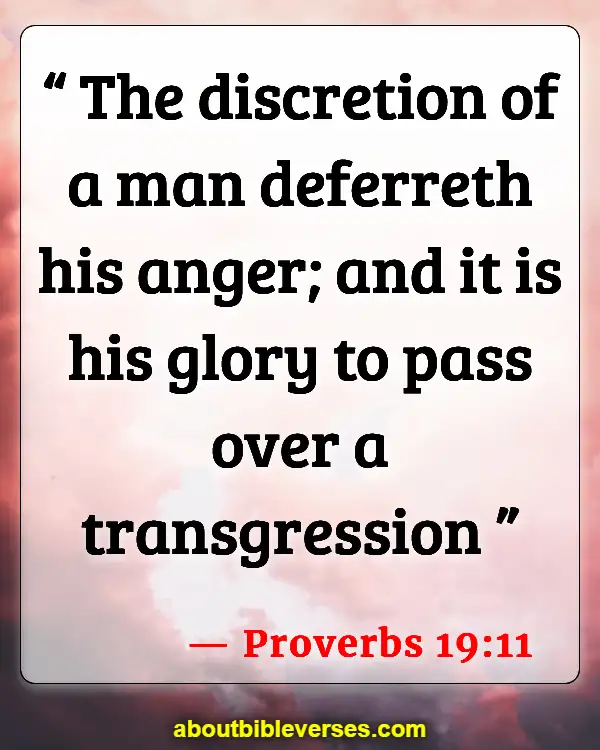 Proverbs 19:11
"The discretion of a man deferreth his anger; and it is his glory to pass over a transgression"
Matthew 18:21-22
"Then came Peter to him, and said, Lord, how oft shall my brother sin against me, and I forgive him? till seven times? Jesus saith unto him, I say not unto thee, Until seven times: but, Until seventy times seven"
1 Peter 3:1-2
"Likewise, ye wives, be in subjection to your own husbands; that, if any obey not the word, they also may without the word be won by the conversation of the wives; While they behold your chaste conversation coupled with fear"
1 Corinthians 7:3-5
"Let the husband render unto the wife due benevolence: and likewise also the wife unto the husband. The wife hath not power of her own body, but the husband: and likewise also the husband hath not power of his own body, but the wife. Defraud ye not one the other, except it be with consent for a time, that ye may give yourselves to fasting and prayer; and come together again, that Satan tempt you not for your incontinency"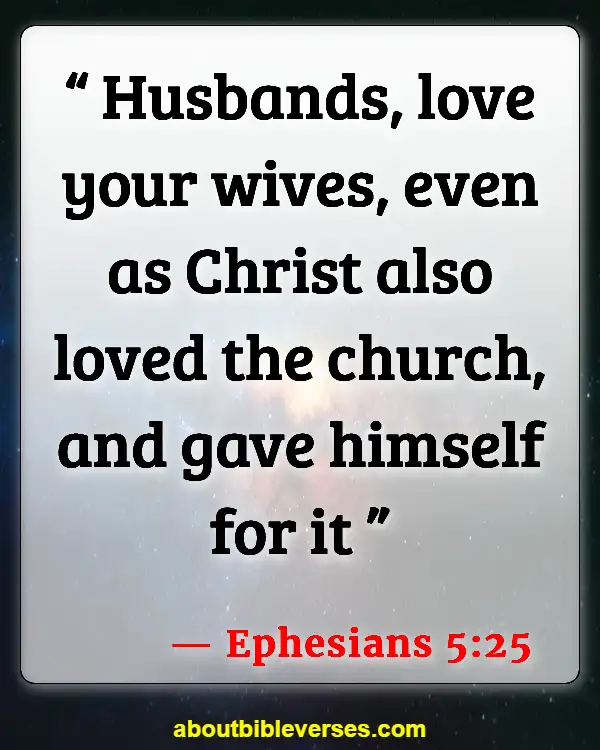 Ephesians 5:25
"Husbands, love your wives, even as Christ also loved the church, and gave himself for it"
Ephesians 5:33
"Nevertheless let every one of you in particular so love his wife even as himself; and the wife see that she reverence her husband"
Proverbs 20:6-7
"Most men will proclaim every one his own goodness: but a faithful man who can find? The just man walketh in his integrity: his children are blessed after him"
Proverbs 3:3-4
"Let not mercy and truth forsake thee: bind them about thy neck; write them upon the table of thine heart: So shalt thou find favour and good understanding in the sight of God and man"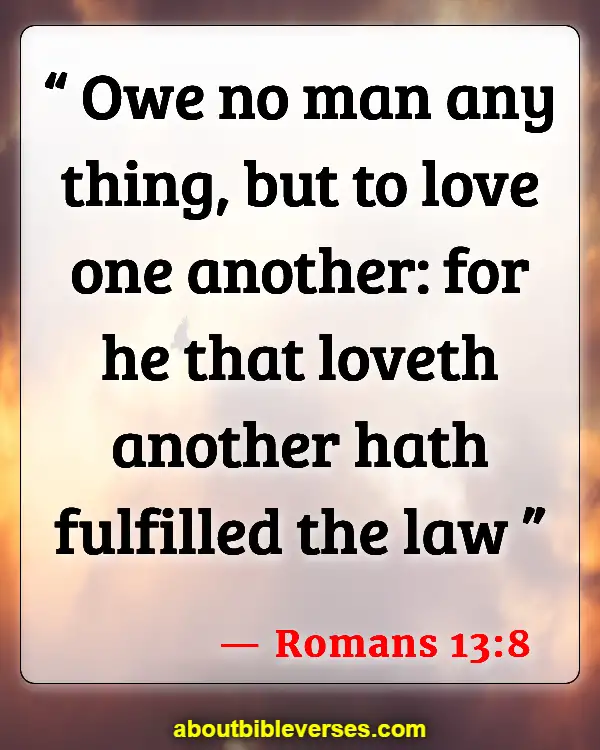 Romans 13:8
"Owe no man any thing, but to love one another: for he that loveth another hath fulfilled the law"
1 Thessalonians 5:11
"Wherefore comfort yourselves together, and edify one another, even as also ye do"
James 5:16
"Confess your faults one to another, and pray one for another, that ye may be healed. The effectual fervent prayer of a righteous man availeth much"
Galatians 6:2
"Bear ye one another's burdens, and so fulfil the law of Christ"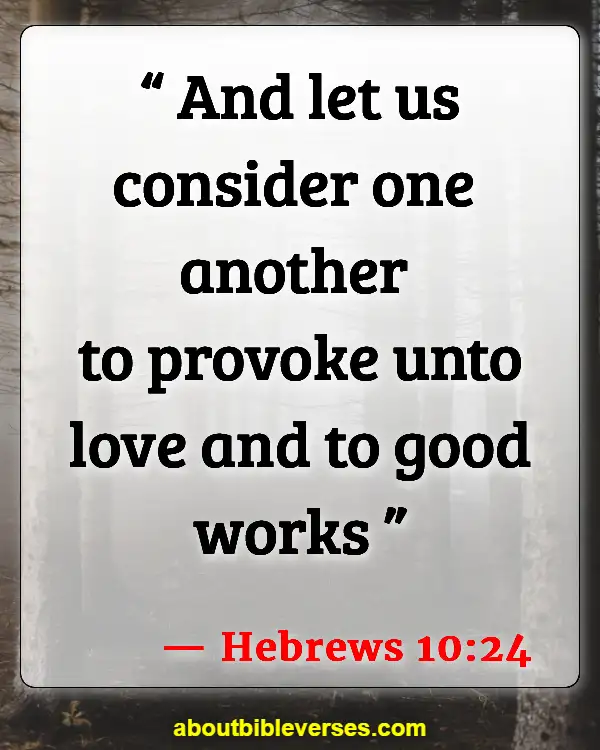 Hebrews 10:24
"And let us consider one another to provoke unto love and to good works"
James 1:19
"Wherefore, my beloved brethren, let every man be swift to hear, slow to speak, slow to wrath"
James 1:26
"If any man among you seem to be religious, and bridleth not his tongue, but deceiveth his own heart, this man's religion is vain"
James 3:9-10
"Therewith bless we God, even the Father; and therewith curse we men, which are made after the similitude of God. Out of the same mouth proceedeth blessing and cursing. My brethren, these things ought not so to be"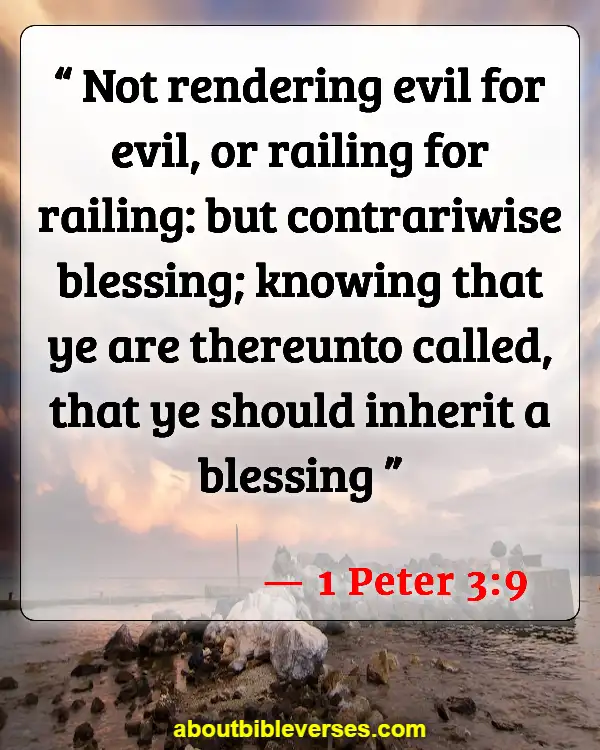 1 Peter 3:9
"Not rendering evil for evil, or railing for railing: but contrariwise blessing; knowing that ye are thereunto called, that ye should inherit a blessing"
1 Peter 4:9
"Use hospitality one to another without grudging"
1 John 1:7
"But if we walk in the light, as he is in the light, we have fellowship one with another, and the blood of Jesus Christ his Son cleanseth us from all sin"
1 John 3:23
"And this is his commandment, That we should believe on the name of his Son Jesus Christ, and love one another, as he gave us commandment"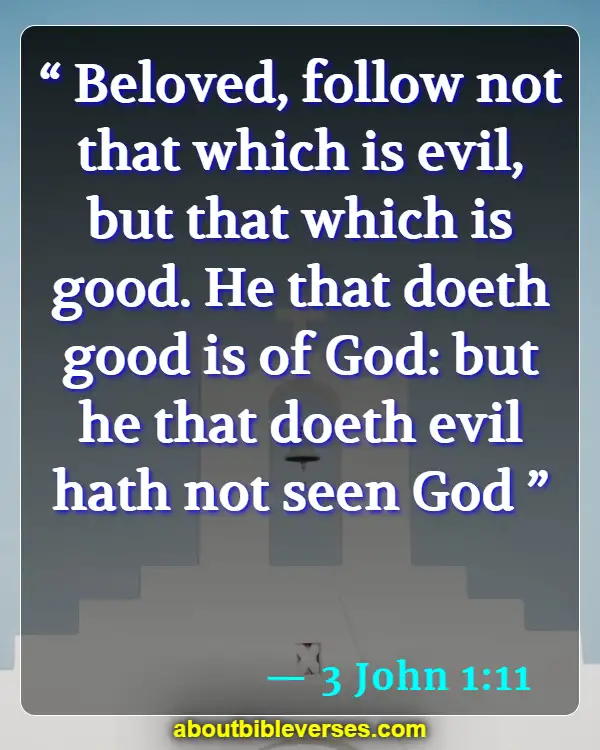 3 John 1:11
"Beloved, follow not that which is evil, but that which is good. He that doeth good is of God: but he that doeth evil hath not seen God"
Romans 12:10
"Be kindly affectioned one to another with brotherly love; in honour preferring one another"
Romans 12:16
"Be of the same mind one toward another. Mind not high things, but condescend to men of low estate. Be not wise in your own conceits"
Romans 14:13
"Let us not therefore judge one another any more: but judge this rather, that no man put a stumblingblock or an occasion to fall in his brother's way"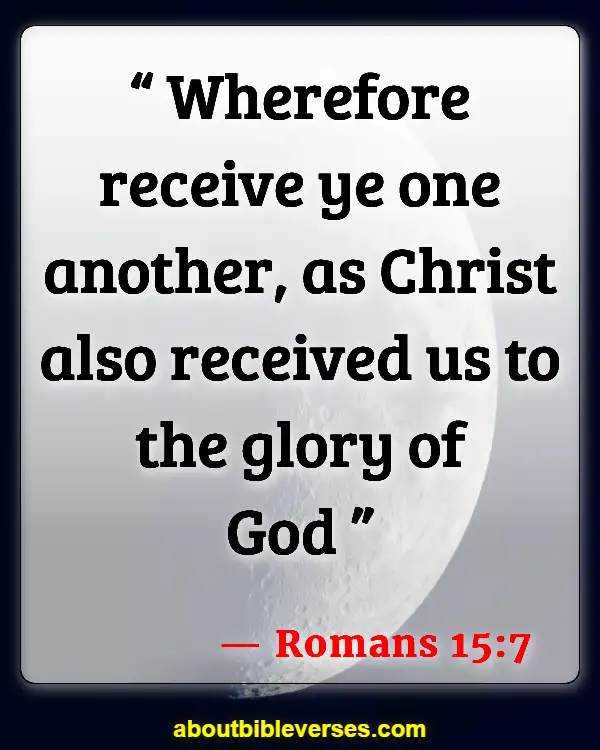 Romans 15:7
"Wherefore receive ye one another, as Christ also received us to the glory of God"
1 Corinthians 1:10
"Now I beseech you, brethren, by the name of our Lord Jesus Christ, that ye all speak the same thing, and that there be no divisions among you; but that ye be perfectly joined together in the same mind and in the same judgment"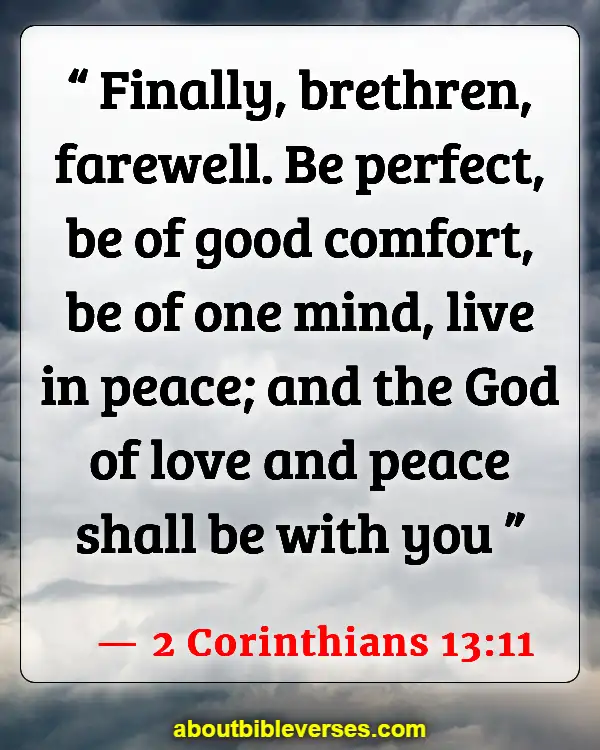 2 Corinthians 13:11
"Finally, brethren, farewell. Be perfect, be of good comfort, be of one mind, live in peace; and the God of love and peace shall be with you"