Dear Friends, In the Bible we find profound insights into the concepts of mission and vision. As believers, we are called to understand and embrace these divine principles to guide our journey of faith and purpose.
Mission, in the eyes of God, is the divine task entrusted to each of us. It is the purpose for which we were created and the calling that sets us apart. Our mission is to reflect the love, grace, and righteousness of our Heavenly Father, to shine as lights in a dark world, and to share the good news of salvation with all people.
Just as Jesus declared, "Go into all the world and preach the gospel to all creation," we are commissioned to be messengers of hope and reconciliation.
To fulfill our mission, we must align our vision with God's plan. Vision is the spiritual sight that allows us to see beyond the present circumstances and envision a future shaped by God's purposes.
Just as the prophets of old received divine visions, we too are invited to seek the Lord's guidance and direction. With hearts attuned to His voice, we can pursue a vision that honors God, empowers His people, and transforms lives.
Dear friends now let's see the Bible scriptures below that talk about Mission And Vision.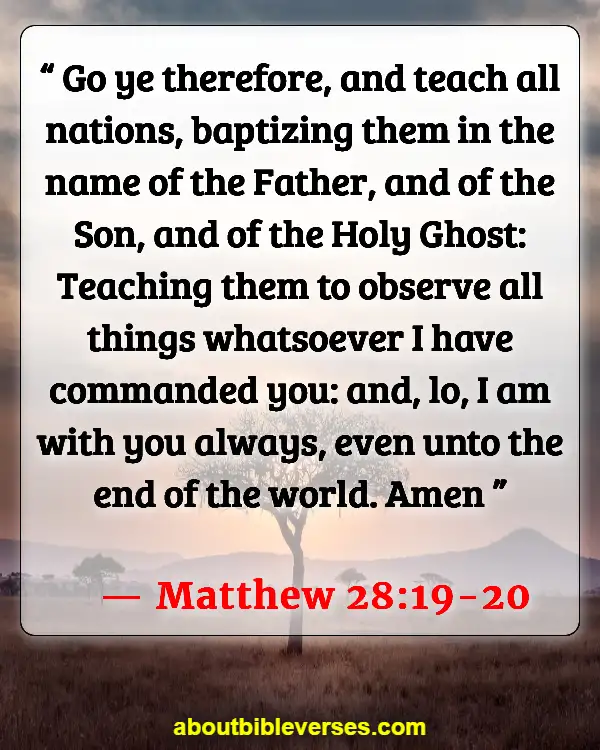 Matthew 28:19-20
"Go ye therefore, and teach all nations, baptizing them in the name of the Father, and of the Son, and of the Holy Ghost: Teaching them to observe all things whatsoever I have commanded you: and, lo, I am with you always, even unto the end of the world. Amen"
Proverbs 29:18
"Where there is no vision, the people perish: but he that keepeth the law, happy is he"
Acts 1:8
"But ye shall receive power, after that the Holy Ghost is come upon you: and ye shall be witnesses unto me both in Jerusalem, and in all Judaea, and in Samaria, and unto the uttermost part of the earth"
Mark 16:15
"And he said unto them, Go ye into all the world, and preach the gospel to every creature"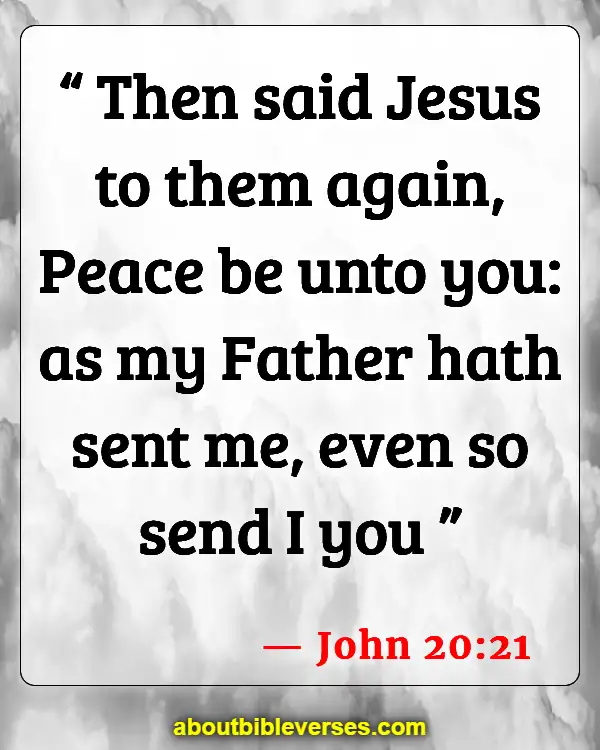 John 20:21
"Then said Jesus to them again, Peace be unto you: as my Father hath sent me, even so send I you"
Luke 4:18-19
"The Spirit of the Lord is upon me, because he hath anointed me to preach the gospel to the poor; he hath sent me to heal the brokenhearted, to preach deliverance to the captives, and recovering of sight to the blind, to set at liberty them that are bruised, To preach the acceptable year of the Lord"
2 Timothy 4:5
"But watch thou in all things, endure afflictions, do the work of an evangelist, make full proof of thy ministry"
Matthew 24:14
"And this gospel of the kingdom shall be preached in all the world for a witness unto all nations; and then shall the end come"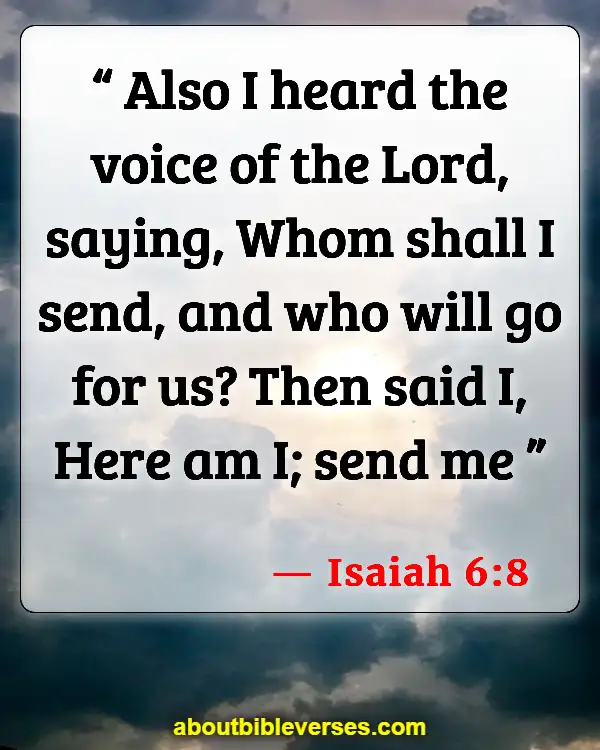 Isaiah 6:8
"Also I heard the voice of the Lord, saying, Whom shall I send, and who will go for us? Then said I, Here am I; send me"
Mark 13:10
"And the gospel must first be published among all nations"
Acts 13:47
"For so hath the Lord commanded us, saying, I have set thee to be a light of the Gentiles, that thou shouldest be for salvation unto the ends of the earth"
Acts 14:15
"And saying, Sirs, why do ye these things? We also are men of like passions with you, and preach unto you that ye should turn from these vanities unto the living God, which made heaven, and earth, and the sea, and all things that are therein"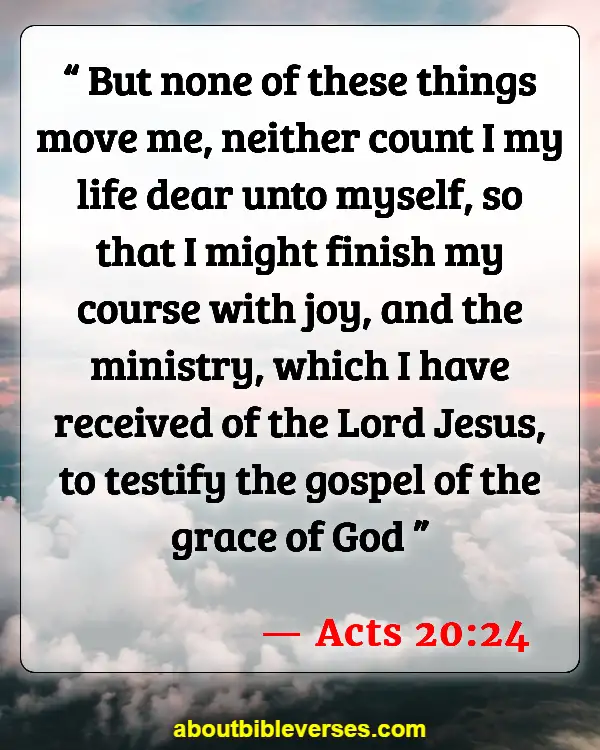 Acts 20:24
"But none of these things move me, neither count I my life dear unto myself, so that I might finish my course with joy, and the ministry, which I have received of the Lord Jesus, to testify the gospel of the grace of God"
1 Chronicles 16:24
"Declare his glory among the heathen; his marvellous works among all nations"
Psalm 96:3
"Declare his glory among the heathen, his wonders among all people"
Isaiah 52:7
"How beautiful upon the mountains are the feet of him that bringeth good tidings, that publisheth peace; that bringeth good tidings of good, that publisheth salvation; that saith unto Zion, Thy God reigneth"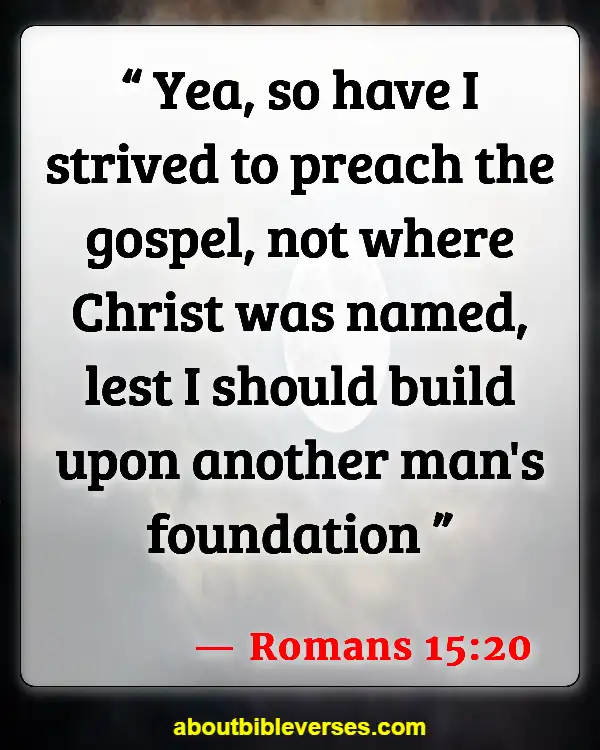 Romans 15:20
"Yea, so have I strived to preach the gospel, not where Christ was named, lest I should build upon another man's foundation"
1 Corinthians 9:16
"For though I preach the gospel, I have nothing to glory of: for necessity is laid upon me; yea, woe is unto me, if I preach not the gospel"
2 Corinthians 5:20
"Now then we are ambassadors for Christ, as though God did beseech you by us: we pray you in Christ's stead, be ye reconciled to God"
Galatians 1:15-16
"But when it pleased God, who separated me from my mother's womb, and called me by his grace, To reveal his Son in me, that I might preach him among the heathen; immediately I conferred not with flesh and blood"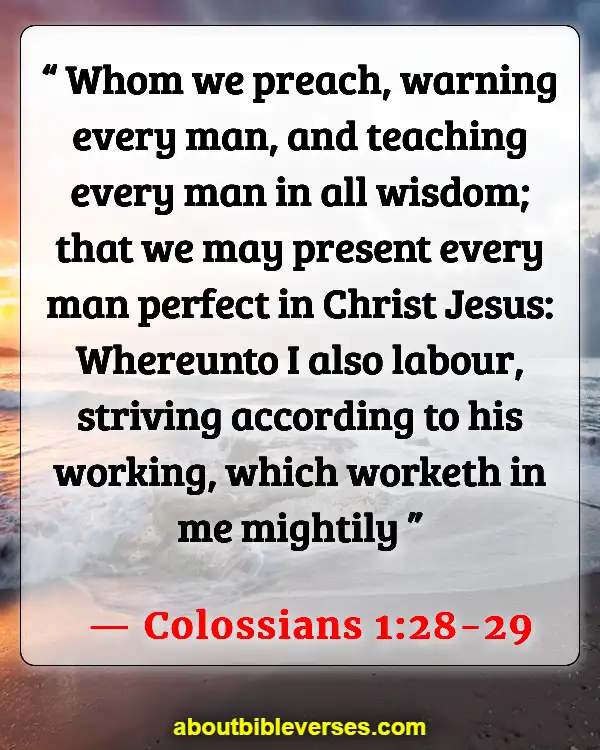 Colossians 1:28-29
"Whom we preach, warning every man, and teaching every man in all wisdom; that we may present every man perfect in Christ Jesus: Whereunto I also labour, striving according to his working, which worketh in me mightily"
1 Thessalonians 2:4
"But as we were allowed of God to be put in trust with the gospel, even so we speak; not as pleasing men, but God, which trieth our hearts"
1 Timothy 2:7
"Whereunto I am ordained a preacher, and an apostle, (I speak the truth in Christ, and lie not;) a teacher of the Gentiles in faith and verity"
2 Timothy 2:2
"And the things that thou hast heard of me among many witnesses, the same commit thou to faithful men, who shall be able to teach others also"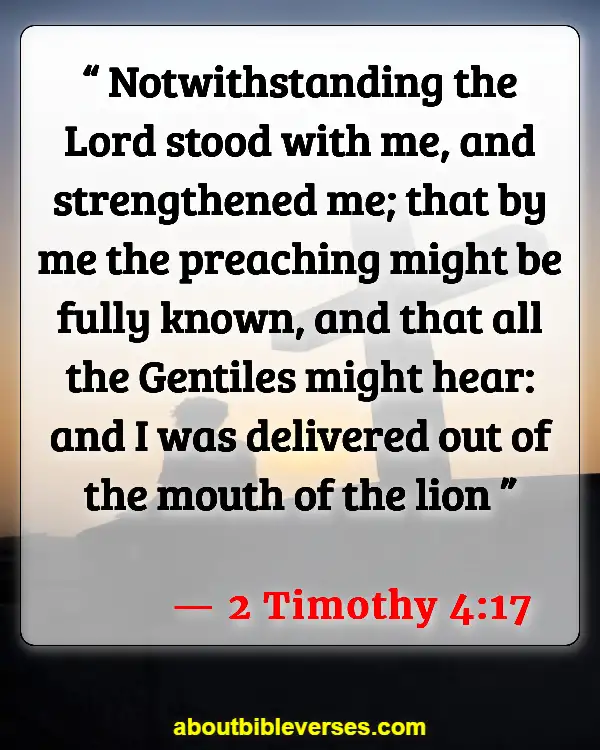 2 Timothy 4:17
"Notwithstanding the Lord stood with me, and strengthened me; that by me the preaching might be fully known, and that all the Gentiles might hear: and I was delivered out of the mouth of the lion"
Titus 1:3
"But hath in due times manifested his word through preaching, which is committed unto me according to the commandment of God our Saviour"
Hebrews 2:3
"How shall we escape, if we neglect so great salvation; which at the first began to be spoken by the Lord, and was confirmed unto us by them that heard him"
1 Peter 3:15
"But sanctify the Lord God in your hearts: and be ready always to give an answer to every man that asketh you a reason of the hope that is in you with meekness and fear"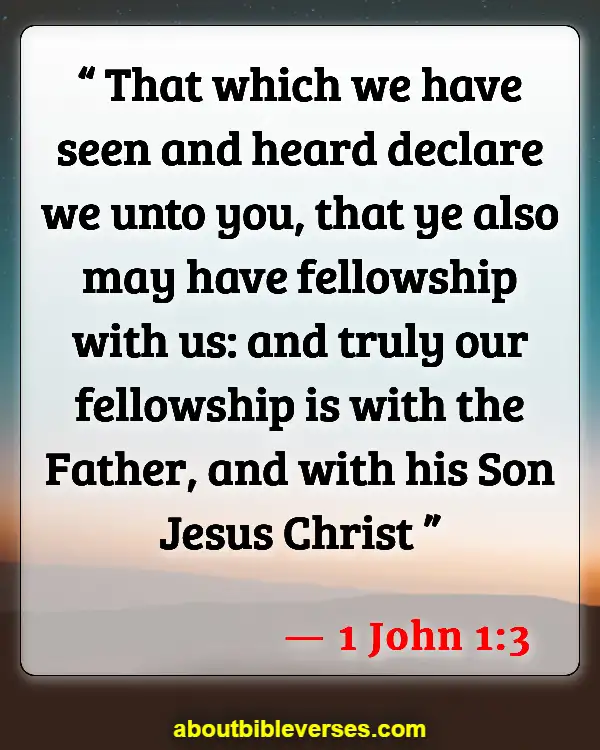 1 John 1:3
"That which we have seen and heard declare we unto you, that ye also may have fellowship with us: and truly our fellowship is with the Father, and with his Son Jesus Christ"
Psalm 67:2
"That thy way may be known upon earth, thy saving health among all nations"
Psalm 105:1
"O give thanks unto the Lord ; call upon his name: make known his deeds among the people"
Isaiah 12:4
"And in that day shall ye say, Praise the Lord , call upon his name, declare his doings among the people, make mention that his name is exalted"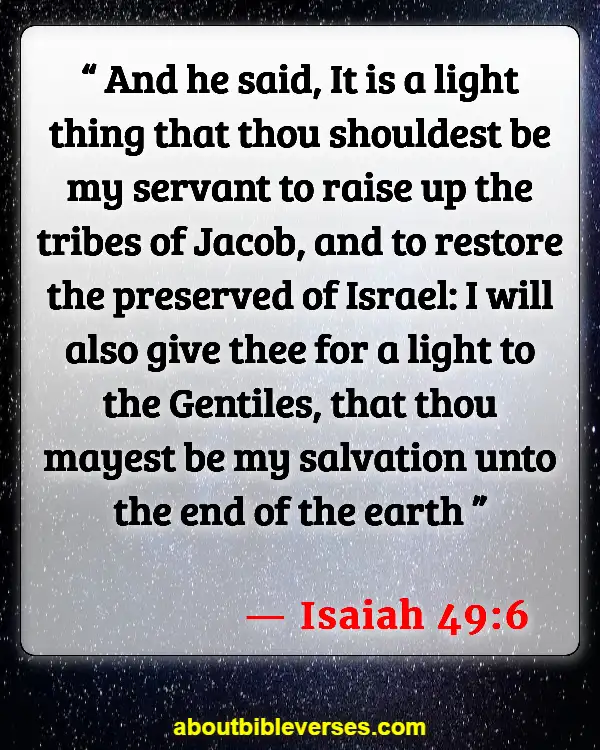 Isaiah 49:6
"And he said, It is a light thing that thou shouldest be my servant to raise up the tribes of Jacob, and to restore the preserved of Israel: I will also give thee for a light to the Gentiles, that thou mayest be my salvation unto the end of the earth"
Jeremiah 1:5
"Before I formed thee in the belly I knew thee; and before thou camest forth out of the womb I sanctified thee, and I ordained thee a prophet unto the nations"