Dear friends, as followers of Christ, we are called to be his witnesses and spread the good news of salvation to all people. Though we live in a broken world filled with pain and suffering, God desires that all would come to repentance and have eternal life through faith in Jesus. Reaching out to those in our neighborhoods and communities takes compassion, courage, and conviction.
Going out and serving others is central to our mission. As Jesus said, "Let your light shine before others, that they may see your good deeds and glorify your Father in heaven." We can bring light into dark places by feeding the hungry, caring for the sick, welcoming strangers, and visiting those in prison. Sacrificial love and genuine concern for people's needs often open doors to sharing the gospel.
While proclaiming God's truth, we must do so in humility, gentleness, and respect. We should listen before speaking, building trust and common ground. Our task is to faithfully plant seeds through acts of kindness and sincere relationships. It is God alone who waters those seeds and causes growth. We pray He will use us as His redeeming work.
Dear friends now let's see the Bible scriptures below that talk about "Mission and Outreach".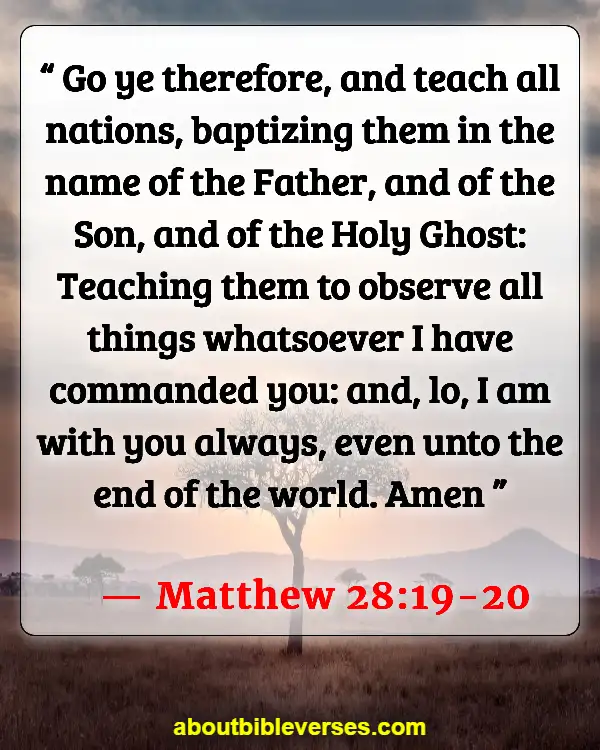 Matthew 28:19-20
"Go ye therefore, and teach all nations, baptizing them in the name of the Father, and of the Son, and of the Holy Ghost: Teaching them to observe all things whatsoever I have commanded you: and, lo, I am with you always, even unto the end of the world. Amen"
Mark 16:15
"And he said unto them, Go ye into all the world, and preach the gospel to every creature"
Acts 1:8
"But ye shall receive power, after that the Holy Ghost is come upon you: and ye shall be witnesses unto me both in Jerusalem, and in all Judaea, and in Samaria, and unto the uttermost part of the earth"
Luke 24:47
"And that repentance and remission of sins should be preached in his name among all nations, beginning at Jerusalem"
Acts 13:47
"For so hath the Lord commanded us, saying, I have set thee to be a light of the Gentiles, that thou shouldest be for salvation unto the ends of the earth"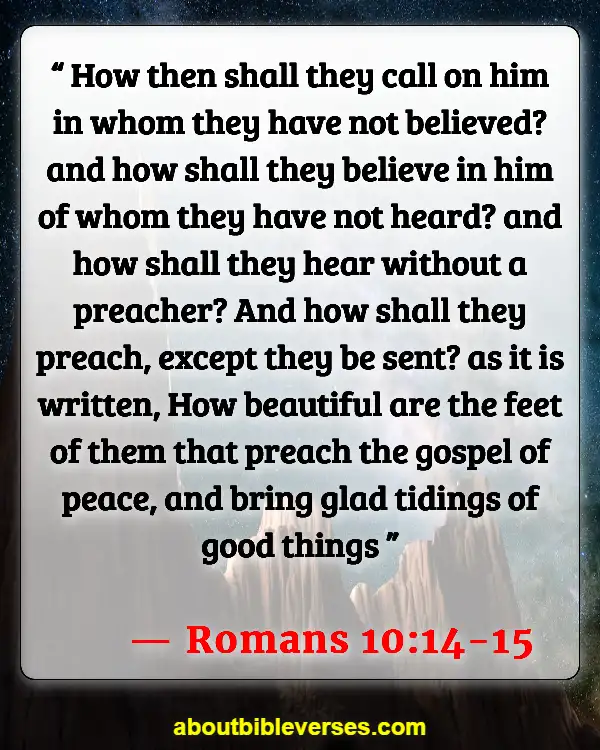 Romans 10:14-15
"How then shall they call on him in whom they have not believed? and how shall they believe in him of whom they have not heard? and how shall they hear without a preacher? And how shall they preach, except they be sent? as it is written, How beautiful are the feet of them that preach the gospel of peace, and bring glad tidings of good things"
Isaiah 6:8
"Also I heard the voice of the Lord, saying, Whom shall I send, and who will go for us? Then said I, Here am I; send me"
Matthew 9:37-38
"Then saith he unto his disciples, The harvest truly is plenteous, but the labourers are few; Pray ye therefore the Lord of the harvest, that he will send forth labourers into his harvest"
John 20:21
"Then said Jesus to them again, Peace be unto you: as my Father hath sent me, even so send I you"
Acts 26:17-18
"Delivering thee from the people, and from the Gentiles, unto whom now I send thee, To open their eyes, and to turn them from darkness to light, and from the power of Satan unto God, that they may receive forgiveness of sins, and inheritance among them which are sanctified by faith that is in me"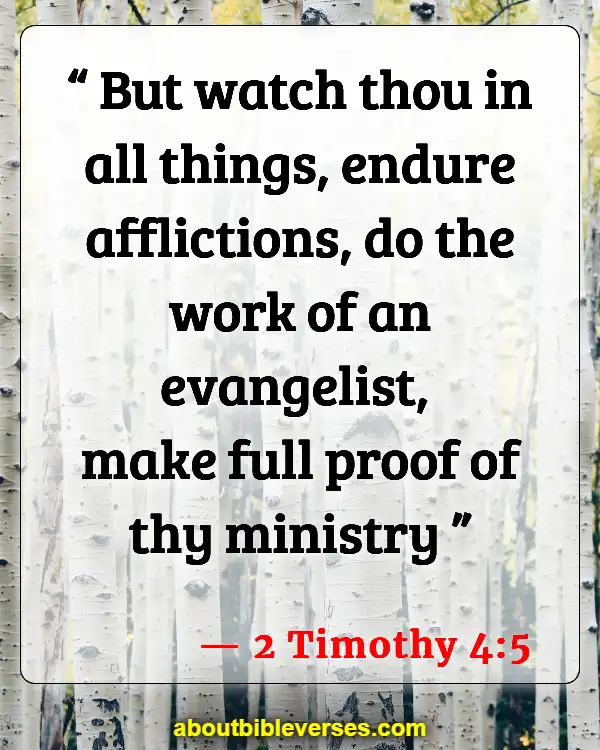 2 Timothy 4:5
"But watch thou in all things, endure afflictions, do the work of an evangelist, make full proof of thy ministry"
1 Chronicles 16:24
"Declare his glory among the heathen; his marvellous works among all nations"
Psalm 96:3
"Declare his glory among the heathen, his wonders among all people"
Acts 14:15
"And saying, Sirs, why do ye these things? We also are men of like passions with you, and preach unto you that ye should turn from these vanities unto the living God, which made heaven, and earth, and the sea, and all things that are therein"
1 Peter 2:9
"But ye are a chosen generation, a royal priesthood, an holy nation, a peculiar people; that ye should shew forth the praises of him who hath called you out of darkness into his marvellous light"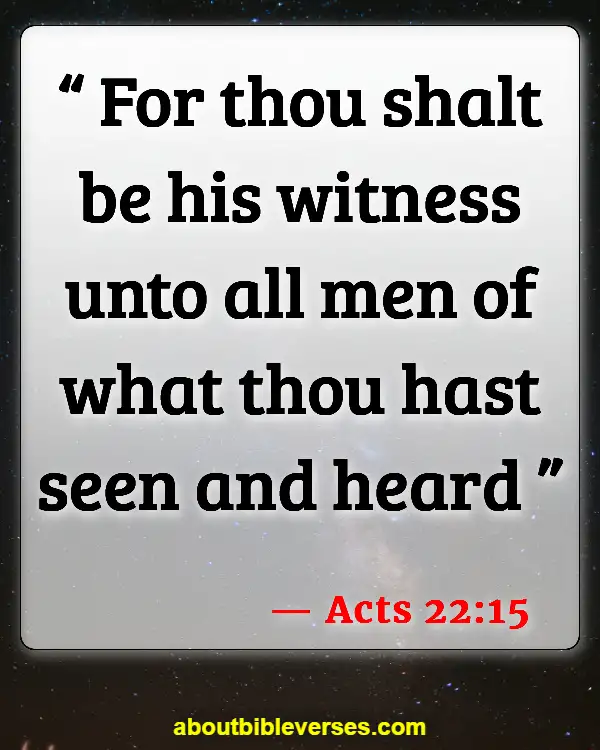 Acts 22:15
"For thou shalt be his witness unto all men of what thou hast seen and heard"
Romans 1:16
"For I am not ashamed of the gospel of Christ: for it is the power of God unto salvation to every one that believeth; to the Jew first, and also to the Greek"
1 Corinthians 9:16
"For though I preach the gospel, I have nothing to glory of: for necessity is laid upon me; yea, woe is unto me, if I preach not the gospel"
2 Corinthians 5:20
"Now then we are ambassadors for Christ, as though God did beseech you by us: we pray you in Christ's stead, be ye reconciled to God"
Mark 13:10
"And the gospel must first be published among all nations"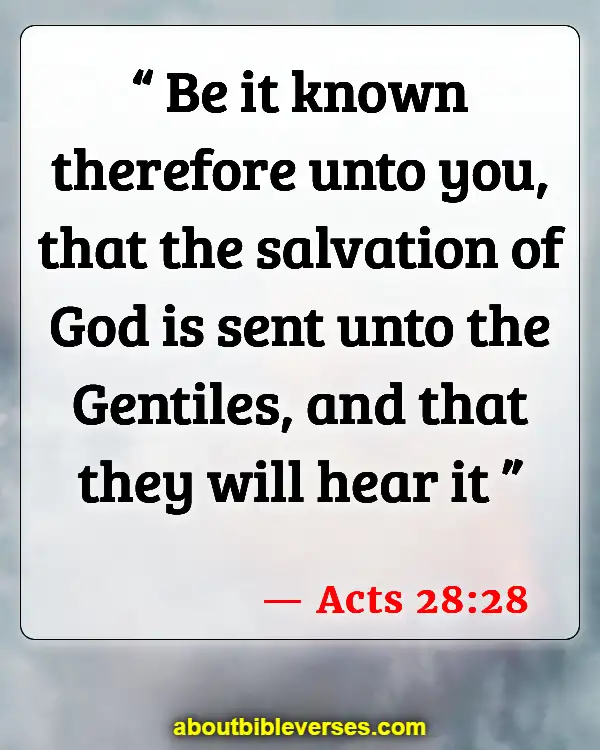 Acts 28:28
"Be it known therefore unto you, that the salvation of God is sent unto the Gentiles, and that they will hear it"
Romans 15:20
"Yea, so have I strived to preach the gospel, not where Christ was named, lest I should build upon another man's foundation"
1 Corinthians 1:17
"For Christ sent me not to baptize, but to preach the gospel: not with wisdom of words, lest the cross of Christ should be made of none effect"
2 Corinthians 2:14
"Now thanks be unto God, which always causeth us to triumph in Christ, and maketh manifest the savour of his knowledge by us in every place"
Ephesians 3:8
"Unto me, who am less than the least of all saints, is this grace given, that I should preach among the Gentiles the unsearchable riches of Christ"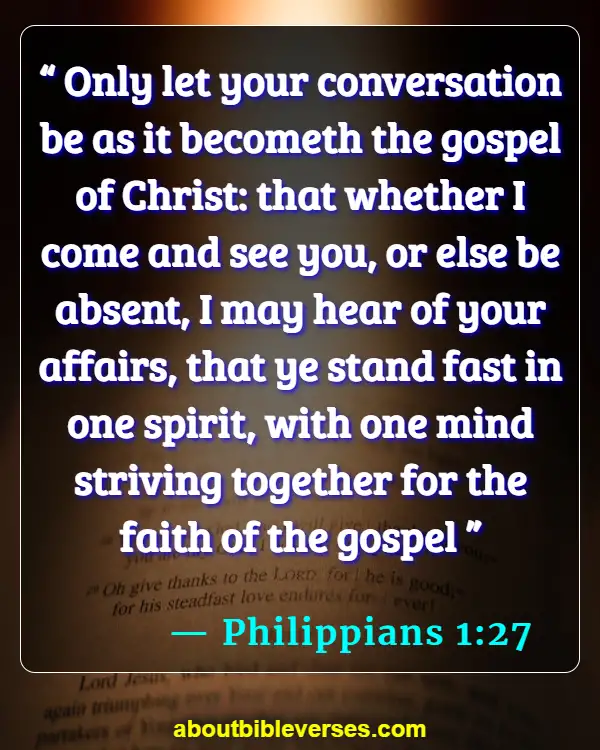 Philippians 1:27
"Only let your conversation be as it becometh the gospel of Christ: that whether I come and see you, or else be absent, I may hear of your affairs, that ye stand fast in one spirit, with one mind striving together for the faith of the gospel"
Colossians 1:28
"Whom we preach, warning every man, and teaching every man in all wisdom; that we may present every man perfect in Christ Jesus"
1 Thessalonians 2:4
"But as we were allowed of God to be put in trust with the gospel, even so we speak; not as pleasing men, but God, which trieth our hearts"
2 Timothy 2:2
"And the things that thou hast heard of me among many witnesses, the same commit thou to faithful men, who shall be able to teach others also"
Hebrews 13:20-21
"Now the God of peace, that brought again from the dead our Lord Jesus, that great shepherd of the sheep, through the blood of the everlasting covenant, Make you perfect in every good work to do his will, working in you that which is wellpleasing in his sight, through Jesus Christ; to whom be glory for ever and ever. Amen"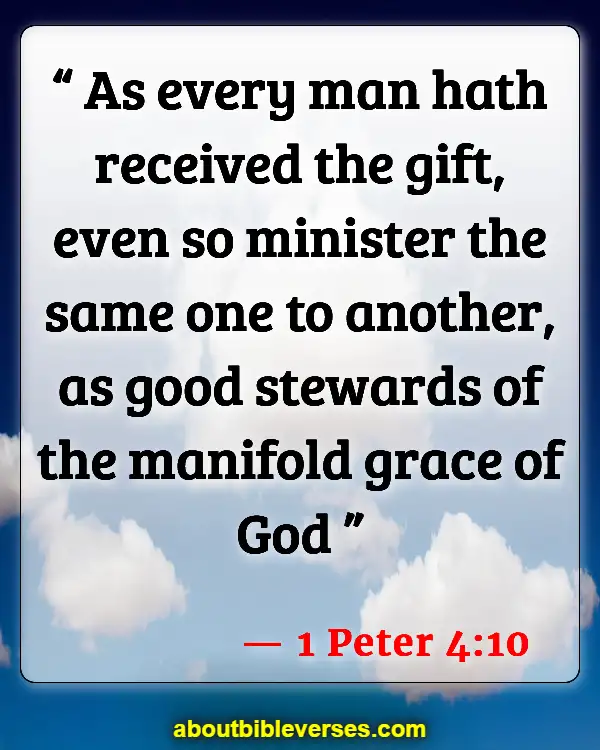 1 Peter 4:10
"As every man hath received the gift, even so minister the same one to another, as good stewards of the manifold grace of God"
Revelation 14:6
"And I saw another angel fly in the midst of heaven, having the everlasting gospel to preach unto them that dwell on the earth, and to every nation, and kindred, and tongue, and people"
Acts 18:9-10
"Then spake the Lord to Paul in the night by a vision, Be not afraid, but speak, and hold not thy peace: For I am with thee, and no man shall set on thee to hurt thee: for I have much people in this city"
John 4:35
"Say not ye, There are yet four months, and then cometh harvest? behold, I say unto you, Lift up your eyes, and look on the fields; for they are white already to harvest"
Matthew 10:7-8
"And as ye go, preach, saying, The kingdom of heaven is at hand. Heal the sick, cleanse the lepers, raise the dead, cast out devils: freely ye have received, freely give"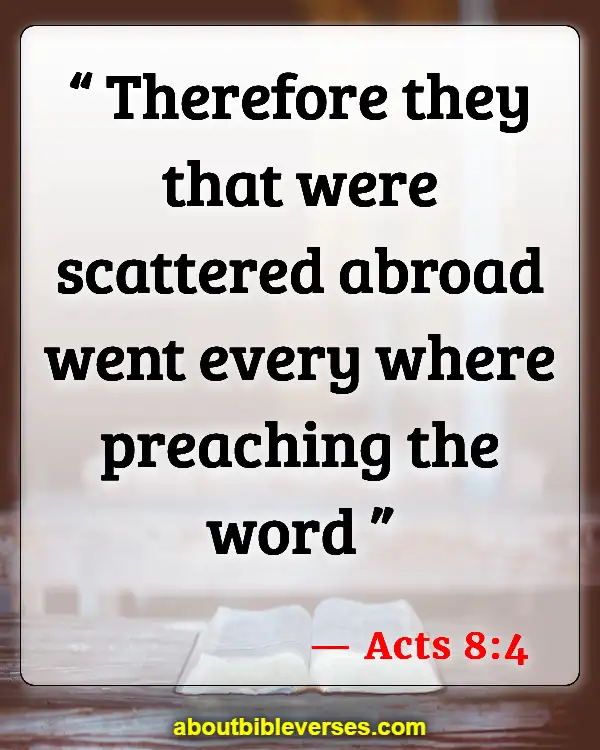 Acts 8:4
"Therefore they that were scattered abroad went every where preaching the word"
Romans 10:13-14
"For whosoever shall call upon the name of the Lord shall be saved. How then shall they call on him in whom they have not believed? and how shall they believe in him of whom they have not heard? and how shall they hear without a preacher?"
1 Corinthians 15:34
"Awake to righteousness, and sin not; for some have not the knowledge of God: I speak this to your shame"
2 Corinthians 10:16
"To preach the gospel in the regions beyond you, and not to boast in another man's line of things made ready to our hand"
Galatians 6:9
"And let us not be weary in well doing: for in due season we shall reap, if we faint not"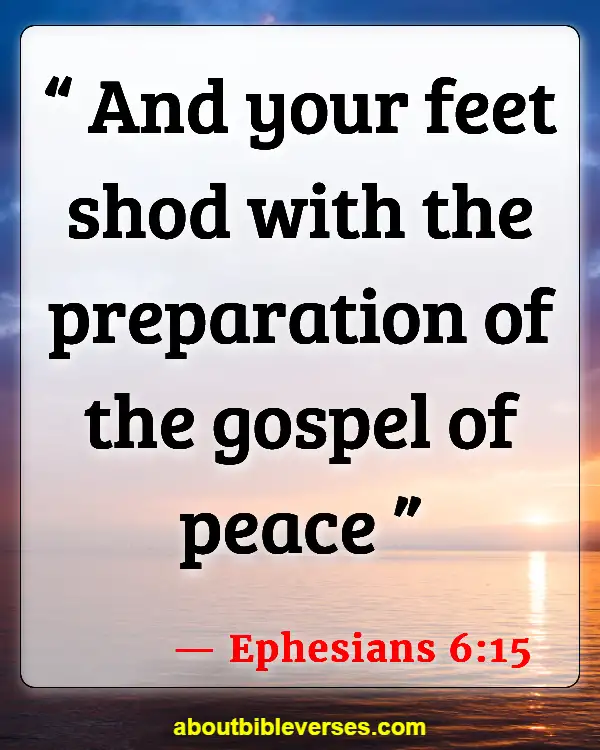 Ephesians 6:15
"And your feet shod with the preparation of the gospel of peace"
Philippians 2:15-16
"That ye may be blameless and harmless, the sons of God, without rebuke, in the midst of a crooked and perverse nation, among whom ye shine as lights in the world; Holding forth the word of life; that I may rejoice in the day of Christ, that I have not run in vain, neither laboured in vain"
1 Thessalonians 1:8
"For from you sounded out the word of the Lord not only in Macedonia and Achaia, but also in every place your faith to God-ward is spread abroad; so that we need not to speak any thing"
2 Timothy 1:8
"Be not thou therefore ashamed of the testimony of our Lord, nor of me his prisoner: but be thou partaker of the afflictions of the gospel according to the power of God"
Titus 2:10
"Not purloining, but shewing all good fidelity; that they may adorn the doctrine of God our Saviour in all things"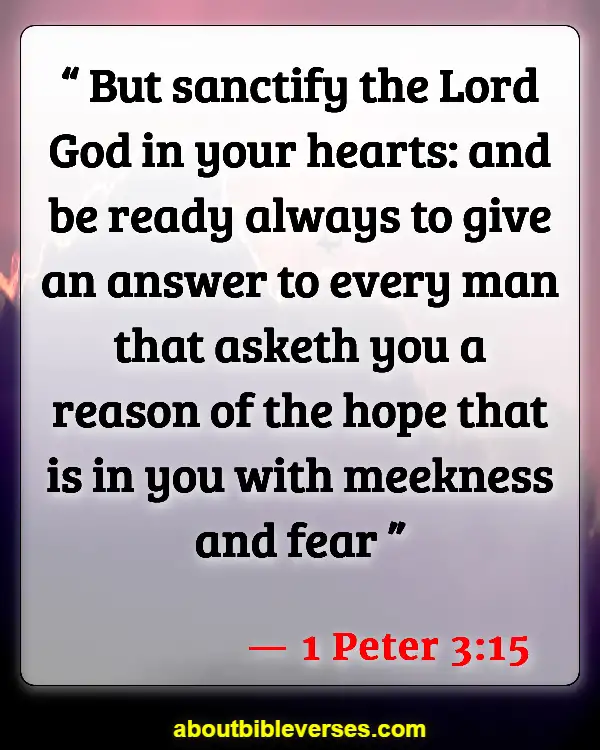 1 Peter 3:15
"But sanctify the Lord God in your hearts: and be ready always to give an answer to every man that asketh you a reason of the hope that is in you with meekness and fear"