Hello dear friends, welcome to our site in the name of Jesus Christ. Today we will look at the Bible Scriptures About Material Things In KJV. If you like today's post then definitely comment and share.
The Bible teaches that material things should not be the focus of our lives. Instead, we should prioritize our relationship with God, and use our resources to help others in need.
Although we need material possessions, we should not depend on them, as they can hinder our spiritual growth and distract us from our true purpose.
In the Old Testament, God met the material needs of the Israelites, promising to bless them with prosperity if they were faithful (Deuteronomy 28:1-14).
Jesus spoke extensively about material possessions in the New Testament. In the Sermon on the Mount, he encouraged the people not to worry about their daily needs, for God would provide for them (Matthew 6:25-34).
Jesus also warned against the love of money, saying that you cannot serve both God and money (Matthew 6:24). He made this point even better with the parable of the rich fool, where a man's greed leads to his downfall (Luke 12:13-21).
The apostle Paul emphasized the importance of contentment and thankfulness in material things. He wrote I have learned to be content in every situation, whether well fed or hungry, in plenty or in want. Exactly the same attitude friends we should have in this Christ life.
Dear friends now let's see the Bible scriptures below that talk about Material Things.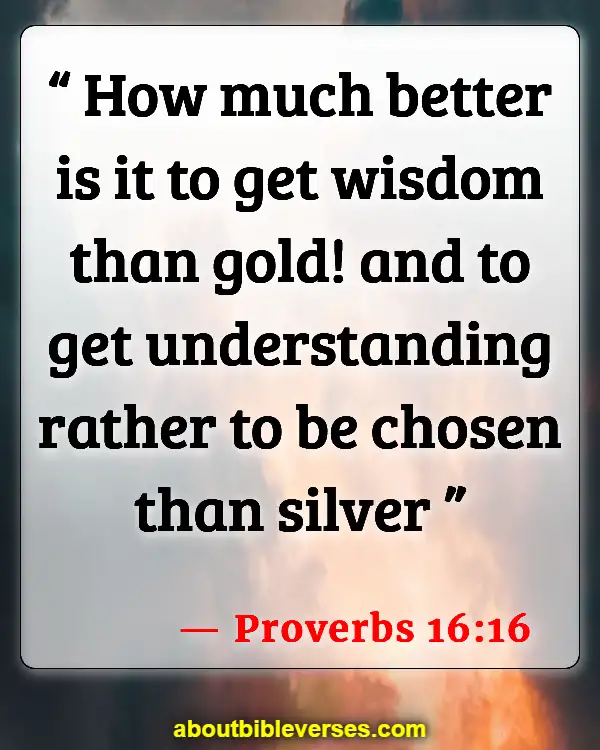 Proverbs 16:16
"How much better is it to get wisdom than gold! and to get understanding rather to be chosen than silver"
1 John 3:17
"But whoso hath this world's good, and seeth his brother have need, and shutteth up his bowels of compassion from him, how dwelleth the love of God in him?"
Hebrews 13:5
"Let your conversation be without covetousness; and be content with such things as ye have: for he hath said, I will never leave thee, nor forsake thee"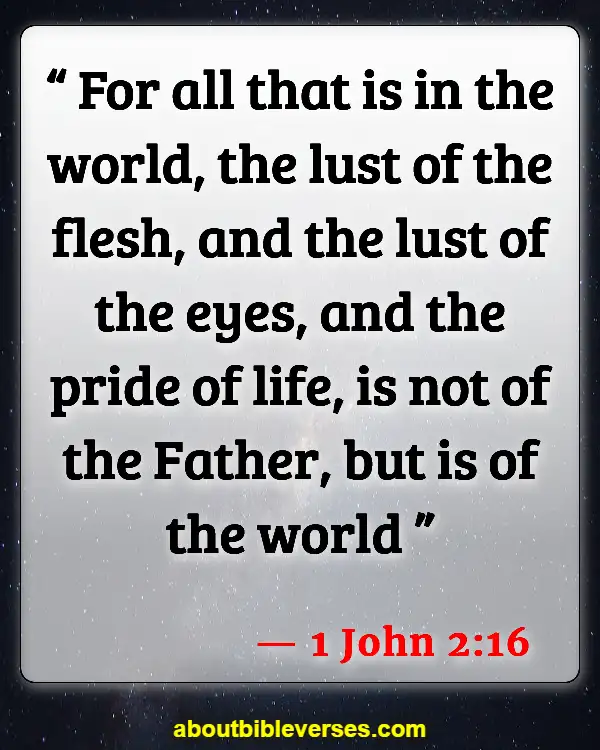 1 John 2:16
"For all that is in the world, the lust of the flesh, and the lust of the eyes, and the pride of life, is not of the Father, but is of the world"
Proverbs 22:1
"A good name is rather to be chosen than great riches, and loving favour rather than silver and gold"
Matthew 6:24
"No man can serve two masters: for either he will hate the one, and love the other; or else he will hold to the one, and despise the other. Ye cannot serve God and mammon"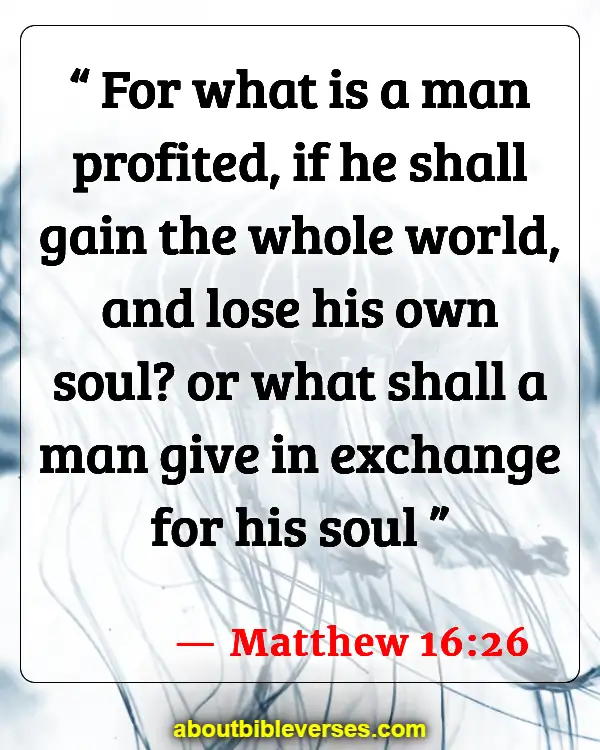 Matthew 16:26
"For what is a man profited, if he shall gain the whole world, and lose his own soul? or what shall a man give in exchange for his soul?"
1 Timothy 6:9
"But they that will be rich fall into temptation and a snare, and into many foolish and hurtful lusts, which drown men in destruction and perdition"
Matthew 19:21
"Jesus said unto him, If thou wilt be perfect, go and sell that thou hast, and give to the poor, and thou shalt have treasure in heaven: and come and follow me"
Proverbs 11:4
"Riches profit not in the day of wrath: but righteousness delivereth from death"
Ecclesiastes 5:10
"He that loveth silver shall not be satisfied with silver; nor he that loveth abundance with increase: this is also vanity"
Luke 12:15
"And he said unto them, Take heed, and beware of covetousness: for a man's life consisteth not in the abundance of the things which he possesseth"
Matthew 6:33
"But seek ye first the kingdom of God, and his righteousness; and all these things shall be added unto you"
Ecclesiastes 6:9
"Better is the sight of the eyes than the wandering of the desire: this is also vanity and vexation of spirit"
Proverbs 23:5
"Wilt thou set thine eyes upon that which is not? for riches certainly make themselves wings; they fly away as an eagle toward heaven"
2 Corinthians 4:18
"While we look not at the things which are seen, but at the things which are not seen: for the things which are seen are temporal; but the things which are not seen are eternal"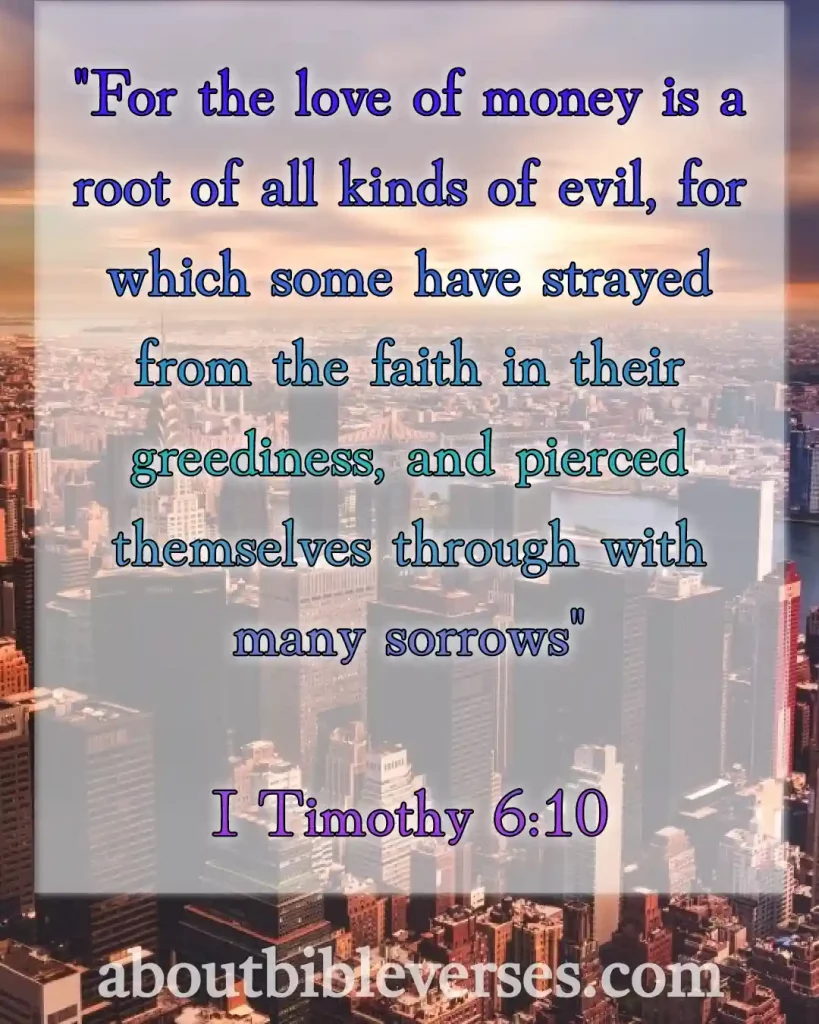 1 Timothy 6:10
"For the love of money is the root of all evil: which while some coveted after, they have erred from the faith, and pierced themselves through with many sorrows"
Colossians 3:5
"Mortify therefore your members which are upon the earth; fornication, uncleanness, inordinate affection, evil concupiscence, and covetousness, which is idolatry"
Proverbs 19:1
"Better is the poor that walketh in his integrity, than he that is perverse in his lips, and is a fool"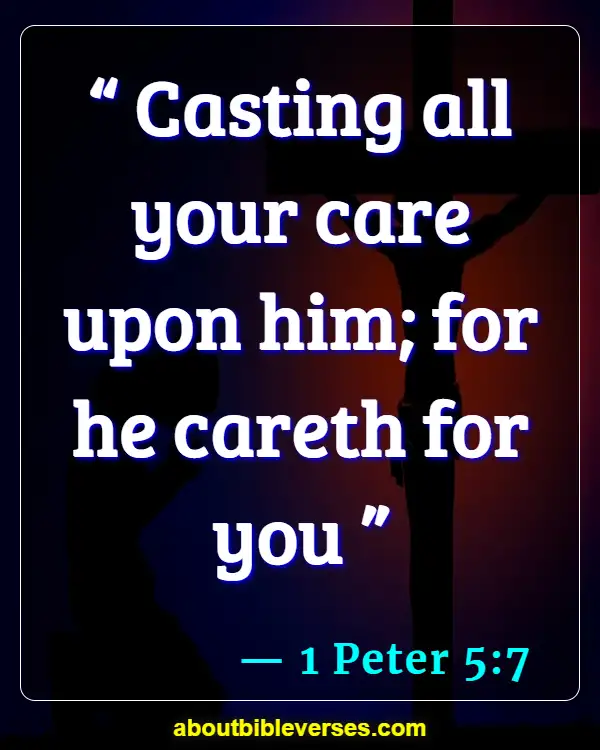 1 Peter 5:7
"Casting all your care upon him; for he careth for you"
Luke 6:38
"Give, and it shall be given unto you; good measure, pressed down, and shaken together, and running over, shall men give into your bosom. For with the same measure that ye mete withal it shall be measured to you again"
Proverbs 18:11
"The rich man's wealth is his strong city, and as an high wall in his own conceit"
Luke 6:36
"Be ye therefore merciful, as your Father also is merciful"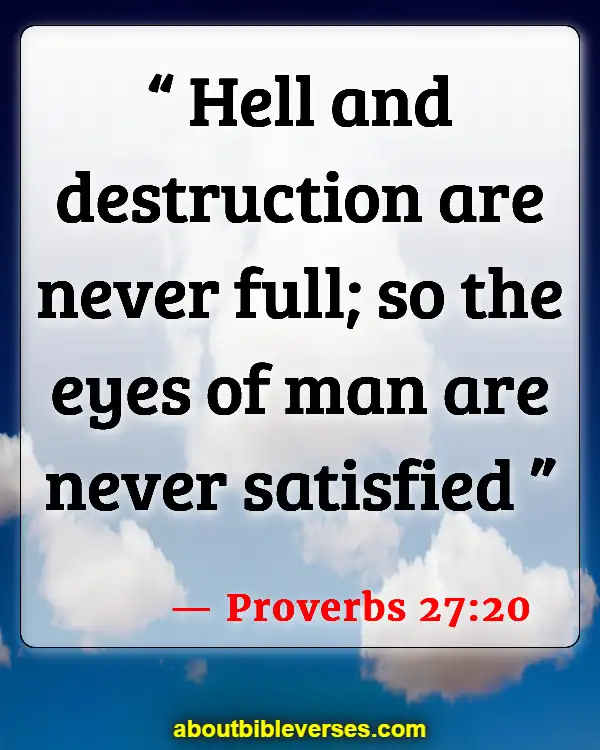 Proverbs 27:20
"Hell and destruction are never full; so the eyes of man are never satisfied"
Lamentations 3:24
"The Lord is my portion, saith my soul; therefore will I hope in him"
Matthew 6:3
"But when thou doest alms, let not thy left hand know what thy right hand doeth"
1 Timothy 6:2
"And they that have believing masters, let them not despise them, because they are brethren; but rather do them service, because they are faithful and beloved, partakers of the benefit. These things teach and exhort"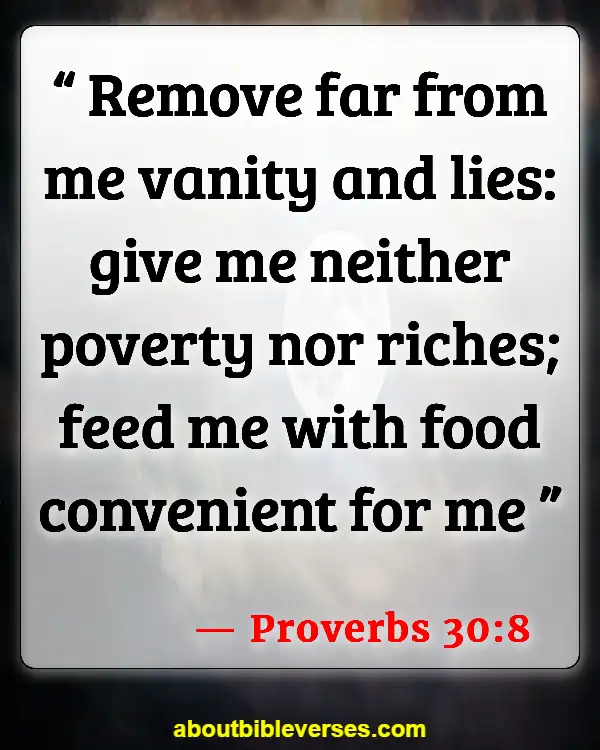 Proverbs 30:8
"Remove far from me vanity and lies: give me neither poverty nor riches; feed me with food convenient for me"
Matthew 6:21
"For where your treasure is, there will your heart be also"
Luke 12:3
"Therefore whatsoever ye have spoken in darkness shall be heard in the light; and that which ye have spoken in the ear in closets shall be proclaimed upon the housetops"
Acts 4:32
"And the multitude of them that believed were of one heart and of one soul: neither said any of them that ought of the things which he possessed was his own; but they had all things common"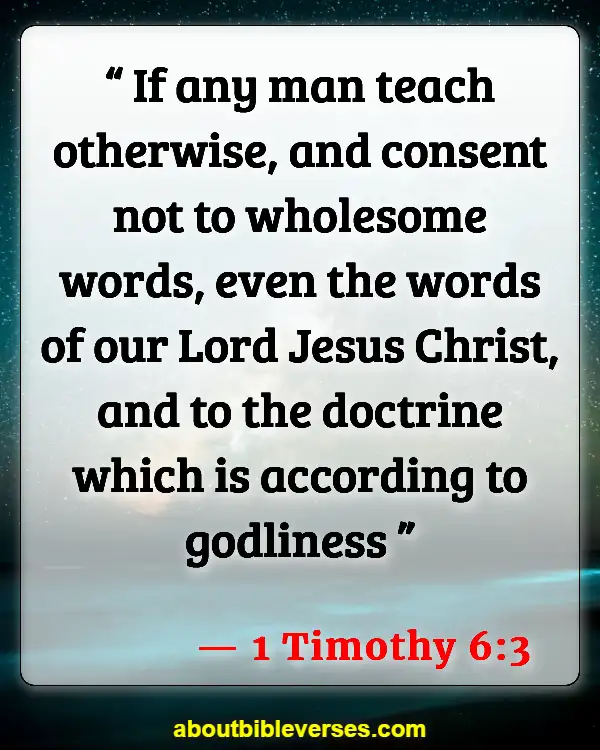 1 Timothy 6:3
"If any man teach otherwise, and consent not to wholesome words, even the words of our Lord Jesus Christ, and to the doctrine which is according to godliness"
Joshua 7:21
"When I saw among the spoils a goodly Babylonish garment, and two hundred shekels of silver, and a wedge of gold of fifty shekels weight, then I coveted them, and took them; and, behold, they are hid in the earth in the midst of my tent, and the silver under it"
Ecclesiastes 2:11
"Then I looked on all the works that my hands had wrought, and on the labour that I had laboured to do: and, behold, all was vanity and vexation of spirit, and there was no profit under the sun"
Proverbs 21:2
"Every way of a man is right in his own eyes: but the Lord pondereth the hearts"
Ecclesiastes 5:2
"Be not rash with thy mouth, and let not thine heart be hasty to utter any thing before God: for God is in heaven, and thou upon earth: therefore let thy words be few"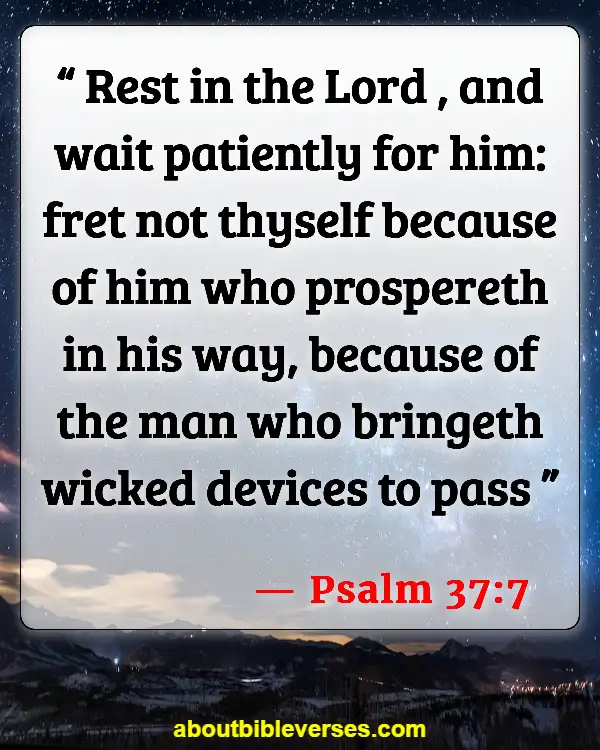 Psalm 37:7
"Rest in the Lord , and wait patiently for him: fret not thyself because of him who prospereth in his way, because of the man who bringeth wicked devices to pass"
James 1:26
"If any man among you seem to be religious, and bridleth not his tongue, but deceiveth his own heart, this man's religion is vain"
Philippians 4:11
"Not that I speak in respect of want: for I have learned, in whatsoever state I am, therewith to be content"
Mark 8:36
"For what shall it profit a man, if he shall gain the whole world, and lose his own soul?"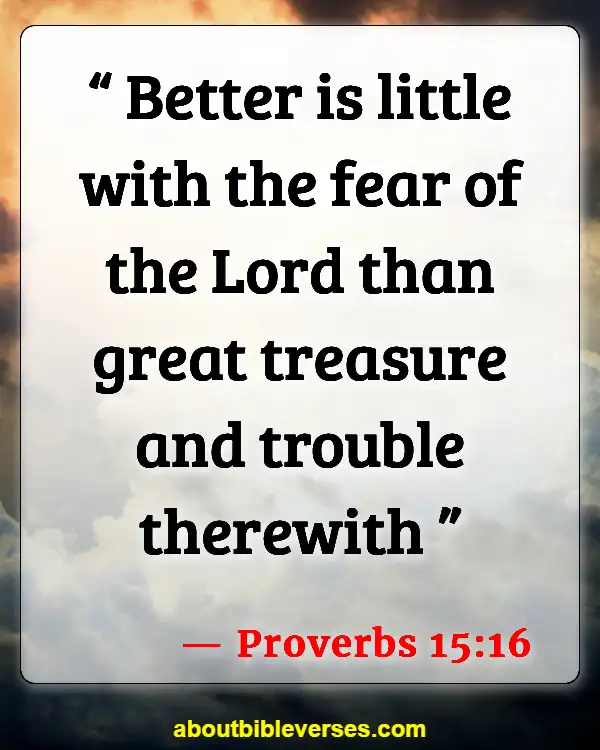 Proverbs 15:16
"Better is little with the fear of the Lord than great treasure and trouble therewith"
1 John 5:19
"And we know that we are of God, and the whole world lieth in wickedness"
Proverbs 11:28
"He that trusteth in his riches shall fall; but the righteous shall flourish as a branch"
Proverbs 16:2
"All the ways of a man are clean in his own eyes; but the Lord weigheth the spirits"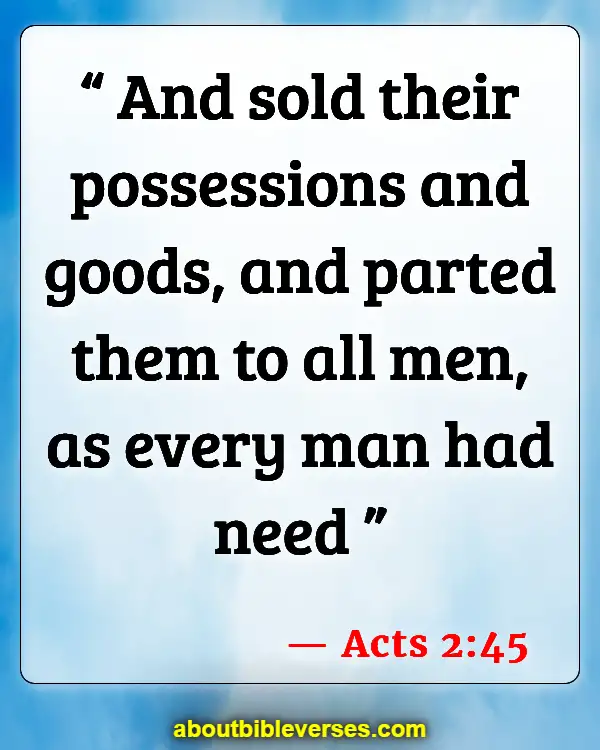 Acts 2:45
"And sold their possessions and goods, and parted them to all men, as every man had need"
Proverbs 21:26
"He coveteth greedily all the day long: but the righteous giveth and spareth not"
1 Corinthians 4:2
"Moreover it is required in stewards, that a man be found faithful"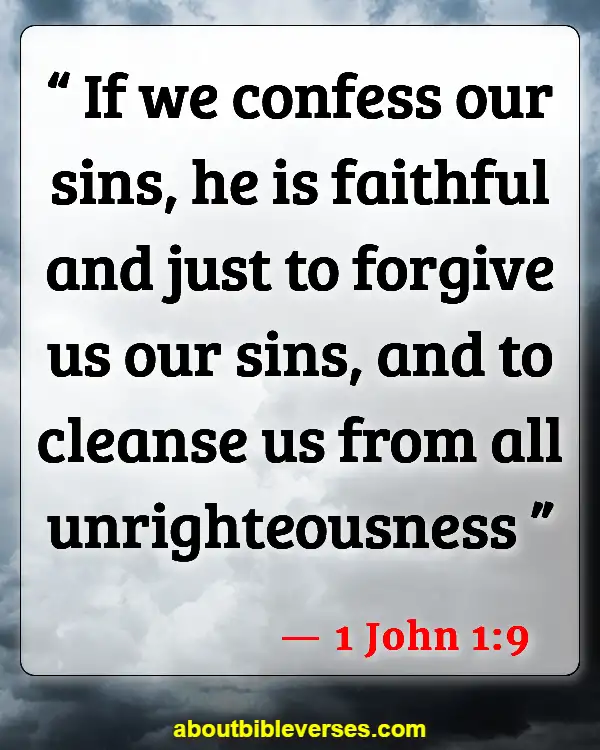 1 John 1:9
"If we confess our sins, he is faithful and just to forgive us our sins, and to cleanse us from all unrighteousness"
Isaiah 55:2
"Wherefore do ye spend money for that which is not bread? and your labour for that which satisfieth not? hearken diligently unto me, and eat ye that which is good, and let your soul delight itself in fatness"
Colossians 3:2
"Set your affection on things above, not on things on the earth"
1 Timothy 6:17
"Charge them that are rich in this world, that they be not highminded, nor trust in uncertain riches, but in the living God, who giveth us richly all things to enjoy"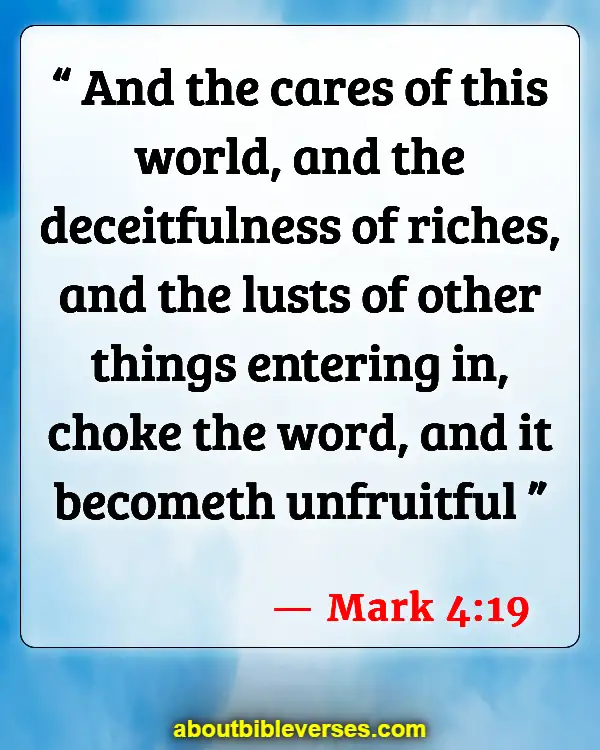 Mark 4:19
"And the cares of this world, and the deceitfulness of riches, and the lusts of other things entering in, choke the word, and it becometh unfruitful"
Revelation 3:17
"Because thou sayest, I am rich, and increased with goods, and have need of nothing; and knowest not that thou art wretched, and miserable, and poor, and blind, and naked"
Matthew 6:2
"Therefore when thou doest thine alms, do not sound a trumpet before thee, as the hypocrites do in the synagogues and in the streets, that they may have glory of men. Verily I say unto you, They have their reward"
Ecclesiastes 5:15
"As he came forth of his mother's womb, naked shall he return to go as he came, and shall take nothing of his labour, which he may carry away in his hand"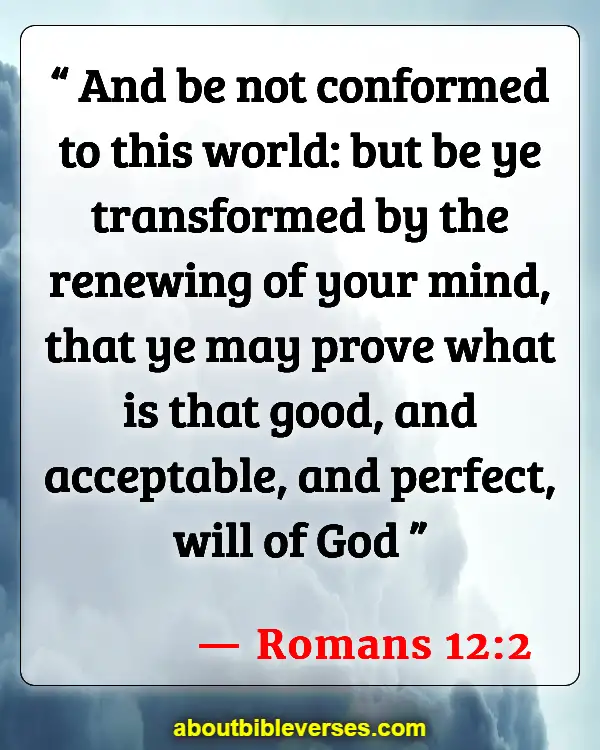 Romans 12:2
"And be not conformed to this world: but be ye transformed by the renewing of your mind, that ye may prove what is that good, and acceptable, and perfect, will of God"
Exodus 20:17
"Thou shalt not covet thy neighbour's house, thou shalt not covet thy neighbour's wife, nor his manservant, nor his maidservant, nor his ox, nor his ass, nor any thing that is thy neighbour's"
Ecclesiastes 4:8
"There is one alone, and there is not a second; yea, he hath neither child nor brother: yet is there no end of all his labour; neither is his eye satisfied with riches; neither saith he, For whom do I labour, and bereave my soul of good? This is also vanity, yea, it is a sore travail"
Ecclesiastes 12:13
"Let us hear the conclusion of the whole matter: Fear God, and keep his commandments: for this is the whole duty of man"
Proverbs 30:2
"Surely I am more brutish than any man, and have not the understanding of a man"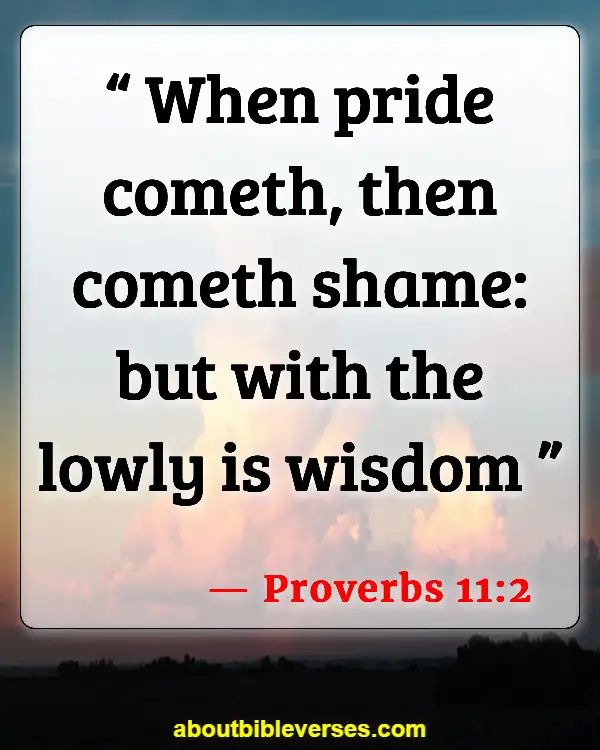 Proverbs 11:2
"When pride cometh, then cometh shame: but with the lowly is wisdom"