Dear friends, God's plan is for men to take responsibility and lead their families. As the head, a husband must love his wife as Christ loved the church. He should be willing to sacrifice his own desires to ensure her needs are met. A godly husband cherishes his wife, caring for her tenderly.
Fathers must provide for their children's physical, emotional and spiritual needs. They should instruct their children wisely, disciplining them with love to train them in God's ways. A father leads by example, integrity, hard work and faithfulness. His children should see Christ's character reflected in him.
Within the home, the husband makes final decisions after prayerfully considering his wife's input and insight. He does not lord authority over others, but humbly takes responsibility for his household. A godly man guards and guides his family, protecting them from evil influences.
Leading one's family is a blessing but also a weighty calling. Men should seek God's wisdom daily through prayer and Bible study. They must rely on the Holy Spirit's empowerment to lead their wives and children well. God will give grace to every man committed to following His plan for biblically led families.
Dear friends, now let's look at the Bible scriptures below that talk about men leading their families.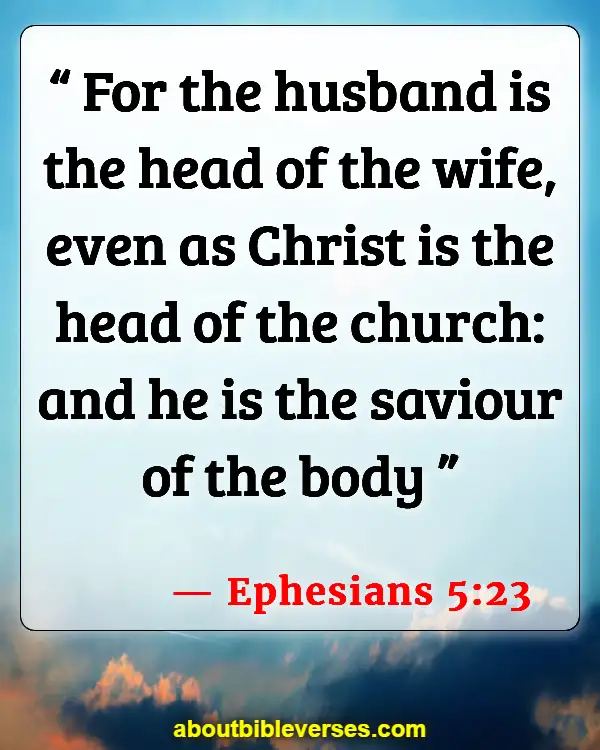 Ephesians 5:23
"For the husband is the head of the wife, even as Christ is the head of the church: and he is the saviour of the body"
1 Corinthians 11:3
"But I would have you know, that the head of every man is Christ; and the head of the woman is the man; and the head of Christ is God"
Genesis 2:24
"Therefore shall a man leave his father and his mother, and shall cleave unto his wife: and they shall be one flesh"
Ephesians 5:25-28
"Husbands, love your wives, even as Christ also loved the church, and gave himself for it; That he might sanctify and cleanse it with the washing of water by the word, That he might present it to himself a glorious church, not having spot, or wrinkle, or any such thing; but that it should be holy and without blemish. So ought men to love their wives as their own bodies. He that loveth his wife loveth himself"
Ephesians 5:33
"Nevertheless let every one of you in particular so love his wife even as himself; and the wife see that she reverence her husband"
1 Timothy 3:4-5
"One that ruleth well his own house, having his children in subjection with all gravity; (For if a man know not how to rule his own house, how shall he take care of the church of God?)"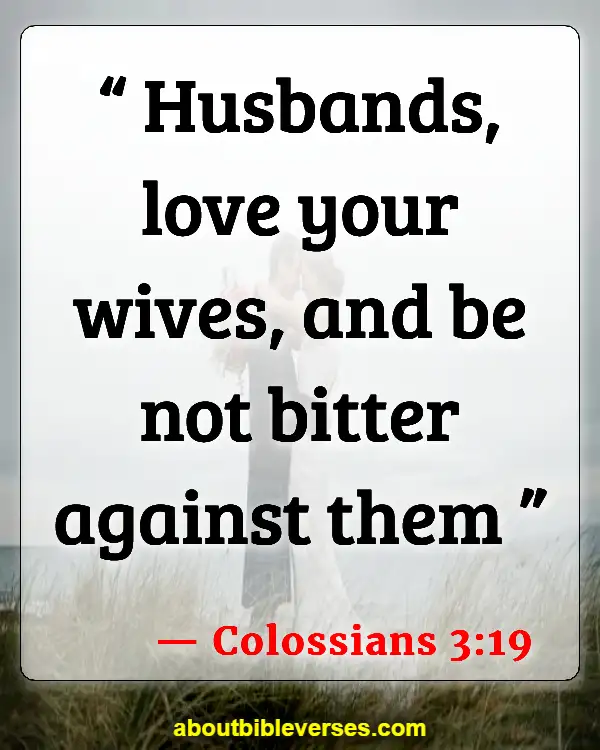 Colossians 3:19
"Husbands, love your wives, and be not bitter against them"
Proverbs 20:7
"The just man walketh in his integrity: his children are blessed after him"
Deuteronomy 6:6-7
"And these words, which I command thee this day, shall be in thine heart: And thou shalt teach them diligently unto thy children, and shalt talk of them when thou sittest in thine house, and when thou walkest by the way, and when thou liest down, and when thou risest up"
Proverbs 22:6
"Train up a child in the way he should go: and when he is old, he will not depart from it"
Proverbs 13:24
"He that spareth his rod hateth his son: but he that loveth him chasteneth him betimes"
Proverbs 23:13-14
"Withhold not correction from the child: for if thou beatest him with the rod, he shall not die. Thou shalt beat him with the rod, and shalt deliver his soul from hell"
1 Corinthians 16:14
"Let all your things be done with charity"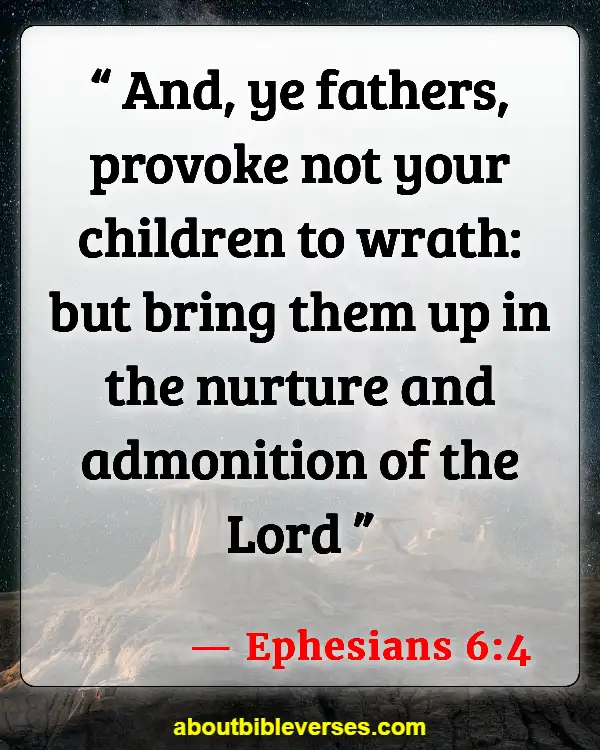 Ephesians 6:4
"And, ye fathers, provoke not your children to wrath: but bring them up in the nurture and admonition of the Lord"
Joshua 24:15
"And if it seem evil unto you to serve the Lord , choose you this day whom ye will serve; whether the gods which your fathers served that were on the other side of the flood, or the gods of the Amorites, in whose land ye dwell: but as for me and my house, we will serve the Lord"
Deuteronomy 6:7
"And thou shalt teach them diligently unto thy children, and shalt talk of them when thou sittest in thine house, and when thou walkest by the way, and when thou liest down, and when thou risest up"
Psalm 128:3
"Thy wife shall be as a fruitful vine by the sides of thine house: thy children like olive plants round about thy table"
1 Timothy 5:8
"But if any provide not for his own, and specially for those of his own house, he hath denied the faith, and is worse than an infidel"
Proverbs 4:1
"Hear, ye children, the instruction of a father, and attend to know understanding"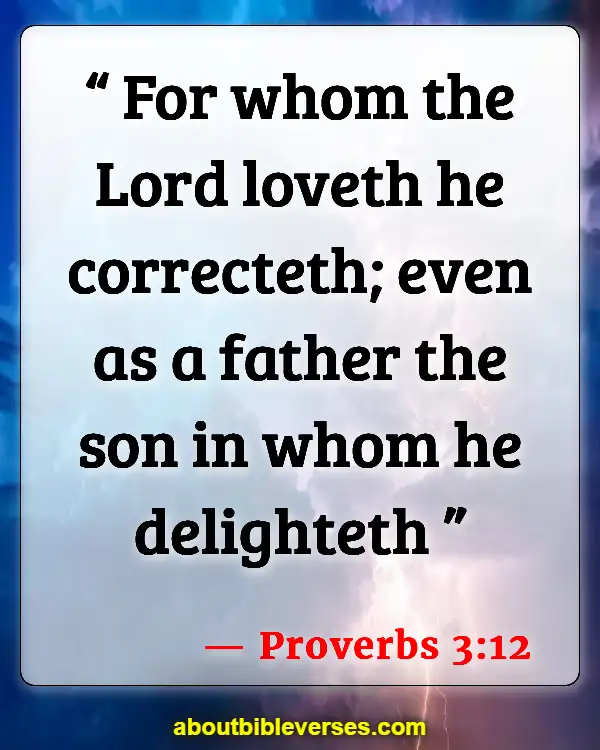 Proverbs 3:12
"For whom the Lord loveth he correcteth; even as a father the son in whom he delighteth"
Proverbs 17:6
"Children's children are the crown of old men; and the glory of children are their fathers"
Proverbs 22:15
"Foolishness is bound in the heart of a child; but the rod of correction shall drive it far from him"
Deuteronomy 11:19
"And ye shall teach them your children, speaking of them when thou sittest in thine house, and when thou walkest by the way, when thou liest down, and when thou risest up"
Exodus 20:12
"Honour thy father and thy mother: that thy days may be long upon the land which the Lord thy God giveth thee"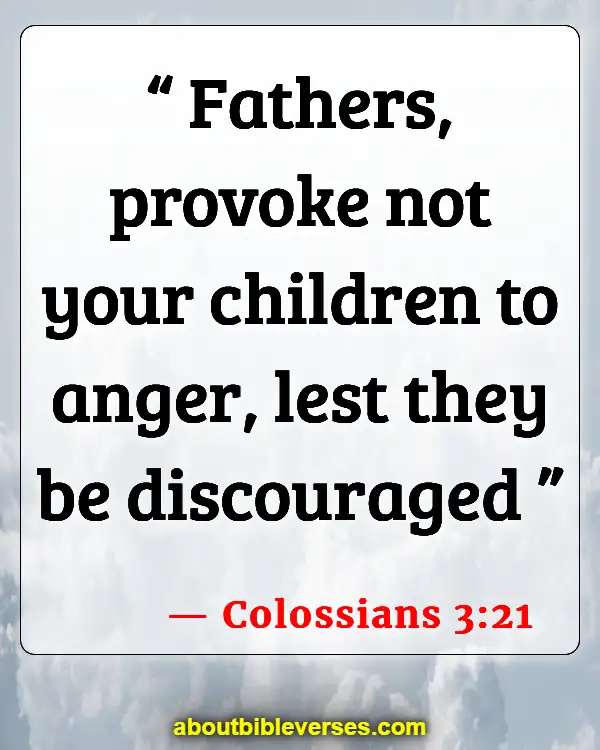 Colossians 3:21
"Fathers, provoke not your children to anger, lest they be discouraged"
Hebrews 12:7
"If ye endure chastening, God dealeth with you as with sons; for what son is he whom the father chasteneth not?"
Genesis 18:19
"For I know him, that he will command his children and his household after him, and they shall keep the way of the Lord , to do justice and judgment; that the Lord may bring upon Abraham that which he hath spoken of him"
Malachi 4:6
"And he shall turn the heart of the fathers to the children, and the heart of the children to their fathers, lest I come and smite the earth with a curse"
Luke 11:11-12
"If a son shall ask bread of any of you that is a father, will he give him a stone? or if he ask a fish, will he for a fish give him a serpent? Or if he shall ask an egg, will he offer him a scorpion?"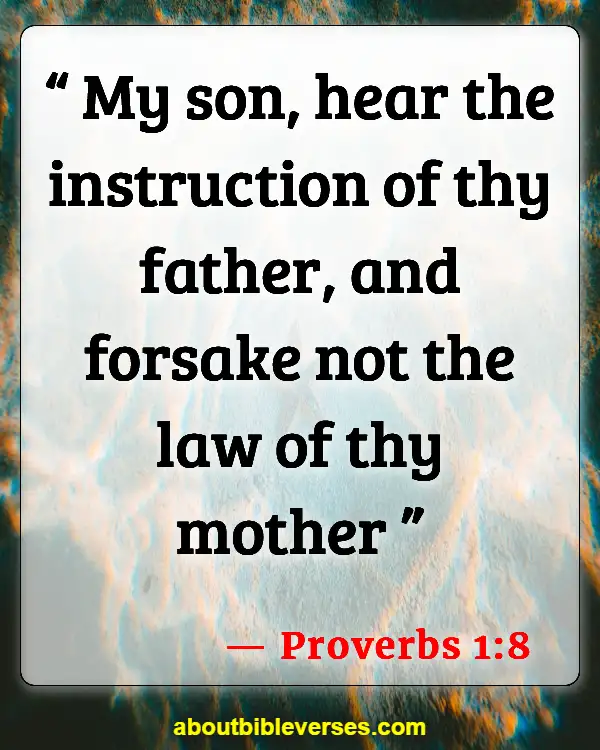 Proverbs 1:8
"My son, hear the instruction of thy father, and forsake not the law of thy mother"
1 Timothy 3:12
"Let the deacons be the husbands of one wife, ruling their children and their own houses well"
1 Kings 2:2
"I go the way of all the earth: be thou strong therefore, and shew thyself a man"
2 Samuel 7:14-15
"I will be his father, and he shall be my son. If he commit iniquity, I will chasten him with the rod of men, and with the stripes of the children of men: But my mercy shall not depart away from him, as I took it from Saul, whom I put away before thee"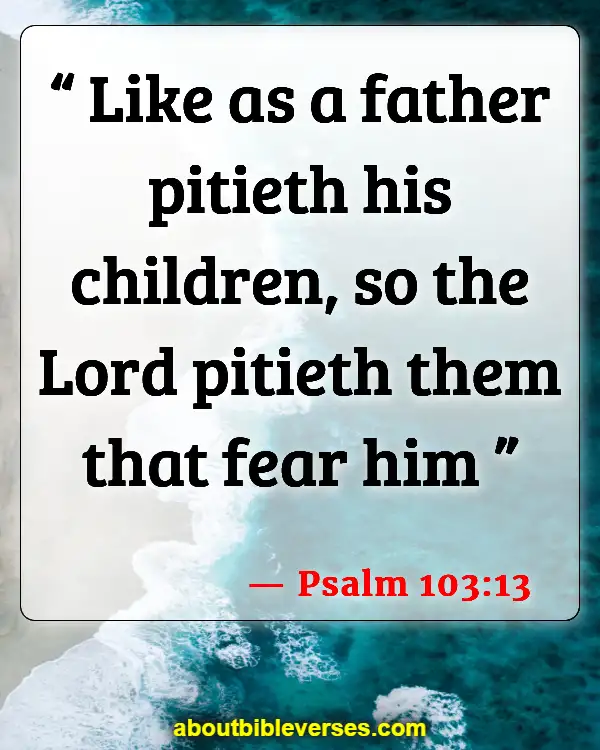 Psalm 103:13
"Like as a father pitieth his children, so the Lord pitieth them that fear him"
Proverbs 10:1
"The proverbs of Solomon. A wise son maketh a glad father: but a foolish son is the heaviness of his mother"
Psalm 78:5-7
"For he established a testimony in Jacob, and appointed a law in Israel, which he commanded our fathers, that they should make them known to their children: That the generation to come might know them, even the children which should be born; who should arise and declare them to their children: That they might set their hope in God, and not forget the works of God, but keep his commandments"
Proverbs 29:17
"Correct thy son, and he shall give thee rest; yea, he shall give delight unto thy soul"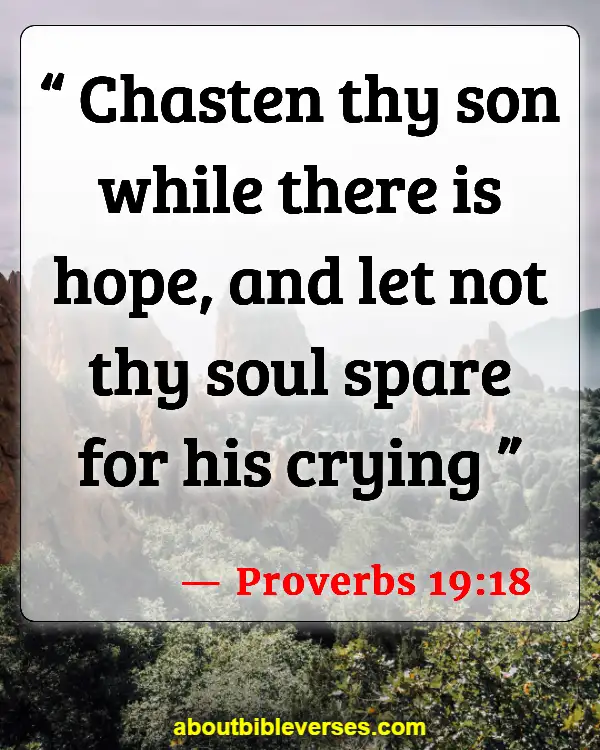 Proverbs 19:18
"Chasten thy son while there is hope, and let not thy soul spare for his crying"
Hebrews 12:9-10
"Furthermore we have had fathers of our flesh which corrected us, and we gave them reverence: shall we not much rather be in subjection unto the Father of spirits, and live? For they verily for a few days chastened us after their own pleasure; but he for our profit, that we might be partakers of his holiness"
Job 1:5
"And it was so, when the days of their feasting were gone about, that Job sent and sanctified them, and rose up early in the morning, and offered burnt offerings according to the number of them all: for Job said, It may be that my sons have sinned, and cursed God in their hearts. Thus did Job continually"
Proverbs 31:28
"Her children arise up, and call her blessed; her husband also, and he praiseth her"
Genesis 31:42
"Except the God of my father, the God of Abraham, and the fear of Isaac, had been with me, surely thou hadst sent me away now empty. God hath seen mine affliction and the labour of my hands, and rebuked thee yesternight"
Proverbs 14:26
"In the fear of the Lord is strong confidence: and his children shall have a place of refuge"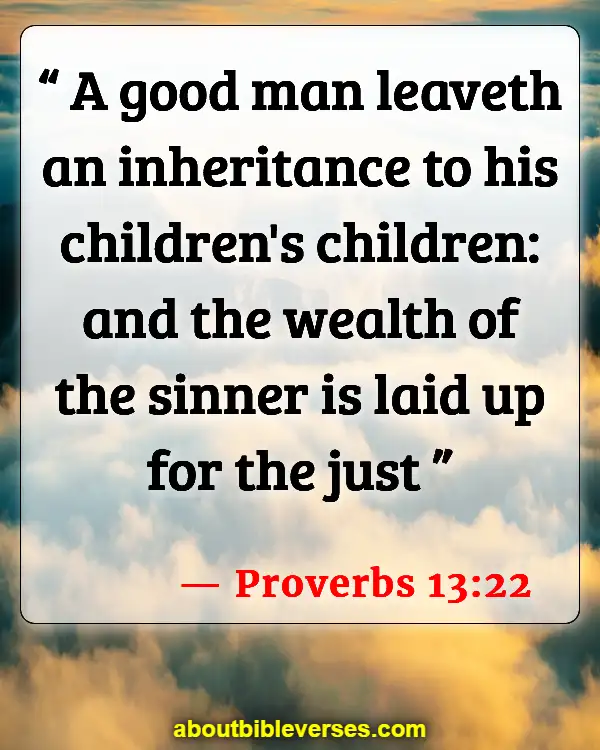 Proverbs 13:22
"A good man leaveth an inheritance to his children's children: and the wealth of the sinner is laid up for the just"
Psalm 112:1-2
"Praise ye the Lord . Blessed is the man that feareth the Lord , that delighteth greatly in his commandments. His seed shall be mighty upon earth: the generation of the upright shall be blessed"
Proverbs 27:23-24
"Be thou diligent to know the state of thy flocks, and look well to thy herds. For riches are not for ever: and doth the crown endure to every generation?"
Psalm 127:3-5
"Lo, children are an heritage of the Lord : and the fruit of the womb is his reward. As arrows are in the hand of a mighty man; so are children of the youth. Happy is the man that hath his quiver full of them: they shall not be ashamed, but they shall speak with the enemies in the gate"
2 Chronicles 20:12
"O our God, wilt thou not judge them? for we have no might against this great company that cometh against us; neither know we what to do: but our eyes are upon thee"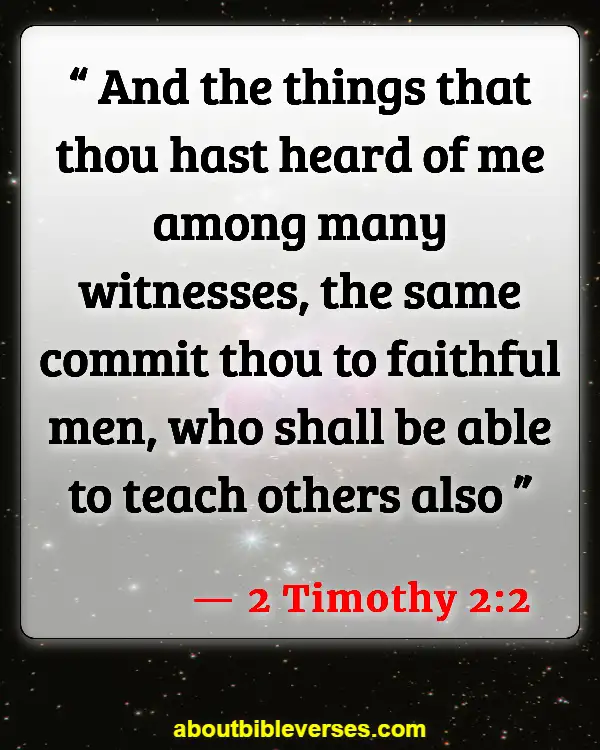 2 Timothy 2:2
"And the things that thou hast heard of me among many witnesses, the same commit thou to faithful men, who shall be able to teach others also"