Dear friends, the Bible clearly instructs us against the fun of others. This tendency comes from a heart of pride, arrogance, and insensitivity. It tears down rather than builds up.
In the book of Proverbs, we read that scoffers sow strife and division. Their words reveal the foolishness in their own hearts. Jesus said that out of the overflow of the heart, the mouth speaks. When we make fun of others, it reflects poorly on our inner character.
As believers, we are called to speak words that encourage and impart grace to those who hear us. The words we use carry tremendous power. Therefore, we must be quick to listen, slow to speak, and avoid all forms of cruel mockery or belittling humor.
Rather than judging and mocking people who are different from us, Jesus calls us to show them dignity, compassion, and understanding. We can think of how we would want to be treated in a similar situation.
In our fast-paced, social media-driven culture, mean-spirited jokes and insults have become too common. As Christians, we must be against this danger. Let our speech always be seasoned with grace and sensitivity. This will require regular self-examination of our motives and great wisdom in how we use our words.
Dear friends, now let's look at some Bible verses below that speak against making fun of others.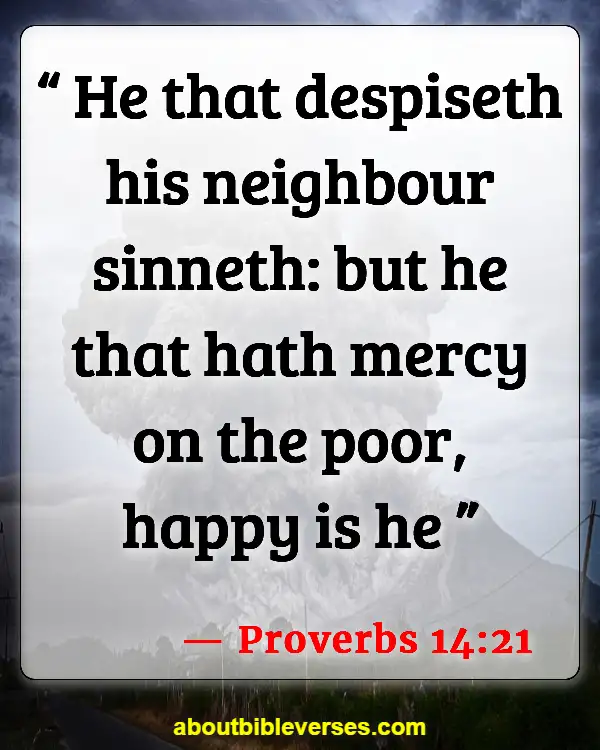 Proverbs 14:21
"He that despiseth his neighbour sinneth: but he that hath mercy on the poor, happy is he"
Proverbs 22:10
"Cast out the scorner, and contention shall go out; yea, strife and reproach shall cease"
Matthew 7:12
"Therefore all things whatsoever ye would that men should do to you, do ye even so to them: for this is the law and the prophets"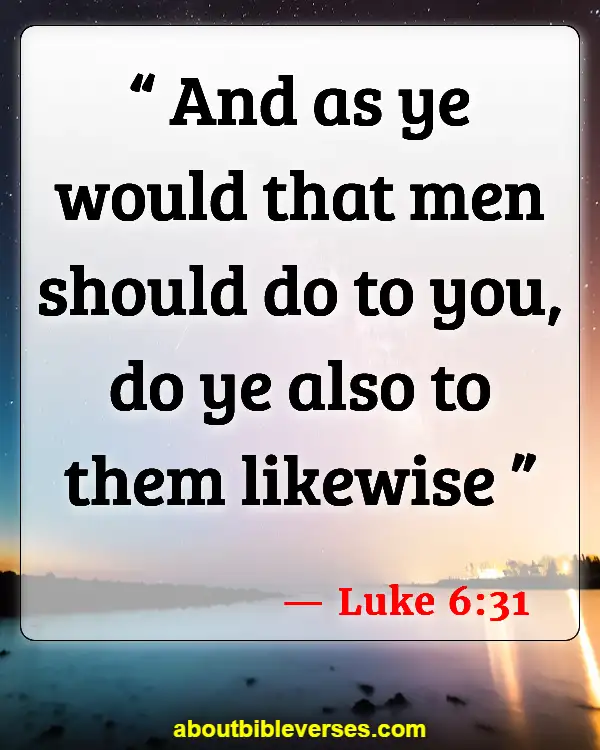 Luke 6:31
"And as ye would that men should do to you, do ye also to them likewise"
Proverbs 14:21
"He that despiseth his neighbour sinneth: but he that hath mercy on the poor, happy is he"
Ephesians 4:29
"Let no corrupt communication proceed out of your mouth, but that which is good to the use of edifying, that it may minister grace unto the hearers"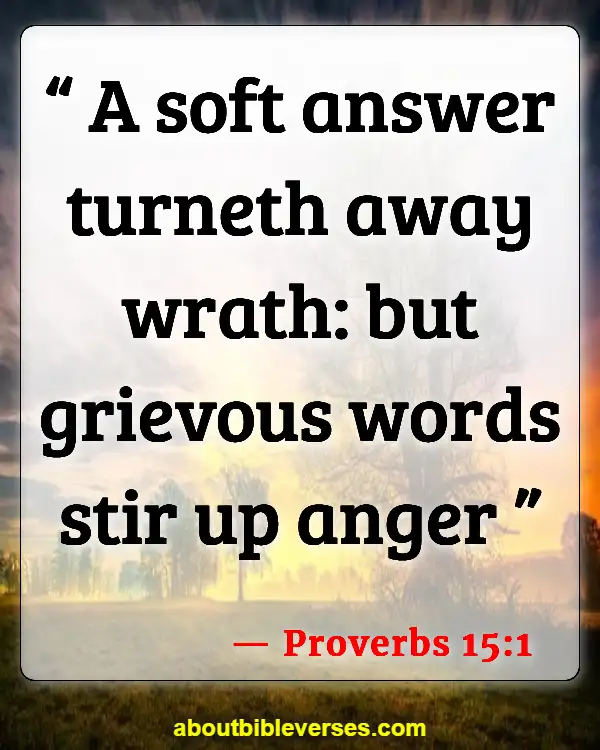 Proverbs 15:1
"A soft answer turneth away wrath: but grievous words stir up anger"
Proverbs 11:12
"He that is void of wisdom despiseth his neighbour: but a man of understanding holdeth his peace"
Proverbs 17:5
"Whoso mocketh the poor reproacheth his Maker: and he that is glad at calamities shall not be unpunished"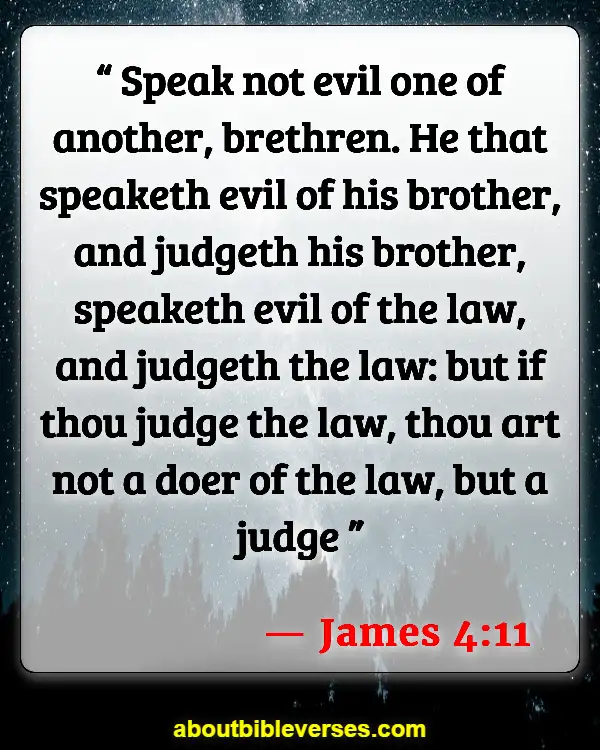 James 4:11
"Speak not evil one of another, brethren. He that speaketh evil of his brother, and judgeth his brother, speaketh evil of the law, and judgeth the law: but if thou judge the law, thou art not a doer of the law, but a judge"
Romans 14:13
"Let us not therefore judge one another any more: but judge this rather, that no man put a stumblingblock or an occasion to fall in his brother's way"
Proverbs 29:11
"A fool uttereth all his mind: but a wise man keepeth it in till afterwards"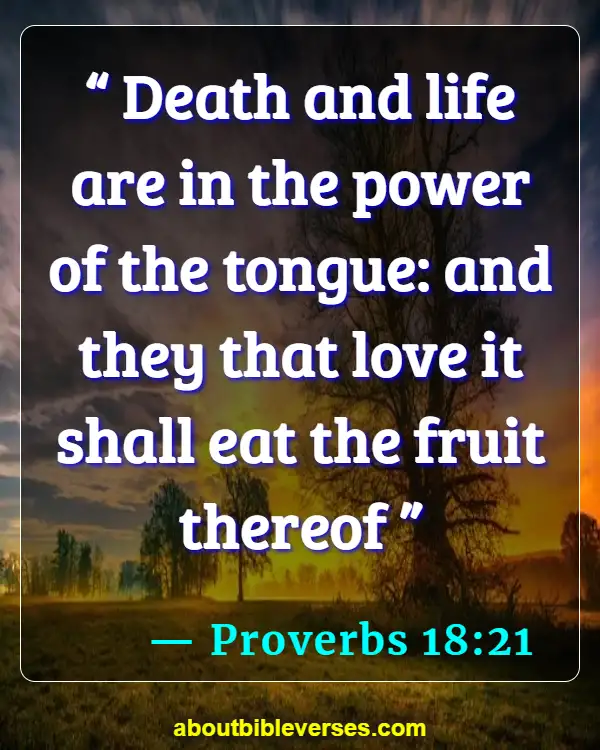 Proverbs 18:21
"Death and life are in the power of the tongue: and they that love it shall eat the fruit thereof"
Ephesians 4:32
"And be ye kind one to another, tenderhearted, forgiving one another, even as God for Christ's sake hath forgiven you"
Colossians 3:12
"Put on therefore, as the elect of God, holy and beloved, bowels of mercies, kindness, humbleness of mind, meekness, longsuffering"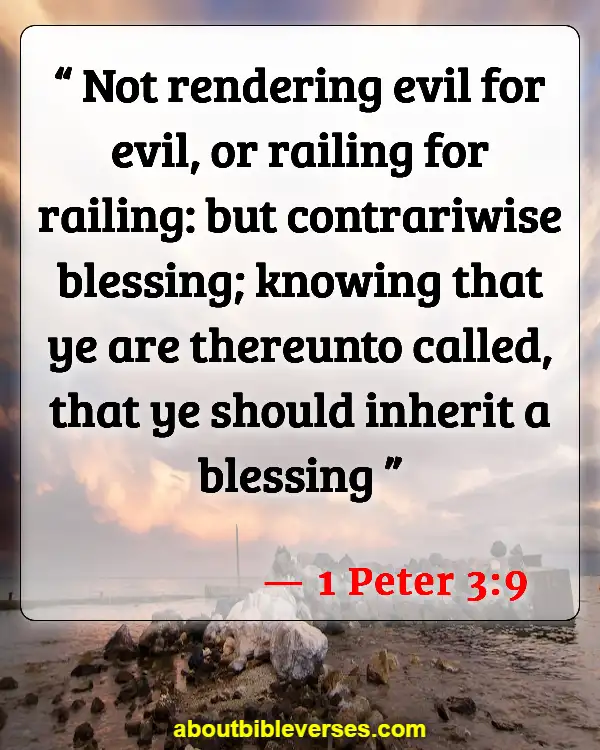 1 Peter 3:9
"Not rendering evil for evil, or railing for railing: but contrariwise blessing; knowing that ye are thereunto called, that ye should inherit a blessing"
Galatians 5:22-23
"But the fruit of the Spirit is love, joy, peace, longsuffering, gentleness, goodness, faith, Meekness, temperance: against such there is no law"
Romans 12:10
"Be kindly affectioned one to another with brotherly love; in honour preferring one another"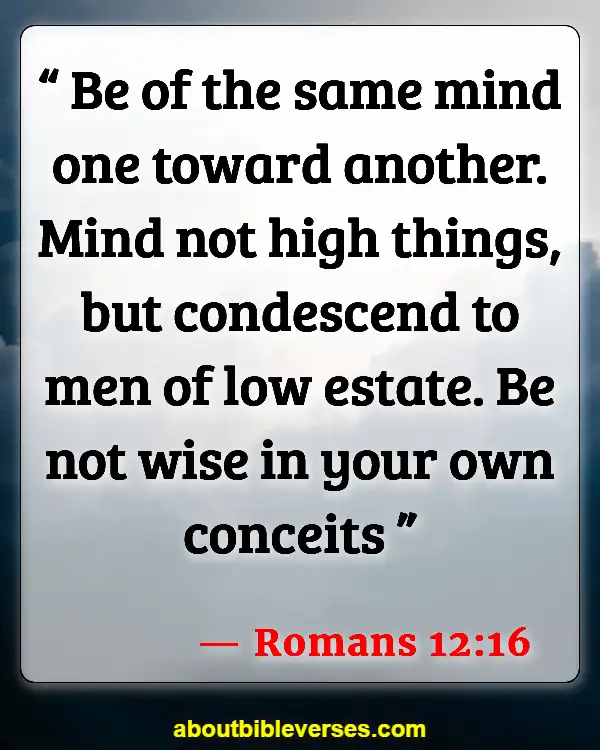 Romans 12:16
"Be of the same mind one toward another. Mind not high things, but condescend to men of low estate. Be not wise in your own conceits"
Romans 15:1
"We then that are strong ought to bear the infirmities of the weak, and not to please ourselves"
Ephesians 4:2
"With all lowliness and meekness, with longsuffering, forbearing one another in love"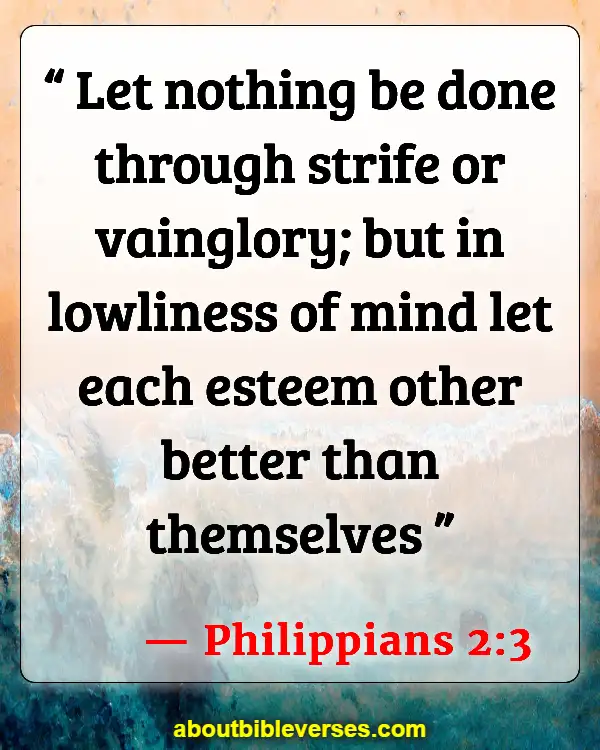 Philippians 2:3
"Let nothing be done through strife or vainglory; but in lowliness of mind let each esteem other better than themselves"
1 Thessalonians 5:11
"Wherefore comfort yourselves together, and edify one another, even as also ye do"
Hebrews 10:24
"And let us consider one another to provoke unto love and to good works"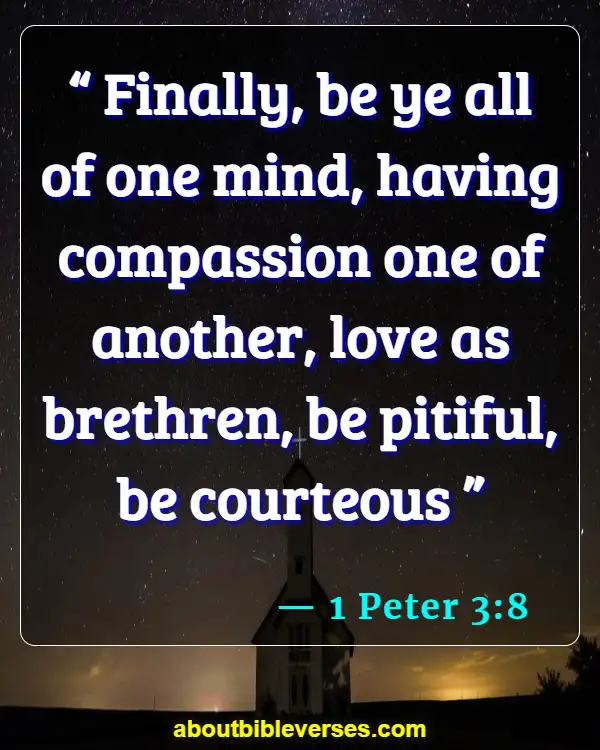 1 Peter 3:8
"Finally, be ye all of one mind, having compassion one of another, love as brethren, be pitiful, be courteous"
1 Peter 4:9
"Use hospitality one to another without grudging"
Ephesians 5:4
"Neither filthiness, nor foolish talking, nor jesting, which are not convenient: but rather giving of thanks"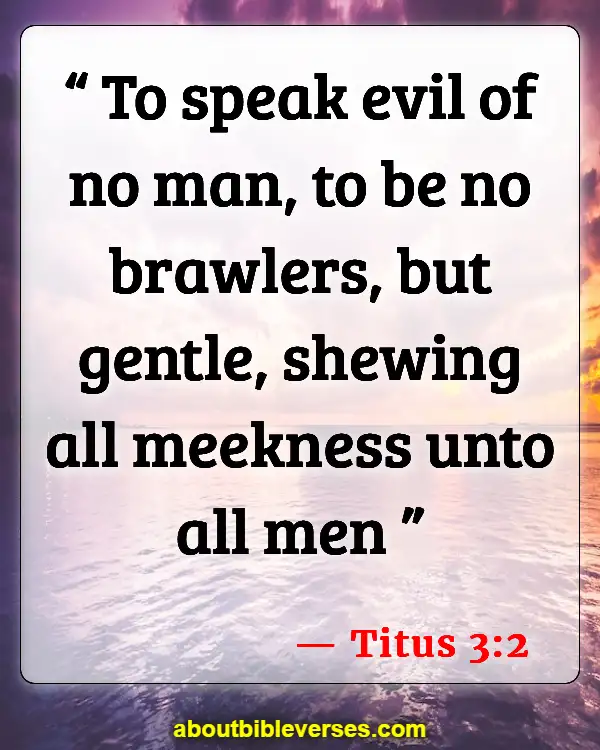 Titus 3:2
"To speak evil of no man, to be no brawlers, but gentle, shewing all meekness unto all men"
James 1:26
"If any man among you seem to be religious, and bridleth not his tongue, but deceiveth his own heart, this man's religion is vain"
James 3:14
"But if ye have bitter envying and strife in your hearts, glory not, and lie not against the truth"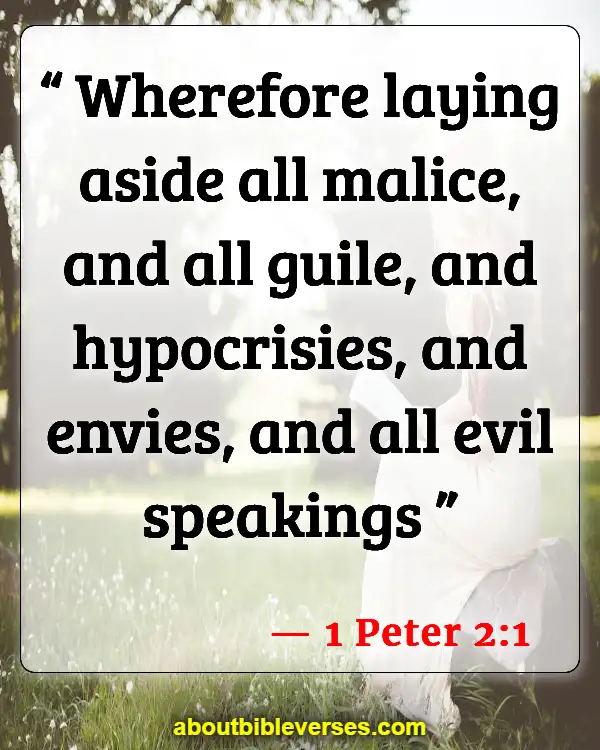 1 Peter 2:1
"Wherefore laying aside all malice, and all guile, and hypocrisies, and envies, and all evil speakings"