Dear Friends, The Bible teaches us that love and compassion are essential virtues in our lives. Love is not just a feeling; it is an action that shows care and kindness toward others. It is a selfless way of thinking and behaving that the Bible encourages us to embrace.
God is the source of love, and He loves each and every one of us unconditionally. He wants us to reflect His love in our lives by treating others with kindness and compassion. When we show love to others, we are fulfilling one of the greatest commandments given by Jesus: to love our neighbors as ourselves.
Compassion is closely related to love. It is having empathy and concern for others, especially those who are suffering or in need. The Bible teaches us to have a compassionate heart and to help others when they are in need. We are called to show compassion not just in words, but in actions that bring comfort and relief.
Jesus is the ultimate example of love and compassion. He healed the sick, fed the hungry, and showed kindness to the outcasts of society. He taught us to love our enemies and to forgive those who wrong us. His sacrificial love on the cross demonstrated the depth of God's love for humanity.
Practically, love and compassion should guide our daily Life. It means treating others with respect, being patient and understanding, and helping those in need. It means being willing to sacrifice our own comfort for the well-being of others.
Dear friends now let's see the Bible scriptures below that talk about love and compassion.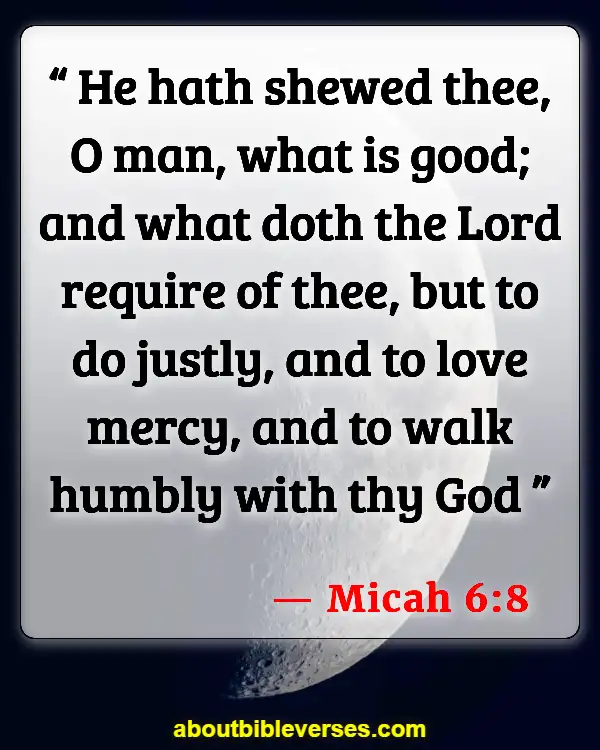 Micah 6:8
"He hath shewed thee, O man, what is good; and what doth the Lord require of thee, but to do justly, and to love mercy, and to walk humbly with thy God?"
Luke 10:27
"And he answering said, Thou shalt love the Lord thy God with all thy heart, and with all thy soul, and with all thy strength, and with all thy mind; and thy neighbour as thyself"
1 John 3:18
"My little children, let us not love in word, neither in tongue; but in deed and in truth"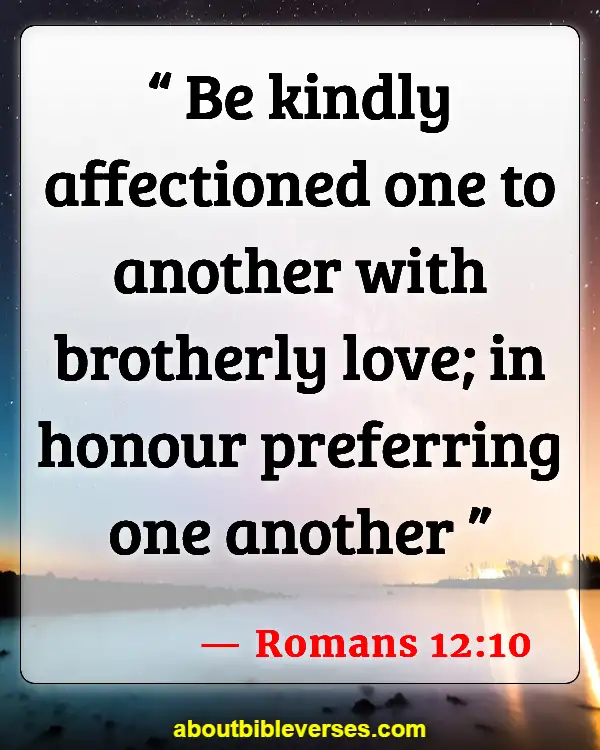 Romans 12:10
"Be kindly affectioned one to another with brotherly love; in honour preferring one another"
Galatians 6:2
"Bear ye one another's burdens, and so fulfil the law of Christ"
Philippians 2:1-2
"If there be therefore any consolation in Christ, if any comfort of love, if any fellowship of the Spirit, if any bowels and mercies, Fulfil ye my joy, that ye be likeminded, having the same love, being of one accord, of one mind"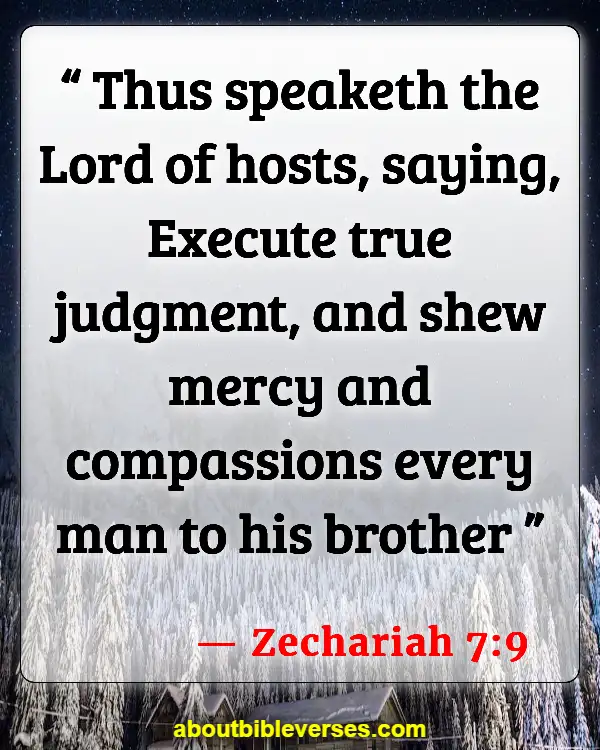 Zechariah 7:9
"Thus speaketh the Lord of hosts, saying, Execute true judgment, and shew mercy and compassions every man to his brother"
Romans 15:1-2
"We then that are strong ought to bear the infirmities of the weak, and not to please ourselves. Let every one of us please his neighbour for his good to edification"
2 Timothy 2:24
"And the servant of the Lord must not strive; but be gentle unto all men, apt to teach, patient"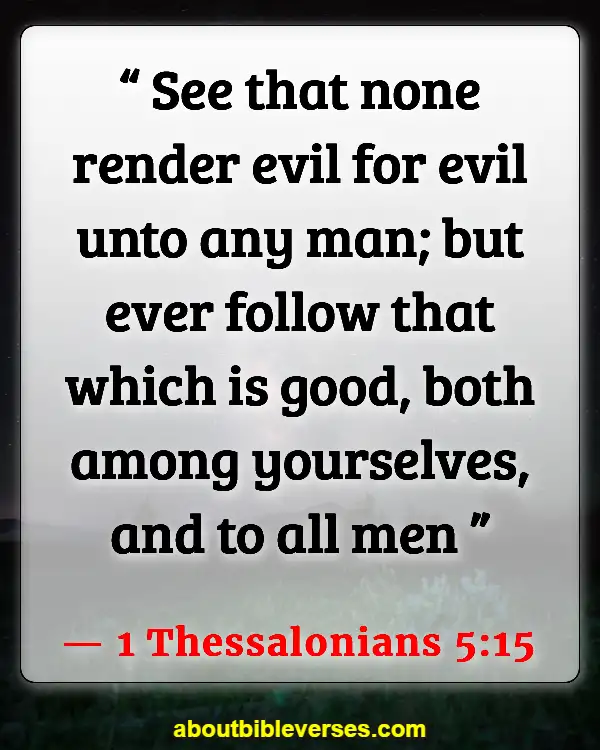 1 Thessalonians 5:15
"See that none render evil for evil unto any man; but ever follow that which is good, both among yourselves, and to all men"
John 15:12
"This is my commandment, That ye love one another, as I have loved you"
Romans 13:8
"Owe no man any thing, but to love one another: for he that loveth another hath fulfilled the law"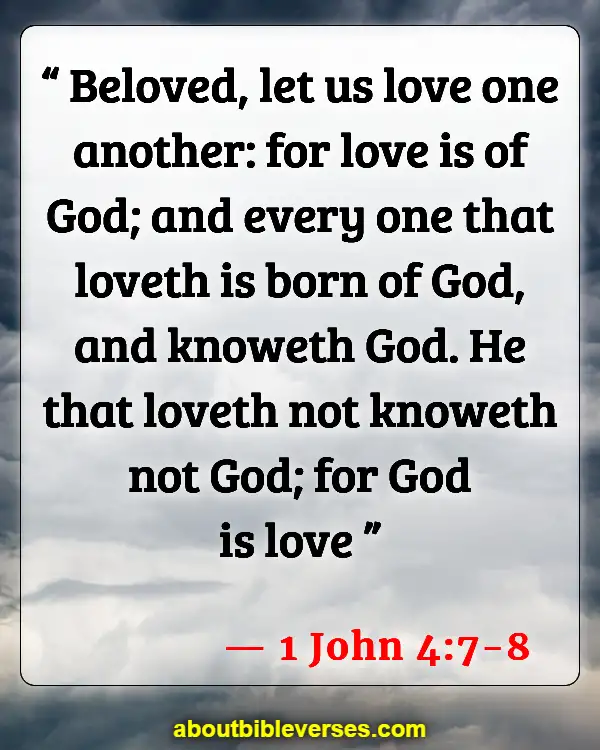 1 John 4:7-8
"Beloved, let us love one another: for love is of God; and every one that loveth is born of God, and knoweth God. He that loveth not knoweth not God; for God is love"
Ephesians 4:2
"With all lowliness and meekness, with longsuffering, forbearing one another in love"
Proverbs 10:12
"Hatred stirreth up strifes: but love covereth all sins"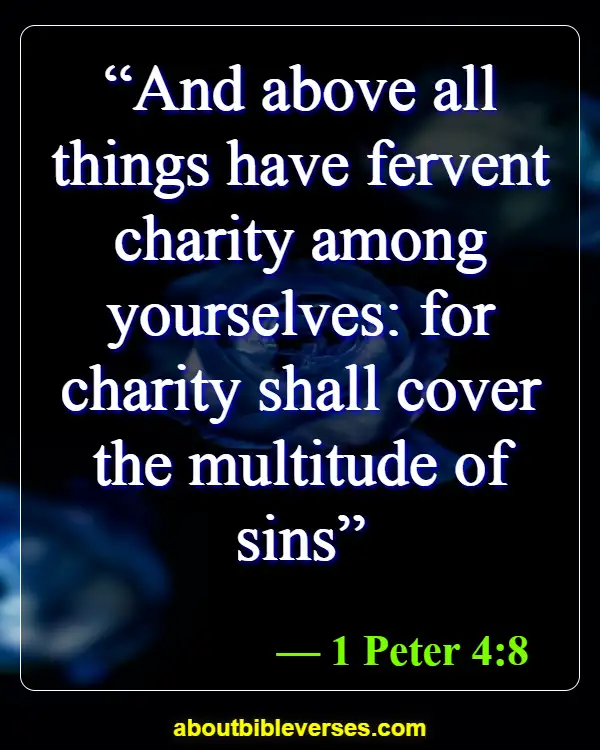 1 Peter 4:8
"And above all things have fervent charity among yourselves: for charity shall cover the multitude of sins"
Romans 12:9-10
"Let love be without dissimulation. Abhor that which is evil; cleave to that which is good. Be kindly affectioned one to another with brotherly love; in honour preferring one another"
John 3:16
"For God so loved the world, that he gave his only begotten Son, that whosoever believeth in him should not perish, but have everlasting life"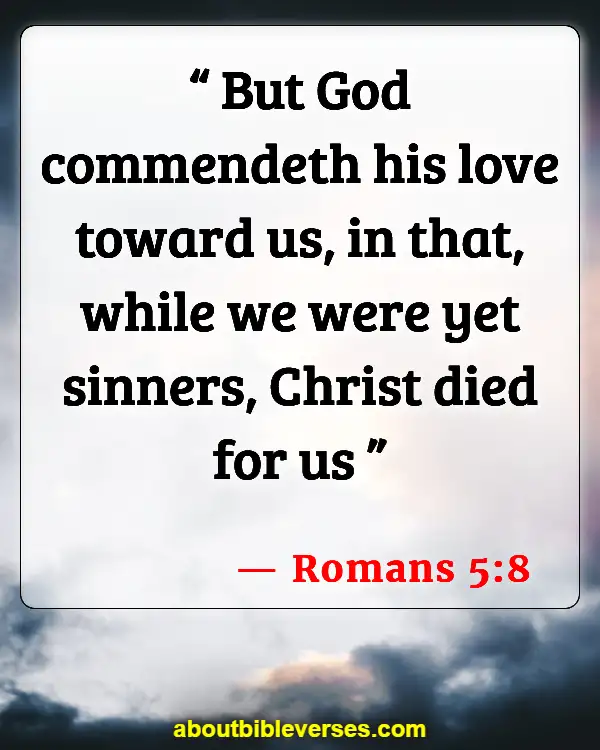 Romans 5:8
"But God commendeth his love toward us, in that, while we were yet sinners, Christ died for us"
Ephesians 2:4-5
"But God, who is rich in mercy, for his great love wherewith he loved us, Even when we were dead in sins, hath quickened us together with Christ, (by grace ye are saved;)"
Romans 8:37-39
"Nay, in all these things we are more than conquerors through him that loved us. For I am persuaded, that neither death, nor life, nor angels, nor principalities, nor powers, nor things present, nor things to come, Nor height, nor depth, nor any other creature, shall be able to separate us from the love of God, which is in Christ Jesus our Lord"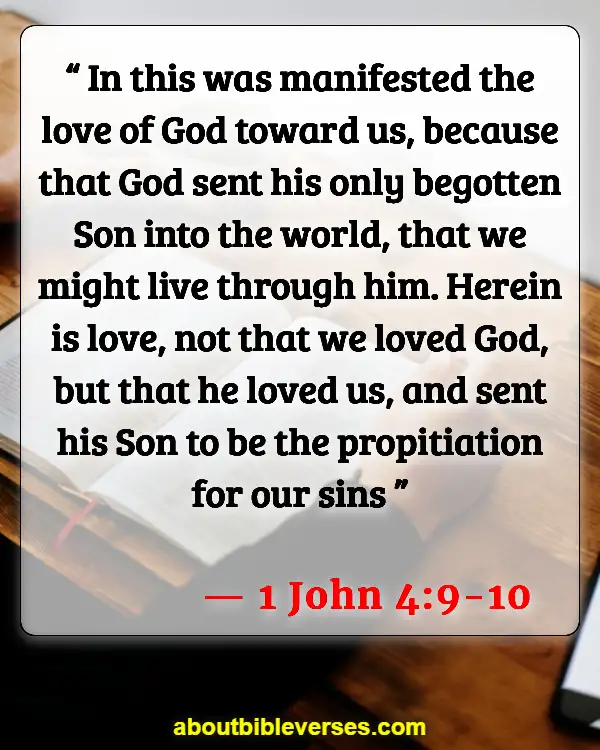 1 John 4:9-10
"In this was manifested the love of God toward us, because that God sent his only begotten Son into the world, that we might live through him. Herein is love, not that we loved God, but that he loved us, and sent his Son to be the propitiation for our sins"
Deuteronomy 7:9
"Know therefore that the Lord thy God, he is God, the faithful God, which keepeth covenant and mercy with them that love him and keep his commandments to a thousand generations"
Ephesians 4:32
"And be ye kind one to another, tenderhearted, forgiving one another, even as God for Christ's sake hath forgiven you"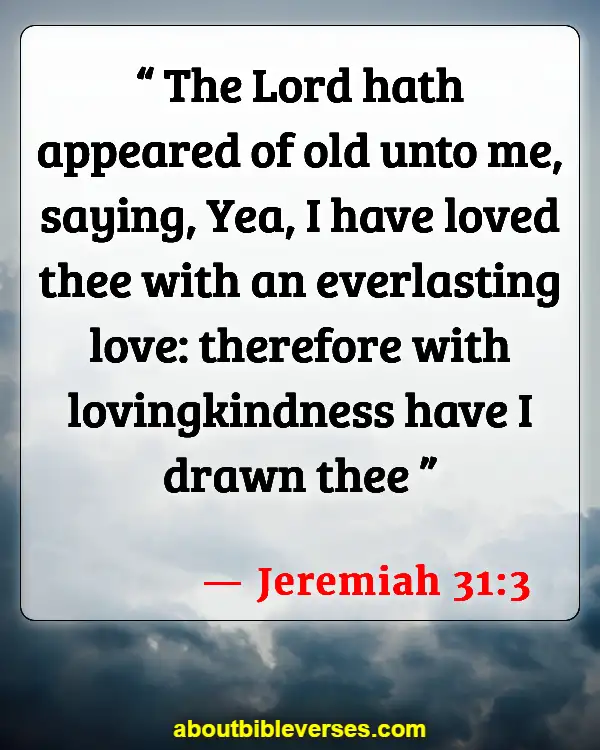 Jeremiah 31:3
"The Lord hath appeared of old unto me, saying, Yea, I have loved thee with an everlasting love: therefore with lovingkindness have I drawn thee"
Colossians 3:12
"Put on therefore, as the elect of God, holy and beloved, bowels of mercies, kindness, humbleness of mind, meekness, longsuffering"
1 Peter 3:8
"Finally, be ye all of one mind, having compassion one of another, love as brethren, be pitiful, be courteous"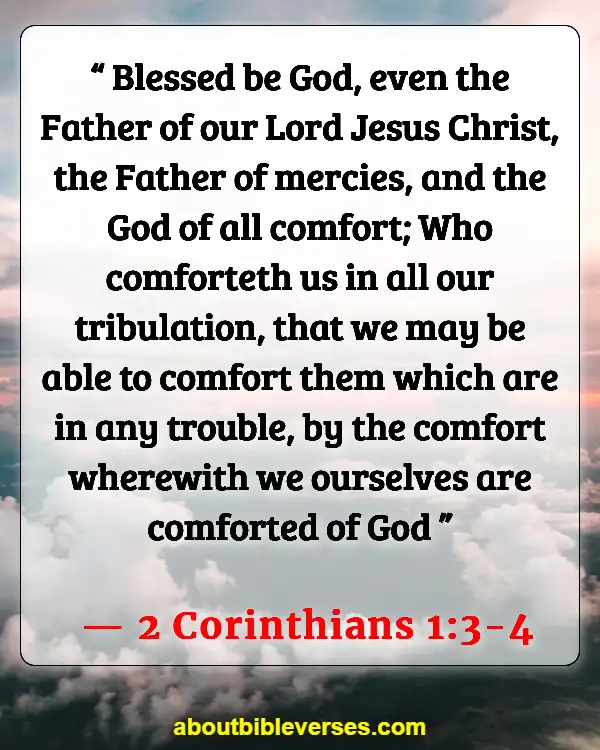 2 Corinthians 1:3-4
"Blessed be God, even the Father of our Lord Jesus Christ, the Father of mercies, and the God of all comfort; Who comforteth us in all our tribulation, that we may be able to comfort them which are in any trouble, by the comfort wherewith we ourselves are comforted of God"
Psalm 86:15
"But thou, O Lord, art a God full of compassion, and gracious, long suffering, and plenteous in mercy and truth"
Psalm 145:8
"The Lord is gracious, and full of compassion; slow to anger, and of great mercy"
James 5:11
"Behold, we count them happy which endure. Ye have heard of the patience of Job, and have seen the end of the Lord; that the Lord is very pitiful, and of tender mercy"
Luke 6:36
"Be ye therefore merciful, as your Father also is merciful"