Dear friends, holding on to hurt and pain can weigh us down and prevent us from moving forward. Although injustice can arouse anger in us, we must be careful not to let it take over our hearts. Resentment is like poison – it harms us more than those who have wronged us.
Instead, we can follow the example of grace and forgiveness that Jesus showed throughout his life. Although he suffered greatly, he did not take revenge or care about the wrong done to him. Even in his last moments, he asked God to forgive those who crucified him. What an incredible example of releasing hurt and extending mercy, even to enemies.
Instead of seeking revenge, we can hand things over to God, trusting that perfect justice will ultimately prevail. When we release the pain that binds us, God can begin to heal our wounded hearts. Although forgiveness may not come easily or quickly, when we decide to let go of bitterness, we open the door to God's peace.
As the Scriptures teach, "My dear friends, do not take revenge, but leave room for the wrath of God, for it is written: 'Vengeance is mine; I will repay', says the Lord." Let us follow this difficult yet liberating path.
Dear friends now let's see the Bible scriptures below that talk about "Letting Go of Hurt Feelings".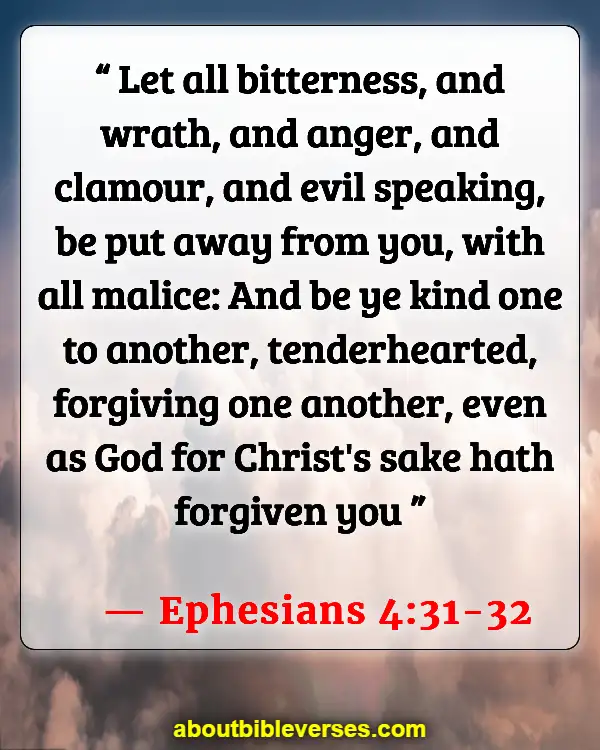 Ephesians 4:31-32
"Let all bitterness, and wrath, and anger, and clamour, and evil speaking, be put away from you, with all malice: And be ye kind one to another, tenderhearted, forgiving one another, even as God for Christ's sake hath forgiven you"
Colossians 3:13
"Forbearing one another, and forgiving one another, if any man have a quarrel against any: even as Christ forgave you, so also do ye"
Matthew 18:21-22
"Then came Peter to him, and said, Lord, how oft shall my brother sin against me, and I forgive him? till seven times? Jesus saith unto him, I say not unto thee, Until seven times: but, Until seventy times seven"
Proverbs 10:12
"Hatred stirreth up strifes: but love covereth all sins"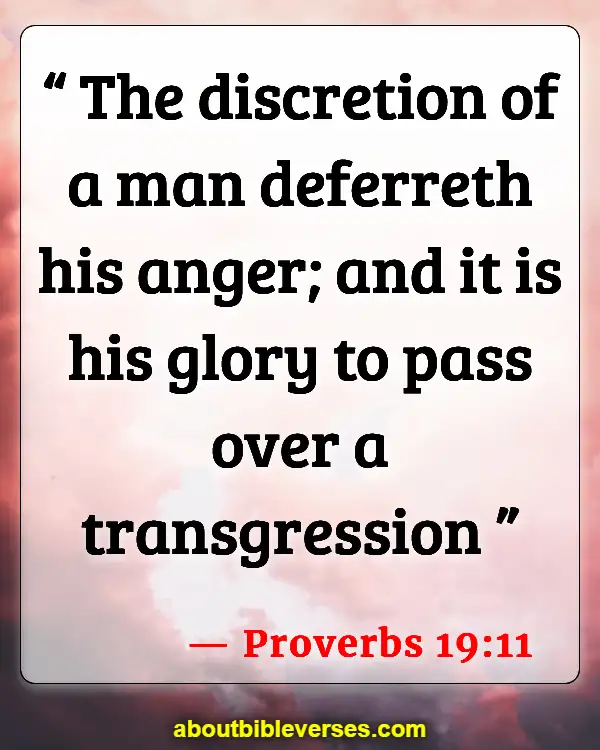 Proverbs 19:11
"The discretion of a man deferreth his anger; and it is his glory to pass over a transgression"
1 Peter 4:8
"And above all things have fervent charity among yourselves: for charity shall cover the multitude of sins"
1 Corinthians 13:4-7
"Charity suffereth long, and is kind; charity envieth not; charity vaunteth not itself, is not puffed up, Doth not behave itself unseemly, seeketh not her own, is not easily provoked, thinketh no evil; Rejoiceth not in iniquity, but rejoiceth in the truth; Beareth all things, believeth all things, hopeth all things, endureth all things"
Matthew 5:44
"But I say unto you, Love your enemies, bless them that curse you, do good to them that hate you, and pray for them which despitefully use you, and persecute you"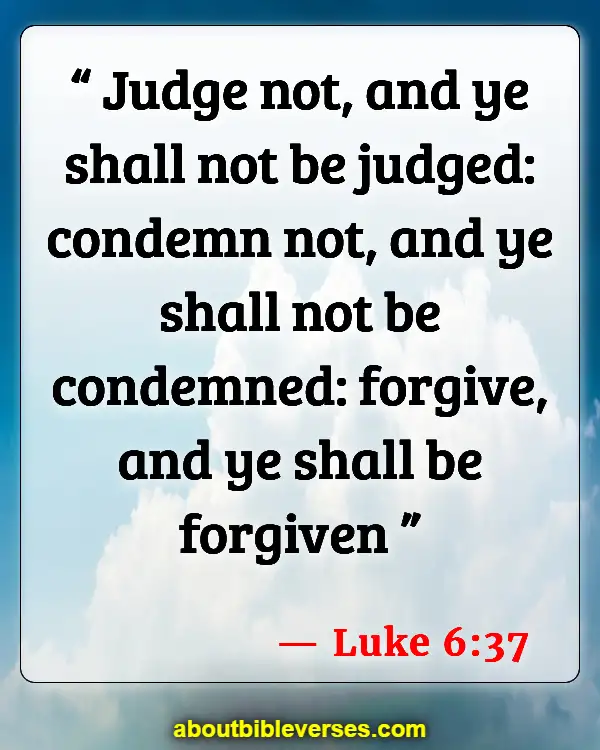 Luke 6:37
"Judge not, and ye shall not be judged: condemn not, and ye shall not be condemned: forgive, and ye shall be forgiven"
Romans 12:17-19
"Recompense to no man evil for evil. Provide things honest in the sight of all men. If it be possible, as much as lieth in you, live peaceably with all men. Dearly beloved, avenge not yourselves, but rather give place unto wrath: for it is written, Vengeance is mine; I will repay, saith the Lord"
Proverbs 15:1
"A soft answer turneth away wrath: but grievous words stir up anger"
James 1:19-20
"Wherefore, my beloved brethren, let every man be swift to hear, slow to speak, slow to wrath: For the wrath of man worketh not the righteousness of God"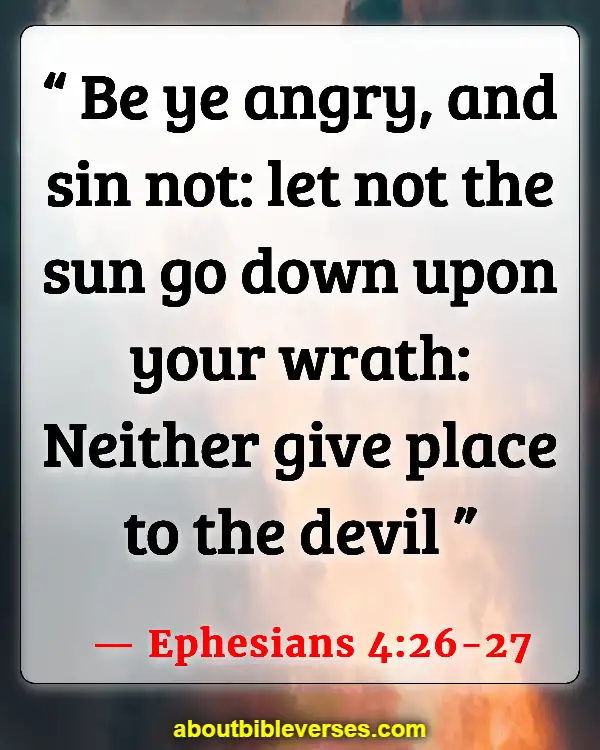 Ephesians 4:26-27
"Be ye angry, and sin not: let not the sun go down upon your wrath: Neither give place to the devil"
Galatians 5:22-23
"But the fruit of the Spirit is love, joy, peace, longsuffering, gentleness, goodness, faith, Meekness, temperance: against such there is no law"
Romans 14:19
"Let us therefore follow after the things which make for peace, and things wherewith one may edify another"
1 Thessalonians 5:15
"See that none render evil for evil unto any man; but ever follow that which is good, both among yourselves, and to all men"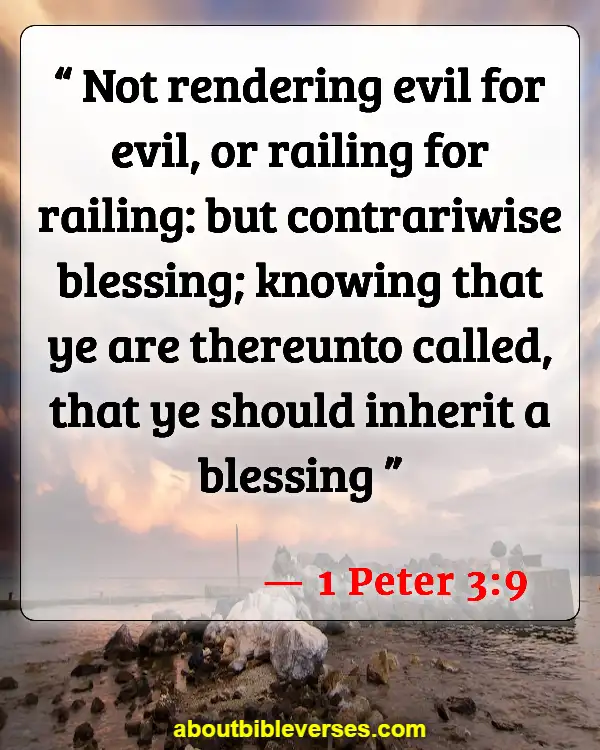 1 Peter 3:9
"Not rendering evil for evil, or railing for railing: but contrariwise blessing; knowing that ye are thereunto called, that ye should inherit a blessing"
Hebrews 12:14-15
"Follow peace with all men, and holiness, without which no man shall see the Lord: Looking diligently lest any man fail of the grace of God; lest any root of bitterness springing up trouble you, and thereby many be defiled"
Mark 11:25
"And when ye stand praying, forgive, if ye have ought against any: that your Father also which is in heaven may forgive you your trespasses"
Romans 5:3-4
"And not only so, but we glory in tribulations also: knowing that tribulation worketh patience; And patience, experience; and experience, hope"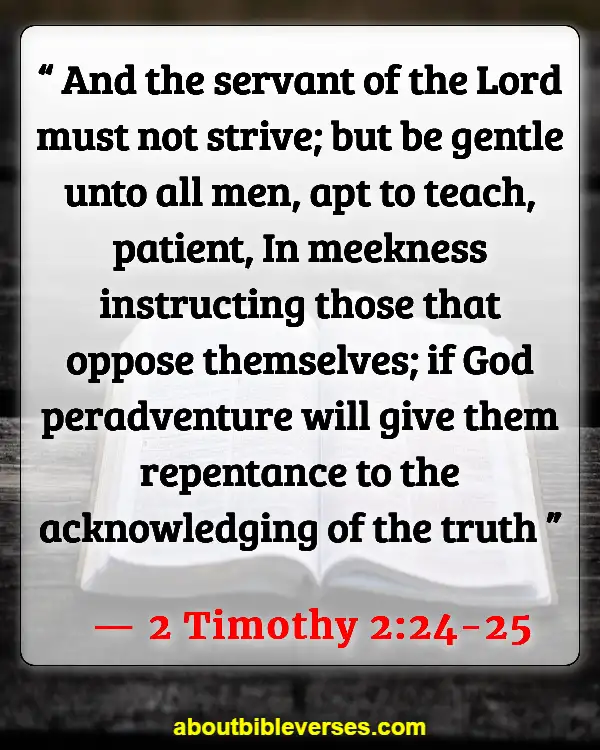 2 Timothy 2:24-25
"And the servant of the Lord must not strive; but be gentle unto all men, apt to teach, patient, In meekness instructing those that oppose themselves; if God peradventure will give them repentance to the acknowledging of the truth"
Titus 3:1-2
"Put them in mind to be subject to principalities and powers, to obey magistrates, to be ready to every good work, To speak evil of no man, to be no brawlers, but gentle, shewing all meekness unto all men"
1 John 2:9-11
"He that saith he is in the light, and hateth his brother, is in darkness even until now. He that loveth his brother abideth in the light, and there is none occasion of stumbling in him. But he that hateth his brother is in darkness, and walketh in darkness, and knoweth not whither he goeth, because that darkness hath blinded his eyes"
Proverbs 14:29
"He that is slow to wrath is of great understanding: but he that is hasty of spirit exalteth folly"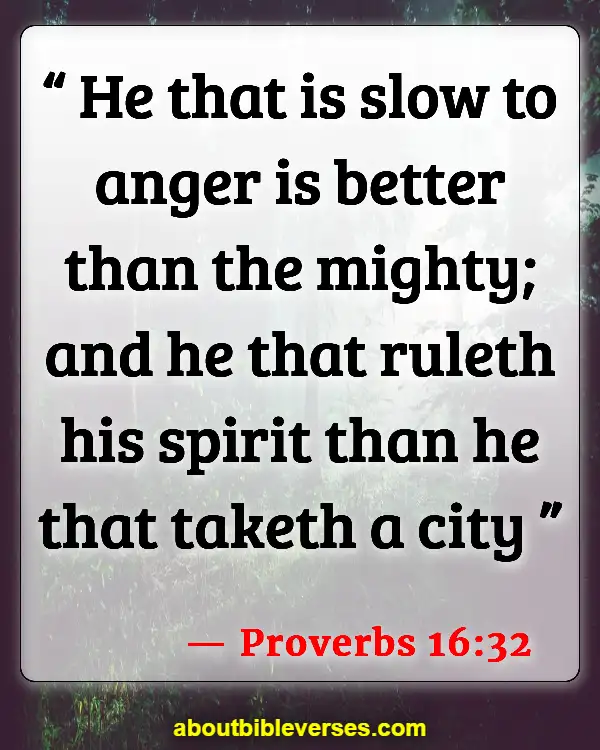 Proverbs 16:32
"He that is slow to anger is better than the mighty; and he that ruleth his spirit than he that taketh a city"
Matthew 5:23-24
"Therefore if thou bring thy gift to the altar, and there rememberest that thy brother hath ought against thee; Leave there thy gift before the altar, and go thy way; first be reconciled to thy brother, and then come and offer thy gift"
Luke 17:3-4
"Take heed to yourselves: If thy brother trespass against thee, rebuke him; and if he repent, forgive him. And if he trespass against thee seven times in a day, and seven times in a day turn again to thee, saying, I repent; thou shalt forgive him"
Romans 12:14
"Bless them which persecute you: bless, and curse not"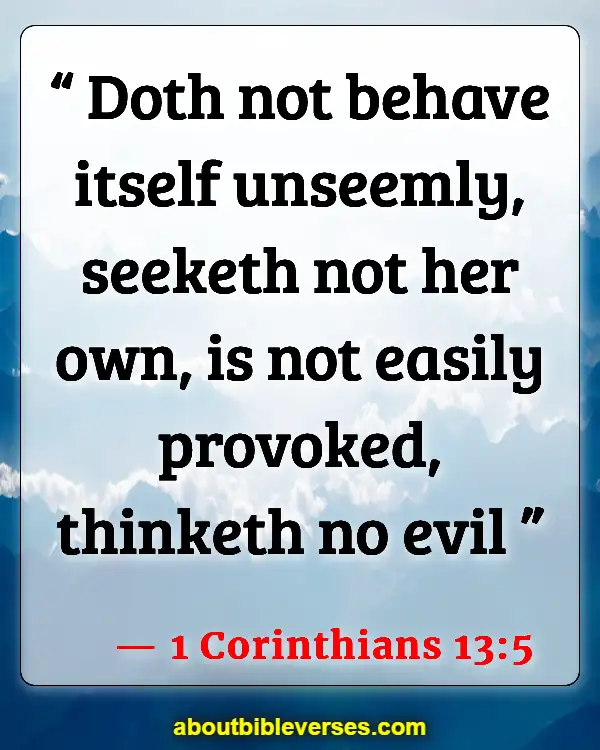 1 Corinthians 13:5
"Doth not behave itself unseemly, seeketh not her own, is not easily provoked, thinketh no evil"
Ephesians 4:2
"With all lowliness and meekness, with longsuffering, forbearing one another in love"
Philippians 2:3-4
"Let nothing be done through strife or vainglory; but in lowliness of mind let each esteem other better than themselves. Look not every man on his own things, but every man also on the things of others"
1 Peter 2:23
"Who, when he was reviled, reviled not again; when he suffered, he threatened not; but committed himself to him that judgeth righteously"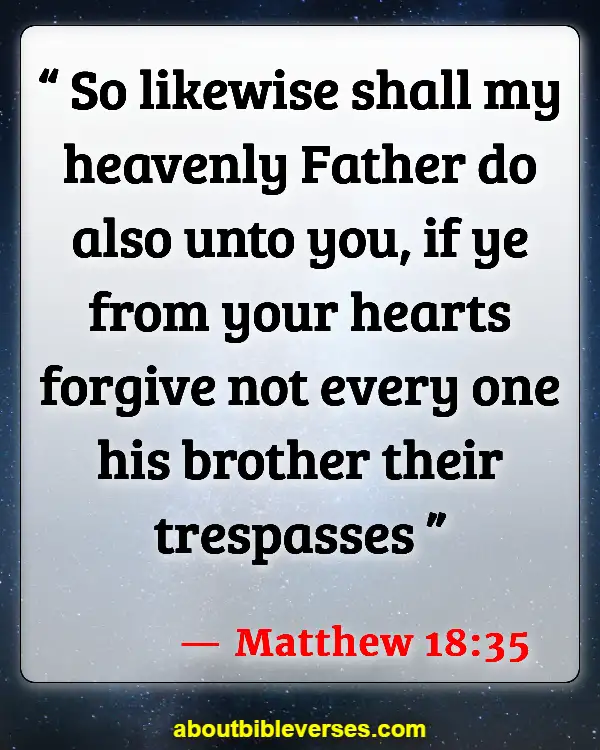 Matthew 18:35
"So likewise shall my heavenly Father do also unto you, if ye from your hearts forgive not every one his brother their trespasses"
Romans 12:20
"Therefore if thine enemy hunger, feed him; if he thirst, give him drink: for in so doing thou shalt heap coals of fire on his head"
Ephesians 4:29
"Let no corrupt communication proceed out of your mouth, but that which is good to the use of edifying, that it may minister grace unto the hearers"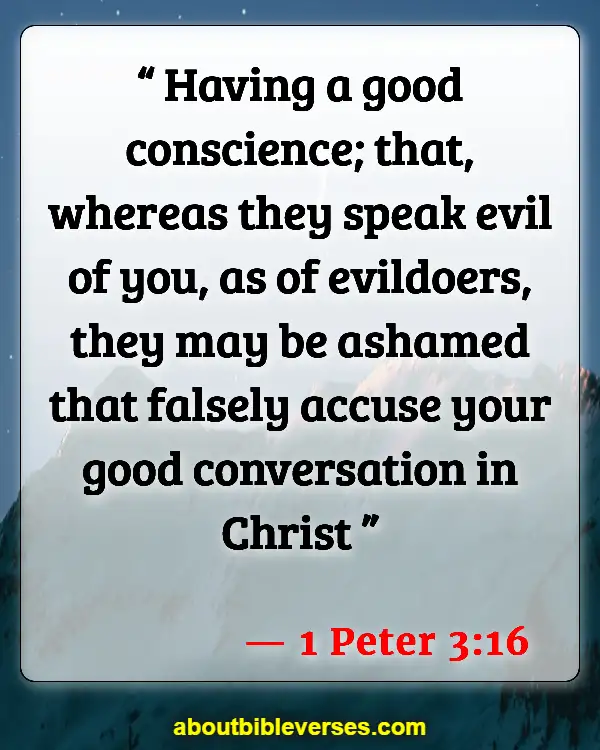 1 Peter 3:16
"Having a good conscience; that, whereas they speak evil of you, as of evildoers, they may be ashamed that falsely accuse your good conversation in Christ"
Luke 23:34
"Then said Jesus, Father, forgive them; for they know not what they do. And they parted his raiment, and cast lots"
Romans 12:18
"If it be possible, as much as lieth in you, live peaceably with all men"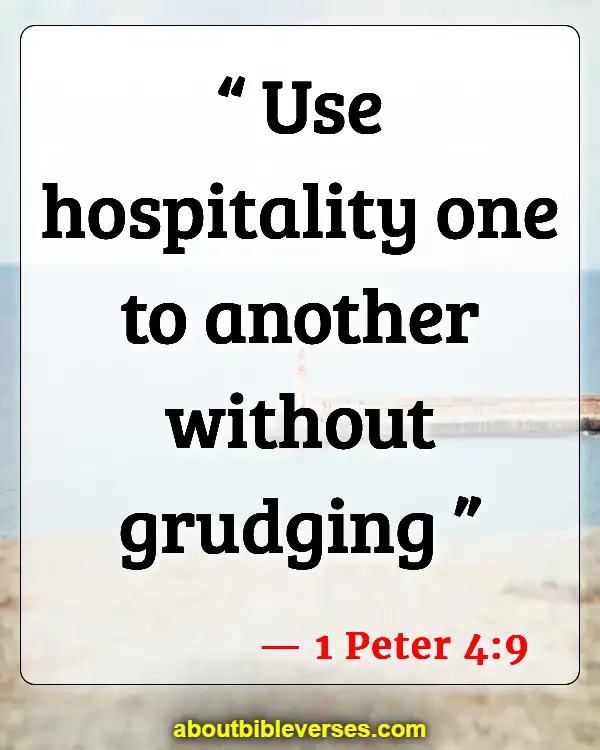 1 Peter 4:9
"Use hospitality one to another without grudging"