Dear friends, Life presents us with many relationships, some good and some not so good. As Christians, we are called to cultivate healthy connections but also know when it is time to let go.
Bad relationships only breed pain and turmoil. They drain our energy and joy. Sometimes a person's presence in our lives causes more harm than good. Though it may be difficult, removing such toxicity is vital for our well-being.
God does not want us trapped in cycles of dysfunction. He desires our freedom and wholeness. Letting go allows us to heal and make space for people who sincerely care. It enables us to rediscover peace.
This decision requires courage and faith. We must trust that God has better things in store for us. Our Creator can redeem any hurt. He assures us that in Him we are loved and valued.
As you reflect on your own connections, consider what might need to change. If certain relationships leave you depleted or distressed, prayerfully evaluate your options. Speak to wise counsel. Remain open to God's guidance.
With faith and diligence, you can find relief. Though it may feel uncomfortable at first, limiting harmful interactions will prove beneficial. You deserve to be treated with dignity. Surround yourself with those who affirm your worth.
May you find freedom, dear friend. Set healthy boundaries. Let go Bad and let God bring about His good purposes. With Him, you are never alone. Brighter days are coming.
Dear friends, now let's see the Bible scriptures below that talk about "Letting Go of Bad Relationships".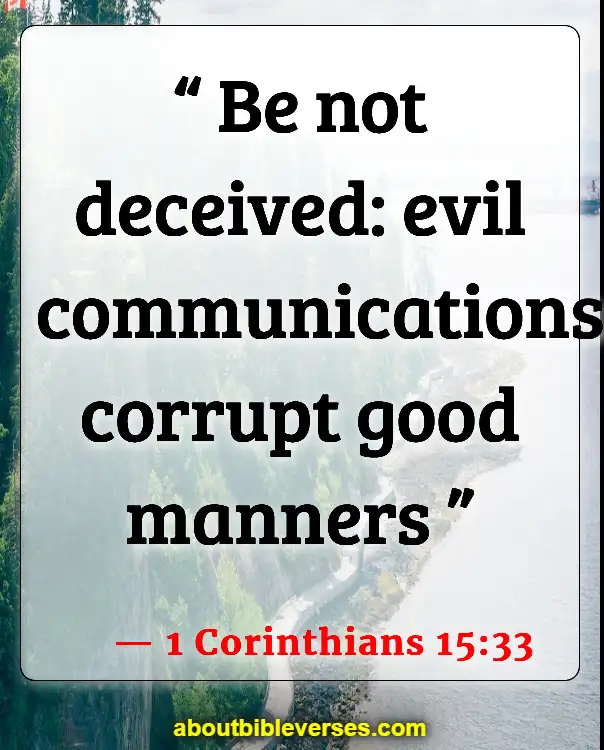 1 Corinthians 15:33
"Be not deceived: evil communications corrupt good manners"
Matthew 18:15
"Moreover if thy brother shall trespass against thee, go and tell him his fault between thee and him alone: if he shall hear thee, thou hast gained thy brother"
Proverbs 13:20
"He that walketh with wise men shall be wise: but a companion of fools shall be destroyed"
2 Timothy 3:1-5
"This know also, that in the last days perilous times shall come. For men shall be lovers of their own selves, covetous, boasters, proud, blasphemers, disobedient to parents, unthankful, unholy, Without natural affection, trucebreakers, false accusers, incontinent, fierce, despisers of those that are good, Traitors, heady, highminded, lovers of pleasures more than lovers of God; Having a form of godliness, but denying the power thereof: from such turn away"
Matthew 5:30
"And if thy right hand offend thee, cut it off, and cast it from thee: for it is profitable for thee that one of thy members should perish, and not that thy whole body should be cast into hell"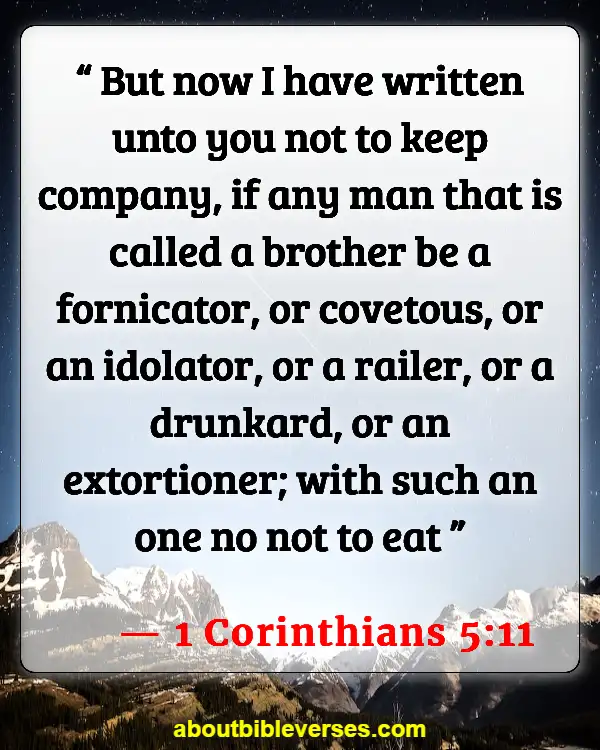 1 Corinthians 5:11
"But now I have written unto you not to keep company, if any man that is called a brother be a fornicator, or covetous, or an idolator, or a railer, or a drunkard, or an extortioner; with such an one no not to eat"
Psalm 1:1
"Blessed is the man that walketh not in the counsel of the ungodly, nor standeth in the way of sinners, nor sitteth in the seat of the scornful"
Proverbs 14:7
"Go from the presence of a foolish man, when thou perceivest not in him the lips of knowledge"
Proverbs 22:24
"Make no friendship with an angry man; and with a furious man thou shalt not go"
Proverbs 4:23
"Keep thy heart with all diligence; for out of it are the issues of life"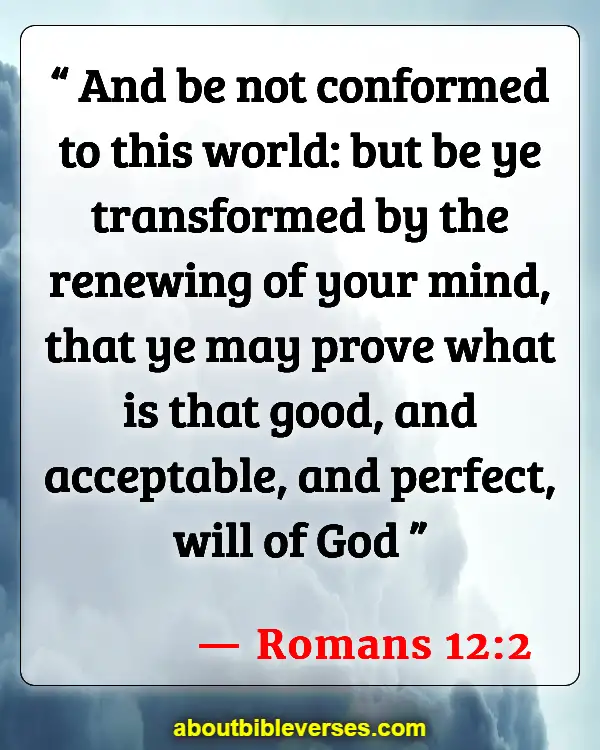 Romans 12:2
"And be not conformed to this world: but be ye transformed by the renewing of your mind, that ye may prove what is that good, and acceptable, and perfect, will of God"
2 Thessalonians 3:6
"Now we command you, brethren, in the name of our Lord Jesus Christ, that ye withdraw yourselves from every brother that walketh disorderly, and not after the tradition which he received of us"
Proverbs 27:17
"Iron sharpeneth iron; so a man sharpeneth the countenance of his friend"
Ephesians 4:31
"Let all bitterness, and wrath, and anger, and clamour, and evil speaking, be put away from you, with all malice"
Ephesians 4:26-27
"Be ye angry, and sin not: let not the sun go down upon your wrath: Neither give place to the devil"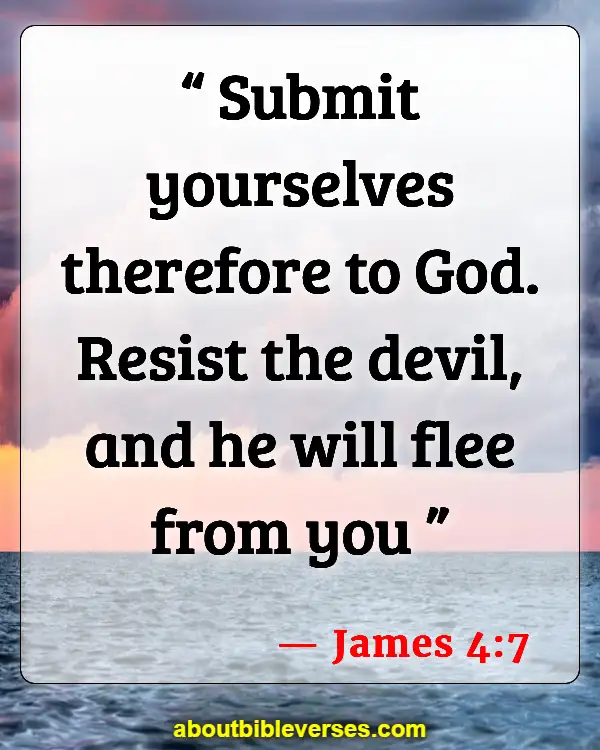 James 4:7
"Submit yourselves therefore to God. Resist the devil, and he will flee from you"
1 John 2:15-16
"Love not the world, neither the things that are in the world. If any man love the world, the love of the Father is not in him. For all that is in the world, the lust of the flesh, and the lust of the eyes, and the pride of life, is not of the Father, but is of the world"
Matthew 6:14-15
"For if ye forgive men their trespasses, your heavenly Father will also forgive you: But if ye forgive not men their trespasses, neither will your Father forgive your trespasses"
Romans 12:19
"Dearly beloved, avenge not yourselves, but rather give place unto wrath: for it is written, Vengeance is mine; I will repay, saith the Lord"
Luke 6:27-28
"But I say unto you which hear, Love your enemies, do good to them which hate you, Bless them that curse you, and pray for them which despitefully use you"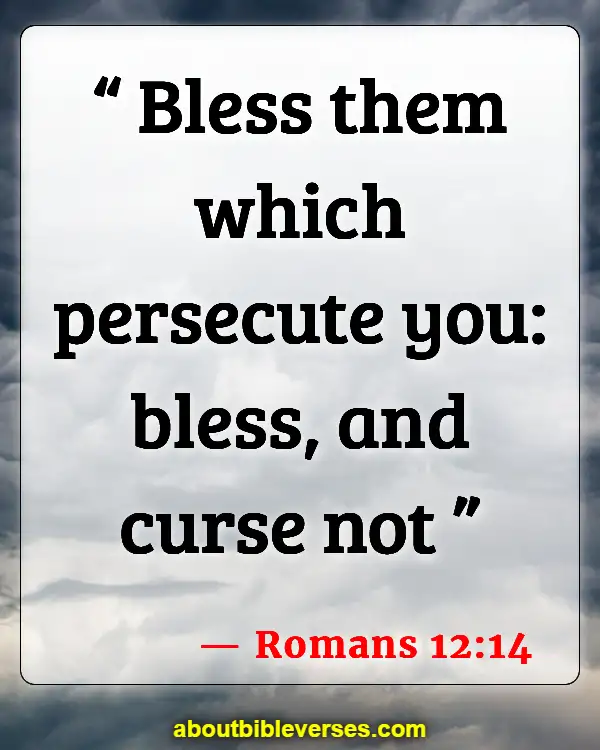 Romans 12:14
"Bless them which persecute you: bless, and curse not"
Ephesians 4:32
"And be ye kind one to another, tenderhearted, forgiving one another, even as God for Christ's sake hath forgiven you"
Matthew 5:44
"But I say unto you, Love your enemies, bless them that curse you, do good to them that hate you, and pray for them which despitefully use you, and persecute you"
Proverbs 24:29
"Say not, I will do so to him as he hath done to me: I will render to the man according to his work"
Proverbs 20:22
"Say not thou, I will recompense evil; but wait on the Lord , and he shall save thee"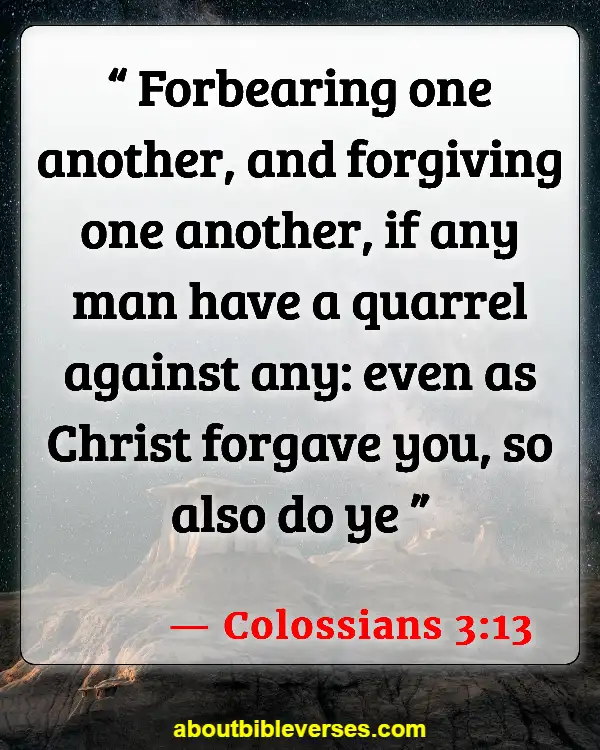 Colossians 3:13
"Forbearing one another, and forgiving one another, if any man have a quarrel against any: even as Christ forgave you, so also do ye"
Matthew 18:21-22
"Then came Peter to him, and said, Lord, how oft shall my brother sin against me, and I forgive him? till seven times? Jesus saith unto him, I say not unto thee, Until seven times: but, Until seventy times seven"
Luke 17:3-4
"Take heed to yourselves: If thy brother trespass against thee, rebuke him; and if he repent, forgive him. And if he trespass against thee seven times in a day, and seven times in a day turn again to thee, saying, I repent; thou shalt forgive him"
Proverbs 17:9
"He that covereth a transgression seeketh love; but he that repeateth a matter separateth very friends"
1 Peter 3:9
"Not rendering evil for evil, or railing for railing: but contrariwise blessing; knowing that ye are thereunto called, that ye should inherit a blessing"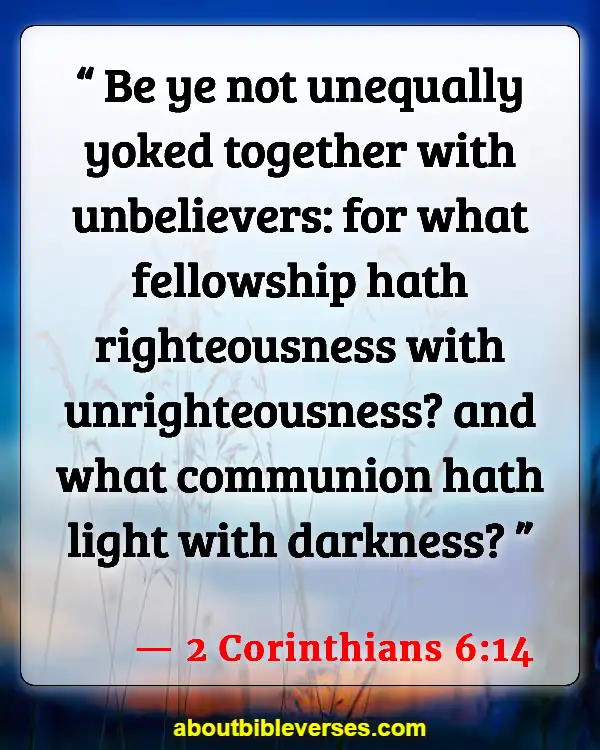 2 Corinthians 6:14
"Be ye not unequally yoked together with unbelievers: for what fellowship hath righteousness with unrighteousness? and what communion hath light with darkness?"
Proverbs 22:10
"Cast out the scorner, and contention shall go out; yea, strife and reproach shall cease"
1 Timothy 6:5
"Perverse disputings of men of corrupt minds, and destitute of the truth, supposing that gain is godliness: from such withdraw thyself"
Galatians 5:24-26
"And they that are Christ's have crucified the flesh with the affections and lusts. If we live in the Spirit, let us also walk in the Spirit. Let us not be desirous of vain glory, provoking one another, envying one another"
Matthew 5:9
"Blessed are the peacemakers: for they shall be called the children of God"
Romans 14:19
"Let us therefore follow after the things which make for peace, and things wherewith one may edify another"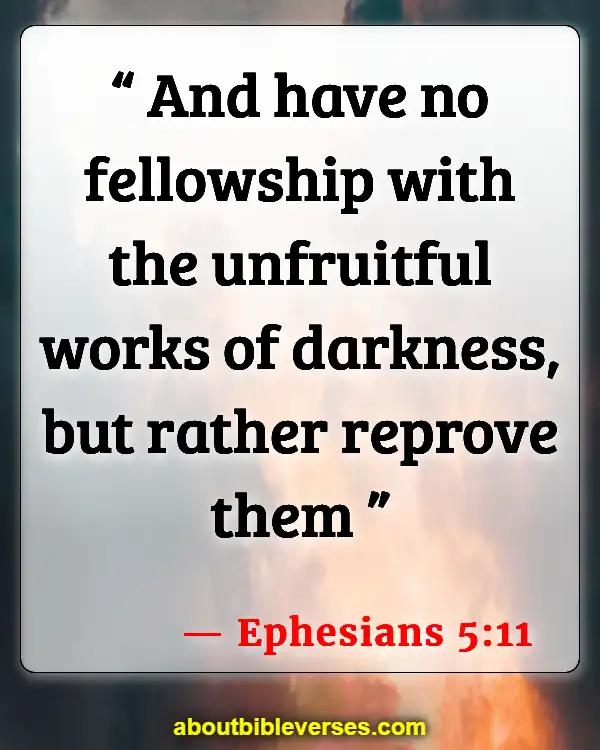 Ephesians 5:11
"And have no fellowship with the unfruitful works of darkness, but rather reprove them"
Proverbs 6:16-19
"These six things doth the Lord hate: yea, seven are an abomination unto him: A proud look, a lying tongue, and hands that shed innocent blood, An heart that deviseth wicked imaginations, feet that be swift in running to mischief, A false witness that speaketh lies, and he that soweth discord among brethren"
1 Thessalonians 5:22
"Abstain from all appearance of evil"
James 3:16
"For where envying and strife is, there is confusion and every evil work"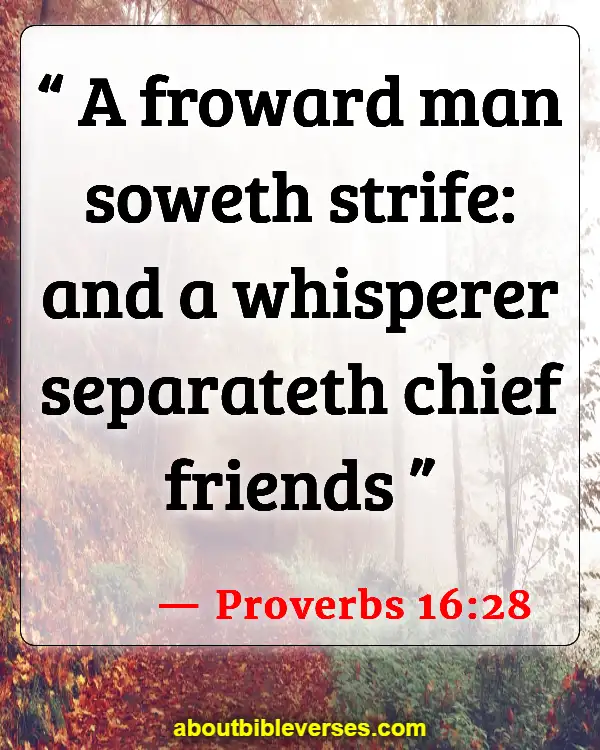 Proverbs 16:28
"A froward man soweth strife: and a whisperer separateth chief friends"
Psalm 101:5
"Whoso privily slandereth his neighbour, him will I cut off: him that hath an high look and a proud heart will not I suffer"
Proverbs 26:20
"Where no wood is, there the fire goeth out: so where there is no talebearer, the strife ceaseth"
Titus 3:10
"A man that is an heretick after the first and second admonition reject"
Romans 16:17
"Now I beseech you, brethren, mark them which cause divisions and offences contrary to the doctrine which ye have learned; and avoid them"
2 John 1:10
"If there come any unto you, and bring not this doctrine, receive him not into your house, neither bid him God speed"
Proverbs 29:25
"The fear of man bringeth a snare: but whoso putteth his trust in the Lord shall be safe"
1 Corinthians 7:15
"But if the unbelieving depart, let him depart. A brother or a sister is not under bondage in such cases: but God hath called us to peace"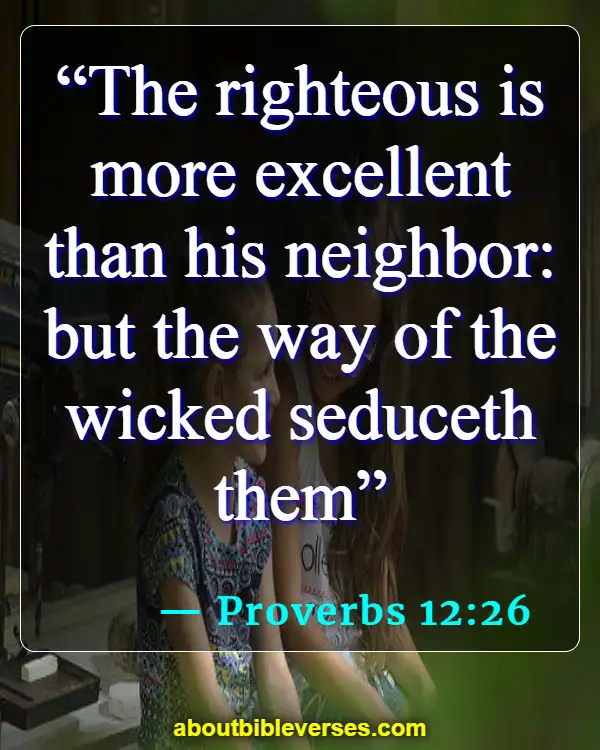 Proverbs 12:26
"The righteous is more excellent than his neighbour: but the way of the wicked seduceth them"