Dear friends, our lives journey is filled with many companions, yet not all prove loyal or true. When fellowship sours and a friend leads astray, we face hard choices. Do we stubbornly cling to what was, or bravely seek God's will?
Though change proves difficult, the Lord above knows our way. He wishes us to remove from lives rotten roots, to prune branches bearing wormy fruits.
As believers, we must show discernment and care when taking company. Look not only at surface smiles but the heart beneath. Take cue from our Savior, who dined with sinners yet kept spirit clean.
Bad company corrupts good character, dear hearts. If a friend walks a wicked path, we suffer too if we follow after. Far better to tear that bond early, ere sin takes a deeper hold.
This does not mean to cast off carelessly. With patience, rebuke, and love, attempt restoration. But if they refuse wisdom, let go with prayer rather than anger. They choose their course. We must choose life with God.
When friendships falter, weep but do not despair. The Lord brings new connections if we but open hearts to receive. The bonds built on Him form true fellowship, lasting through every storm.
Let us therefore flee contaminated altars and find refreshment in the Lord. His living water washes clean what sin has stained. Trust Him to direct your steps right.
Dear friends, now let's reflect on what the Bible says about walking with wise companions rather than Bad Friends. May we ponder these things with care.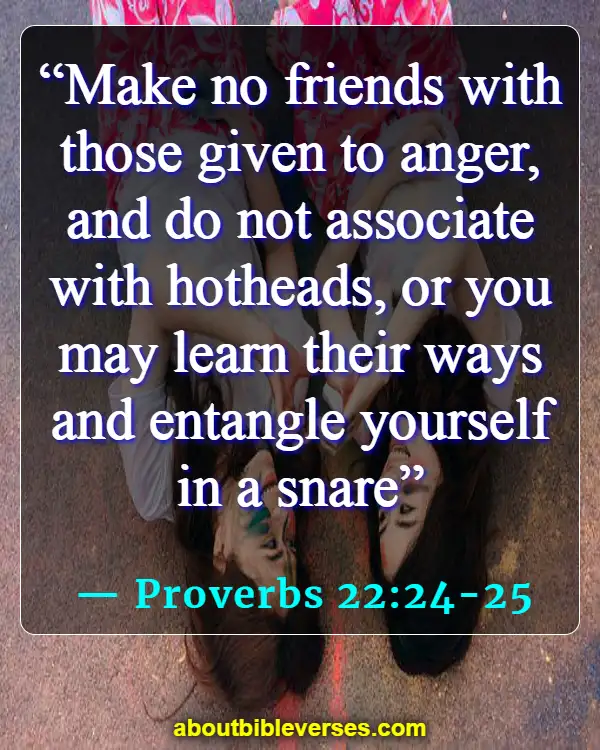 Proverbs 22:24-25
"Make no friendship with an angry man; and with a furious man thou shalt not go: Lest thou learn his ways, and get a snare to thy soul"
1 Corinthians 15:33
"Be not deceived: evil communications corrupt good manners"
Proverbs 13:20
"He that walketh with wise men shall be wise: but a companion of fools shall be destroyed"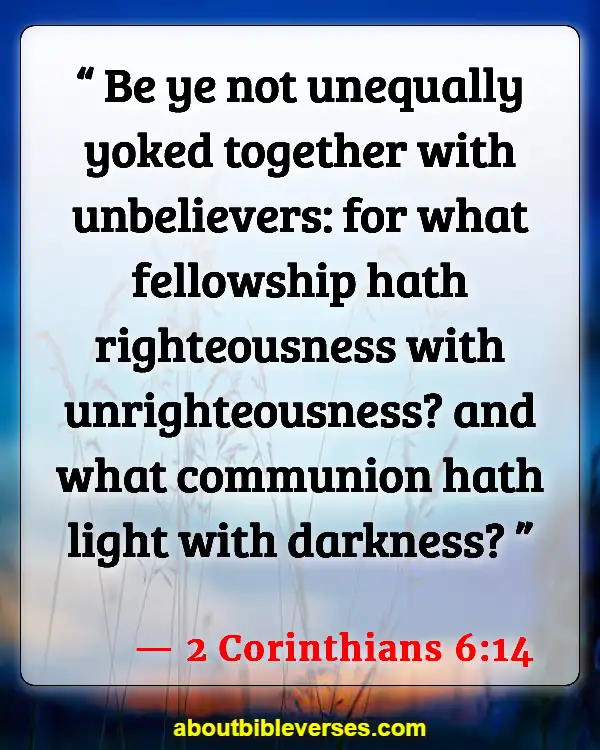 2 Corinthians 6:14
"Be ye not unequally yoked together with unbelievers: for what fellowship hath righteousness with unrighteousness? and what communion hath light with darkness?"
Psalm 1:1
"Blessed is the man that walketh not in the counsel of the ungodly, nor standeth in the way of sinners, nor sitteth in the seat of the scornful"
Proverbs 14:7
"Go from the presence of a foolish man, when thou perceivest not in him the lips of knowledge"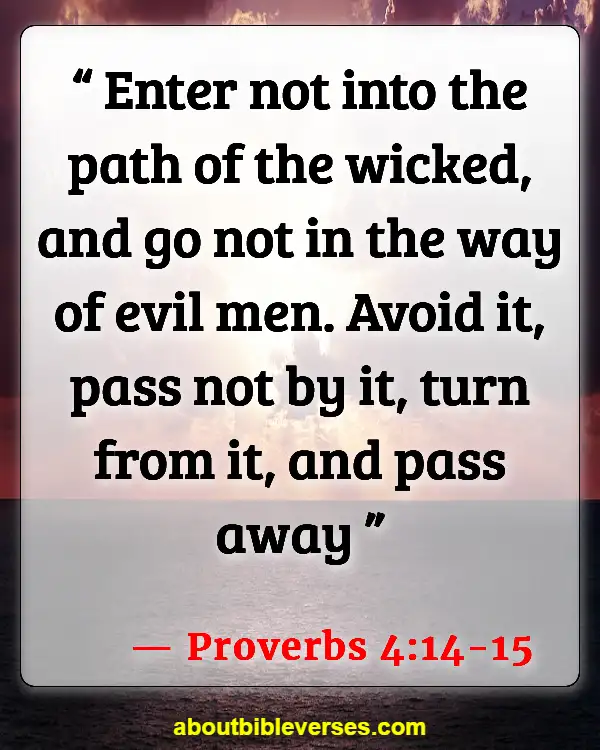 Proverbs 4:14-15
"Enter not into the path of the wicked, and go not in the way of evil men. Avoid it, pass not by it, turn from it, and pass away"
Proverbs 16:29
"A violent man enticeth his neighbour, and leadeth him into the way that is not good"
Proverbs 2:12-15
"To deliver thee from the way of the evil man, from the man that speaketh froward things; Who leave the paths of uprightness, to walk in the ways of darkness; Who rejoice to do evil, and delight in the frowardness of the wicked; Whose ways are crooked, and they froward in their paths"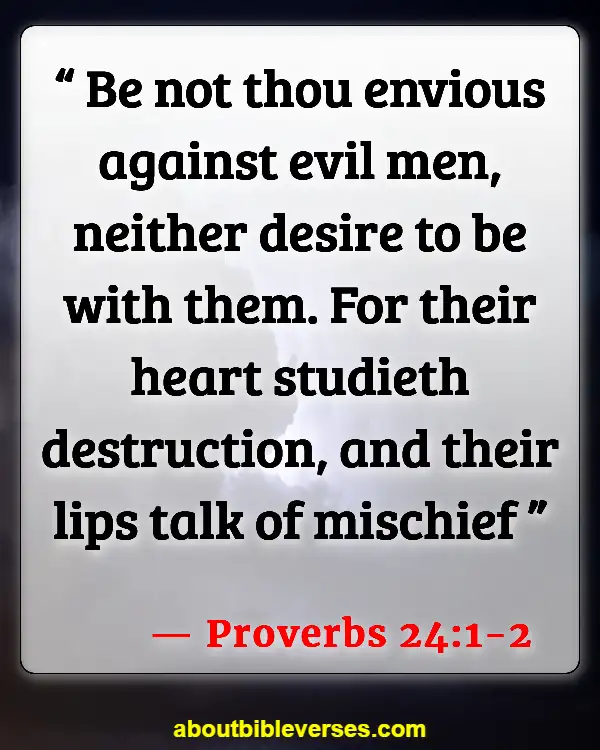 Proverbs 24:1-2
"Be not thou envious against evil men, neither desire to be with them. For their heart studieth destruction, and their lips talk of mischief"
Proverbs 28:7
"Whoso keepeth the law is a wise son: but he that is a companion of riotous men shameth his father"
Psalm 26:4-5
"I have not sat with vain persons, neither will I go in with dissemblers. I have hated the congregation of evil doers; and will not sit with the wicked"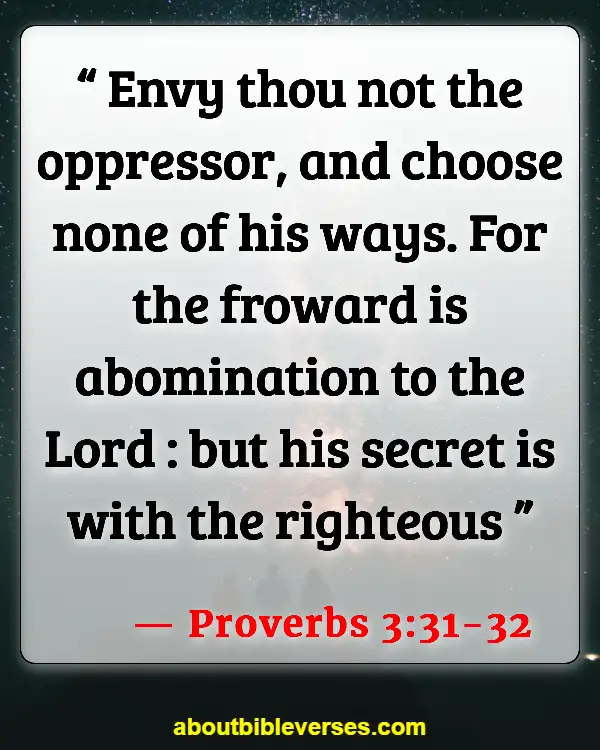 Proverbs 3:31-32
"Envy thou not the oppressor, and choose none of his ways. For the froward is abomination to the Lord : but his secret is with the righteous"
Romans 16:17-18
"Now I beseech you, brethren, mark them which cause divisions and offences contrary to the doctrine which ye have learned; and avoid them. For they that are such serve not our Lord Jesus Christ, but their own belly; and by good words and fair speeches deceive the hearts of the simple"
Psalm 119:115
"Depart from me, ye evildoers: for I will keep the commandments of my God"
Proverbs 23:20-21
"Be not among winebibbers; among riotous eaters of flesh: For the drunkard and the glutton shall come to poverty: and drowsiness shall clothe a man with rags"
Psalm 141:4
"Incline not my heart to any evil thing, to practise wicked works with men that work iniquity: and let me not eat of their dainties"
Titus 3:10-11
"A man that is an heretick after the first and second admonition reject; Knowing that he that is such is subverted, and sinneth, being condemned of himself"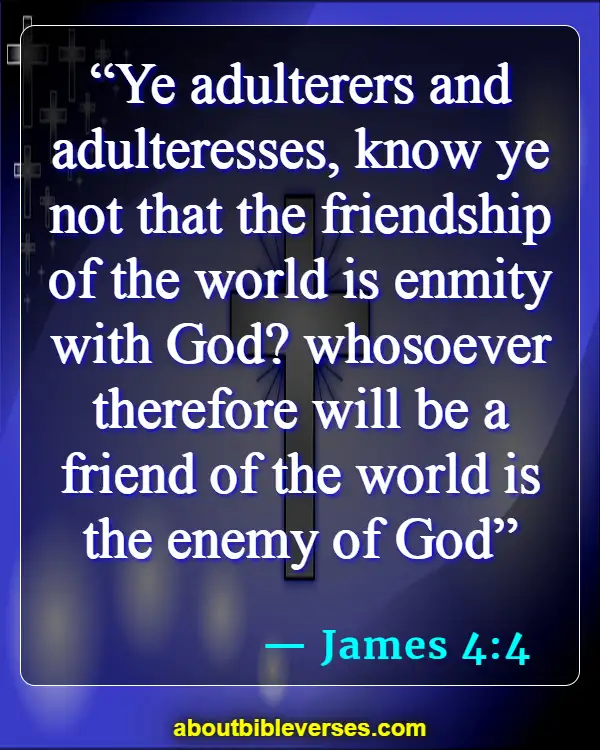 James 4:4
"Ye adulterers and adulteresses, know ye not that the friendship of the world is enmity with God? whosoever therefore will be a friend of the world is the enemy of God"
Proverbs 29:24
"Whoso is partner with a thief hateth his own soul: he heareth cursing, and bewrayeth it not"
1 Corinthians 5:11
"But now I have written unto you not to keep company, if any man that is called a brother be a fornicator, or covetous, or an idolator, or a railer, or a drunkard, or an extortioner; with such an one no not to eat"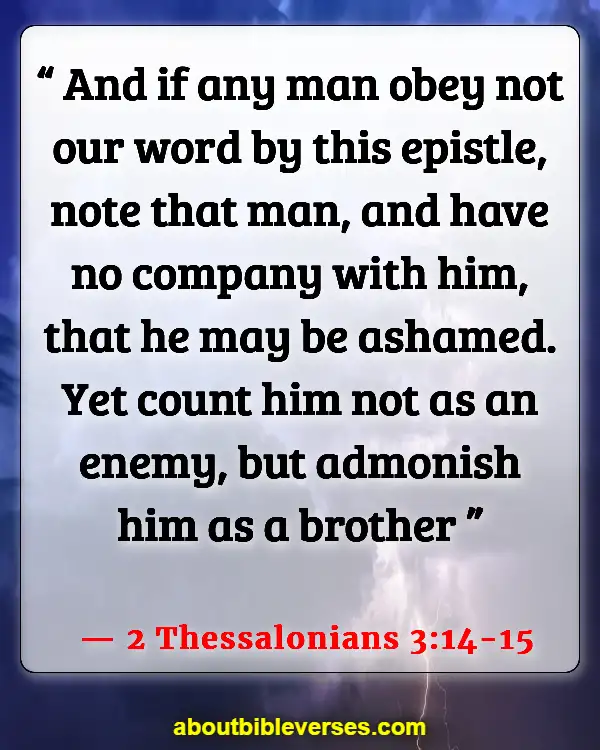 2 Thessalonians 3:14-15
"And if any man obey not our word by this epistle, note that man, and have no company with him, that he may be ashamed. Yet count him not as an enemy, but admonish him as a brother"
Ephesians 5:11
"And have no fellowship with the unfruitful works of darkness, but rather reprove them"
Proverbs 12:26
"The righteous is more excellent than his neighbour: but the way of the wicked seduceth them"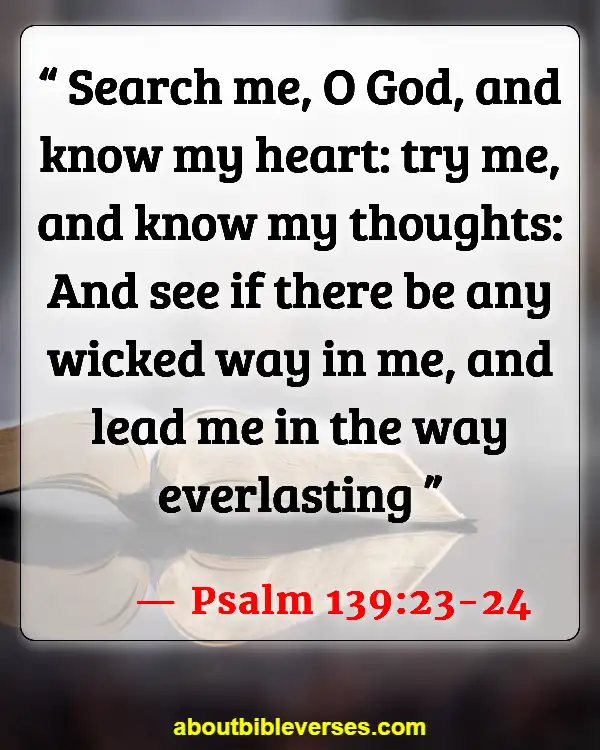 Psalm 139:23-24
"Search me, O God, and know my heart: try me, and know my thoughts: And see if there be any wicked way in me, and lead me in the way everlasting"
Proverbs 21:16
"The man that wandereth out of the way of understanding shall remain in the congregation of the dead"
Proverbs 9:6
"Forsake the foolish, and live; and go in the way of understanding"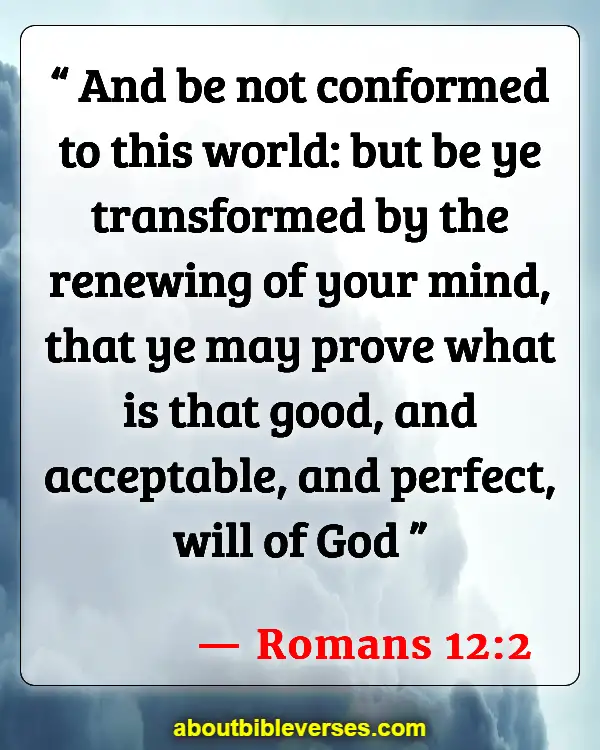 Romans 12:2
"And be not conformed to this world: but be ye transformed by the renewing of your mind, that ye may prove what is that good, and acceptable, and perfect, will of God"
Ephesians 4:22-24
"That ye put off concerning the former conversation the old man, which is corrupt according to the deceitful lusts; And be renewed in the spirit of your mind; And that ye put on the new man, which after God is created in righteousness and true holiness"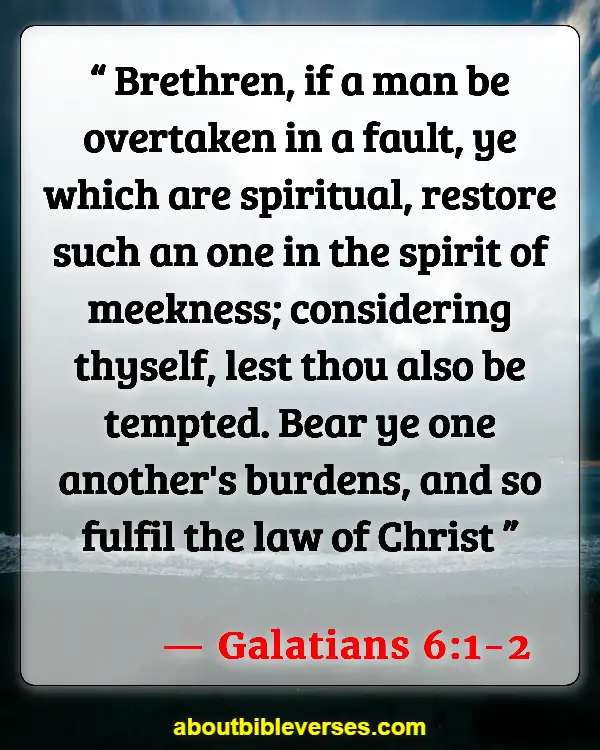 Galatians 6:1-2
"Brethren, if a man be overtaken in a fault, ye which are spiritual, restore such an one in the spirit of meekness; considering thyself, lest thou also be tempted. Bear ye one another's burdens, and so fulfil the law of Christ"