Hello dear friends, welcome to our site in the name of Jesus Christ. Today we will look at the Bible Scriptures About Karma In KJV. If you like today's post then definitely comment and share.
Have you ever wondered what the Bible says about actions? The Bible warns us about the consequences of our actions and how they can affect us, let's see.
In the New Testament, Galatians 6:7 says, "Do not be deceived: God is not mocked. A man reaps what he sows." This verse indicates that people will eventually face the consequences of their actions, both good and bad.
There are similar verses in the Old Testament. For example, Proverbs 26:27 says, "Whoever digs a pit will fall into it; whoever rolls a stone, it will roll back on them." This verse emphasizes that the consequences of one's actions will eventually come back to affect them.
However, the Bible also teaches us some important lessons that differ from the concept of action. It tells us about the power of forgiveness through faith in Jesus Christ. Christians believe that God's grace can break that chain, freeing us from past mistakes.
Dear friends now let's see the Bible scriptures below that talk about Karma.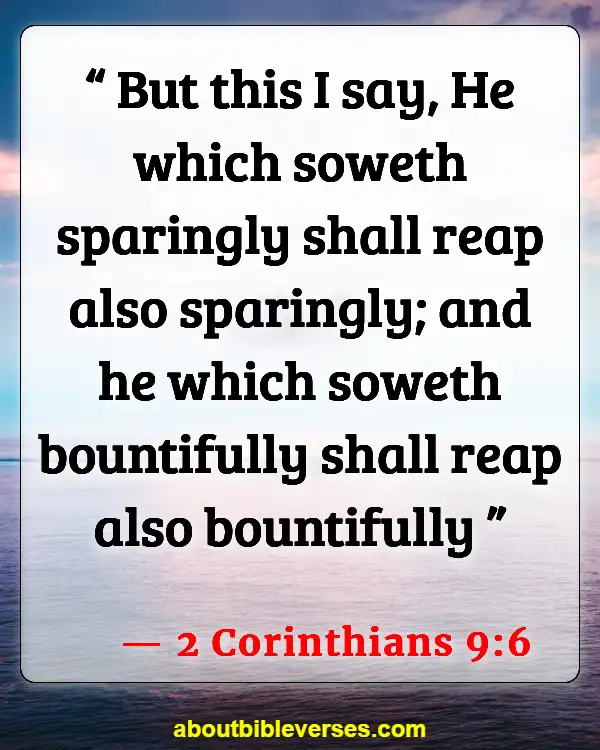 2 Corinthians 9:6
"But this I say, He which soweth sparingly shall reap also sparingly; and he which soweth bountifully shall reap also bountifully"
Proverbs 22:8
"He that soweth iniquity shall reap vanity: and the rod of his anger shall fail"
Job 4:8
"Even as I have seen, they that plow iniquity, and sow wickedness, reap the same"
Hosea 8:7
"For they have sown the wind, and they shall reap the whirlwind: it hath no stalk; the bud shall yield no meal: if so be it yield, the strangers shall swallow it up"
Proverbs 11:18
"The wicked worketh a deceitful work: but to him that soweth righteousness shall be a sure reward"
Proverbs 6:27-28
"Can a man take fire in his bosom, and his clothes not be burned? Can one go upon hot coals, and his feet not be burned?"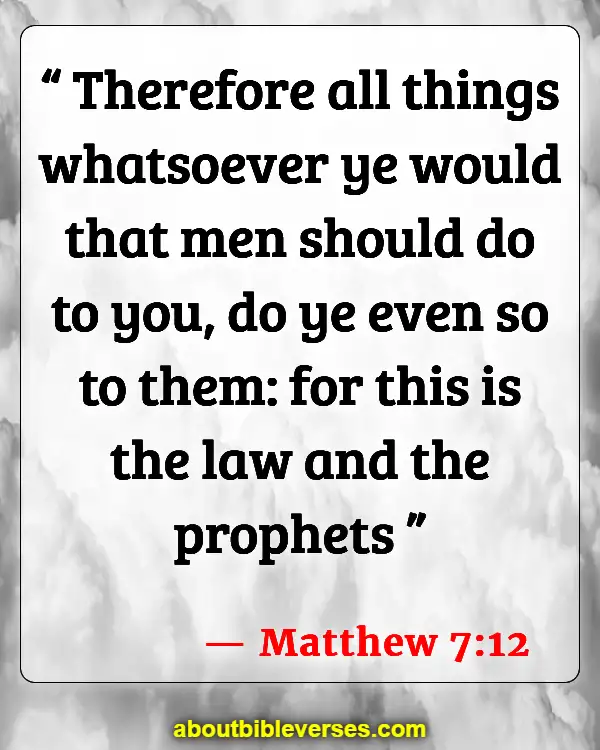 Matthew 7:12
"Therefore all things whatsoever ye would that men should do to you, do ye even so to them: for this is the law and the prophets"
Romans 2:6
"Who will render to every man according to his deeds"
1 Corinthians 3:8
"Now he that planteth and he that watereth are one: and every man shall receive his own reward according to his own labour"
Isaiah 3:10-11
"Say ye to the righteous, that it shall be well with him: for they shall eat the fruit of their doings. Woe unto the wicked! it shall be ill with him: for the reward of his hands shall be given him"
Proverbs 14:14
"The backslider in heart shall be filled with his own ways: and a good man shall be satisfied from himself"
1 Peter 3:8-9
"Finally, be ye all of one mind, having compassion one of another, love as brethren, be pitiful, be courteous: Not rendering evil for evil, or railing for railing: but contrariwise blessing; knowing that ye are thereunto called, that ye should inherit a blessing"
Leviticus 19:18
"Thou shalt not avenge, nor bear any grudge against the children of thy people, but thou shalt love thy neighbour as thyself: I am the Lord"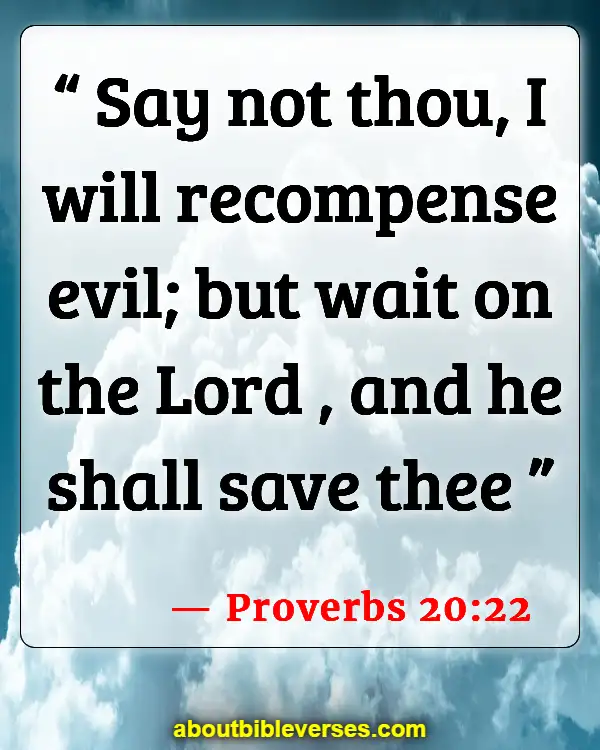 Proverbs 20:22
"Say not thou, I will recompense evil; but wait on the Lord , and he shall save thee"
Proverbs 24:29
"Say not, I will do so to him as he hath done to me: I will render to the man according to his work"
1 Peter 3:9
"Not rendering evil for evil, or railing for railing: but contrariwise blessing; knowing that ye are thereunto called, that ye should inherit a blessing"
2 Timothy 2:12
"If we suffer, we shall also reign with him: if we deny him, he also will deny us"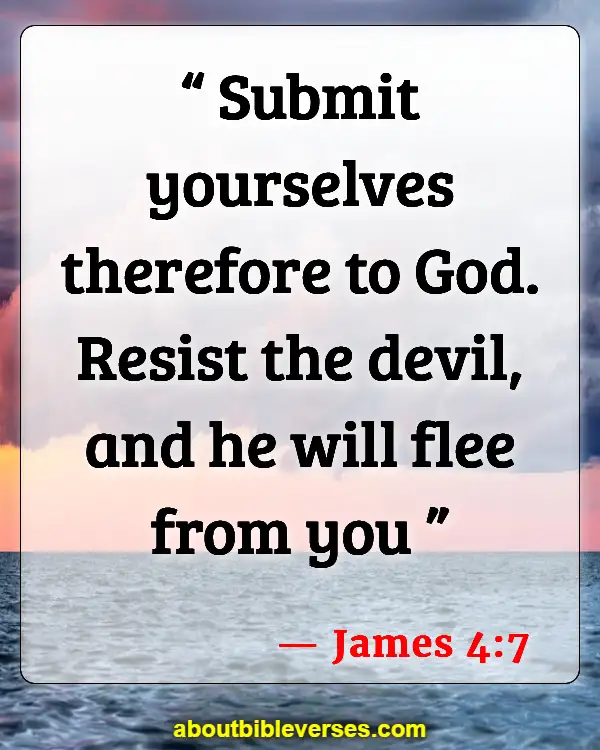 James 4:7
"Submit yourselves therefore to God. Resist the devil, and he will flee from you"
Romans 12:19
"Dearly beloved, avenge not yourselves, but rather give place unto wrath: for it is written, Vengeance is mine; I will repay, saith the Lord"
Matthew 5:38-39
"Ye have heard that it hath been said, An eye for an eye, and a tooth for a tooth: But I say unto you, That ye resist not evil: but whosoever shall smite thee on thy right cheek, turn to him the other also"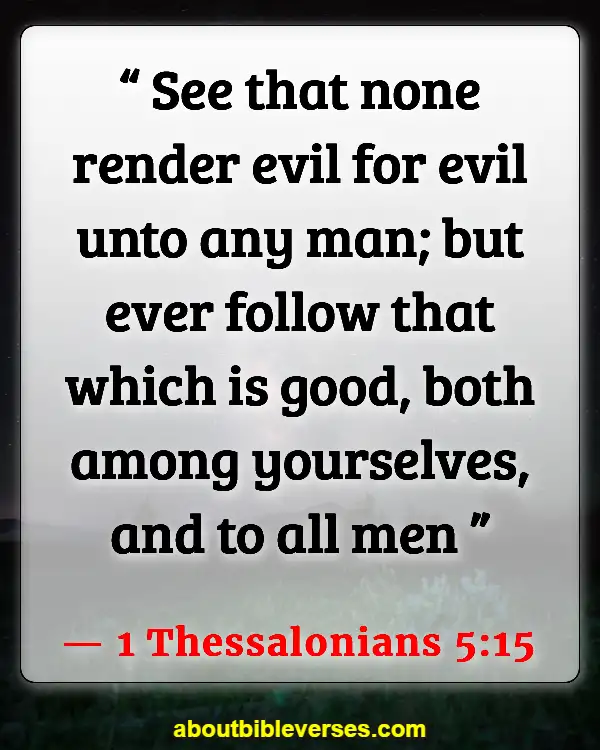 1 Thessalonians 5:15
"See that none render evil for evil unto any man; but ever follow that which is good, both among yourselves, and to all men"
Colossians 3:25
"But he that doeth wrong shall receive for the wrong which he hath done: and there is no respect of persons"
Proverbs 19:17
"He that hath pity upon the poor lendeth unto the Lord ; and that which he hath given will he pay him again"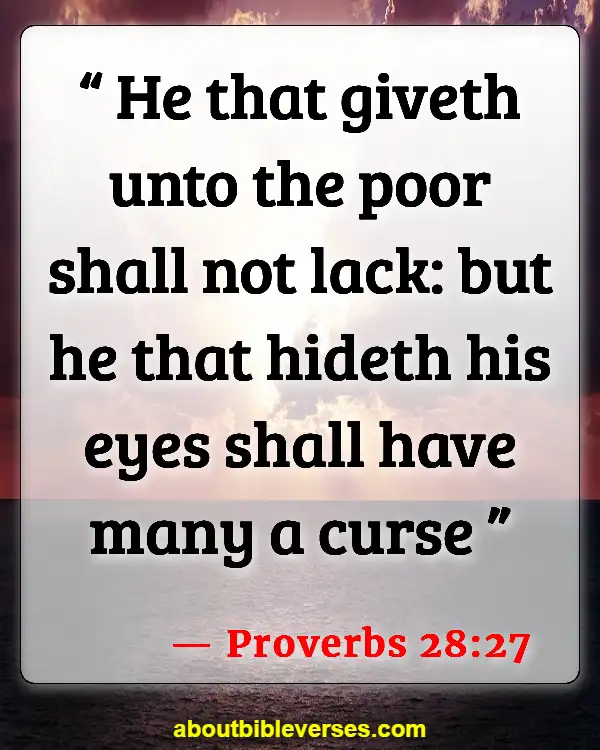 Proverbs 28:27
"He that giveth unto the poor shall not lack: but he that hideth his eyes shall have many a curse"
Deuteronomy 15:7-8
"If there be among you a poor man of one of thy brethren within any of thy gates in thy land which the Lord thy God giveth thee, thou shalt not harden thine heart, nor shut thine hand from thy poor brother: But thou shalt open thine hand wide unto him, and shalt surely lend him sufficient for his need, in that which he wanteth"
2 Chronicles 25:8
"But if thou wilt go, do it; be strong for the battle: God shall make thee fall before the enemy: for God hath power to help, and to cast down"
Romans 12:17
"Recompense to no man evil for evil. Provide things honest in the sight of all men"