Dear friends, true leadership begins with humility. The world promotes self-promotion, but the Kingdom calls us to self-denial. Leadership in God's economy requires a servant's heart.
Jesus, our greatest example, washed His disciples feet. He demonstrated that the highest is the one who serves. He instructed us that the first shall be last and reminded us to take the lowest position at the table. Christ's model of leadership is characterized by gentleness, self-sacrifice and concern for others above self.
The Bible warns leaders against pride, hypocrisy and abusing authority. We are not to lord over others, but to steward our influence for the benefit of those we serve. Leadership is not about prestige, power and privileges, but about responsibility, effort and sacrifice.
God calls every leader to regularly examine his or her heart. We must humbly admit our limitations and depend on the Holy Spirit for guidance, wisdom and discernment. The antidote to pride is living each day with gratitude, recognizing that all our gifts originate from the Lord.
Dear friends, the greatest leaders are those who kneel in prayer more often than they stand in prominence. May we reflect the humility of Christ in the ways we lead – not seeking recognition, but only the good of those God has entrusted to us.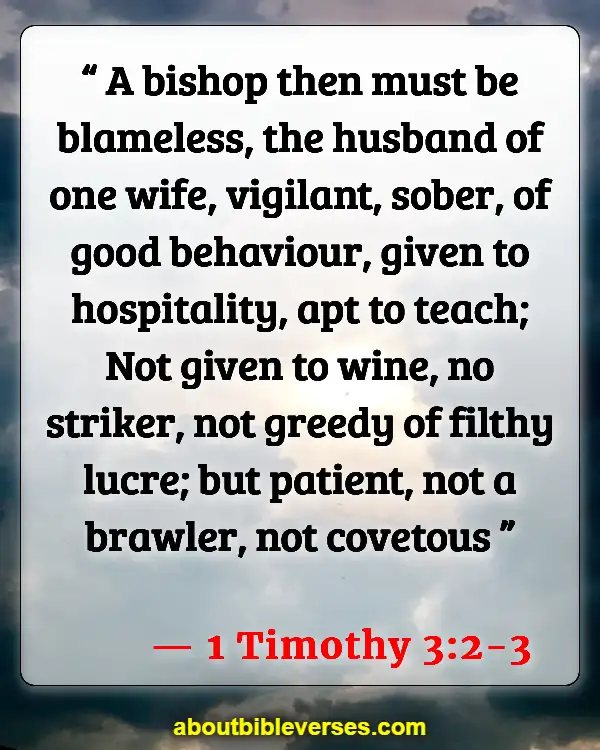 1 Timothy 3:2-3
"A bishop then must be blameless, the husband of one wife, vigilant, sober, of good behaviour, given to hospitality, apt to teach; Not given to wine, no striker, not greedy of filthy lucre; but patient, not a brawler, not covetous"
1 Peter 5:5
"Likewise, ye younger, submit yourselves unto the elder. Yea, all of you be subject one to another, and be clothed with humility: for God resisteth the proud, and giveth grace to the humble"
Proverbs 11:2
"When pride cometh, then cometh shame: but with the lowly is wisdom"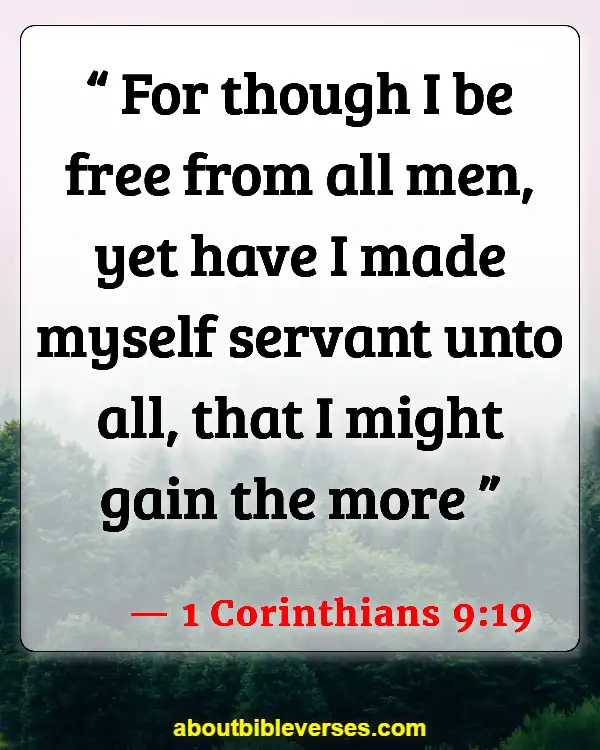 1 Corinthians 9:19
"For though I be free from all men, yet have I made myself servant unto all, that I might gain the more"
Philippians 2:3
"Let nothing be done through strife or vainglory; but in lowliness of mind let each esteem other better than themselves"
James 4:6
"But he giveth more grace. Wherefore he saith, God resisteth the proud, but giveth grace unto the humble"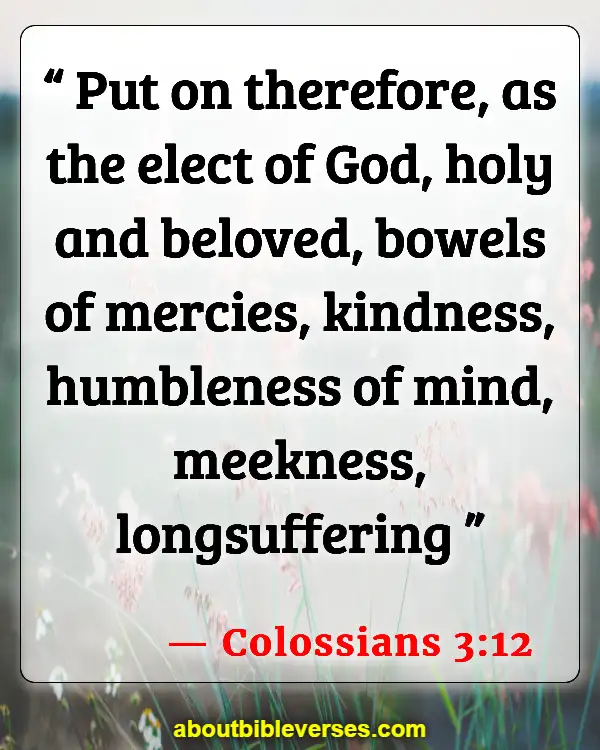 Colossians 3:12
"Put on therefore, as the elect of God, holy and beloved, bowels of mercies, kindness, humbleness of mind, meekness, longsuffering"
Proverbs 15:33
"The fear of the Lord is the instruction of wisdom; and before honour is humility"
Proverbs 22:4
"By humility and the fear of the Lord are riches, and honour, and life"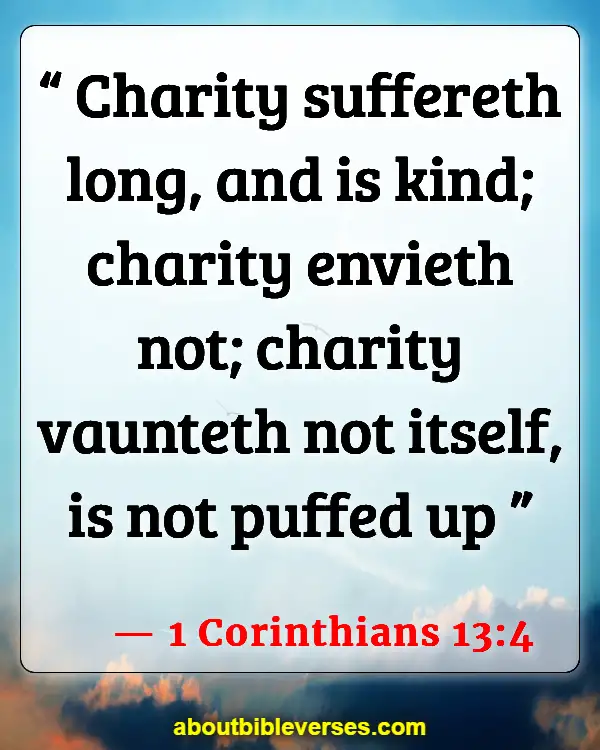 1 Corinthians 13:4
"Charity suffereth long, and is kind; charity envieth not; charity vaunteth not itself, is not puffed up"
2 Corinthians 10:1
"Now I Paul myself beseech you by the meekness and gentleness of Christ, who in presence am base among you, but being absent am bold toward you"
Galatians 5:22-23
"But the fruit of the Spirit is love, joy, peace, longsuffering, gentleness, goodness, faith, Meekness, temperance: against such there is no law"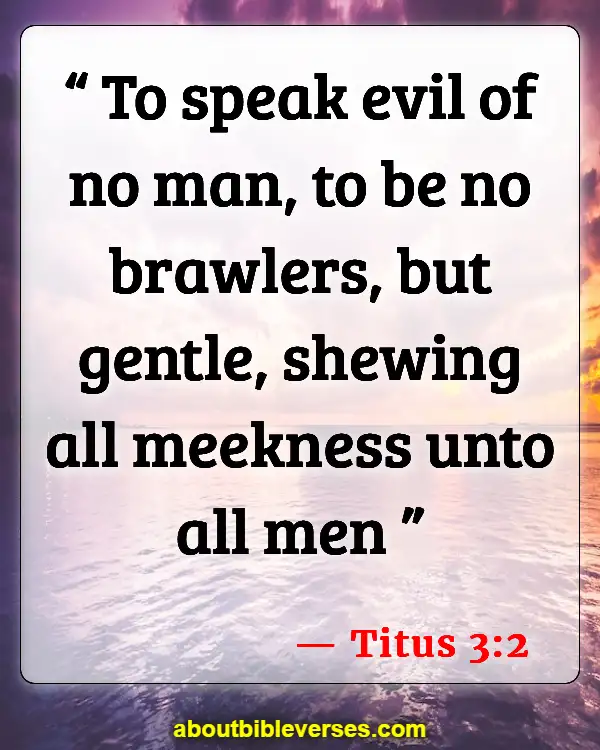 Titus 3:2
"To speak evil of no man, to be no brawlers, but gentle, shewing all meekness unto all men"
1 Peter 3:8
"Finally, be ye all of one mind, having compassion one of another, love as brethren, be pitiful, be courteous"
Psalm 25:9
"The meek will he guide in judgment: and the meek will he teach his way"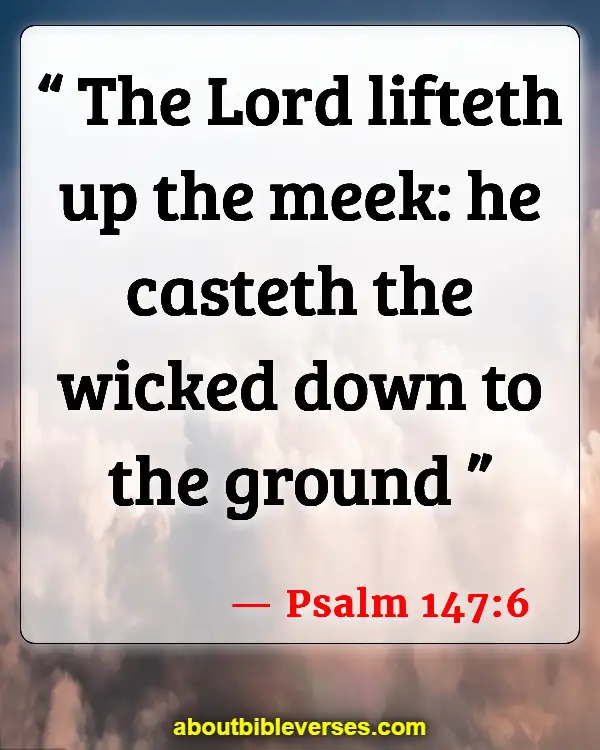 Psalm 147:6
"The Lord lifteth up the meek: he casteth the wicked down to the ground"
Matthew 11:29
"Take my yoke upon you, and learn of me; for I am meek and lowly in heart: and ye shall find rest unto your souls"
Matthew 18:4
"Whosoever therefore shall humble himself as this little child, the same is greatest in the kingdom of heaven"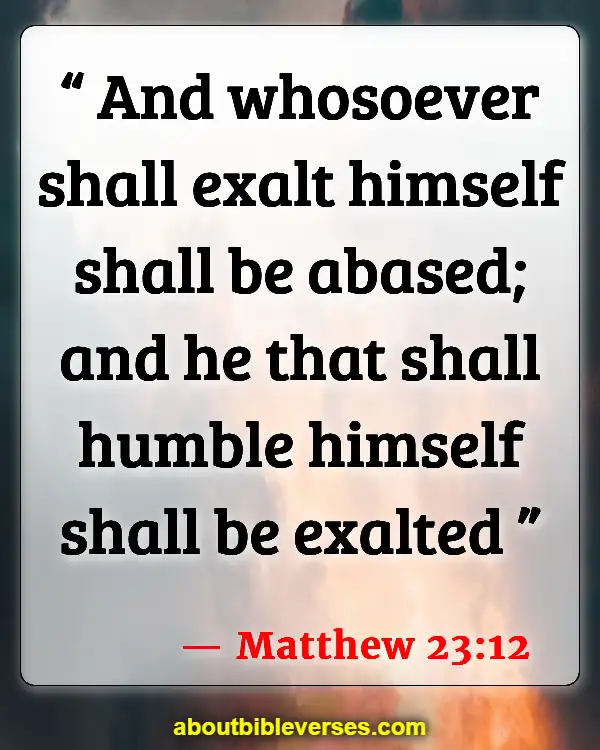 Matthew 23:12
"And whosoever shall exalt himself shall be abased; and he that shall humble himself shall be exalted"
Romans 12:10
"Be kindly affectioned one to another with brotherly love; in honour preferring one another"
Romans 12:16
"Be of the same mind one toward another. Mind not high things, but condescend to men of low estate. Be not wise in your own conceits"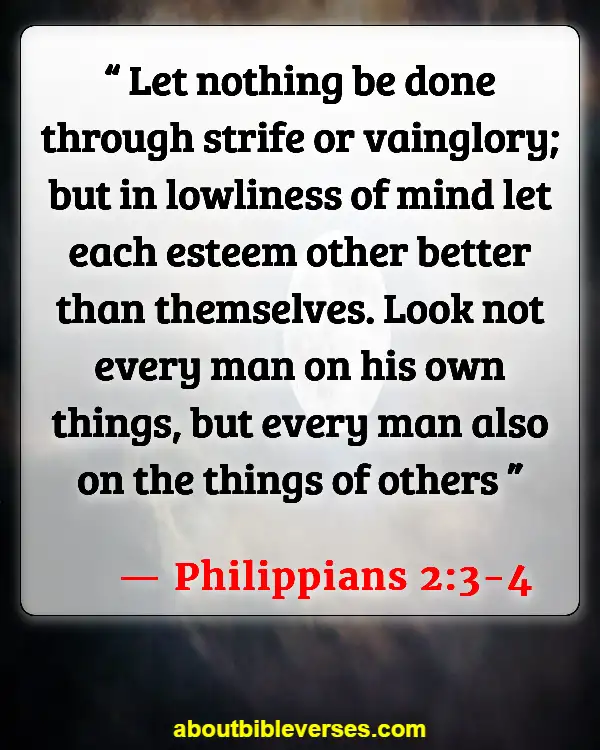 Philippians 2:3-4
"Let nothing be done through strife or vainglory; but in lowliness of mind let each esteem other better than themselves. Look not every man on his own things, but every man also on the things of others"
Colossians 2:18
"Let no man beguile you of your reward in a voluntary humility and worshipping of angels, intruding into those things which he hath not seen, vainly puffed up by his fleshly mind"
Colossians 2:23
"Which things have indeed a shew of wisdom in will worship, and humility, and neglecting of the body: not in any honour to the satisfying of the flesh"
Micah 6:8
"He hath shewed thee, O man, what is good; and what doth the Lord require of thee, but to do justly, and to love mercy, and to walk humbly with thy God?"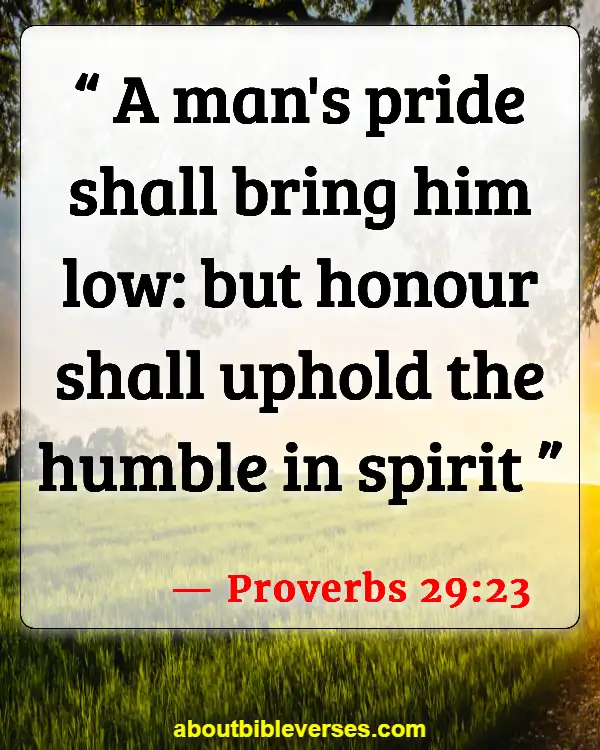 Proverbs 29:23
"A man's pride shall bring him low: but honour shall uphold the humble in spirit"