Dear friends, the Bible teaches us that there are two eternal destinations for humanity – heaven and hell. Heaven is described as a place of perfect peace, joy and community with God and his angels.
It is pictured as a beautiful city where gold and precious stones adorn the streets. There will be no more tears, pain or suffering there. Hell on the other hand is depicted as a place of darkness, fire and torment, separated from the presence of God.
The Bible makes it clear that our choices and actions in this life determine where we will spend eternity. If we accept Jesus Christ as Lord, repent of our sins and live according to his teachings, we can look forward to an eternity in heaven.
However, if we reject Christ and live in open rebellion against God, we will end up in hell. God does not want anyone to perish, but desires for all people to repent and find salvation through his Son.
While heaven and hell are literal places, they also symbolize the state of our relationship with God. Those who walk in close fellowship with him experience his kingdom and blessing now, while those who distance themselves from God through sin and disbelief are already experiencing a kind of hell on earth. The good news is that it is not too late to change our path! God continuously calls us to turn to him and receive new life in Christ.
Dear friends now let's look at what the Bible teaches about heaven and hell. The choice is ours – will we accept Christ and live for him, thereby gaining entrance to heaven? Or will we reject him and risk eternal separation from God? The stakes are high, but the reward of heaven is worth any cost. Choose wisely, dear friends!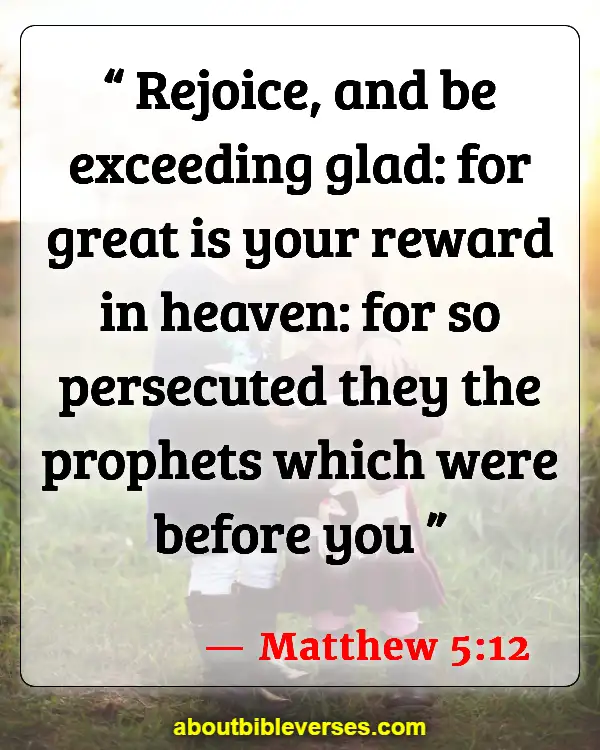 Matthew 5:12
"Rejoice, and be exceeding glad: for great is your reward in heaven: for so persecuted they the prophets which were before you"
Luke 10:20
"Notwithstanding in this rejoice not, that the spirits are subject unto you; but rather rejoice, because your names are written in heaven"
John 14:2
"In my Father's house are many mansions: if it were not so, I would have told you. I go to prepare a place for you"
Matthew 6:20
"But lay up for yourselves treasures in heaven, where neither moth nor rust doth corrupt, and where thieves do not break through nor steal"
Revelation 21:4
"And God shall wipe away all tears from their eyes; and there shall be no more death, neither sorrow, nor crying, neither shall there be any more pain: for the former things are passed away"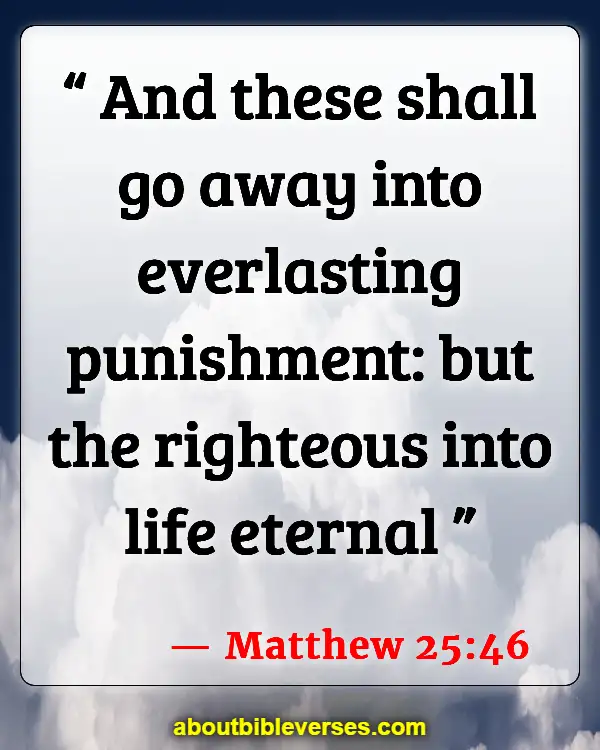 Matthew 25:46
"And these shall go away into everlasting punishment: but the righteous into life eternal"
2 Corinthians 5:1
"For we know that if our earthly house of this tabernacle were dissolved, we have a building of God, an house not made with hands, eternal in the heavens"
Philippians 3:20
"For our conversation is in heaven; from whence also we look for the Saviour, the Lord Jesus Christ"
Colossians 1:5
"For the hope which is laid up for you in heaven, whereof ye heard before in the word of the truth of the gospel"
1 Peter 1:4
"To an inheritance incorruptible, and undefiled, and that fadeth not away, reserved in heaven for you"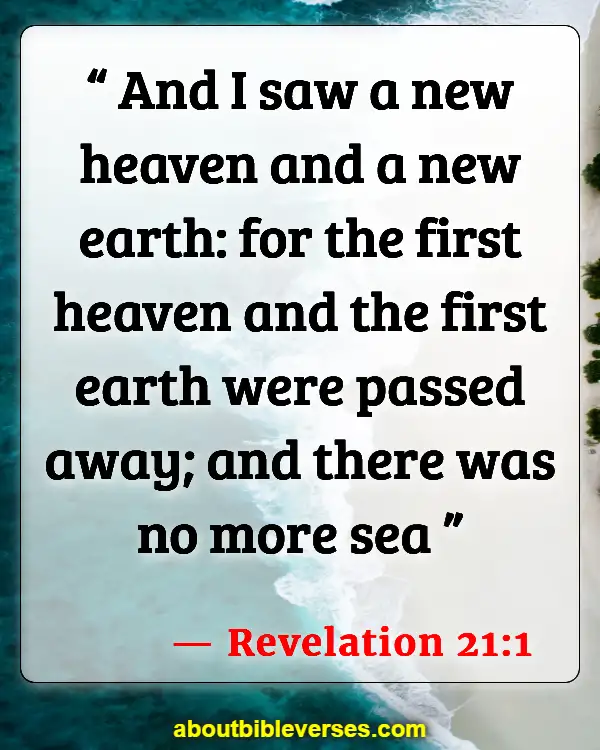 Revelation 21:1
"And I saw a new heaven and a new earth: for the first heaven and the first earth were passed away; and there was no more sea"
Matthew 13:49
"So shall it be at the end of the world: the angels shall come forth, and sever the wicked from among the just"
Matthew 25:34
"Then shall the King say unto them on his right hand, Come, ye blessed of my Father, inherit the kingdom prepared for you from the foundation of the world"
Luke 23:43
"And Jesus said unto him, Verily I say unto thee, Today shalt thou be with me in paradise"
John 14:3
"And if I go and prepare a place for you, I will come again, and receive you unto myself; that where I am, there ye may be also"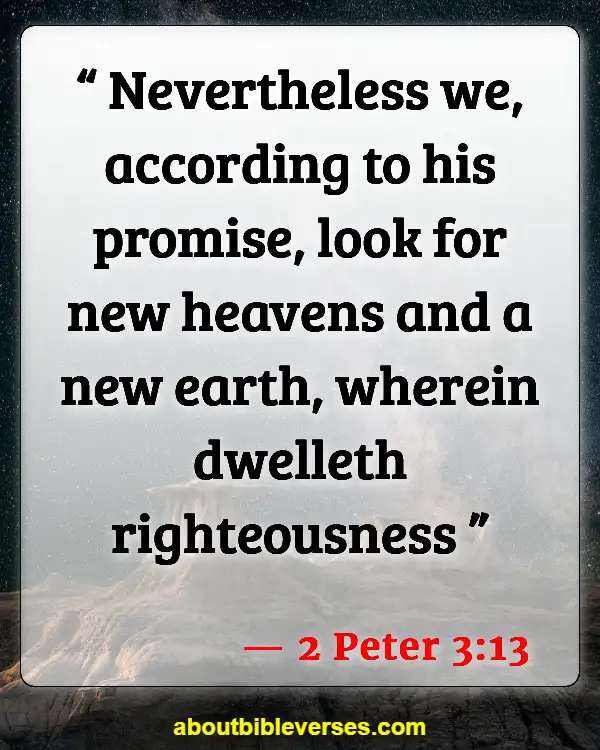 2 Peter 3:13
"Nevertheless we, according to his promise, look for new heavens and a new earth, wherein dwelleth righteousness"
Revelation 2:7
"He that hath an ear, let him hear what the Spirit saith unto the churches; To him that overcometh will I give to eat of the tree of life, which is in the midst of the paradise of God"
Revelation 22:5
"And there shall be no night there; and they need no candle, neither light of the sun; for the Lord God giveth them light: and they shall reign for ever and ever"
Matthew 5:20
"For I say unto you, That except your righteousness shall exceed the righteousness of the scribes and Pharisees, ye shall in no case enter into the kingdom of heaven"
Matthew 7:21
"Not every one that saith unto me, Lord, Lord, shall enter into the kingdom of heaven; but he that doeth the will of my Father which is in heaven"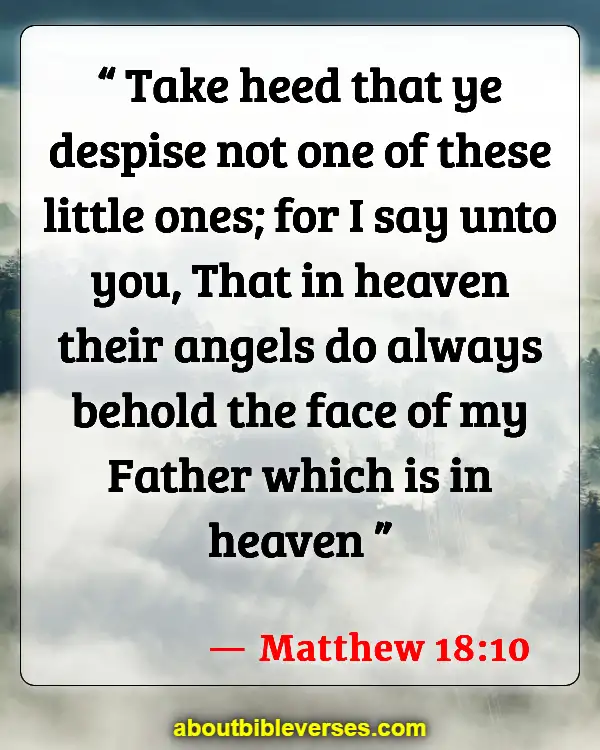 Matthew 18:10
"Take heed that ye despise not one of these little ones; for I say unto you, That in heaven their angels do always behold the face of my Father which is in heaven"
Luke 15:7
"I say unto you, that likewise joy shall be in heaven over one sinner that repenteth, more than over ninety and nine just persons, which need no repentance"
John 3:13
"And no man hath ascended up to heaven, but he that came down from heaven, even the Son of man which is in heaven"
John 6:38
"For I came down from heaven, not to do mine own will, but the will of him that sent me"
1 Corinthians 2:9
"But as it is written, Eye hath not seen, nor ear heard, neither have entered into the heart of man, the things which God hath prepared for them that love him"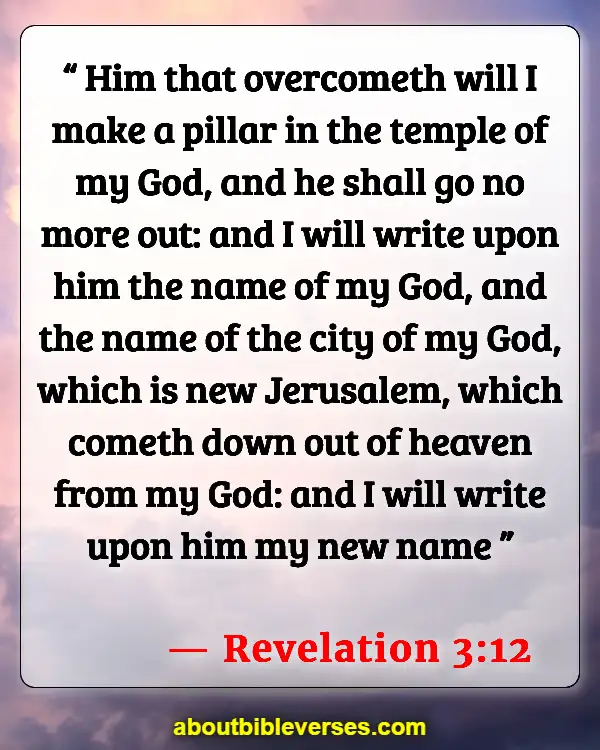 Revelation 3:12
"Him that overcometh will I make a pillar in the temple of my God, and he shall go no more out: and I will write upon him the name of my God, and the name of the city of my God, which is new Jerusalem, which cometh down out of heaven from my God: and I will write upon him my new name"
2 Corinthians 12:2
"I knew a man in Christ above fourteen years ago, (whether in the body, I cannot tell; or whether out of the body, I cannot tell: God knoweth;) such an one caught up to the third heaven"
Revelation 21:27
"And there shall in no wise enter into it any thing that defileth, neither whatsoever worketh abomination, or maketh a lie: but they which are written in the Lamb's book of life"
Matthew 5:22
"But I say unto you, That whosoever is angry with his brother without a cause shall be in danger of the judgment: and whosoever shall say to his brother, Raca, shall be in danger of the council: but whosoever shall say, Thou fool, shall be in danger of hell fire"
Matthew 5:29
"And if thy right eye offend thee, pluck it out, and cast it from thee: for it is profitable for thee that one of thy members should perish, and not that thy whole body should be cast into hell"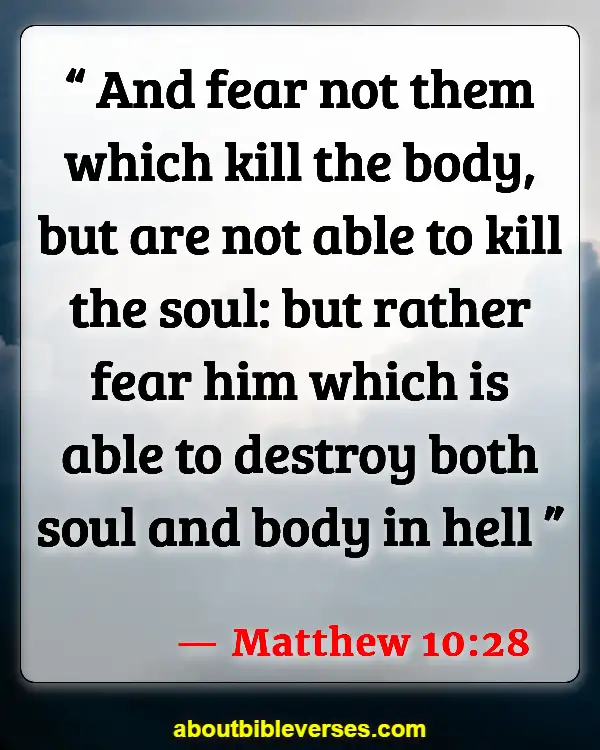 Matthew 10:28
"And fear not them which kill the body, but are not able to kill the soul: but rather fear him which is able to destroy both soul and body in hell"
Matthew 23:33
"Ye serpents, ye generation of vipers, how can ye escape the damnation of hell?"
Mark 9:43
"And if thy hand offend thee, cut it off: it is better for thee to enter into life maimed, than having two hands to go into hell, into the fire that never shall be quenched"
Luke 12:5
"But I will forewarn you whom ye shall fear: Fear him, which after he hath killed hath power to cast into hell; yea, I say unto you, Fear him"
Luke 16:23
"And in hell he lift up his eyes, being in torments, and seeth Abraham afar off, and Lazarus in his bosom"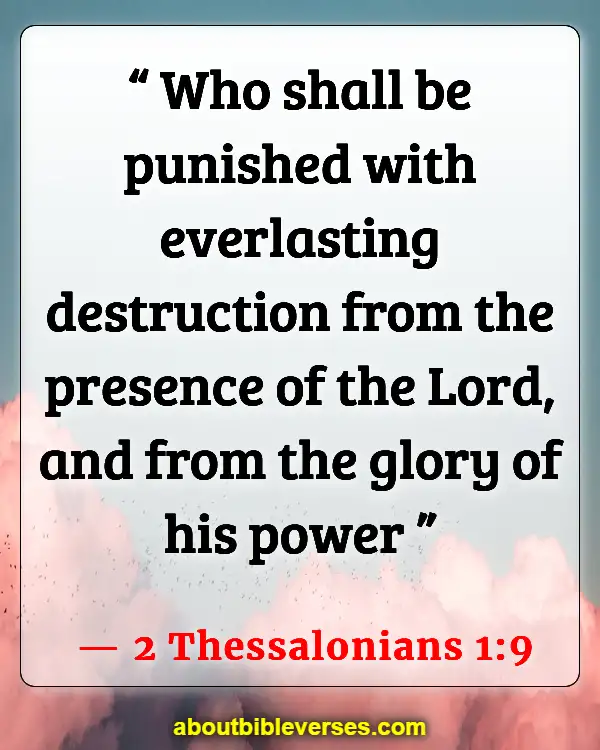 2 Thessalonians 1:9
"Who shall be punished with everlasting destruction from the presence of the Lord, and from the glory of his power"
James 3:6
"And the tongue is a fire, a world of iniquity: so is the tongue among our members, that it defileth the whole body, and setteth on fire the course of nature; and it is set on fire of hell"
2 Peter 2:4
"For if God spared not the angels that sinned, but cast them down to hell, and delivered them into chains of darkness, to be reserved unto judgment"
Revelation 14:10
"The same shall drink of the wine of the wrath of God, which is poured out without mixture into the cup of his indignation; and he shall be tormented with fire and brimstone in the presence of the holy angels, and in the presence of the Lamb"
Revelation 19:20
"And the beast was taken, and with him the false prophet that wrought miracles before him, with which he deceived them that had received the mark of the beast, and them that worshipped his image. These both were cast alive into a lake of fire burning with brimstone"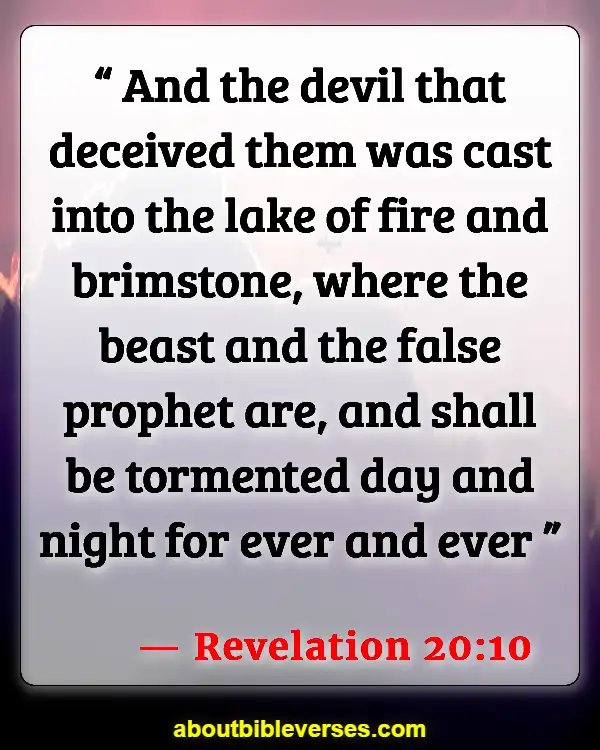 Revelation 20:10
"And the devil that deceived them was cast into the lake of fire and brimstone, where the beast and the false prophet are, and shall be tormented day and night for ever and ever"
Revelation 20:14
"And death and hell were cast into the lake of fire. This is the second death"
Revelation 21:8
"But the fearful, and unbelieving, and the abominable, and murderers, and whoremongers, and sorcerers, and idolaters, and all liars, shall have their part in the lake which burneth with fire and brimstone: which is the second death"
Matthew 13:50
"And shall cast them into the furnace of fire: there shall be wailing and gnashing of teeth"
Matthew 25:41
"Then shall he say also unto them on the left hand, Depart from me, ye cursed, into everlasting fire, prepared for the devil and his angels"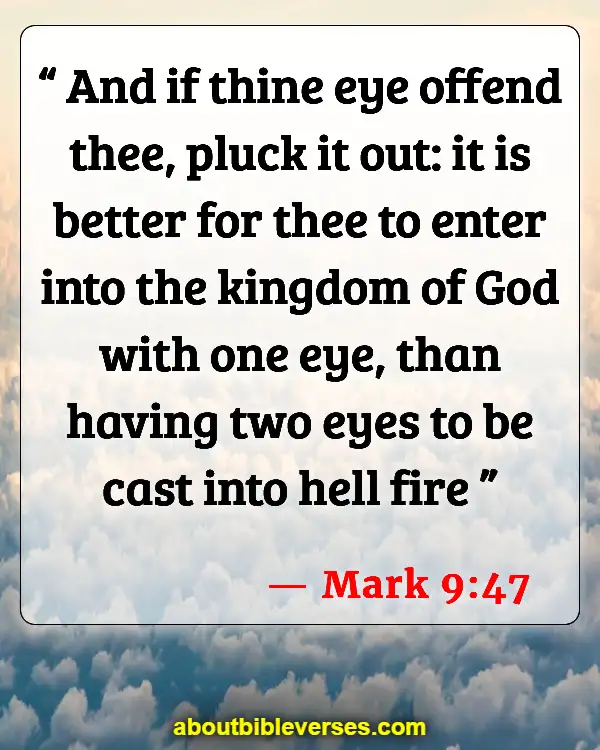 Mark 9:47
"And if thine eye offend thee, pluck it out: it is better for thee to enter into the kingdom of God with one eye, than having two eyes to be cast into hell fire"
Luke 16:26
"And beside all this, between us and you there is a great gulf fixed: so that they which would pass from hence to you cannot; neither can they pass to us, that would come from thence"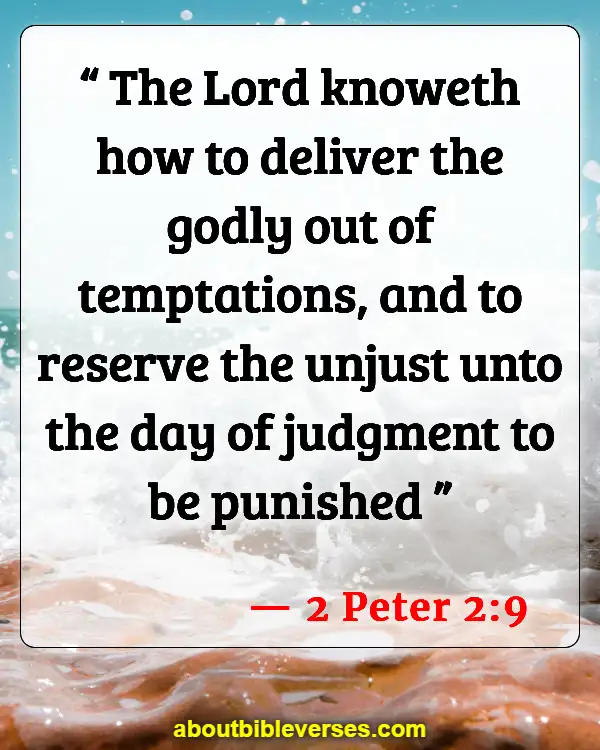 2 Peter 2:9
"The Lord knoweth how to deliver the godly out of temptations, and to reserve the unjust unto the day of judgment to be punished"
Conclusion:
Dear friends, the choice between heaven and hell is the most important one we will ever make. While God graciously offers salvation to all, not everyone will accept it. But we do not have to be numbered among those who reject Christ and face eternal darkness. If we confess our sins, repent, trust in Jesus and follow him faithfully, we can have confidence that one day we will enter the glorious heavenly city.
The Bible urges us to set our hearts and minds on things above, not on earthly things. This world is not our home – we are citizens of heaven, and we can experience a taste of its joy and peace right now through the Holy Spirit. As believers, we look forward to the day when we will see our Savior face to face and worship him forever. There will be no more goodbyes, pain, tears or death – only life, love and perfection in his presence.
So let us choose today to walk the narrow road that leads to heaven. God will empower us to overcome sin and temptation through his Spirit. Our present trials and struggles will result in an eternal weight of glory beyond all comparison. Fix your eyes on Jesus, the author and perfecter of your faith. Set aside all that holds you back from fully following him. The reward of heaven is worth any sacrifice. Jesus is calling us home – let us answer him with our whole hearts and lives! The best is yet to come, dear friends. Stay faithful!