Dear friends, sickness and disease have plagued humanity since the fall into sin. The Bible reminds us that we live in a fallen, broken world where our bodies are subject to illness and deterioration. However, scripture also offers us hope and perspective when facing health challenges.
First, we are called to bring our infirmities to God in prayer, trusting he hears us and can miraculously provide healing if it aligns with his will. Jesus Christ during his ministry demonstrated God's power by healing the sick when he walked on earth. He also healed people's spiritual sickness by forgiving sins.
Second, God can use pain and sickness to get our attention, teach endurance, build our faith, and make us rely more fully on him. Hardships that seem senseless often end up serving a greater purpose if we respond rightly.
Third, while emotional and physical suffering are inevitable in this age, we have the hope of the resurrection. One day God promises to eradicate all sickness, tears, and death for those who follow Jesus. In heaven, our bodies will be imperishable and immortal.
So in the midst of health troubles, let us draw near to Jesus who understands suffering. Let us repent of any sin that may contribute to sickness, and ask others to pray for us.
Dear friends, now let's look at some scriptures about finding hope in sickness and God's power to heal. We can confidently cast our cares on him in every trial.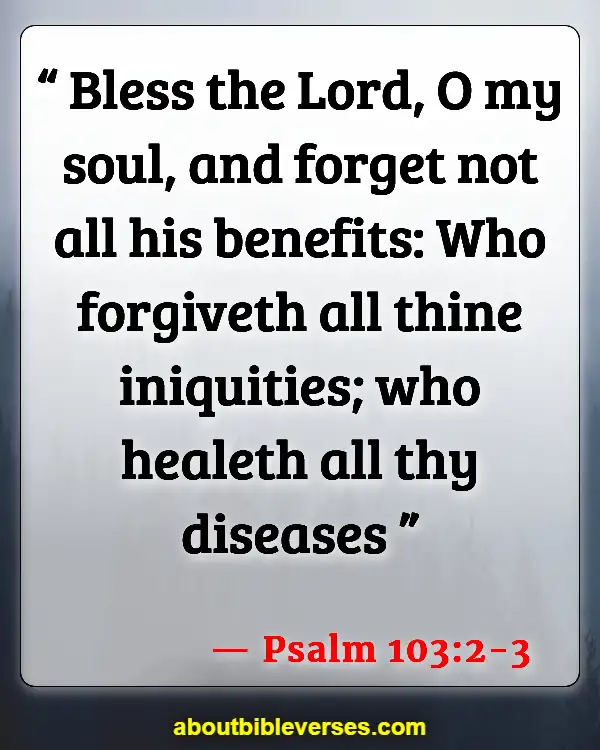 Psalm 103:2-3
"Bless the Lord , O my soul, and forget not all his benefits: Who forgiveth all thine iniquities; who healeth all thy diseases"
Exodus 15:26
"And said, If thou wilt diligently hearken to the voice of the Lord thy God, and wilt do that which is right in his sight, and wilt give ear to his commandments, and keep all his statutes, I will put none of these diseases upon thee, which I have brought upon the Egyptians: for I am the Lord that healeth thee"
Jeremiah 30:17
"For I will restore health unto thee, and I will heal thee of thy wounds, saith the Lord ; because they called thee an Outcast, saying, This is Zion, whom no man seeketh after"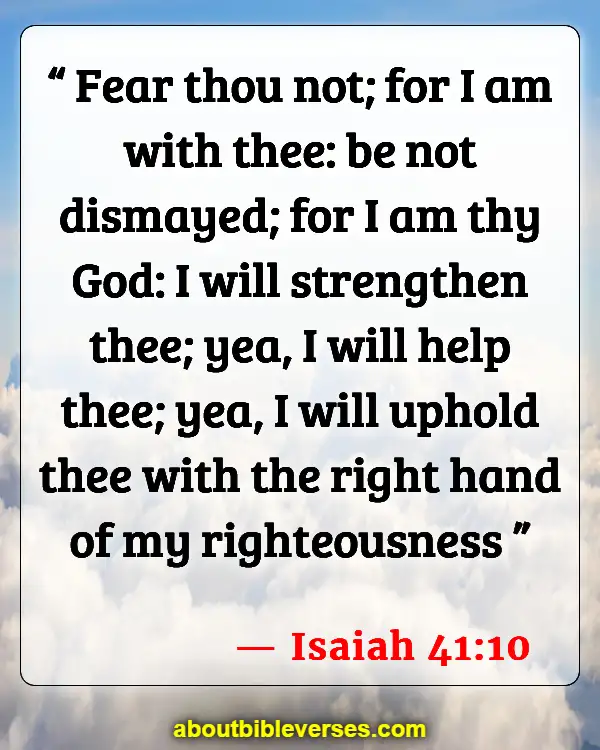 Isaiah 41:10
"Fear thou not; for I am with thee: be not dismayed; for I am thy God: I will strengthen thee; yea, I will help thee; yea, I will uphold thee with the right hand of my righteousness"
James 5:14-15
"Is any sick among you? let him call for the elders of the church; and let them pray over him, anointing him with oil in the name of the Lord: And the prayer of faith shall save the sick, and the Lord shall raise him up; and if he have committed sins, they shall be forgiven him"
3 John 1:2
"Beloved, I wish above all things that thou mayest prosper and be in health, even as thy soul prospereth"
Proverbs 17:22
"A merry heart doeth good like a medicine: but a broken spirit drieth the bones"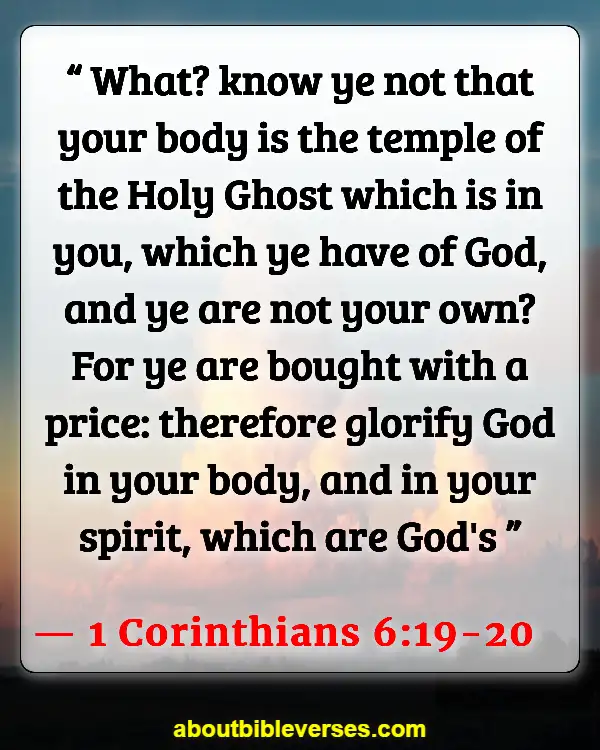 1 Corinthians 6:19-20
"What? know ye not that your body is the temple of the Holy Ghost which is in you, which ye have of God, and ye are not your own? For ye are bought with a price: therefore glorify God in your body, and in your spirit, which are God's"
Psalm 107:20
"He sent his word, and healed them, and delivered them from their destructions"
Proverbs 3:7-8
"Be not wise in thine own eyes: fear the Lord , and depart from evil. It shall be health to thy navel, and marrow to thy bones"
Matthew 4:23
"And Jesus went about all Galilee, teaching in their synagogues, and preaching the gospel of the kingdom, and healing all manner of sickness and all manner of disease among the people"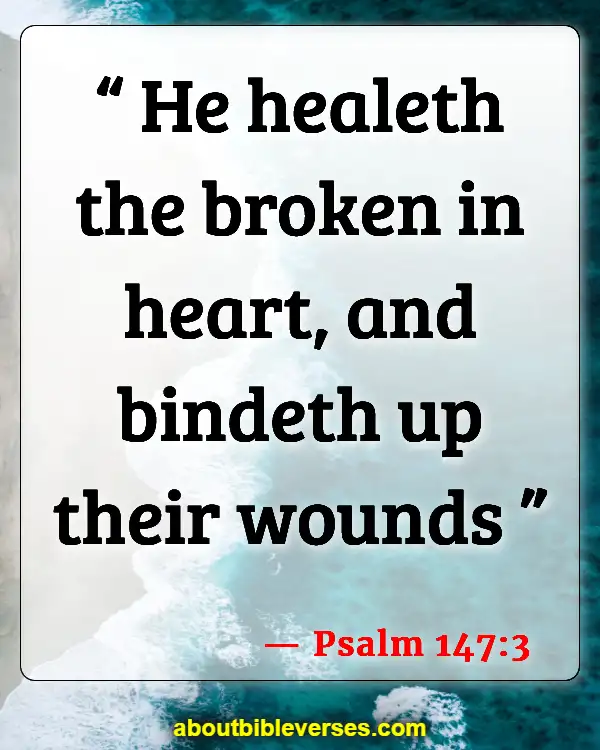 Psalm 147:3
"He healeth the broken in heart, and bindeth up their wounds"
Isaiah 38:16
"O Lord , by these things men live, and in all these things is the life of my spirit: so wilt thou recover me, and make me to live"
Deuteronomy 7:15
"And the Lord will take away from thee all sickness, and will put none of the evil diseases of Egypt, which thou knowest, upon thee; but will lay them upon all them that hate thee"
Psalm 41:3
"The Lord will strengthen him upon the bed of languishing: thou wilt make all his bed in his sickness"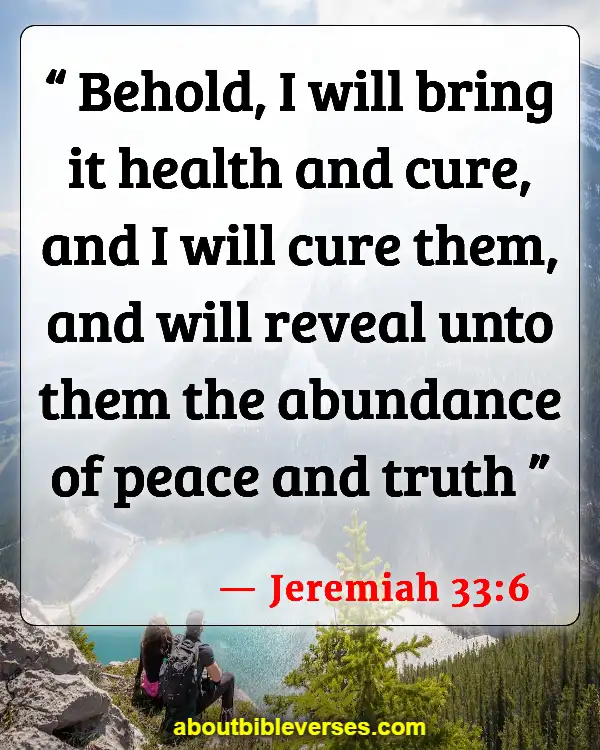 Jeremiah 33:6
"Behold, I will bring it health and cure, and I will cure them, and will reveal unto them the abundance of peace and truth"
Psalm 6:2
"Have mercy upon me, O Lord ; for I am weak: O Lord , heal me; for my bones are vexed"
Psalm 30:2
"O Lord my God, I cried unto thee, and thou hast healed me"
Psalm 34:19
"Many are the afflictions of the righteous: but the Lord delivereth him out of them all"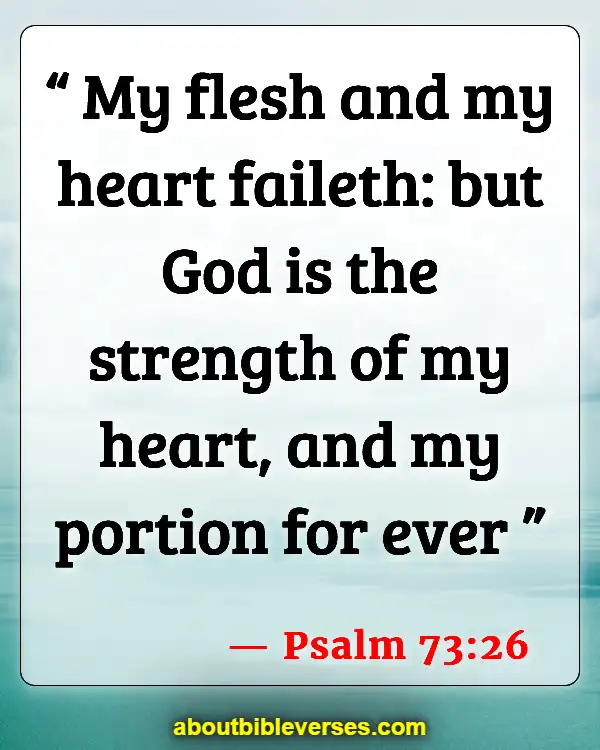 Psalm 73:26
"My flesh and my heart faileth: but God is the strength of my heart, and my portion for ever"
Isaiah 57:18-19
"I have seen his ways, and will heal him: I will lead him also, and restore comforts unto him and to his mourners. I create the fruit of the lips; Peace, peace to him that is far off, and to him that is near, saith the Lord ; and I will heal him"
Jeremiah 17:14
"Heal me, O Lord , and I shall be healed; save me, and I shall be saved: for thou art my praise"
Matthew 8:17
"That it might be fulfilled which was spoken by Esaias the prophet, saying, Himself took our infirmities, and bare our sicknesses"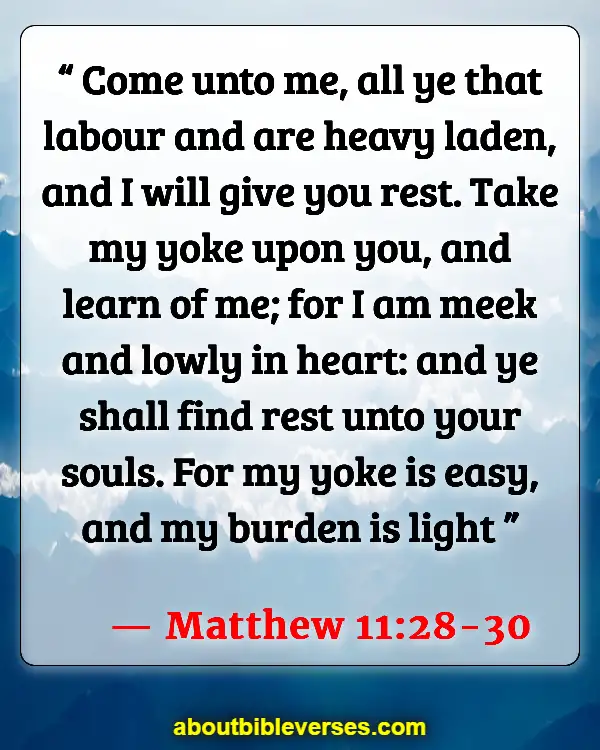 Matthew 11:28-30
"Come unto me, all ye that labour and are heavy laden, and I will give you rest. Take my yoke upon you, and learn of me; for I am meek and lowly in heart: and ye shall find rest unto your souls. For my yoke is easy, and my burden is light"
Mark 5:34
"And he said unto her, Daughter, thy faith hath made thee whole; go in peace, and be whole of thy plague"
Romans 8:18
"For I reckon that the sufferings of this present time are not worthy to be compared with the glory which shall be revealed in us"
2 Corinthians 12:9-10
"And he said unto me, My grace is sufficient for thee: for my strength is made perfect in weakness. Most gladly therefore will I rather glory in my infirmities, that the power of Christ may rest upon me. Therefore I take pleasure in infirmities, in reproaches, in necessities, in persecutions, in distresses for Christ's sake: for when I am weak, then am I strong"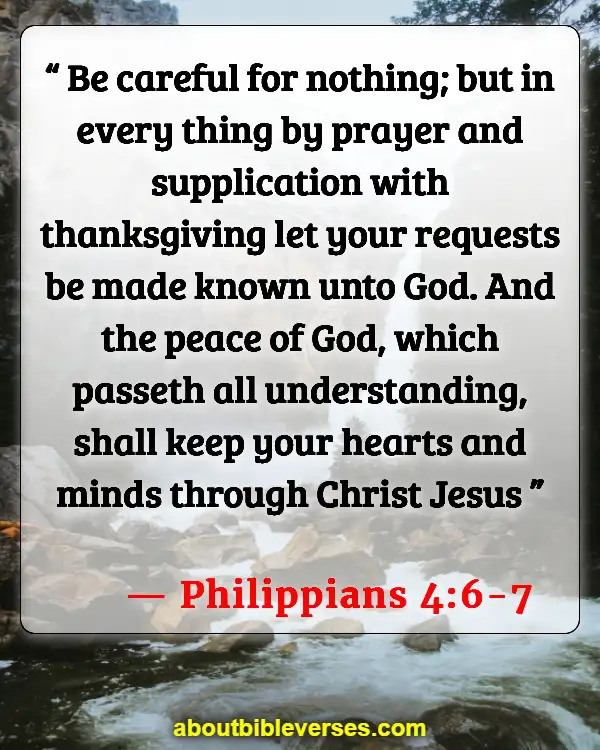 Philippians 4:6-7
"Be careful for nothing; but in every thing by prayer and supplication with thanksgiving let your requests be made known unto God. And the peace of God, which passeth all understanding, shall keep your hearts and minds through Christ Jesus"
Hebrews 12:11
"Now no chastening for the present seemeth to be joyous, but grievous: nevertheless afterward it yieldeth the peaceable fruit of righteousness unto them which are exercised thereby"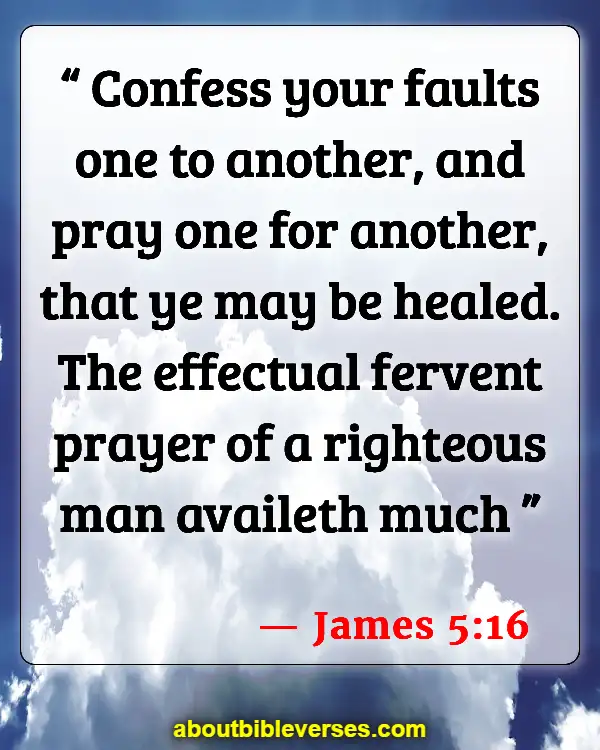 James 5:16
"Confess your faults one to another, and pray one for another, that ye may be healed. The effectual fervent prayer of a righteous man availeth much"