Dear friends, The Bible the word of God, teaches us about the divine power of sickness and healing. It assures us that God, in His infinite love, offers both spiritual and physical healing. He is our divine healer, mending not just our bodies, but also our souls.
In times of sickness, prayer holds immense power. it reaches the ears of God, who listens and responds with compassion. Prayer aligns our spirit with God's will, thus opening us to His healing power.
However, it's crucial to remember, sometimes healing may not come in the way we expect because God works in mysterious ways, shaping us according to His divine plan.
Friends, God's healing isn't just for our bodies, it's also for our hearts and minds. As we navigate through life's trials and tribulations, we can find solace and comfort in His words, healing our spirits and giving us strength.
we encounter countless instances of miraculous healing performed by Jesus. These acts were not only about curing physical sickness, they also demonstrated the spiritual renewal that comes with faith.
Remember, faith is our key to unlocking divine healing. It's like a small seed that, when nurtured, can grow into a strong, towering tree. So let's nurture our faith, take good care of ourselves, and extend kindness to others, for healing is truly a divine gift.
Dear friends now let's see the Bible scriptures below that talk about Healing Sickness.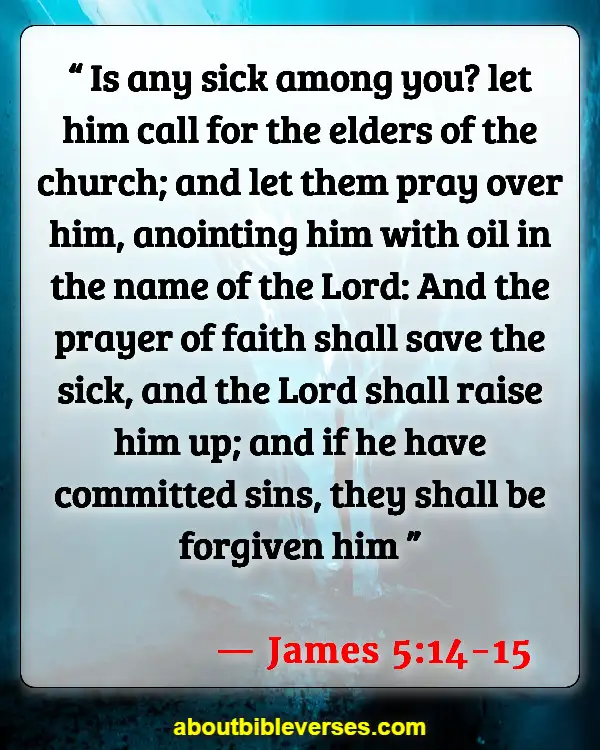 James 5:14-15
"Is any sick among you? let him call for the elders of the church; and let them pray over him, anointing him with oil in the name of the Lord: And the prayer of faith shall save the sick, and the Lord shall raise him up; and if he have committed sins, they shall be forgiven him"
Jeremiah 17:14
"Heal me, O Lord , and I shall be healed; save me, and I shall be saved: for thou art my praise"
2 Chronicles 7:14
"If my people, which are called by my name, shall humble themselves, and pray, and seek my face, and turn from their wicked ways; then will I hear from heaven, and will forgive their sin, and will heal their land"
Exodus 15:26
"And said, If thou wilt diligently hearken to the voice of the Lord thy God, and wilt do that which is right in his sight, and wilt give ear to his commandments, and keep all his statutes, I will put none of these diseases upon thee, which I have brought upon the Egyptians: for I am the Lord that healeth thee"
3 John 1:2
"Beloved, I wish above all things that thou mayest prosper and be in health, even as thy soul prospereth"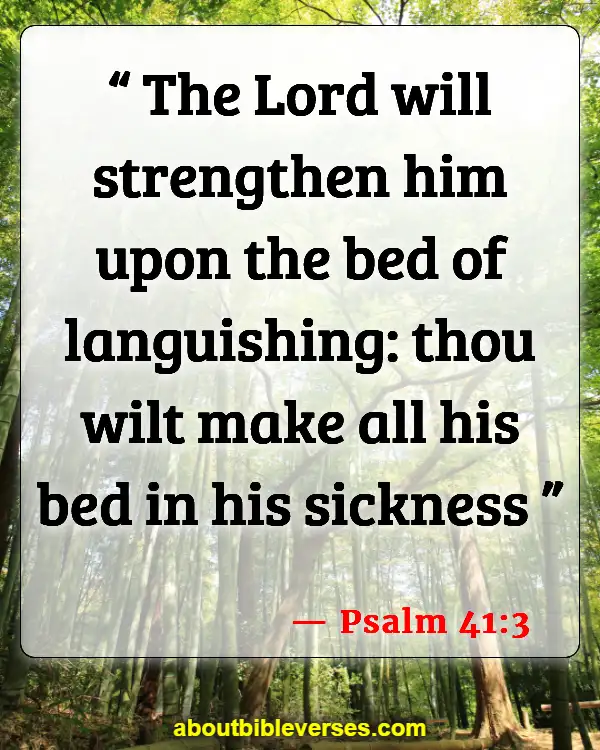 Psalm 41:3
"The Lord will strengthen him upon the bed of languishing: thou wilt make all his bed in his sickness"
Psalm 147:3
"He healeth the broken in heart, and bindeth up their wounds"
Proverbs 4:20-22
"My son, attend to my words; incline thine ear unto my sayings. Let them not depart from thine eyes; keep them in the midst of thine heart. For they are life unto those that find them, and health to all their flesh"
Isaiah 53:5
"But he was wounded for our transgressions, he was bruised for our iniquities: the chastisement of our peace was upon him; and with his stripes we are healed"
Matthew 10:8
"Heal the sick, cleanse the lepers, raise the dead, cast out devils: freely ye have received, freely give"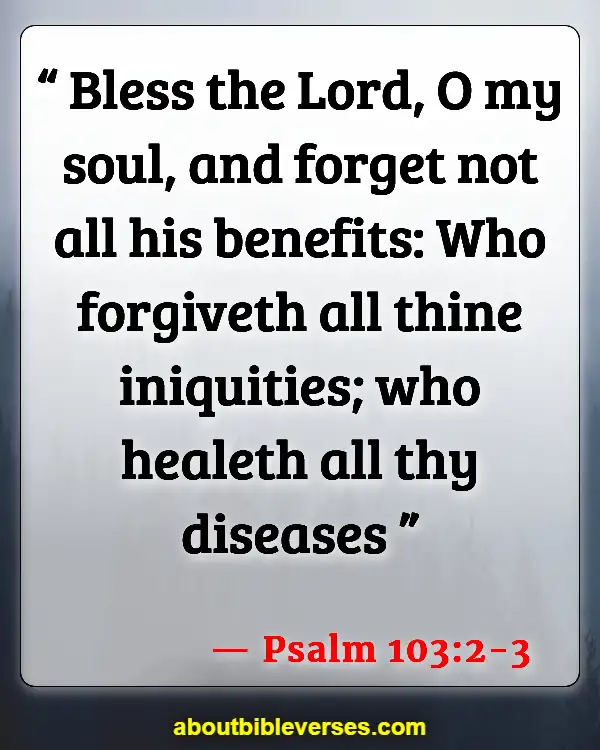 Psalm 103:2-3
"Bless the Lord , O my soul, and forget not all his benefits: Who forgiveth all thine iniquities; who healeth all thy diseases"
Matthew 4:23
"And Jesus went about all Galilee, teaching in their synagogues, and preaching the gospel of the kingdom, and healing all manner of sickness and all manner of disease among the people"
Matthew 9:35
"And Jesus went about all the cities and villages, teaching in their synagogues, and preaching the gospel of the kingdom, and healing every sickness and every disease among the people"
Mark 1:34
"And he healed many that were sick of divers diseases, and cast out many devils; and suffered not the devils to speak, because they knew him"
Luke 9:2
"And he sent them to preach the kingdom of God, and to heal the sick"
Luke 10:9
"And heal the sick that are therein, and say unto them, The kingdom of God is come nigh unto you"
Acts 10:38
"How God anointed Jesus of Nazareth with the Holy Ghost and with power: who went about doing good, and healing all that were oppressed of the devil; for God was with him"
Acts 28:8
"And it came to pass, that the father of Publius lay sick of a fever and of a bloody flux: to whom Paul entered in, and prayed, and laid his hands on him, and healed him"
1 Corinthians 6:19-20
"What? know ye not that your body is the temple of the Holy Ghost which is in you, which ye have of God, and ye are not your own? For ye are bought with a price: therefore glorify God in your body, and in your spirit, which are God's"
Deuteronomy 7:15
"And the Lord will take away from thee all sickness, and will put none of the evil diseases of Egypt, which thou knowest, upon thee; but will lay them upon all them that hate thee"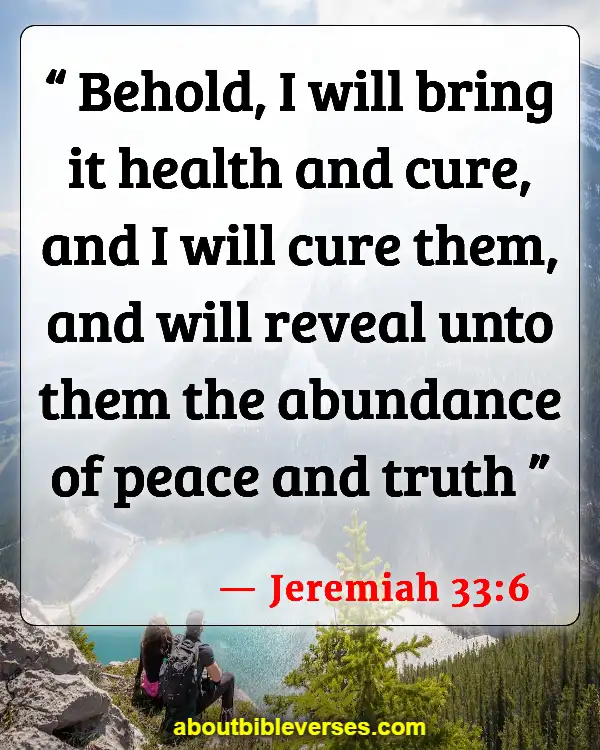 Jeremiah 33:6
"Behold, I will bring it health and cure, and I will cure them, and will reveal unto them the abundance of peace and truth"
Exodus 23:25-26
"And ye shall serve the Lord your God, and he shall bless thy bread, and thy water; and I will take sickness away from the midst of thee. There shall nothing cast their young, nor be barren, in thy land: the number of thy days I will fulfil"
Isaiah 57:18-19
"I have seen his ways, and will heal him: I will lead him also, and restore comforts unto him and to his mourners. I create the fruit of the lips; Peace, peace to him that is far off, and to him that is near, saith the Lord ; and I will heal him"
Isaiah 58:8
"Then shall thy light break forth as the morning, and thine health shall spring forth speedily: and thy righteousness shall go before thee; the glory of the Lord shall be thy reward"
Jeremiah 30:17
"For I will restore health unto thee, and I will heal thee of thy wounds, saith the Lord ; because they called thee an Outcast, saying, This is Zion, whom no man seeketh after"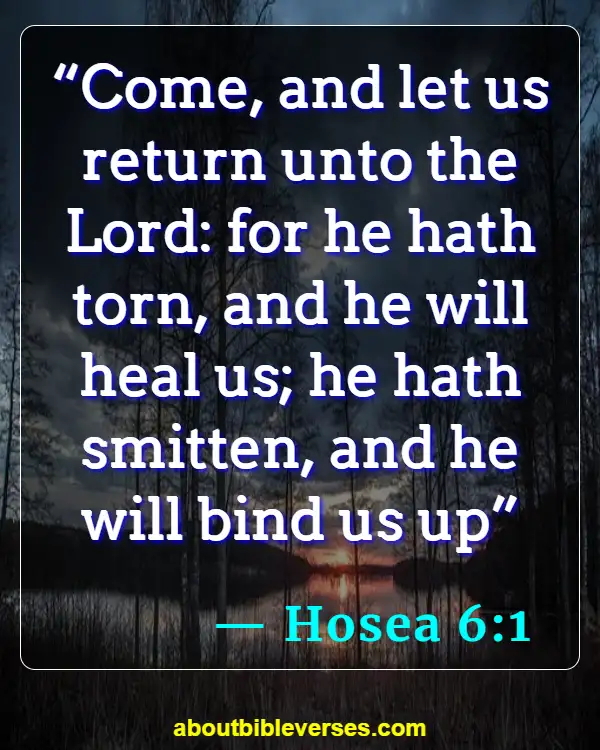 Hosea 6:1
"Come, and let us return unto the Lord : for he hath torn, and he will heal us; he hath smitten, and he will bind us up"
Luke 5:17
"And it came to pass on a certain day, as he was teaching, that there were Pharisees and doctors of the law sitting by, which were come out of every town of Galilee, and Judaea, and Jerusalem: and the power of the Lord was present to heal them"
Luke 8:47-48
"And when the woman saw that she was not hid, she came trembling, and falling down before him, she declared unto him before all the people for what cause she had touched him, and how she was healed immediately. And he said unto her, Daughter, be of good comfort: thy faith hath made thee whole; go in peace"
Luke 13:12
"And when Jesus saw her, he called her to him, and said unto her, Woman, thou art loosed from thine infirmity"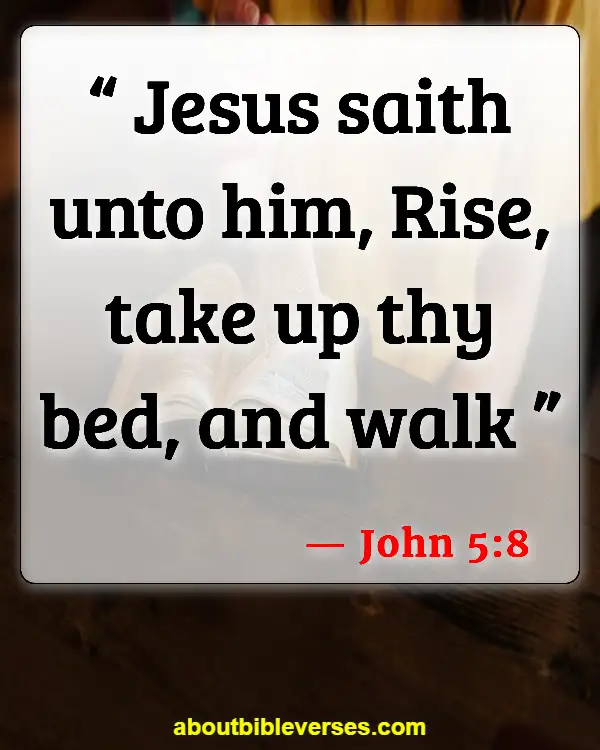 John 5:8
"Jesus saith unto him, Rise, take up thy bed, and walk"
Acts 3:16
"And his name through faith in his name hath made this man strong, whom ye see and know: yea, the faith which is by him hath given him this perfect soundness in the presence of you all"
Acts 4:30
"By stretching forth thine hand to heal; and that signs and wonders may be done by the name of thy holy child Jesus"
Acts 5:16
"There came also a multitude out of the cities round about unto Jerusalem, bringing sick folks, and them which were vexed with unclean spirits: and they were healed every one"
Acts 8:7
"For unclean spirits, crying with loud voice, came out of many that were possessed with them: and many taken with palsies, and that were lame, were healed"
Acts 9:34
"And Peter said unto him, Aeneas, Jesus Christ maketh thee whole: arise, and make thy bed. And he arose immediately"
Acts 14:9-10
"The same heard Paul speak: who stedfastly beholding him, and perceiving that he had faith to be healed, Said with a loud voice, Stand upright on thy feet. And he leaped and walked"
Romans 8:11
"But if the Spirit of him that raised up Jesus from the dead dwell in you, he that raised up Christ from the dead shall also quicken your mortal bodies by his Spirit that dwelleth in you"
1 Corinthians 12:9
"To another faith by the same Spirit; to another the gifts of healing by the same Spirit"
2 Corinthians 12:9
"And he said unto me, My grace is sufficient for thee: for my strength is made perfect in weakness. Most gladly therefore will I rather glory in my infirmities, that the power of Christ may rest upon me"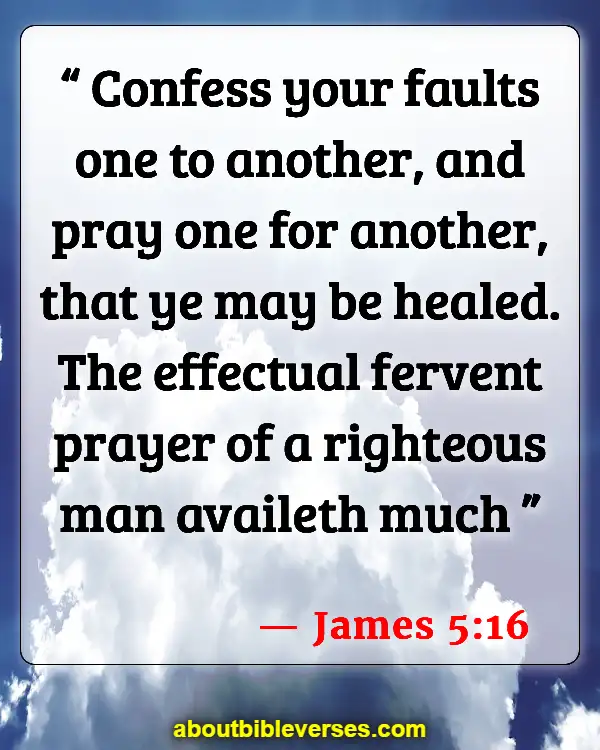 James 5:16
"Confess your faults one to another, and pray one for another, that ye may be healed. The effectual fervent prayer of a righteous man availeth much"