Beloved brothers and sisters, let us delve into the sacred wisdom of the Scriptures and explore the profound truth of hardships and trials. The Bible imparts wisdom on the trials and tribulations that we all encounter in our journey of life. It gently reminds us that hardship isn't a punishment, but an opportunity for growth, shaping us into stronger, more compassionate.
From the beginning, Adam and Eve faced the trials of temptation and disobedience in the Garden of Eden. Abraham endured the hardship of leaving his homeland in faith, trusting in God's promises. Joseph endured betrayal and imprisonment, but he emerged stronger and saved his people from famine. Moses faced countless trials leading the Israelites through the wilderness, yet God's presence never left them.
The Psalms, written by David, beautifully express the anguish and distress faced by the righteous. Job, in the depths of suffering, never lost his faith in God's justice. The prophets, like Jeremiah and Isaiah, endured rejection and persecution as they delivered God's messages to His people.
Even our Lord and Savior Jesus Christ faced hardships during His earthly ministry. He endured temptation in the wilderness, rejection by His own people, and the agony of the cross, bearing the weight of our sins.
Through these examples, we learn that hardships and trials are not punishments but opportunities for growth and refinement. They teach us humility, reliance on God's strength, and the importance of perseverance in our faith journey.
As we face difficulties in our lives, let us remember the words of James: "My brethren, count it all joy when ye fall into divers temptations; Knowing this, that the trying of your faith worketh patience" (James 1:2-3). God's love and grace sustain us through every trial, and in Him, we find strength to endure.
Let us, then, embrace the challenges that come our way, knowing that our Heavenly Father is molding us into vessels of honor, ready for His purposes. May we trust in His wisdom and provision, seeking solace in prayer and steadfast devotion to His word.
Finally, friends I want to say, let us remain steadfast in faith, knowing that God uses our hardships and trials for His glory and our ultimate good. As we walk through life's valleys, let us find comfort in the truth that God is with us, guiding us with His divine love and eternal wisdom. Amen.
Dear friends now let's see the Bible scriptures below that talk about Hardships And Trials.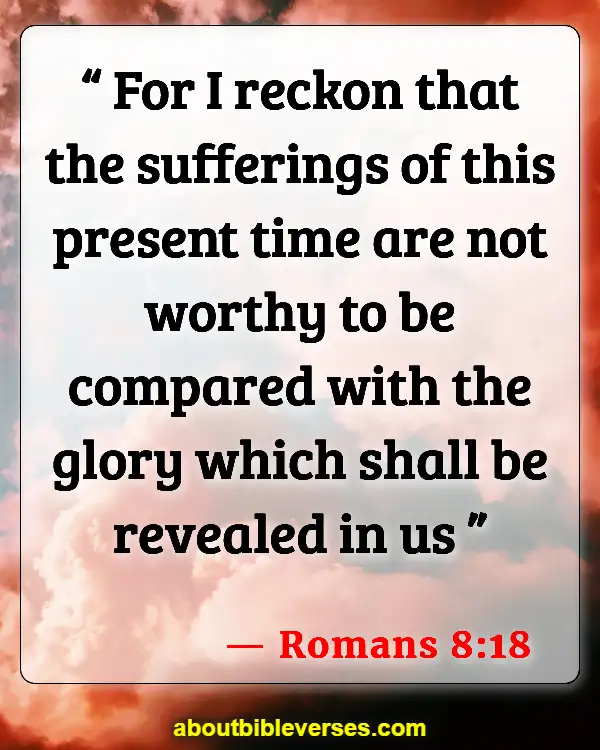 Romans 8:18
"For I reckon that the sufferings of this present time are not worthy to be compared with the glory which shall be revealed in us"
Isaiah 41:10
"Fear thou not; for I am with thee: be not dismayed; for I am thy God: I will strengthen thee; yea, I will help thee; yea, I will uphold thee with the right hand of my righteousness"
Deuteronomy 31:6
"Be strong and of a good courage, fear not, nor be afraid of them: for the Lord thy God, he it is that doth go with thee; he will not fail thee, nor forsake thee"
Philippians 4:6-7
"Be careful for nothing; but in every thing by prayer and supplication with thanksgiving let your requests be made known unto God. And the peace of God, which passeth all understanding, shall keep your hearts and minds through Christ Jesus"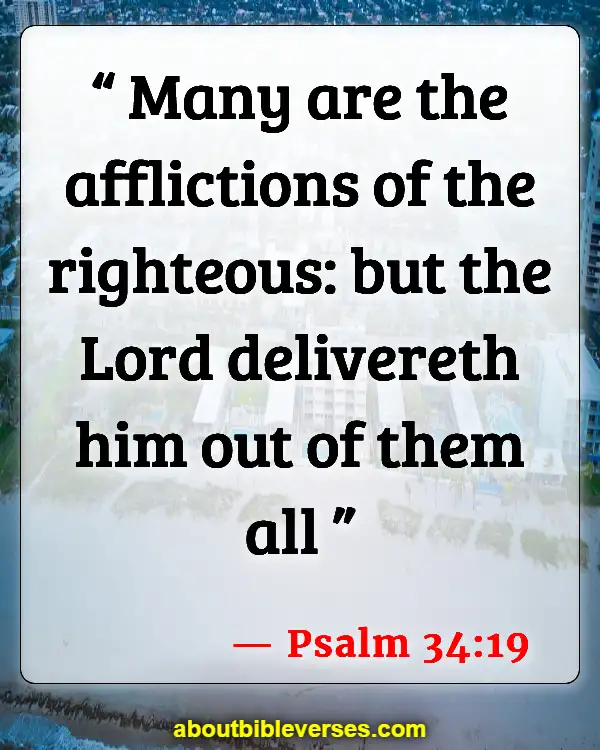 Psalm 34:19
"Many are the afflictions of the righteous: but the Lord delivereth him out of them all"
Matthew 5:10-12
"Blessed are they which are persecuted for righteousness' sake: for theirs is the kingdom of heaven. Blessed are ye, when men shall revile you, and persecute you, and shall say all manner of evil against you falsely, for my sake. Rejoice, and be exceeding glad: for great is your reward in heaven: for so persecuted they the prophets which were before you"
2 Corinthians 1:3-4
"Blessed be God, even the Father of our Lord Jesus Christ, the Father of mercies, and the God of all comfort; Who comforteth us in all our tribulation, that we may be able to comfort them which are in any trouble, by the comfort wherewith we ourselves are comforted of God"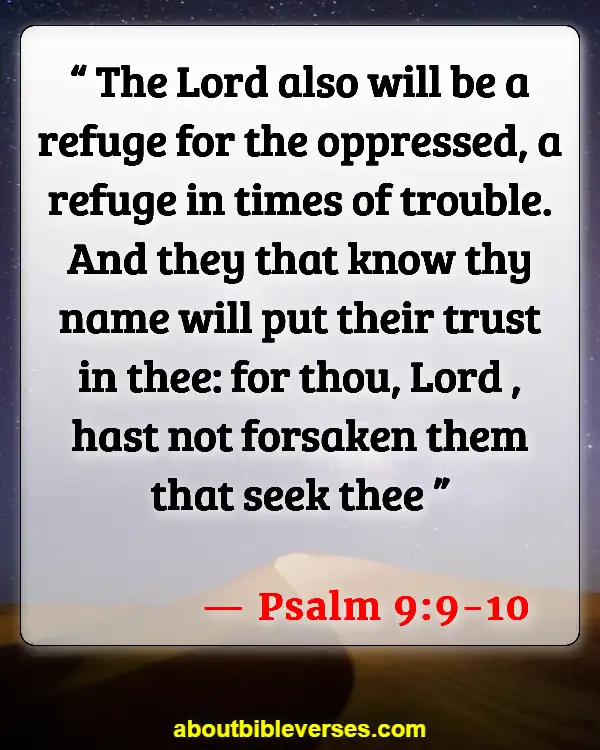 Psalm 9:9-10
"The Lord also will be a refuge for the oppressed, a refuge in times of trouble. And they that know thy name will put their trust in thee: for thou, Lord , hast not forsaken them that seek thee"
Matthew 11:28-30
"Come unto me, all ye that labour and are heavy laden, and I will give you rest. Take my yoke upon you, and learn of me; for I am meek and lowly in heart: and ye shall find rest unto your souls. For my yoke is easy, and my burden is light"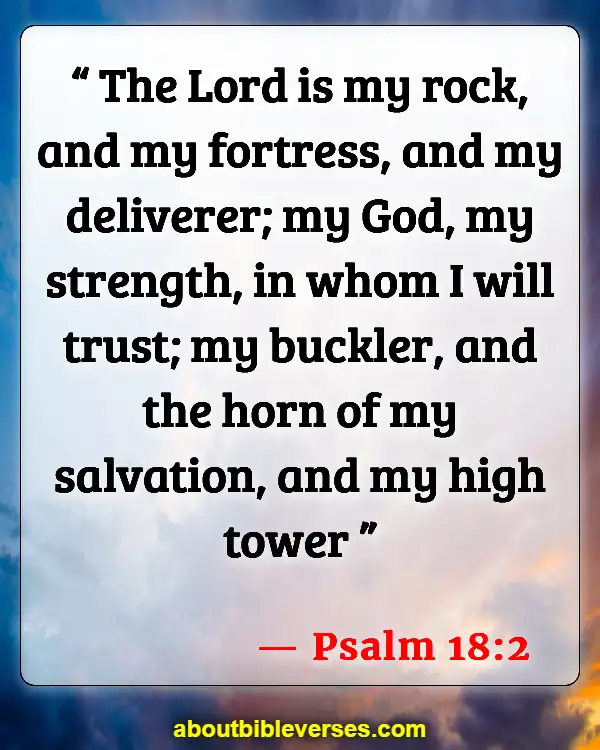 Psalm 18:2
"The Lord is my rock, and my fortress, and my deliverer; my God, my strength, in whom I will trust; my buckler, and the horn of my salvation, and my high tower"
1 Peter 4:12-13
"Beloved, think it not strange concerning the fiery trial which is to try you, as though some strange thing happened unto you: But rejoice, inasmuch as ye are partakers of Christ's sufferings; that, when his glory shall be revealed, ye may be glad also with exceeding joy"
James 1:12
"Blessed is the man that endureth temptation: for when he is tried, he shall receive the crown of life, which the Lord hath promised to them that love him"
Psalm 119:71
"It is good for me that I have been afflicted; that I might learn thy statutes"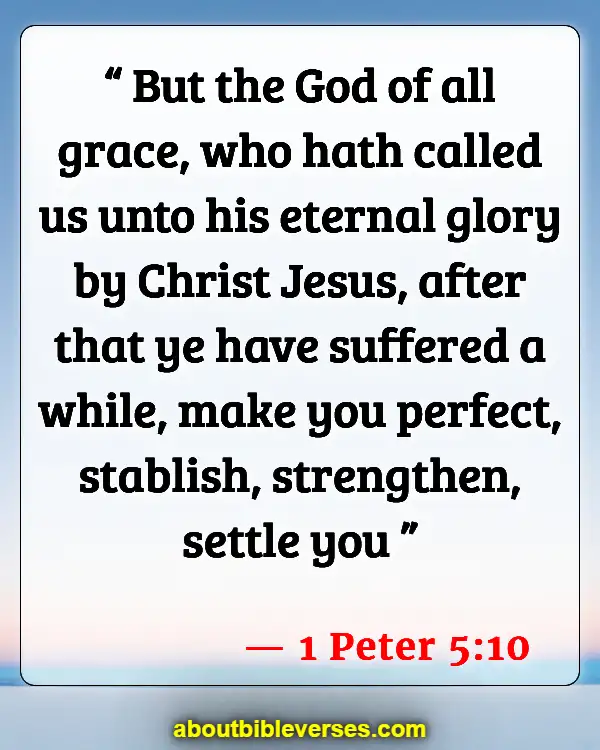 1 Peter 5:10
"But the God of all grace, who hath called us unto his eternal glory by Christ Jesus, after that ye have suffered a while, make you perfect, stablish, strengthen, settle you"
Psalm 46:1-3
"God is our refuge and strength, a very present help in trouble. Therefore will not we fear, though the earth be removed, and though the mountains be carried into the midst of the sea; Though the waters thereof roar and be troubled, though the mountains shake with the swelling thereof. Selah"
Psalm 145:18-19
"The Lord is nigh unto all them that call upon him, to all that call upon him in truth. He will fulfil the desire of them that fear him: he also will hear their cry, and will save them"
Proverbs 3:5-6
"Trust in the Lord with all thine heart; and lean not unto thine own understanding. In all thy ways acknowledge him, and he shall direct thy paths"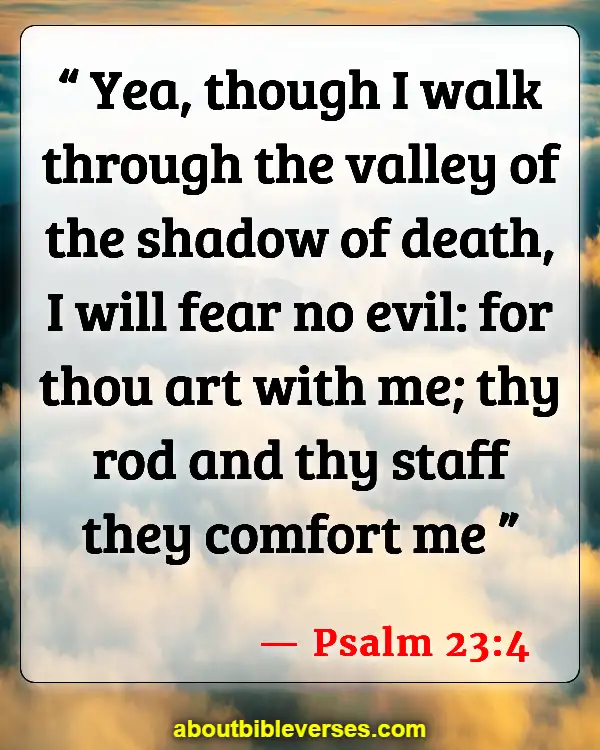 Psalm 23:4
"Yea, though I walk through the valley of the shadow of death, I will fear no evil: for thou art with me; thy rod and thy staff they comfort me"
Psalm 107:13-14
"Then they cried unto the Lord in their trouble, and he saved them out of their distresses. He brought them out of darkness and the shadow of death, and brake their bands in sunder"
Revelation 21:4
"And God shall wipe away all tears from their eyes; and there shall be no more death, neither sorrow, nor crying, neither shall there be any more pain: for the former things are passed away"
Isaiah 40:31
"But they that wait upon the Lord shall renew their strength; they shall mount up with wings as eagles; they shall run, and not be weary; and they shall walk, and not faint"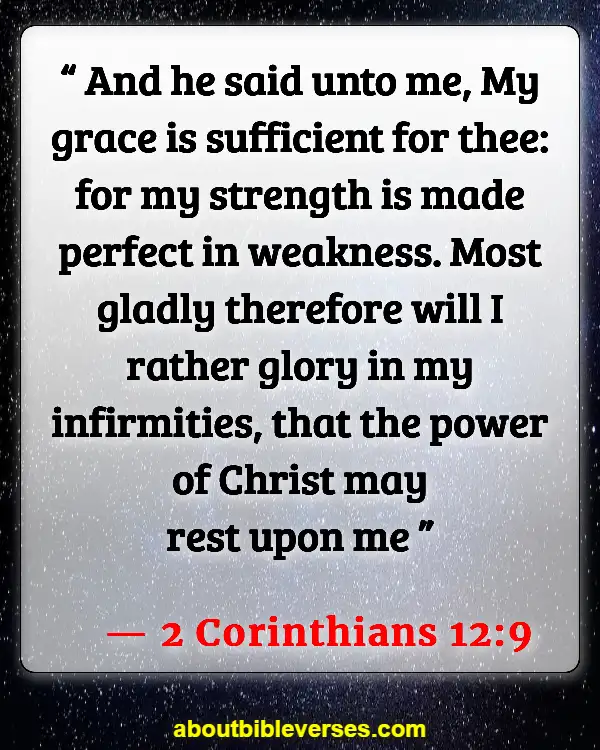 2 Corinthians 12:9
"And he said unto me, My grace is sufficient for thee: for my strength is made perfect in weakness. Most gladly therefore will I rather glory in my infirmities, that the power of Christ may rest upon me"
Psalm 34:17-18
"The righteous cry, and the Lord heareth, and delivereth them out of all their troubles. The Lord is nigh unto them that are of a broken heart; and saveth such as be of a contrite spirit"
Psalm 37:24
"Though he fall, he shall not be utterly cast down: for the Lord upholdeth him with his hand"
Romans 5:3-5
"And not only so, but we glory in tribulations also: knowing that tribulation worketh patience; And patience, experience; and experience, hope: And hope maketh not ashamed; because the love of God is shed abroad in our hearts by the Holy Ghost which is given unto us"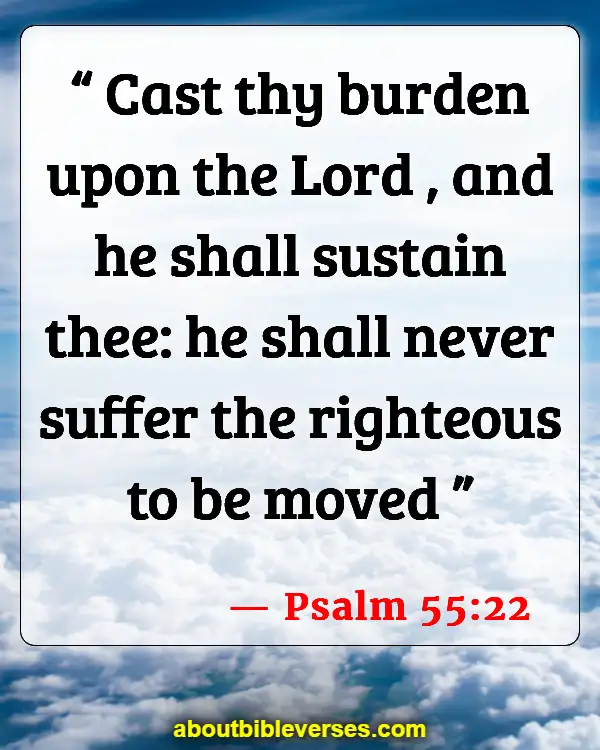 Psalm 55:22
"Cast thy burden upon the Lord , and he shall sustain thee: he shall never suffer the righteous to be moved"
Hebrews 10:35-36
"Cast not away therefore your confidence, which hath great recompence of reward. For ye have need of patience, that, after ye have done the will of God, ye might receive the promise"
John 16:33
"These things I have spoken unto you, that in me ye might have peace. In the world ye shall have tribulation: but be of good cheer; I have overcome the world"
2 Peter 2:9
"The Lord knoweth how to deliver the godly out of temptations, and to reserve the unjust unto the day of judgment to be punished"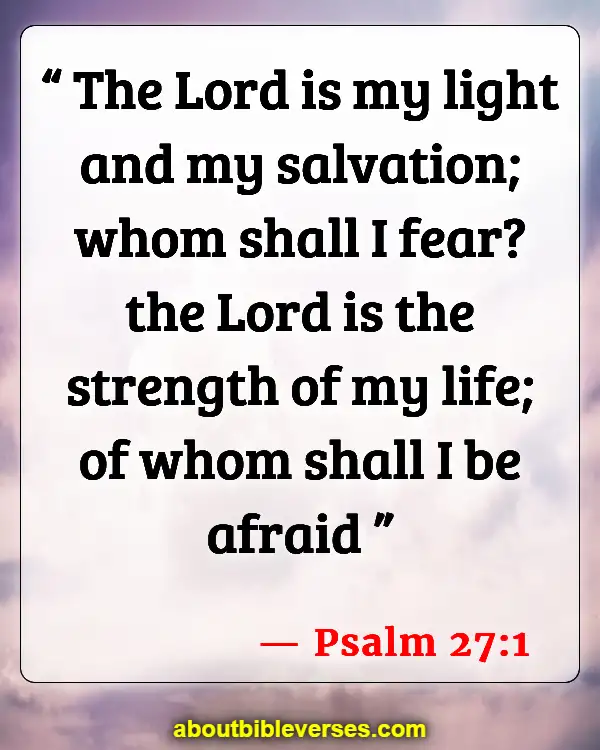 Psalm 27:1
"The Lord is my light and my salvation; whom shall I fear? the Lord is the strength of my life; of whom shall I be afraid?"
Proverbs 24:10
"If thou faint in the day of adversity, thy strength is small"
Hebrews 12:11
"Now no chastening for the present seemeth to be joyous, but grievous: nevertheless afterward it yieldeth the peaceable fruit of righteousness unto them which are exercised thereby"
2 Corinthians 4:8-9
"We are troubled on every side, yet not distressed; we are perplexed, but not in despair; Persecuted, but not forsaken; cast down, but not destroyed"
2 Thessalonians 3:3
"But the Lord is faithful, who shall stablish you, and keep you from evil"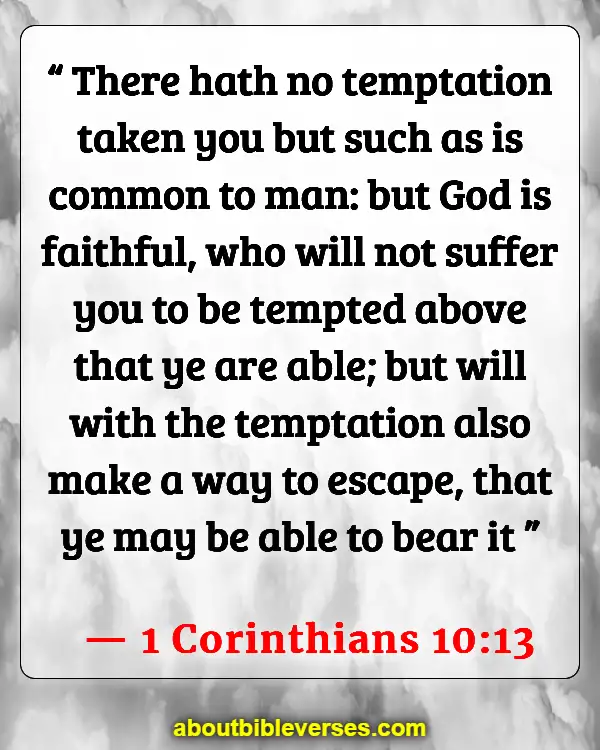 1 Corinthians 10:13
"There hath no temptation taken you but such as is common to man: but God is faithful, who will not suffer you to be tempted above that ye are able; but will with the temptation also make a way to escape, that ye may be able to bear it"