Hello dear friends, welcome to our site in the name of Jesus Christ. Today we will look at the Bible Scriptures About Guarding Your Eyes And Ears In KJV. If you like today's post then definitely comment and share.
The Bible teaches us to protect our eyes and ears as an essential aspect of living a godly and spiritually healthy life. Because it is the gateway to our hearts, mind, and soul.
In the context of guarding our ears, the Bible warns us that the words we listen to and the company we keep can affect our spirituality. Proverbs 13:20 says, Walk with the wise and be wise, for the companionship of fools is loss. By surrounding ourselves with wise and pious influences, we protect our minds and hearts from unsavory talk and corrupting ideas.
Similarly, Jesus taught in Matthew 6:22-23 that the eye is the lamp of the body. If our eyes are filled with light, our whole body will be filled with light, but if our eyes are filled with darkness, our body will be filled with darkness. This verse highlights the importance of being careful about what we see, as it has the potential to affect our entire being.
In Philippians 4:8, Paul encourages Christians to focus on what is true, noble, right, pure, lovely, praiseworthy, excellent. By being selective about what we see and hear, we can build a life that honors God and nurtures our spiritual growth.
Dear friends now let's see the Bible scriptures below that talk about Guarding Your Eyes And Ears.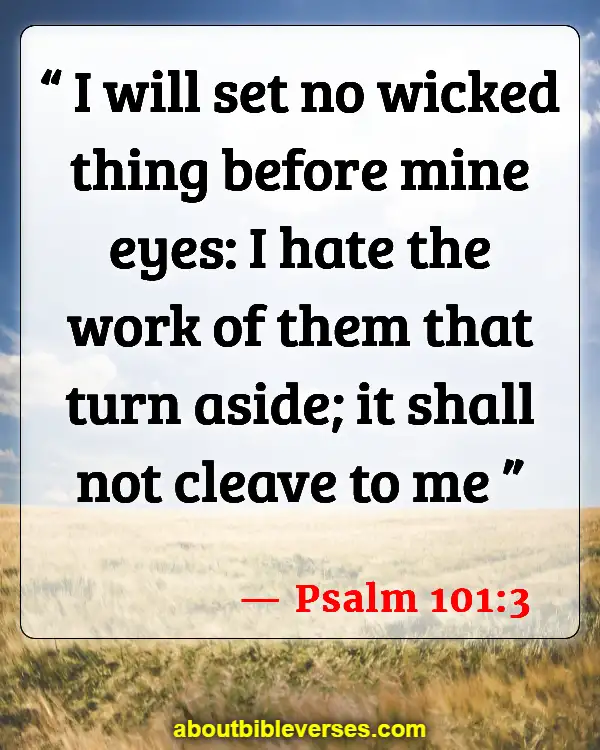 Psalm 101:3
"I will set no wicked thing before mine eyes: I hate the work of them that turn aside; it shall not cleave to me"
Psalm 119:37
"Turn away mine eyes from beholding vanity; and quicken thou me in thy way"
Proverbs 4:23
"Keep thy heart with all diligence; for out of it are the issues of life"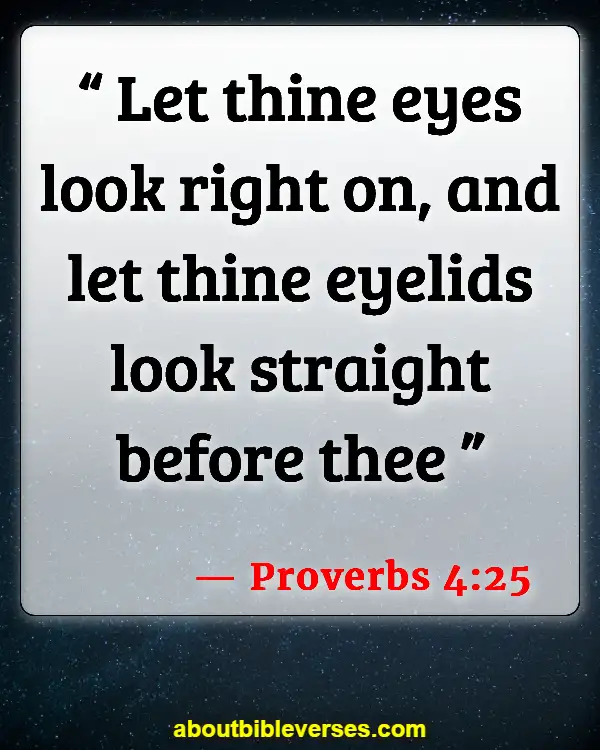 Proverbs 4:25
"Let thine eyes look right on, and let thine eyelids look straight before thee"
Proverbs 15:14
"The heart of him that hath understanding seeketh knowledge: but the mouth of fools feedeth on foolishness"
Proverbs 17:4
"A wicked doer giveth heed to false lips; and a liar giveth ear to a naughty tongue"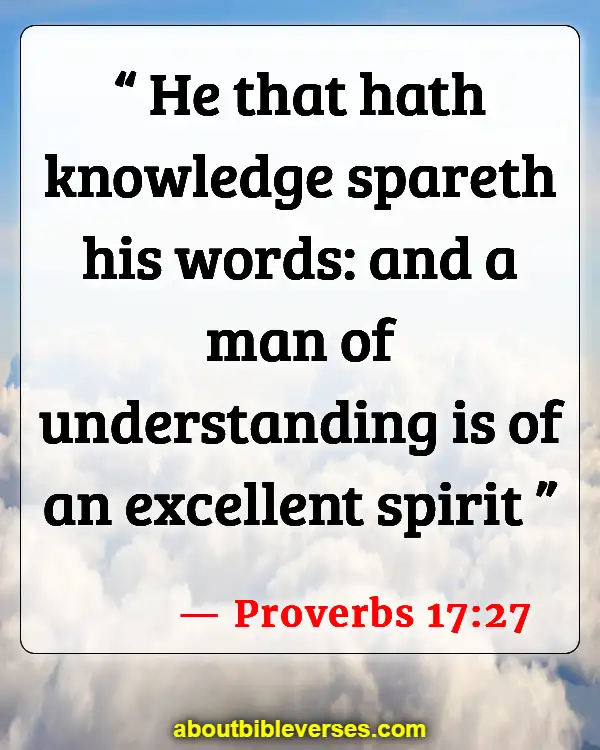 Proverbs 17:27
"He that hath knowledge spareth his words: and a man of understanding is of an excellent spirit"
Proverbs 19:27
"Cease, my son, to hear the instruction that causeth to err from the words of knowledge"
Proverbs 20:12
"The hearing ear, and the seeing eye, the Lord hath made even both of them"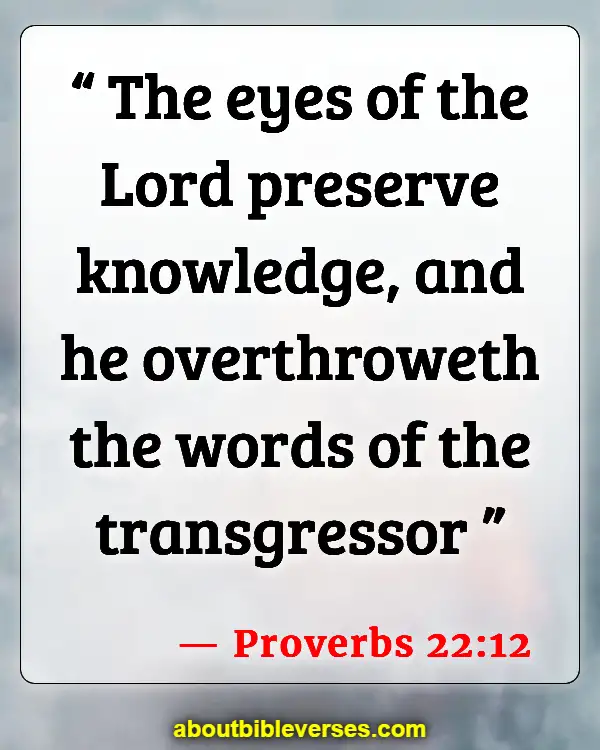 Proverbs 22:12
"The eyes of the Lord preserve knowledge, and he overthroweth the words of the transgressor"
Proverbs 23:19
"Hear thou, my son, and be wise, and guide thine heart in the way"
Proverbs 24:1
"Be not thou envious against evil men, neither desire to be with them"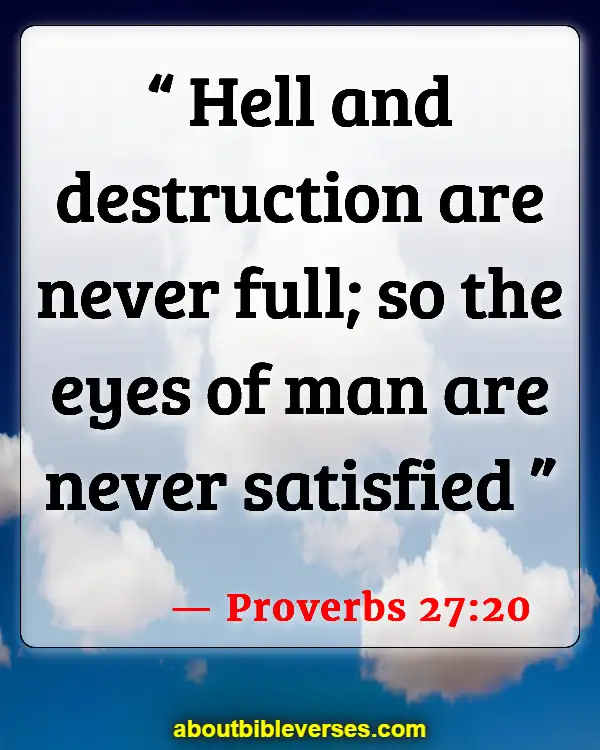 Proverbs 27:20
"Hell and destruction are never full; so the eyes of man are never satisfied"
Ecclesiastes 1:8
"All things are full of labour; man cannot utter it: the eye is not satisfied with seeing, nor the ear filled with hearing"
Isaiah 33:15
"He that walketh righteously, and speaketh uprightly; he that despiseth the gain of oppressions, that shaketh his hands from holding of bribes, that stoppeth his ears from hearing of blood, and shutteth his eyes from seeing evil"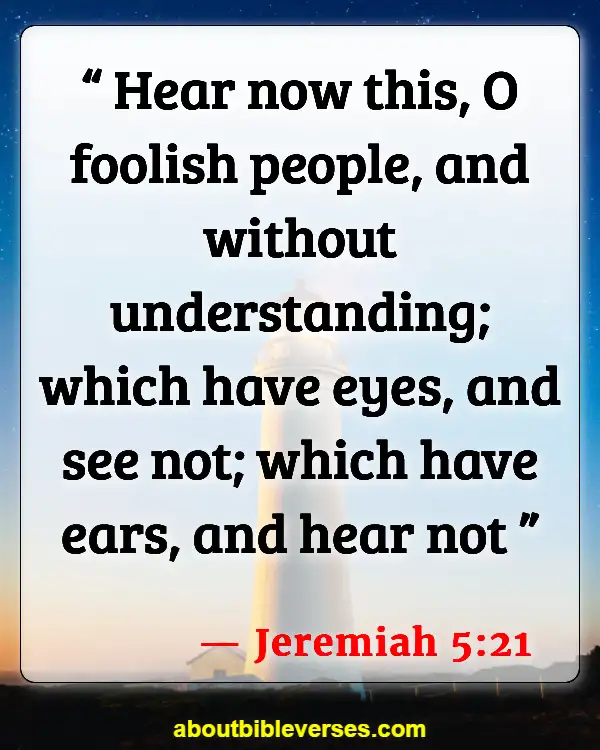 Jeremiah 5:21
"Hear now this, O foolish people, and without understanding; which have eyes, and see not; which have ears, and hear not"
Matthew 5:29
"And if thy right eye offend thee, pluck it out, and cast it from thee: for it is profitable for thee that one of thy members should perish, and not that thy whole body should be cast into hell"
Matthew 13:15-16
"For this people's heart is waxed gross, and their ears are dull of hearing, and their eyes they have closed; lest at any time they should see with their eyes and hear with their ears, and should understand with their heart, and should be converted, and I should heal them. But blessed are your eyes, for they see: and your ears, for they hear"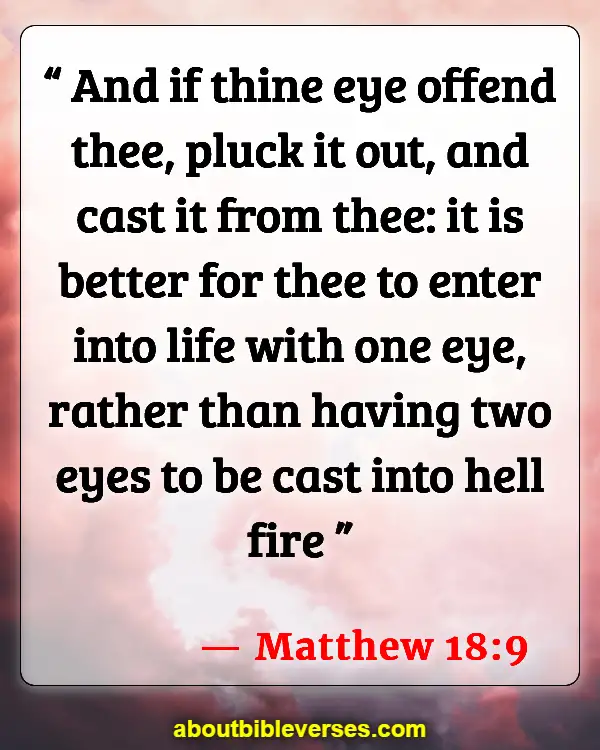 Matthew 18:9
"And if thine eye offend thee, pluck it out, and cast it from thee: it is better for thee to enter into life with one eye, rather than having two eyes to be cast into hell fire"
Mark 4:23-24
"If any man have ears to hear, let him hear. And he said unto them, Take heed what ye hear: with what measure ye mete, it shall be measured to you: and unto you that hear shall more be given"
Mark 9:47
"And if thine eye offend thee, pluck it out: it is better for thee to enter into the kingdom of God with one eye, than having two eyes to be cast into hell fire"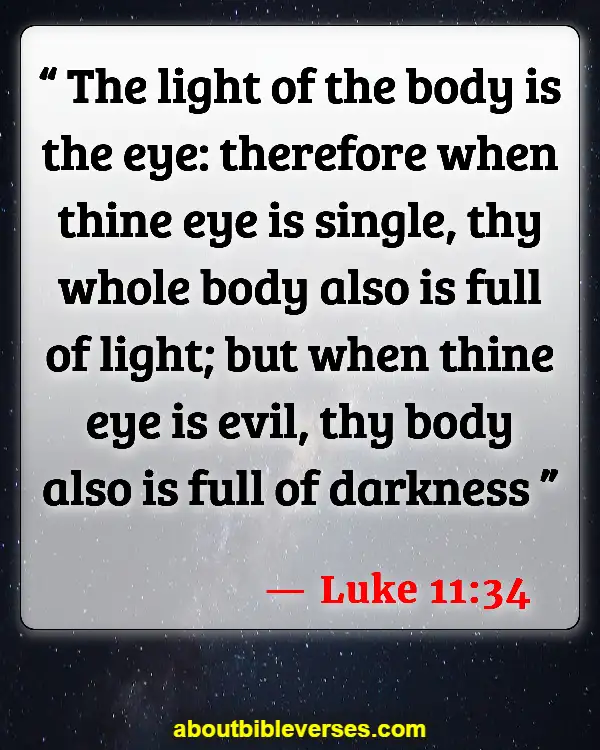 Luke 11:34
"The light of the body is the eye: therefore when thine eye is single, thy whole body also is full of light; but when thine eye is evil, thy body also is full of darkness"
Romans 12:2
"And be not conformed to this world: but be ye transformed by the renewing of your mind, that ye may prove what is that good, and acceptable, and perfect, will of God"
Romans 13:14
"But put ye on the Lord Jesus Christ, and make not provision for the flesh, to fulfil the lusts thereof"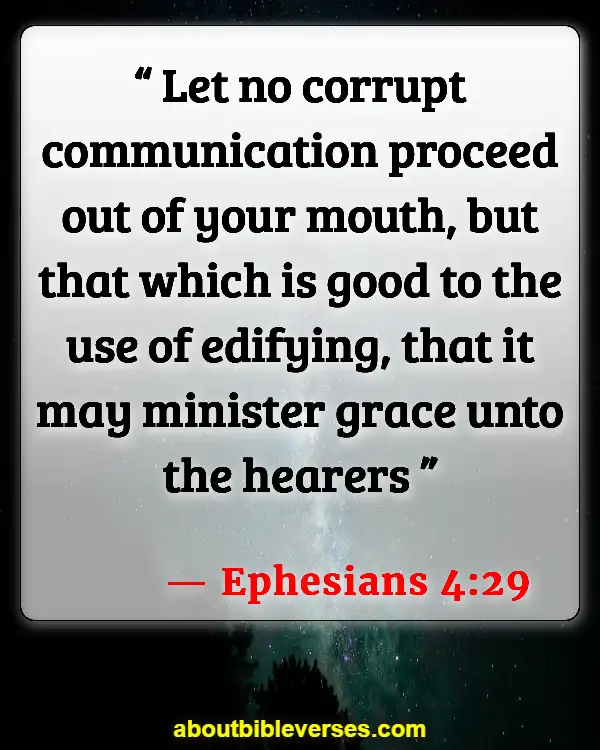 Ephesians 4:29
"Let no corrupt communication proceed out of your mouth, but that which is good to the use of edifying, that it may minister grace unto the hearers"
1 Corinthians 15:33
"Be not deceived: evil communications corrupt good manners"
Ephesians 5:3-4
"But fornication, and all uncleanness, or covetousness, let it not be once named among you, as becometh saints; Neither filthiness, nor foolish talking, nor jesting, which are not convenient: but rather giving of thanks"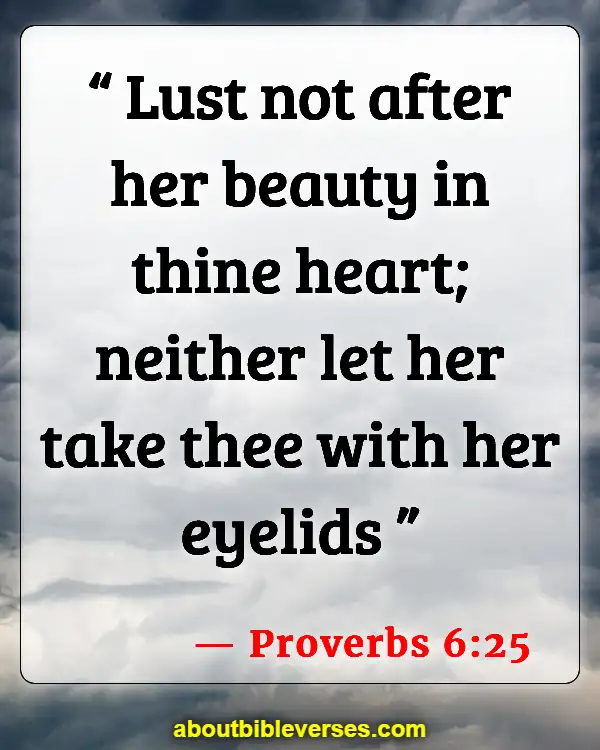 Proverbs 6:25
"Lust not after her beauty in thine heart; neither let her take thee with her eyelids"
1 John 2:15-17
"Love not the world, neither the things that are in the world. If any man love the world, the love of the Father is not in him. For all that is in the world, the lust of the flesh, and the lust of the eyes, and the pride of life, is not of the Father, but is of the world. And the world passeth away, and the lust thereof: but he that doeth the will of God abideth for ever"
Proverbs 10:17
"He is in the way of life that keepeth instruction: but he that refuseth reproof erreth"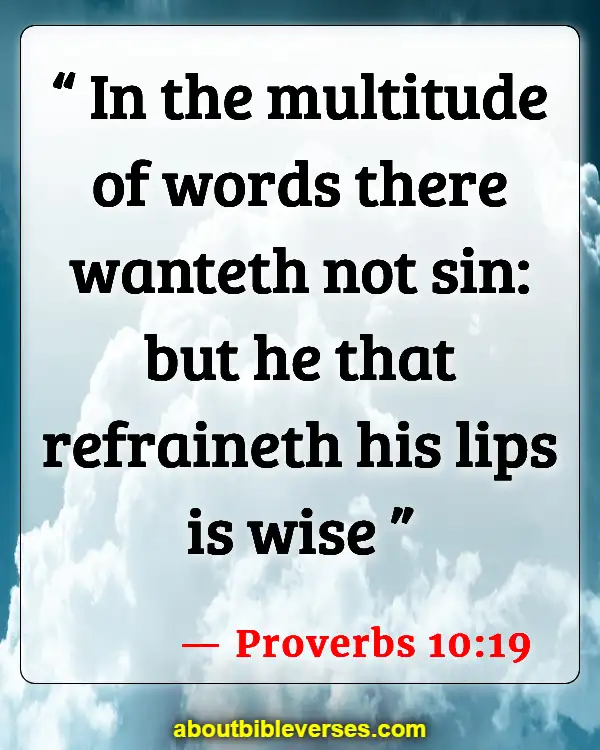 Proverbs 10:19
"In the multitude of words there wanteth not sin: but he that refraineth his lips is wise"
Proverbs 14:7
"Go from the presence of a foolish man, when thou perceivest not in him the lips of knowledge"
Proverbs 14:29
"He that is slow to wrath is of great understanding: but he that is hasty of spirit exalteth folly"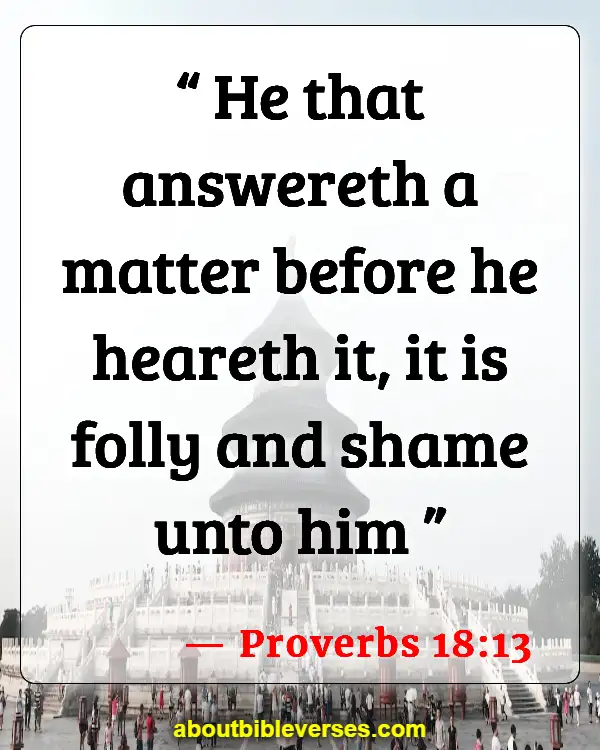 Proverbs 18:13
"He that answereth a matter before he heareth it, it is folly and shame unto him"
Proverbs 26:20
"Where no wood is, there the fire goeth out: so where there is no talebearer, the strife ceaseth"
Proverbs 29:11
"A fool uttereth all his mind: but a wise man keepeth it in till afterwards"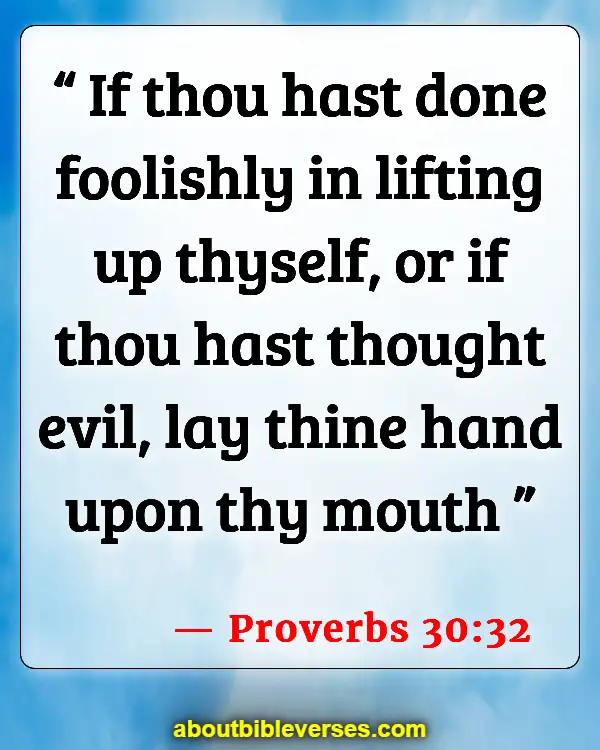 Proverbs 30:32
"If thou hast done foolishly in lifting up thyself, or if thou hast thought evil, lay thine hand upon thy mouth"
Ecclesiastes 7:5
"It is better to hear the rebuke of the wise, than for a man to hear the song of fools"
Isaiah 6:10
"Make the heart of this people fat, and make their ears heavy, and shut their eyes; lest they see with their eyes, and hear with their ears, and understand with their heart, and convert, and be healed"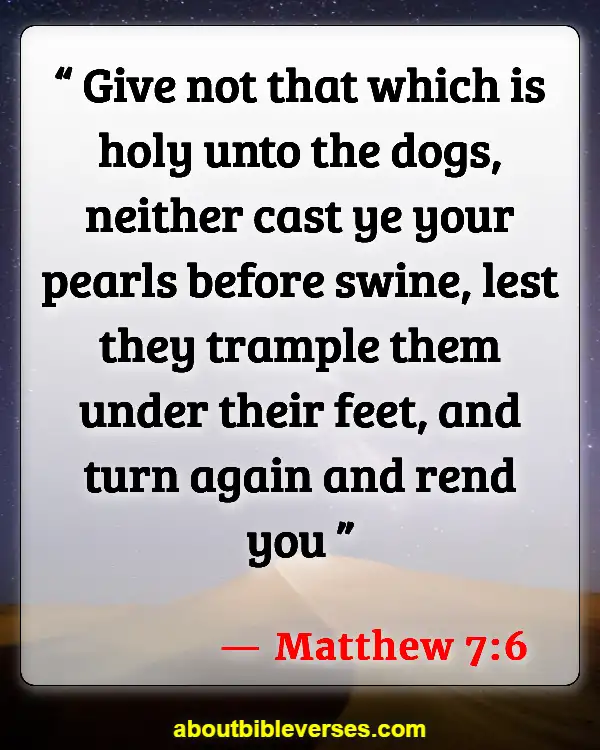 Matthew 7:6
"Give not that which is holy unto the dogs, neither cast ye your pearls before swine, lest they trample them under their feet, and turn again and rend you"
Matthew 10:16
"Behold, I send you forth as sheep in the midst of wolves: be ye therefore wise as serpents, and harmless as doves"
Matthew 26:41
"Watch and pray, that ye enter not into temptation: the spirit indeed is willing, but the flesh is weak"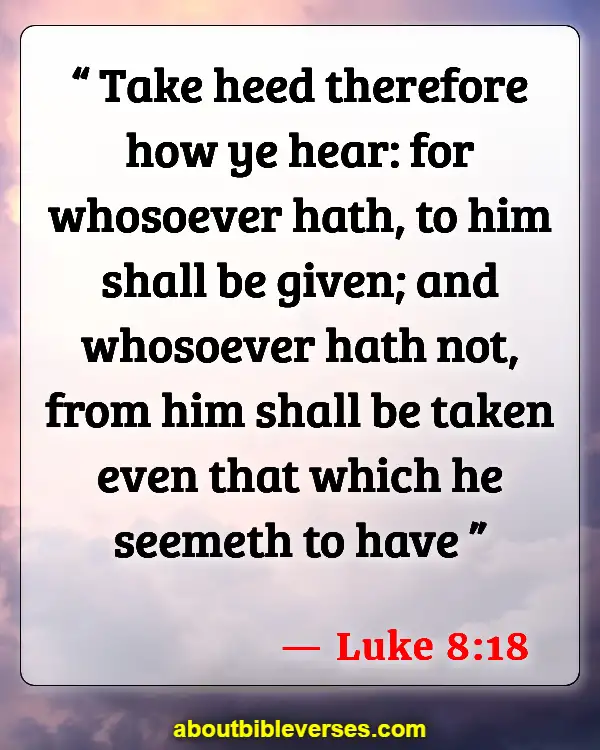 Luke 8:18
"Take heed therefore how ye hear: for whosoever hath, to him shall be given; and whosoever hath not, from him shall be taken even that which he seemeth to have"
John 17:15
"I pray not that thou shouldest take them out of the world, but that thou shouldest keep them from the evil"
Acts 20:28
"Take heed therefore unto yourselves, and to all the flock, over the which the Holy Ghost hath made you overseers, to feed the church of God, which he hath purchased with his own blood"
Colossians 3:2
"Set your affection on things above, not on things on the earth"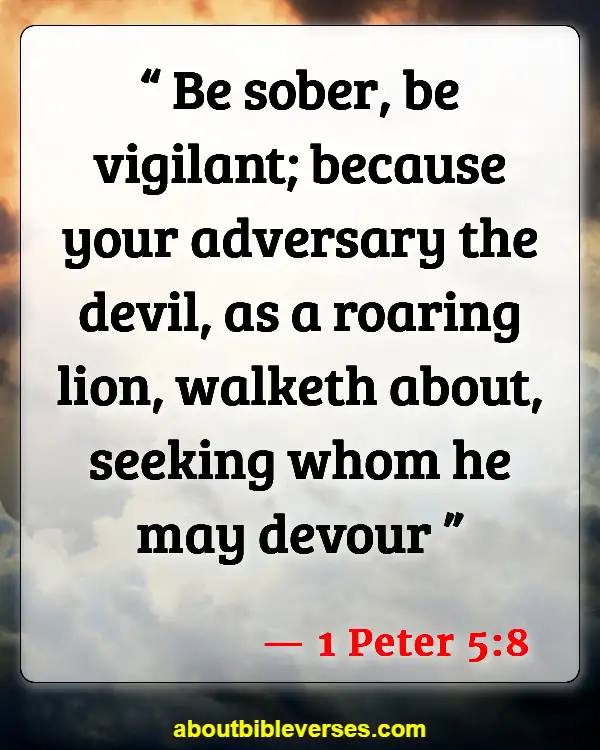 1 Peter 5:8
"Be sober, be vigilant; because your adversary the devil, as a roaring lion, walketh about, seeking whom he may devour"