Hello dear friends, welcome to our site in the name of Jesus Christ. Today we will look at the Bible Scriptures About God Testing Us In KJV. If you like today's post then definitely comment and share.
In the sacred words of the Bible, we learn about God's purpose in testing His people. God tests us to reveal and strengthen our faith, to refine our character, and to draw us closer to Him. These tests come in various forms, both spiritual and practical, and are often illustrated through stories and teachings. Let us explore this divine knowledge together.
God's tests are not meant to confuse or harm us but to help us grow. Just as a loving parent guides and challenges their child, God guides and challenges us to become better versions of ourselves. He wants us to trust Him completely and rely on His wisdom and strength.
Sometimes, God tests our faith. He allows us to face difficulties and obstacles to see if we will remain steadfast in our belief in Him. These trials can be like a fire that purifies and strengthens our faith, just as gold is refined in a furnace. Through these tests, we learn to depend on God and experience His faithfulness.
God also tests our character. He examines our hearts and actions to see if we choose righteousness and obedience. In moments of temptation, we are tested to see if we will follow God's commands or give in to worldly desires. These tests provide opportunities for us to grow in virtue, integrity, and self-discipline.
In the Bible, we find many stories that illustrate these tests. Consider the story of Abraham, who was tested by God when asked to sacrifice his beloved son Isaac. This test revealed Abraham's unwavering faith and obedience. Similarly, the story of Job shows how God allowed Job to endure severe trials, testing his faith and perseverance. In the end, Job's faith remained steadfast, and God restored him abundantly.
We must remember that God's tests are not meant to harm us but to help us become stronger and closer to Him. When we face trials, let us embrace them with hope and trust in God's loving guidance. By remaining faithful and steadfast, we can pass these tests and experience the blessings that come from walking closely with our Heavenly Father.
here are some Bible verses related to the topic of God testing us: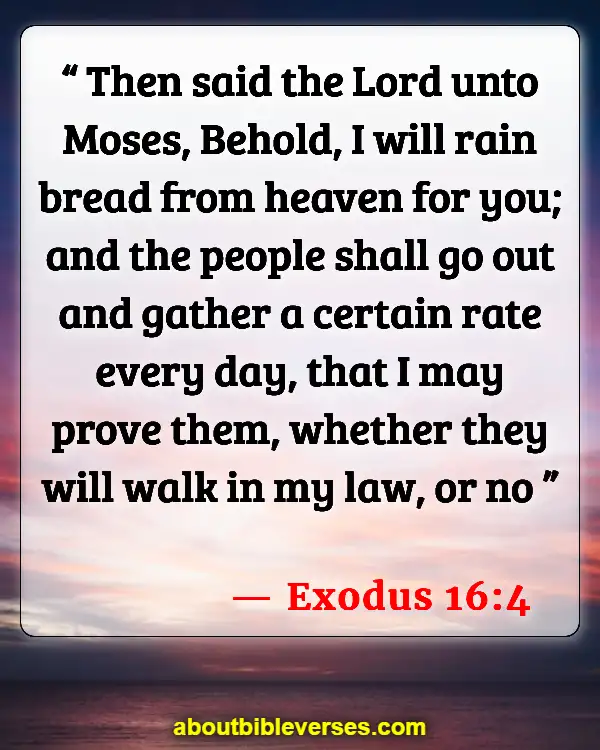 Exodus 16:4
"Then said the Lord unto Moses, Behold, I will rain bread from heaven for you; and the people shall go out and gather a certain rate every day, that I may prove them, whether they will walk in my law, or no"
Exodus 20:20
"And Moses said unto the people, Fear not: for God is come to prove you, and that his fear may be before your faces, that ye sin not"
Deuteronomy 8:2
"And thou shalt remember all the way which the Lord thy God led thee these forty years in the wilderness, to humble thee, and to prove thee, to know what was in thine heart, whether thou wouldest keep his commandments, or no"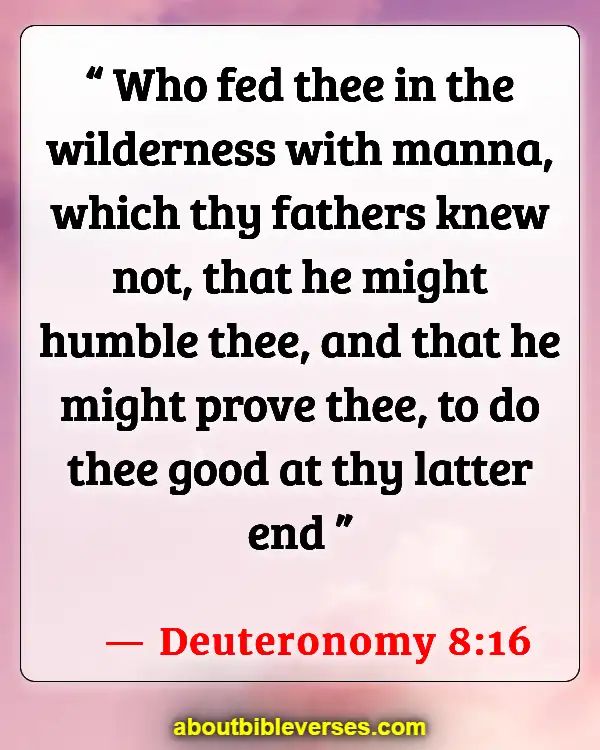 Deuteronomy 8:16
"Who fed thee in the wilderness with manna, which thy fathers knew not, that he might humble thee, and that he might prove thee, to do thee good at thy latter end"
Deuteronomy 13:3
"Thou shalt not hearken unto the words of that prophet, or that dreamer of dreams: for the Lord your God proveth you, to know whether ye love the Lord your God with all your heart and with all your soul"
Judges 2:22
"That through them I may prove Israel, whether they will keep the way of the Lord to walk therein, as their fathers did keep it, or not"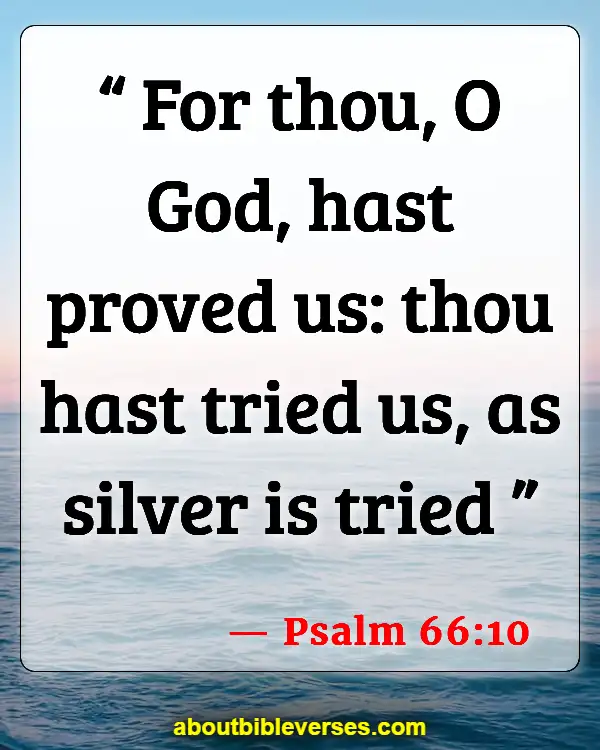 Psalm 66:10
"For thou, O God, hast proved us: thou hast tried us, as silver is tried"
Judges 3:1
"Now these are the nations which the Lord left, to prove Israel by them, even as many of Israel as had not known all the wars of Canaan"
Judges 3:4
"And they were to prove Israel by them, to know whether they would hearken unto the commandments of the Lord , which he commanded their fathers by the hand of Moses"
2 Chronicles 32:31
"Howbeit in the business of the ambassadors of the princes of Babylon, who sent unto him to enquire of the wonder that was done in the land, God left him, to try him, that he might know all that was in his heart"
Job 23:10
"But he knoweth the way that I take: when he hath tried me, I shall come forth as gold"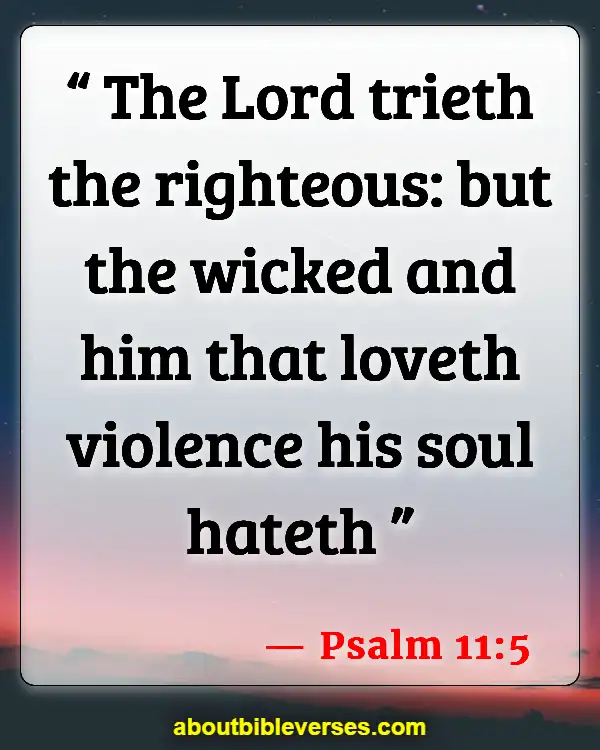 Psalm 11:5
"The Lord trieth the righteous: but the wicked and him that loveth violence his soul hateth"
Psalm 26:2
"Examine me, O Lord , and prove me; try my reins and my heart"
Psalm 81:7
"Thou calledst in trouble, and I delivered thee; I answered thee in the secret place of thunder: I proved thee at the waters of Meribah. Selah"
Proverbs 17:3
"The fining pot is for silver, and the furnace for gold: but the Lord trieth the hearts"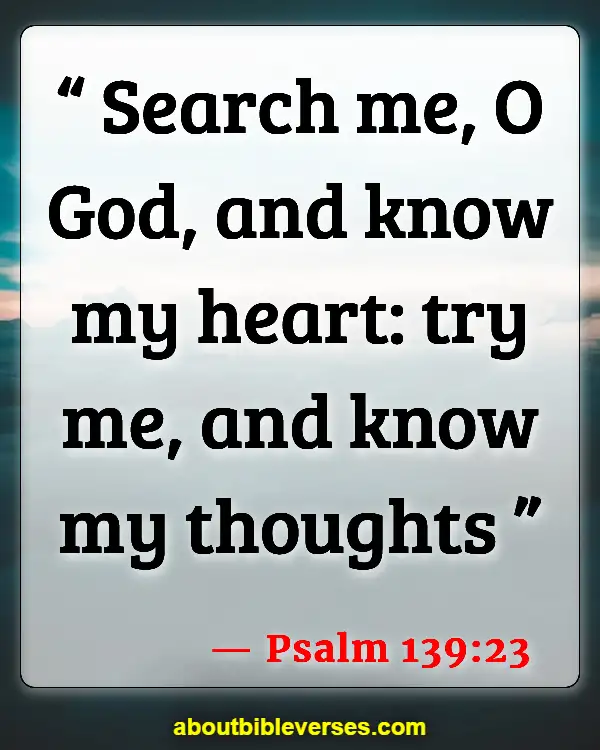 Psalm 139:23
"Search me, O God, and know my heart: try me, and know my thoughts"
Jeremiah 11:20
"But, O Lord of hosts, that judgest righteously, that triest the reins and the heart, let me see thy vengeance on them: for unto thee have I revealed my cause"
Jeremiah 17:10
"I the Lord search the heart, I try the reins, even to give every man according to his ways, and according to the fruit of his doings"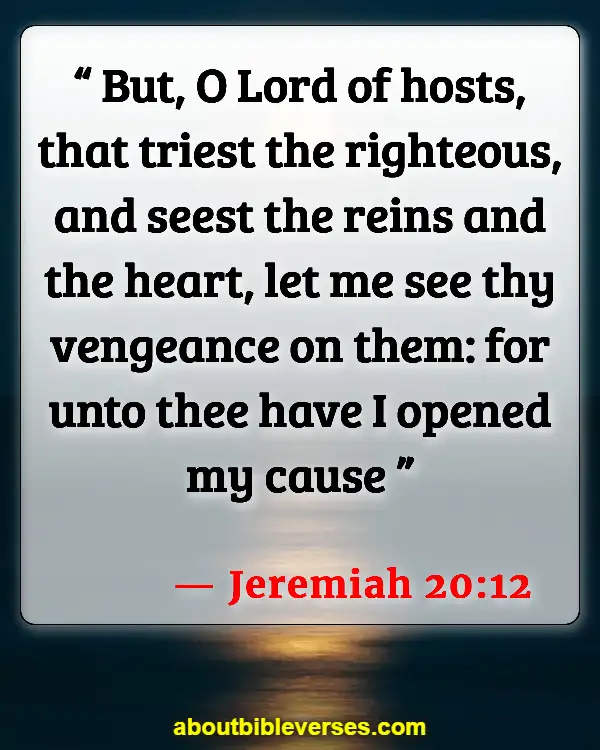 Jeremiah 20:12
"But, O Lord of hosts, that triest the righteous, and seest the reins and the heart, let me see thy vengeance on them: for unto thee have I opened my cause"
Zechariah 13:9
"And I will bring the third part through the fire, and will refine them as silver is refined, and will try them as gold is tried: they shall call on my name, and I will hear them: I will say, It is my people: and they shall say, The Lord is my God"
Malachi 3:3
"And he shall sit as a refiner and purifier of silver: and he shall purify the sons of Levi, and purge them as gold and silver, that they may offer unto the Lord an offering in righteousness"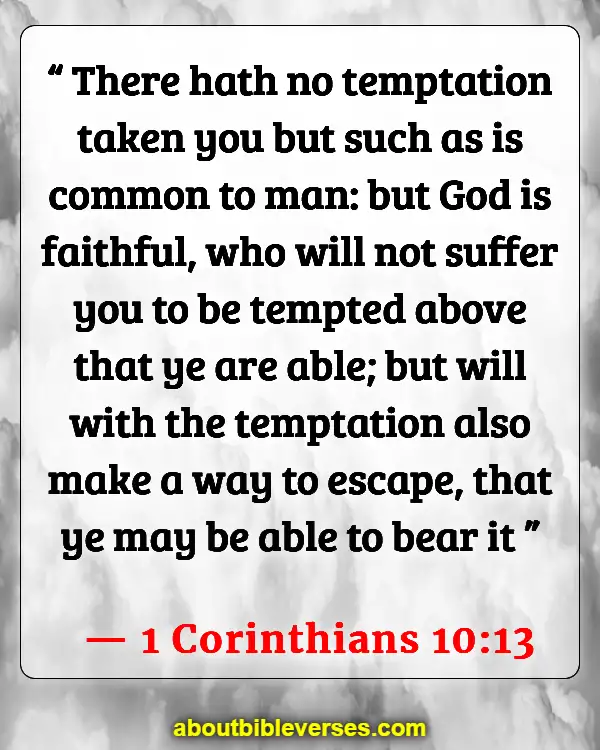 1 Corinthians 10:13
"There hath no temptation taken you but such as is common to man: but God is faithful, who will not suffer you to be tempted above that ye are able; but will with the temptation also make a way to escape, that ye may be able to bear it"
2 Corinthians 13:5
"Examine yourselves, whether ye be in the faith; prove your own selves. Know ye not your own selves, how that Jesus Christ is in you, except ye be reprobates?"
Galatians 6:4
"But let every man prove his own work, and then shall he have rejoicing in himself alone, and not in another"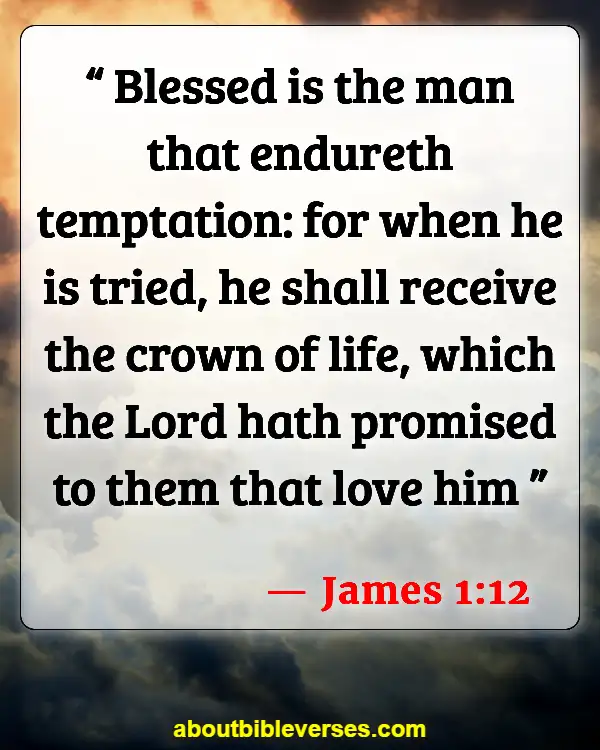 James 1:12
"Blessed is the man that endureth temptation: for when he is tried, he shall receive the crown of life, which the Lord hath promised to them that love him"
Hebrews 11:17
"By faith Abraham, when he was tried, offered up Isaac: and he that had received the promises offered up his only begotten son"
James 1:2-3
"My brethren, count it all joy when ye fall into divers temptations; Knowing this, that the trying of your faith worketh patience"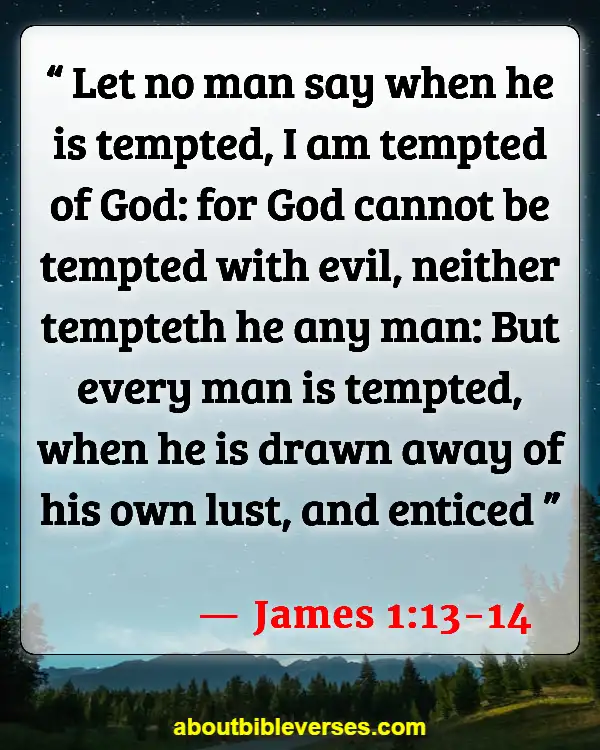 James 1:13-14
"Let no man say when he is tempted, I am tempted of God: for God cannot be tempted with evil, neither tempteth he any man: But every man is tempted, when he is drawn away of his own lust, and enticed"
1 Peter 1:6-7
"Wherein ye greatly rejoice, though now for a season, if need be, ye are in heaviness through manifold temptations: That the trial of your faith, being much more precious than of gold that perisheth, though it be tried with fire, might be found unto praise and honour and glory at the appearing of Jesus Christ"
1 Peter 4:12
"Beloved, think it not strange concerning the fiery trial which is to try you, as though some strange thing happened unto you"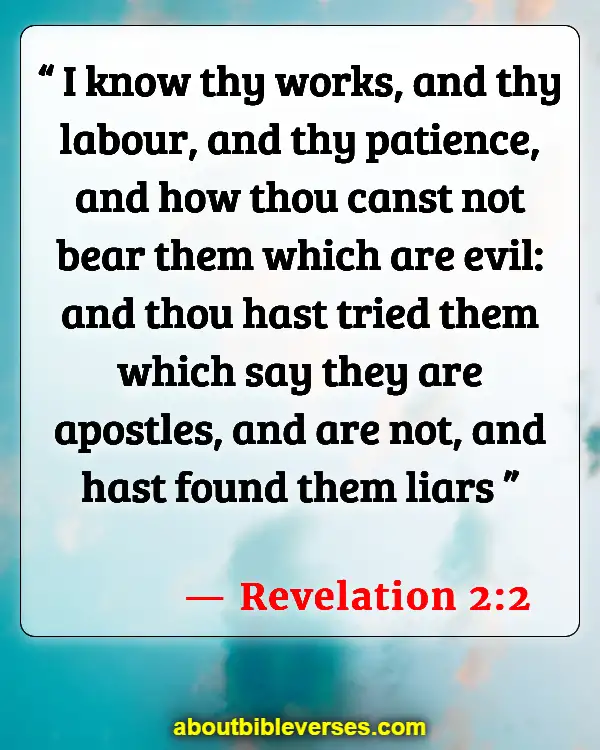 Revelation 2:2
"I know thy works, and thy labour, and thy patience, and how thou canst not bear them which are evil: and thou hast tried them which say they are apostles, and are not, and hast found them liars"