Hello dear friends, welcome to our site in the name of Jesus Christ. Today we will look at the Bible Scriptures About God Qualifies The Unqualified In KJV. If you like today's post then definitely comment and share.
Dear friends, our God is in the Kingdom Of Heaven to call the unqualified and equip them for His work. Throughout Scripture, we see Him choosing flawed and ordinary people, and empowering them to carry out His extraordinary plans.
Remember when God called Moses, who stuttered and stumbled over his words, to speak to Pharaoh and lead the Israelites out of Egypt? And what about Esther, an orphaned Jewish girl who became the queen of Persia just in time to save her people? God even chose the impulsive Peter, who would deny Jesus three times, to become a pillar of the early church.
Friends, if God can use them, He can certainly use us! Our weaknesses, failures, and insecurities do not disqualify us from God's service. In fact, He delights in taking our mess and turning it into a message…our tests into a testimony. When we surrender our lives fully to Him, He will equip us with exactly what we need to fulfill the calling of our lives.
You may feel unqualified right now. But don't count yourself out! God is not finished with you yet. Let Him transform you through His Spirit. Lean on His strength to overcome your weaknesses. He will surprise you with how much He can accomplish through willing and humble hearts.
Take courage, dear friends. The God who parted the Red Sea is the same God who parts the seas in front of you. Trust Him to qualify and empower you, just as He has done for so many before. He believes in you even when you don't believe in yourself. You are qualified through Him!
Dear friends now let's see the Bible scriptures below that talk about God Qualifies The Unqualified.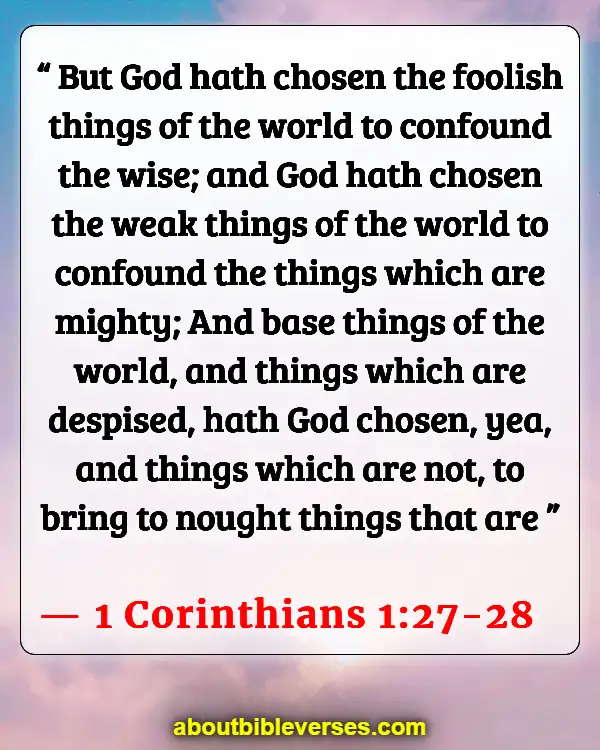 1 Corinthians 1:27-28
"But God hath chosen the foolish things of the world to confound the wise; and God hath chosen the weak things of the world to confound the things which are mighty; And base things of the world, and things which are despised, hath God chosen, yea, and things which are not, to bring to nought things that are"
2 Corinthians 12:9-10
"And he said unto me, My grace is sufficient for thee: for my strength is made perfect in weakness. Most gladly therefore will I rather glory in my infirmities, that the power of Christ may rest upon me. Therefore I take pleasure in infirmities, in reproaches, in necessities, in persecutions, in distresses for Christ's sake: for when I am weak, then am I strong"
Ephesians 2:8-9
"For by grace are ye saved through faith; and that not of yourselves: it is the gift of God: Not of works, lest any man should boast"
Matthew 9:13
"But go ye and learn what that meaneth, I will have mercy, and not sacrifice: for I am not come to call the righteous, but sinners to repentance"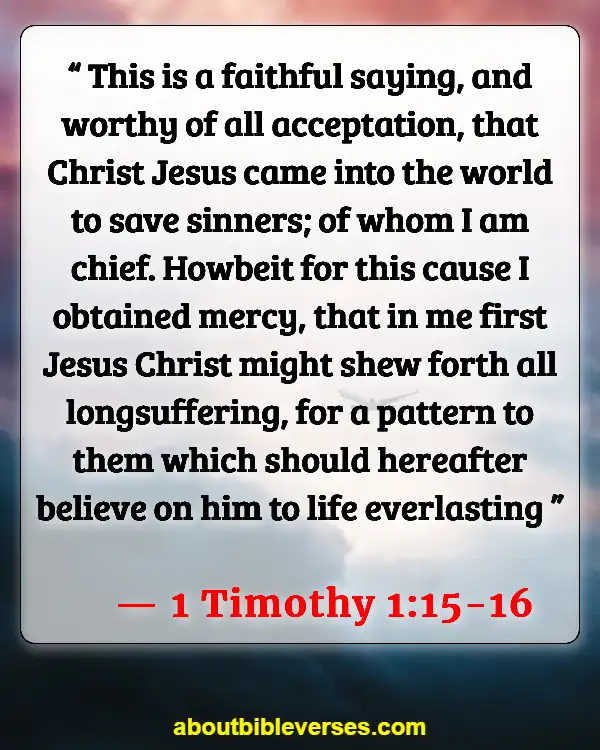 1 Timothy 1:15-16
"This is a faithful saying, and worthy of all acceptation, that Christ Jesus came into the world to save sinners; of whom I am chief. Howbeit for this cause I obtained mercy, that in me first Jesus Christ might shew forth all longsuffering, for a pattern to them which should hereafter believe on him to life everlasting"
James 2:5
"Hearken, my beloved brethren, Hath not God chosen the poor of this world rich in faith, and heirs of the kingdom which he hath promised to them that love him?"
John 15:16
"Ye have not chosen me, but I have chosen you, and ordained you, that ye should go and bring forth fruit, and that your fruit should remain: that whatsoever ye shall ask of the Father in my name, he may give it you"
1 Samuel 16:7
"But the Lord said unto Samuel, Look not on his countenance, or on the height of his stature; because I have refused him: for the Lord seeth not as man seeth; for man looketh on the outward appearance, but the Lord looketh on the heart"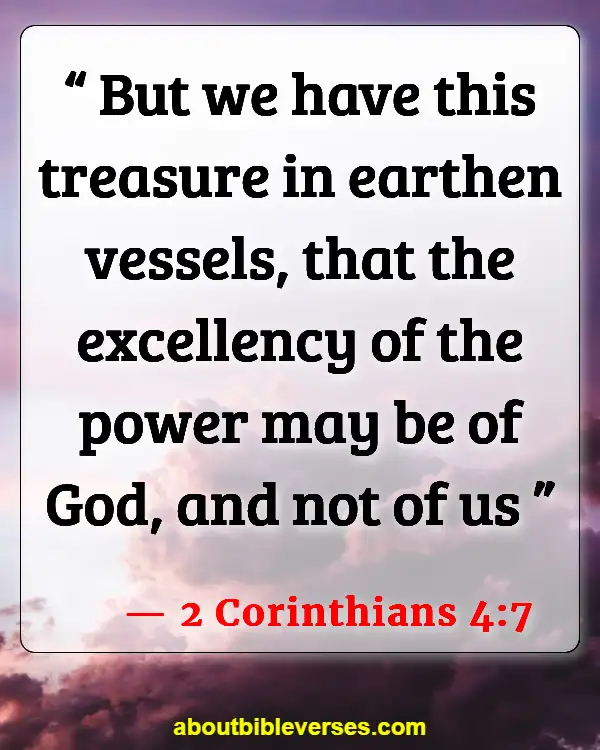 2 Corinthians 4:7
"But we have this treasure in earthen vessels, that the excellency of the power may be of God, and not of us"
Romans 8:28
"And we know that all things work together for good to them that love God, to them who are the called according to his purpose"
Philippians 4:13
"I can do all things through Christ which strengtheneth me"
Matthew 5:3
"Blessed are the poor in spirit: for theirs is the kingdom of heaven"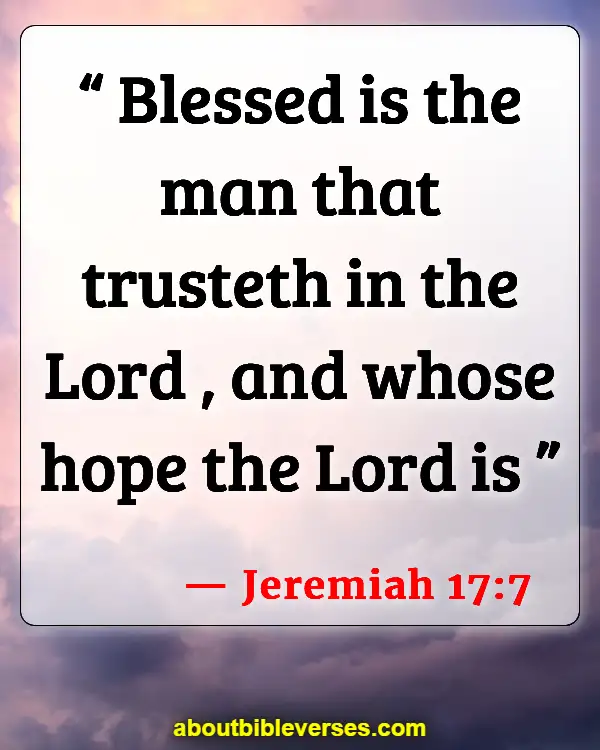 Jeremiah 17:7
"Blessed is the man that trusteth in the Lord , and whose hope the Lord is"
Exodus 3:11-12
"And Moses said unto God, Who am I, that I should go unto Pharaoh, and that I should bring forth the children of Israel out of Egypt? And he said, Certainly I will be with thee; and this shall be a token unto thee, that I have sent thee: When thou hast brought forth the people out of Egypt, ye shall serve God upon this mountain"
Isaiah 41:10
"Fear thou not; for I am with thee: be not dismayed; for I am thy God: I will strengthen thee; yea, I will help thee; yea, I will uphold thee with the right hand of my righteousness"
John 4:10
"Jesus answered and said unto her, If thou knewest the gift of God, and who it is that saith to thee, Give me to drink; thou wouldest have asked of him, and he would have given thee living water"
Psalm 34:18
"The Lord is nigh unto them that are of a broken heart; and saveth such as be of a contrite spirit"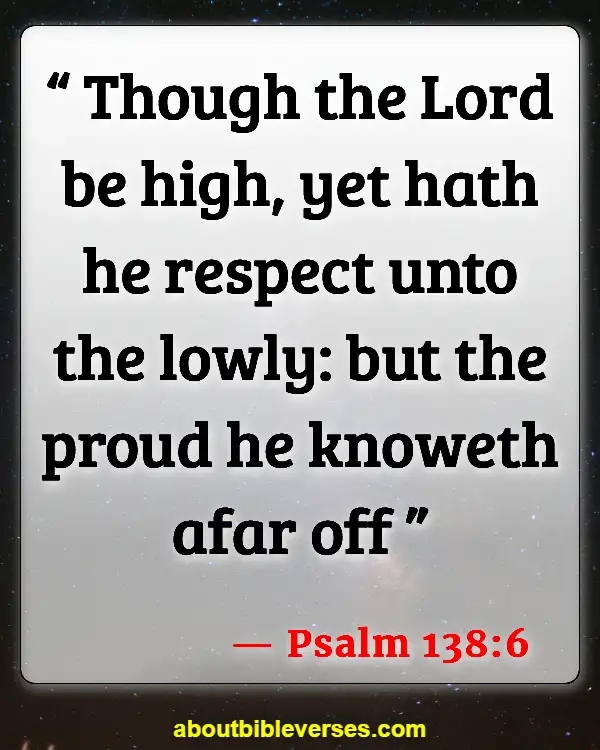 Psalm 138:6
"Though the Lord be high, yet hath he respect unto the lowly: but the proud he knoweth afar off"
Romans 4:5
"But to him that worketh not, but believeth on him that justifieth the ungodly, his faith is counted for righteousness"
1 Corinthians 15:10
"But by the grace of God I am what I am: and his grace which was bestowed upon me was not in vain; but I laboured more abundantly than they all: yet not I, but the grace of God which was with me"
Ephesians 3:7-8
"Whereof I was made a minister, according to the gift of the grace of God given unto me by the effectual working of his power. Unto me, who am less than the least of all saints, is this grace given, that I should preach among the Gentiles the unsearchable riches of Christ"
2 Timothy 2:21
"If a man therefore purge himself from these, he shall be a vessel unto honour, sanctified, and meet for the master's use, and prepared unto every good work"
1 Peter 5:5-6
"Likewise, ye younger, submit yourselves unto the elder. Yea, all of you be subject one to another, and be clothed with humility: for God resisteth the proud, and giveth grace to the humble. Humble yourselves therefore under the mighty hand of God, that he may exalt you in due time"
Isaiah 55:8-9
"For my thoughts are not your thoughts, neither are your ways my ways, saith the Lord . For as the heavens are higher than the earth, so are my ways higher than your ways, and my thoughts than your thoughts"
Matthew 11:28-29
"Come unto me, all ye that labour and are heavy laden, and I will give you rest. Take my yoke upon you, and learn of me; for I am meek and lowly in heart: and ye shall find rest unto your souls"
Psalm 145:8
"The Lord is gracious, and full of compassion; slow to anger, and of great mercy"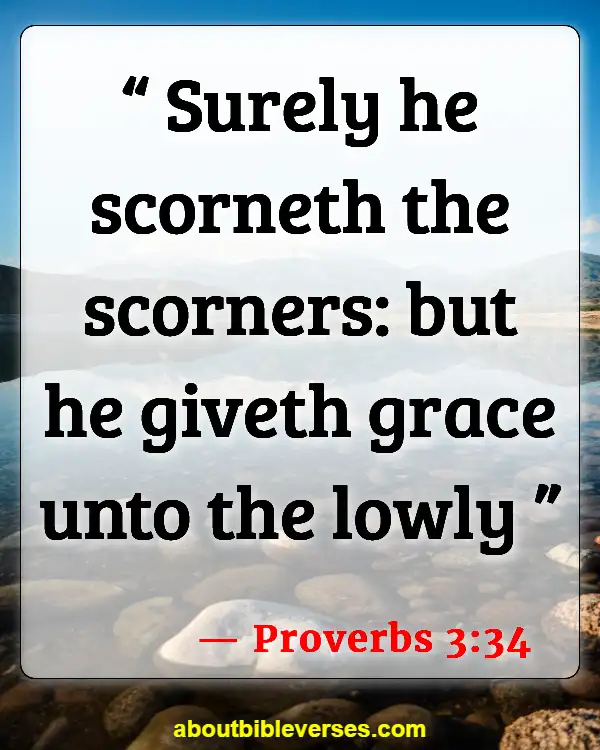 Proverbs 3:34
"Surely he scorneth the scorners: but he giveth grace unto the lowly"
2 Samuel 7:18
"Then went king David in, and sat before the Lord , and he said, Who am I, O Lord God ? and what is my house, that thou hast brought me hitherto?"
Luke 1:52-53
"He hath put down the mighty from their seats, and exalted them of low degree. He hath filled the hungry with good things; and the rich he hath sent empty away"
Romans 11:33-36
"O the depth of the riches both of the wisdom and knowledge of God! how unsearchable are his judgments, and his ways past finding out! For who hath known the mind of the Lord? or who hath been his counsellor? Or who hath first given to him, and it shall be recompensed unto him again? For of him, and through him, and to him, are all things: to whom be glory for ever. Amen"
1 Corinthians 2:9
"But as it is written, Eye hath not seen, nor ear heard, neither have entered into the heart of man, the things which God hath prepared for them that love him"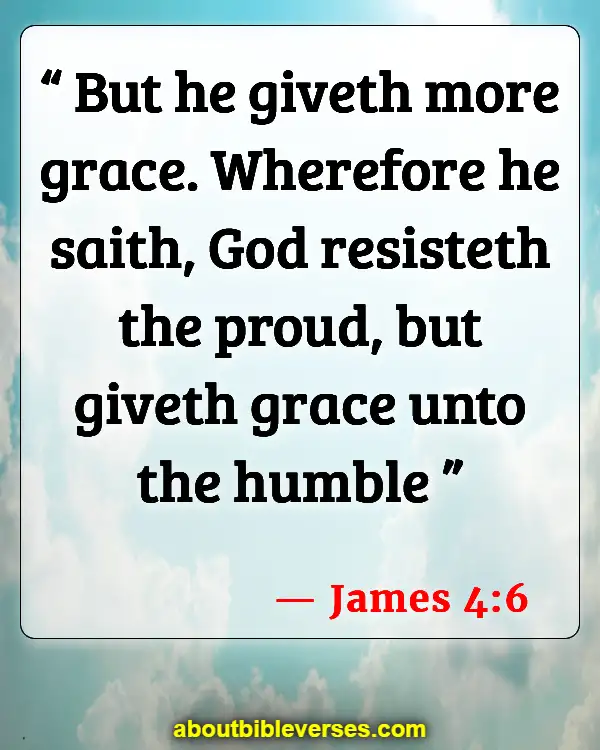 James 4:6
"But he giveth more grace. Wherefore he saith, God resisteth the proud, but giveth grace unto the humble"
Psalm 113:7-8
"He raiseth up the poor out of the dust, and lifteth the needy out of the dunghill; That he may set him with princes, even with the princes of his people"
Proverbs 25:7
"For better it is that it be said unto thee, Come up hither; than that thou shouldest be put lower in the presence of the prince whom thine eyes have seen"
Romans 9:15-16
"For he saith to Moses, I will have mercy on whom I will have mercy, and I will have compassion on whom I will have compassion. So then it is not of him that willeth, nor of him that runneth, but of God that sheweth mercy"
Philippians 2:13
"For it is God which worketh in you both to will and to do of his good pleasure"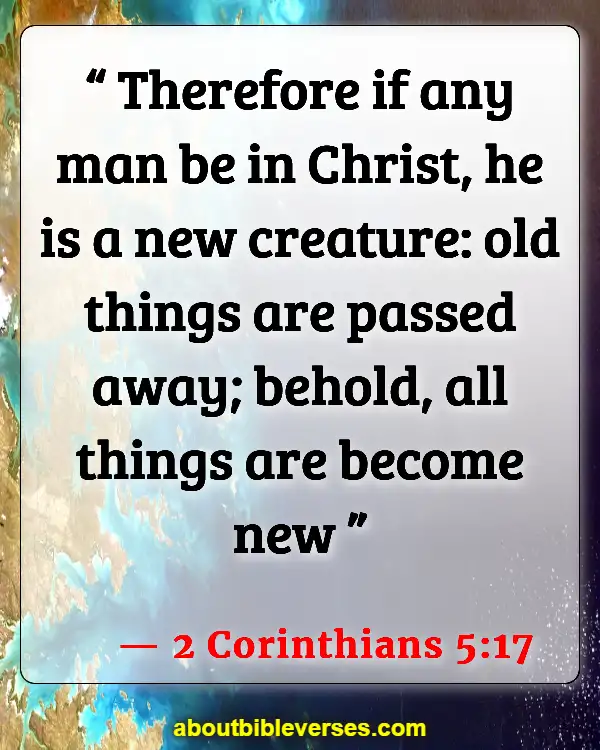 2 Corinthians 5:17
"Therefore if any man be in Christ, he is a new creature: old things are passed away; behold, all things are become new"
Ezekiel 36:26
"A new heart also will I give you, and a new spirit will I put within you: and I will take away the stony heart out of your flesh, and I will give you an heart of flesh"
Jeremiah 31:3
"The Lord hath appeared of old unto me, saying, Yea, I have loved thee with an everlasting love: therefore with lovingkindness have I drawn thee"
Lamentations 3:22-23
"It is of the Lord 's mercies that we are not consumed, because his compassions fail not. They are new every morning: great is thy faithfulness"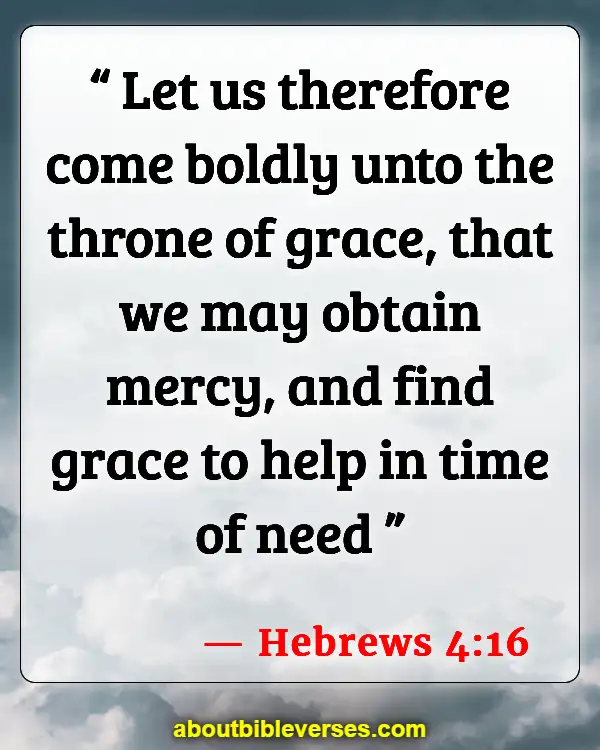 Hebrews 4:16
"Let us therefore come boldly unto the throne of grace, that we may obtain mercy, and find grace to help in time of need"