Hello dear friends, welcome to our site in the name of Jesus Christ. Today we will look at the Bible Scriptures About God Give Us Freedom Of Choice In KJV. If you like today's post then definitely comment and share.
The Bible teaches that our freedom of choice is a precious gift from God, allowing us to shape our lives and destiny. The Bible emphasizes this profound concept, often referred to as free will, that allows us to make our own decisions.
In the Garden of Eden, God gave Adam and Eve the power to choose. He placed before them the tree of the knowledge of good and evil and gave them the choice to obey or disobey (Genesis 2:16-17).
As we turn the pages of the Bible, we encounter countless individuals who have exercised their free will to choose between good and evil, obedience and disobedience, life and death.
Remember when God urged the Israelites in Deuteronomy 30:19 to follow His commandments and choose life? Saying, I have set before you life and death, blessing and cursing: therefore choose life, So that both you and your offspring may live.
In the New Testament, where the concept of free will continues to be emphasized. In Galatians 5:1, Paul reminds us to stand firm in the freedom Christ has given us. He encourages believers to use their freedom wisely in Galatians 5:13.
Freedom of choice is a precious gift from God that allows us to make decisions in life and determine our destiny. With this gift comes immense responsibility—the responsibility to make decisions that align with God's plan for us.
So, let's use our free will responsibly, guided by God's wisdom, and experience the incredible blessings He has in store for us! Are you ready to make the right choice in your life?
Dear friends now let's see the Bible scriptures below that talk about God Give Us Freedom Of Choice.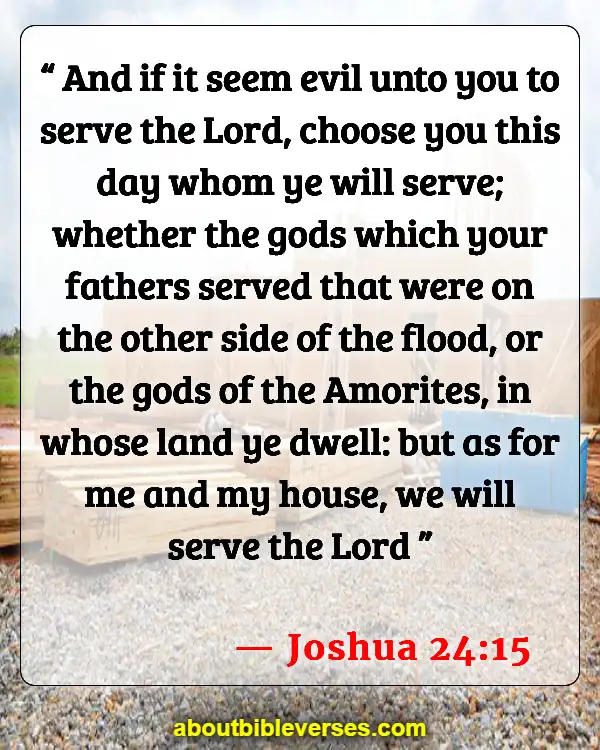 Joshua 24:15
"And if it seem evil unto you to serve the Lord , choose you this day whom ye will serve; whether the gods which your fathers served that were on the other side of the flood, or the gods of the Amorites, in whose land ye dwell: but as for me and my house, we will serve the Lord"
Proverbs 16:9
"A man's heart deviseth his way: but the Lord directeth his steps"
Romans 12:2
"And be not conformed to this world: but be ye transformed by the renewing of your mind, that ye may prove what is that good, and acceptable, and perfect, will of God"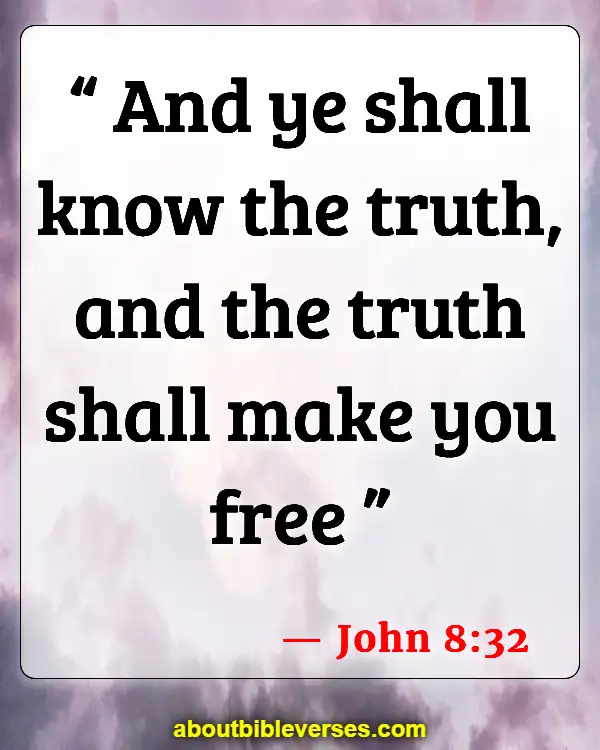 John 8:32
"And ye shall know the truth, and the truth shall make you free"
James 1:5
"If any of you lack wisdom, let him ask of God, that giveth to all men liberally, and upbraideth not; and it shall be given him"
James 1:25
"But whoso looketh into the perfect law of liberty, and continueth therein, he being not a forgetful hearer, but a doer of the work, this man shall be blessed in his deed"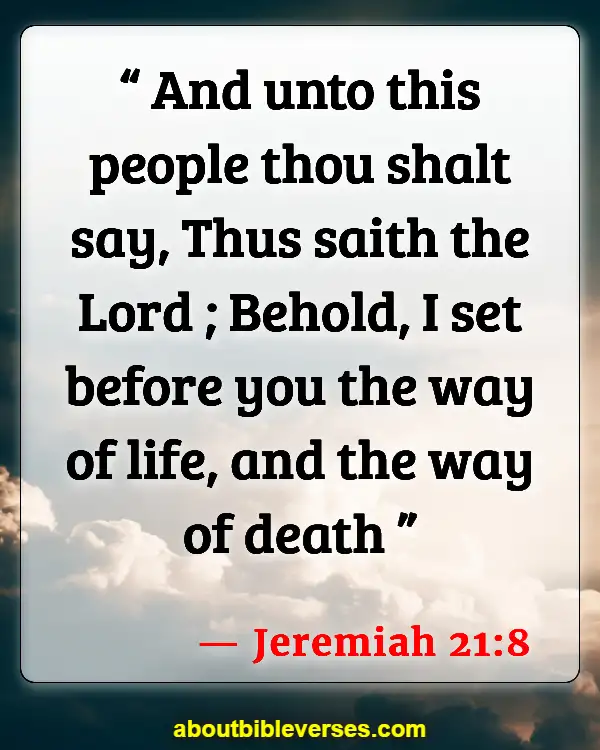 Jeremiah 21:8
"And unto this people thou shalt say, Thus saith the Lord ; Behold, I set before you the way of life, and the way of death"
1 Peter 2:16
"As free, and not using your liberty for a cloke of maliciousness, but as the servants of God"
Galatians 6:7
"Be not deceived; God is not mocked: for whatsoever a man soweth, that shall he also reap"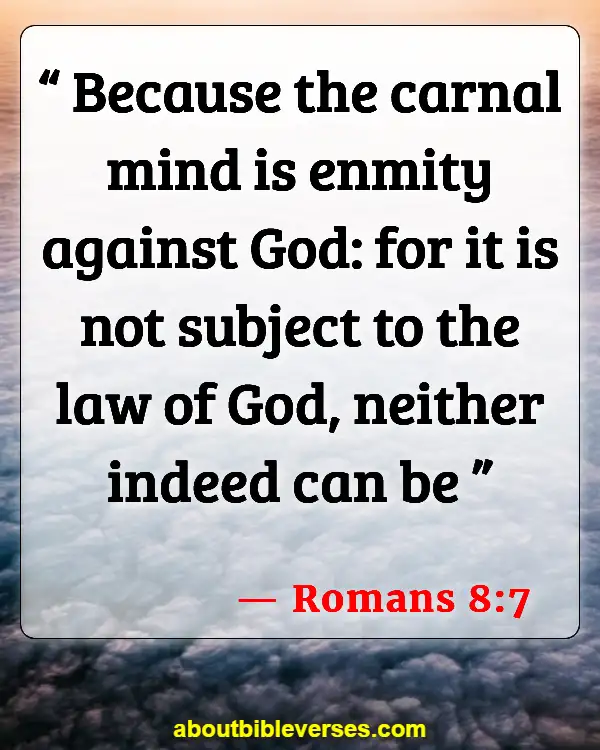 Romans 8:7
"Because the carnal mind is enmity against God: for it is not subject to the law of God, neither indeed can be"
Acts 13:48
"And when the Gentiles heard this, they were glad, and glorified the word of the Lord: and as many as were ordained to eternal life believed"
2 Thessalonians 2:13
"But we are bound to give thanks alway to God for you, brethren beloved of the Lord, because God hath from the beginning chosen you to salvation through sanctification of the Spirit and belief of the truth"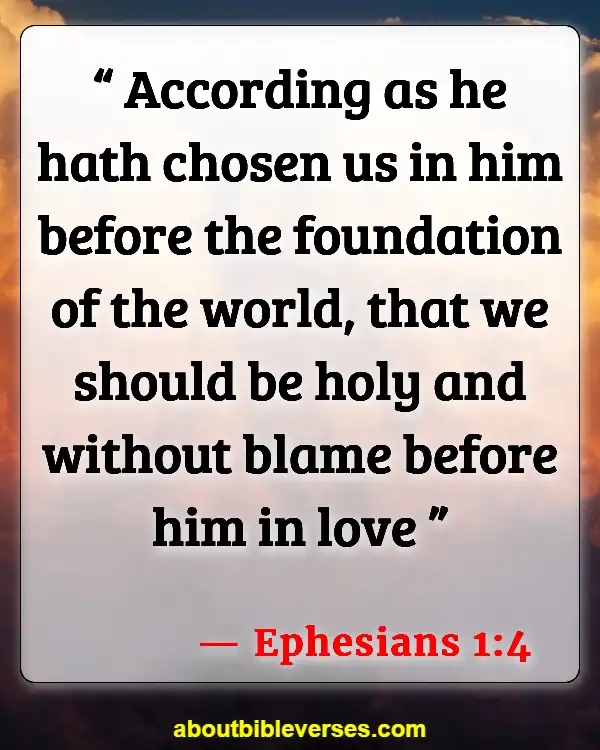 Ephesians 1:4
"According as he hath chosen us in him before the foundation of the world, that we should be holy and without blame before him in love"
2 Corinthians 5:17
"Therefore if any man be in Christ, he is a new creature: old things are passed away; behold, all things are become new"
Romans 6:18
"Being then made free from sin, ye became the servants of righteousness"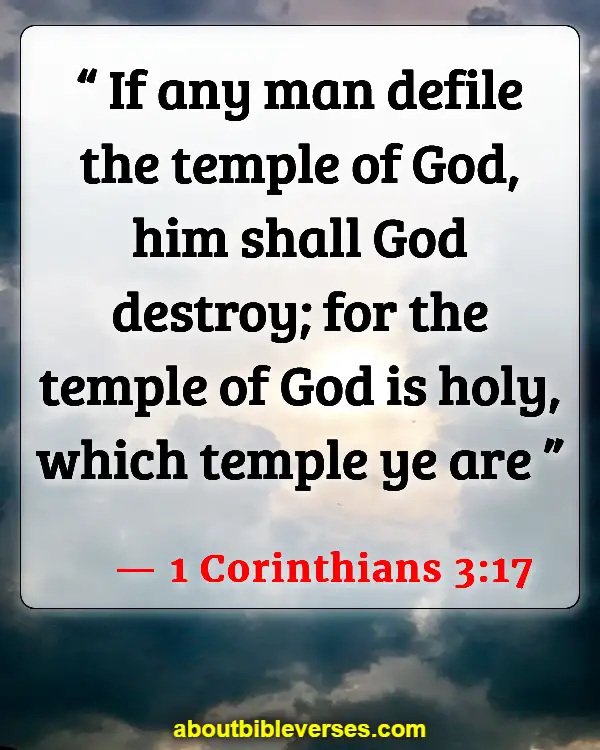 1 Corinthians 3:17
"If any man defile the temple of God, him shall God destroy; for the temple of God is holy, which temple ye are"
John 8:2
"And early in the morning he came again into the temple, and all the people came unto him; and he sat down, and taught them"
Proverbs 19:23
"The fear of the Lord tendeth to life: and he that hath it shall abide satisfied; he shall not be visited with evil"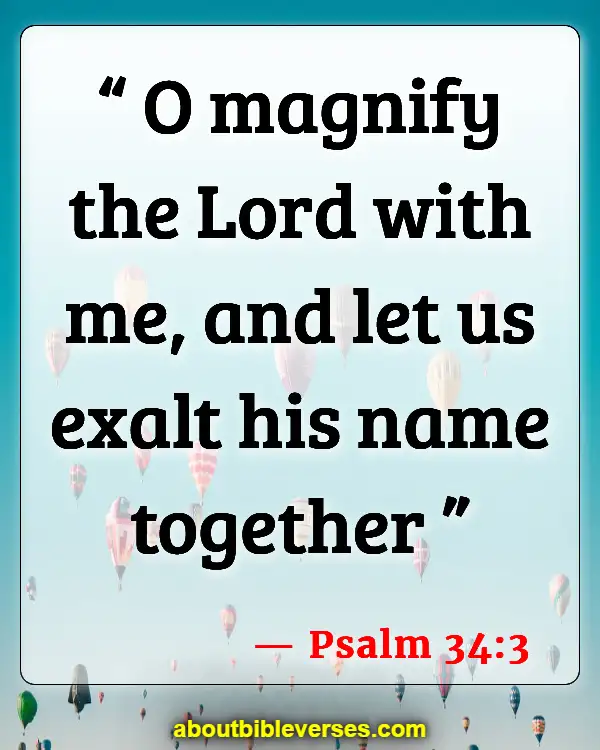 Psalm 34:3
"O magnify the Lord with me, and let us exalt his name together"
1 Peter 2:2
"As newborn babes, desire the sincere milk of the word, that ye may grow thereby"
2 Corinthians 3:5
"Not that we are sufficient of ourselves to think any thing as of ourselves; but our sufficiency is of God"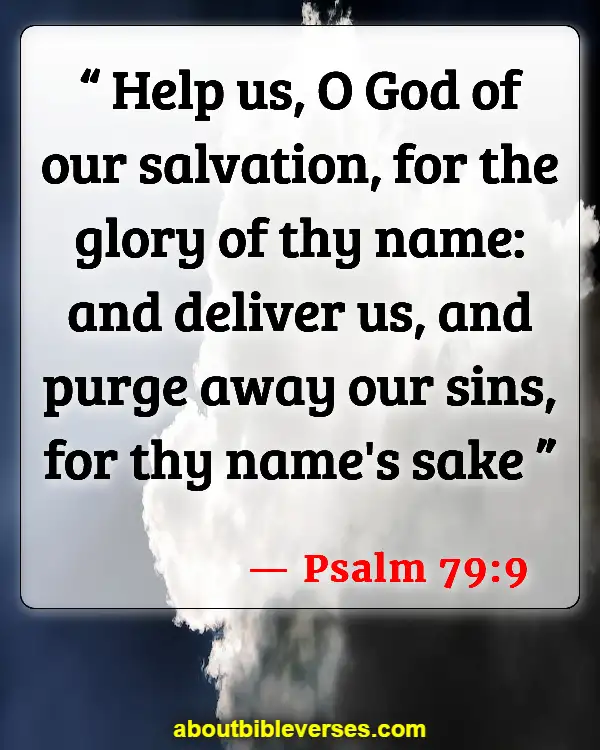 Psalm 79:9
"Help us, O God of our salvation, for the glory of thy name: and deliver us, and purge away our sins, for thy name's sake"
1 John 5:3-4
"For this is the love of God, that we keep his commandments: and his commandments are not grievous. For whatsoever is born of God overcometh the world: and this is the victory that overcometh the world, even our faith"
Titus 2:11-12
"For the grace of God that bringeth salvation hath appeared to all men, Teaching us that, denying ungodliness and worldly lusts, we should live soberly, righteously, and godly, in this present world"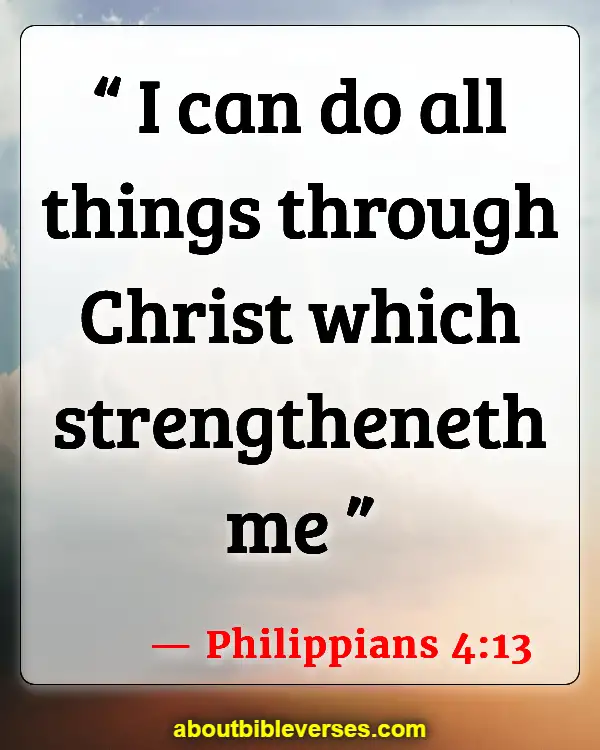 Philippians 4:13
"I can do all things through Christ which strengtheneth me"
Proverbs 8:10-11
"Receive my instruction, and not silver; and knowledge rather than choice gold. For wisdom is better than rubies; and all the things that may be desired are not to be compared to it"
Ecclesiastes 7:29
"Lo, this only have I found, that God hath made man upright; but they have sought out many inventions"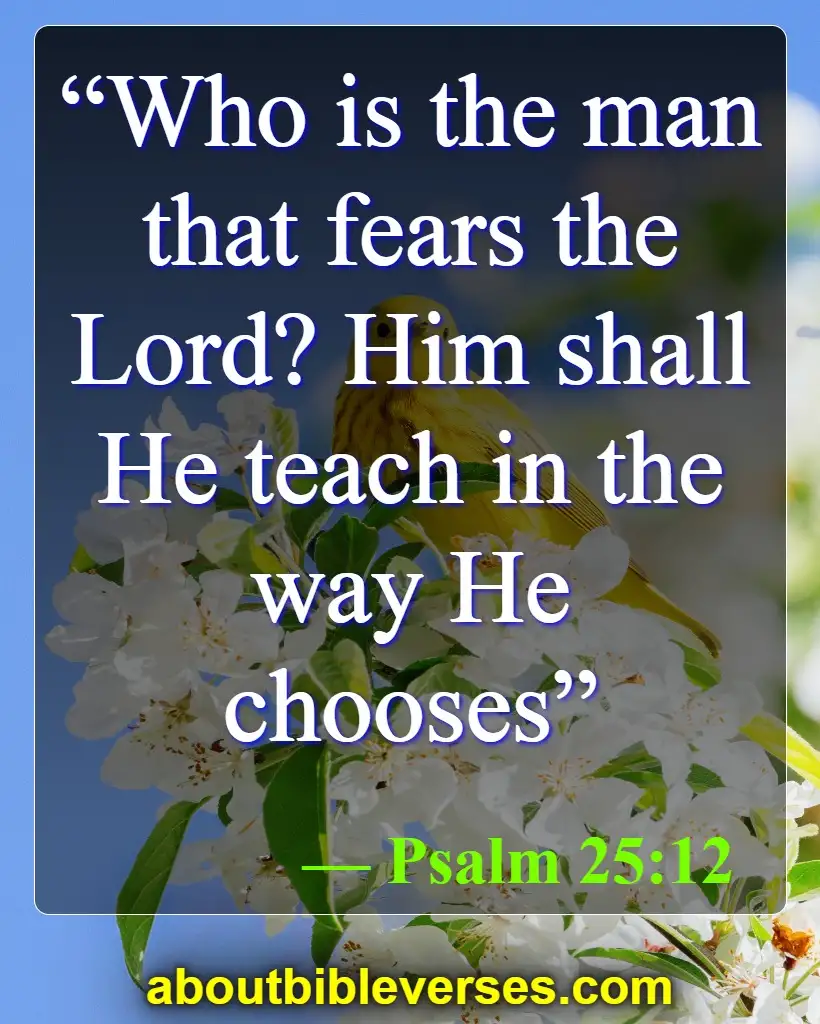 Psalm 25:12
"What man is he that feareth the Lord ? him shall he teach in the way that he shall choose"
Isaiah 55:6-7
"Seek ye the Lord while he may be found, call ye upon him while he is near: Let the wicked forsake his way, and the unrighteous man his thoughts: and let him return unto the Lord , and he will have mercy upon him; and to our God, for he will abundantly pardon"
Ezekiel 33:11
"Say unto them, As I live, saith the Lord God , I have no pleasure in the death of the wicked; but that the wicked turn from his way and live: turn ye, turn ye from your evil ways; for why will ye die, O house of Israel?"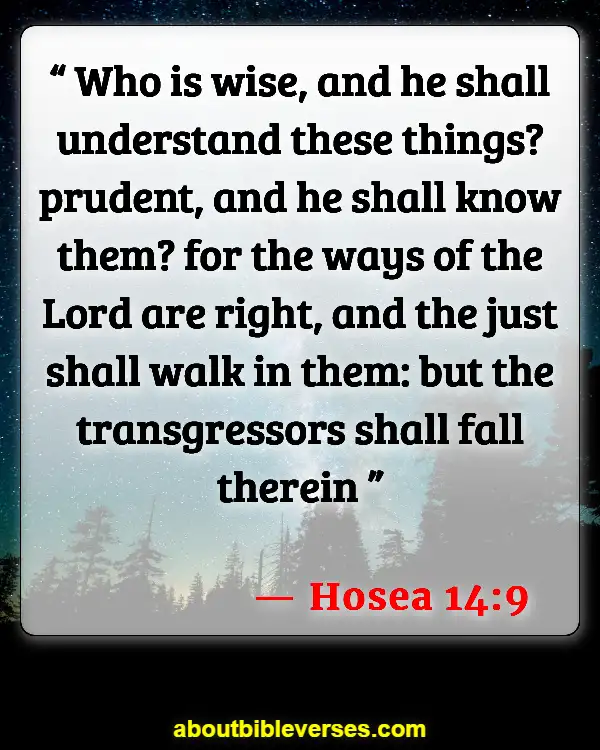 Hosea 14:9
"Who is wise, and he shall understand these things? prudent, and he shall know them? for the ways of the Lord are right, and the just shall walk in them: but the transgressors shall fall therein"
Micah 6:8
"He hath shewed thee, O man, what is good; and what doth the Lord require of thee, but to do justly, and to love mercy, and to walk humbly with thy God?"
Haggai 1:5
"Now therefore thus saith the Lord of hosts; Consider your ways"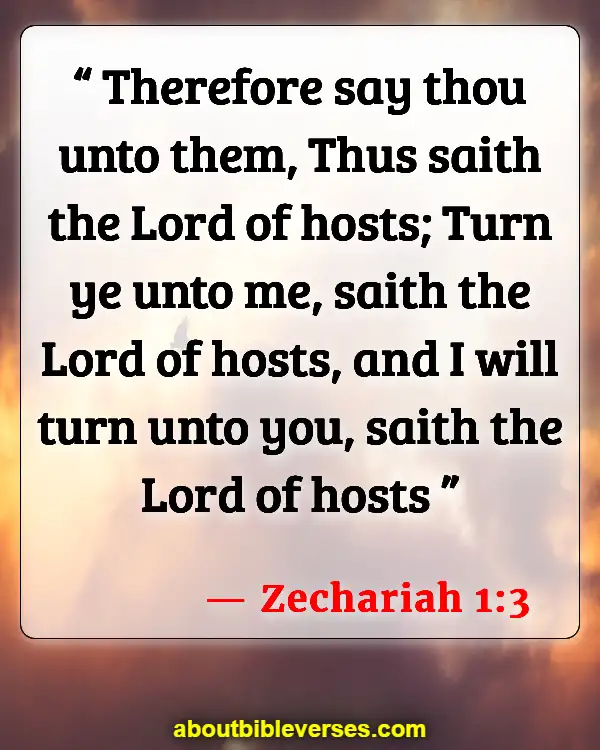 Zechariah 1:3
"Therefore say thou unto them, Thus saith the Lord of hosts; Turn ye unto me, saith the Lord of hosts, and I will turn unto you, saith the Lord of hosts"