Hello dear friends, welcome to our site in the name of Jesus Christ. Today we will look at the Bible Scriptures About Finding Your Purpose In KJV. If you like today's post then definitely comment and share.
The Bible shares a beautiful truth – that each of us is created with a unique purpose, intentionally created by God. Just like the many parts of the body, each serving a specific function, every person has a purpose. Some might be called to lead, while others to nurture; some to inspire, others to build.
To Find our divine purpose, the Bible encourages us to connect with God through prayer and reflection. By opening our hearts and minds to His guidance, we can gain clarity about our path.
Sometimes, finding our purpose can feel like trying to find a hidden treasure. We may have to face the storm. It's not always easy, but every step is an opportunity to grow, to learn, to grow closer to God. And just as a shepherd leads his flock, God leads us.
At times, we may feel lost or uncertain. But remember, even in the darkest night, the stars can guide us home. The Bible assures us that God's love is like a lighthouse, always shining brightly, guiding us back when we lose our way.
Life's purpose isn't just about doing—it's about becoming. Becoming more loving, more understanding, more like God. It's about learning to live not just for ourselves, but for others. For as we share love, kindness, and joy, we not only find our purpose—we also find our place in God's grand design.
Dear friends now let's see the Bible scriptures below that talk about Finding Your Purpose.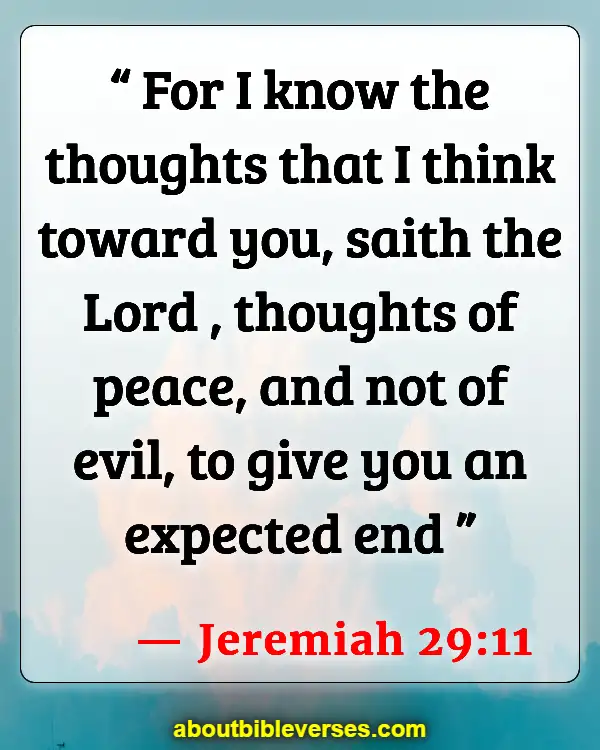 Jeremiah 29:11
"For I know the thoughts that I think toward you, saith the Lord , thoughts of peace, and not of evil, to give you an expected end"
Ephesians 2:10
"For we are his workmanship, created in Christ Jesus unto good works, which God hath before ordained that we should walk in them"
Romans 12:6
"Having then gifts differing according to the grace that is given to us, whether prophecy, let us prophesy according to the proportion of faith"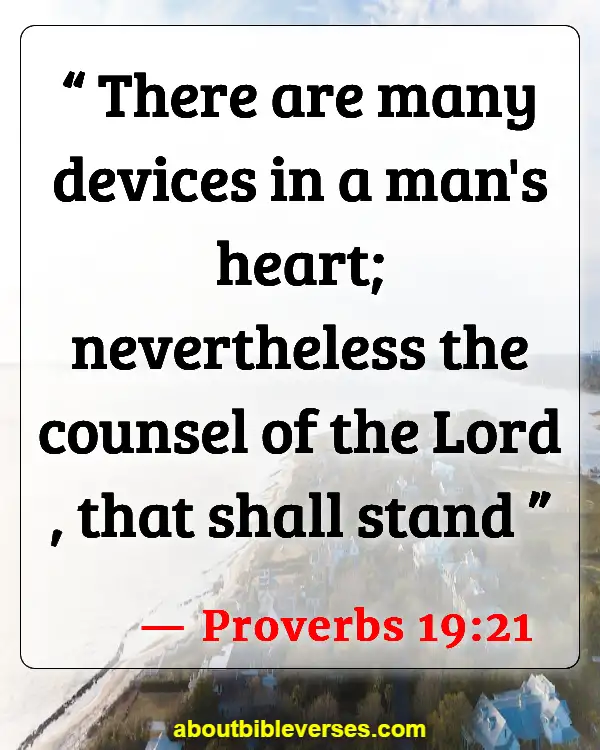 Proverbs 19:21
"There are many devices in a man's heart; nevertheless the counsel of the Lord, that shall stand"
Romans 8:28
"And we know that all things work together for good to them that love God, to them who are the called according to his purpose"
1 Corinthians 7:7
"For I would that all men were even as I myself. But every man hath his proper gift of God, one after this manner, and another after that"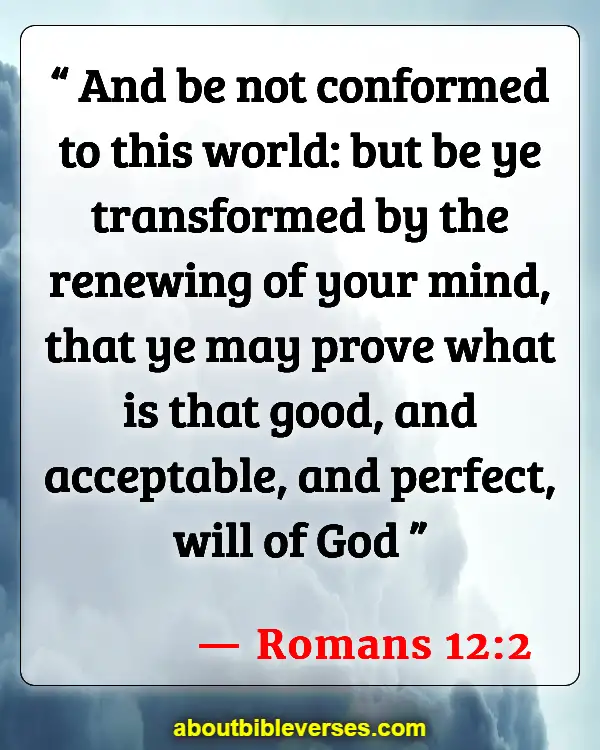 Romans 12:2
"And be not conformed to this world: but be ye transformed by the renewing of your mind, that ye may prove what is that good, and acceptable, and perfect, will of God"
Matthew 25:15
"And unto one he gave five talents, to another two, and to another one; to every man according to his several ability; and straightway took his journey"
1 Peter 4:10
"As every man hath received the gift, even so minister the same one to another, as good stewards of the manifold grace of God"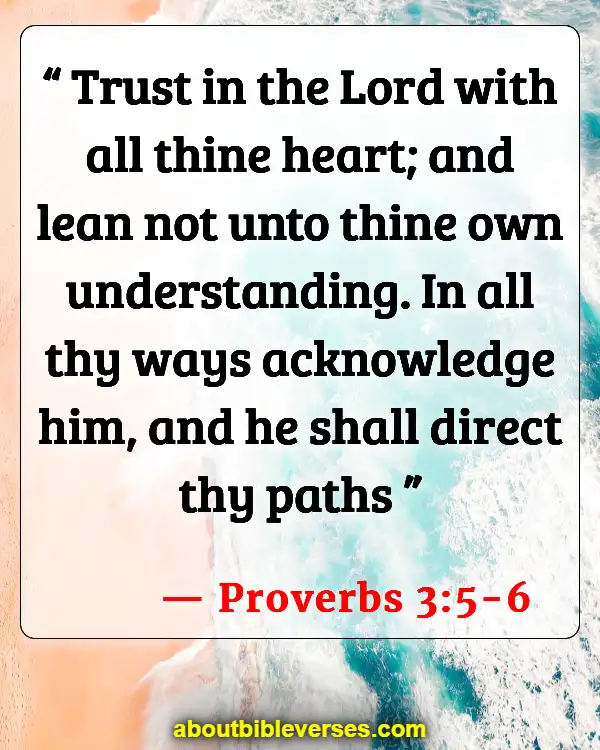 Proverbs 3:5-6
"Trust in the Lord with all thine heart; and lean not unto thine own understanding. In all thy ways acknowledge him, and he shall direct thy paths"
Ecclesiastes 3:1
"To every thing there is a season, and a time to every purpose under the heaven"
John 15:16
"Ye have not chosen me, but I have chosen you, and ordained you, that ye should go and bring forth fruit, and that your fruit should remain: that whatsoever ye shall ask of the Father in my name, he may give it you"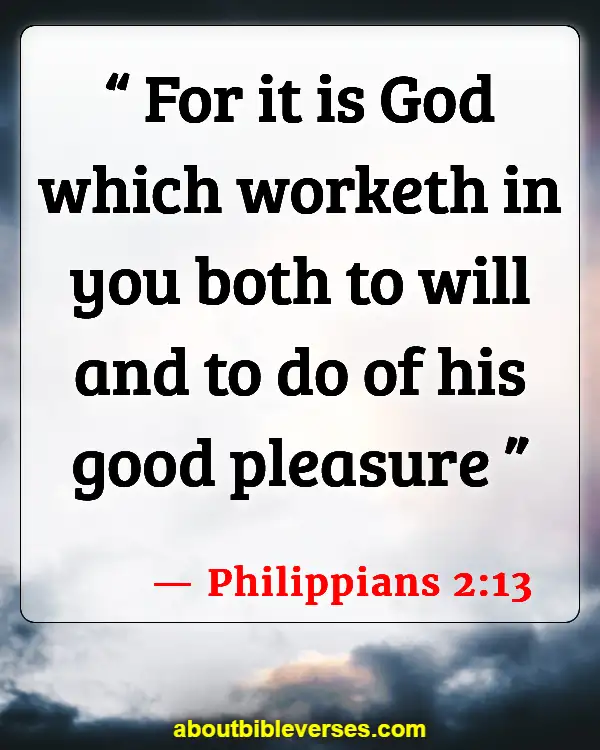 Philippians 2:13
"For it is God which worketh in you both to will and to do of his good pleasure"
Isaiah 43:7
"Even every one that is called by my name: for I have created him for my glory, I have formed him; yea, I have made him"
Luke 12:31
"But rather seek ye the kingdom of God; and all these things shall be added unto you"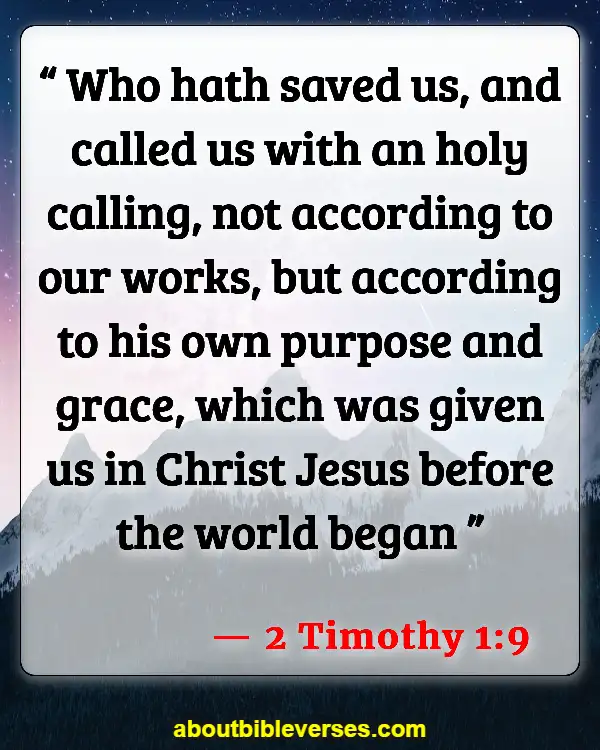 2 Timothy 1:9
"Who hath saved us, and called us with an holy calling, not according to our works, but according to his own purpose and grace, which was given us in Christ Jesus before the world began"
Colossians 3:23
"And whatsoever ye do, do it heartily, as to the Lord, and not unto men"
Romans 12:4-5
"For as we have many members in one body, and all members have not the same office: So we, being many, are one body in Christ, and every one members one of another"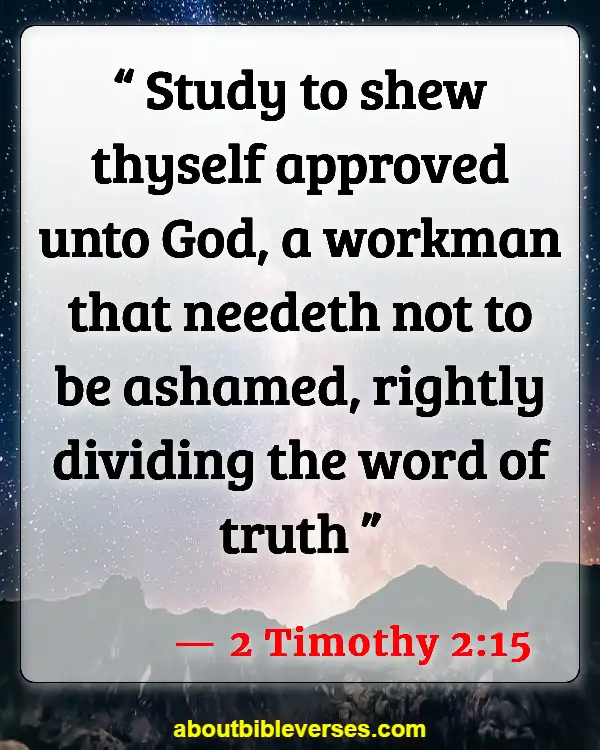 2 Timothy 2:15
"Study to shew thyself approved unto God, a workman that needeth not to be ashamed, rightly dividing the word of truth"
2 Corinthians 5:20
"Now then we are ambassadors for Christ, as though God did beseech you by us: we pray you in Christ's stead, be ye reconciled to God"
Galatians 6:4
"But let every man prove his own work, and then shall he have rejoicing in himself alone, and not in another"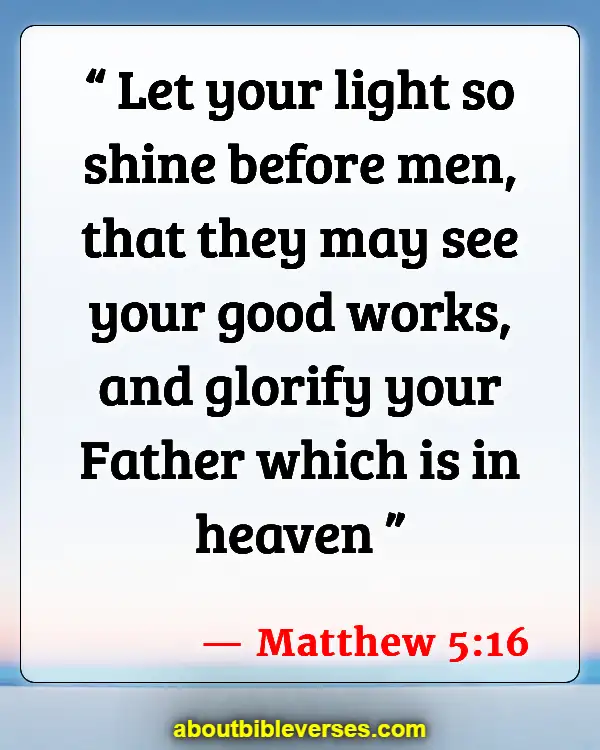 Matthew 5:16
"Let your light so shine before men, that they may see your good works, and glorify your Father which is in heaven"
Psalm 57:2
"I will cry unto God most high; unto God that performeth all things for me"
1 Corinthians 10:31
"Whether therefore ye eat, or drink, or whatsoever ye do, do all to the glory of God"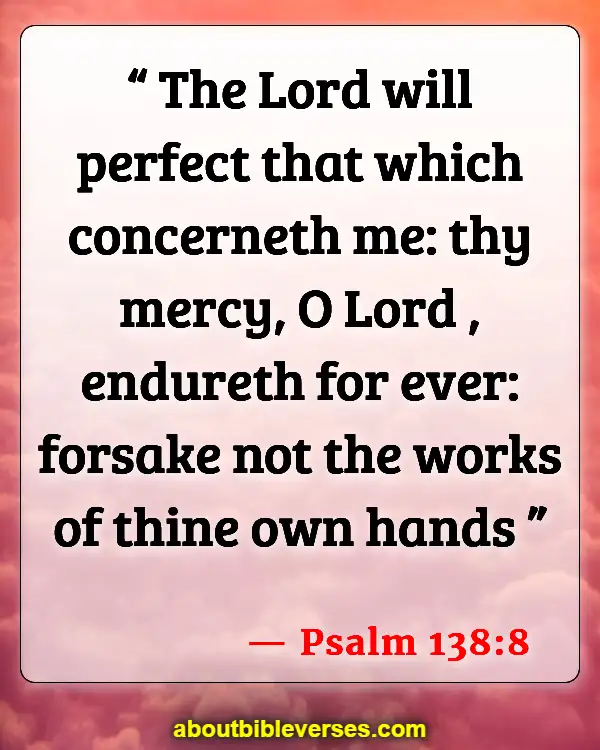 Psalm 138:8
"The Lord will perfect that which concerneth me: thy mercy, O Lord , endureth for ever: forsake not the works of thine own hands"
Isaiah 58:11
"And the Lord shall guide thee continually, and satisfy thy soul in drought, and make fat thy bones: and thou shalt be like a watered garden, and like a spring of water, whose waters fail not"
Proverbs 16:3
"Commit thy works unto the Lord , and thy thoughts shall be established"
Mark 16:15
"And he said unto them, Go ye into all the world, and preach the gospel to every creature"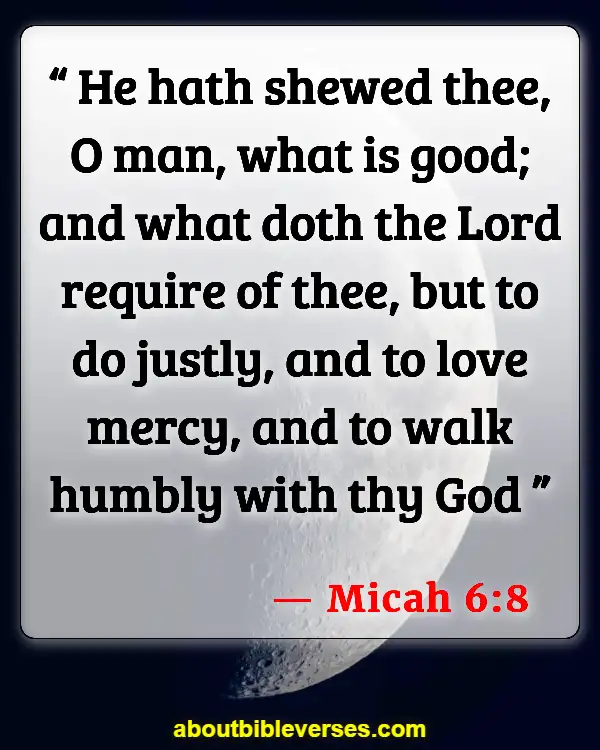 Micah 6:8
"He hath shewed thee, O man, what is good; and what doth the Lord require of thee, but to do justly, and to love mercy, and to walk humbly with thy God?"
1 Peter 2:9
"But ye are a chosen generation, a royal priesthood, an holy nation, a peculiar people; that ye should shew forth the praises of him who hath called you out of darkness into his marvellous light"
Acts 20:24
"But none of these things move me, neither count I my life dear unto myself, so that I might finish my course with joy, and the ministry, which I have received of the Lord Jesus, to testify the gospel of the grace of God"
Philippians 1:6
"Being confident of this very thing, that he which hath begun a good work in you will perform it until the day of Jesus Christ"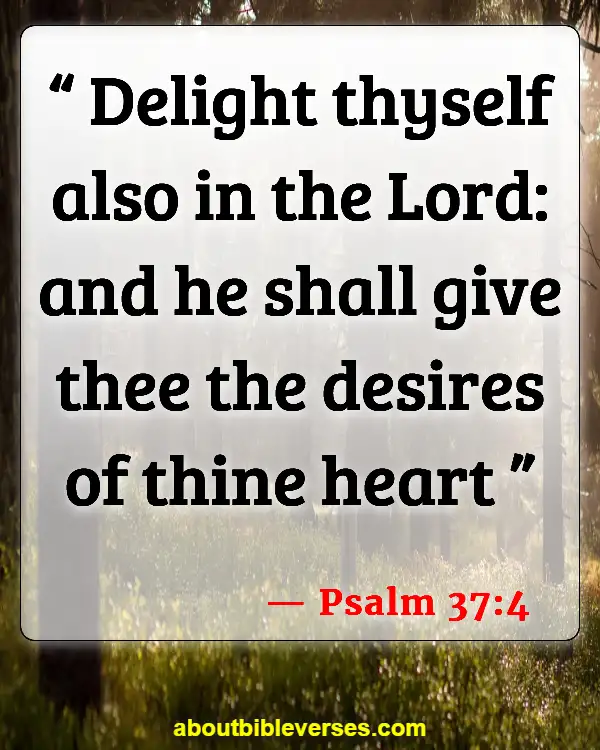 Psalm 37:4
"Delight thyself also in the Lord : and he shall give thee the desires of thine heart"
James 1:17
"Every good gift and every perfect gift is from above, and cometh down from the Father of lights, with whom is no variableness, neither shadow of turning"
1 Thessalonians 5:18
"In every thing give thanks: for this is the will of God in Christ Jesus concerning you"
Romans 8:5
"For they that are after the flesh do mind the things of the flesh; but they that are after the Spirit the things of the Spirit"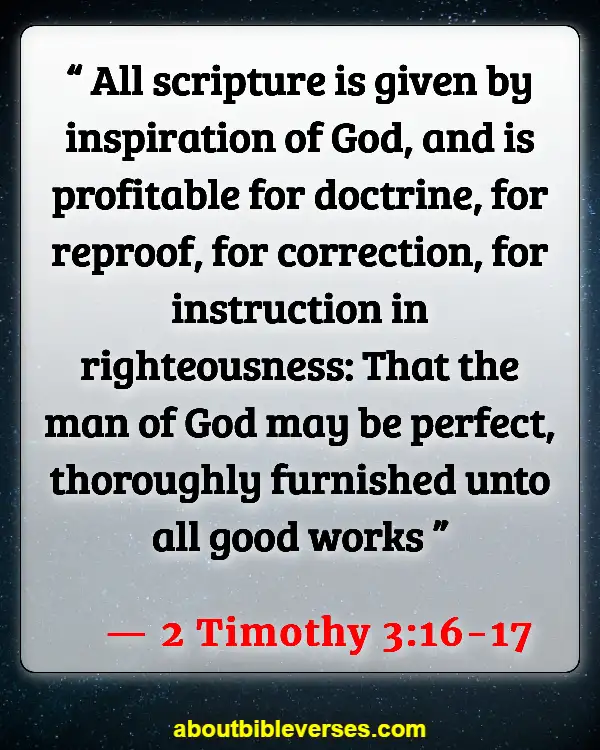 2 Timothy 3:16-17
"All scripture is given by inspiration of God, and is profitable for doctrine, for reproof, for correction, for instruction in righteousness: That the man of God may be perfect, thoroughly furnished unto all good works"