Dear friends, money troubles and financial lack can weigh heavily on our hearts. But Scripture offers wisdom, hope, and encouragement regarding how to overcome difficult economic times.
When finances are tight, it's easy to become consumed with worry and doubt. However, Jesus urges us not to be anxious about provision, but to seek His kingdom first. God promises to supply all our needs when we trust in Him. Stories of God's faithfulness to His people reinforce this truth.
The Scriptures remind us that our Heavenly Father knows our needs before we even ask. Just as He provided manna from heaven to sustain His people, He will also provide for us in our times of need. It is written, "Look at the birds of the air; they do not sow or reap or store away in barns, and yet your heavenly Father feeds them. Are you not much more valuable than they?"
The apostle Paul said he had learned to be content whether living in abundance or in need. He knew how to get along with humble means and how to live in prosperity. Paul found strength in Christ to face all situations.
Even in times of scarcity, do not lose faith. Recall the miracle of the loaves and fishes, where Jesus multiplied a humble offering to feed a multitude. Likewise, He can turn our meager means into abundance if we remain steadfast in our trust.
Dear friends, financial problems may test our faith, but let us never forget that our Heavenly Father's love and provision are unending.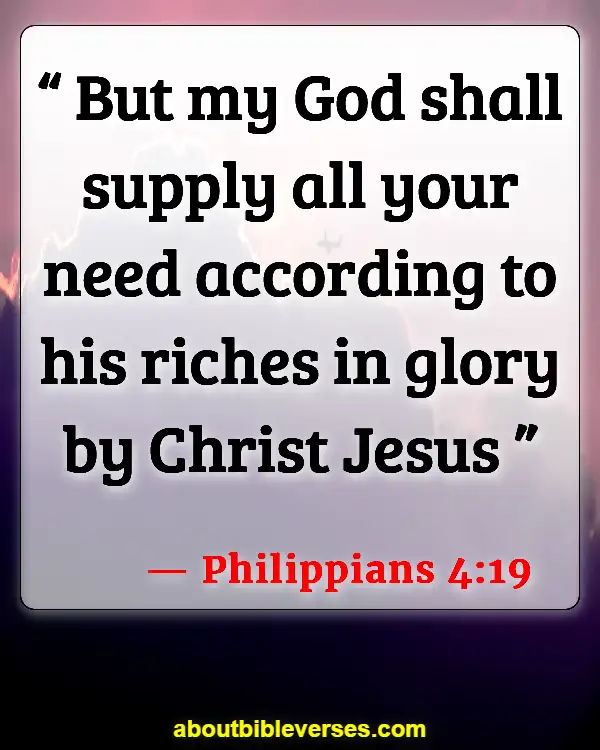 Philippians 4:19
"But my God shall supply all your need according to his riches in glory by Christ Jesus"
Ecclesiastes 5:19-20
"Every man also to whom God hath given riches and wealth, and hath given him power to eat thereof, and to take his portion, and to rejoice in his labour; this is the gift of God. For he shall not much remember the days of his life; because God answereth him in the joy of his heart"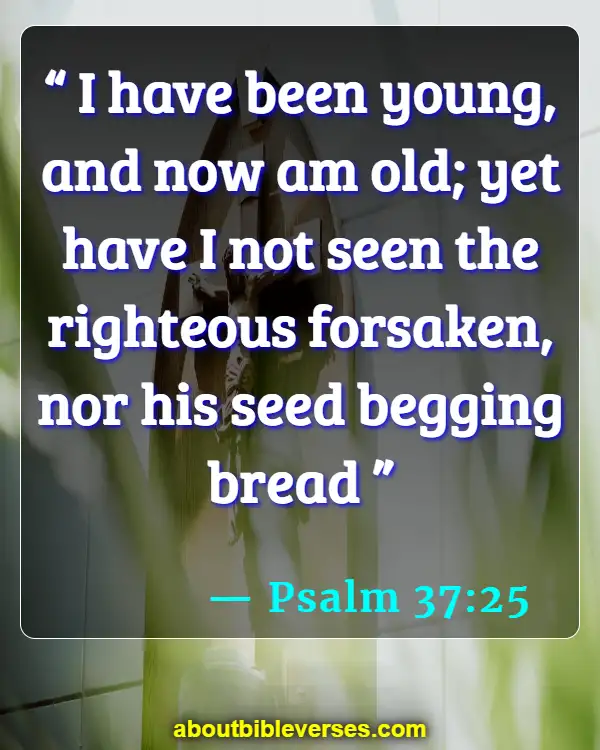 Psalm 37:25
"I have been young, and now am old; yet have I not seen the righteous forsaken, nor his seed begging bread"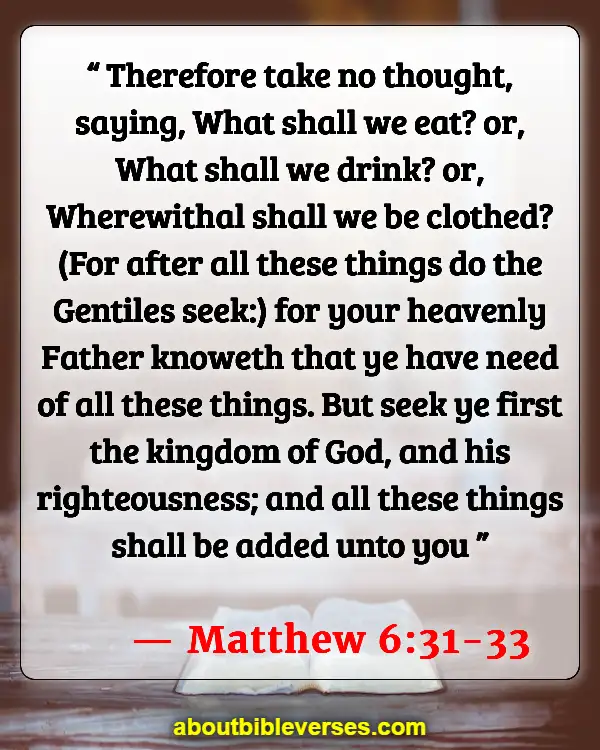 Matthew 6:31-33
"Therefore take no thought, saying, What shall we eat? or, What shall we drink? or, Wherewithal shall we be clothed? (For after all these things do the Gentiles seek:) for your heavenly Father knoweth that ye have need of all these things. But seek ye first the kingdom of God, and his righteousness; and all these things shall be added unto you"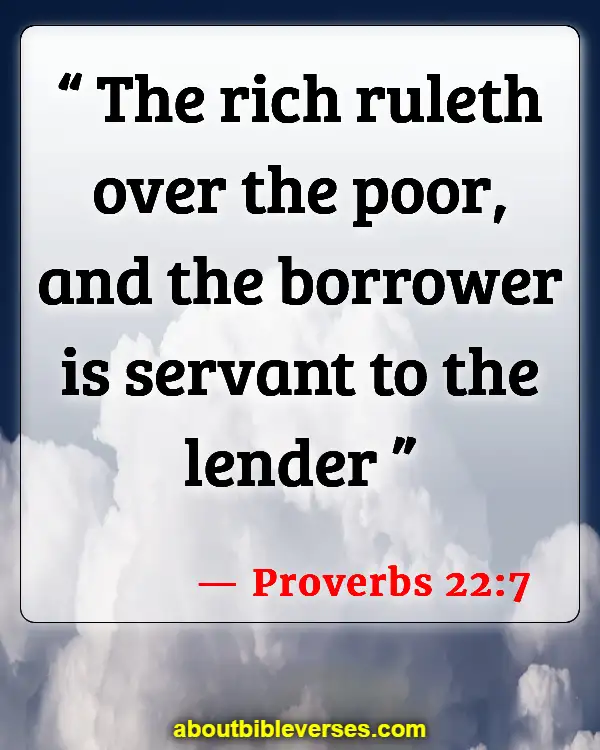 Proverbs 22:7
"The rich ruleth over the poor, and the borrower is servant to the lender"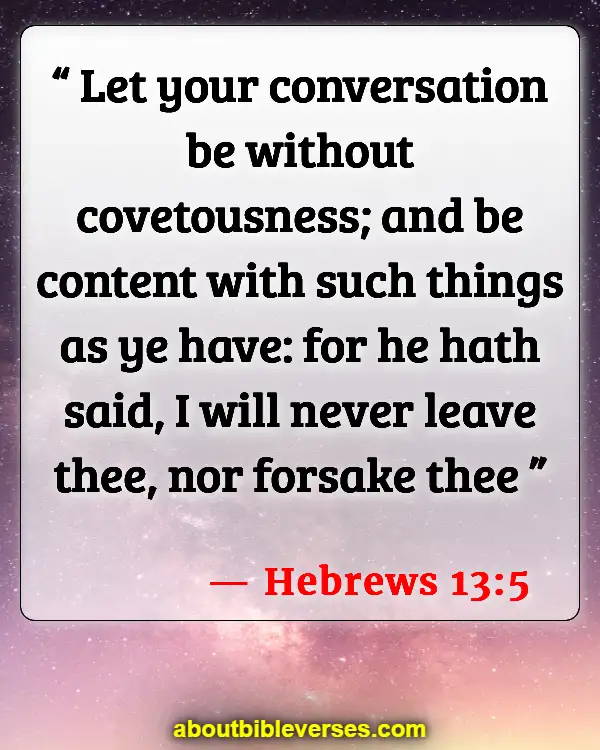 Hebrews 13:5
"Let your conversation be without covetousness; and be content with such things as ye have: for he hath said, I will never leave thee, nor forsake thee"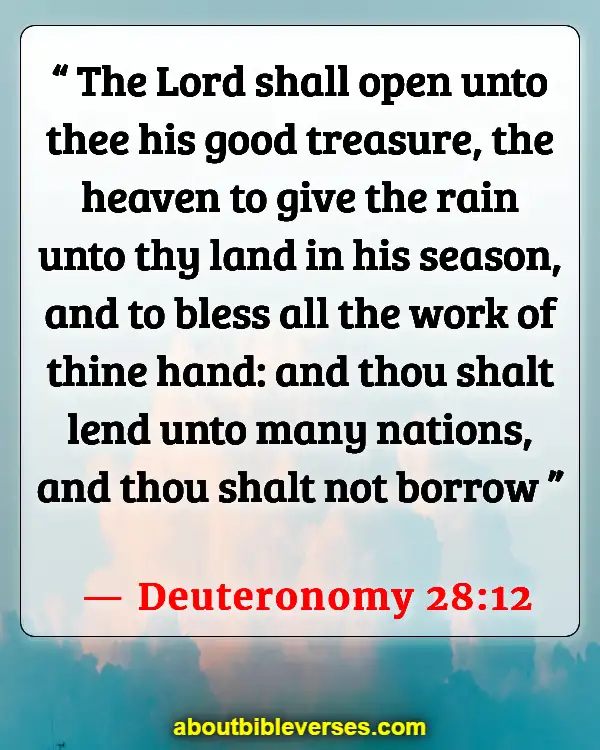 Deuteronomy 28:12
"The Lord shall open unto thee his good treasure, the heaven to give the rain unto thy land in his season, and to bless all the work of thine hand: and thou shalt lend unto many nations, and thou shalt not borrow"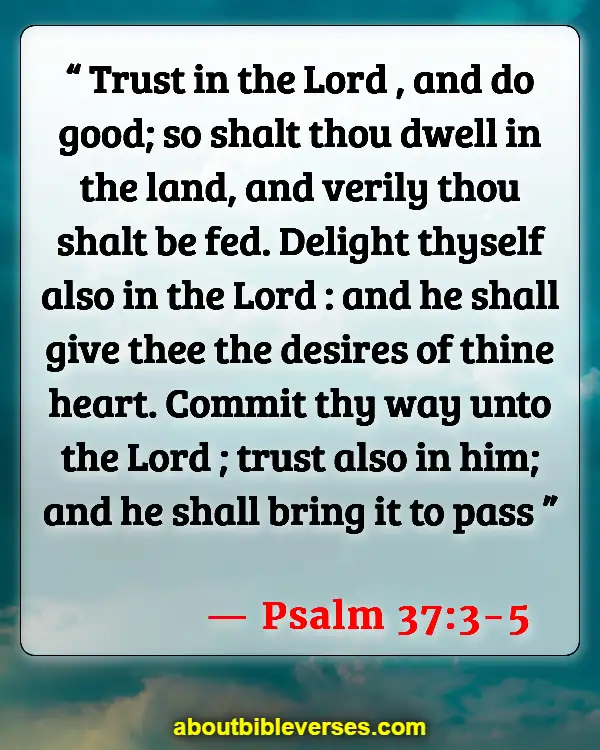 Psalm 37:3-5
"Trust in the Lord , and do good; so shalt thou dwell in the land, and verily thou shalt be fed. Delight thyself also in the Lord : and he shall give thee the desires of thine heart. Commit thy way unto the Lord ; trust also in him; and he shall bring it to pass"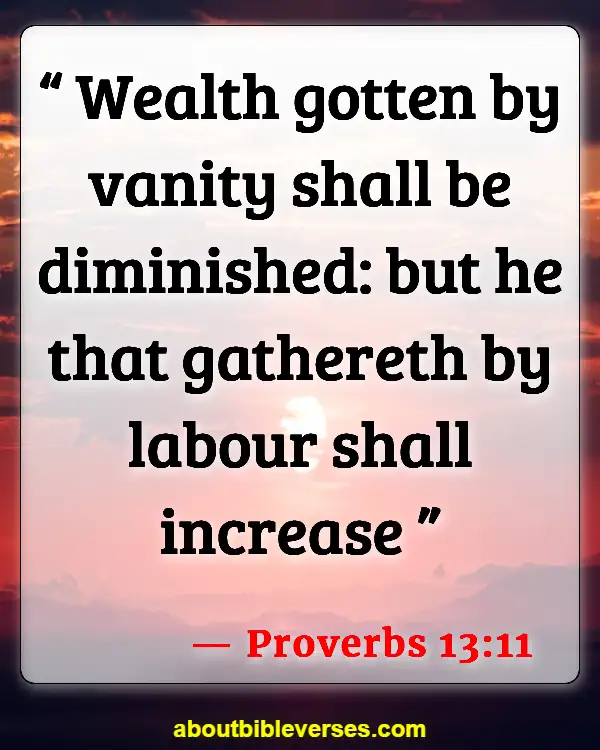 Proverbs 13:11
"Wealth gotten by vanity shall be diminished: but he that gathereth by labour shall increase"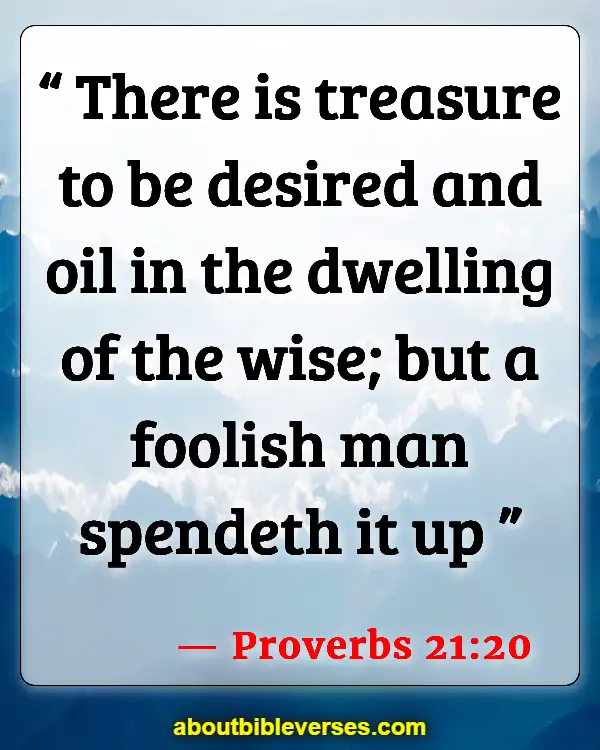 Proverbs 21:20
"There is treasure to be desired and oil in the dwelling of the wise; but a foolish man spendeth it up"
Ecclesiastes 5:10
"He that loveth silver shall not be satisfied with silver; nor he that loveth abundance with increase: this is also vanity"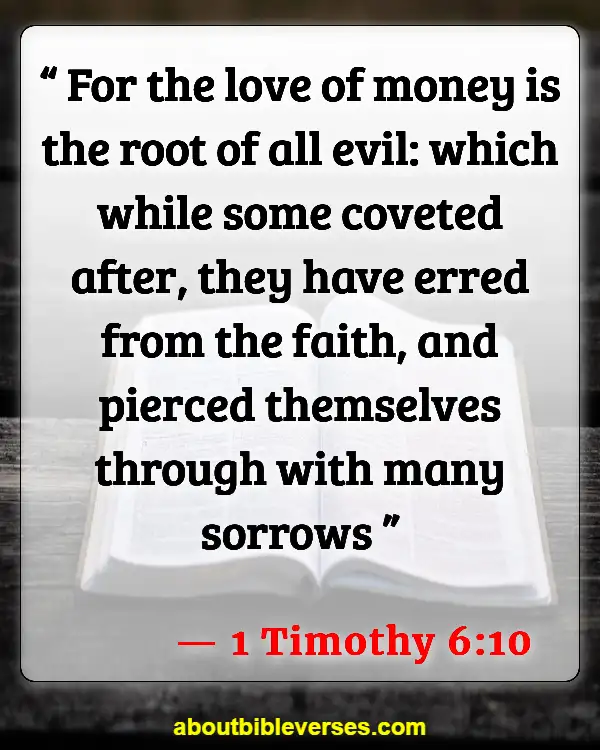 1 Timothy 6:10
"For the love of money is the root of all evil: which while some coveted after, they have erred from the faith, and pierced themselves through with many sorrows"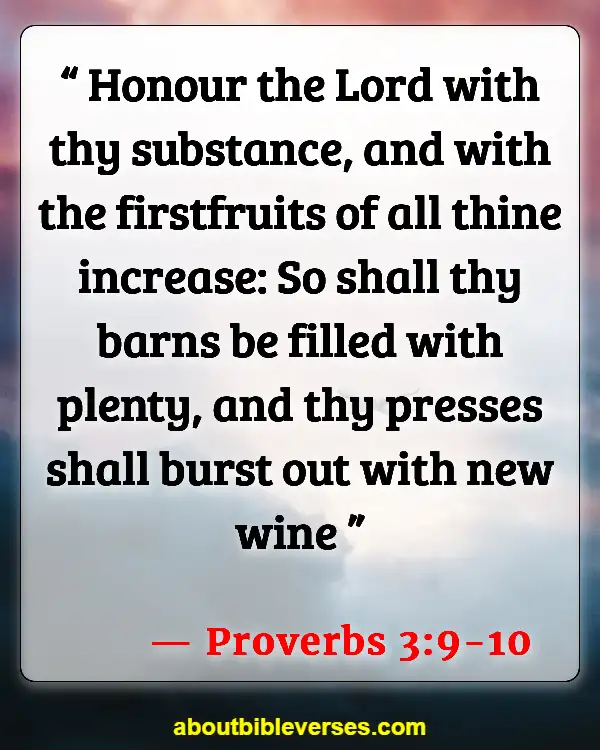 Proverbs 3:9-10
"Honour the Lord with thy substance, and with the firstfruits of all thine increase: So shall thy barns be filled with plenty, and thy presses shall burst out with new wine"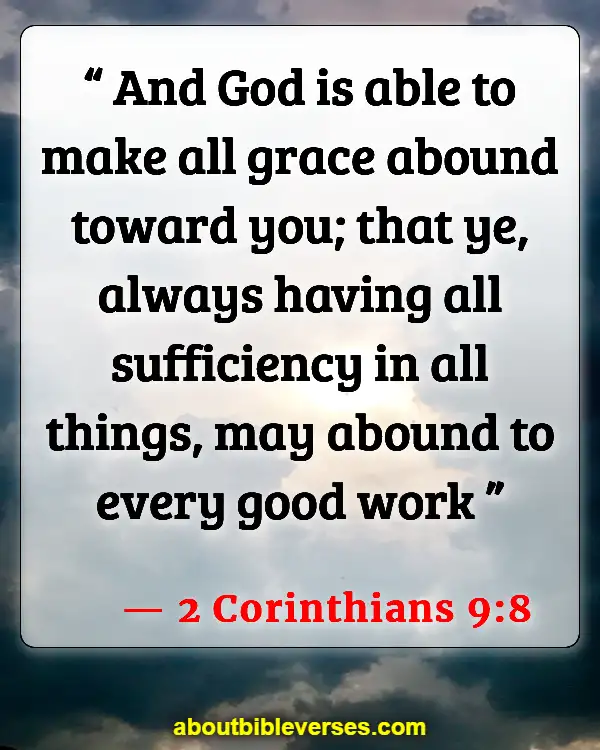 2 Corinthians 9:8
"And God is able to make all grace abound toward you; that ye, always having all sufficiency in all things, may abound to every good work"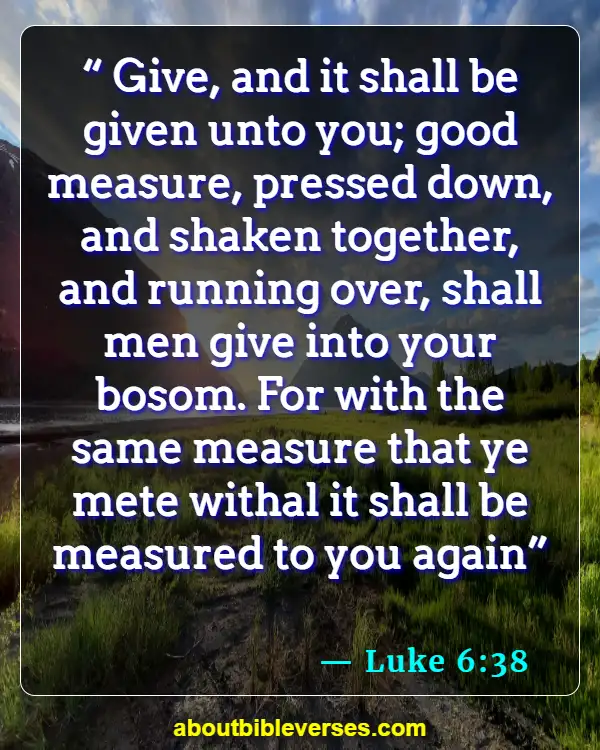 Luke 6:38
"Give, and it shall be given unto you; good measure, pressed down, and shaken together, and running over, shall men give into your bosom. For with the same measure that ye mete withal it shall be measured to you again"
Psalm 112:1-3
"Praise ye the Lord . Blessed is the man that feareth the Lord , that delighteth greatly in his commandments. His seed shall be mighty upon earth: the generation of the upright shall be blessed. Wealth and riches shall be in his house: and his righteousness endureth for ever"
Luke 12:15
"And he said unto them, Take heed, and beware of covetousness: for a man's life consisteth not in the abundance of the things which he possesseth"