Dear friends, as followers of Christ we are engaged in spiritual warfare with the forces of darkness. We have an enemy who seeks to devour and destroy us through lies, temptation, and accusation. How can we stand firm and fight the good fight of faith?
We must recognize that the battle belongs to the Lord. We do not fight in our own strength but in the power of the Holy Spirit. We put on the full armor of God – truth, righteousness, peace, faith, salvation, and the Word of God. This protects us from the flaming darts of the evil one.
We must resist the devil and he will flee from us. We do this by submitting to God, drawing near to Him, repenting of sin, and rejecting lies with the truth of Scripture. When we align our lives to God's ways, the enemy loses his foothold.
We fight from a place of victory, not for victory. The finished work of Christ has already sealed the devil's fate. We enforce that victory in our lives through prayer, praise, and proclamation of Kingdom truths. Our faith and obedience are powerful weapons.
Dear friends, though spiritual warfare is real, in Christ we are more than conquerors. Let us put on His armor daily and fight the good fight so that others too may experience freedom. By His grace and through His strength, the battle is won.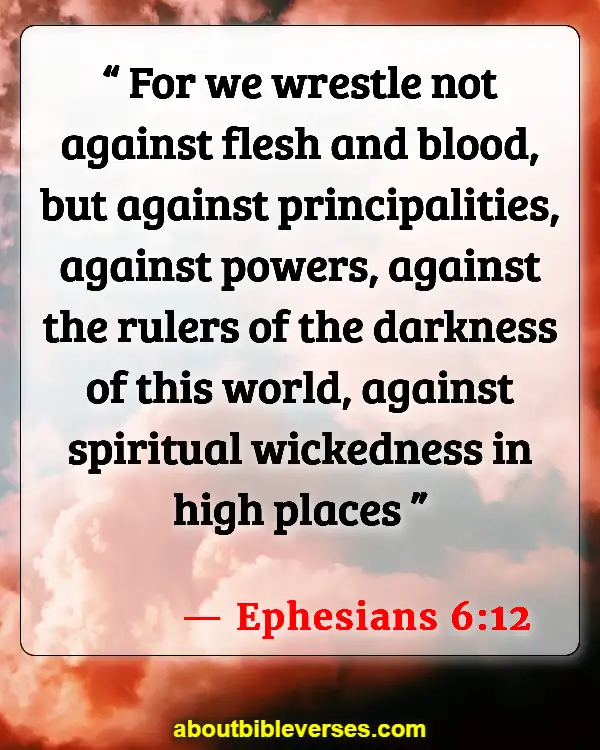 Ephesians 6:12
"For we wrestle not against flesh and blood, but against principalities, against powers, against the rulers of the darkness of this world, against spiritual wickedness in high places"
Ephesians 6:11
"Put on the whole armour of God, that ye may be able to stand against the wiles of the devil"
Ephesians 6:13
"Wherefore take unto you the whole armour of God, that ye may be able to withstand in the evil day, and having done all, to stand"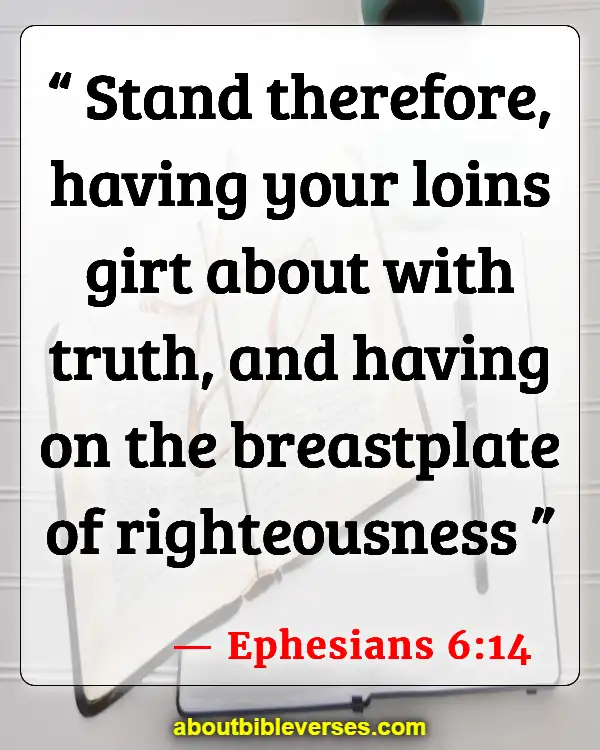 Ephesians 6:14
"Stand therefore, having your loins girt about with truth, and having on the breastplate of righteousness"
Ephesians 6:17
"And take the helmet of salvation, and the sword of the Spirit, which is the word of God"
2 Corinthians 10:4
"(For the weapons of our warfare are not carnal, but mighty through God to the pulling down of strong holds;)"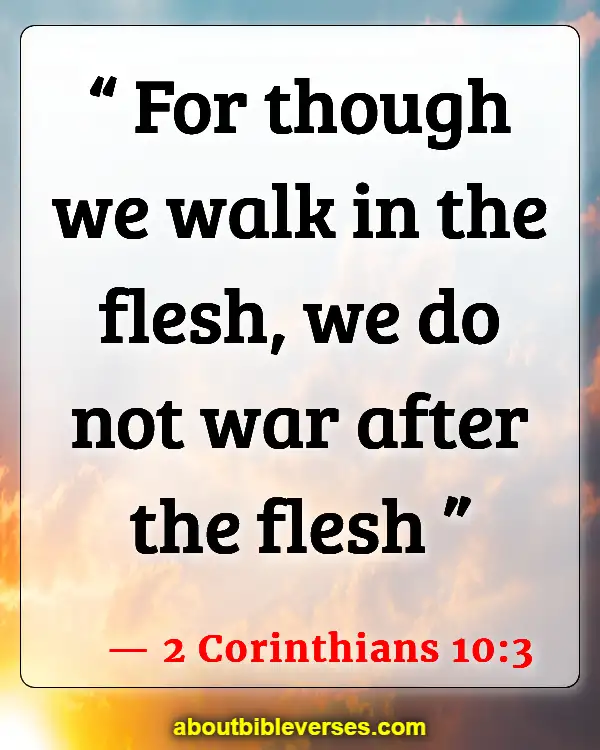 2 Corinthians 10:3
"For though we walk in the flesh, we do not war after the flesh"
2 Corinthians 10:5
"Casting down imaginations, and every high thing that exalteth itself against the knowledge of God, and bringing into captivity every thought to the obedience of Christ"
1 Peter 5:8
"Be sober, be vigilant; because your adversary the devil, as a roaring lion, walketh about, seeking whom he may devour"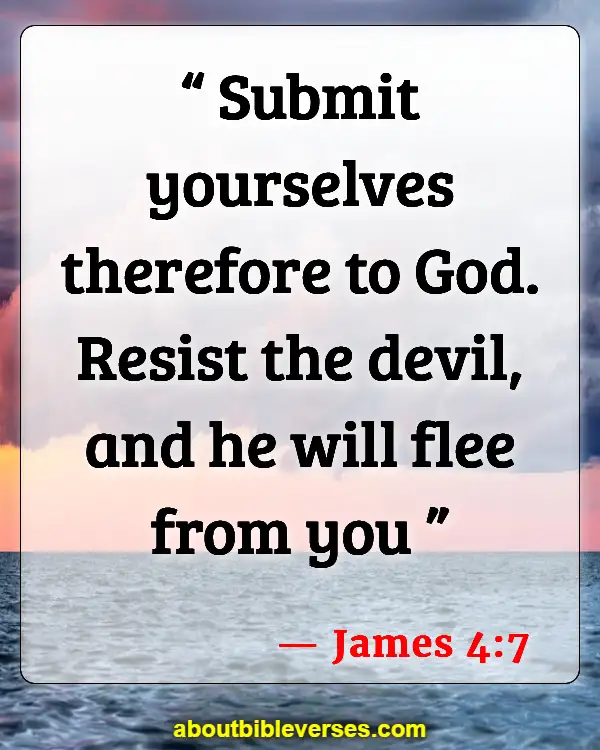 James 4:7
"Submit yourselves therefore to God. Resist the devil, and he will flee from you"
1 John 4:4
"Ye are of God, little children, and have overcome them: because greater is he that is in you, than he that is in the world"
1 Timothy 6:12
"Fight the good fight of faith, lay hold on eternal life, whereunto thou art also called, and hast professed a good profession before many witnesses"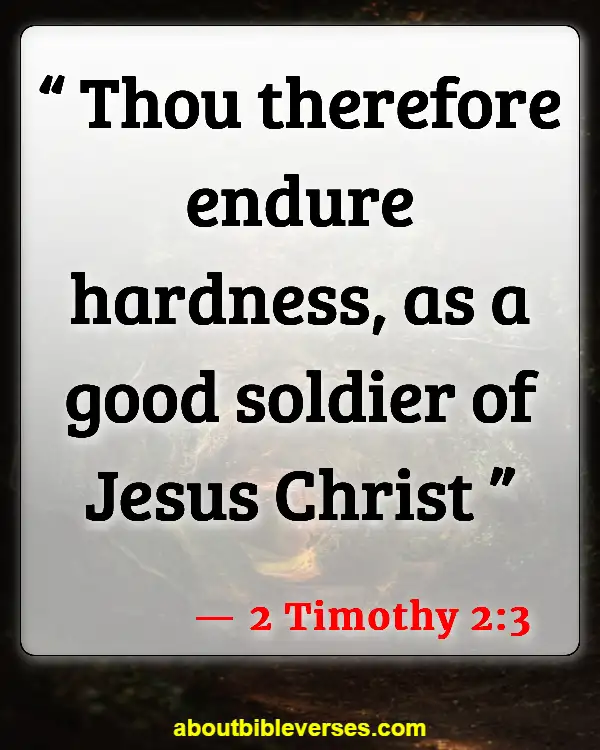 2 Timothy 2:3
"Thou therefore endure hardness, as a good soldier of Jesus Christ"
2 Timothy 2:4
"No man that warreth entangleth himself with the affairs of this life; that he may please him who hath chosen him to be a soldier"
2 Timothy 4:7
"I have fought a good fight, I have finished my course, I have kept the faith"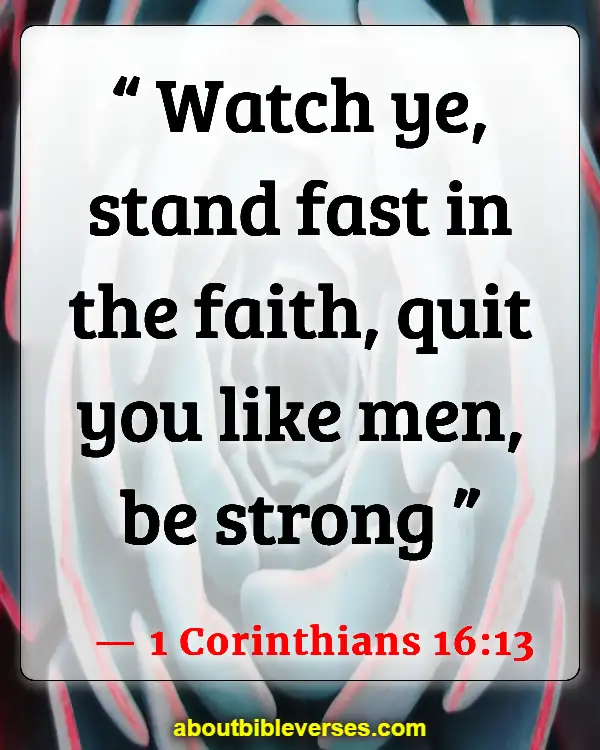 1 Corinthians 16:13
"Watch ye, stand fast in the faith, quit you like men, be strong"
2 Corinthians 11:14
"And no marvel; for Satan himself is transformed into an angel of light"
2 Thessalonians 3:3
"But the Lord is faithful, who shall stablish you, and keep you from evil"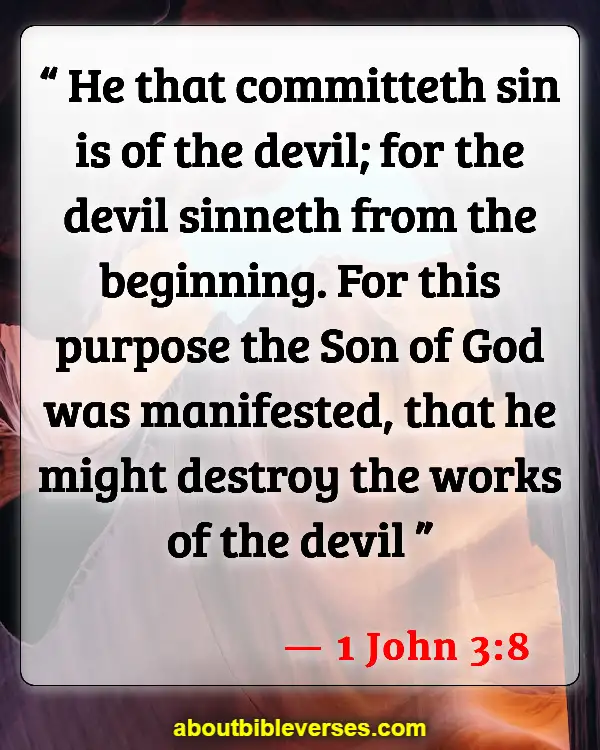 1 John 3:8
"He that committeth sin is of the devil; for the devil sinneth from the beginning. For this purpose the Son of God was manifested, that he might destroy the works of the devil"
1 John 5:18
"We know that whosoever is born of God sinneth not; but he that is begotten of God keepeth himself, and that wicked one toucheth him not"
1 John 5:19
"And we know that we are of God, and the whole world lieth in wickedness"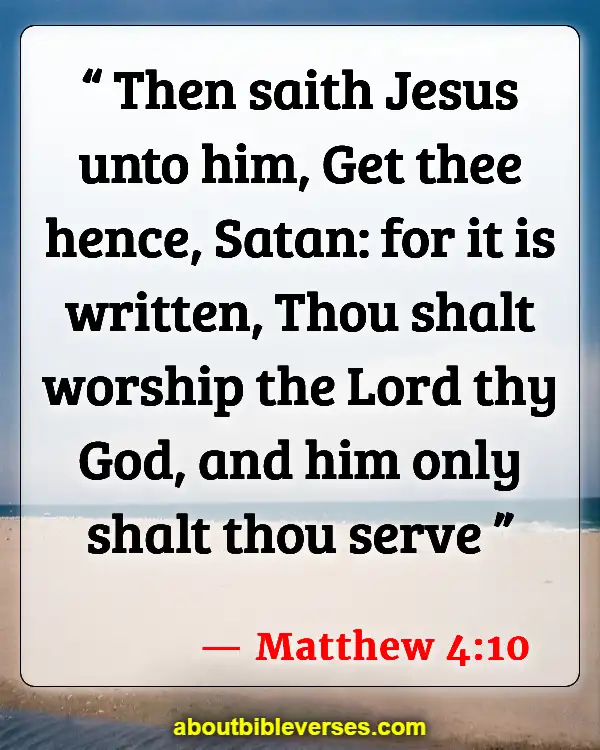 Matthew 4:10
"Then saith Jesus unto him, Get thee hence, Satan: for it is written, Thou shalt worship the Lord thy God, and him only shalt thou serve"
Acts 26:18
"To open their eyes, and to turn them from darkness to light, and from the power of Satan unto God, that they may receive forgiveness of sins, and inheritance among them which are sanctified by faith that is in me"
Romans 13:12
"The night is far spent, the day is at hand: let us therefore cast off the works of darkness, and let us put on the armour of light"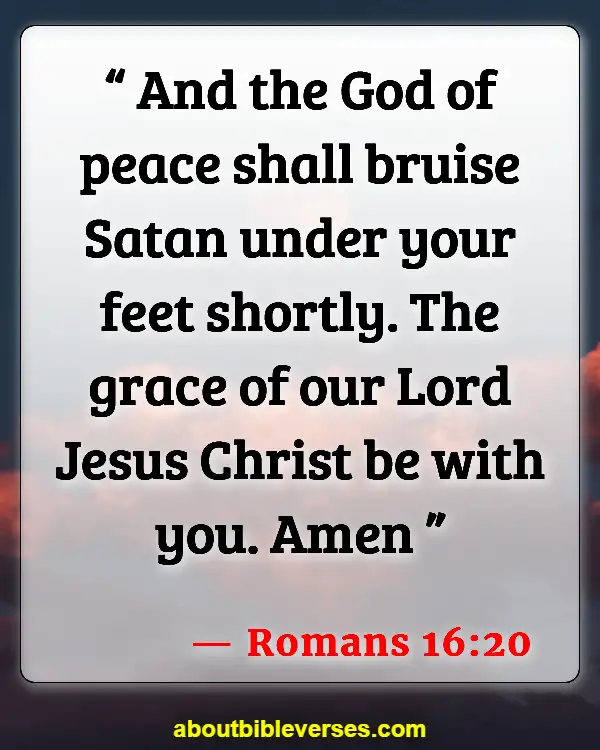 Romans 16:20
"And the God of peace shall bruise Satan under your feet shortly. The grace of our Lord Jesus Christ be with you. Amen"
Galatians 5:17
"For the flesh lusteth against the Spirit, and the Spirit against the flesh: and these are contrary the one to the other: so that ye cannot do the things that ye would"
Ephesians 5:11
"And have no fellowship with the unfruitful works of darkness, but rather reprove them"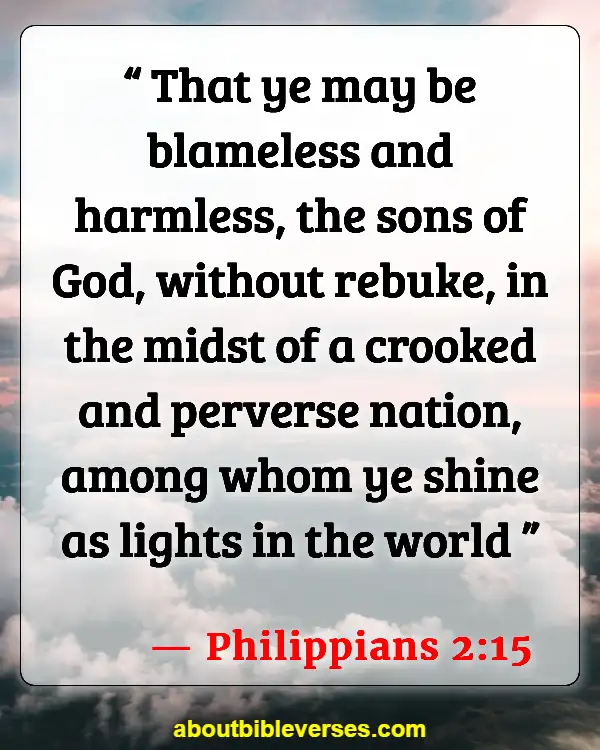 Philippians 2:15
"That ye may be blameless and harmless, the sons of God, without rebuke, in the midst of a crooked and perverse nation, among whom ye shine as lights in the world"
2 Timothy 1:7
"For God hath not given us the spirit of fear; but of power, and of love, and of a sound mind"
Hebrews 4:12
"For the word of God is quick, and powerful, and sharper than any twoedged sword, piercing even to the dividing asunder of soul and spirit, and of the joints and marrow, and is a discerner of the thoughts and intents of the heart"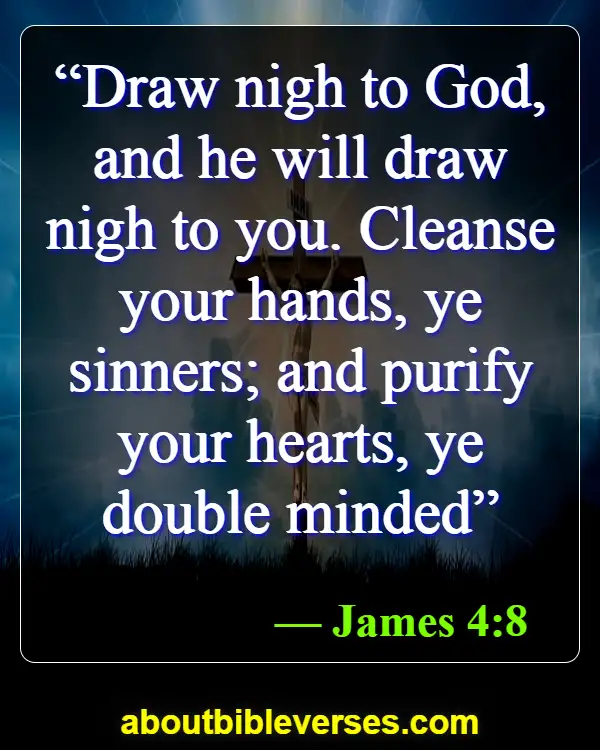 James 4:8
"Draw nigh to God, and he will draw nigh to you. Cleanse your hands, ye sinners; and purify your hearts, ye double minded"
1 Peter 2:11
"Dearly beloved, I beseech you as strangers and pilgrims, abstain from fleshly lusts, which war against the soul"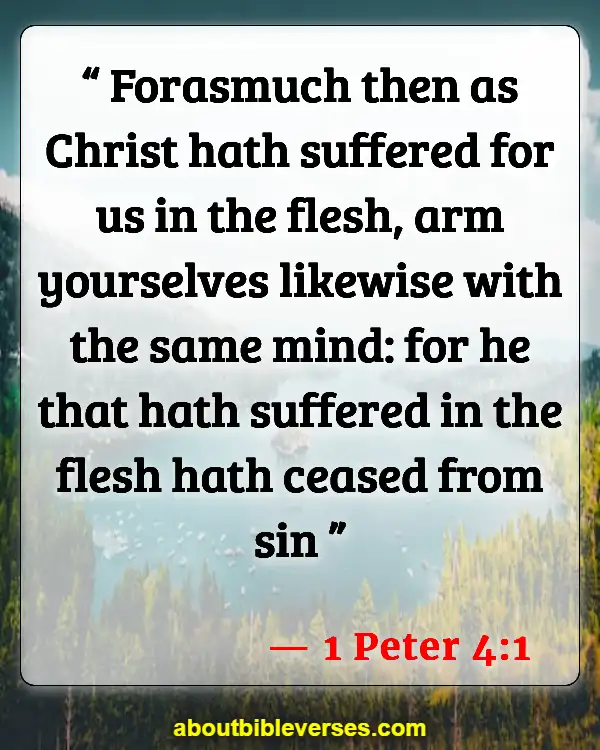 1 Peter 4:1
"Forasmuch then as Christ hath suffered for us in the flesh, arm yourselves likewise with the same mind: for he that hath suffered in the flesh hath ceased from sin"