Brothers and sisters, in the sacred words of the Holy Bible, we find wisdom and guidance on the matter of fighting back. As believers, we face many challenges in our lives, and sometimes, we may be tempted to retaliate when faced with adversity or injustice. But let us remember that the Lord, in His infinite wisdom, has shown us a different path.
In the book of Proverbs, we are taught that "A soft answer turns away wrath, but a harsh word stirs up anger." This powerful lesson reminds us that responding with anger and aggression only fuels the fire of conflict while responding with love and understanding can lead to reconciliation and peace.
Furthermore, our Savior Jesus Christ, who embodied divine love, taught us to "turn the other cheek" when faced with harm or offense. He showed us that responding with forgiveness and compassion, even in the face of hostility, can break the chains of hatred and bring about healing.
The Bible also provides us with the example of David, who, when pursued by his enemies, chose to seek refuge in the Lord rather than resort to violence. Through his unwavering faith, God protected him and delivered him from his adversaries.
Beloved, it is not a weakness to choose a peaceful approach when confronted with conflict, but rather a demonstration of our faith and trust in the Almighty. Our Heavenly Father is the ultimate source of justice, and He assures us that vengeance is His alone. As Romans 12:19 reminds us, "Do not take revenge, my dear friends, but leave room for God's wrath."
So, when facing challenges that tempt us to fight back, let us turn to prayer and seek the Lord's guidance. Through His divine spirit, we can find the strength to respond with love, patience, and understanding. In doing so, we can reflect the light of God's grace and inspire others to follow the path of peace. the Holy Spirit guides us in all our endeavors, and our actions always be a testament to the teachings of our beloved Bible. Amen.
Dear friends now let's see the Bible scriptures below that talk about Fighting Back.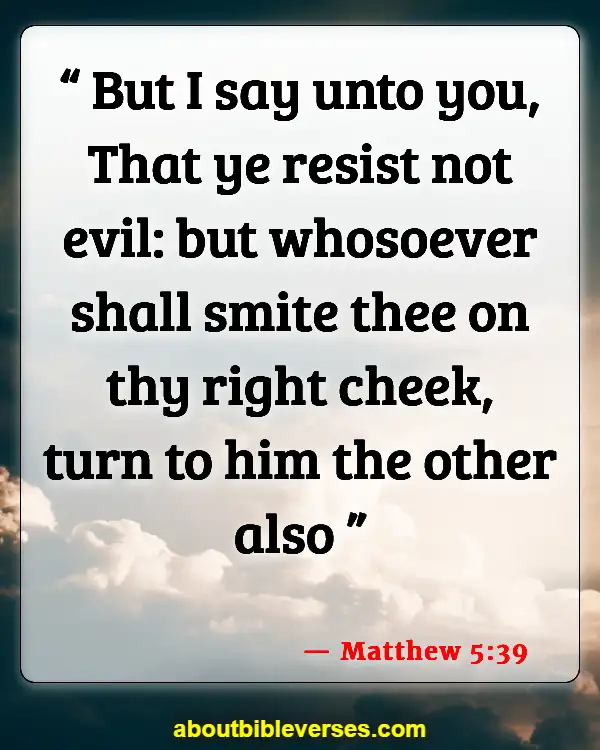 Matthew 5:39
"But I say unto you, That ye resist not evil: but whosoever shall smite thee on thy right cheek, turn to him the other also"
Luke 6:27
"But I say unto you which hear, Love your enemies, do good to them which hate you"
Romans 12:21
"Be not overcome of evil, but overcome evil with good"
Proverbs 20:22
"Say not thou, I will recompense evil; but wait on the Lord , and he shall save thee"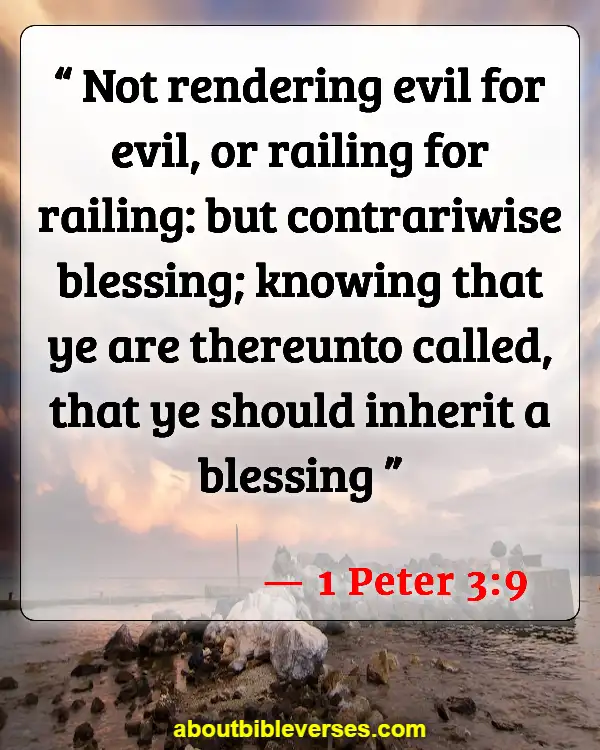 1 Peter 3:9
"Not rendering evil for evil, or railing for railing: but contrariwise blessing; knowing that ye are thereunto called, that ye should inherit a blessing"
Matthew 5:44
"But I say unto you, Love your enemies, bless them that curse you, do good to them that hate you, and pray for them which despitefully use you, and persecute you"
1 Corinthians 13:4-7
"Charity suffereth long, and is kind; charity envieth not; charity vaunteth not itself, is not puffed up, Doth not behave itself unseemly, seeketh not her own, is not easily provoked, thinketh no evil; Rejoiceth not in iniquity, but rejoiceth in the truth; Beareth all things, believeth all things, hopeth all things, endureth all things"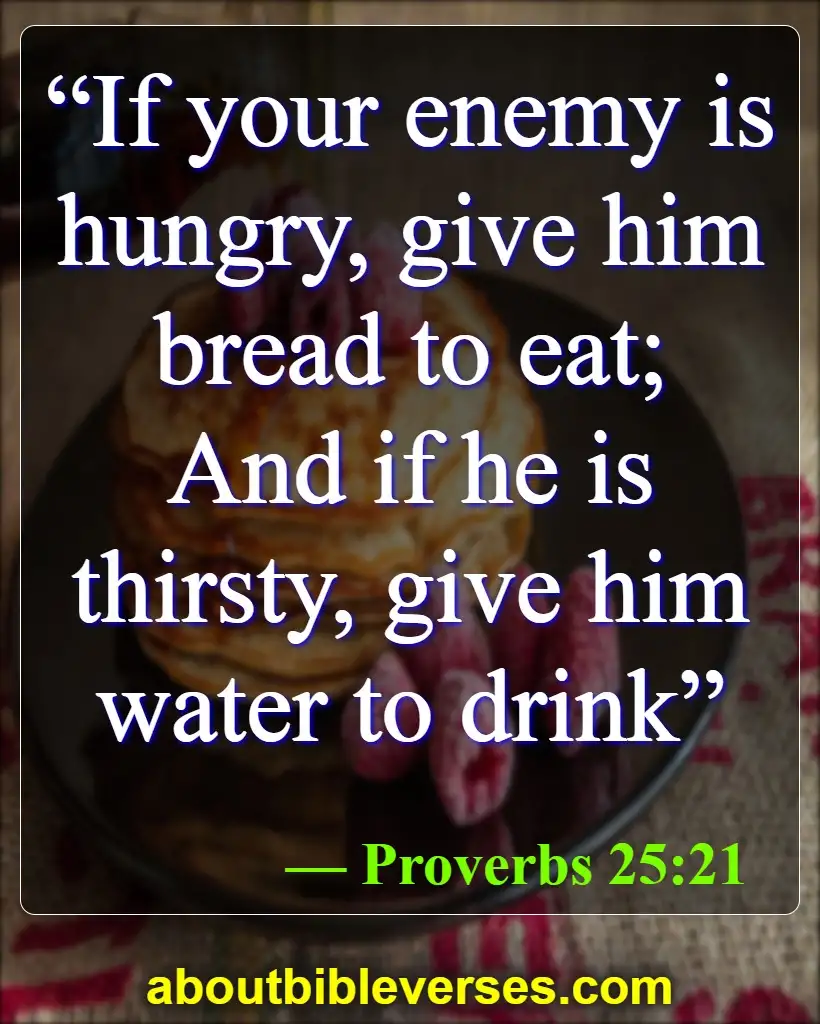 Proverbs 25:21
"If thine enemy be hungry, give him bread to eat; and if he be thirsty, give him water to drink"
Ephesians 4:31-32
"Let all bitterness, and wrath, and anger, and clamour, and evil speaking, be put away from you, with all malice: And be ye kind one to another, tenderhearted, forgiving one another, even as God for Christ's sake hath forgiven you"
Matthew 6:14
"For if ye forgive men their trespasses, your heavenly Father will also forgive you"
Luke 23:34
"Then said Jesus, Father, forgive them; for they know not what they do. And they parted his raiment, and cast lots"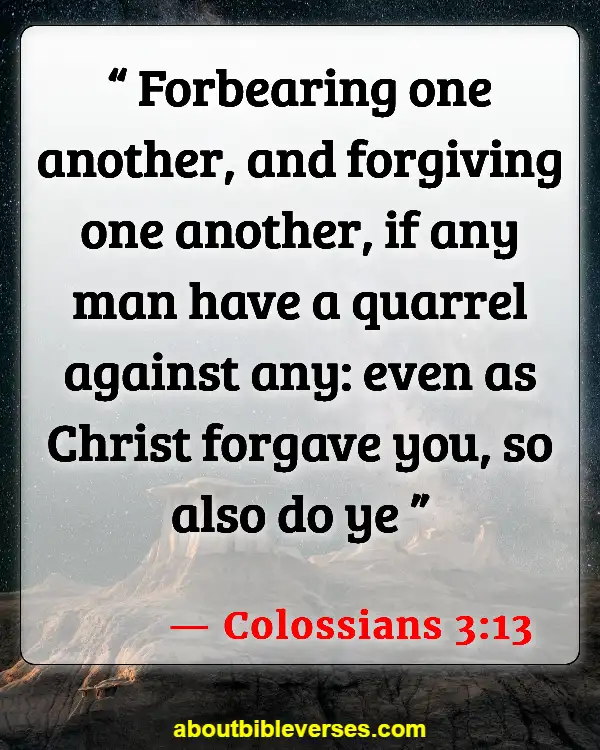 Colossians 3:13
"Forbearing one another, and forgiving one another, if any man have a quarrel against any: even as Christ forgave you, so also do ye"
2 Chronicles 20:15
"And he said, Hearken ye, all Judah, and ye inhabitants of Jerusalem, and thou king Jehoshaphat, Thus saith the Lord unto you, Be not afraid nor dismayed by reason of this great multitude; for the battle is not yours, but God's"
Psalm 18:39
"For thou hast girded me with strength unto the battle: thou hast subdued under me those that rose up against me"
1 Corinthians 16:13
"Watch ye, stand fast in the faith, quit you like men, be strong"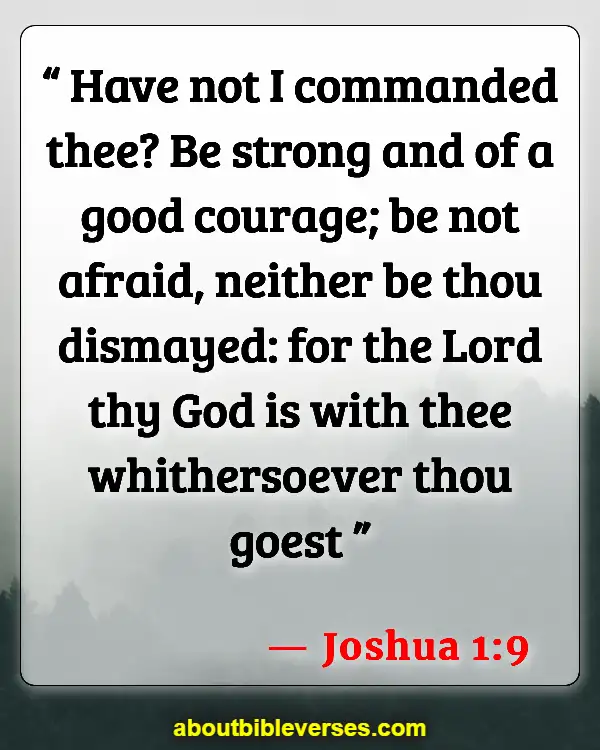 Joshua 1:9
"Have not I commanded thee? Be strong and of a good courage; be not afraid, neither be thou dismayed: for the Lord thy God is with thee whithersoever thou goest"
Ephesians 6:10
"Finally, my brethren, be strong in the Lord, and in the power of his might"
2 Timothy 1:7
"For God hath not given us the spirit of fear; but of power, and of love, and of a sound mind"
John 13:34
"A new commandment I give unto you, That ye love one another; as I have loved you, that ye also love one another"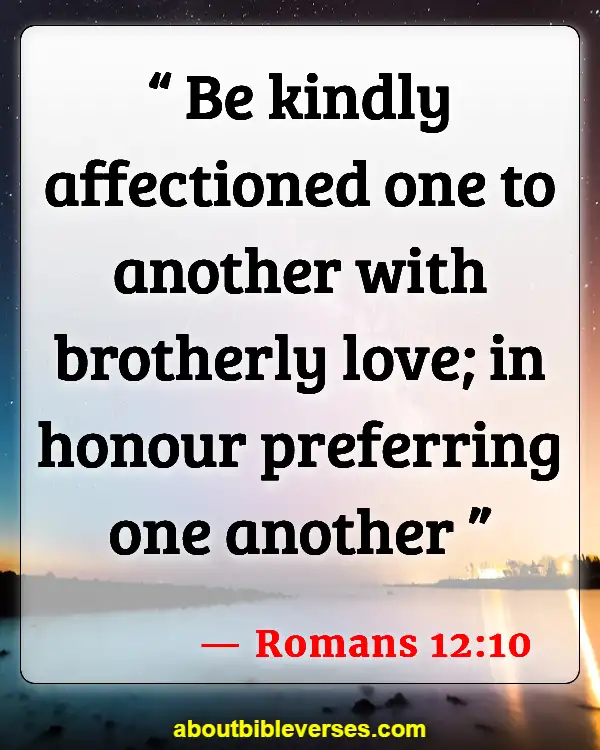 Romans 12:10
"Be kindly affectioned one to another with brotherly love; in honour preferring one another"
Proverbs 10:12
"Hatred stirreth up strifes: but love covereth all sins"
Romans 13:10
"Love worketh no ill to his neighbour: therefore love is the fulfilling of the law"
1 Corinthians 13:13
"And now abideth faith, hope, charity, these three; but the greatest of these is charity"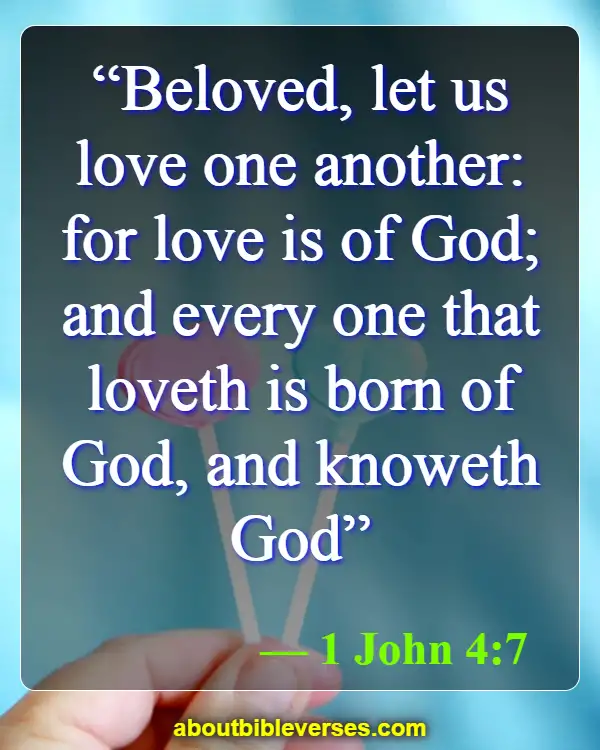 1 John 4:7
"Beloved, let us love one another: for love is of God; and every one that loveth is born of God, and knoweth God"
John 15:12
"This is my commandment, That ye love one another, as I have loved you"
1 Thessalonians 5:15
"See that none render evil for evil unto any man; but ever follow that which is good, both among yourselves, and to all men"
Romans 12:14
"Bless them which persecute you: bless, and curse not"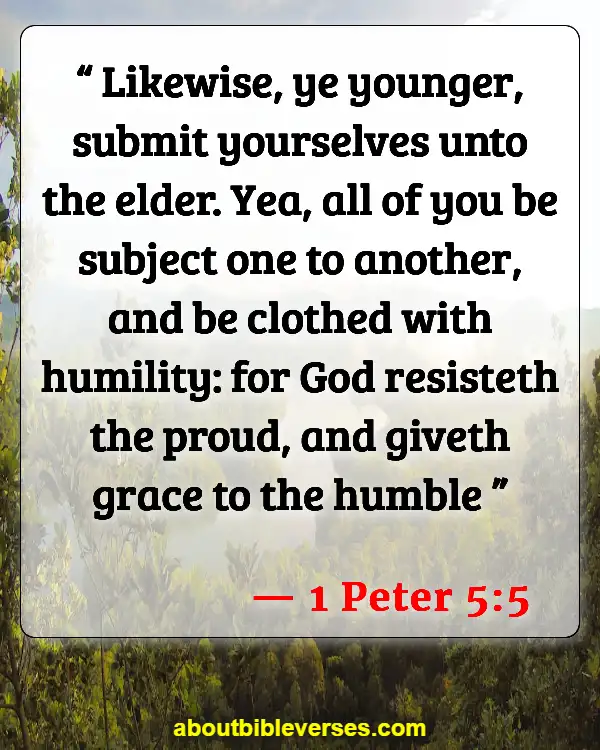 1 Peter 5:5
"Likewise, ye younger, submit yourselves unto the elder. Yea, all of you be subject one to another, and be clothed with humility: for God resisteth the proud, and giveth grace to the humble"
Ephesians 4:2
"With all lowliness and meekness, with longsuffering, forbearing one another in love"
Philippians 2:3
"Let nothing be done through strife or vainglory; but in lowliness of mind let each esteem other better than themselves"
Colossians 3:12
"Put on therefore, as the elect of God, holy and beloved, bowels of mercies, kindness, humbleness of mind, meekness, longsuffering"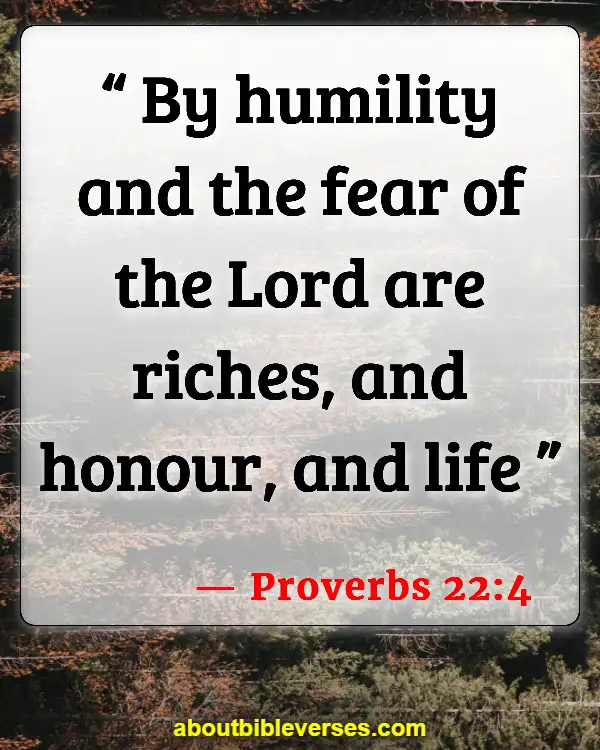 Proverbs 22:4
"By humility and the fear of the Lord are riches, and honour, and life"
James 3:13
"Who is a wise man and endued with knowledge among you? let him shew out of a good conversation his works with meekness of wisdom"
Micah 6:8
"He hath shewed thee, O man, what is good; and what doth the Lord require of thee, but to do justly, and to love mercy, and to walk humbly with thy God?"
1 Peter 3:8
"Finally, be ye all of one mind, having compassion one of another, love as brethren, be pitiful, be courteous"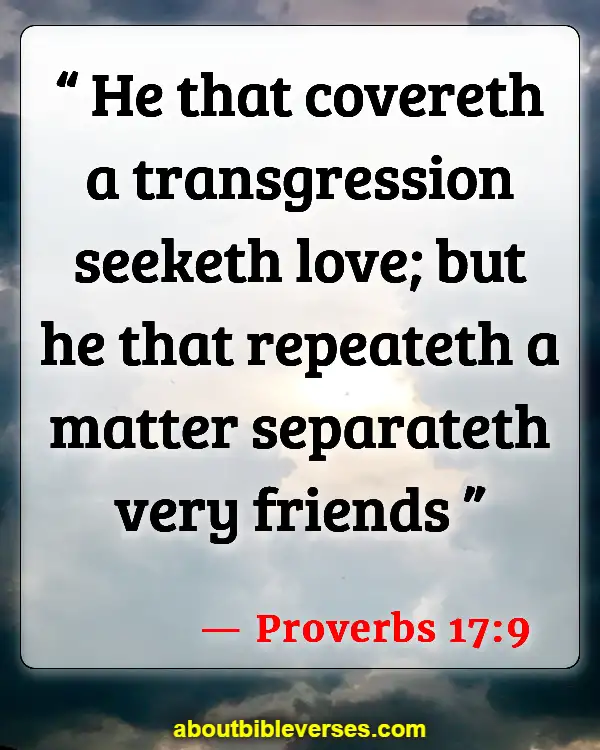 Proverbs 17:9
"He that covereth a transgression seeketh love; but he that repeateth a matter separateth very friends"
1 Peter 4:8
"And above all things have fervent charity among yourselves: for charity shall cover the multitude of sins"
Matthew 5:9
"Blessed are the peacemakers: for they shall be called the children of God"
Romans 14:19
"Let us therefore follow after the things which make for peace, and things wherewith one may edify another"
Hebrews 12:14
"Follow peace with all men, and holiness, without which no man shall see the Lord"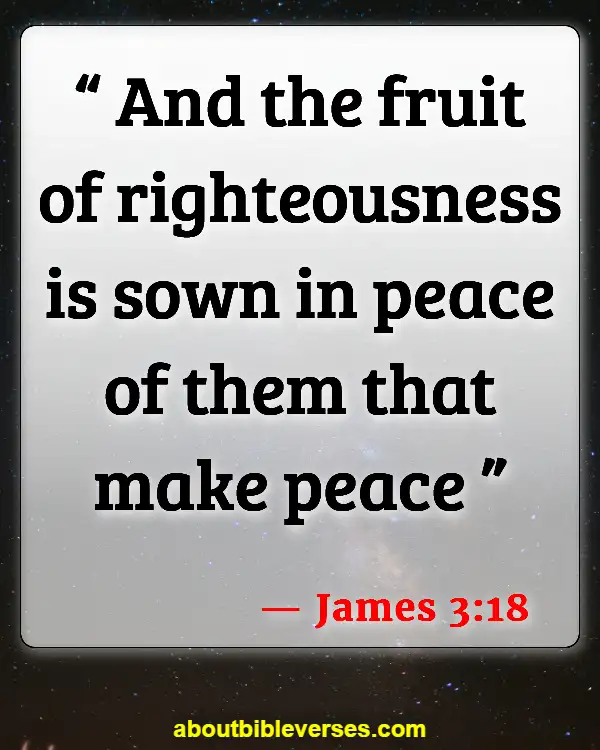 James 3:18
"And the fruit of righteousness is sown in peace of them that make peace"