Dear friends, Family relationships can be challenging at times. When problems arise, it's important to handle them in a godly way that promotes healing and restoration. The Bible offers wisdom on how to deal with strained family ties.
First, we must have humility and patience. Approaching issues gently, without accusation or judgment, allows us to understand one another. Humbly admitting our own faults defuses tension. Patience gives time for emotions to cool so we can have reasonable discussions.
Second, forgive as God forgives us. Letting go of grudges and bitterness frees us to rebuild trust. Forgiveness may take time, but it's necessary for reconciliation. We can only expect forgiveness if we give it freely to others.
Third, speak the truth in love. When family relationships are difficult, clinging to God as our rock and refuge gives strength and guidance. Prayerfully seeking the Holy Spirit's wisdom liberates us from anger and pain. God can redeem what seems broken. With faith in God's love and following godly principles, families can find peace again.
Dear friends, now let's reflect on biblical principles for mending family conflicts and pray for grace to apply them in our lives. God bless you.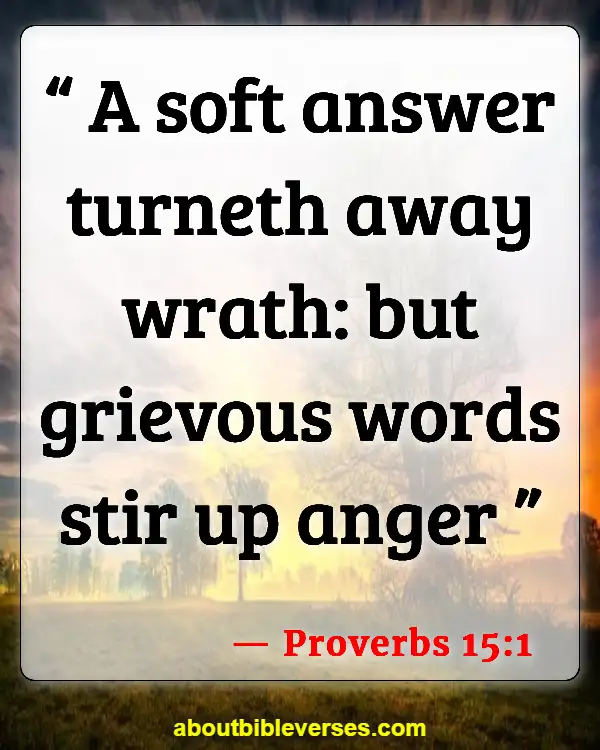 Proverbs 15:1
"A soft answer turneth away wrath: but grievous words stir up anger"
Ephesians 4:26
"Be ye angry, and sin not: let not the sun go down upon your wrath"
Colossians 3:13
"Forbearing one another, and forgiving one another, if any man have a quarrel against any: even as Christ forgave you, so also do ye"
Proverbs 10:12
"Hatred stirreth up strifes: but love covereth all sins"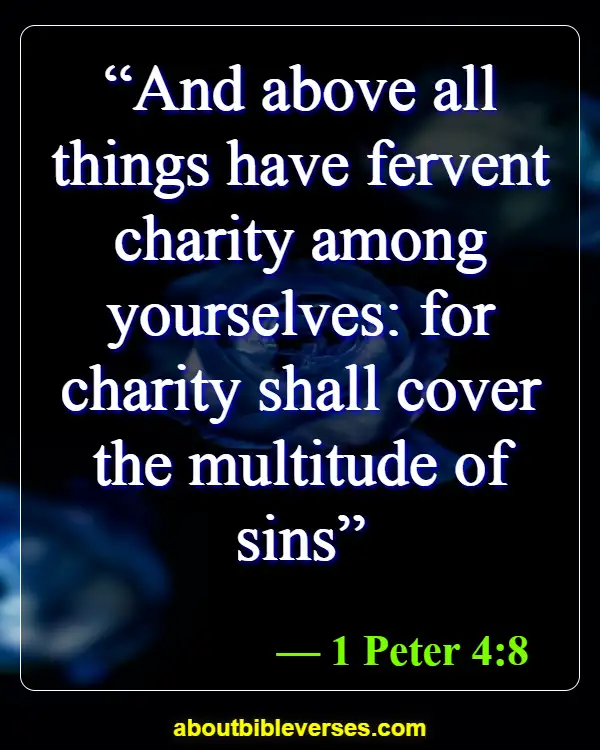 1 Peter 4:8
"And above all things have fervent charity among yourselves: for charity shall cover the multitude of sins"
Matthew 5:9
"Blessed are the peacemakers: for they shall be called the children of God"
Romans 12:18
"If it be possible, as much as lieth in you, live peaceably with all men"
Proverbs 15:18
"A wrathful man stirreth up strife: but he that is slow to anger appeaseth strife"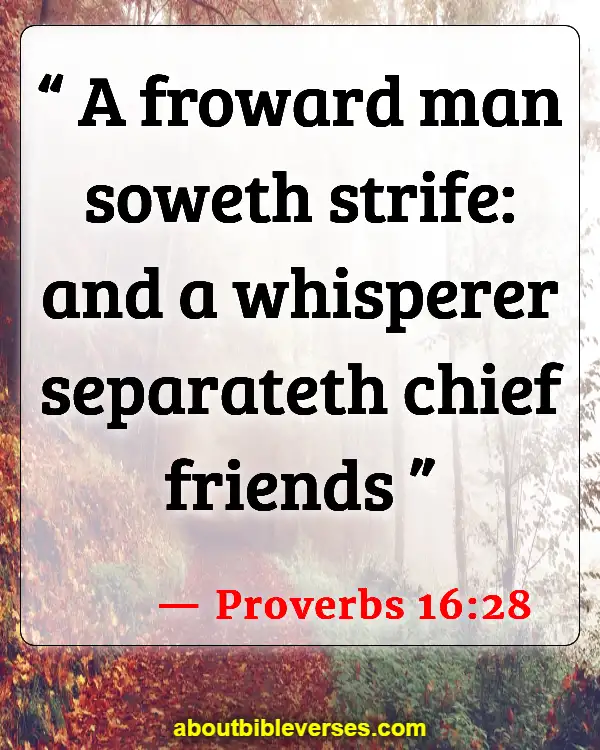 Proverbs 16:28
"A froward man soweth strife: and a whisperer separateth chief friends"
Proverbs 17:1
"Better is a dry morsel, and quietness therewith, than an house full of sacrifices with strife"
Proverbs 18:19
"A brother offended is harder to be won than a strong city: and their contentions are like the bars of a castle"
Proverbs 19:13
"A foolish son is the calamity of his father: and the contentions of a wife are a continual dropping"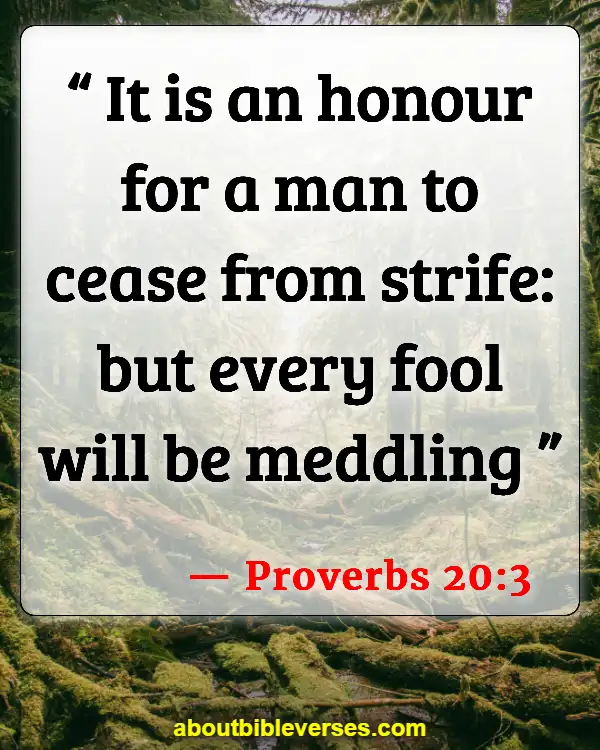 Proverbs 20:3
"It is an honour for a man to cease from strife: but every fool will be meddling"
Proverbs 22:10
"Cast out the scorner, and contention shall go out; yea, strife and reproach shall cease"
Proverbs 26:20
"Where no wood is, there the fire goeth out: so where there is no talebearer, the strife ceaseth"
Proverbs 28:25
"He that is of a proud heart stirreth up strife: but he that putteth his trust in the Lord shall be made fat"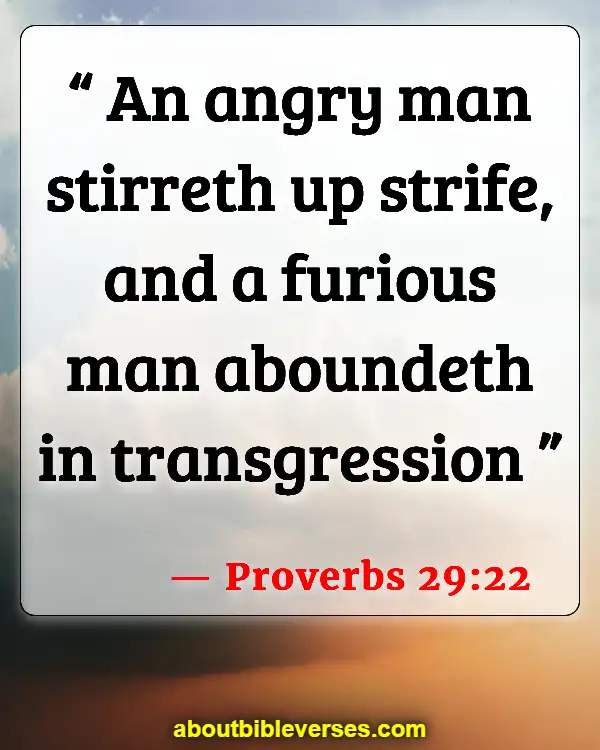 Proverbs 29:22
"An angry man stirreth up strife, and a furious man aboundeth in transgression"
Ephesians 4:31-32
"Let all bitterness, and wrath, and anger, and clamour, and evil speaking, be put away from you, with all malice: And be ye kind one to another, tenderhearted, forgiving one another, even as God for Christ's sake hath forgiven you"
James 1:19-20
"Wherefore, my beloved brethren, let every man be swift to hear, slow to speak, slow to wrath: For the wrath of man worketh not the righteousness of God"
Proverbs 15:27
"He that is greedy of gain troubleth his own house; but he that hateth gifts shall live"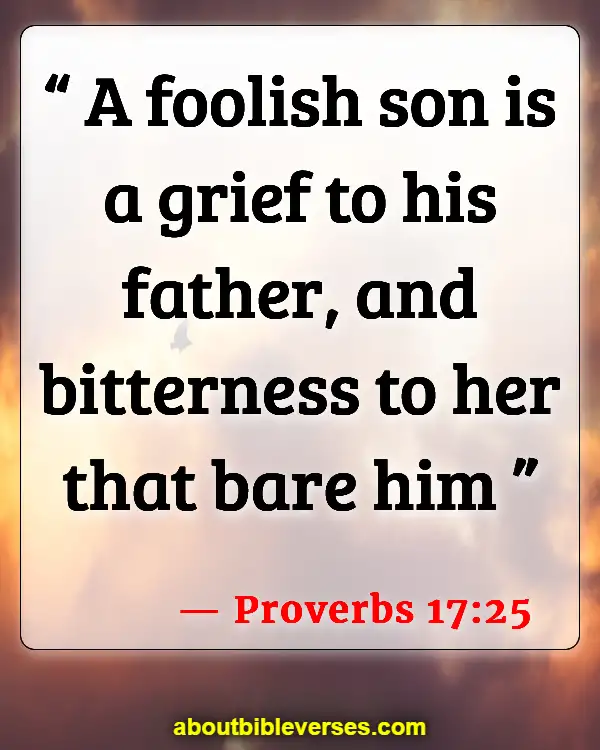 Proverbs 17:25
"A foolish son is a grief to his father, and bitterness to her that bare him"
Proverbs 19:26
"He that wasteth his father, and chaseth away his mother, is a son that causeth shame, and bringeth reproach"
Proverbs 28:24
"Whoso robbeth his father or his mother, and saith, It is no transgression; the same is the companion of a destroyer"
1 Timothy 5:8
"But if any provide not for his own, and specially for those of his own house, he hath denied the faith, and is worse than an infidel"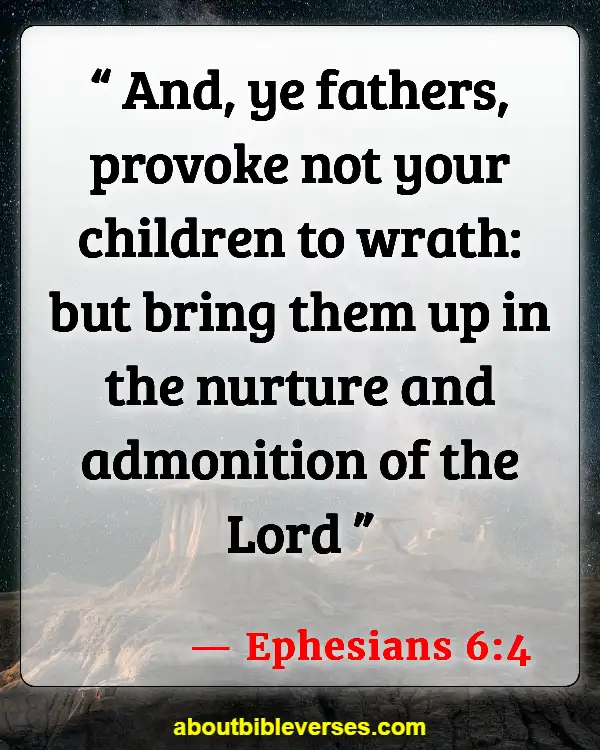 Ephesians 6:4
"And, ye fathers, provoke not your children to wrath: but bring them up in the nurture and admonition of the Lord"
Colossians 3:21
"Fathers, provoke not your children to anger, lest they be discouraged"
Proverbs 13:24
"He that spareth his rod hateth his son: but he that loveth him chasteneth him betimes"
Proverbs 22:6
"Train up a child in the way he should go: and when he is old, he will not depart from it"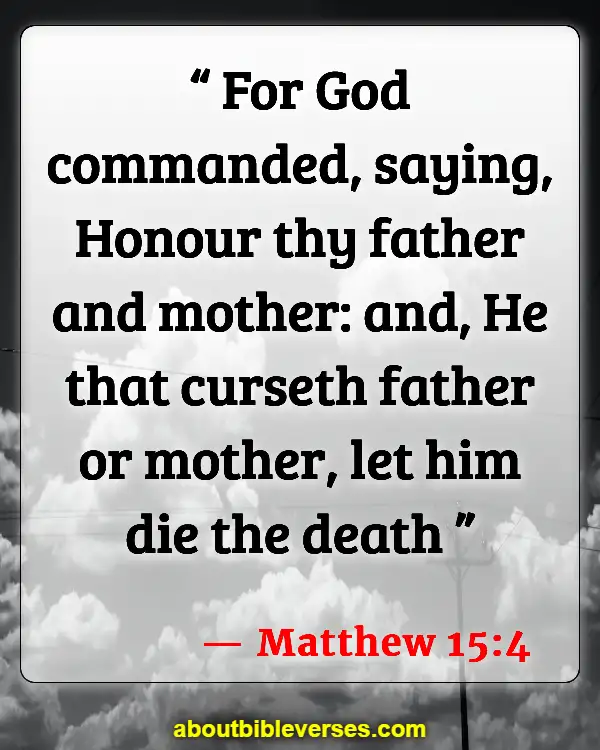 Matthew 15:4
"For God commanded, saying, Honour thy father and mother: and, He that curseth father or mother, let him die the death"
Matthew 19:19
"Honour thy father and thy mother: and, Thou shalt love thy neighbour as thyself"
Ephesians 5:21
"Submitting yourselves one to another in the fear of God"
1 Peter 3:7
"Likewise, ye husbands, dwell with them according to knowledge, giving honour unto the wife, as unto the weaker vessel, and as being heirs together of the grace of life; that your prayers be not hindered"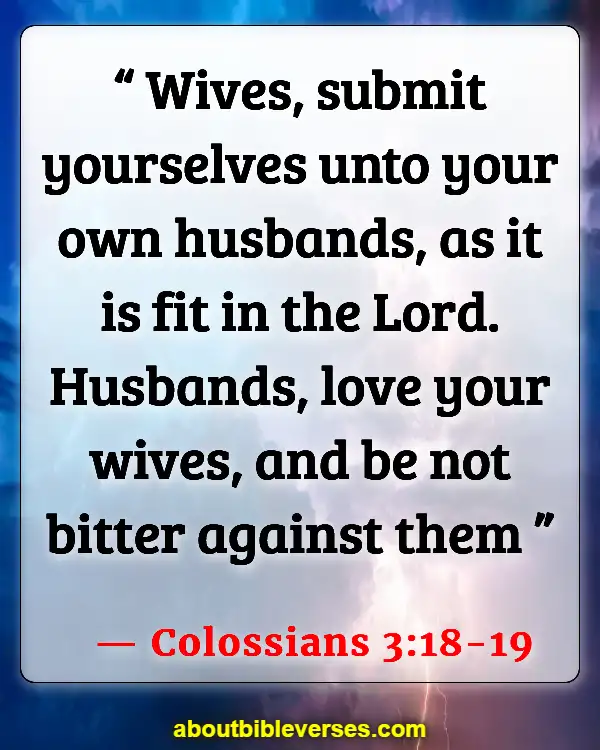 Colossians 3:18-19
"Wives, submit yourselves unto your own husbands, as it is fit in the Lord. Husbands, love your wives, and be not bitter against them"