In the teachings of the Holy Scriptures, we find wisdom that speaks to the complexities of human relationships, particularly within the bonds of family. The Lord, our divine Creator, has bestowed upon us profound insights for understanding and resolving family conflicts.
Just as in ancient times, when sibling rivalry tested the strength of kinship, we are reminded of the biblical story of Cain and Abel. Their discord serves as a cautionary tale, warning us of the perils of envy and wrath, and guarding our hearts against such destructive emotions. When conflicts arise, we must first look inward and seek the Lord's guidance to cleanse our souls of bitterness and resentment.
The Apostle Paul urges us in his epistles toward unity and humility within our family relationships. He implores us to bear with one another in love, to surrender our pride, and to embrace patience and understanding. Even in disagreement, we are called to preserve the sacred ties that bind us, for a house divided against itself cannot stand.
May we draw strength from these timeless teachings, seeking solace in prayer and divine intervention during times of family conflict. Through God's grace and our unwavering commitment to love and reconciliation, we can navigate the turbulent waters of familial discord and emerge stronger, united by faith and love.
Dear friends now let's see the Bible scriptures below that talk about Family Conflict.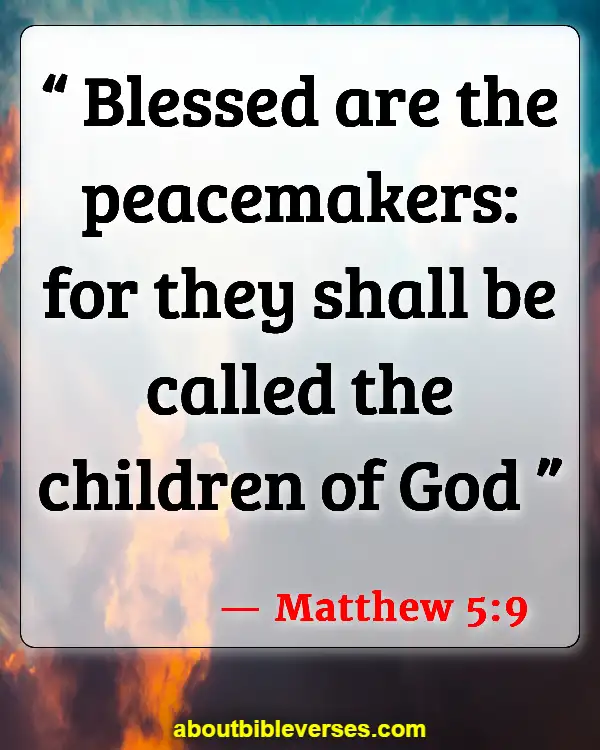 Matthew 5:9
"Blessed are the peacemakers: for they shall be called the children of God"
Matthew 5:23-24
"Therefore if thou bring thy gift to the altar, and there rememberest that thy brother hath ought against thee; Leave there thy gift before the altar, and go thy way; first be reconciled to thy brother, and then come and offer thy gift"
Matthew 18:15-17
"Moreover if thy brother shall trespass against thee, go and tell him his fault between thee and him alone: if he shall hear thee, thou hast gained thy brother. But if he will not hear thee, then take with thee one or two more, that in the mouth of two or three witnesses every word may be established. And if he shall neglect to hear them, tell it unto the church: but if he neglect to hear the church, let him be unto thee as an heathen man and a publican"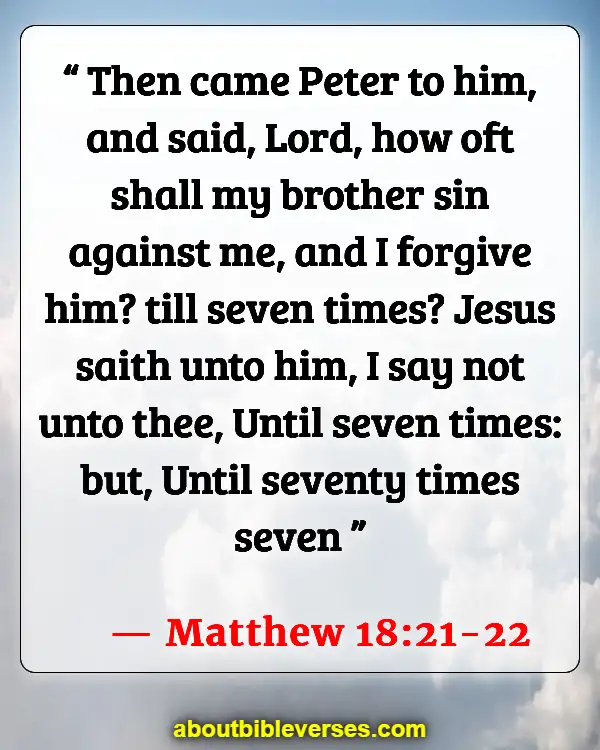 Matthew 18:21-22
"Then came Peter to him, and said, Lord, how oft shall my brother sin against me, and I forgive him? till seven times? Jesus saith unto him, I say not unto thee, Until seven times: but, Until seventy times seven"
Luke 6:37
"Judge not, and ye shall not be judged: condemn not, and ye shall not be condemned: forgive, and ye shall be forgiven"
Luke 17:3-4
"Take heed to yourselves: If thy brother trespass against thee, rebuke him; and if he repent, forgive him. And if he trespass against thee seven times in a day, and seven times in a day turn again to thee, saying, I repent; thou shalt forgive him"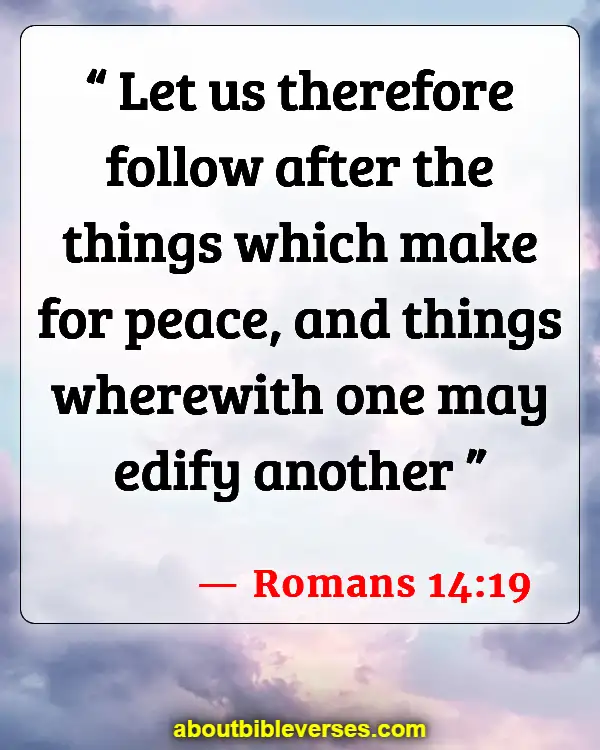 Romans 14:19
"Let us therefore follow after the things which make for peace, and things wherewith one may edify another"
1 Corinthians 13:4-7
"Charity suffereth long, and is kind; charity envieth not; charity vaunteth not itself, is not puffed up, Doth not behave itself unseemly, seeketh not her own, is not easily provoked, thinketh no evil; Rejoiceth not in iniquity, but rejoiceth in the truth; Beareth all things, believeth all things, hopeth all things, endureth all things"
Ephesians 4:26-27
"Be ye angry, and sin not: let not the sun go down upon your wrath: Neither give place to the devil"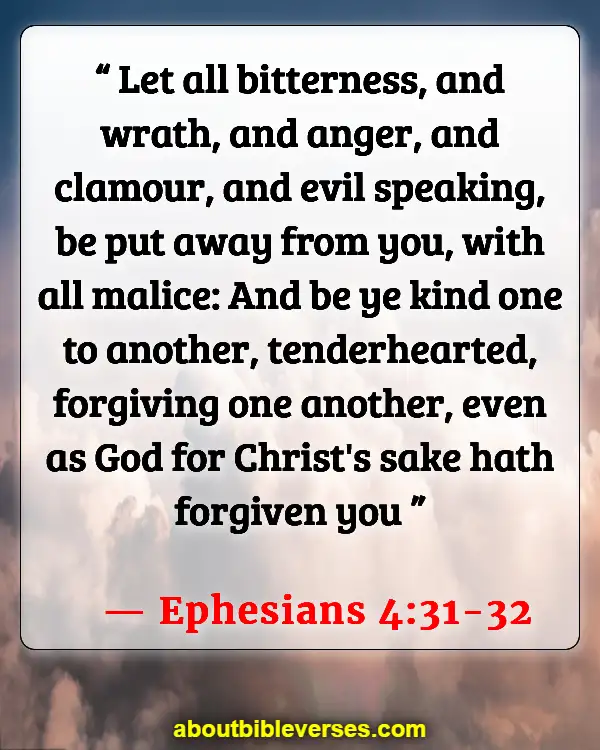 Ephesians 4:31-32
"Let all bitterness, and wrath, and anger, and clamour, and evil speaking, be put away from you, with all malice: And be ye kind one to another, tenderhearted, forgiving one another, even as God for Christ's sake hath forgiven you"
Colossians 3:13
"Forbearing one another, and forgiving one another, if any man have a quarrel against any: even as Christ forgave you, so also do ye"
James 1:19-20
"Wherefore, my beloved brethren, let every man be swift to hear, slow to speak, slow to wrath: For the wrath of man worketh not the righteousness of God"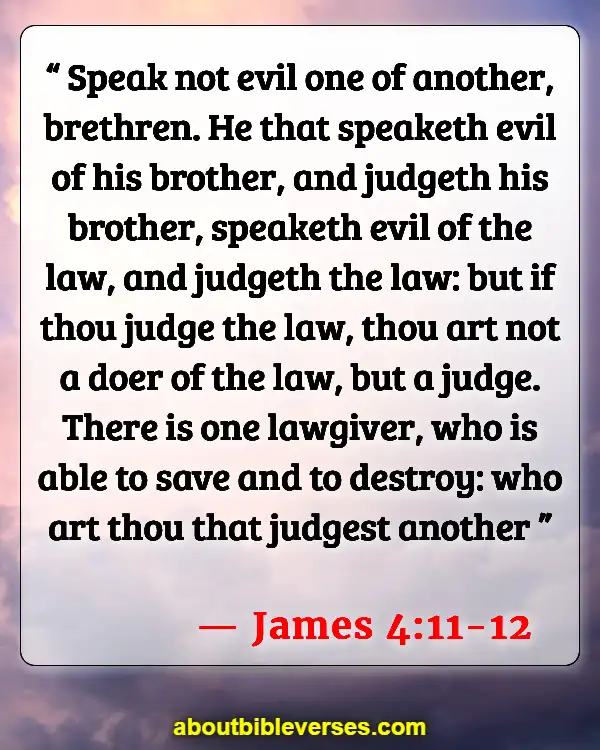 James 4:11-12
"Speak not evil one of another, brethren. He that speaketh evil of his brother, and judgeth his brother, speaketh evil of the law, and judgeth the law: but if thou judge the law, thou art not a doer of the law, but a judge. There is one lawgiver, who is able to save and to destroy: who art thou that judgest another?"
1 Peter 3:8-9
"Finally, be ye all of one mind, having compassion one of another, love as brethren, be pitiful, be courteous: Not rendering evil for evil, or railing for railing: but contrariwise blessing; knowing that ye are thereunto called, that ye should inherit a blessing"
1 Peter 4:8
"And above all things have fervent charity among yourselves: for charity shall cover the multitude of sins"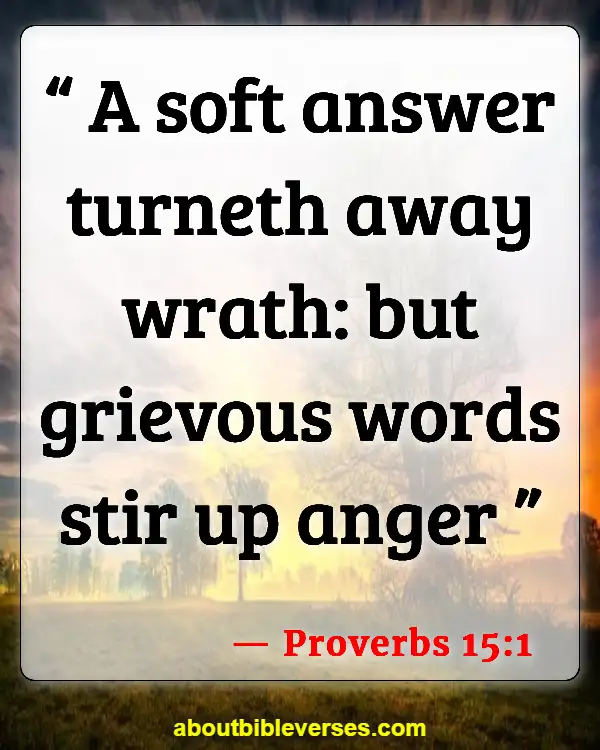 Proverbs 15:1
"A soft answer turneth away wrath: but grievous words stir up anger"
Proverbs 15:18
"A wrathful man stirreth up strife: but he that is slow to anger appeaseth strife"
Proverbs 17:9
"He that covereth a transgression seeketh love; but he that repeateth a matter separateth very friends"
Proverbs 18:19
"A brother offended is harder to be won than a strong city: and their contentions are like the bars of a castle"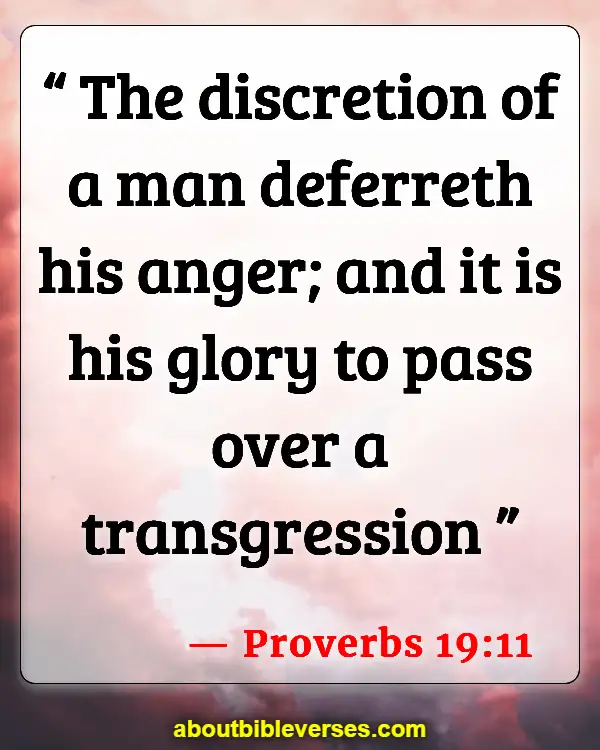 Proverbs 19:11
"The discretion of a man deferreth his anger; and it is his glory to pass over a transgression"
Proverbs 20:3
"It is an honour for a man to cease from strife: but every fool will be meddling"
Proverbs 28:13
"He that covereth his sins shall not prosper: but whoso confesseth and forsaketh them shall have mercy"
Proverbs 29:22
"An angry man stirreth up strife, and a furious man aboundeth in transgression"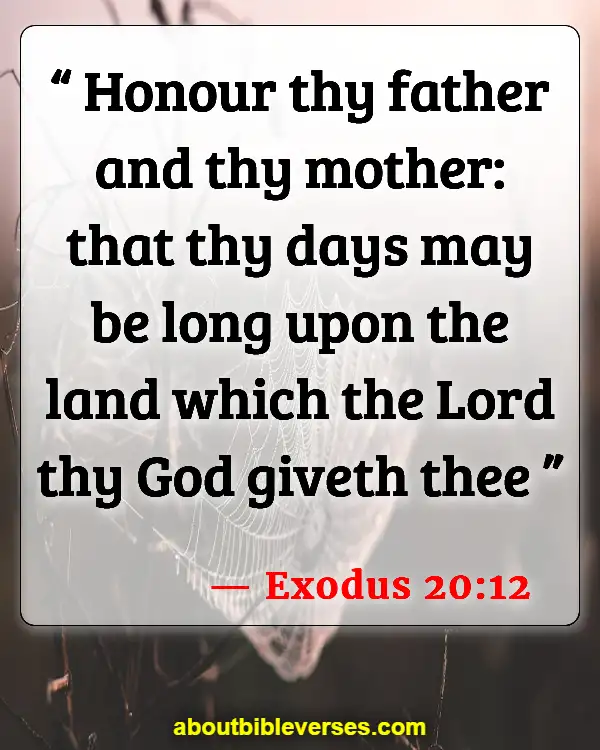 Exodus 20:12
"Honour thy father and thy mother: that thy days may be long upon the land which the Lord thy God giveth thee"