Hello dear friends, welcome to our site in the name of Jesus Christ. Today we will look at the Bible Scriptures About Fairness And Equality In KJV. If you like today's post then definitely comment and share.
The Bible, as a spiritual text, carries profound lessons on fairness and equality. In its pages, we find reminders that every human being, regardless of their social standing, race or gender, is made in the image of God and thus possesses inherent worth and dignity. This divine imprint in each of us invites a sense of equality that transcends earthly divisions and hierarchies.
Just as seeds need sunshine and water to grow, so human relationships require sunshine and rain. Fairness promotes respect, mutual understanding and building good relationships. A Bible verse comes to mind here: "Do unto others as you would have them do unto you." This call for reciprocity encourages us to treat others fairly, not simply out of duty, but out of genuine love and compassion.
Equality in the biblical context, on the other hand, teaches us about our shared humanity and the just distribution of love, respect, and kindness. Embracing justice and equality as biblical principles leads us to build a more inclusive, compassionate and just society. In this way, we can reflect the inherent fairness and equality of divine love.
Dear friends now let's see the Bible scriptures below that talk about Fairness And Equality.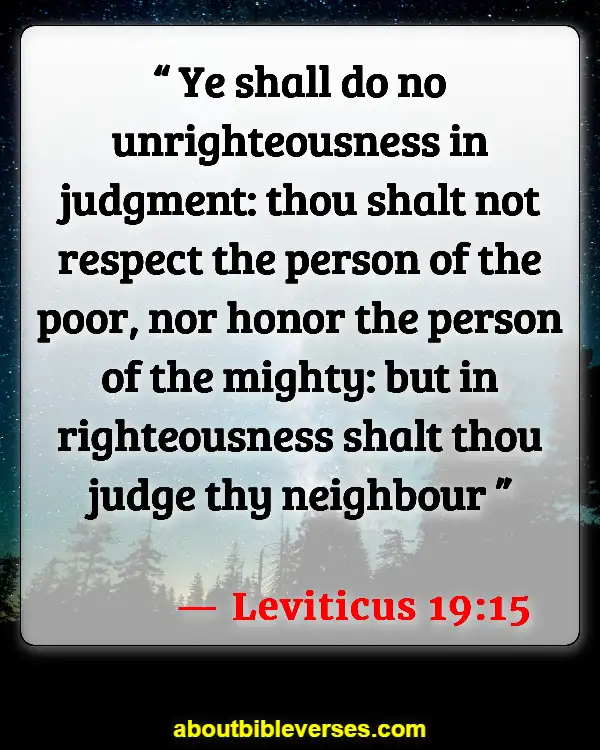 Leviticus 19:15
"Ye shall do no unrighteousness in judgment: thou shalt not respect the person of the poor, nor honor the person of the mighty: but in righteousness shalt thou judge thy neighbour"
Proverbs 31:9
"Open thy mouth, judge righteously, and plead the cause of the poor and needy"
Micah 6:8
"He hath shewed thee, O man, what is good; and what doth the Lord require of thee, but to do justly, and to love mercy, and to walk humbly with thy God?"
Isaiah 1:17
"Learn to do well; seek judgment, relieve the oppressed, judge the fatherless, plead for the widow"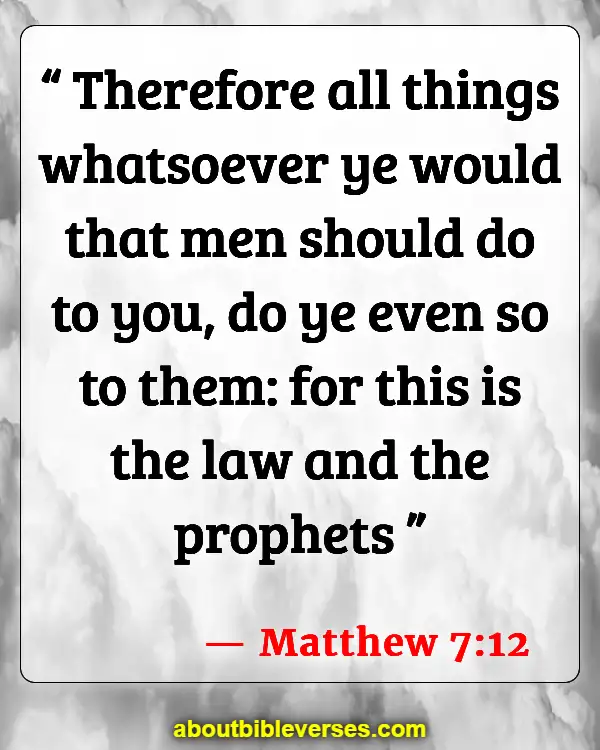 Matthew 7:12
"Therefore all things whatsoever ye would that men should do to you, do ye even so to them: for this is the law and the prophets"
Luke 6:31
"And as ye would that men should do to you, do ye also to them likewise"
Galatians 3:28
"There is neither Jew nor Greek, there is neither bond nor free, there is neither male nor female: for ye are all one in Christ Jesus"
Romans 2:11
"For there is no respect of persons with God"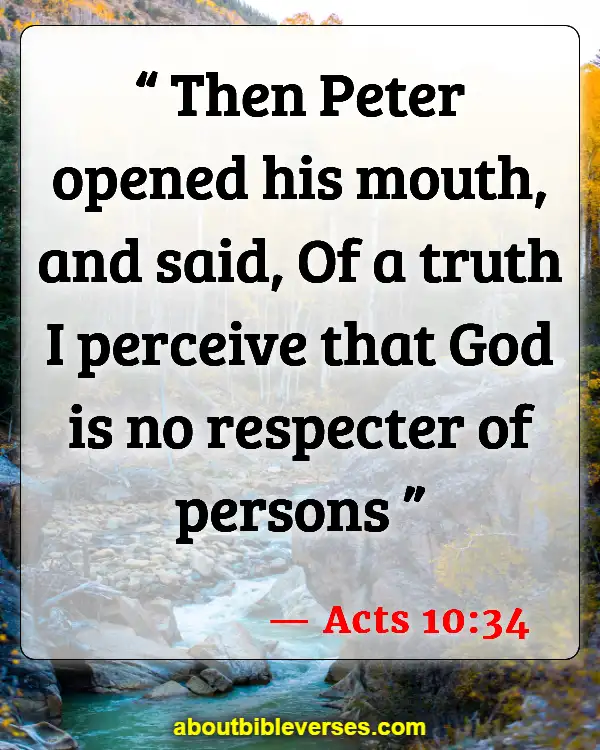 Acts 10:34
"Then Peter opened his mouth, and said, Of a truth I perceive that God is no respecter of persons"
Colossians 3:25
"But he that doeth wrong shall receive for the wrong which he hath done: and there is no respect of persons"
James 2:9
"But if ye have respect to persons, ye commit sin, and are convinced of the law as transgressors"
Deuteronomy 16:20
"That which is altogether just shalt thou follow, that thou mayest live, and inherit the land which the Lord thy God giveth thee"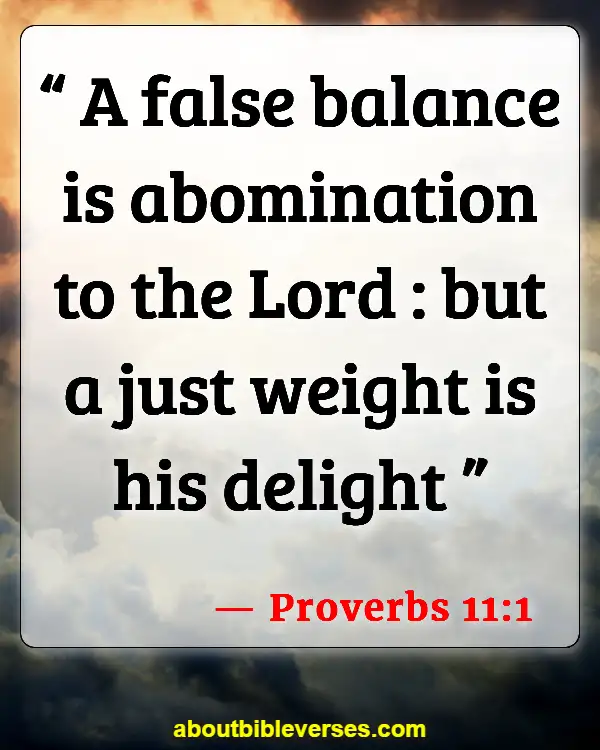 Proverbs 11:1
"A false balance is abomination to the Lord : but a just weight is his delight"
Proverbs 20:10
"Divers weights, and divers measures, both of them are alike abomination to the Lord"
Amos 5:24
"But let judgment run down as waters, and righteousness as a mighty stream"
Zechariah 7:9
"Thus speaketh the Lord of hosts, saying, Execute true judgment, and shew mercy and compassions every man to his brother"
Matthew 22:39
"And the second is like unto it, Thou shalt love thy neighbour as thyself"
Romans 12:10
"Be kindly affectioned one to another with brotherly love; in honour preferring one another"
Romans 13:8
"Owe no man any thing, but to love one another: for he that loveth another hath fulfilled the law"
Galatians 5:14
"For all the law is fulfilled in one word, even in this; Thou shalt love thy neighbour as thyself"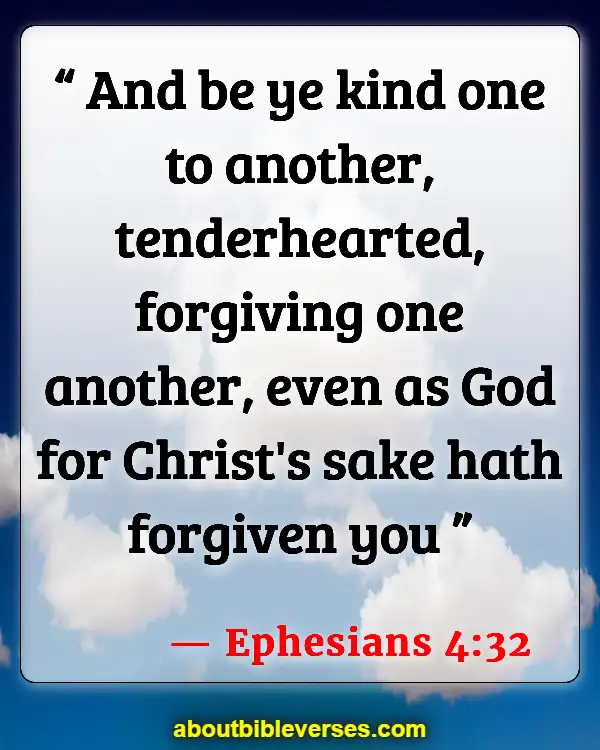 Ephesians 4:32
"And be ye kind one to another, tenderhearted, forgiving one another, even as God for Christ's sake hath forgiven you"
Philippians 2:3-4
"Let nothing be done through strife or vainglory; but in lowliness of mind let each esteem other better than themselves. Look not every man on his own things, but every man also on the things of others"
Colossians 3:12
"Put on therefore, as the elect of God, holy and beloved, bowels of mercies, kindness, humbleness of mind, meekness, longsuffering"
James 2:8
"If ye fulfil the royal law according to the scripture, Thou shalt love thy neighbour as thyself, ye do well"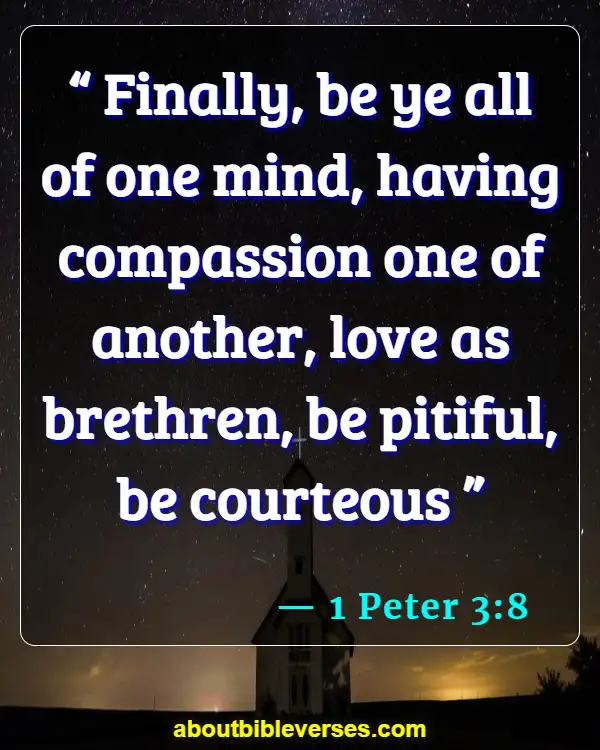 1 Peter 3:8
"Finally, be ye all of one mind, having compassion one of another, love as brethren, be pitiful, be courteous"
Proverbs 14:21
"He that despiseth his neighbour sinneth: but he that hath mercy on the poor, happy is he"
Proverbs 28:5
"Evil men understand not judgment: but they that seek the Lord understand all things"
Isaiah 56:1
"Thus saith the Lord , Keep ye judgment, and do justice: for my salvation is near to come, and my righteousness to be revealed"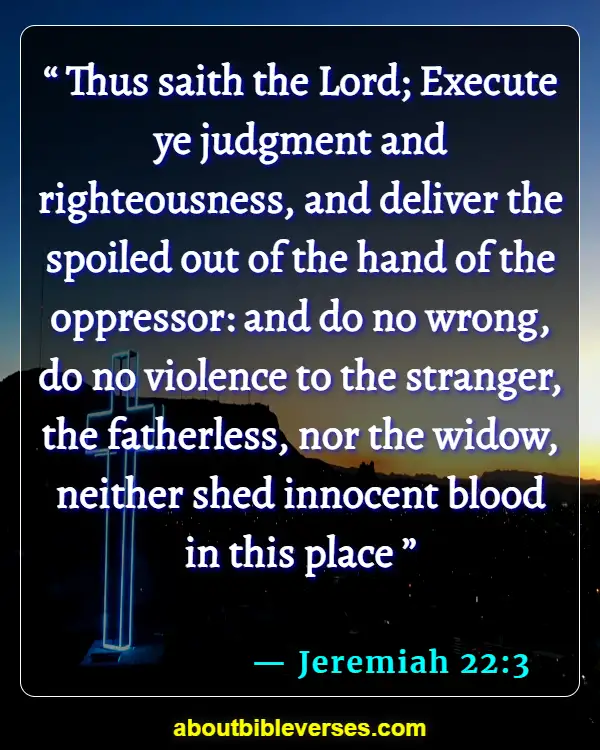 Jeremiah 22:3
"Thus saith the Lord ; Execute ye judgment and righteousness, and deliver the spoiled out of the hand of the oppressor: and do no wrong, do no violence to the stranger, the fatherless, nor the widow, neither shed innocent blood in this place"
Psalm 106:3
"Blessed are they that keep judgment, and he that doeth righteousness at all times"
1 Timothy 5:21
"I charge thee before God, and the Lord Jesus Christ, and the elect angels, that thou observe these things without preferring one before another, doing nothing by partiality"
Hebrews 12:14
"Follow peace with all men, and holiness, without which no man shall see the Lord"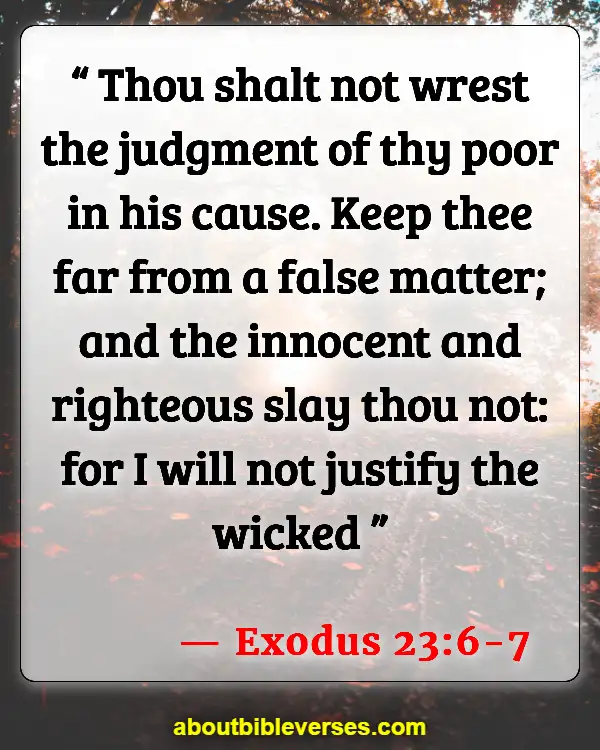 Exodus 23:6-7
"Thou shalt not wrest the judgment of thy poor in his cause.Keep thee far from a false matter; and the innocent and righteous slay thou not: for I will not justify the wicked"
Deuteronomy 1:17
"Ye shall not respect persons in judgment; but ye shall hear the small as well as the great; ye shall not be afraid of the face of man; for the judgment is God's: and the cause that is too hard for you, bring it unto me, and I will hear it"
Deuteronomy 10:17
"For the Lord your God is God of gods, and Lord of lords, a great God, a mighty, and a terrible, which regardeth not persons, nor taketh reward"
2 Chronicles 19:7
"Wherefore now let the fear of the Lord be upon you; take heed and do it: for there is no iniquity with the Lord our God, nor respect of persons, nor taking of gifts"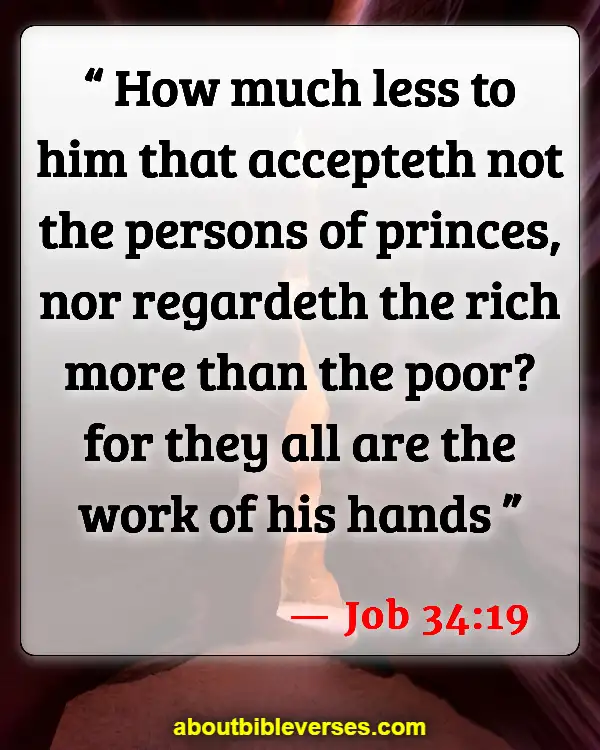 Job 34:19
"How much less to him that accepteth not the persons of princes, nor regardeth the rich more than the poor? for they all are the work of his hands"
Psalm 82:2-4
"How long will ye judge unjustly, and accept the persons of the wicked? Selah. Defend the poor and fatherless: do justice to the afflicted and needy. Deliver the poor and needy: rid them out of the hand of the wicked"
Proverbs 22:2
"The rich and poor meet together: the Lord is the maker of them all"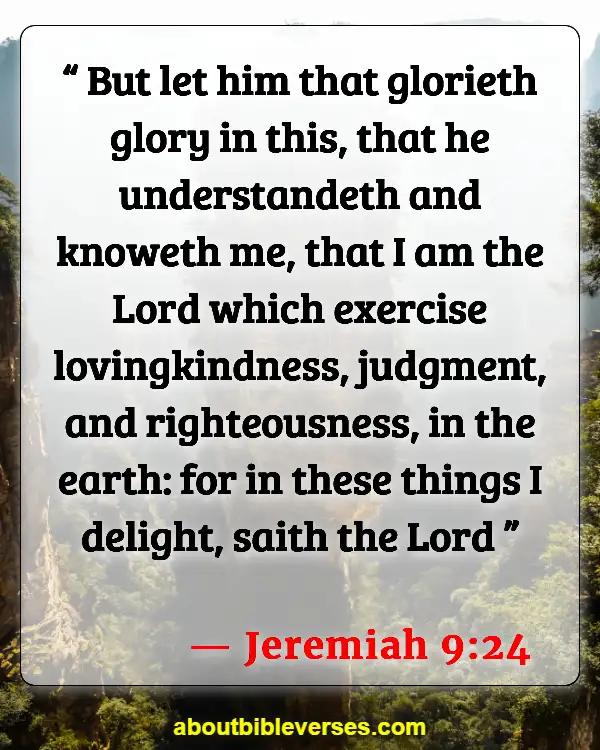 Jeremiah 9:24
"But let him that glorieth glory in this, that he understandeth and knoweth me, that I am the Lord which exercise lovingkindness, judgment, and righteousness, in the earth: for in these things I delight, saith the Lord"