Dear friends every trial is an opportunity for growth and blessing. As we face challenges, we trust in God's faithfulness, seek His wisdom, and remember that He can turn our trials into victories. Through faith and perseverance, we can experience the blessings that persevere and overcome every trial that comes our way.
In our trials, we learn to trust in God's unfailing love and seek His guidance. We find the strength that comes from depending on Him, knowing that He is always with us, providing comfort and support. When we face problems, we draw near to God, seeking His wisdom and understanding.
Exams also teach us practical lessons that we can apply in our daily lives. This test teaches us patience, perseverance, and resilience. We learn to endure suffering, knowing that it is temporary and that God is working all things for our good. Through testing, we learn valuable skills, gain experience, and develop character traits that help us overcome future challenges.
The Bible is full of illustrative examples of people who faced trials and found blessings in them. Consider the story of Joseph, who was sold into slavery by his own brothers. Despite his suffering, Joseph remained faithful to God, and eventually, he became a powerful leader in Egypt.
Another example is the apostle Paul, who endured various trials, including imprisonment and persecution. Through his suffering, Paul learned to rely on God's strength and grace. His writings in the Bible inspired by the Holy Spirit continue to encourage and guide believers today.
Here are some Bible verses that teach us "in every trial there is a blessing":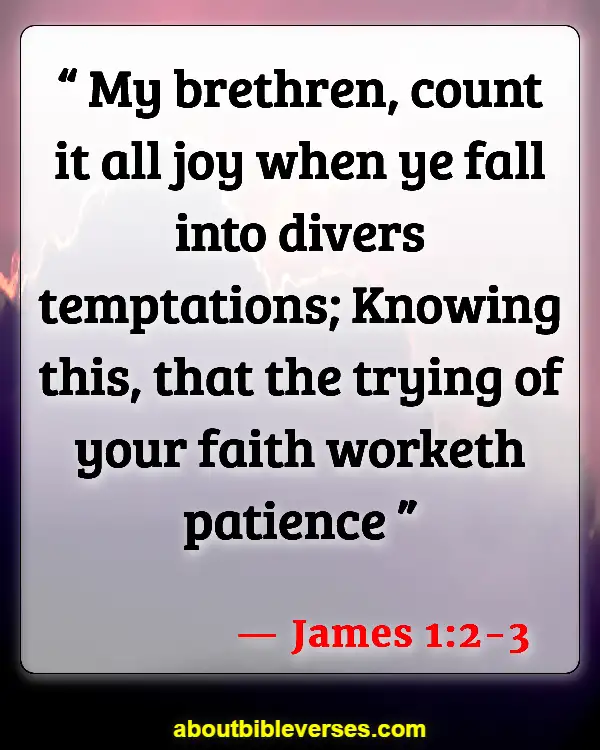 James 1:2-3
"My brethren, count it all joy when ye fall into divers temptations; Knowing this, that the trying of your faith worketh patience"
Romans 5:3-5
"And not only so, but we glory in tribulations also: knowing that tribulation worketh patience; And patience, experience; and experience, hope: And hope maketh not ashamed; because the love of God is shed abroad in our hearts by the Holy Ghost which is given unto us"
1 Peter 4:12-13
"Beloved, think it not strange concerning the fiery trial which is to try you, as though some strange thing happened unto you: But rejoice, inasmuch as ye are partakers of Christ's sufferings; that, when his glory shall be revealed, ye may be glad also with exceeding joy"
2 Corinthians 12:10
"Therefore I take pleasure in infirmities, in reproaches, in necessities, in persecutions, in distresses for Christ's sake: for when I am weak, then am I strong"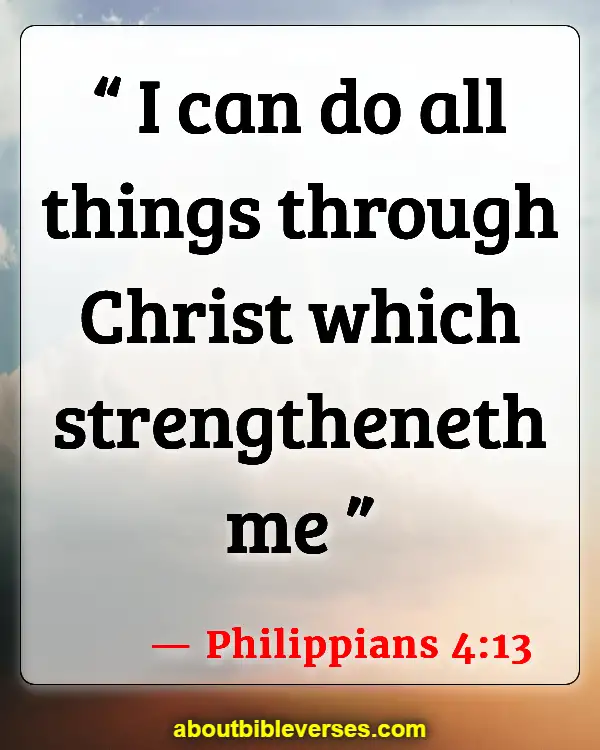 Philippians 4:13
"I can do all things through Christ which strengtheneth me"
Romans 8:28
"And we know that all things work together for good to them that love God, to them who are the called according to his purpose"
Matthew 5:11-12
"Blessed are ye, when men shall revile you, and persecute you, and shall say all manner of evil against you falsely, for my sake. Rejoice, and be exceeding glad: for great is your reward in heaven: for so persecuted they the prophets which were before you"
Psalm 34:19
"Many are the afflictions of the righteous: but the Lord delivereth him out of them all"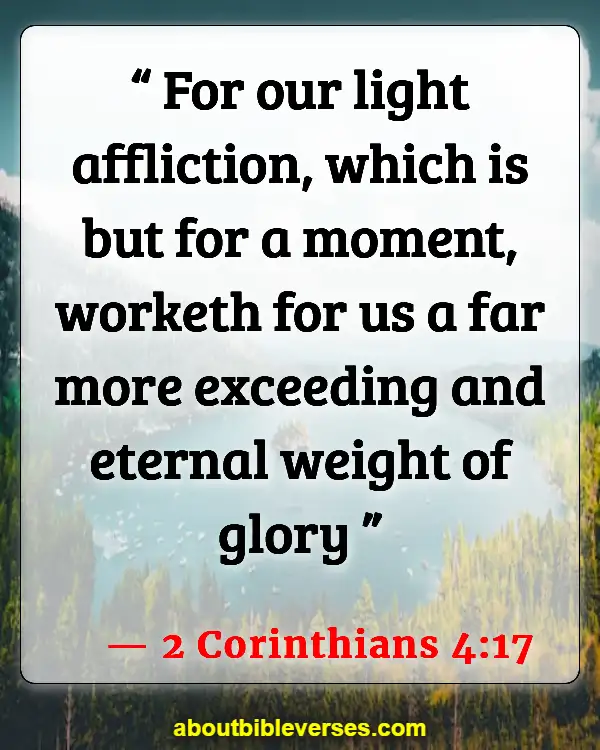 2 Corinthians 4:17
"For our light affliction, which is but for a moment, worketh for us a far more exceeding and eternal weight of glory"
1 Peter 1:6-7
"Wherein ye greatly rejoice, though now for a season, if need be, ye are in heaviness through manifold temptations: That the trial of your faith, being much more precious than of gold that perisheth, though it be tried with fire, might be found unto praise and honour and glory at the appearing of Jesus Christ"
Hebrews 12:11
"Now no chastening for the present seemeth to be joyous, but grievous: nevertheless afterward it yieldeth the peaceable fruit of righteousness unto them which are exercised thereby"
1 Corinthians 10:13
"There hath no temptation taken you but such as is common to man: but God is faithful, who will not suffer you to be tempted above that ye are able; but will with the temptation also make a way to escape, that ye may be able to bear it"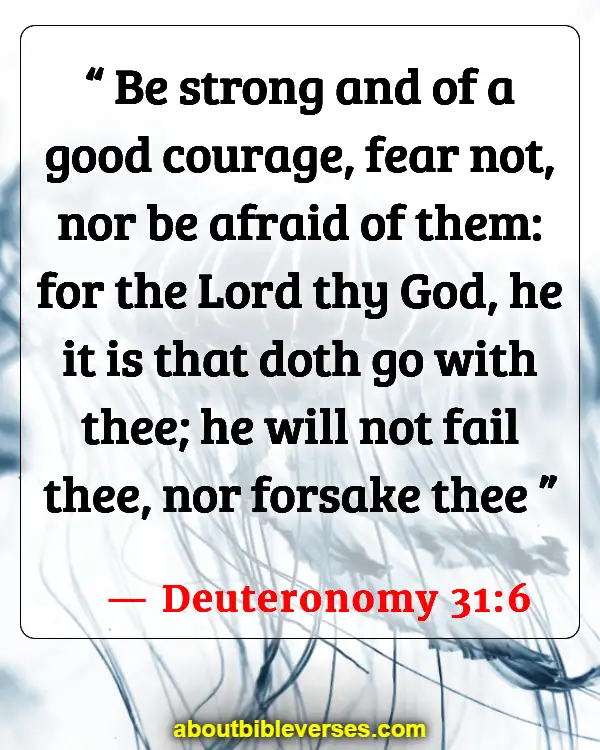 Deuteronomy 31:6
"Be strong and of a good courage, fear not, nor be afraid of them: for the Lord thy God, he it is that doth go with thee; he will not fail thee, nor forsake thee"
Psalm 46:1
"God is our refuge and strength, a very present help in trouble"
2 Timothy 1:7
"For God hath not given us the spirit of fear; but of power, and of love, and of a sound mind"
Psalm 27:1
"The Lord is my light and my salvation; whom shall I fear? the Lord is the strength of my life; of whom shall I be afraid?"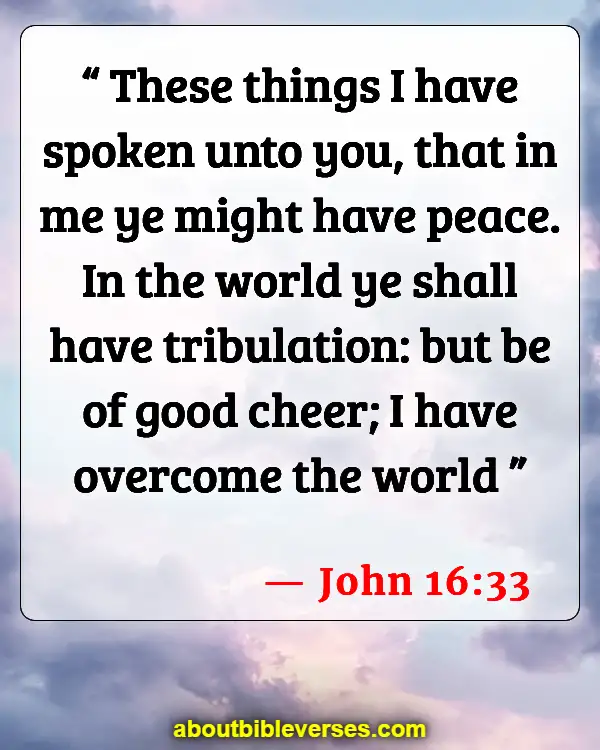 John 16:33
"These things I have spoken unto you, that in me ye might have peace. In the world ye shall have tribulation: but be of good cheer; I have overcome the world"
Proverbs 3:5-6
"Trust in the Lord with all thine heart; and lean not unto thine own understanding. In all thy ways acknowledge him, and he shall direct thy paths"
Psalm 55:22
"Cast thy burden upon the Lord , and he shall sustain thee: he shall never suffer the righteous to be moved"
Psalm 37:23-24
"The steps of a good man are ordered by the Lord : and he delighteth in his way. Though he fall, he shall not be utterly cast down: for the Lord upholdeth him with his hand"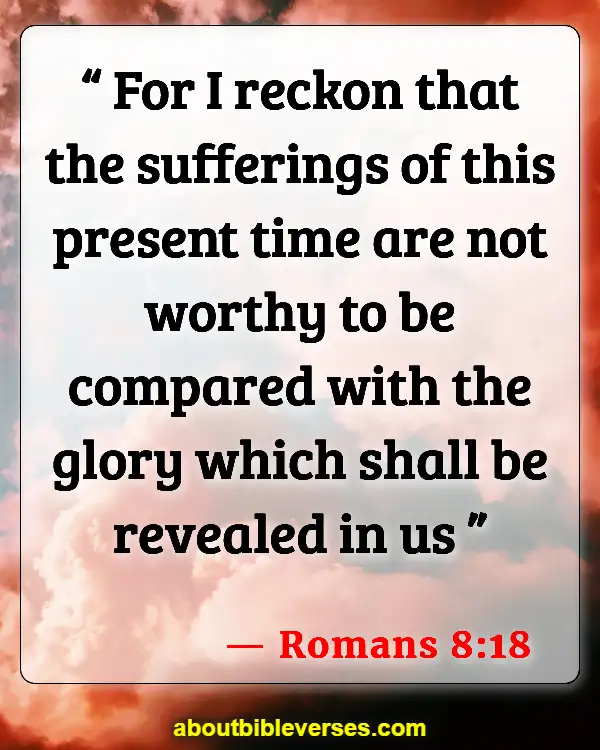 Romans 8:18
"For I reckon that the sufferings of this present time are not worthy to be compared with the glory which shall be revealed in us"
Isaiah 41:10
"Fear thou not; for I am with thee: be not dismayed; for I am thy God: I will strengthen thee; yea, I will help thee; yea, I will uphold thee with the right hand of my righteousness"
2 Corinthians 1:3-4
"Blessed be God, even the Father of our Lord Jesus Christ, the Father of mercies, and the God of all comfort; Who comforteth us in all our tribulation, that we may be able to comfort them which are in any trouble, by the comfort wherewith we ourselves are comforted of God"
Philippians 4:6-7
"Be careful for nothing; but in every thing by prayer and supplication with thanksgiving let your requests be made known unto God. And the peace of God, which passeth all understanding, shall keep your hearts and minds through Christ Jesus"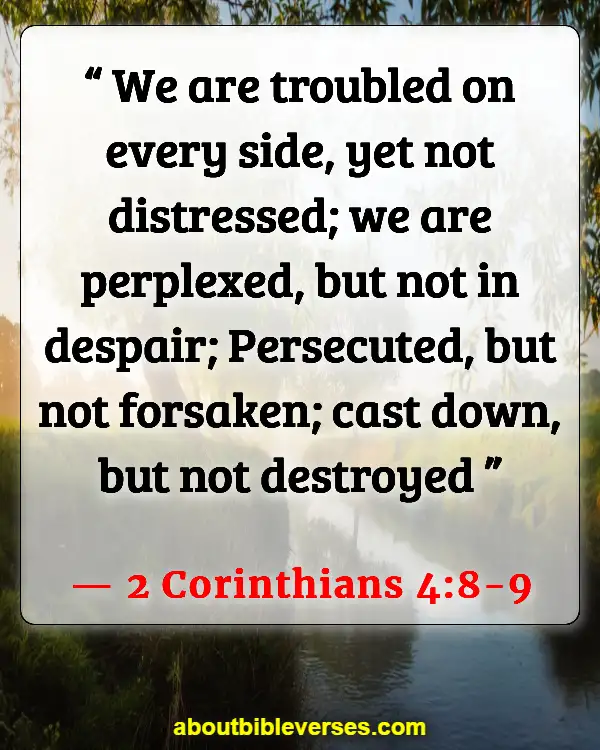 2 Corinthians 4:8-9
"We are troubled on every side, yet not distressed; we are perplexed, but not in despair; Persecuted, but not forsaken; cast down, but not destroyed"
Psalm 18:2
"The Lord is my rock, and my fortress, and my deliverer; my God, my strength, in whom I will trust; my buckler, and the horn of my salvation, and my high tower"
Romans 12:12
"Rejoicing in hope; patient in tribulation; continuing instant in prayer"
Psalm 94:19
"In the multitude of my thoughts within me thy comforts delight my soul"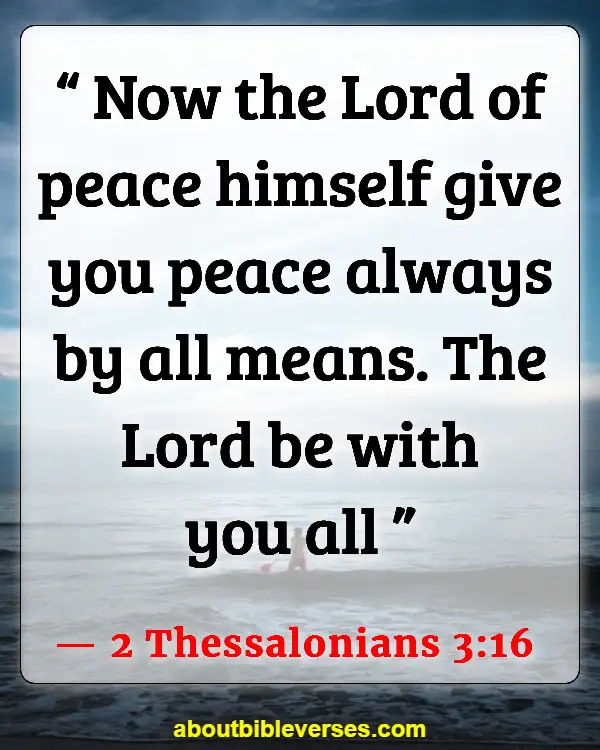 2 Thessalonians 3:16
"Now the Lord of peace himself give you peace always by all means. The Lord be with you all"
Psalm 138:3
"In the day when I cried thou answeredst me, and strengthenedst me with strength in my soul"
1 Peter 5:10
"But the God of all grace, who hath called us unto his eternal glory by Christ Jesus, after that ye have suffered a while, make you perfect, stablish, strengthen, settle you"
Psalm 119:71
"It is good for me that I have been afflicted; that I might learn thy statutes"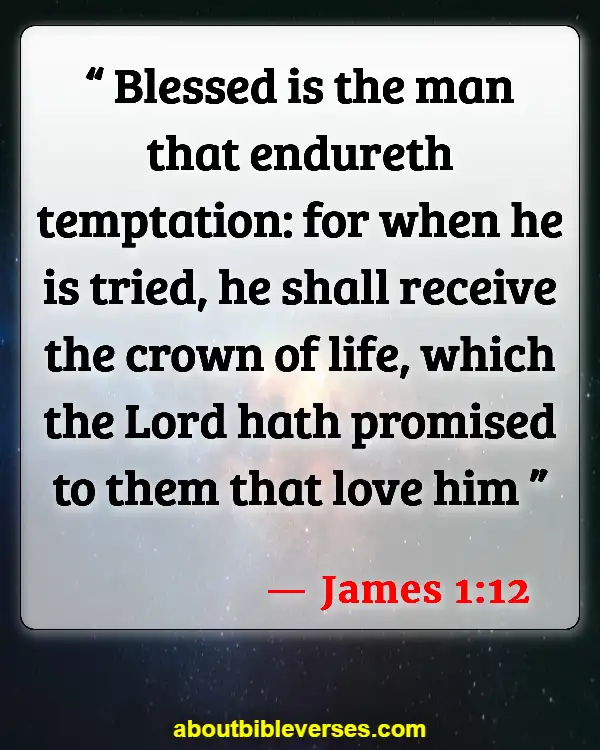 James 1:12
"Blessed is the man that endureth temptation: for when he is tried, he shall receive the crown of life, which the Lord hath promised to them that love him"
Isaiah 40:31
"But they that wait upon the Lord shall renew their strength; they shall mount up with wings as eagles; they shall run, and not be weary; and they shall walk, and not faint"
Romans 15:13
"Now the God of hope fill you with all joy and peace in believing, that ye may abound in hope, through the power of the Holy Ghost"
Philippians 4:19
"But my God shall supply all your need according to his riches in glory by Christ Jesus"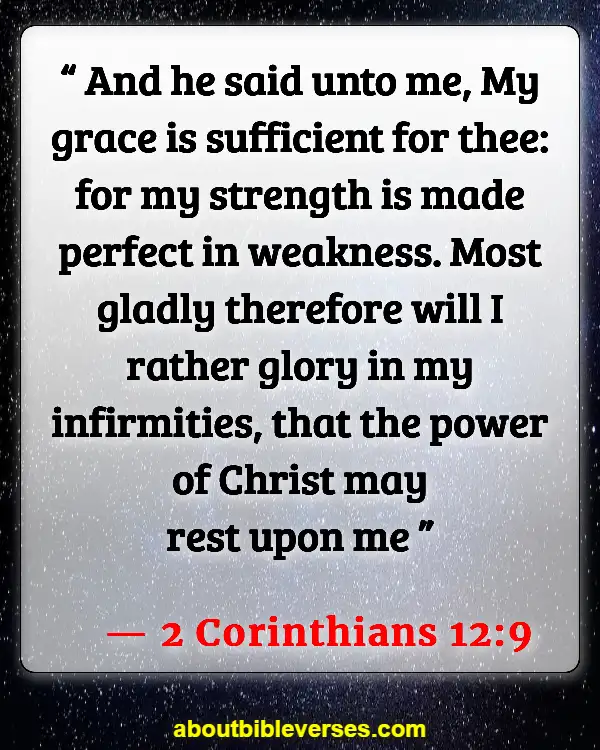 2 Corinthians 12:9
"And he said unto me, My grace is sufficient for thee: for my strength is made perfect in weakness. Most gladly therefore will I rather glory in my infirmities, that the power of Christ may rest upon me"
Lamentations 3:22-23
"It is of the Lord 's mercies that we are not consumed, because his compassions fail not. They are new every morning: great is thy faithfulness"
Psalm 23:4
"Yea, though I walk through the valley of the shadow of death, I will fear no evil: for thou art with me; thy rod and thy staff they comfort me"
1 Peter 5:7
"Casting all your care upon him; for he careth for you"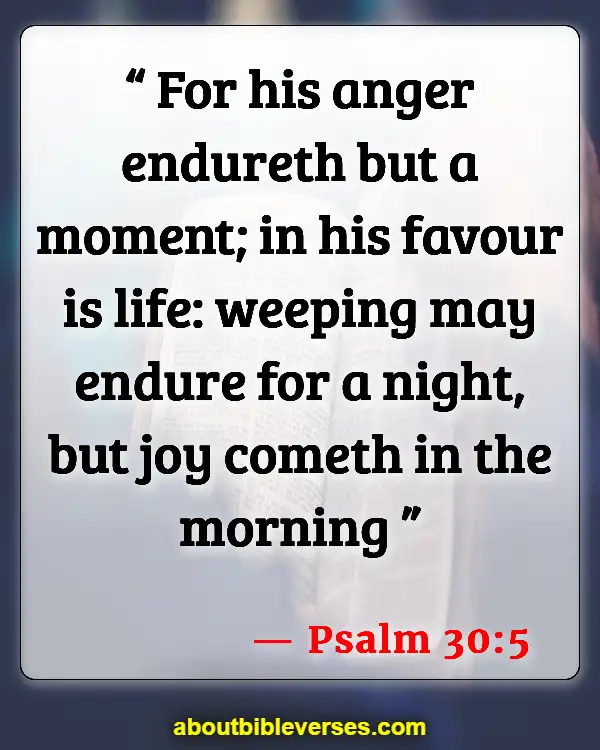 Psalm 30:5
"For his anger endureth but a moment; in his favour is life: weeping may endure for a night, but joy cometh in the morning"