Hello dear friends, welcome to our site in the name of Jesus Christ. Today we will look at the Bible Scriptures About Enemies Defeated In KJV. If you like today's post then definitely comment and share.
Friends In life, we often encounter those who wish us harm, that is, they can be called enemies. According to biblical wisdom, the key to overcoming these adversaries is not through anger or vengeance, but with love, patience, and forgiveness.
The Bible reminds us that even when we feel surrounded by enemies, we can find comfort and strength in divine love. It teaches us that no foe is too powerful for the infinite might of the spiritual realm. Just as the sun scatters the shadows at dawn, so too does God's light scatter the darkness that our enemies cast upon us.
dear Friends, our spirit, like a strong fortress, cannot be breached by mere hostility. This is because our strength emanates from a divine source that's infinitely more powerful. Just like the mighty river effortlessly reshaping the rocks in its path, this spiritual strength can turn even the most formidable foe into a friend.
As we journey through this life, remember that the light of love is a powerful force that can vanquish any darkness. So when we face our enemies, let us not be swayed by bitterness or resentment. Instead, we ought to shine this divine light on them, illuminating their way to redemption.
It is through these acts of mercy and understanding that we can help our enemies find the path toward peace. Friends, this is how through love, patience, and forgiveness we overcome our enemies and become truly victorious.
Dear friends now let's see the Bible scriptures below that talk about Enemies Defeated.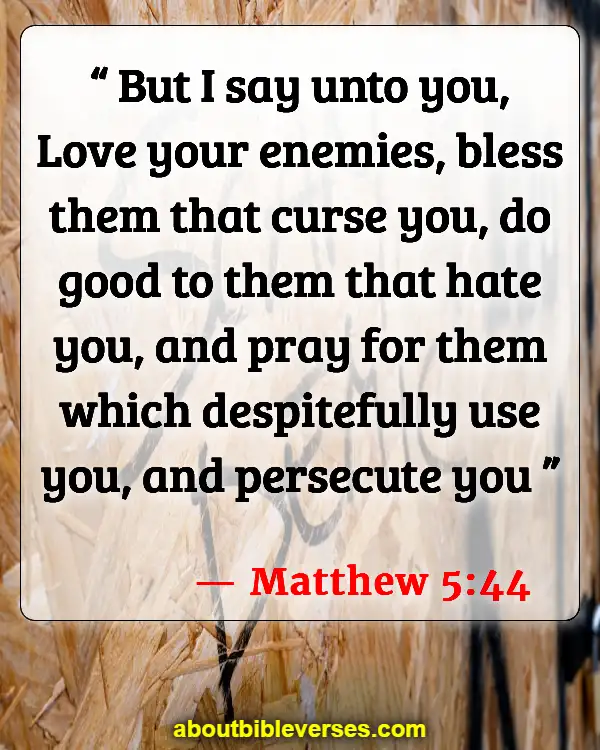 Matthew 5:44
"But I say unto you, Love your enemies, bless them that curse you, do good to them that hate you, and pray for them which despitefully use you, and persecute you"
Matthew 5:38-39
"Ye have heard that it hath been said, An eye for an eye, and a tooth for a tooth: But I say unto you, That ye resist not evil: but whosoever shall smite thee on thy right cheek, turn to him the other also"
Luke 6:27
"But I say unto you which hear, Love your enemies, do good to them which hate you"
Romans 12:14
"Bless them which persecute you: bless, and curse not"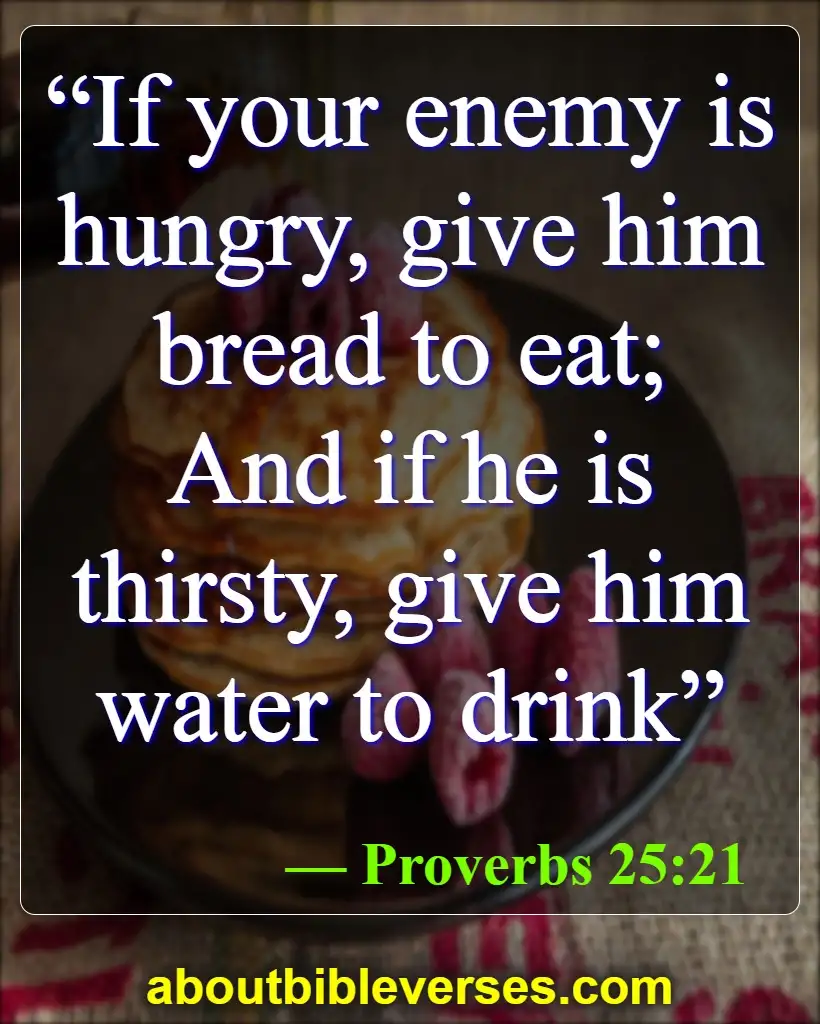 Proverbs 25:21
"If thine enemy be hungry, give him bread to eat; and if he be thirsty, give him water to drink"
Romans 12:20
"Therefore if thine enemy hunger, feed him; if he thirst, give him drink: for in so doing thou shalt heap coals of fire on his head"
Matthew 5:39
"But I say unto you, That ye resist not evil: but whosoever shall smite thee on thy right cheek, turn to him the other also"
Luke 6:35
"But love ye your enemies, and do good, and lend, hoping for nothing again; and your reward shall be great, and ye shall be the children of the Highest: for he is kind unto the unthankful and to the evil"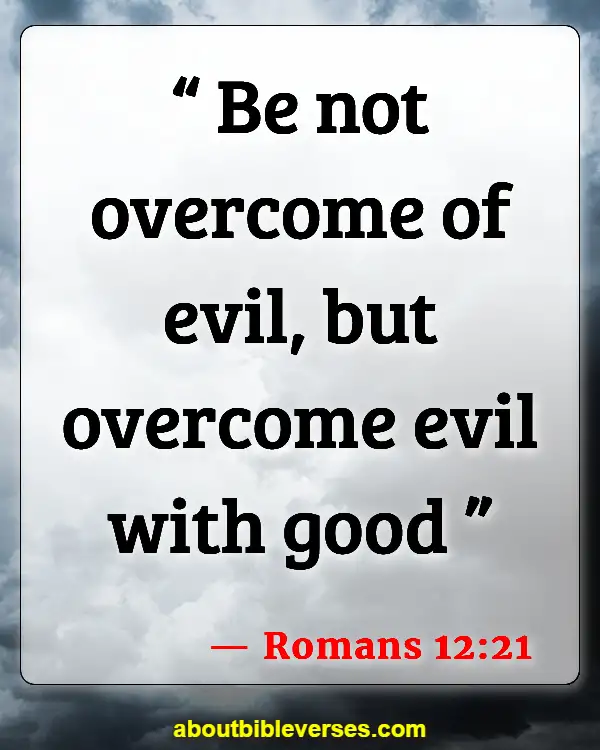 Romans 12:21
"Be not overcome of evil, but overcome evil with good"
Luke 23:34
"Then said Jesus, Father, forgive them; for they know not what they do. And they parted his raiment, and cast lots"
Exodus 23:4
"If thou meet thine enemy's ox or his ass going astray, thou shalt surely bring it back to him again"
Proverbs 24:17
"Rejoice not when thine enemy falleth, and let not thine heart be glad when he stumbleth"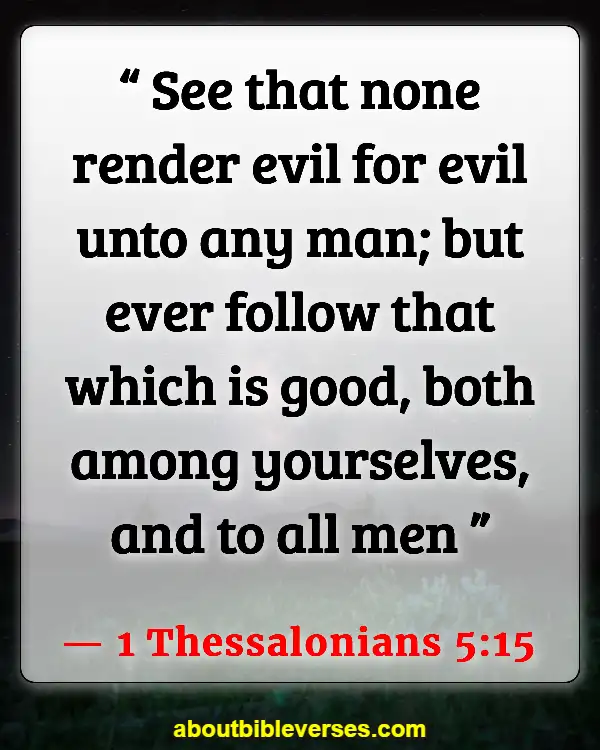 1 Thessalonians 5:15
"See that none render evil for evil unto any man; but ever follow that which is good, both among yourselves, and to all men"
1 Peter 3:9
"Not rendering evil for evil, or railing for railing: but contrariwise blessing; knowing that ye are thereunto called, that ye should inherit a blessing"
Proverbs 20:22
"Say not thou, I will recompense evil; but wait on the Lord , and he shall save thee"
Matthew 5:43
"Ye have heard that it hath been said, Thou shalt love thy neighbour, and hate thine enemy"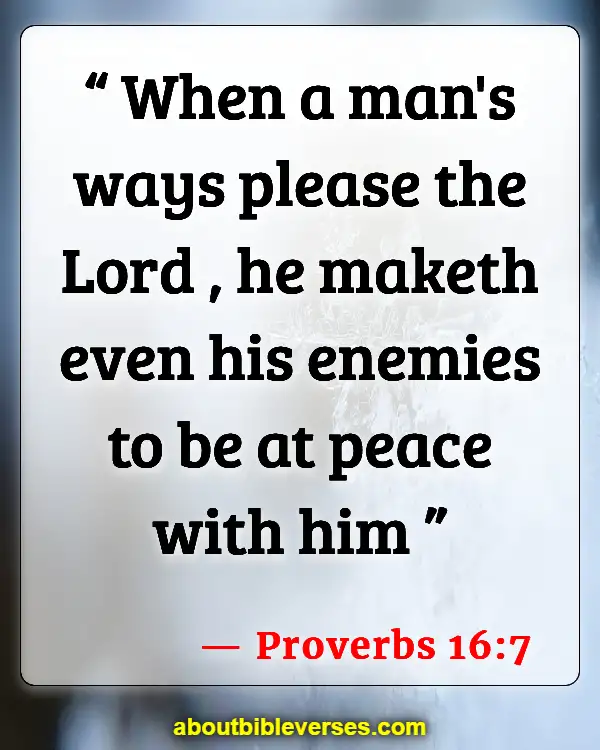 Proverbs 16:7
"When a man's ways please the Lord , he maketh even his enemies to be at peace with him"
Leviticus 19:18
"Thou shalt not avenge, nor bear any grudge against the children of thy people, but thou shalt love thy neighbour as thyself: I am the Lord"
Psalm 109:5
"And they have rewarded me evil for good, and hatred for my love"
Proverbs 15:1
"A soft answer turneth away wrath: but grievous words stir up anger"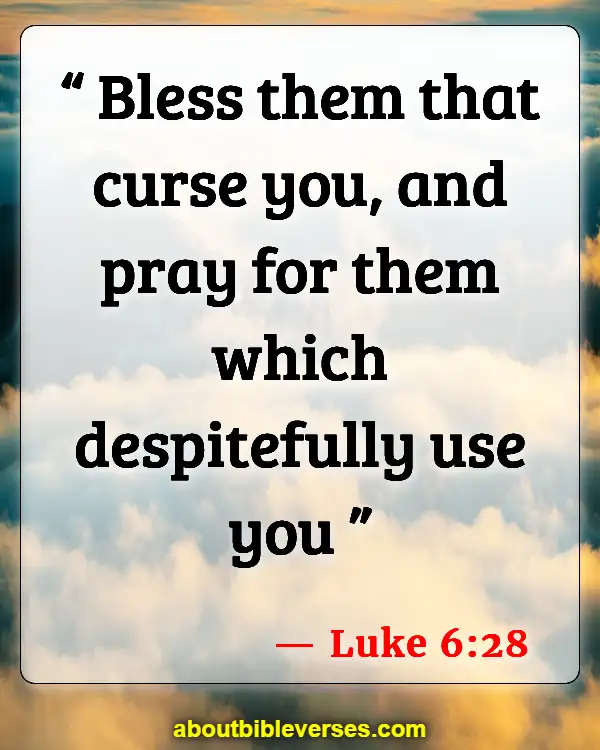 Luke 6:28
"Bless them that curse you, and pray for them which despitefully use you"
Proverbs 25:22
"For thou shalt heap coals of fire upon his head, and the Lord shall reward thee"
1 Corinthians 4:12
"And labour, working with our own hands: being reviled, we bless; being persecuted, we suffer it"
Matthew 5:10
"Blessed are they which are persecuted for righteousness' sake: for theirs is the kingdom of heaven"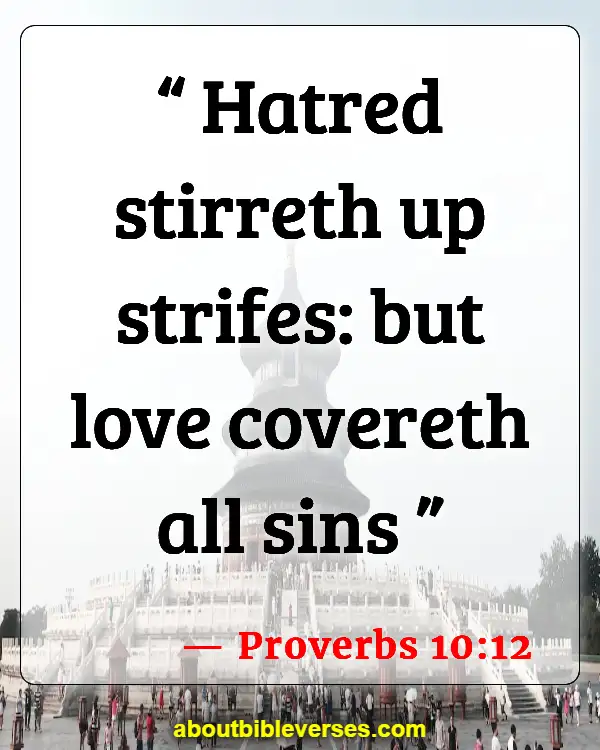 Proverbs 10:12
"Hatred stirreth up strifes: but love covereth all sins"
Matthew 5:11
"Blessed are ye, when men shall revile you, and persecute you, and shall say all manner of evil against you falsely, for my sake"
Luke 6:22
"Blessed are ye, when men shall hate you, and when they shall separate you from their company, and shall reproach you, and cast out your name as evil, for the Son of man's sake"
1 Peter 3:14
"But and if ye suffer for righteousness' sake, happy are ye: and be not afraid of their terror, neither be troubled"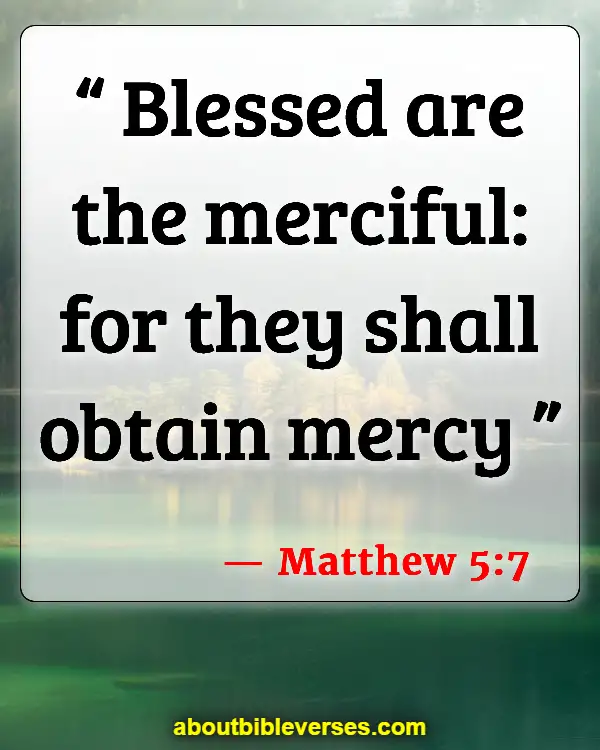 Matthew 5:7
"Blessed are the merciful: for they shall obtain mercy"
Matthew 5:9
"Blessed are the peacemakers: for they shall be called the children of God"
Luke 6:36
"Be ye therefore merciful, as your Father also is merciful"
James 3:18
"And the fruit of righteousness is sown in peace of them that make peace"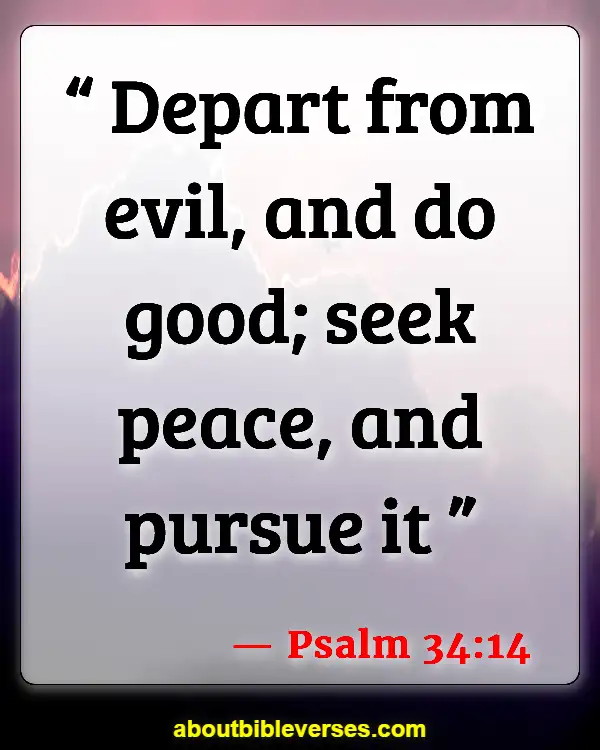 Psalm 34:14
"Depart from evil, and do good; seek peace, and pursue it"
Hebrews 12:14
"Follow peace with all men, and holiness, without which no man shall see the Lord"
Romans 14:19
"Let us therefore follow after the things which make for peace, and things wherewith one may edify another"
Psalm 37:27
"Depart from evil, and do good; and dwell for evermore"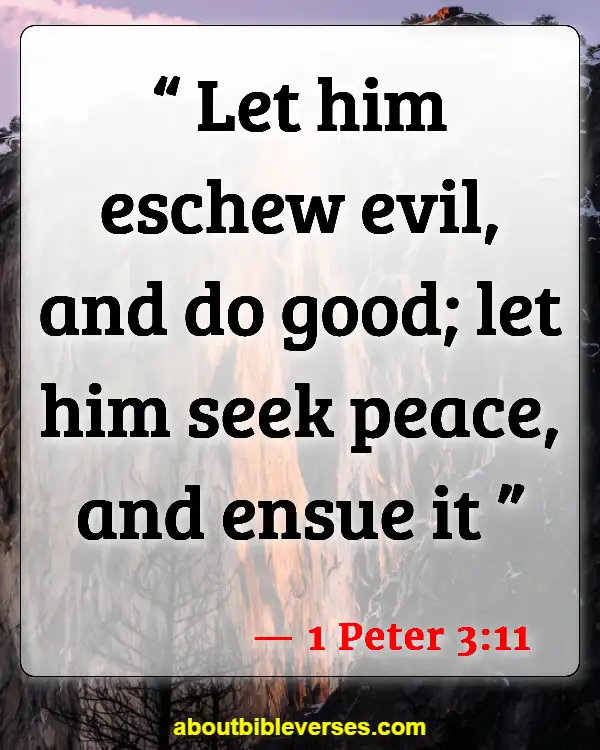 1 Peter 3:11
"Let him eschew evil, and do good; let him seek peace, and ensue it"
Proverbs 14:22
"Do they not err that devise evil? but mercy and truth shall be to them that devise good"
2 Timothy 2:22
"Flee also youthful lusts: but follow righteousness, faith, charity, peace, with them that call on the Lord out of a pure heart"
1 Peter 2:23
"Who, when he was reviled, reviled not again; when he suffered, he threatened not; but committed himself to him that judgeth righteously"
1 Corinthians 13:4
"Charity suffereth long, and is kind; charity envieth not; charity vaunteth not itself, is not puffed up"
1 Corinthians 13:5
"Doth not behave itself unseemly, seeketh not her own, is not easily provoked, thinketh no evil"
Matthew 5:45
"That ye may be the children of your Father which is in heaven: for he maketh his sun to rise on the evil and on the good, and sendeth rain on the just and on the unjust"