Hello dear friends, welcome to our site in the name of Jesus Christ. Today we will look at the Bible Scriptures About Disrespecting Your Mother In KJV. If you like today's post then definitely comment and share.
The Bible teaches us to honor and respect our mothers. Our mothers are special and precious gifts from God. They play a significant role in our lives, nurturing us with love and care. Disrespecting our mothers goes against the principles of love, kindness, and gratitude.
Think about the role a mother plays in our lives: she is our first teacher, our first protector, and often our first friend. To disrespect her is to dismiss the sacred bond that nature itself has gifted us.
When we disrespect our mothers, we hurt them emotionally and dishonor the God who created us. God's commandment to "honor your father and mother" reminds us of the importance of showing respect to our parents, including our mothers. It is a way to express gratitude for the sacrifices they have made for us.
Disrespect can take different forms. Speaking rudely, raising our voices, ignoring their advice, or disobeying their reasonable requests are all ways in which we can disrespect our mothers. Such behavior can bring sadness and frustration to their hearts.
Practically, we should speak kindly and gently to our mothers. Please remember that disrespecting a mother is also disrespecting ourselves. It is important to appreciate their efforts and express our love and gratitude for all they do for us.
Let us remember to honor and respect our mothers, showing them love and gratitude. By doing so, we not only fulfill God's commandments but also create a peaceful and loving atmosphere in our families.
Dear friends now let's see the Bible scriptures below that talk about Disrespecting Your Mother.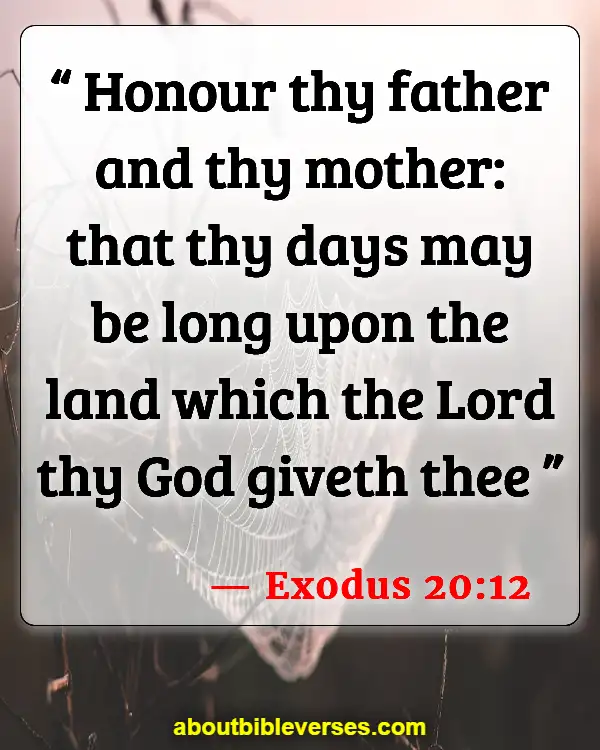 Exodus 20:12
"Honour thy father and thy mother: that thy days may be long upon the land which the Lord thy God giveth thee"
Deuteronomy 5:16
"Honour thy father and thy mother, as the Lord thy God hath commanded thee; that thy days may be prolonged, and that it may go well with thee, in the land which the Lord thy God giveth thee"
Proverbs 1:8
"My son, hear the instruction of thy father, and forsake not the law of thy mother"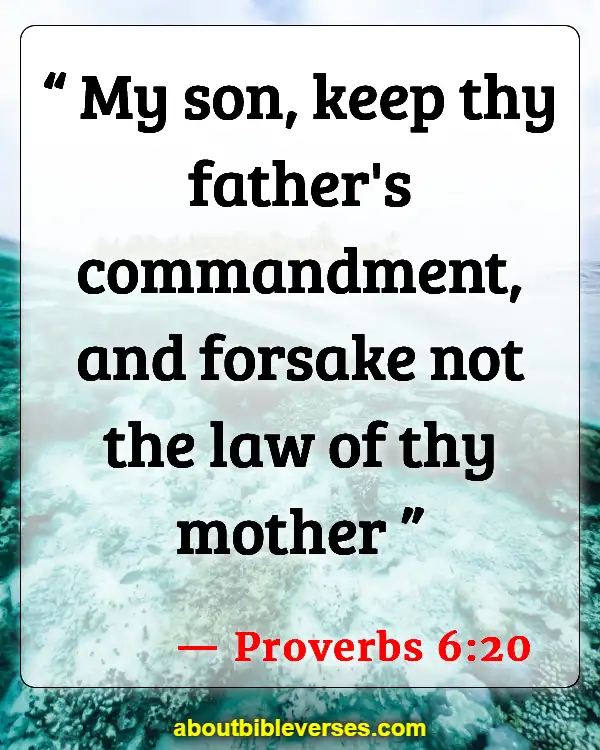 Proverbs 6:20
"My son, keep thy father's commandment, and forsake not the law of thy mother"
Proverbs 23:22
"Hearken unto thy father that begat thee, and despise not thy mother when she is old"
Ephesians 6:1
"Children, obey your parents in the Lord: for this is right"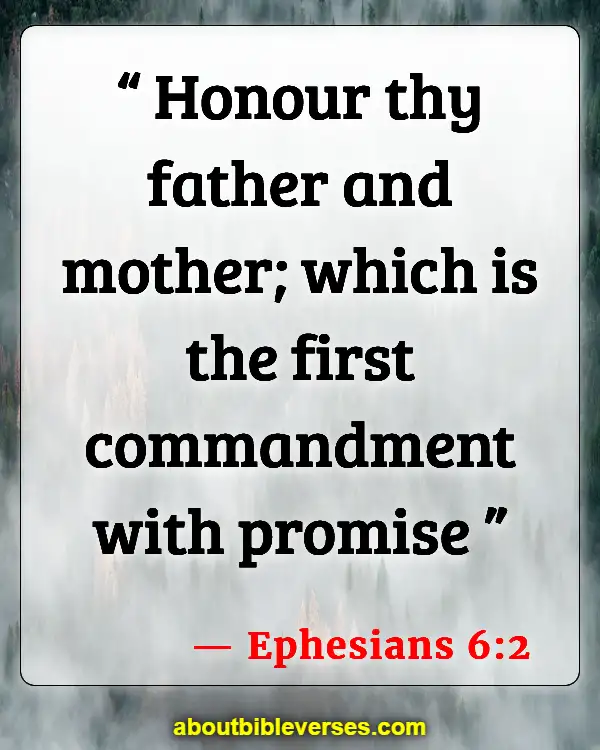 Ephesians 6:2
"Honour thy father and mother; which is the first commandment with promise"
Colossians 3:20
"Children, obey your parents in all things: for this is well pleasing unto the Lord"
Leviticus 19:3
"Ye shall fear every man his mother, and his father, and keep my sabbaths: I am the Lord your God"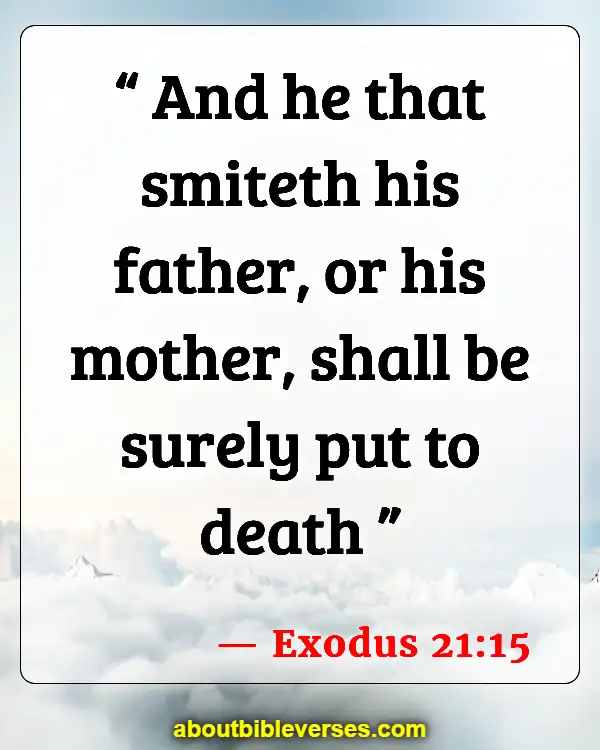 Exodus 21:15
"And he that smiteth his father, or his mother, shall be surely put to death"
Exodus 21:17
"And he that curseth his father, or his mother, shall surely be put to death"
Matthew 15:4
"For God commanded, saying, Honour thy father and mother: and, He that curseth father or mother, let him die the death"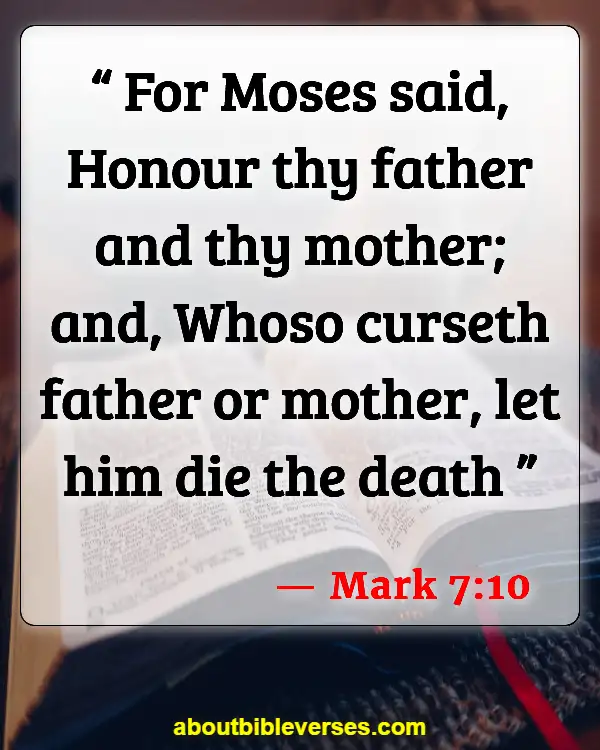 Mark 7:10
"For Moses said, Honour thy father and thy mother; and, Whoso curseth father or mother, let him die the death"
Leviticus 20:9
"For every one that curseth his father or his mother shall be surely put to death: he hath cursed his father or his mother; his blood shall be upon him"
Proverbs 10:1
"The proverbs of Solomon. A wise son maketh a glad father: but a foolish son is the heaviness of his mother"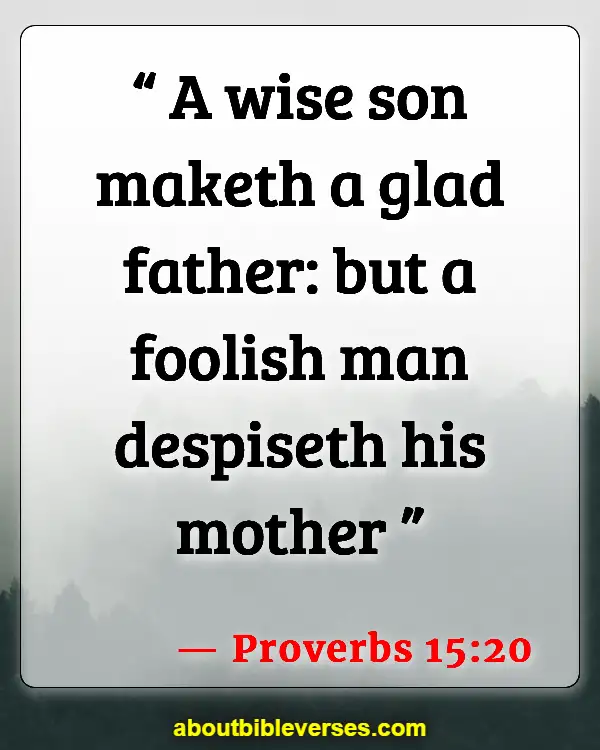 Proverbs 15:20
"A wise son maketh a glad father: but a foolish man despiseth his mother"
Proverbs 19:26
"He that wasteth his father, and chaseth away his mother, is a son that causeth shame, and bringeth reproach"
Proverbs 20:20
"Whoso curseth his father or his mother, his lamp shall be put out in obscure darkness"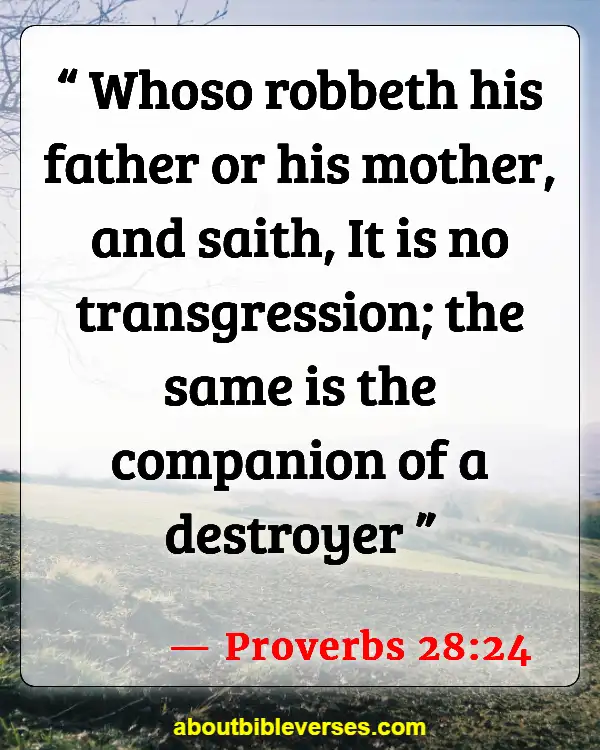 Proverbs 28:24
"Whoso robbeth his father or his mother, and saith, It is no transgression; the same is the companion of a destroyer"
Proverbs 30:11
"There is a generation that curseth their father, and doth not bless their mother"
Proverbs 30:17
"The eye that mocketh at his father, and despiseth to obey his mother, the ravens of the valley shall pick it out, and the young eagles shall eat it"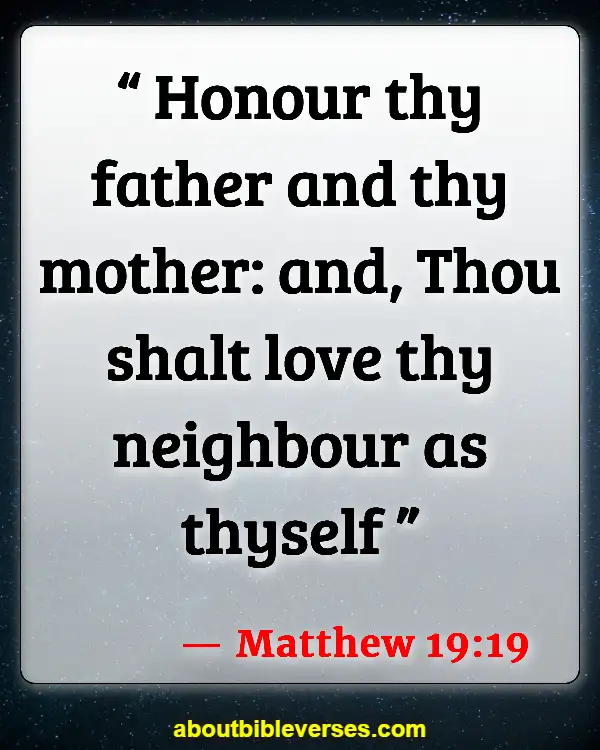 Matthew 19:19
"Honour thy father and thy mother: and, Thou shalt love thy neighbour as thyself"
Mark 10:19
"Thou knowest the commandments, Do not commit adultery, Do not kill, Do not steal, Do not bear false witness, Defraud not, Honour thy father and mother"
Luke 18:20
"Thou knowest the commandments, Do not commit adultery, Do not kill, Do not steal, Do not bear false witness, Honour thy father and thy mother"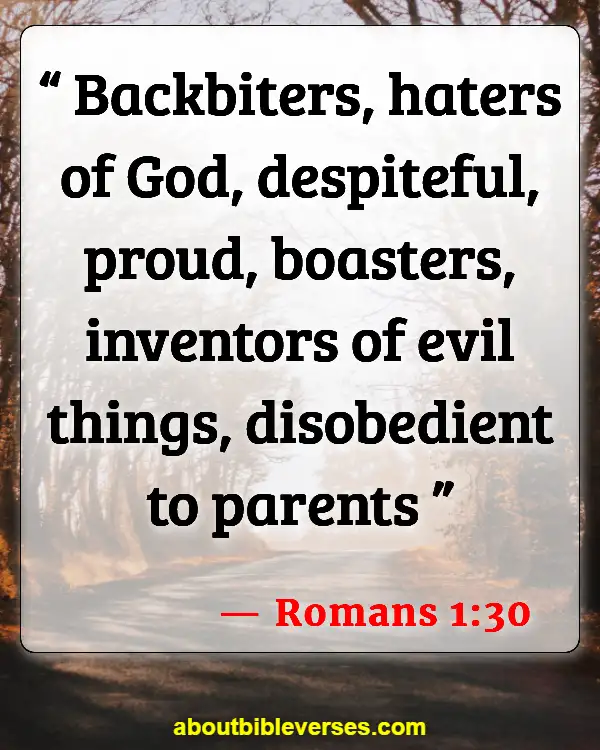 Romans 1:30
"Backbiters, haters of God, despiteful, proud, boasters, inventors of evil things, disobedient to parents"
2 Timothy 3:2
"For men shall be lovers of their own selves, covetous, boasters, proud, blasphemers, disobedient to parents, unthankful, unholy"
Matthew 10:37
"He that loveth father or mother more than me is not worthy of me: and he that loveth son or daughter more than me is not worthy of me"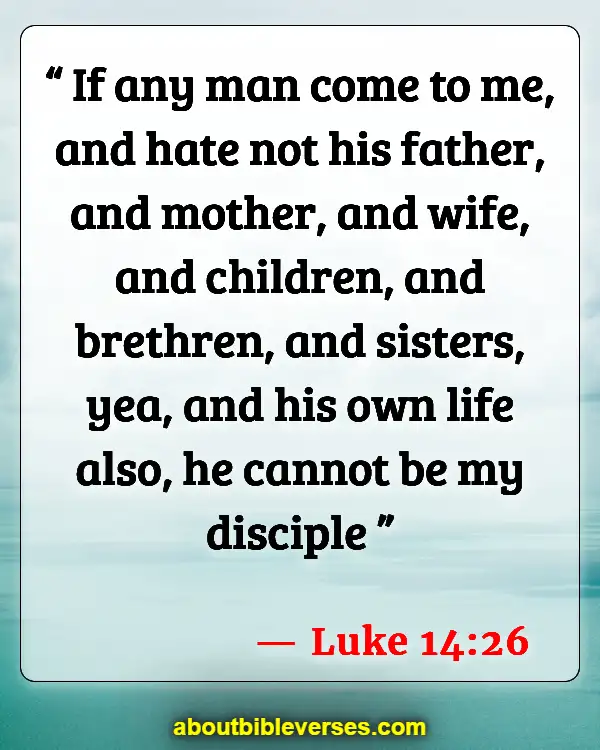 Luke 14:26
"If any man come to me, and hate not his father, and mother, and wife, and children, and brethren, and sisters, yea, and his own life also, he cannot be my disciple"
1 Timothy 5:4
"But if any widow have children or nephews, let them learn first to shew piety at home, and to requite their parents: for that is good and acceptable before God"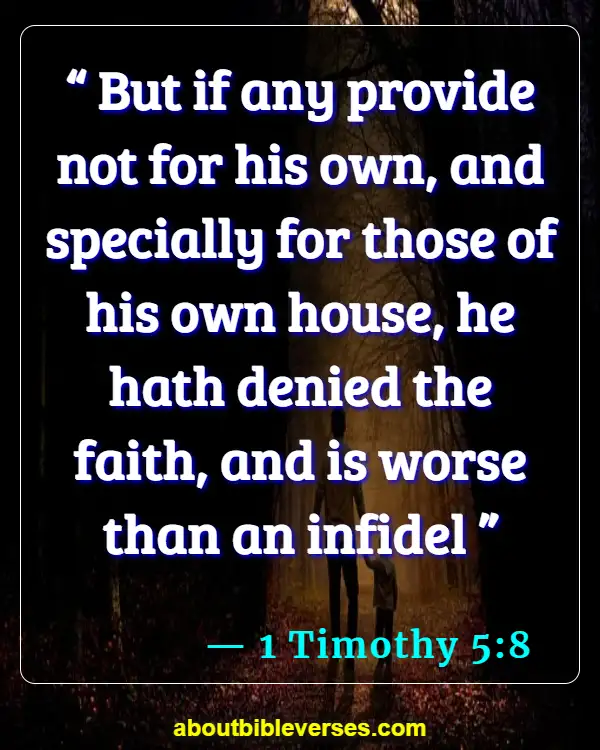 1 Timothy 5:8
"But if any provide not for his own, and specially for those of his own house, he hath denied the faith, and is worse than an infidel"