Hello dear friends, welcome to our site in the name of Jesus Christ. Today we will look at the Bible Scriptures About Destroying Enemies In KJV. If you like today's post then definitely comment and share.
Friends, the Bible means to destroy our enemies, the devil of darkness, who is always planning to harm us. We have no enmity with the flesh and blood people of this world, moreover, the Bible never teaches us to harm the people of this world.
Rather, the Bible teaches that we should love our enemies and pray for those who persecute us. This is because God wants us to show His love and mercy to all people, even those who are hostile to us.
The Bible acknowledges the existence of spiritual enemies. These spiritual enemies are the powers of this world and the powers of darkness that seek to destroy us.
The Bible also teaches that we have the power to resist and overcome these spiritual enemies. In the New Testament, we are encouraged to put on the whole armor of God, including the belt of truth, the breastplate of righteousness, the shoes of peace, the shield of faith, the helmet of salvation, and the sword of the Spirit. . By wearing this armor we can stand firm against the attacks of the enemy.
Furthermore, the Bible teaches that we should not fear spiritual enemies. Knowing that God is with us and will never leave us or forsake us. And when God is with us, Satan will flee from us.
The Bible also says that prayer is one of the main ways to defeat our spiritual enemies. The Bible teaches that we should pray without ceasing and that we should pray for one another, that we may be delivered from evil. We can ask God for strength and wisdom to protect us from the attacks of our enemies.
Dear friends now let's see the Bible scriptures below that talk about Destroying Enemies.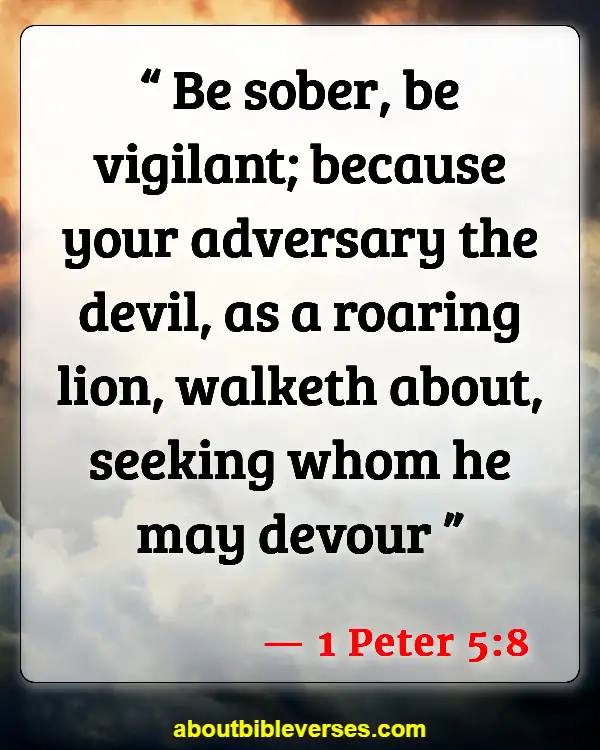 1 Peter 5:8
"Be sober, be vigilant; because your adversary the devil, as a roaring lion, walketh about, seeking whom he may devour"
Proverbs 24:17
"Rejoice not when thine enemy falleth, and let not thine heart be glad when he stumbleth"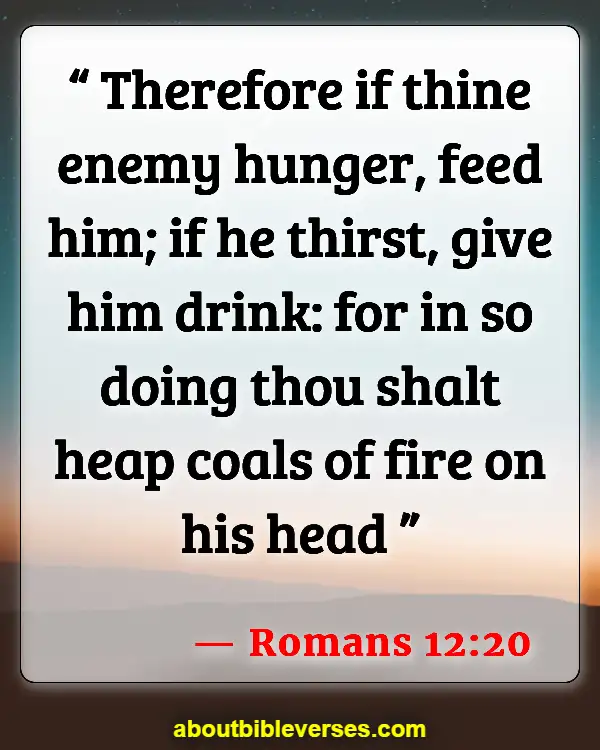 Romans 12:20
"Therefore if thine enemy hunger, feed him; if he thirst, give him drink: for in so doing thou shalt heap coals of fire on his head"
Deuteronomy 28:7
"The Lord shall cause thine enemies that rise up against thee to be smitten before thy face: they shall come out against thee one way, and flee before thee seven ways"
2 Timothy 3:16-17
"All scripture is given by inspiration of God, and is profitable for doctrine, for reproof, for correction, for instruction in righteousnessThat the man of God may be perfect, thoroughly furnished unto all good works"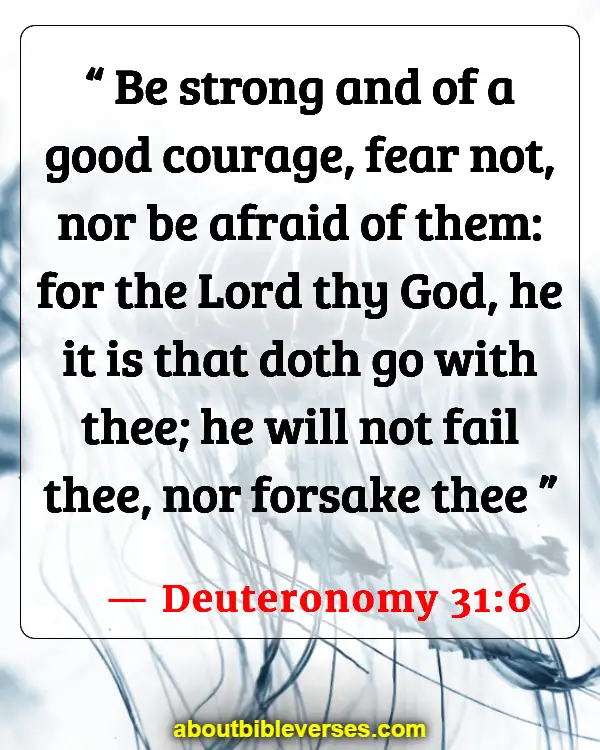 Deuteronomy 31:6
"Be strong and of a good courage, fear not, nor be afraid of them: for the Lord thy God, he it is that doth go with thee; he will not fail thee, nor forsake thee"
James 4:7
"Submit yourselves therefore to God. Resist the devil, and he will flee from you"
Ephesians 6:11
"Put on the whole armour of God, that ye may be able to stand against the wiles of the devil"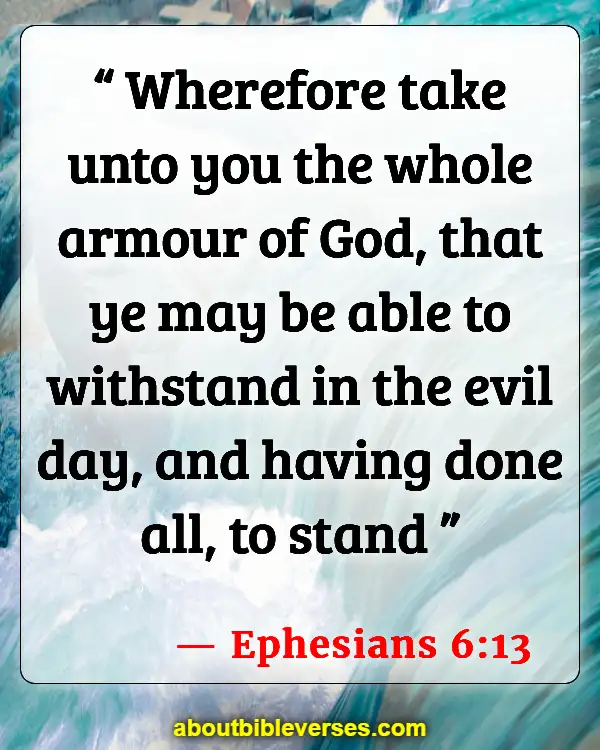 Ephesians 6:13
"Wherefore take unto you the whole armour of God, that ye may be able to withstand in the evil day, and having done all, to stand"
Psalm 44:7
"But thou hast saved us from our enemies, and hast put them to shame that hated us"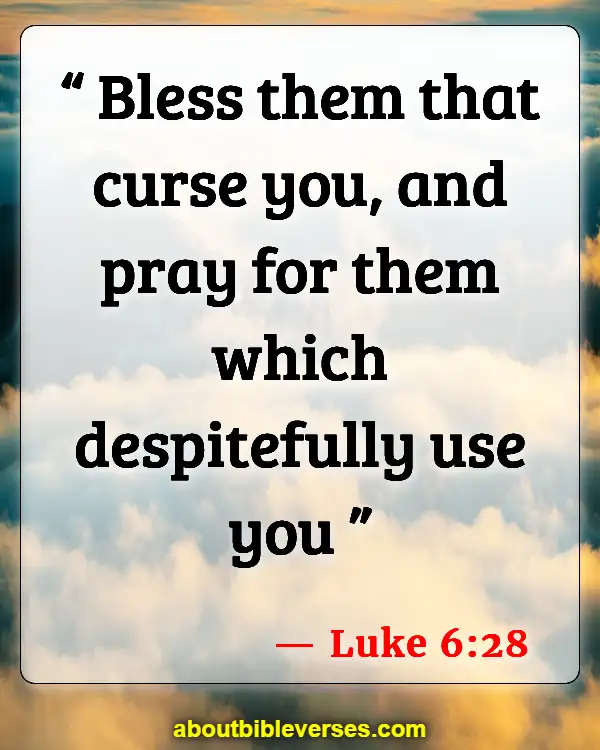 Luke 6:28
"Bless them that curse you, and pray for them which despitefully use you"
Romans 12:14
"Bless them which persecute you: bless, and curse not"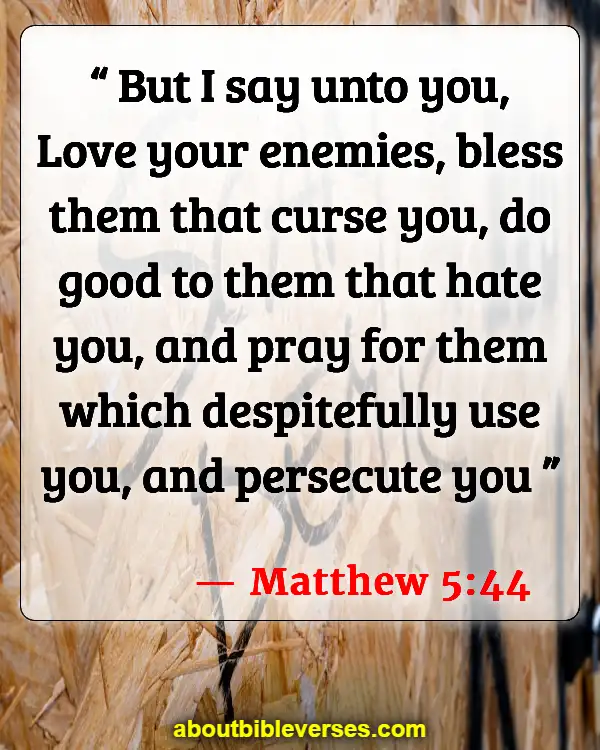 Matthew 5:44
"But I say unto you, Love your enemies, bless them that curse you, do good to them that hate you, and pray for them which despitefully use you, and persecute you"
Psalm 138:7
"Though I walk in the midst of trouble, thou wilt revive me: thou shalt stretch forth thine hand against the wrath of mine enemies, and thy right hand shall save me"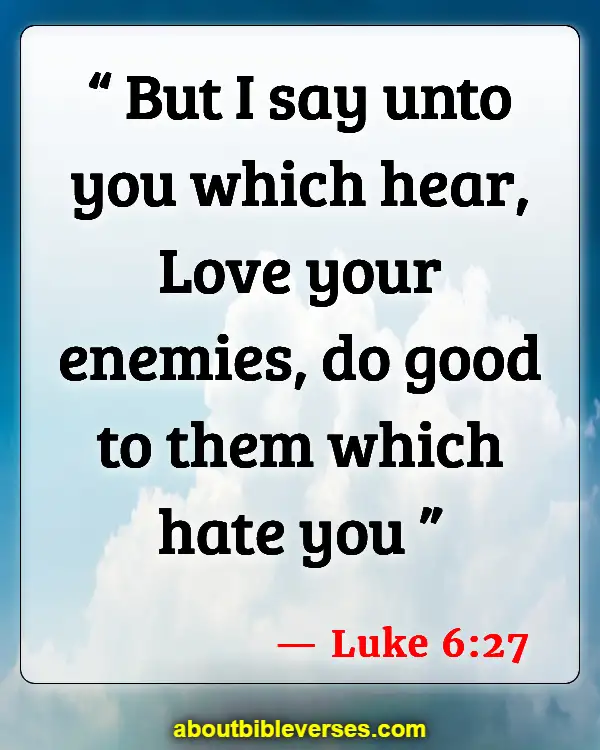 Luke 6:27
"But I say unto you which hear, Love your enemies, do good to them which hate you"
1 John 3:8
"He that committeth sin is of the devil; for the devil sinneth from the beginning. For this purpose the Son of God was manifested, that he might destroy the works of the devil"
2 Corinthians 2:11
"Lest Satan should get an advantage of us: for we are not ignorant of his devices"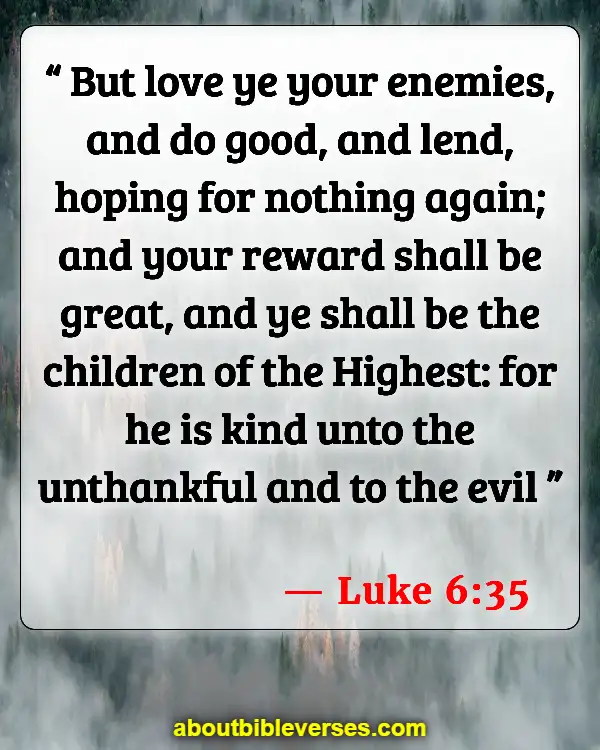 Luke 6:35
"But love ye your enemies, and do good, and lend, hoping for nothing again; and your reward shall be great, and ye shall be the children of the Highest: for he is kind unto the unthankful and to the evil"
Deuteronomy 20:1
"When thou goest out to battle against thine enemies, and seest horses, and chariots, and a people more than thou, be not afraid of them: for the Lord thy God is with thee, which brought thee up out of the land of Egypt"
Psalm 23:4
"Yea, though I walk through the valley of the shadow of death, I will fear no evil: for thou art with me; thy rod and thy staff they comfort me"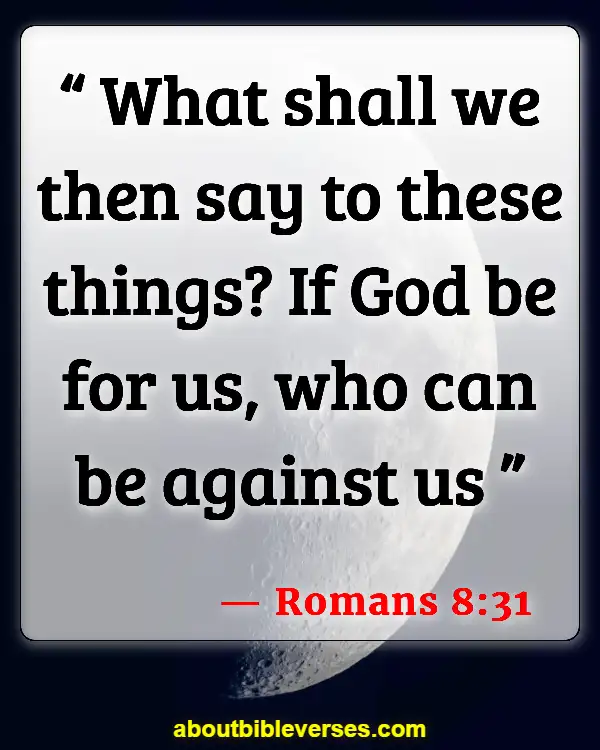 Romans 8:31
"What shall we then say to these things? If God be for us, who can be against us?"
Deuteronomy 30:7
"And the Lord thy God will put all these curses upon thine enemies, and on them that hate thee, which persecuted thee"
1 Peter 3:9
"Not rendering evil for evil, or railing for railing: but contrariwise blessing; knowing that ye are thereunto called, that ye should inherit a blessing"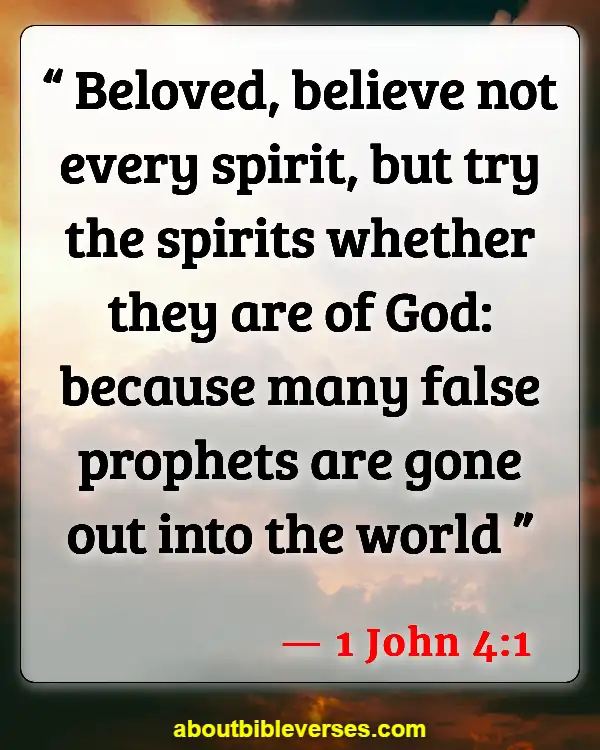 1 John 4:1
"Beloved, believe not every spirit, but try the spirits whether they are of God: because many false prophets are gone out into the world"
Exodus 23:22
"But if thou shalt indeed obey his voice, and do all that I speak; then I will be an enemy unto thine enemies, and an adversary unto thine adversaries"
John 14:1
"Let not your heart be troubled: ye believe in God, believe also in me"
Ephesians 6:10
"Finally, my brethren, be strong in the Lord, and in the power of his might"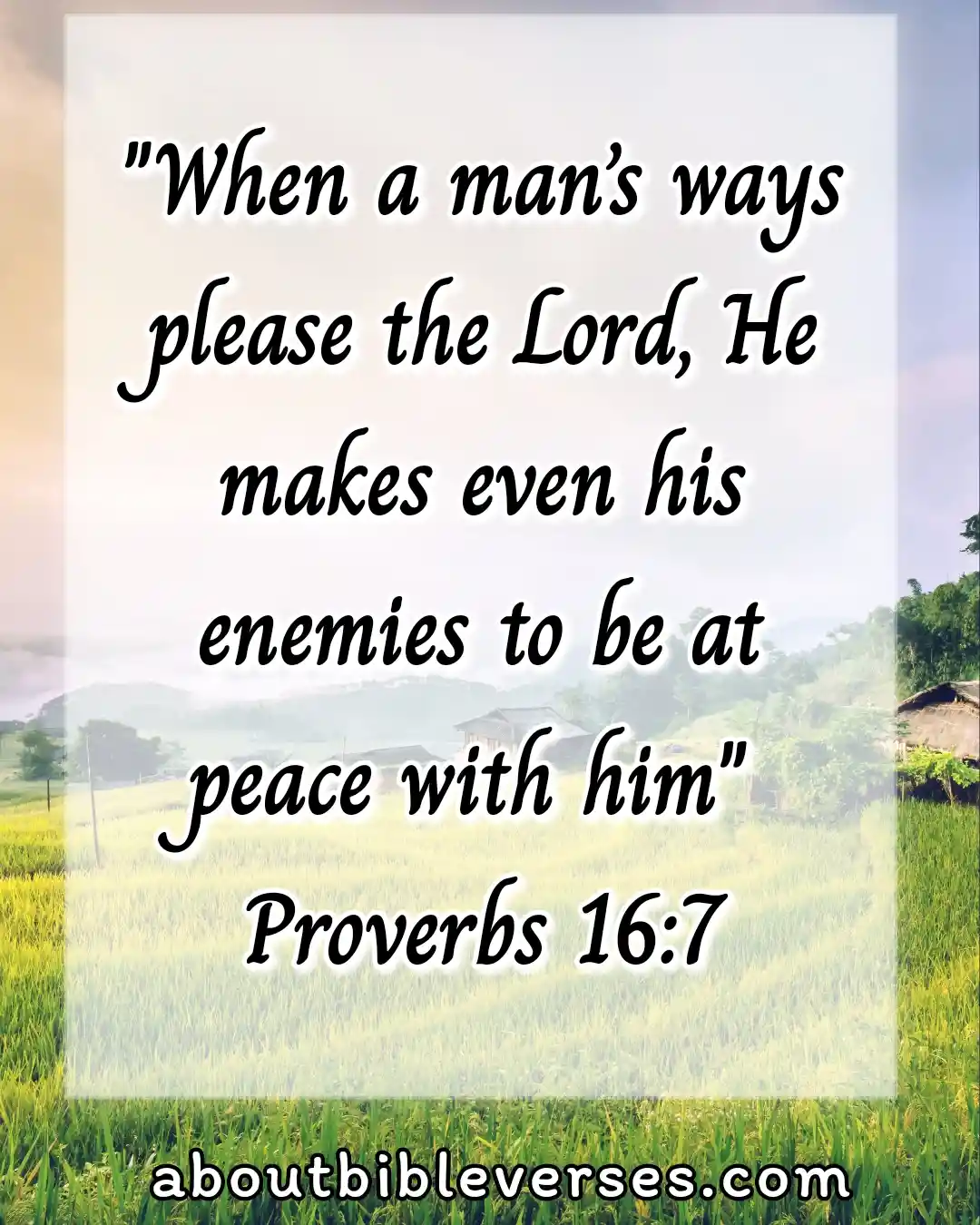 Proverbs 16:7
"When a man's ways please the Lord , he maketh even his enemies to be at peace with him"