Hello dear friends, welcome to our site in the name of Jesus Christ. Today we will look at the Bible Scriptures About Cursing In KJV. If you like today's post then definitely comment and share.
The Bible says a lot about curses, and it's usually not positive. Cursing can involve using foul language or profanity as well as wishing harm on someone else. Here are some key things the Bible says about curses:
First, the Bible teaches that our words have power. Proverbs 18:21 says, "The tongue has the power of life and death, and those who love it will eat its fruit." This means that what we say can either bring life or death to us and others. When we curse or use foul language, we speak death and negativity into our lives and the lives of those around us.
Second, the Bible teaches that our words reflect what is in our hearts. In Luke 6:45, Jesus said, "A good man brings good things out of the good stored up in his heart, and an evil man brings evil things out of the evil stored up in his heart. The heart speaks with its mouth." This means that when we curse or speak negatively, it reveals what is in our hearts. If we want to have a pure heart, we must keep our word and avoid curses.
Third, the Bible teaches that we should bless those who curse us. In Luke 6:28, Jesus said, "Bless those who curse you, pray for those who mistreat you." This means we should respond to curses and negativity with kindness and blessings. When we do this, we are imitating Christ's love and breaking the cycle of negativity.
Friends, there are many more such scriptures in the Bible. Let us now look at the following Bible scriptures about curses which will help us understand better.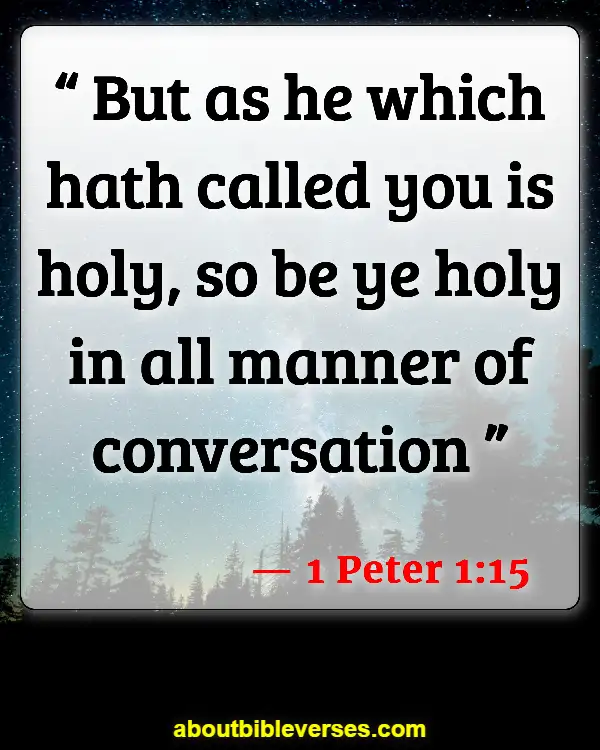 1 Peter 1:15
"But as he which hath called you is holy, so be ye holy in all manner of conversation"
Luke 6:45
"A good man out of the good treasure of his heart bringeth forth that which is good; and an evil man out of the evil treasure of his heart bringeth forth that which is evil: for of the abundance of the heart his mouth speaketh"
Proverbs 18:21
"Death and life are in the power of the tongue: and they that love it shall eat the fruit thereof"
2 Timothy 2:16
"But shun profane and vain babblings: for they will increase unto more ungodliness"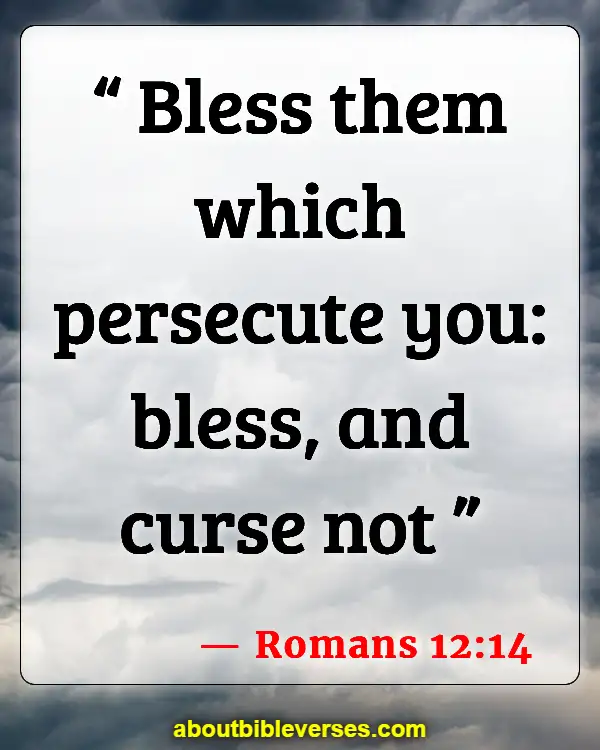 Romans 12:14
"Bless them which persecute you: bless, and curse not"
Leviticus 19:12
"And ye shall not swear by my name falsely, neither shalt thou profane the name of thy God: I am the Lord"
Deuteronomy 27:16
"Cursed be he that setteth light by his father or his mother. And all the people shall say, Amen"
Hosea 10:4
"They have spoken words, swearing falsely in making a covenant: thus judgment springeth up as hemlock in the furrows of the field"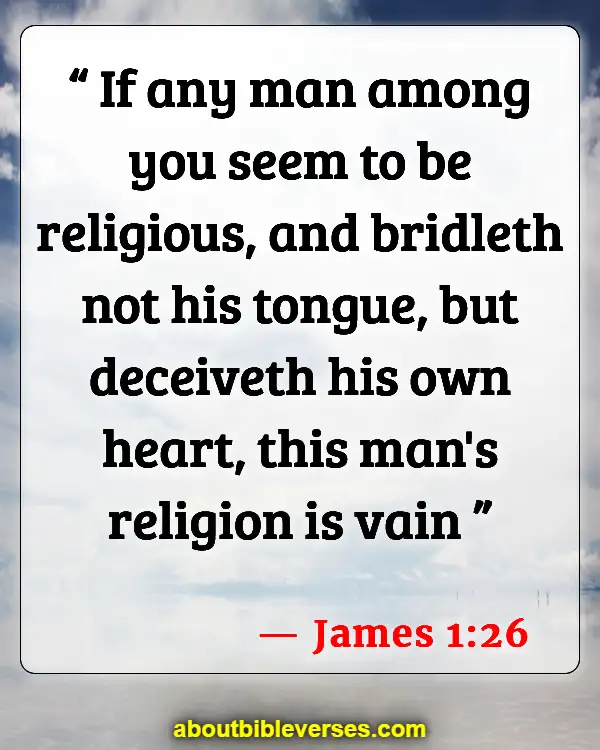 James 1:26
"If any man among you seem to be religious, and bridleth not his tongue, but deceiveth his own heart, this man's religion is vain"
Proverbs 15:1
"A soft answer turneth away wrath: but grievous words stir up anger"
Numbers 5:21
"Then the priest shall charge the woman with an oath of cursing, and the priest shall say unto the woman, The Lord make thee a curse and an oath among thy people, when the Lord doth make thy thigh to rot, and thy belly to swell"
Proverbs 26:2
"As the bird by wandering, as the swallow by flying, so the curse causeless shall not come"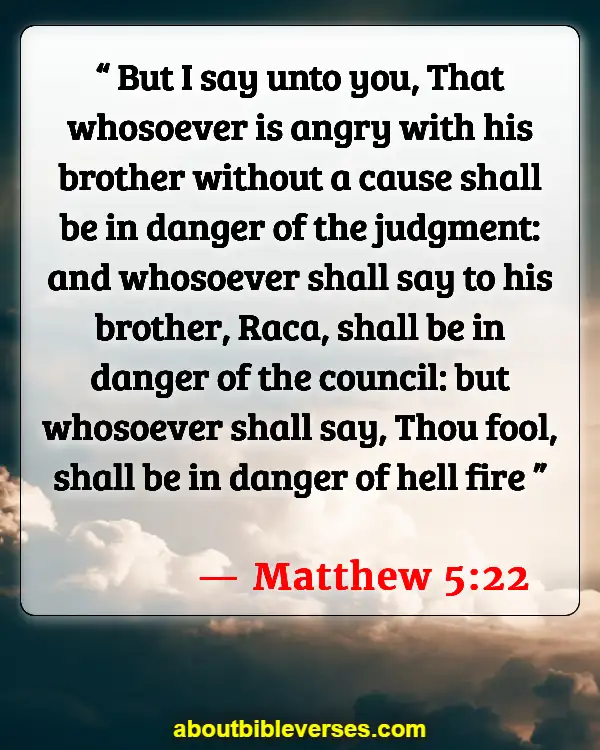 Matthew 5:22
"But I say unto you, That whosoever is angry with his brother without a cause shall be in danger of the judgment: and whosoever shall say to his brother, Raca, shall be in danger of the council: but whosoever shall say, Thou fool, shall be in danger of hell fire"
Ephesians 4:29
"Let no corrupt communication proceed out of your mouth, but that which is good to the use of edifying, that it may minister grace unto the hearers"
James 4:7
"Submit yourselves therefore to God. Resist the devil, and he will flee from you"
Exodus 20:12
"Honour thy father and thy mother: that thy days may be long upon the land which the Lord thy God giveth thee"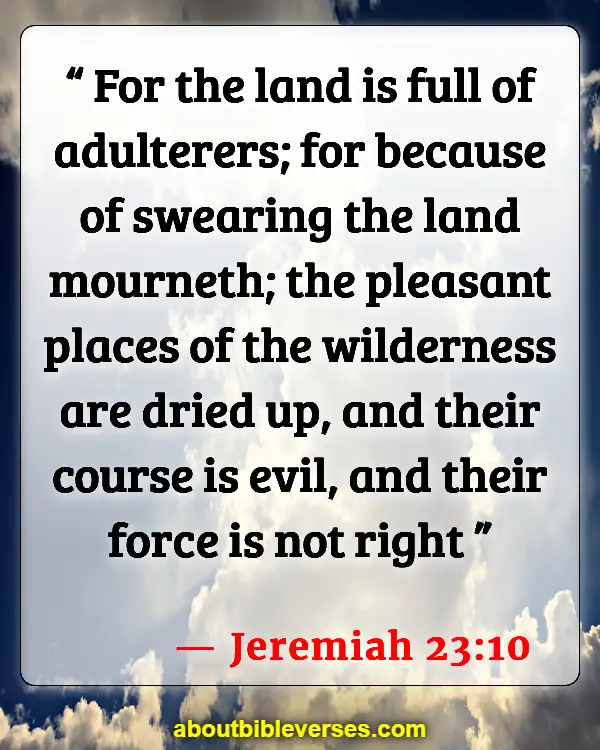 Jeremiah 23:10
"For the land is full of adulterers; for because of swearing the land mourneth; the pleasant places of the wilderness are dried up, and their course is evil, and their force is not right"
Deuteronomy 5:11
"Thou shalt not take the name of the Lord thy God in vain: for the Lord will not hold him guiltless that taketh his name in vain"
Genesis 3:14
"And the Lord God said unto the serpent, Because thou hast done this, thou art cursed above all cattle, and above every beast of the field; upon thy belly shalt thou go, and dust shalt thou eat all the days of thy life"
1 Timothy 4:12
"Let no man despise thy youth; but be thou an example of the believers, in word, in conversation, in charity, in spirit, in faith, in purity"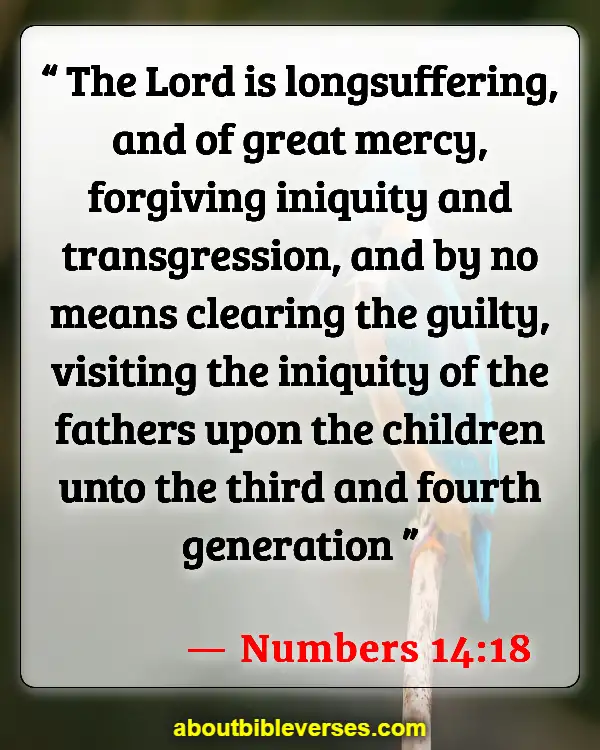 Numbers 14:18
"The Lord is longsuffering, and of great mercy, forgiving iniquity and transgression, and by no means clearing the guilty, visiting the iniquity of the fathers upon the children unto the third and fourth generation"
Luke 6:28
"Bless them that curse you, and pray for them which despitefully use you"
Proverbs 20:20
"Whoso curseth his father or his mother, his lamp shall be put out in obscure darkness"
Hosea 4:2
"By swearing, and lying, and killing, and stealing, and committing adultery, they break out, and blood toucheth blood"
Psalm 19:14
"Let the words of my mouth, and the meditation of my heart, be acceptable in thy sight, O Lord , my strength, and my redeemer"
Exodus 20:6
"And shewing mercy unto thousands of them that love me, and keep my commandments"
1 Chronicles 16:11
"Seek the Lord and his strength, seek his face continually"
Ecclesiastes 7:21
"Also take no heed unto all words that are spoken; lest thou hear thy servant curse thee"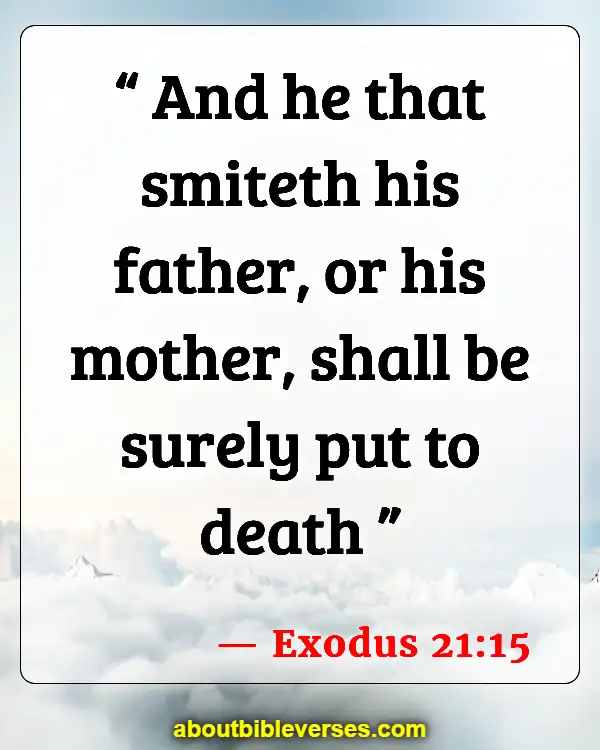 Exodus 21:15
"And he that smiteth his father, or his mother, shall be surely put to death"
Matthew 5:37
"But let your communication be, Yea, yea; Nay, nay: for whatsoever is more than these cometh of evil"
Psalm 109:17
"As he loved cursing, so let it come unto him: as he delighted not in blessing, so let it be far from him"
Exodus 21:17
"And he that curseth his father, or his mother, shall surely be put to death"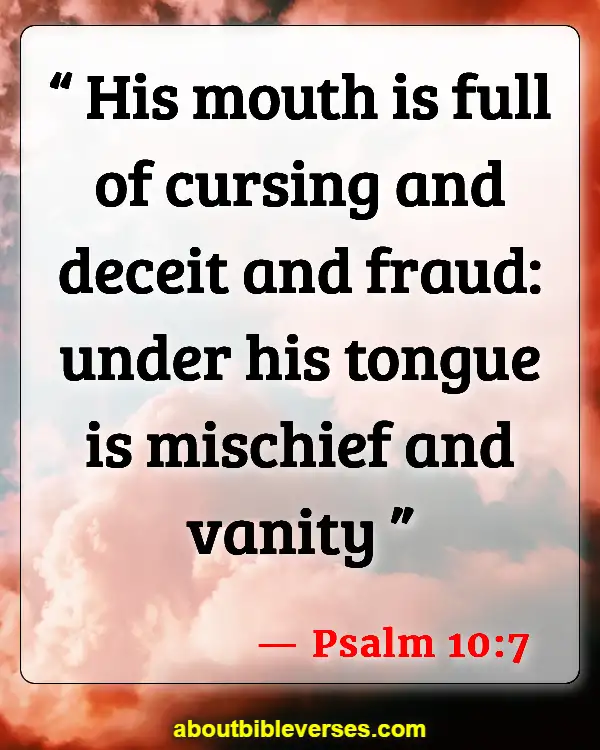 Psalm 10:7
"His mouth is full of cursing and deceit and fraud: under his tongue is mischief and vanity"
Leviticus 19:14
"Thou shalt not curse the deaf, nor put a stumblingblock before the blind, but shalt fear thy God: I am the Lord"
Ephesians 5:4
"Neither filthiness, nor foolish talking, nor jesting, which are not convenient: but rather giving of thanks"
Romans 13:7
"Render therefore to all their dues: tribute to whom tribute is due; custom to whom custom; fear to whom fear; honour to whom honour"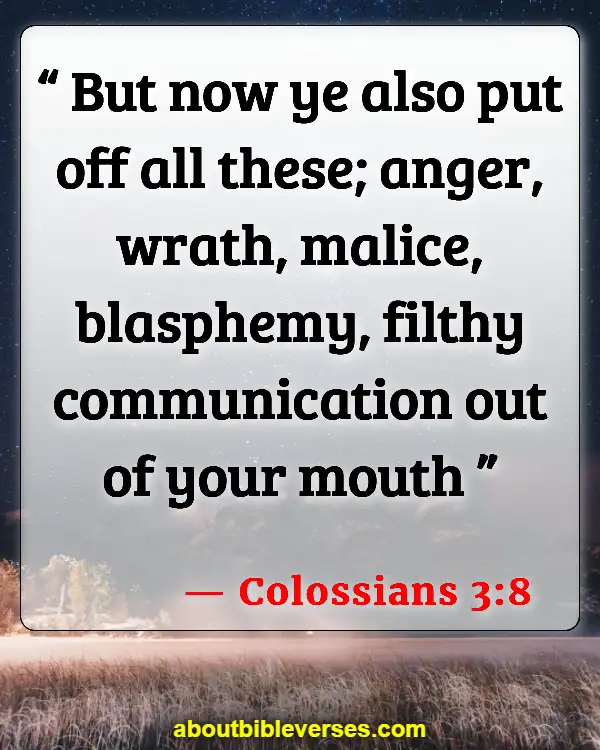 Colossians 3:8
"But now ye also put off all these; anger, wrath, malice, blasphemy, filthy communication out of your mouth"
Proverbs 4:24
"Put away from thee a froward mouth, and perverse lips put far from thee"
Leviticus 20:9
"For every one that curseth his father or his mother shall be surely put to death: he hath cursed his father or his mother; his blood shall be upon him"
Colossians 4:6
"Let your speech be always with grace, seasoned with salt, that ye may know how ye ought to answer every man"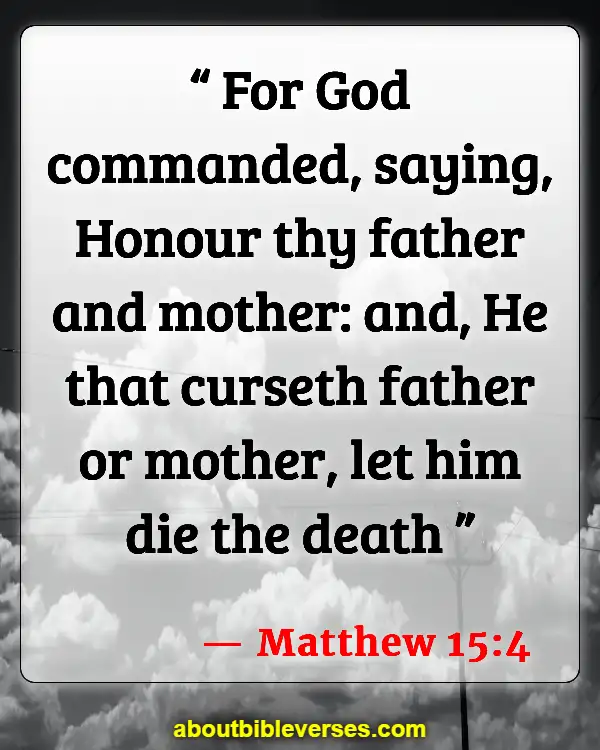 Matthew 15:4
"For God commanded, saying, Honour thy father and mother: and, He that curseth father or mother, let him die the death"
Matthew 15:11
"Not that which goeth into the mouth defileth a man; but that which cometh out of the mouth, this defileth a man"
Psalm 59:12
"For the sin of their mouth and the words of their lips let them even be taken in their pride: and for cursing and lying which they speak"
Exodus 20:7
"Thou shalt not take the name of the Lord thy God in vain; for the Lord will not hold him guiltless that taketh his name in vain"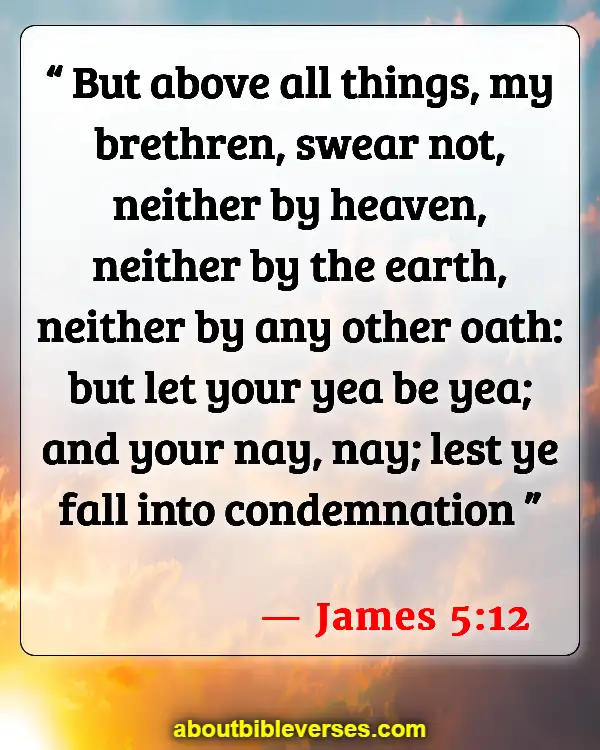 James 5:12
"But above all things, my brethren, swear not, neither by heaven, neither by the earth, neither by any other oath: but let your yea be yea; and your nay, nay; lest ye fall into condemnation"
Proverbs 21:23
"Whoso keepeth his mouth and his tongue keepeth his soul from troubles"
Psalm 109:18
"As he clothed himself with cursing like as with his garment, so let it come into his bowels like water, and like oil into his bones"
Deuteronomy 5:9
"Thou shalt not bow down thyself unto them, nor serve them: for I the Lord thy God am a jealous God, visiting the iniquity of the fathers upon the children unto the third and fourth generation of them that hate me"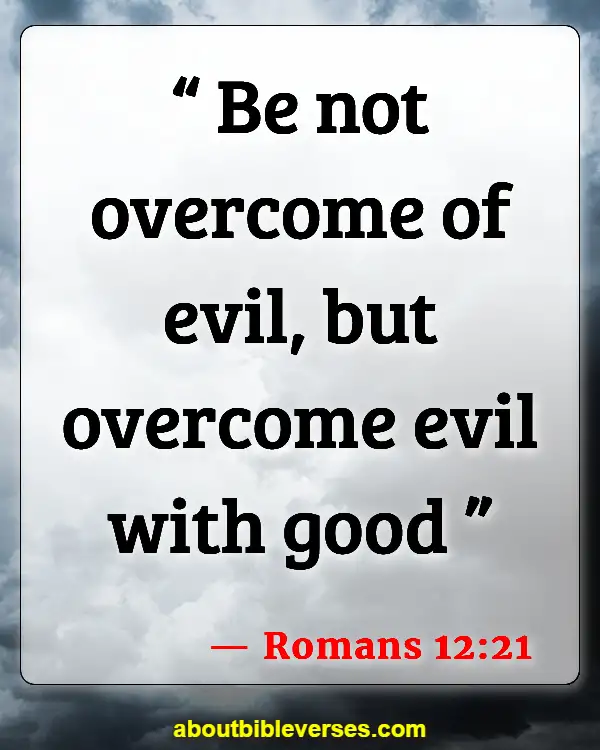 Romans 12:21
"Be not overcome of evil, but overcome evil with good"
2 Corinthians 5:17
"Therefore if any man be in Christ, he is a new creature: old things are passed away; behold, all things are become new"
Philippians 3:8
"Yea doubtless, and I count all things but loss for the excellency of the knowledge of Christ Jesus my Lord: for whom I have suffered the loss of all things, and do count them but dung, that I may win Christ"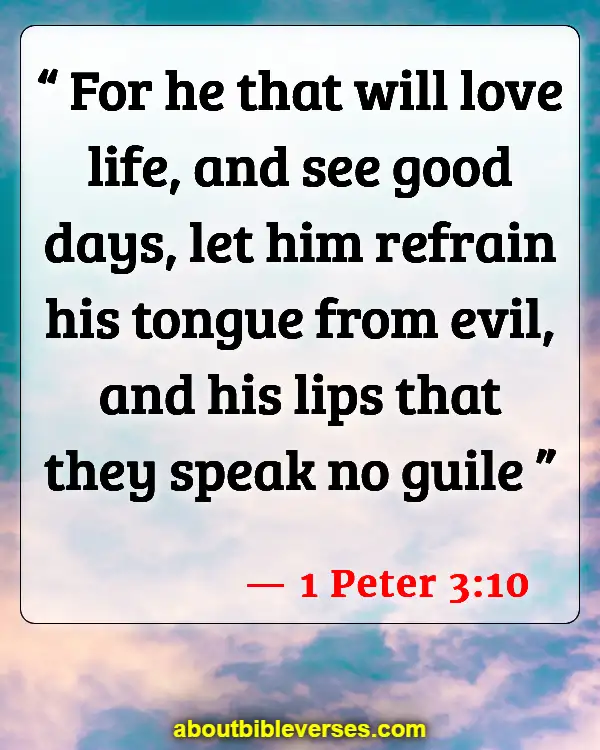 1 Peter 3:10
"For he that will love life, and see good days, let him refrain his tongue from evil, and his lips that they speak no guile"
Philippians 4:8
"Finally, brethren, whatsoever things are true, whatsoever things are honest, whatsoever things are just, whatsoever things are pure, whatsoever things are lovely, whatsoever things are of good report; if there be any virtue, and if there be any praise, think on these things"
2 Samuel 16:10
"And the king said, What have I to do with you, ye sons of Zeruiah? so let him curse, because the Lord hath said unto him, Curse David. Who shall then say, Wherefore hast thou done so?"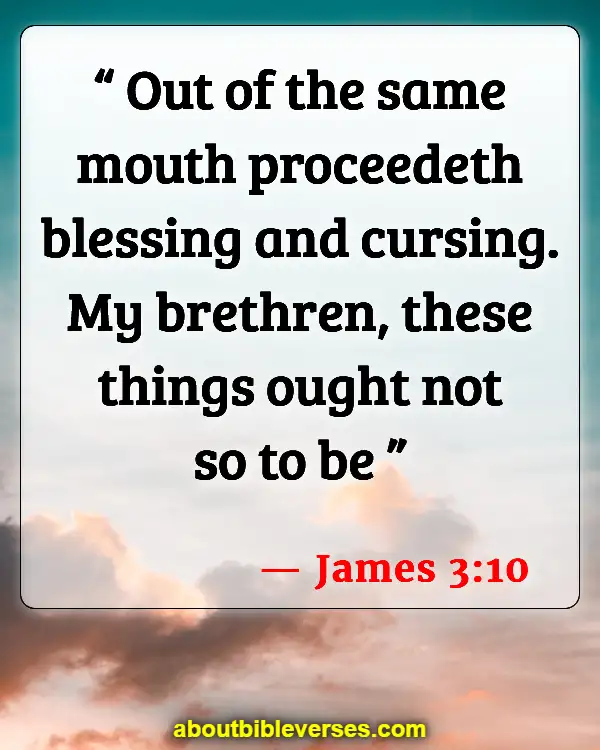 James 3:10
"Out of the same mouth proceedeth blessing and cursing. My brethren, these things ought not so to be"