Hello dear friends, welcome to our site in the name of Jesus Christ. Today we will look at the Bible Scriptures About cleanliness In KJV. If you like today's post then definitely comment and share.
Dear friends, The Bible has several teachings on cleanliness, which is an essential aspect of leading a holy and righteous life. Leviticus 15 contains detailed instructions for the Israelites on how to maintain physical cleanliness to avoid impurities that could lead to disease and defilement.
The concept of cleanliness is closely linked to orderliness, which is also emphasized in the Bible. God is a God of order, and as His followers, we are expected to maintain a clean and organized environment around us. This applies not just to our physical surroundings but also to our spiritual and emotional well-being.
Physical cleanliness is also highlighted in the Bible, with several verses emphasizing the importance of hygiene and cleanliness in maintaining good health. The book of Proverbs, for example, teaches that a clean body is a sign of good health and well-being. In addition, the New Testament stresses the importance of purity, both in body and mind, as a prerequisite for spiritual growth and development.
The Bible teaches that cleanliness is not just a matter of personal hygiene or physical appearance, but it is also a reflection of our inner selves.
Dear friends, Jesus taught that true cleanliness comes from within, and that we must purify our hearts and minds in order to lead a truly holy and righteous life.
Dear friends now let's see the Bible scriptures below that talk about cleanliness.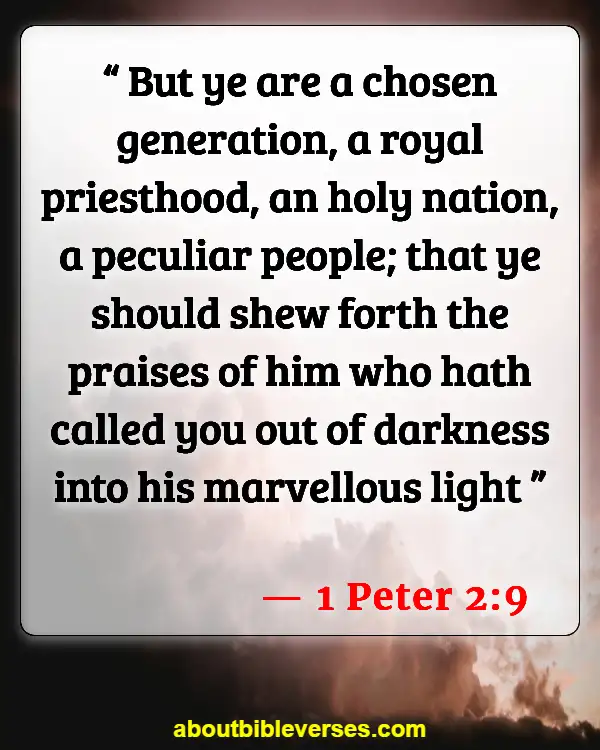 1 Peter 2:9
"But ye are a chosen generation, a royal priesthood, an holy nation, a peculiar people; that ye should shew forth the praises of him who hath called you out of darkness into his marvellous light"
Matthew 23:26
"Thou blind Pharisee, cleanse first that which is within the cup and platter, that the outside of them may be clean also"
Revelation 19:14
"And the armies which were in heaven followed him upon white horses, clothed in fine linen, white and clean"
Revelation 15:6
"And the seven angels came out of the temple, having the seven plagues, clothed in pure and white linen, and having their breasts girded with golden girdles"
James 4:8
"Draw nigh to God, and he will draw nigh to you. Cleanse your hands, ye sinners; and purify your hearts, ye double minded"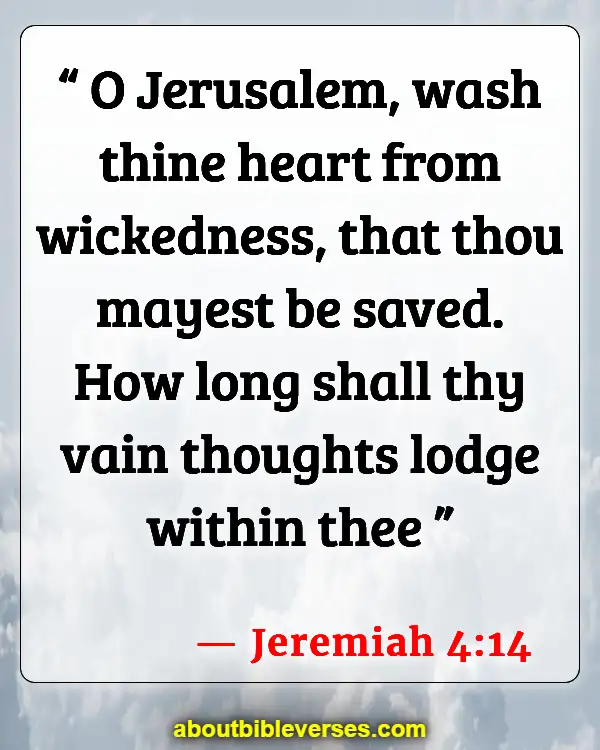 Jeremiah 4:14
"O Jerusalem, wash thine heart from wickedness, that thou mayest be saved. How long shall thy vain thoughts lodge within thee?"
Leviticus 19:28
"Ye shall not make any cuttings in your flesh for the dead, nor print any marks upon you: I am the Lord"
Matthew 5:8
"Blessed are the pure in heart: for they shall see God"
Isaiah 1:16
"Wash you, make you clean; put away the evil of your doings from before mine eyes; cease to do evil"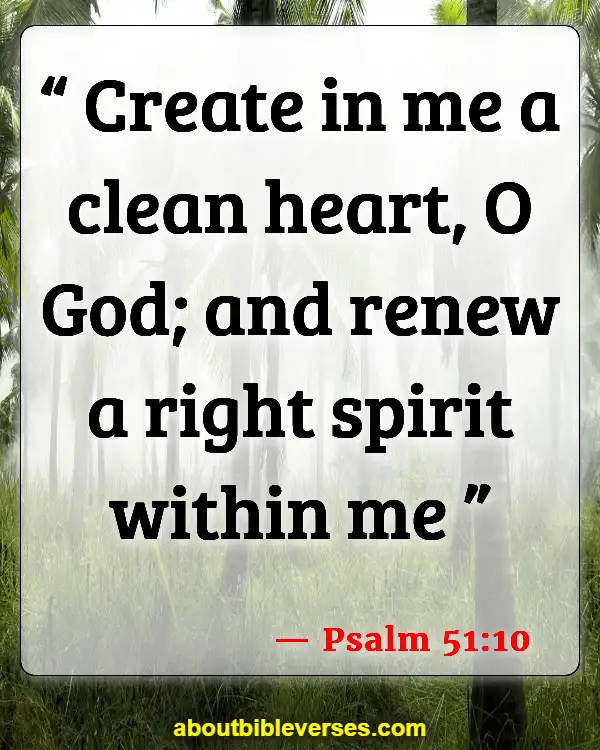 Psalm 51:10
"Create in me a clean heart, O God; and renew a right spirit within me"
1 John 1:9
"If we confess our sins, he is faithful and just to forgive us our sins, and to cleanse us from all unrighteousness"
John 7:24
"Judge not according to the appearance, but judge righteous judgment"
Leviticus 18:22
"Thou shalt not lie with mankind, as with womankind: it is abomination"
Philippians 4:8
"Finally, brethren, whatsoever things are true, whatsoever things are honest, whatsoever things are just, whatsoever things are pure, whatsoever things are lovely, whatsoever things are of good report; if there be any virtue, and if there be any praise, think on these things"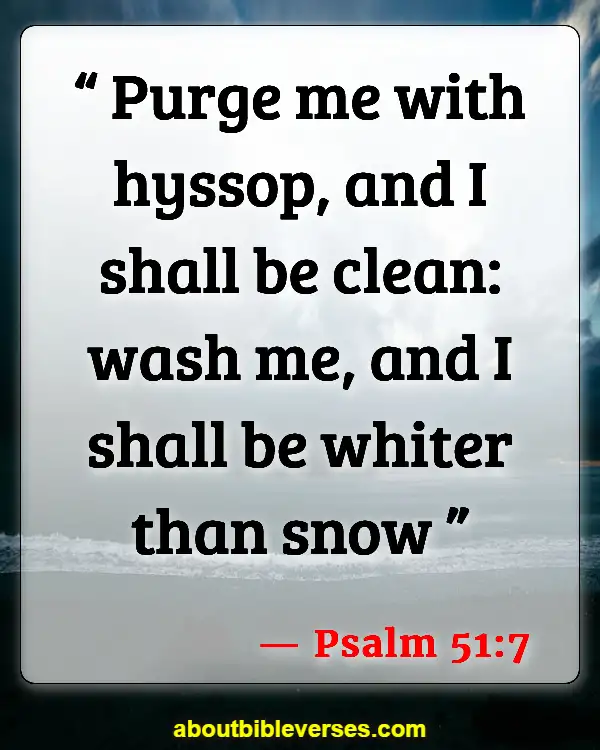 Psalm 51:7
"Purge me with hyssop, and I shall be clean: wash me, and I shall be whiter than snow"
1 Timothy 6:10
"For the love of money is the root of all evil: which while some coveted after, they have erred from the faith, and pierced themselves through with many sorrows"
1 John 1:7
"But if we walk in the light, as he is in the light, we have fellowship one with another, and the blood of Jesus Christ his Son cleanseth us from all sin"
Revelation 19:8
"And to her was granted that she should be arrayed in fine linen, clean and white: for the fine linen is the righteousness of saints"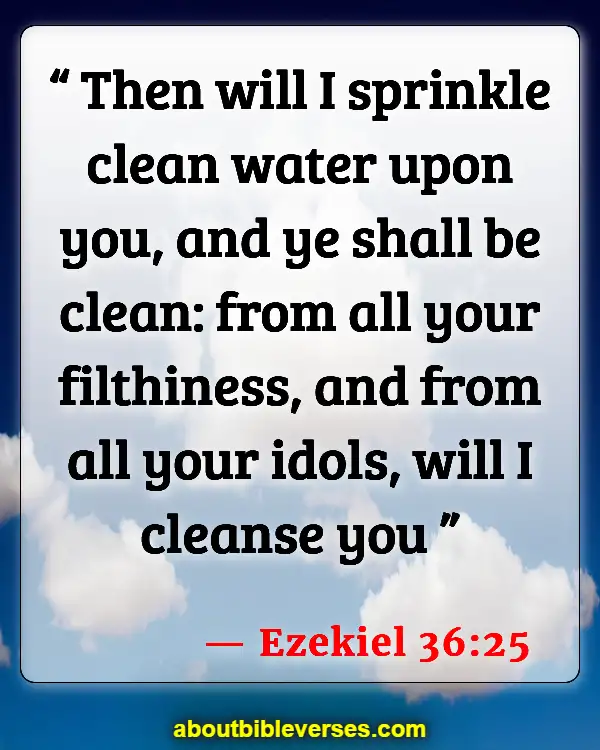 Ezekiel 36:25
"Then will I sprinkle clean water upon you, and ye shall be clean: from all your filthiness, and from all your idols, will I cleanse you"
2 Corinthians 7:1
"Having therefore these promises, dearly beloved, let us cleanse ourselves from all filthiness of the flesh and spirit, perfecting holiness in the fear of God"
Jeremiah 2:22
"For though thou wash thee with nitre, and take thee much soap, yet thine iniquity is marked before me, saith the Lord God"
Matthew 5:7
"Blessed are the merciful: for they shall obtain mercy"
1 Timothy 4:12
"Let no man despise thy youth; but be thou an example of the believers, in word, in conversation, in charity, in spirit, in faith, in purity"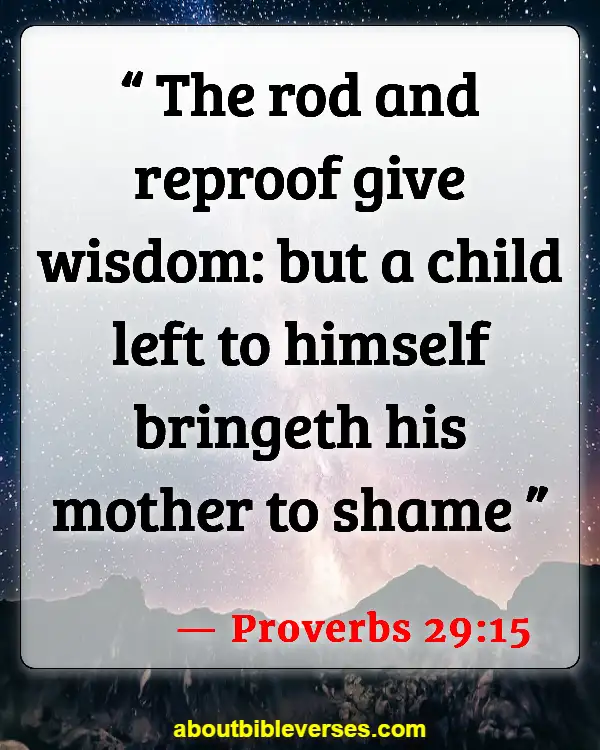 Proverbs 29:15
"The rod and reproof give wisdom: but a child left to himself bringeth his mother to shame"
Revelation 14:12
"Here is the patience of the saints: here are they that keep the commandments of God, and the faith of Jesus"
Matthew 5:48
"Be ye therefore perfect, even as your Father which is in heaven is perfect"
Genesis 1:27
"So God created man in his own image, in the image of God created he him; male and female created he them"
Malachi 3:2
"But who may abide the day of his coming? and who shall stand when he appeareth? for he is like a refiner's fire, and like fullers' soap"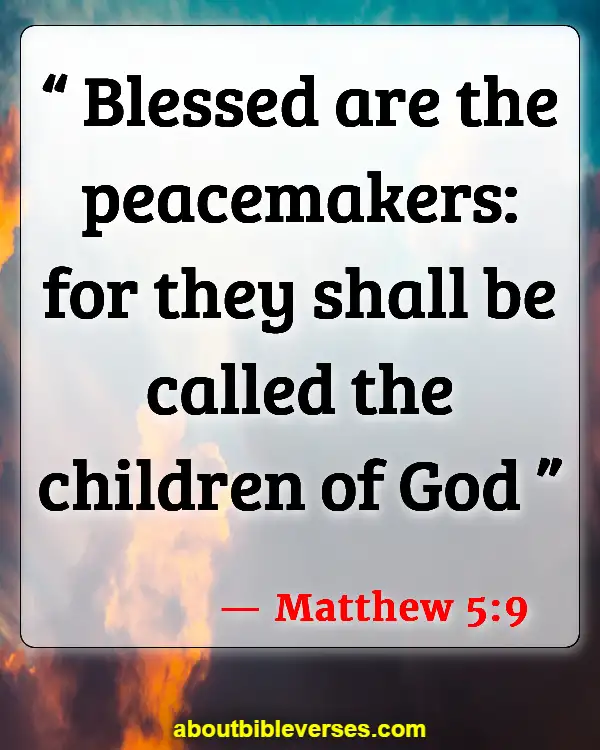 Matthew 5:9
"Blessed are the peacemakers: for they shall be called the children of God"
Proverbs 23:7
"For as he thinketh in his heart, so is he: Eat and drink, saith he to thee; but his heart is not with thee"
Revelation 1:5
"And from Jesus Christ, who is the faithful witness, and the first begotten of the dead, and the prince of the kings of the earth. Unto him that loved us, and washed us from our sins in his own blood"
1 Timothy 2:3
"For this is good and acceptable in the sight of God our Saviour"
Proverbs 20:9
"Who can say, I have made my heart clean, I am pure from my sin?"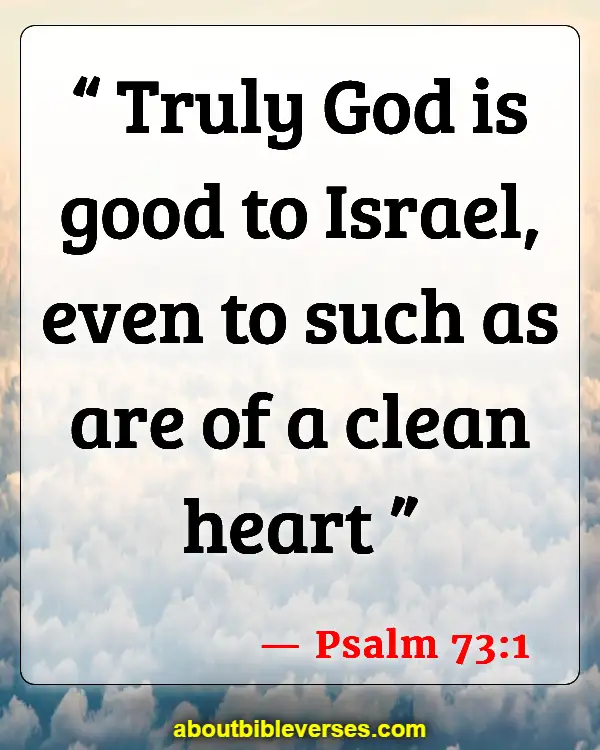 Psalm 73:1
"Truly God is good to Israel, even to such as are of a clean heart"
Matthew 7:12
"Therefore all things whatsoever ye would that men should do to you, do ye even so to them: for this is the law and the prophets"
1 Peter 2:5
"Ye also, as lively stones, are built up a spiritual house, an holy priesthood, to offer up spiritual sacrifices, acceptable to God by Jesus Christ"
Galatians 5:19
"Now the works of the flesh are manifest, which are these; Adultery, fornication, uncleanness, lasciviousness"
Isaiah 4:4
"When the Lord shall have washed away the filth of the daughters of Zion, and shall have purged the blood of Jerusalem from the midst thereof by the spirit of judgment, and by the spirit of burning"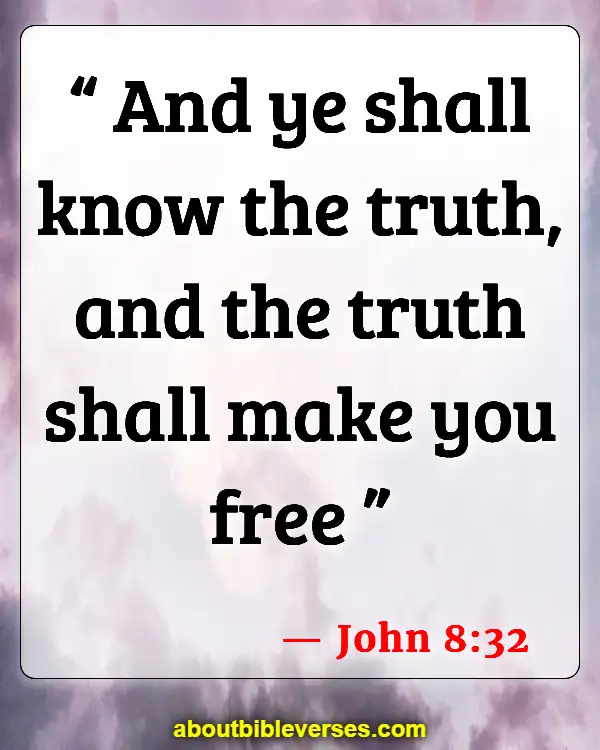 John 8:32
"And ye shall know the truth, and the truth shall make you free"
Proverbs 13:24
"He that spareth his rod hateth his son: but he that loveth him chasteneth him betimes"
2 Timothy 3:16
"All scripture is given by inspiration of God, and is profitable for doctrine, for reproof, for correction, for instruction in righteousness"
Genesis 2:15
"And the Lord God took the man, and put him into the garden of Eden to dress it and to keep it"
John 3:16
"For God so loved the world, that he gave his only begotten Son, that whosoever believeth in him should not perish, but have everlasting life"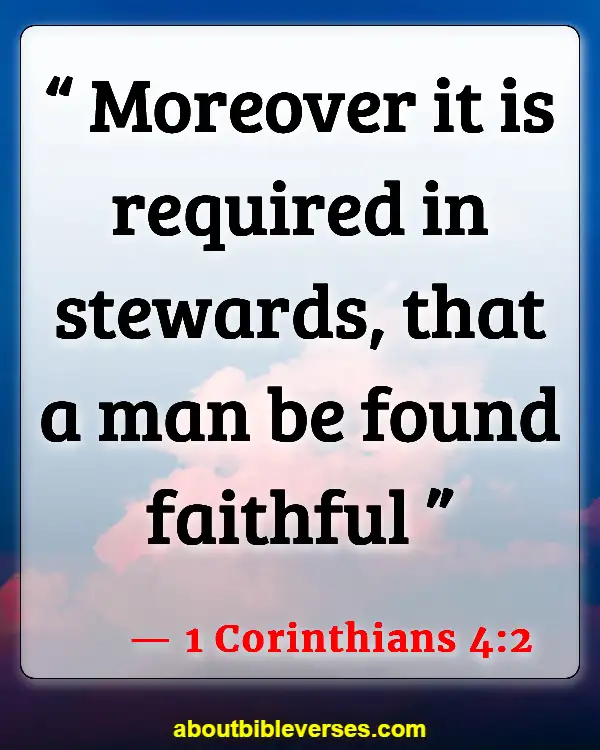 1 Corinthians 4:2
"Moreover it is required in stewards, that a man be found faithful"
1 Corinthians 14:40
"Let all things be done decently and in order"
James 4:17
"Therefore to him that knoweth to do good, and doeth it not, to him it is sin"
Psalm 19:12
"Who can understand his errors? cleanse thou me from secret faults"
Daniel 1:4
"Children in whom was no blemish, but well favoured, and skilful in all wisdom, and cunning in knowledge, and understanding science, and such as had ability in them to stand in the king's palace, and whom they might teach the learning and the tongue of the Chaldeans"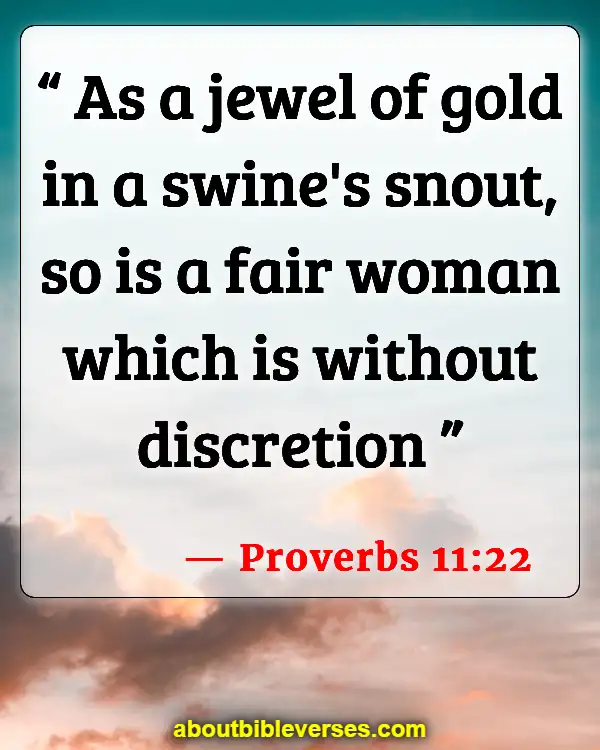 Proverbs 11:22
"As a jewel of gold in a swine's snout, so is a fair woman which is without discretion"
1 Corinthians 6:7
"Now therefore there is utterly a fault among you, because ye go to law one with another. Why do ye not rather take wrong? why do ye not rather suffer yourselves to be defrauded?"
Matthew 5:5
"Blessed are the meek: for they shall inherit the earth"
Hebrews 5:14
"But strong meat belongeth to them that are of full age, even those who by reason of use have their senses exercised to discern both good and evil"
1 Timothy 4:7
"But refuse profane and old wives' fables, and exercise thyself rather unto godliness"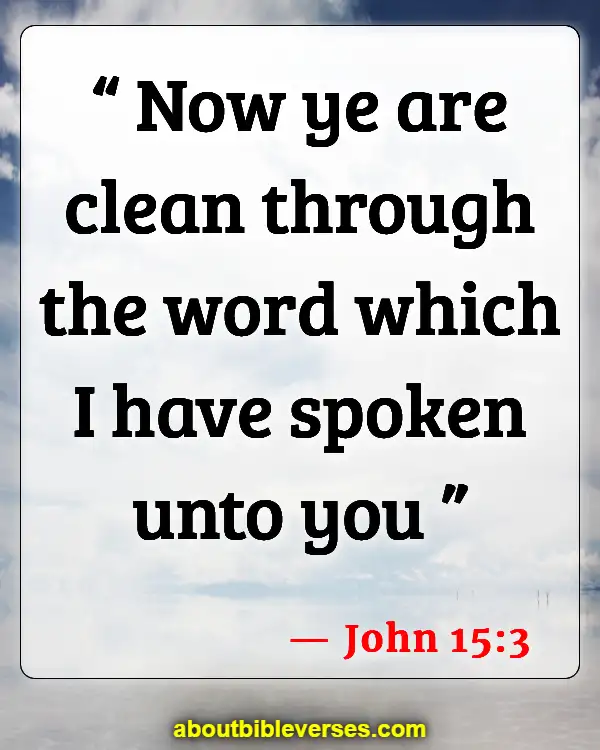 John 15:3
"Now ye are clean through the word which I have spoken unto you"
Hebrews 11:1
"Now faith is the substance of things hoped for, the evidence of things not seen"
Matthew 25:46
"And these shall go away into everlasting punishment: but the righteous into life eternal"
1 John 3:4
"Whosoever committeth sin transgresseth also the law: for sin is the transgression of the law"
Leviticus 11:40
"And he that eateth of the carcase of it shall wash his clothes, and be unclean until the even: he also that beareth the carcase of it shall wash his clothes, and be unclean until the even"
Numbers 19:22
"And whatsoever the unclean person toucheth shall be unclean; and the soul that toucheth it shall be unclean until even"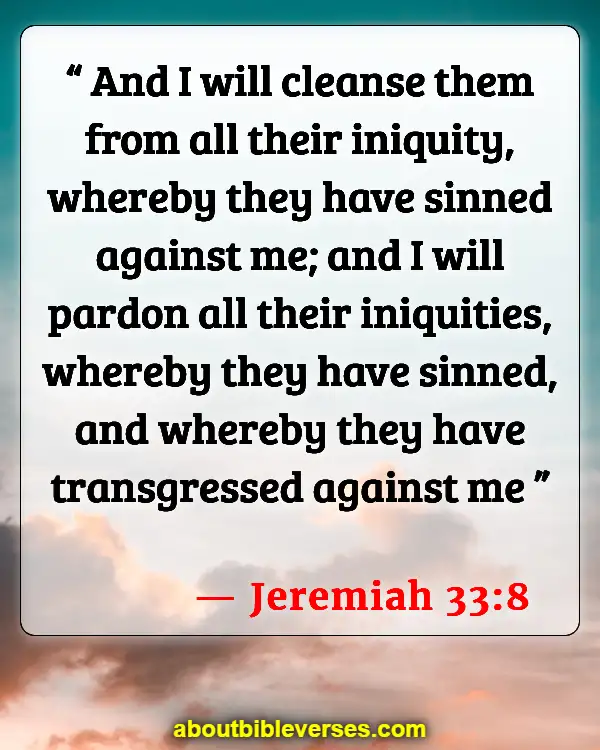 Jeremiah 33:8
"And I will cleanse them from all their iniquity, whereby they have sinned against me; and I will pardon all their iniquities, whereby they have sinned, and whereby they have transgressed against me"
Hebrews 10:22
"Let us draw near with a true heart in full assurance of faith, having our hearts sprinkled from an evil conscience, and our bodies washed with pure water"
Romans 6:19
"I speak after the manner of men because of the infirmity of your flesh: for as ye have yielded your members servants to uncleanness and to iniquity unto iniquity; even so now yield your members servants to righteousness unto holiness"
Genesis 1:26
"And God said, Let us make man in our image, after our likeness: and let them have dominion over the fish of the sea, and over the fowl of the air, and over the cattle, and over all the earth, and over every creeping thing that creepeth upon the earth"
Romans 14:14
"I know, and am persuaded by the Lord Jesus, that there is nothing unclean of itself: but to him that esteemeth any thing to be unclean, to him it is unclean"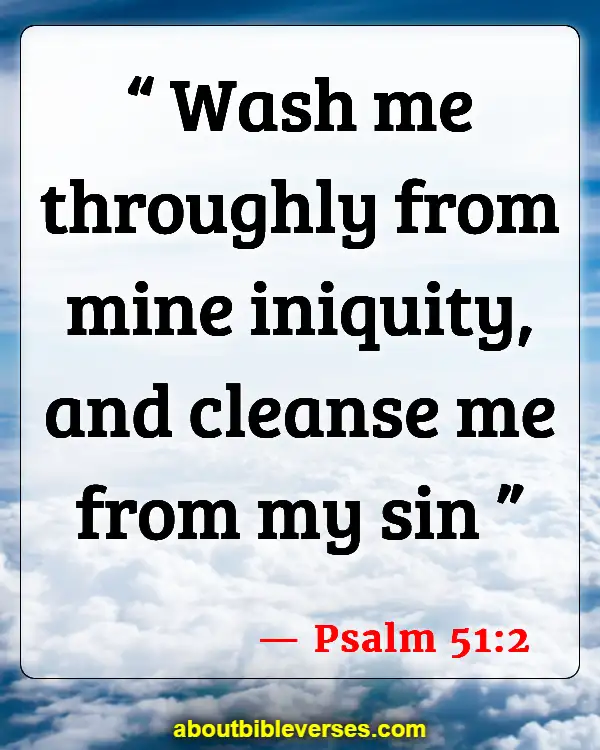 Psalm 51:2
"Wash me throughly from mine iniquity, and cleanse me from my sin"