Dear friends, When a wife cheats on her husband, it cause deep pain, broken trust, and emotional turmoil. In the holy wisdom of the Bible, marriage is a divine bond, a union of two souls who commit to cherishing and remaining faithful to each other.
Cheating is not only a betrayal of the trust between partners, but it is also a breach of the divine covenant of marriage. The Bible counsels that the bonds of matrimony should be pure and sacred, reflecting the loyalty and commitment between Christ and the Church. When a wife strays from this path, she steps outside the divine plan for marriage, hence causing disharmony not just in her home, but also in her relationship with God.
Yet, the Bible also offers a beacon of hope, guidance, and healing. Just as the Prodigal Son was welcomed back by his father, God's mercy extends to those who sincerely repent. A cheating wife, in confessing her wrongdoings and turning back to God, can find a path of restoration.
Finally, in dealing with such a situation, the Bible promotes compassion, understanding, and forgiveness.the Bible does not advocate anger or revenge. Instead, it speaks of forgiveness and healing. Remember, we all err and stumble; that's part of being human. The pathway to healing is not easy, it requires understanding, patience, and a will to mend the bonds of trust.
The Bible's teachings thus provide the spiritual and practical guide needed to find through the murky waters of infidelity. Remember, God's love always seeks to restore, reconcile, and heal.
In essence, the Bible teaches us about the sanctity of marriage, the pain of unfaithfulness, and the power of forgiveness. Even though cheating can cause tremendous pain and rupture trust, there's always a path to healing if we're brave enough to take it.
Dear friends now let's see the Bible scriptures below that talk about Cheating Wife.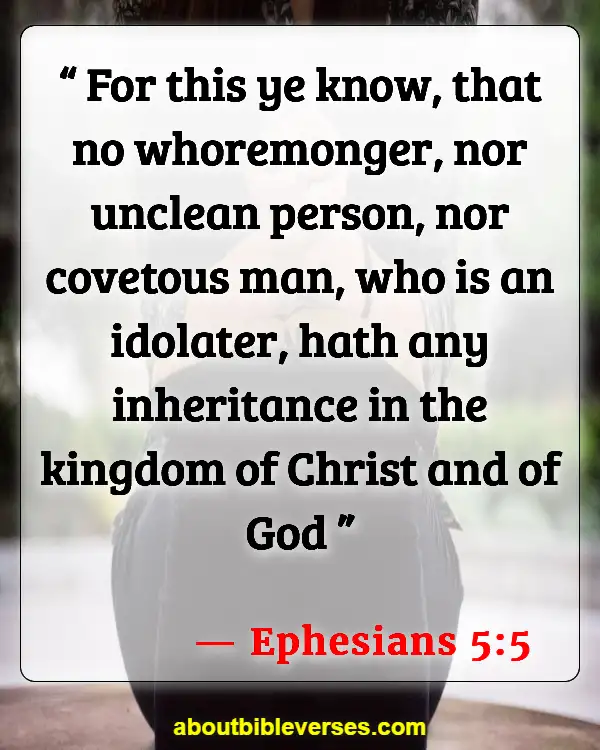 Ephesians 5:5
"For this ye know, that no whoremonger, nor unclean person, nor covetous man, who is an idolater, hath any inheritance in the kingdom of Christ and of God"
Proverbs 6:32
"But whoso committeth adultery with a woman lacketh understanding: he that doeth it destroyeth his own soul"
Jeremiah 3:8
"And I saw, when for all the causes whereby backsliding Israel committed adultery I had put her away, and given her a bill of divorce; yet her treacherous sister Judah feared not, but went and played the harlot also"
Malachi 2:16
"For the Lord , the God of Israel, saith that he hateth putting away: for one covereth violence with his garment, saith the Lord of hosts: therefore take heed to your spirit, that ye deal not treacherously"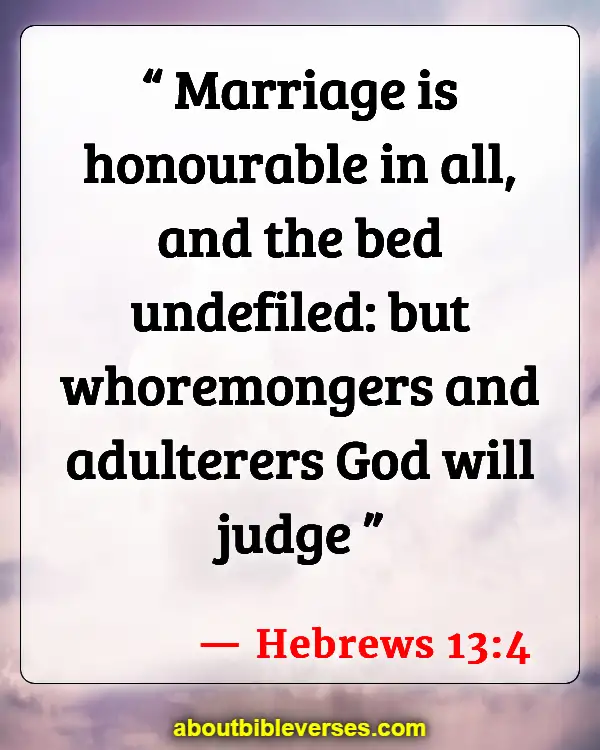 Hebrews 13:4
"Marriage is honourable in all, and the bed undefiled: but whoremongers and adulterers God will judge"
Matthew 19:9
"And I say unto you, Whosoever shall put away his wife, except it be for fornication, and shall marry another, committeth adultery: and whoso marrieth her which is put away doth commit adultery"
1 Corinthians 6:18
"Flee fornication. Every sin that a man doeth is without the body; but he that committeth fornication sinneth against his own body"
1 Corinthians 7:2
"Nevertheless, to avoid fornication, let every man have his own wife, and let every woman have her own husband"
Deuteronomy 22:22
"If a man be found lying with a woman married to an husband, then they shall both of them die, both the man that lay with the woman, and the woman: so shalt thou put away evil from Israel"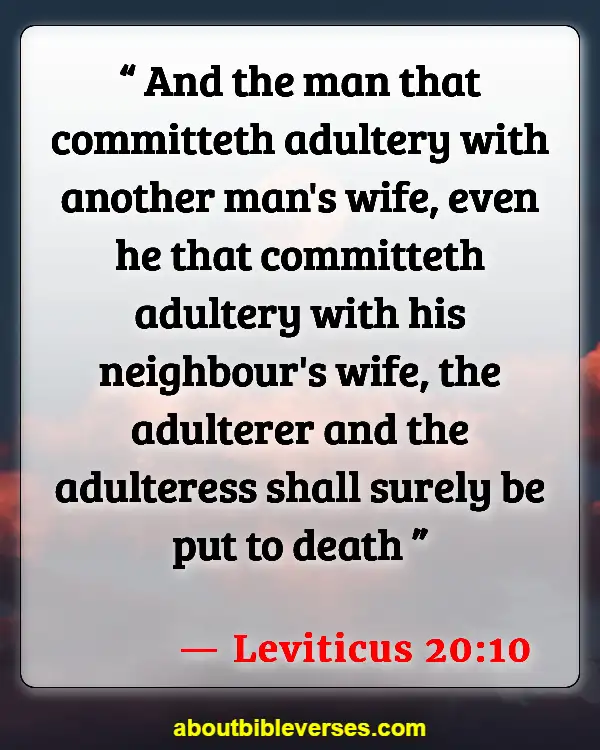 Leviticus 20:10
"And the man that committeth adultery with another man's wife, even he that committeth adultery with his neighbour's wife, the adulterer and the adulteress shall surely be put to death"
Matthew 5:27-28
"Ye have heard that it was said by them of old time, Thou shalt not commit adultery: But I say unto you, That whosoever looketh on a woman to lust after her hath committed adultery with her already in his heart"
Matthew 5:32
"But I say unto you, That whosoever shall put away his wife, saving for the cause of fornication, causeth her to commit adultery: and whosoever shall marry her that is divorced committeth adultery"
Mark 10:11-12
"And he saith unto them, Whosoever shall put away his wife, and marry another, committeth adultery against her. And if a woman shall put away her husband, and be married to another, she committeth adultery"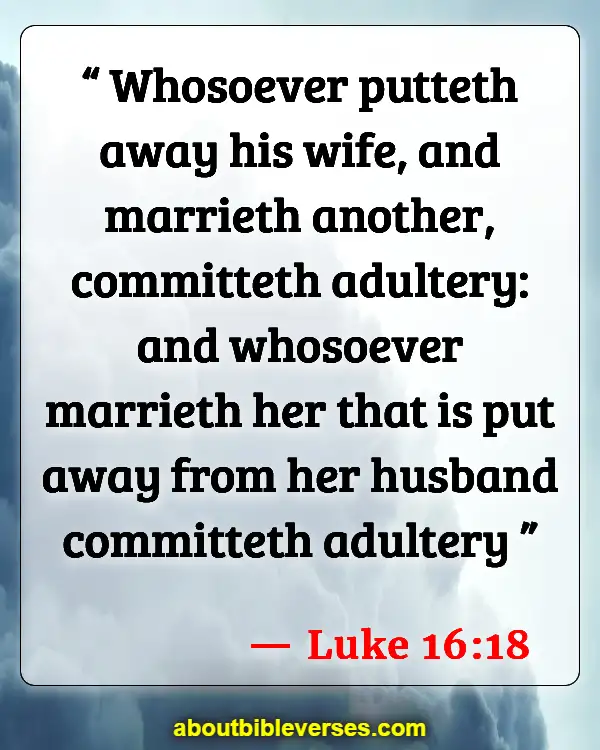 Luke 16:18
"Whosoever putteth away his wife, and marrieth another, committeth adultery: and whosoever marrieth her that is put away from her husband committeth adultery"
Romans 7:2-3
"For the woman which hath an husband is bound by the law to her husband so long as he liveth; but if the husband be dead, she is loosed from the law of her husband. So then if, while her husband liveth, she be married to another man, she shall be called an adulteress: but if her husband be dead, she is free from that law; so that she is no adulteress, though she be married to another man"
Romans 13:9
"For this, Thou shalt not commit adultery, Thou shalt not kill, Thou shalt not steal, Thou shalt not bear false witness, Thou shalt not covet; and if there be any other commandment, it is briefly comprehended in this saying, namely, Thou shalt love thy neighbour as thyself"
1 Corinthians 7:10-11
"And unto the married I command, yet not I, but the Lord, Let not the wife depart from her husband: But and if she depart, let her remain unmarried or be reconciled to her husband: and let not the husband put away his wife"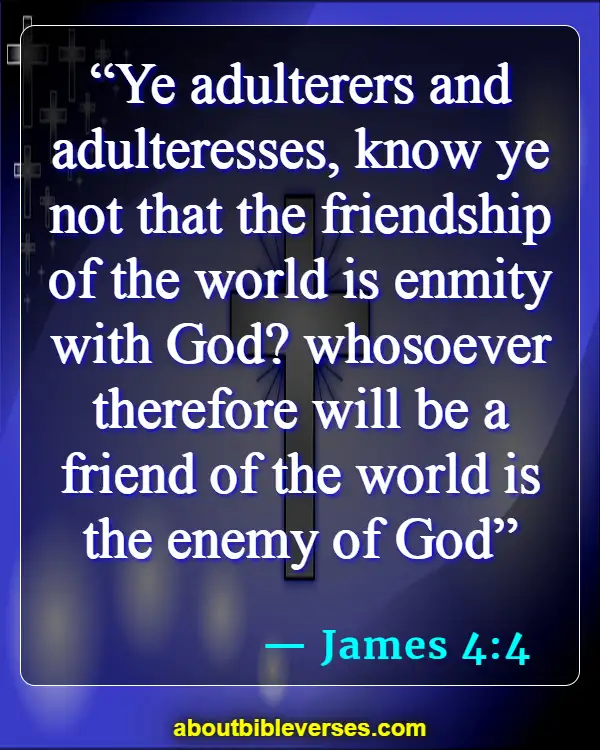 James 4:4
"Ye adulterers and adulteresses, know ye not that the friendship of the world is enmity with God? whosoever therefore will be a friend of the world is the enemy of God"
Colossians 3:5
"Mortify therefore your members which are upon the earth; fornication, uncleanness, inordinate affection, evil concupiscence, and covetousness, which is idolatry"
1 Thessalonians 4:3-5
"For this is the will of God, even your sanctification, that ye should abstain from fornication: That every one of you should know how to possess his vessel in sanctification and honour; Not in the lust of concupiscence, even as the Gentiles which know not God"
2 Peter 2:14
"Having eyes full of adultery, and that cannot cease from sin; beguiling unstable souls: an heart they have exercised with covetous practices; cursed children"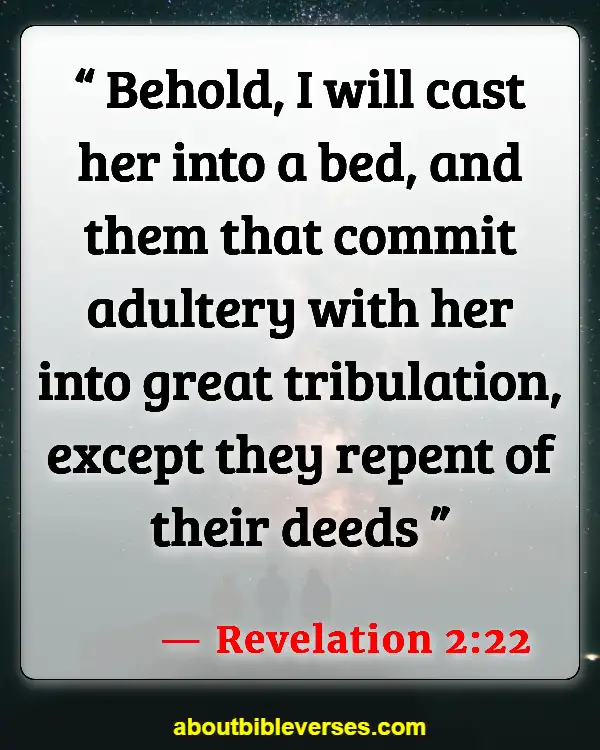 Revelation 2:22
"Behold, I will cast her into a bed, and them that commit adultery with her into great tribulation, except they repent of their deeds"
Hosea 2:2
"Plead with your mother, plead: for she is not my wife, neither am I her husband: let her therefore put away her whoredoms out of her sight, and her adulteries from between her breasts"
Numbers 5:12
"Speak unto the children of Israel, and say unto them, If any man's wife go aside, and commit a trespass against him"
Jeremiah 13:27
"I have seen thine adulteries, and thy neighings, the lewdness of thy whoredom, and thine abominations on the hills in the fields. Woe unto thee, O Jerusalem! wilt thou not be made clean? when shall it once be?"
Ezekiel 23:37
"That they have committed adultery, and blood is in their hands, and with their idols have they committed adultery, and have also caused their sons, whom they bare unto me, to pass for them through the fire, to devour them"
Hosea 4:13-14
"They sacrifice upon the tops of the mountains, and burn incense upon the hills, under oaks and poplars and elms, because the shadow thereof is good: therefore your daughters shall commit whoredom, and your spouses shall commit adultery. I will not punish your daughters when they commit whoredom, nor your spouses when they commit adultery: for themselves are separated with whores, and they sacrifice with harlots: therefore the people that doth not understand shall fall"
Hosea 3:1
"Then said the Lord unto me, Go yet, love a woman beloved of her friend, yet an adulteress, according to the love of the Lord toward the children of Israel, who look to other gods, and love flagons of wine"
Malachi 3:5
"And I will come near to you to judgment; and I will be a swift witness against the sorcerers, and against the adulterers, and against false swearers, and against those that oppress the hireling in his wages, the widow, and the fatherless, and that turn aside the stranger from his right, and fear not me, saith the Lord of hosts"
Job 31:9-11
"If mine heart have been deceived by a woman, or if I have laid wait at my neighbour's door; Then let my wife grind unto another, and let others bow down upon her. For this is an heinous crime; yea, it is an iniquity to be punished by the judges"
Psalm 51:1-2
"Have mercy upon me, O God, according to thy lovingkindness: according unto the multitude of thy tender mercies blot out my transgressions. Wash me throughly from mine iniquity, and cleanse me from my sin"
Proverbs 28:13
"He that covereth his sins shall not prosper: but whoso confesseth and forsaketh them shall have mercy"
Isaiah 55:7
"Let the wicked forsake his way, and the unrighteous man his thoughts: and let him return unto the Lord , and he will have mercy upon him; and to our God, for he will abundantly pardon"
Ezekiel 18:21-22
"But if the wicked will turn from all his sins that he hath committed, and keep all my statutes, and do that which is lawful and right, he shall surely live, he shall not die. All his transgressions that he hath committed, they shall not be mentioned unto him: in his righteousness that he hath done he shall live"
Joel 2:12-13
"Therefore also now, saith the Lord , turn ye even to me with all your heart, and with fasting, and with weeping, and with mourning: And rend your heart, and not your garments, and turn unto the Lord your God: for he is gracious and merciful, slow to anger, and of great kindness, and repenteth him of the evil"
1 John 1:9
"If we confess our sins, he is faithful and just to forgive us our sins, and to cleanse us from all unrighteousness"