Hello dear friends, welcome to our site in the name of Jesus Christ. Today we will look at the Bible Scriptures About Betrayal By Family In KJV. If you like today's post then definitely comment and share.
Betrayal in the family is a very difficult issue. The Bible helps with the following aspects of this conflict.
The Bible tells us to always hope, renew our good will and our faith (1 Corinthians 13:7). This admonition tells us that reconfiguration of our relationship is possible.
As my personal experience says, infidelity breaks family ties. However, the power of truth, forgiveness, and hope that the Bible teaches makes it possible to rebuild those relationships. The Bible has helped me deal with my family's betrayal.
The Bible teaches us truth, forgiveness, and hope about family betrayal. It helps us realize that, even though we've been hurt by betrayal, we can still restore relationships and rebuild trust.
This biblical advice has helped me in the face of my own family betrayal, and I believe it can help others as well and hopefully it will be a valuable tool for managing relationships in others' lives.
Dear friends now let's see the Bible scriptures below that talk about Betrayal By Family.
Proverbs 19:5
"A false witness shall not be unpunished, and he that speaketh lies shall not escape"
Matthew 6:14-15
"For if ye forgive men their trespasses, your heavenly Father will also forgive you: But if ye forgive not men their trespasses, neither will your Father forgive your trespasses"
Mark 11:25
"And when ye stand praying, forgive, if ye have ought against any: that your Father also which is in heaven may forgive you your trespasses"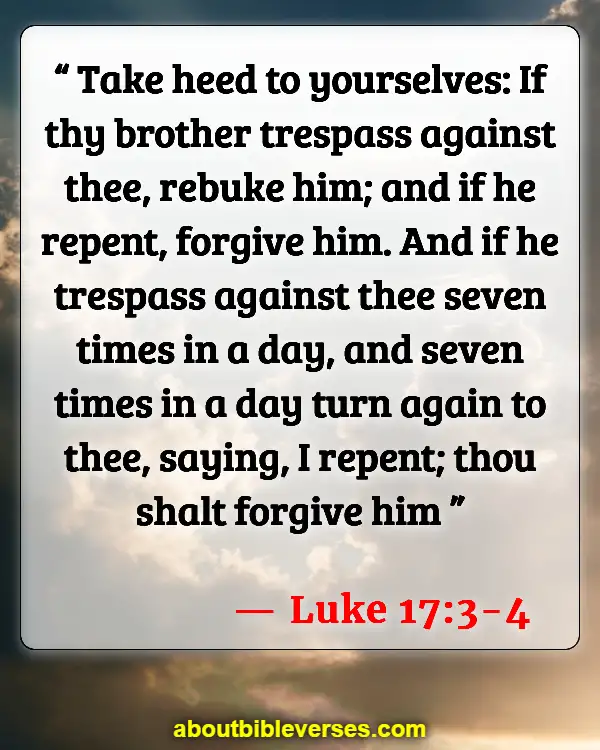 Luke 17:3-4
"Take heed to yourselves: If thy brother trespass against thee, rebuke him; and if he repent, forgive him. And if he trespass against thee seven times in a day, and seven times in a day turn again to thee, saying, I repent; thou shalt forgive him"
Ephesians 4:32
"And be ye kind one to another, tenderhearted, forgiving one another, even as God for Christ's sake hath forgiven you"
Colossians 3:13
"Forbearing one another, and forgiving one another, if any man have a quarrel against any: even as Christ forgave you, so also do ye"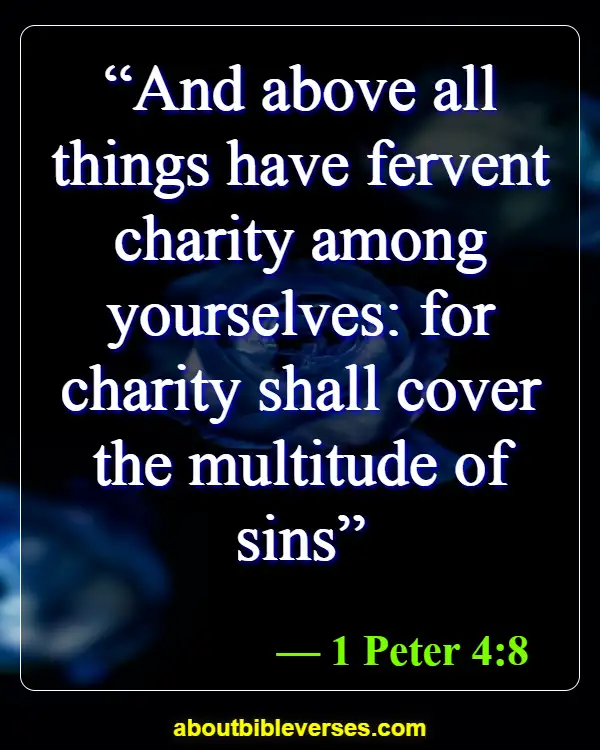 1 Peter 4:8
"And above all things have fervent charity among yourselves: for charity shall cover the multitude of sins"
Proverbs 17:9
"He that covereth a transgression seeketh love; but he that repeateth a matter separateth very friends"
1 Corinthians 13:4-7
"Charity suffereth long, and is kind; charity envieth not; charity vaunteth not itself, is not puffed up, Doth not behave itself unseemly, seeketh not her own, is not easily provoked, thinketh no evil; Rejoiceth not in iniquity, but rejoiceth in the truth; Beareth all things, believeth all things, hopeth all things, endureth all things"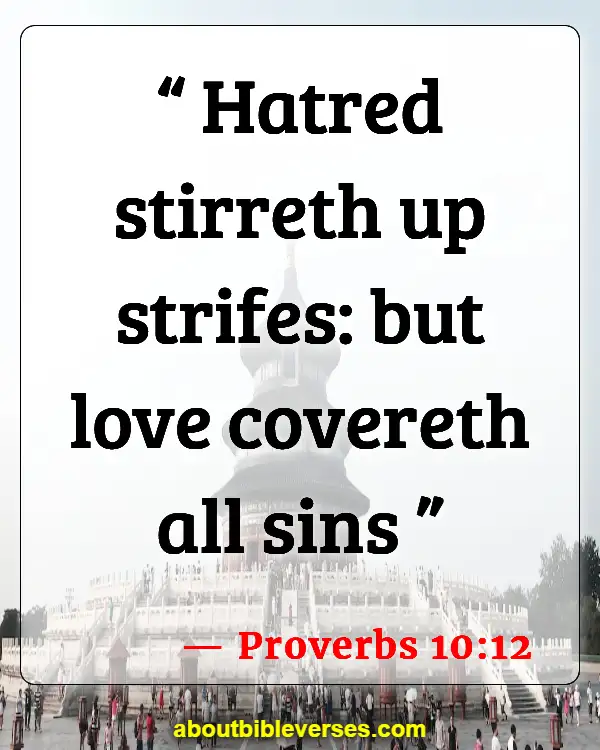 Proverbs 10:12
"Hatred stirreth up strifes: but love covereth all sins"
Psalm 41:9
"Yea, mine own familiar friend, in whom I trusted, which did eat of my bread, hath lifted up his heel against me"
Micah 7:5-6
"Trust ye not in a friend, put ye not confidence in a guide: keep the doors of thy mouth from her that lieth in thy bosom. For the son dishonoureth the father, the daughter riseth up against her mother, the daughter in law against her mother in law; a man's enemies are the men of his own house"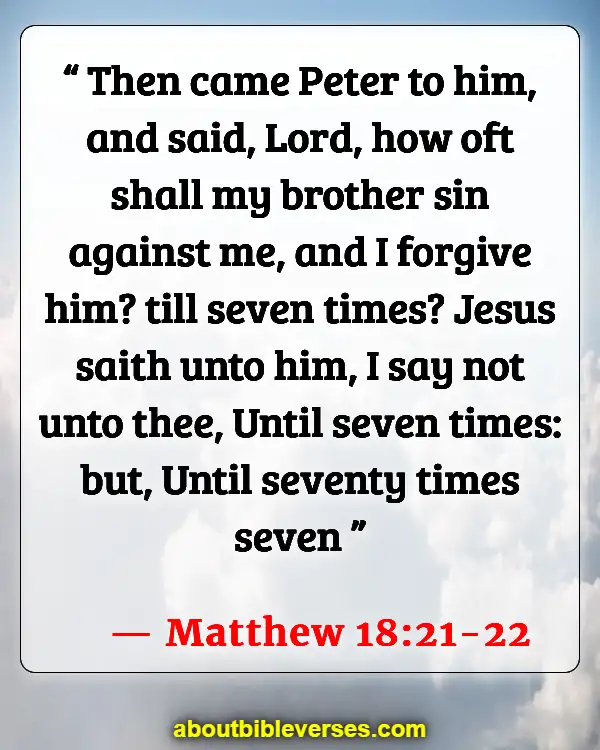 Matthew 18:21-22
"Then came Peter to him, and said, Lord, how oft shall my brother sin against me, and I forgive him? till seven times? Jesus saith unto him, I say not unto thee, Until seven times: but, Until seventy times seven"
Romans 12:19
"Dearly beloved, avenge not yourselves, but rather give place unto wrath: for it is written, Vengeance is mine; I will repay, saith the Lord"
Luke 6:27-28
"But I say unto you which hear, Love your enemies, do good to them which hate you, Bless them that curse you, and pray for them which despitefully use you"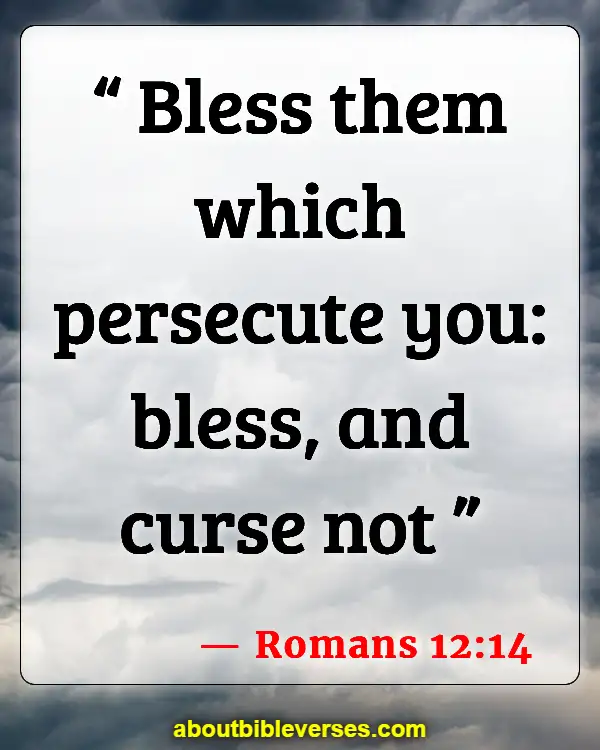 Romans 12:14
"Bless them which persecute you: bless, and curse not"
1 Thessalonians 5:15
"See that none render evil for evil unto any man; but ever follow that which is good, both among yourselves, and to all men"
1 Peter 3:9
"Not rendering evil for evil, or railing for railing: but contrariwise blessing; knowing that ye are thereunto called, that ye should inherit a blessing"
Romans 12:17
"Recompense to no man evil for evil. Provide things honest in the sight of all men"
Proverbs 24:29
"Say not, I will do so to him as he hath done to me: I will render to the man according to his work"
Leviticus 19:18
"Thou shalt not avenge, nor bear any grudge against the children of thy people, but thou shalt love thy neighbour as thyself: I am the Lord"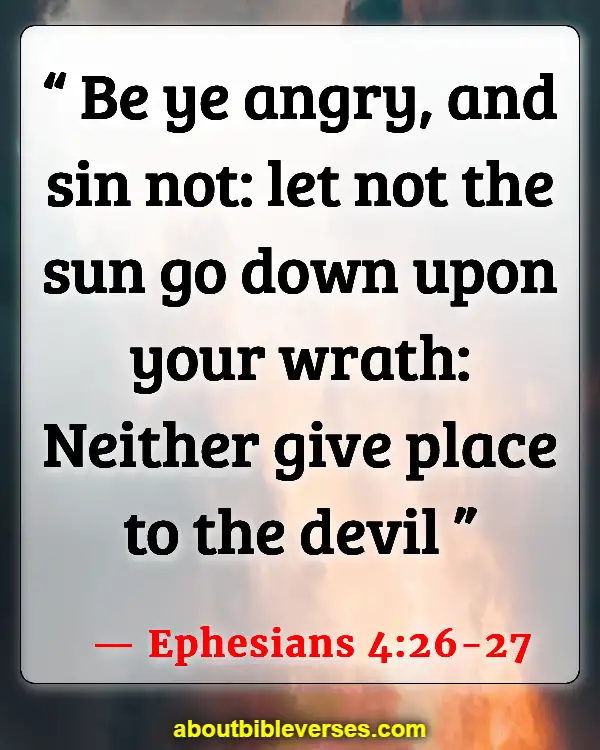 Ephesians 4:26-27
"Be ye angry, and sin not: let not the sun go down upon your wrath: Neither give place to the devil"