Dear Friends, The Bible teaches us about the importance of being thankful for trials in our lives. Although it may seem strange at first, Trials can actually bring about positive growth and transformation if we look at them from the right perspective.
Firstly, trials teach us valuable spiritual lessons. When we face challenges, we learn to depend on God and trust in His guidance. It's during these difficult times that we often experience His faithfulness and find a deeper relationship with Him. Trials help us develop qualities like patience, perseverance, and faith, which are crucial for our spiritual journey.
Secondly, trials have practical benefits. They can strengthen our character and make us more resilient. Just as gold is refined through fire, trials refine and purify our hearts and minds. They expose areas in our lives that need improvement and offer opportunities for personal growth. By facing and overcoming challenges, we become better equipped to handle future difficulties.
Furthermore, trials provide us with illustrations of God's power and grace. In the Bible, we find numerous examples of individuals who faced trials and emerged stronger in their faith. For instance, Job endured immense suffering but remained faithful to God, and he was ultimately blessed even more than before. These stories serve as reminders that God is with us in our trials and that He can turn our hardships into something beautiful.
In conclusion, the Bible encourages us to be thankful for trials because they have the potential to deepen our spiritual understanding, develop our character, and illustrate God's transformative power. By embracing trials with gratitude, we can experience personal growth and draw closer to God, trusting that He will guide us through every difficulty we face.
Dear Friends, here are some Bible verses that relate to being thankful for trials: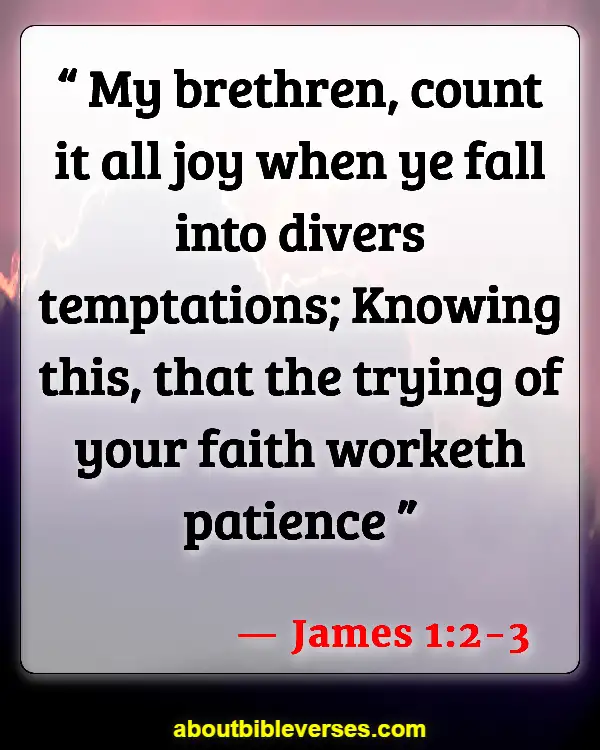 James 1:2-3
"My brethren, count it all joy when ye fall into divers temptations; Knowing this, that the trying of your faith worketh patience"
Romans 5:3-5
"And not only so, but we glory in tribulations also: knowing that tribulation worketh patience; And patience, experience; and experience, hope: And hope maketh not ashamed; because the love of God is shed abroad in our hearts by the Holy Ghost which is given unto us"
1 Peter 4:12-13
"Beloved, think it not strange concerning the fiery trial which is to try you, as though some strange thing happened unto you: But rejoice, inasmuch as ye are partakers of Christ's sufferings; that, when his glory shall be revealed, ye may be glad also with exceeding joy"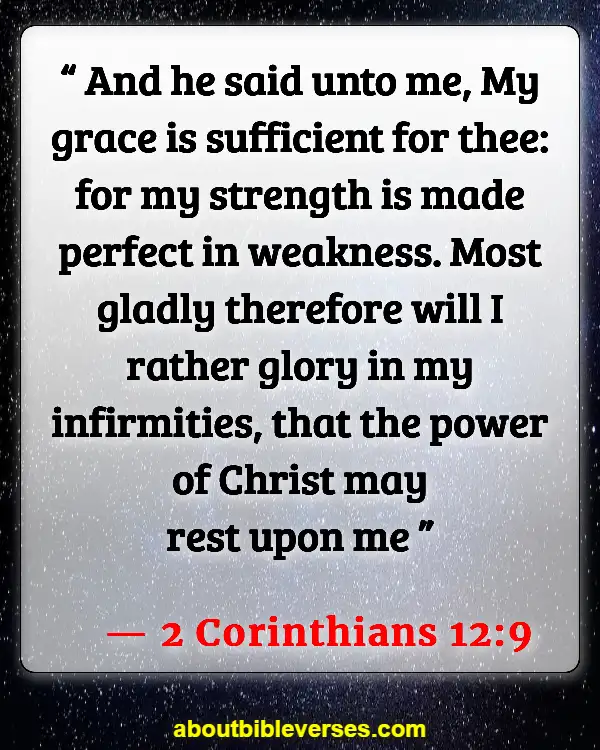 2 Corinthians 12:9
"And he said unto me, My grace is sufficient for thee: for my strength is made perfect in weakness. Most gladly therefore will I rather glory in my infirmities, that the power of Christ may rest upon me"
Romans 8:18
"For I reckon that the sufferings of this present time are not worthy to be compared with the glory which shall be revealed in us"
1 Peter 1:6-7
"Wherein ye greatly rejoice, though now for a season, if need be, ye are in heaviness through manifold temptations: That the trial of your faith, being much more precious than of gold that perisheth, though it be tried with fire, might be found unto praise and honour and glory at the appearing of Jesus Christ"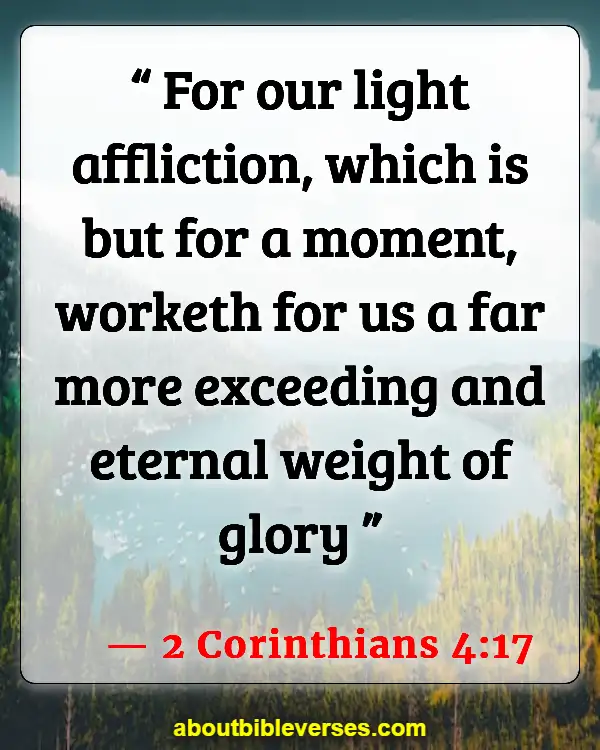 2 Corinthians 4:17
"For our light affliction, which is but for a moment, worketh for us a far more exceeding and eternal weight of glory"
Psalm 119:71
"It is good for me that I have been afflicted; that I might learn thy statutes"
1 Peter 5:10
"But the God of all grace, who hath called us unto his eternal glory by Christ Jesus, after that ye have suffered a while, make you perfect, stablish, strengthen, settle you"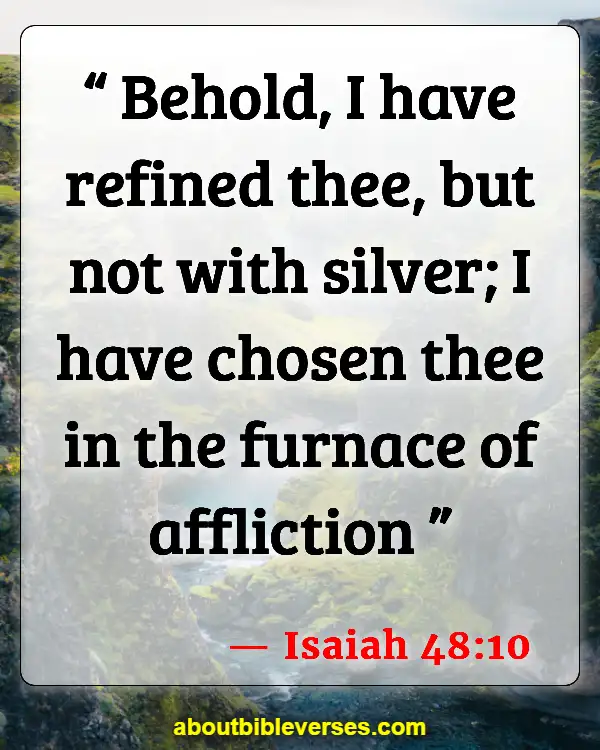 Isaiah 48:10
"Behold, I have refined thee, but not with silver; I have chosen thee in the furnace of affliction"
2 Timothy 1:8
"Be not thou therefore ashamed of the testimony of our Lord, nor of me his prisoner: but be thou partaker of the afflictions of the gospel according to the power of God"
Acts 5:41
"And they departed from the presence of the council, rejoicing that they were counted worthy to suffer shame for his name"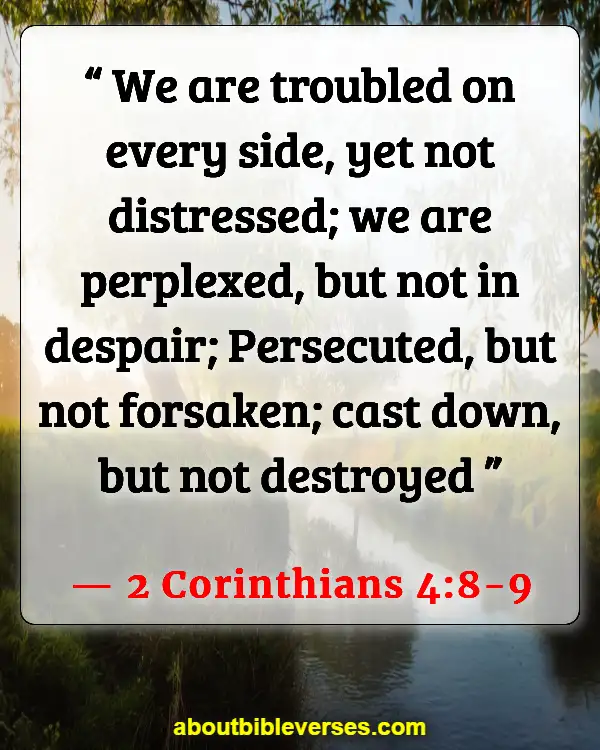 2 Corinthians 4:8-9
"We are troubled on every side, yet not distressed; we are perplexed, but not in despair; Persecuted, but not forsaken; cast down, but not destroyed"
1 Peter 1:7
"That the trial of your faith, being much more precious than of gold that perisheth, though it be tried with fire, might be found unto praise and honour and glory at the appearing of Jesus Christ"
Romans 12:12
"Rejoicing in hope; patient in tribulation; continuing instant in prayer"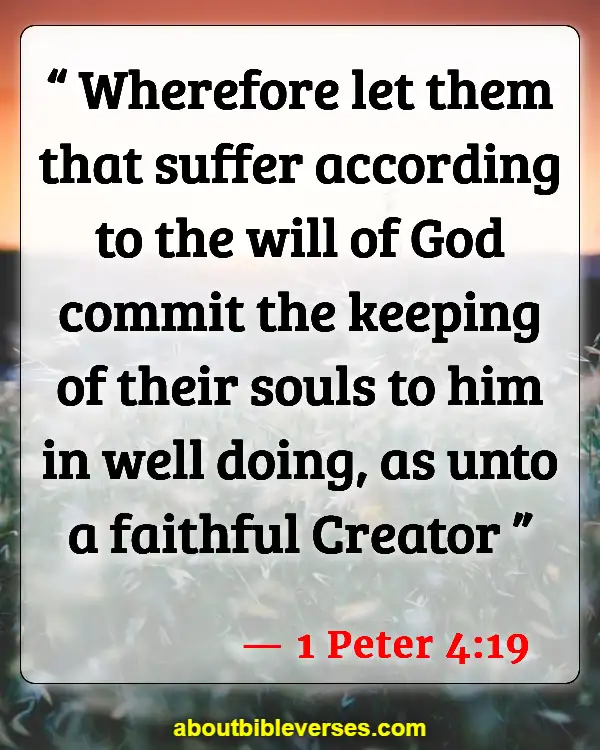 1 Peter 4:19
"Wherefore let them that suffer according to the will of God commit the keeping of their souls to him in well doing, as unto a faithful Creator"
1 Corinthians 10:13
"There hath no temptation taken you but such as is common to man: but God is faithful, who will not suffer you to be tempted above that ye are able; but will with the temptation also make a way to escape, that ye may be able to bear it"
Revelation 2:10
"Fear none of those things which thou shalt suffer: behold, the devil shall cast some of you into prison, that ye may be tried; and ye shall have tribulation ten days: be thou faithful unto death, and I will give thee a crown of life"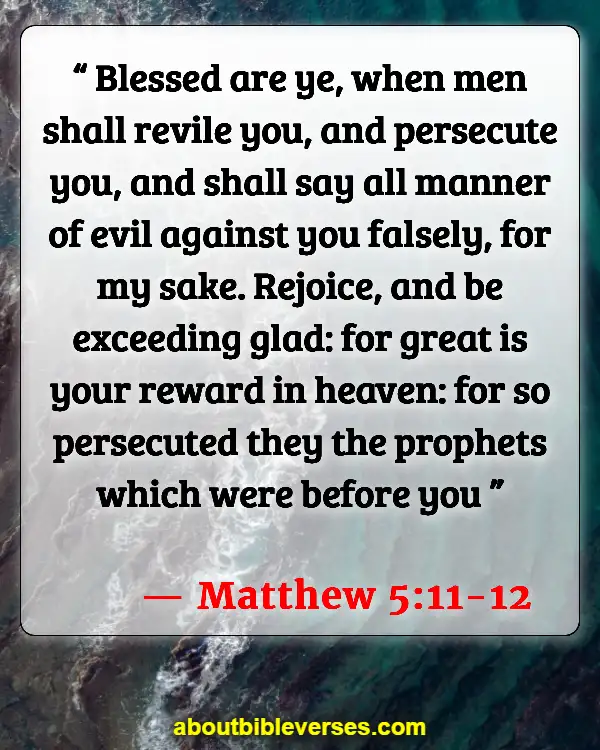 Matthew 5:11-12
"Blessed are ye, when men shall revile you, and persecute you, and shall say all manner of evil against you falsely, for my sake. Rejoice, and be exceeding glad: for great is your reward in heaven: for so persecuted they the prophets which were before you"
Philippians 4:12-13
"I know both how to be abased, and I know how to abound: every where and in all things I am instructed both to be full and to be hungry, both to abound and to suffer need. I can do all things through Christ which strengtheneth me"
Hebrews 12:7
"If ye endure chastening, God dealeth with you as with sons; for what son is he whom the father chasteneth not?"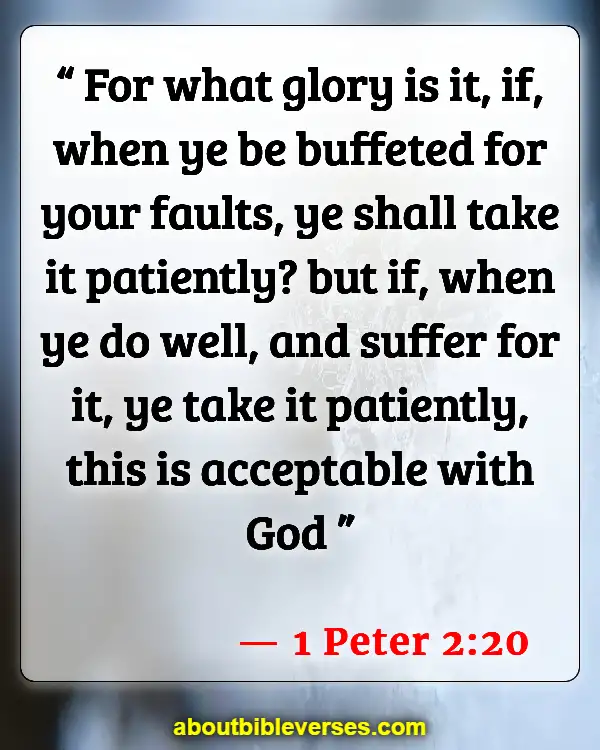 1 Peter 2:20
"For what glory is it, if, when ye be buffeted for your faults, ye shall take it patiently? but if, when ye do well, and suffer for it, ye take it patiently, this is acceptable with God"
John 16:33
"These things I have spoken unto you, that in me ye might have peace. In the world ye shall have tribulation: but be of good cheer; I have overcome the world"
2 Timothy 2:3
"Thou therefore endure hardness, as a good soldier of Jesus Christ"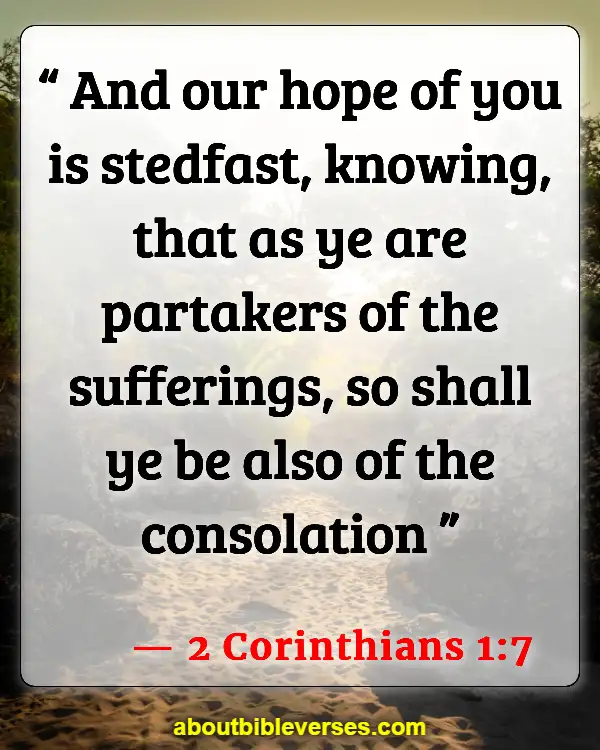 2 Corinthians 1:7
"And our hope of you is stedfast, knowing, that as ye are partakers of the sufferings, so shall ye be also of the consolation"
Romans 8:17
"And if children, then heirs; heirs of God, and joint-heirs with Christ; if so be that we suffer with him, that we may be also glorified together"
1 Peter 4:1
"Forasmuch then as Christ hath suffered for us in the flesh, arm yourselves likewise with the same mind: for he that hath suffered in the flesh hath ceased from sin"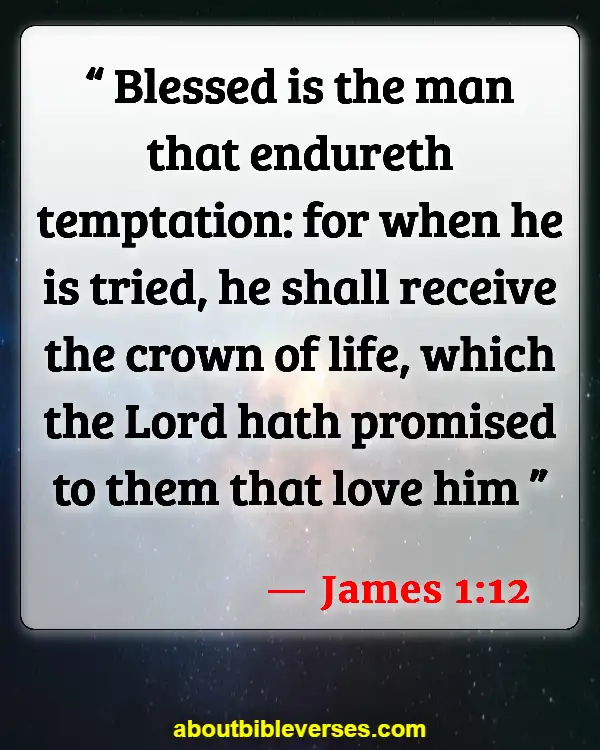 James 1:12
"Blessed is the man that endureth temptation: for when he is tried, he shall receive the crown of life, which the Lord hath promised to them that love him"
2 Timothy 4:5
"But watch thou in all things, endure afflictions, do the work of an evangelist, make full proof of thy ministry"
Philippians 1:29
"For unto you it is given in the behalf of Christ, not only to believe on him, but also to suffer for his sake"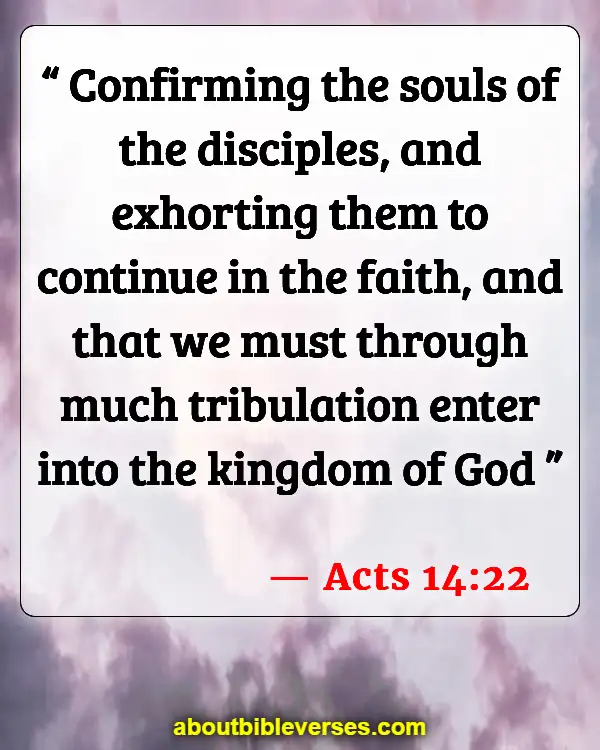 Acts 14:22
"Confirming the souls of the disciples, and exhorting them to continue in the faith, and that we must through much tribulation enter into the kingdom of God"
1 Thessalonians 3:3
"That no man should be moved by these afflictions: for yourselves know that we are appointed thereunto"
2 Corinthians 6:4
"But in all things approving ourselves as the ministers of God, in much patience, in afflictions, in necessities, in distresses"
Matthew 10:38
"And he that taketh not his cross, and followeth after me, is not worthy of me"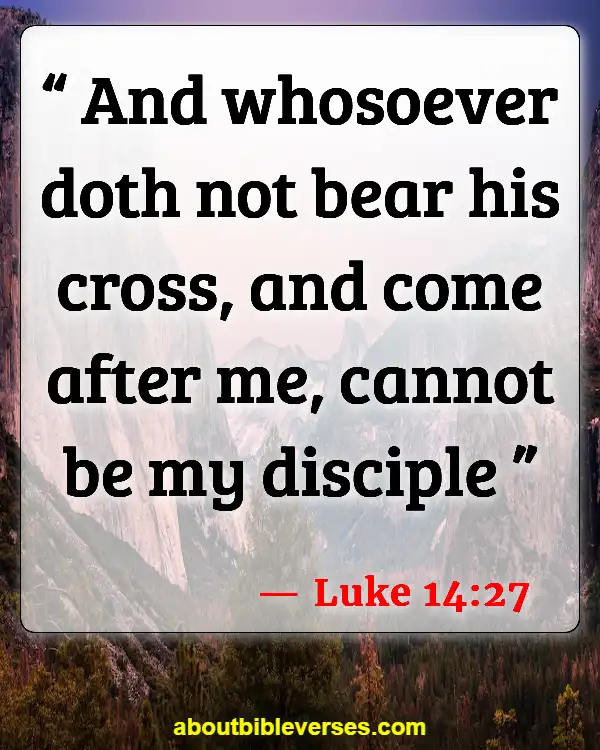 Luke 14:27
"And whosoever doth not bear his cross, and come after me, cannot be my disciple"