Hello dear friends, welcome to our site in the name of Jesus Christ. Today we will look at the Bible Scriptures About Being A Warrior For God. If you like today's post then definitely comment and share.
In the eyes of the Almighty, being a warrior for God is not about wielding literal weapons. It is a call to stand firm, armored in honesty, with the light of truth guiding every step.
As warriors for Jesus, our battle is not against flesh and blood, but against the forces of darkness seeking to engulf our souls. Our weapons are not of this world; they are rooted in respect for others and in the righteousness born of faith.
Amid this spiritual struggle, let us not forget the divine teachings passed down through the ages. May the sacred words of the Bible be our guiding light, a fount of wisdom and inspiration.
So as warriors for God and Jesus, let our actions speak of the love transcending all understanding. May our lives testify to the transformative power of faith.
Let us put on the armor of honesty, respect, righteousness, kindness, and compassion—not just in times of trial, but in every step we take. For in this battle, victory is already won by the One who conquered the grave.
Dear friends now let's see the Bible scriptures below that talk about Being A Warrior For God.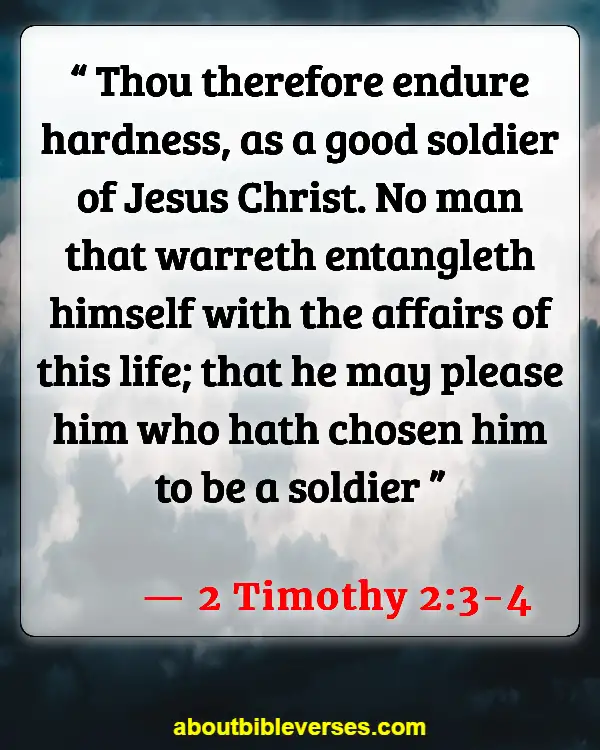 2 Timothy 2:3-4
"Thou therefore endure hardness, as a good soldier of Jesus Christ. No man that warreth entangleth himself with the affairs of this life; that he may please him who hath chosen him to be a soldier"
1 Corinthians 16:13
"Watch ye, stand fast in the faith, quit you like men, be strong"
2 Corinthians 10:3-5
"For though we walk in the flesh, we do not war after the flesh: (For the weapons of our warfare are not carnal, but mighty through God to the pulling down of strong holds;) Casting down imaginations, and every high thing that exalteth itself against the knowledge of God, and bringing into captivity every thought to the obedience of Christ"
1 Timothy 6:12
"Fight the good fight of faith, lay hold on eternal life, whereunto thou art also called, and hast professed a good profession before many witnesses"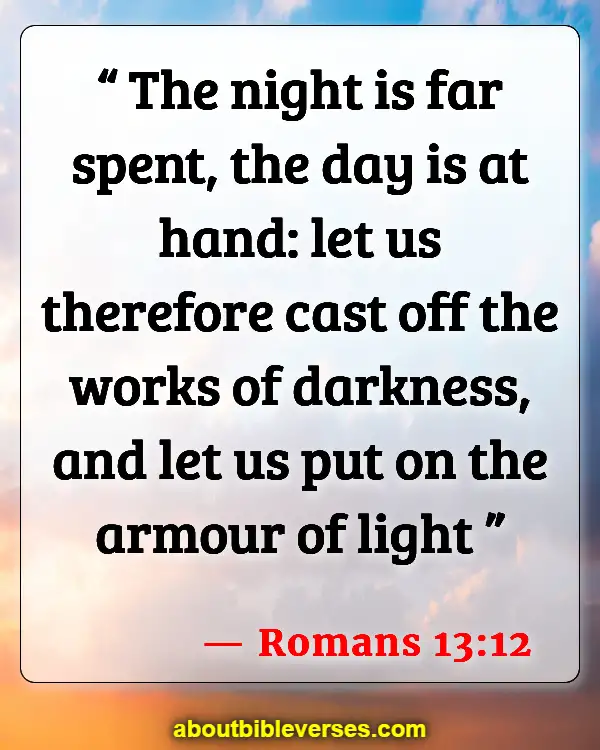 Romans 13:12
"The night is far spent, the day is at hand: let us therefore cast off the works of darkness, and let us put on the armour of light"
1 Thessalonians 5:8
"But let us, who are of the day, be sober, putting on the breastplate of faith and love; and for an helmet, the hope of salvation"
Psalm 144:1
"Blessed be the Lord my strength which teacheth my hands to war, and my fingers to fight"
Deuteronomy 20:4
"For the Lord your God is he that goeth with you, to fight for you against your enemies, to save you"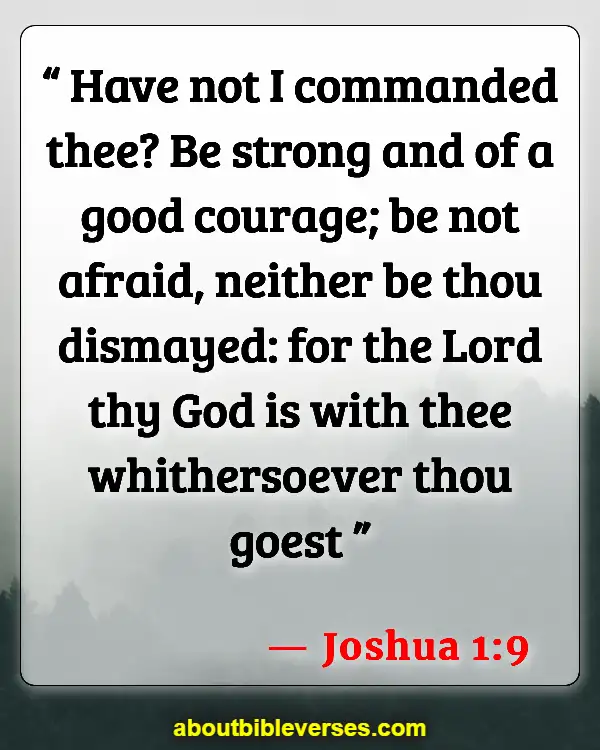 Joshua 1:9
"Have not I commanded thee? Be strong and of a good courage; be not afraid, neither be thou dismayed: for the Lord thy God is with thee whithersoever thou goest"
Psalm 27:1
"The Lord is my light and my salvation; whom shall I fear? the Lord is the strength of my life; of whom shall I be afraid?"
Psalm 33:16-18
"There is no king saved by the multitude of an host: a mighty man is not delivered by much strength. An horse is a vain thing for safety: neither shall he deliver any by his great strength. Behold, the eye of the Lord is upon them that fear him, upon them that hope in his mercy"
Psalm 44:5
"Through thee will we push down our enemies: through thy name will we tread them under that rise up against us"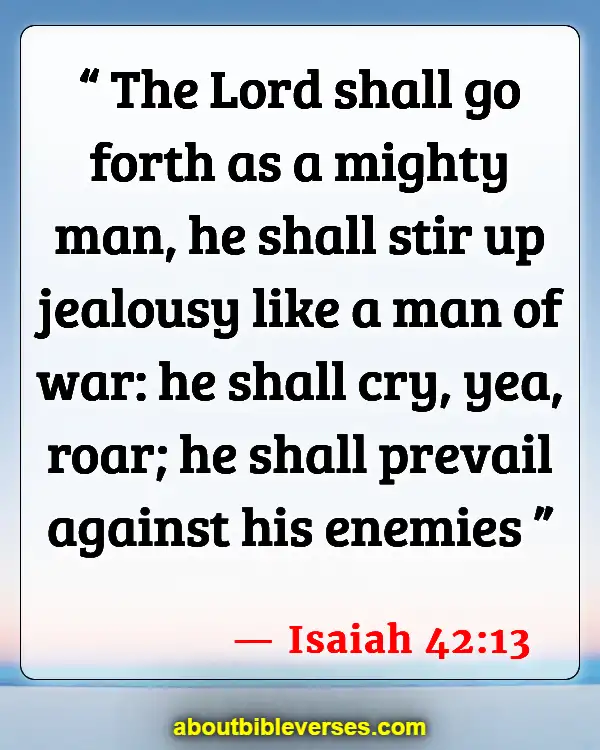 Isaiah 42:13
"The Lord shall go forth as a mighty man, he shall stir up jealousy like a man of war: he shall cry, yea, roar; he shall prevail against his enemies"
Zechariah 10:5
"And they shall be as mighty men, which tread down their enemies in the mire of the streets in the battle: and they shall fight, because the Lord is with them, and the riders on horses shall be confounded"
Psalm 18:39
"For thou hast girded me with strength unto the battle: thou hast subdued under me those that rose up against me"
Psalm 140:7
"O God the Lord, the strength of my salvation, thou hast covered my head in the day of battle"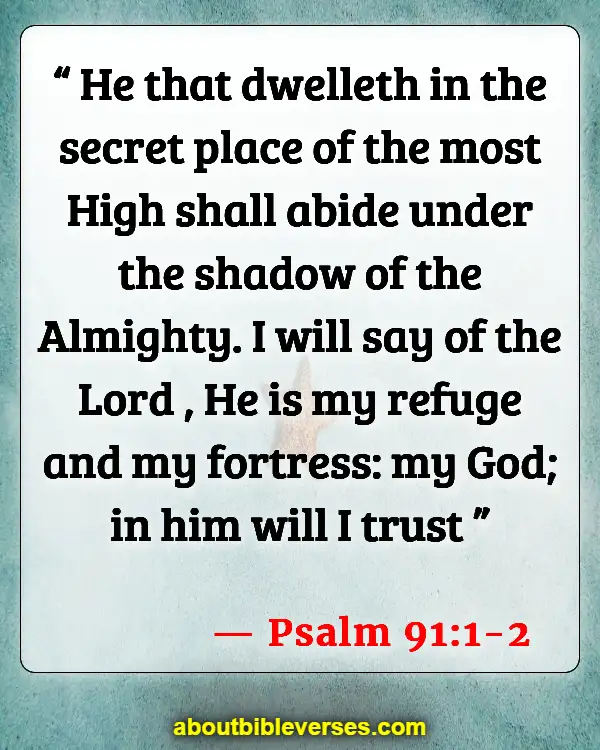 Psalm 91:1-2
"He that dwelleth in the secret place of the most High shall abide under the shadow of the Almighty. I will say of the Lord , He is my refuge and my fortress: my God; in him will I trust"
Isaiah 41:10
"Fear thou not; for I am with thee: be not dismayed; for I am thy God: I will strengthen thee; yea, I will help thee; yea, I will uphold thee with the right hand of my righteousness"
Psalm 46:1
"God is our refuge and strength, a very present help in trouble"
Psalm 3:3
"But thou, O Lord , art a shield for me; my glory, and the lifter up of mine head"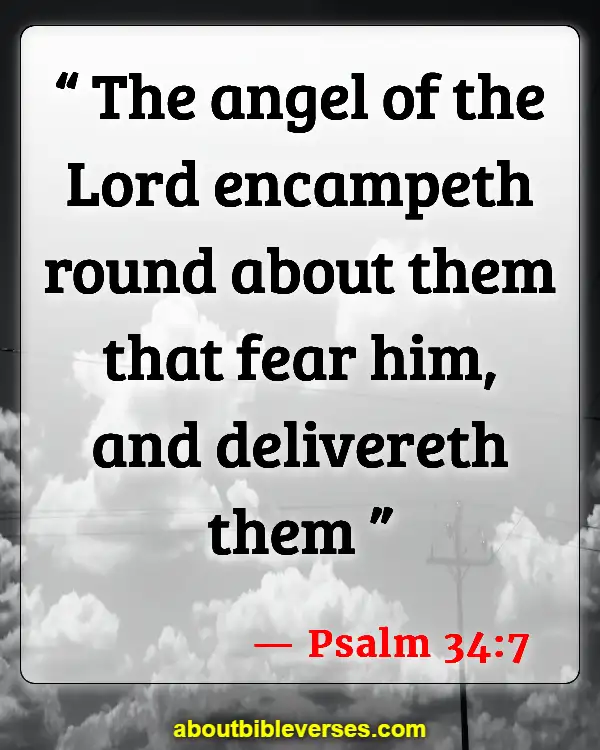 Psalm 34:7
"The angel of the Lord encampeth round about them that fear him, and delivereth them"
2 Chronicles 32:7-8
"Be strong and courageous, be not afraid nor dismayed for the king of Assyria, nor for all the multitude that is with him: for there be more with us than with him: With him is an arm of flesh; but with us is the Lord our God to help us, and to fight our battles. And the people rested themselves upon the words of Hezekiah king of Judah"
Psalm 18:2
"The Lord is my rock, and my fortress, and my deliverer; my God, my strength, in whom I will trust; my buckler, and the horn of my salvation, and my high tower"
Psalm 144:2
"My goodness, and my fortress; my high tower, and my deliverer; my shield, and he in whom I trust; who subdueth my people under me"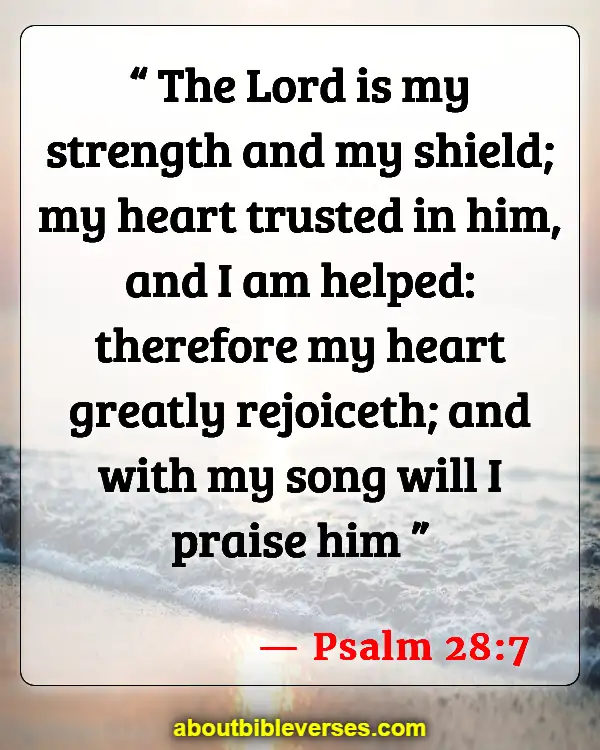 Psalm 28:7
"The Lord is my strength and my shield; my heart trusted in him, and I am helped: therefore my heart greatly rejoiceth; and with my song will I praise him"
Isaiah 54:17
"No weapon that is formed against thee shall prosper; and every tongue that shall rise against thee in judgment thou shalt condemn. This is the heritage of the servants of the Lord , and their righteousness is of me, saith the Lord"
Psalm 35:1-3
"Plead my cause, O Lord , with them that strive with me: fight against them that fight against me. Take hold of shield and buckler, and stand up for mine help. Draw out also the spear, and stop the way against them that persecute me: say unto my soul, I am thy salvation"
Psalm 18:48
"He delivereth me from mine enemies: yea, thou liftest me up above those that rise up against me: thou hast delivered me from the violent man"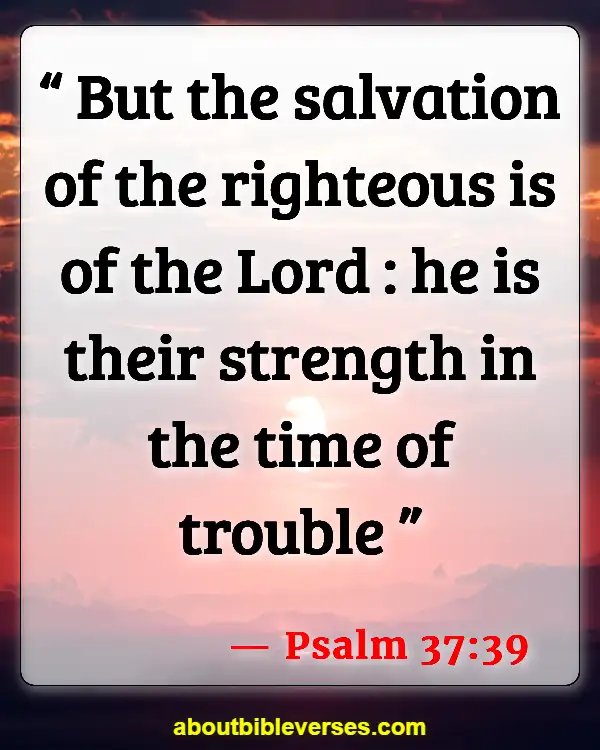 Psalm 37:39
"But the salvation of the righteous is of the Lord : he is their strength in the time of trouble"
Psalm 68:1-2
"Let God arise, let his enemies be scattered: let them also that hate him flee before him. As smoke is driven away, so drive them away: as wax melteth before the fire, so let the wicked perish at the presence of God"
Psalm 118:14
"The Lord is my strength and song, and is become my salvation"
Isaiah 12:2
"Behold, God is my salvation; I will trust, and not be afraid: for the Lord Jehovah is my strength and my song; he also is become my salvation"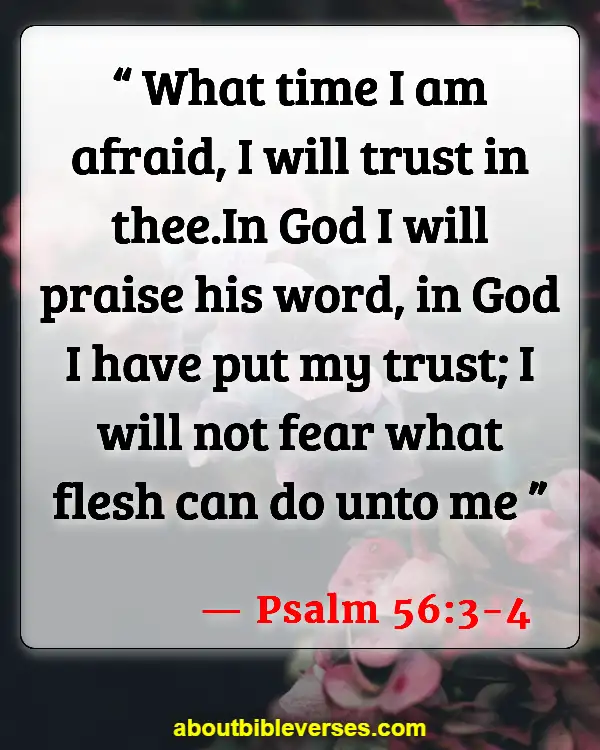 Psalm 56:3-4
"What time I am afraid, I will trust in thee. In God I will praise his word, in God I have put my trust; I will not fear what flesh can do unto me"
Psalm 91:14-16
"Because he hath set his love upon me, therefore will I deliver him: I will set him on high, because he hath known my name. He shall call upon me, and I will answer him: I will be with him in trouble; I will deliver him, and honour him. With long life will I satisfy him, and shew him my salvation"
Psalm 138:3
"In the day when I cried thou answeredst me, and strengthenedst me with strength in my soul"
Psalm 59:16-17
"But I will sing of thy power; yea, I will sing aloud of thy mercy in the morning: for thou hast been my defence and refuge in the day of my trouble. Unto thee, O my strength, will I sing: for God is my defence, and the God of my mercy"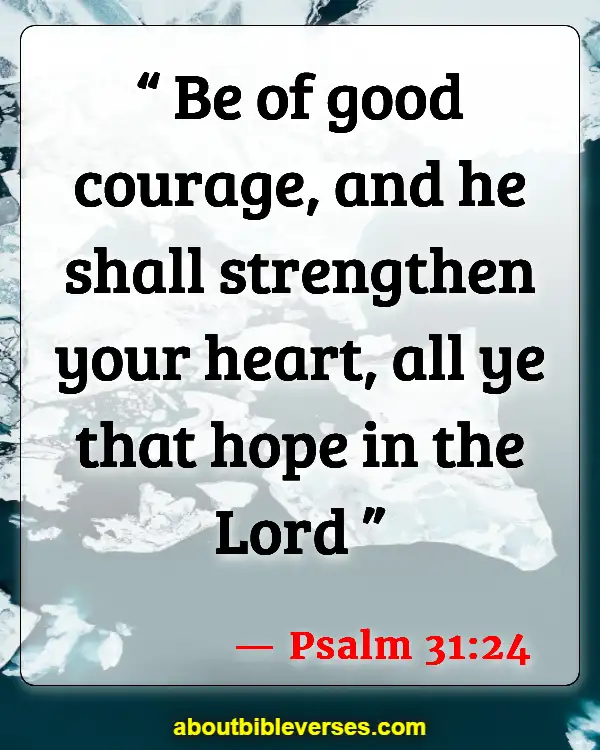 Psalm 31:24
"Be of good courage, and he shall strengthen your heart, all ye that hope in the Lord"
Psalm 27:14
"Wait on the Lord : be of good courage, and he shall strengthen thine heart: wait, I say, on the Lord"
Psalm 31:14-15
"But I trusted in thee, O Lord : I said, Thou art my God. My times are in thy hand: deliver me from the hand of mine enemies, and from them that persecute me"
Psalm 62:1-2
"Truly my soul waiteth upon God: from him cometh my salvation. He only is my rock and my salvation; he is my defence; I shall not be greatly moved"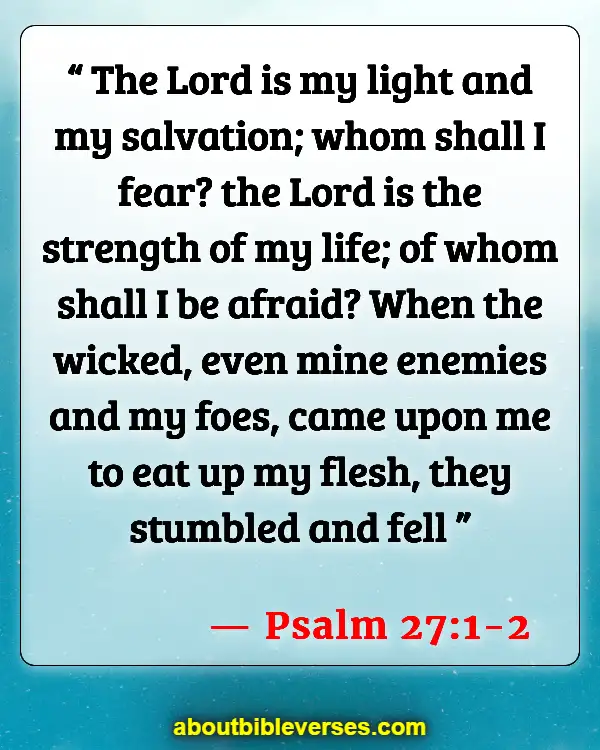 Psalm 27:1-2
"The Lord is my light and my salvation; whom shall I fear? the Lord is the strength of my life; of whom shall I be afraid? When the wicked, even mine enemies and my foes, came upon me to eat up my flesh, they stumbled and fell"