Dear friends, our attitudes profoundly impact our lives and relationships. A negative, critical attitude poisons our own spirit and pushes others away. We become blind to goodness, seeing only flaws and faults in people. Pride swells up in us, and we look down on others as inferior. We stew in bitterness, resentment, and anger. Our words tear down rather than build up. We sow discord rather than peace.
In contrast, a positive, loving attitude heals and attracts. With gentleness, patience, and compassion, we overlook minor offenses. We speak words of grace and encouragement. Rather than criticize, we seek to understand others and their struggles. Our eyes are open to the good around us. We are filled with gratitude and joy. With a spirit of humility, we consider others' needs before our own.
Remember that we all occasionally struggle with wrong attitudes. Don't wallow in guilt when you stumble. Confess it and receive God's forgiveness. He wants us to grow continually in displaying Christlike attitudes that bless others and bring glory to Him.
Friends, examine your attitude. Are you thinking the best about people? Or do you see their weaknesses before their strengths? Ask God to purify your heart and renew your mind. Fill your thoughts with truth, nobility, and praise. Choose to reflect Christ's light in your relationships. Speak life through your words. Sow blessings through your deeds. Let your attitude be as Jesus, who served all in love.
Dear friends now let's see the Bible scriptures below that talk about this important topic of attitude.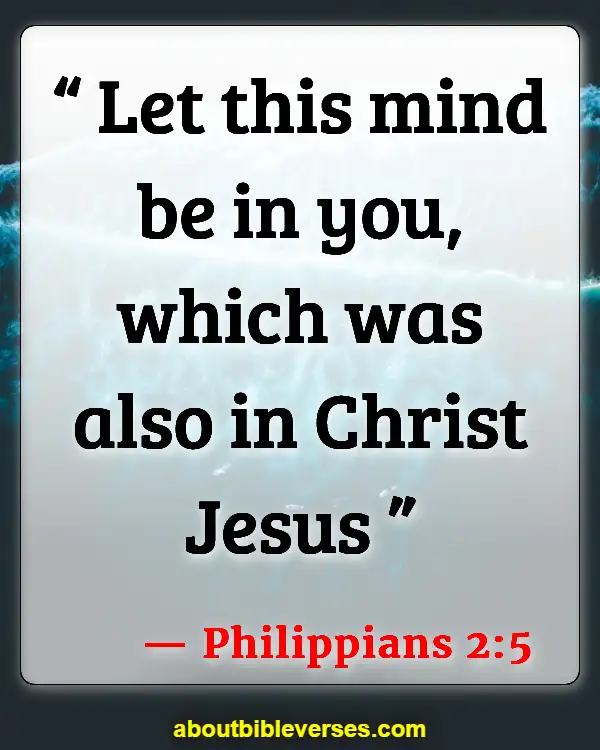 Philippians 2:5
"Let this mind be in you, which was also in Christ Jesus"
Ephesians 4:23
"And be renewed in the spirit of your mind"
Proverbs 15:1
"A soft answer turneth away wrath: but grievous words stir up anger"
Proverbs 17:27
"He that hath knowledge spareth his words: and a man of understanding is of an excellent spirit"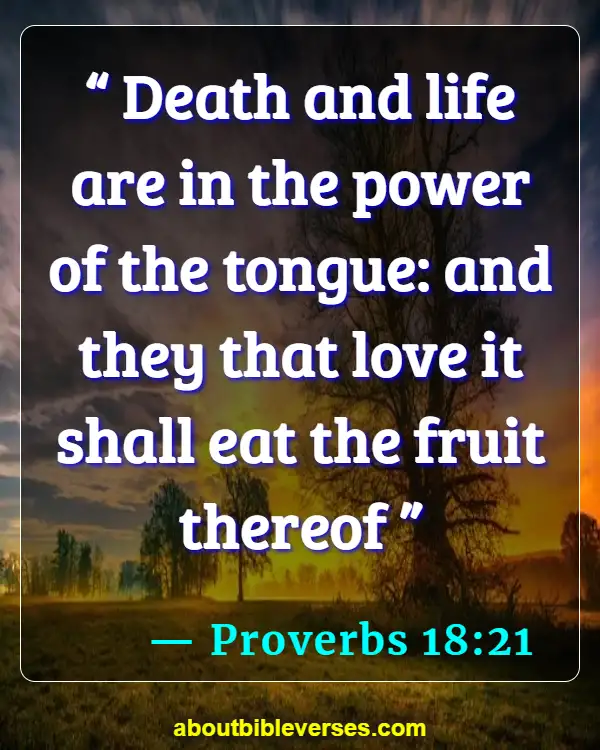 Proverbs 18:21
"Death and life are in the power of the tongue: and they that love it shall eat the fruit thereof"
James 1:19
"Wherefore, my beloved brethren, let every man be swift to hear, slow to speak, slow to wrath"
Proverbs 25:28
"He that hath no rule over his own spirit is like a city that is broken down, and without walls"
Proverbs 14:29
"He that is slow to wrath is of great understanding: but he that is hasty of spirit exalteth folly"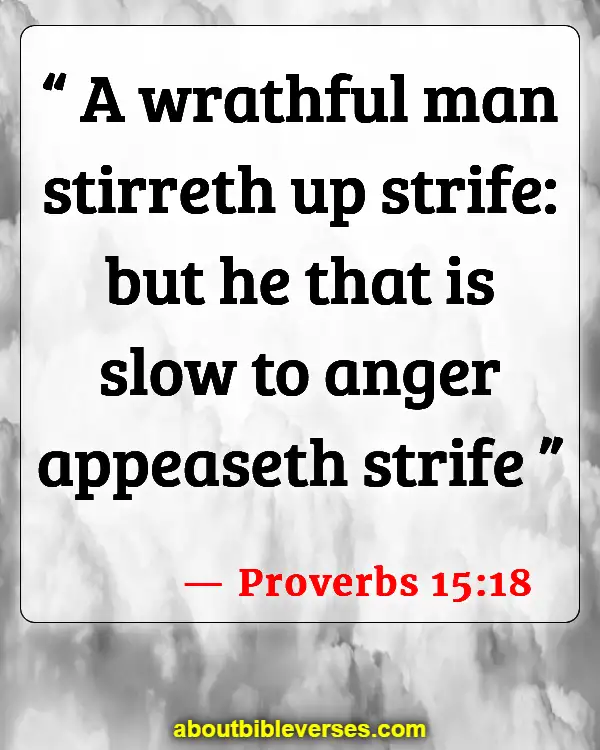 Proverbs 15:18
"A wrathful man stirreth up strife: but he that is slow to anger appeaseth strife"
Proverbs 16:32
"He that is slow to anger is better than the mighty; and he that ruleth his spirit than he that taketh a city"
Ephesians 4:31
"Let all bitterness, and wrath, and anger, and clamour, and evil speaking, be put away from you, with all malice"
Colossians 3:8
"But now ye also put off all these; anger, wrath, malice, blasphemy, filthy communication out of your mouth"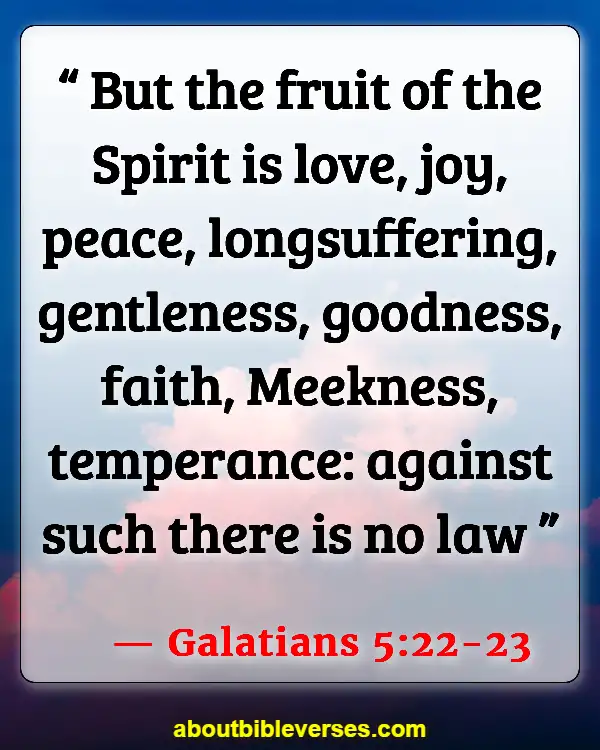 Galatians 5:22-23
"But the fruit of the Spirit is love, joy, peace, longsuffering, gentleness, goodness, faith, Meekness, temperance: against such there is no law"
Ephesians 4:2
"With all lowliness and meekness, with longsuffering, forbearing one another in love"
1 Peter 3:15
"But sanctify the Lord God in your hearts: and be ready always to give an answer to every man that asketh you a reason of the hope that is in you with meekness and fear"
1 Peter 4:9
"Use hospitality one to another without grudging"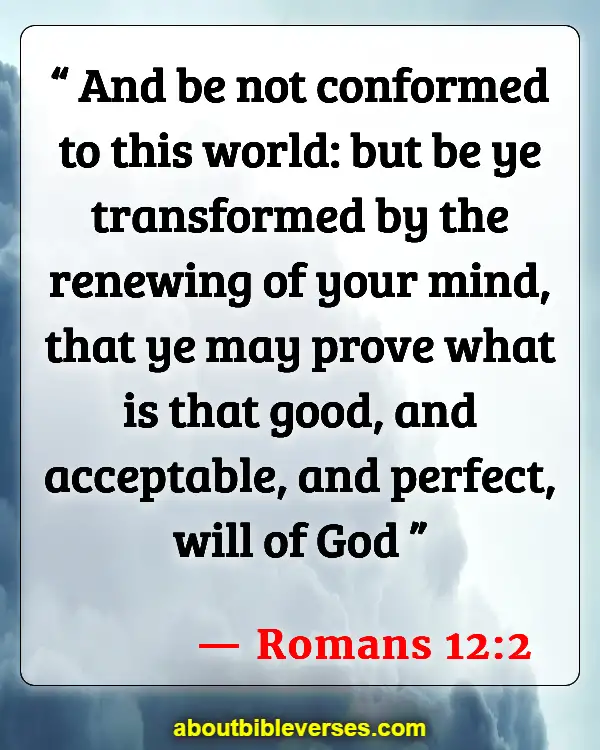 Romans 12:2
"And be not conformed to this world: but be ye transformed by the renewing of your mind, that ye may prove what is that good, and acceptable, and perfect, will of God"
Romans 12:16
"Be of the same mind one toward another. Mind not high things, but condescend to men of low estate. Be not wise in your own conceits"
Romans 14:13
"Let us not therefore judge one another any more: but judge this rather, that no man put a stumblingblock or an occasion to fall in his brother's way"
Romans 15:5
"Now the God of patience and consolation grant you to be likeminded one toward another according to Christ Jesus"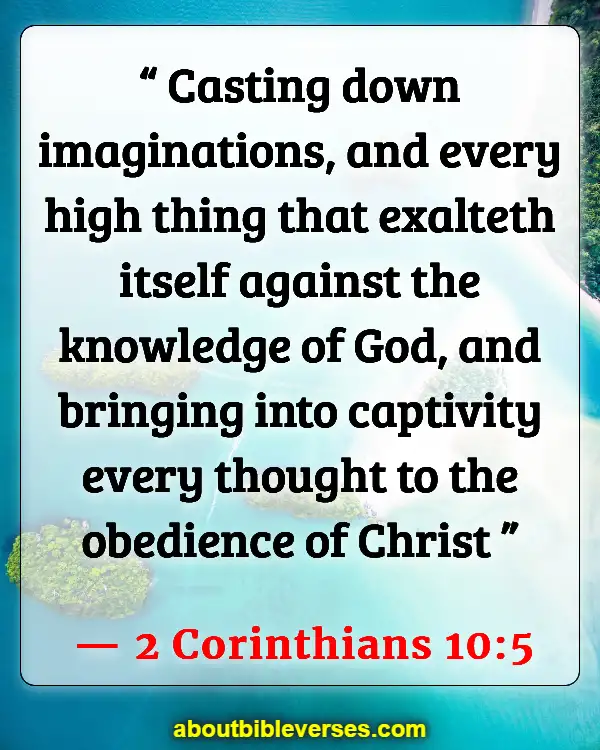 2 Corinthians 10:5
"Casting down imaginations, and every high thing that exalteth itself against the knowledge of God, and bringing into captivity every thought to the obedience of Christ"
Ephesians 4:26
"Be ye angry, and sin not: let not the sun go down upon your wrath"
Philippians 4:8
"Finally, brethren, whatsoever things are true, whatsoever things are honest, whatsoever things are just, whatsoever things are pure, whatsoever things are lovely, whatsoever things are of good report; if there be any virtue, and if there be any praise, think on these things"
Colossians 3:12
"Put on therefore, as the elect of God, holy and beloved, bowels of mercies, kindness, humbleness of mind, meekness, longsuffering"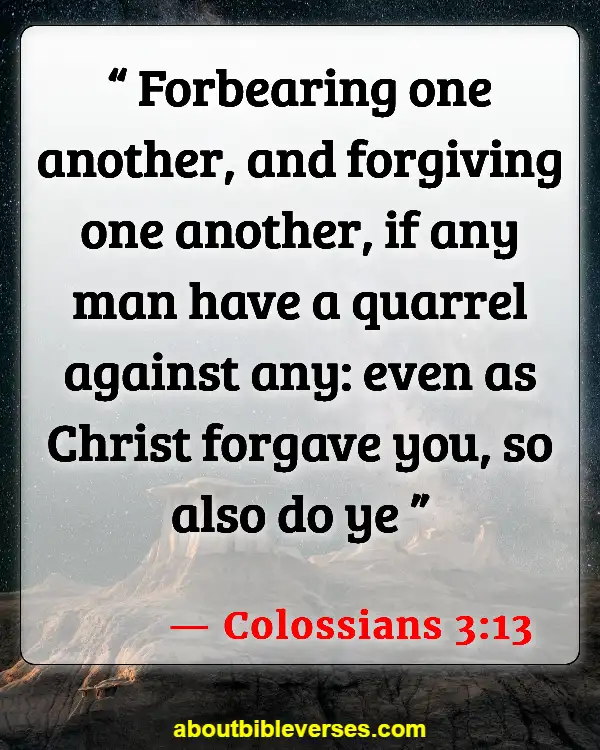 Colossians 3:13
"Forbearing one another, and forgiving one another, if any man have a quarrel against any: even as Christ forgave you, so also do ye"
Colossians 3:15
"And let the peace of God rule in your hearts, to the which also ye are called in one body; and be ye thankful"
1 Thessalonians 5:14
"Now we exhort you, brethren, warn them that are unruly, comfort the feebleminded, support the weak, be patient toward all men"
1 Thessalonians 5:15
"See that none render evil for evil unto any man; but ever follow that which is good, both among yourselves, and to all men"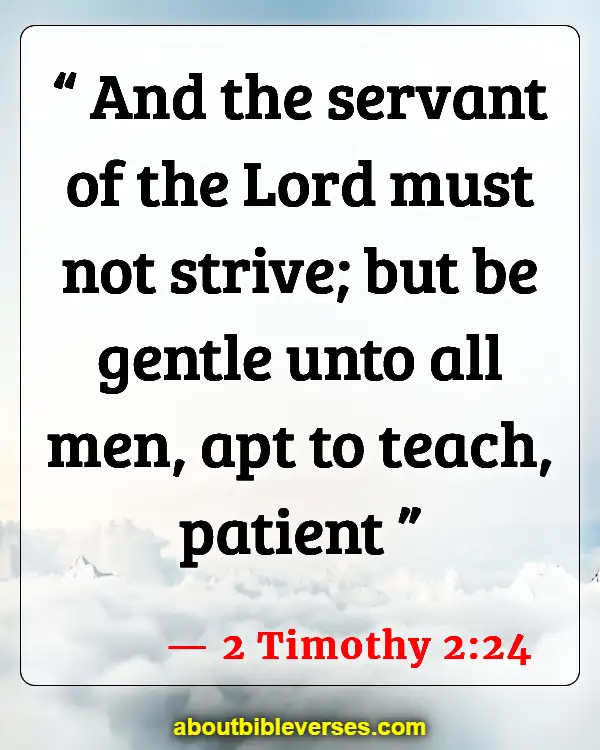 2 Timothy 2:24
"And the servant of the Lord must not strive; but be gentle unto all men, apt to teach, patient"
Titus 3:2
"To speak evil of no man, to be no brawlers, but gentle, shewing all meekness unto all men"
James 3:17
"But the wisdom that is from above is first pure, then peaceable, gentle, and easy to be intreated, full of mercy and good fruits, without partiality, and without hypocrisy"
1 Peter 2:1
"Wherefore laying aside all malice, and all guile, and hypocrisies, and envies, and all evil speakings"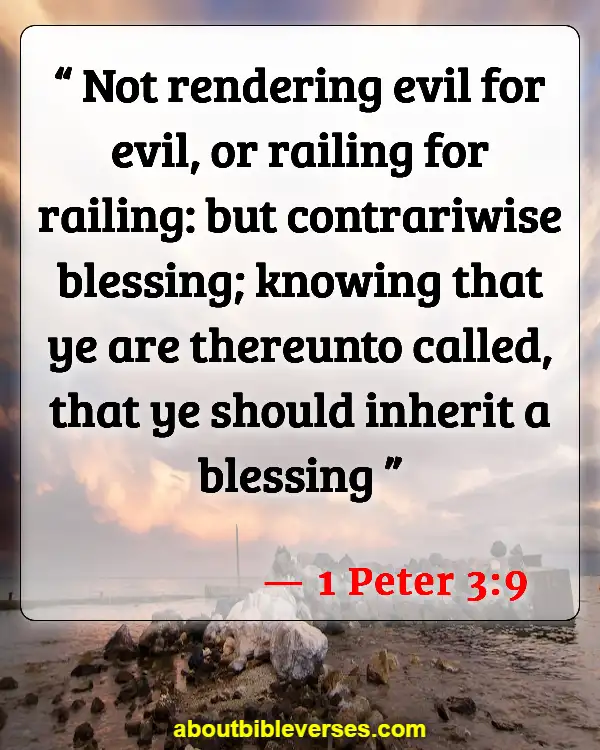 1 Peter 3:9
"Not rendering evil for evil, or railing for railing: but contrariwise blessing; knowing that ye are thereunto called, that ye should inherit a blessing"
1 Peter 5:5
"Likewise, ye younger, submit yourselves unto the elder. Yea, all of you be subject one to another, and be clothed with humility: for God resisteth the proud, and giveth grace to the humble"
1 John 3:18
"My little children, let us not love in word, neither in tongue; but in deed and in truth"
1 John 4:20
"If a man say, I love God, and hateth his brother, he is a liar: for he that loveth not his brother whom he hath seen, how can he love God whom he hath not seen?"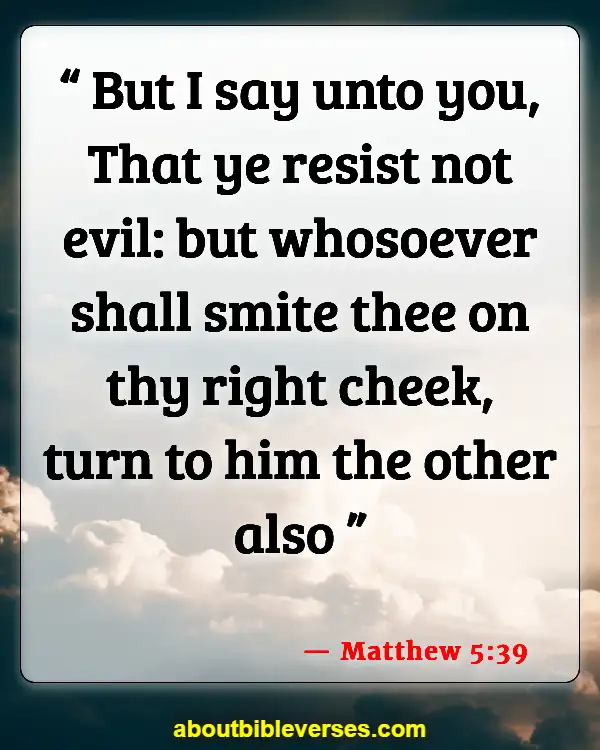 Matthew 5:39
"But I say unto you, That ye resist not evil: but whosoever shall smite thee on thy right cheek, turn to him the other also"
Matthew 7:12
"Therefore all things whatsoever ye would that men should do to you, do ye even so to them: for this is the law and the prophets"
Luke 6:31
"And as ye would that men should do to you, do ye also to them likewise"
John 13:34
"A new commandment I give unto you, That ye love one another; as I have loved you, that ye also love one another"
Romans 12:10
"Be kindly affectioned one to another with brotherly love; in honour preferring one another"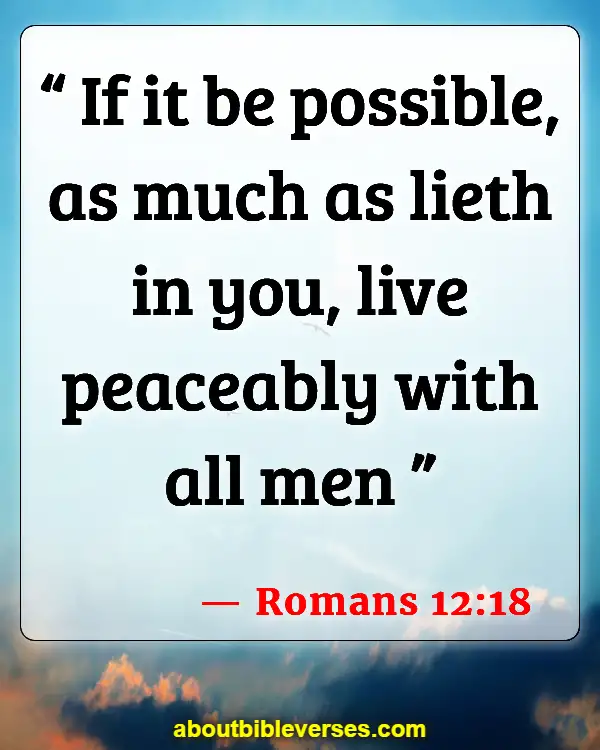 Romans 12:18
"If it be possible, as much as lieth in you, live peaceably with all men"