Hello dear friends, welcome to our site in the name of Jesus Christ. Today we will look at the Bible Scriptures About Appreciating Your Husband In KJV. If you like today's post then definitely comment and share.
Dear sisters, a godly marriage begins with an attitude of gratitude. Though we live in trying times, we have much to appreciate in our husbands. Their hard work and provision meet our physical needs. Their friendship and affection meet deep emotional needs. Their spiritual leadership helps anchor our families.
While no husband is perfect. Make it a daily habit to thank God for your husband's strengths and to pray for areas needing growth. Express your appreciation often through small acts of kindness, words of affirmation, physical touch, quality time, and respect. Uplift your husband with praise when deserved. Build him up; do not tear him down.
Resist comparisons to other wives' husbands. Refuse negative thoughts that breed discontent. Overlook petty flaws and annoyances. Focus on your husband's noble qualities and your shared blessings. Protect your marriage from corrosive attitudes like pride, envy, and ingratitude.
As appreciate your husbands, you must also care for your own souls. Find your worth in Christ above all. Let Him fill you with His love and peace. Seek contentment in all circumstances. Let God's Word richly dwell within you. Pray for a gentle and quiet spirit.
Dear sisters, nurture a heart of gratitude, for this honors Christ. His grace is sufficient for every marriage. By giving thanks in all things, the bonds of love grow ever sweeter and stronger.
Dear friends, now let's look at the Bible scriptures below that talk about appreciating your husband.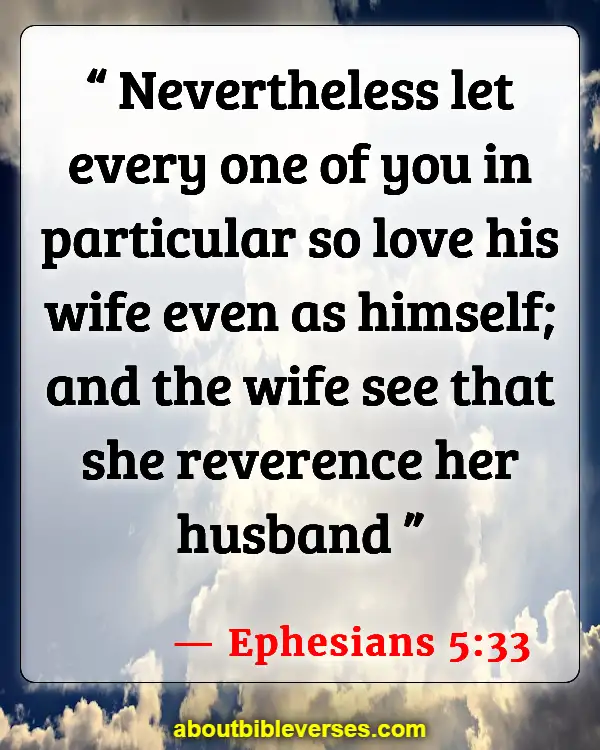 Ephesians 5:33
"Nevertheless let every one of you in particular so love his wife even as himself; and the wife see that she reverence her husband"
Proverbs 31:10-12
"Who can find a virtuous woman? for her price is far above rubies. The heart of her husband doth safely trust in her, so that he shall have no need of spoil. She will do him good and not evil all the days of her life"
1 Corinthians 13:4-7
"Charity suffereth long, and is kind; charity envieth not; charity vaunteth not itself, is not puffed up, Doth not behave itself unseemly, seeketh not her own, is not easily provoked, thinketh no evil; Rejoiceth not in iniquity, but rejoiceth in the truth; Beareth all things, believeth all things, hopeth all things, endureth all things"
1 Peter 4:8
"And above all things have fervent charity among yourselves: for charity shall cover the multitude of sins"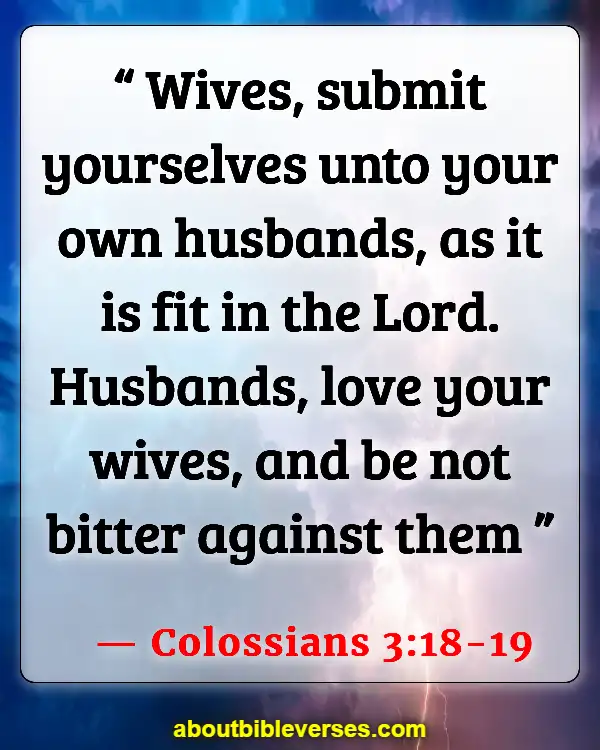 Colossians 3:18-19
"Wives, submit yourselves unto your own husbands, as it is fit in the Lord. Husbands, love your wives, and be not bitter against them"
1 Peter 3:1-2
"Likewise, ye wives, be in subjection to your own husbands; that, if any obey not the word, they also may without the word be won by the conversation of the wives; While they behold your chaste conversation coupled with fear"
Proverbs 31:28
"Her children arise up, and call her blessed; her husband also, and he praiseth her"
1 Corinthians 7:3-4
"Let the husband render unto the wife due benevolence: and likewise also the wife unto the husband. The wife hath not power of her own body, but the husband: and likewise also the husband hath not power of his own body, but the wife"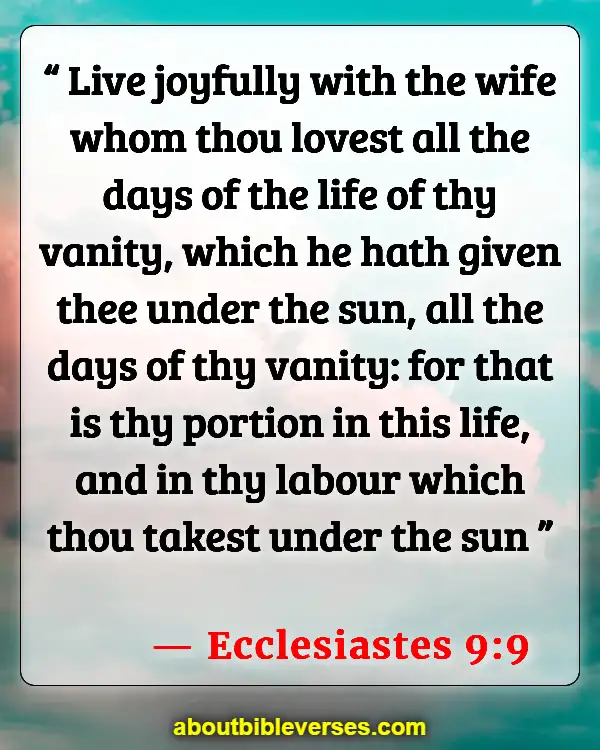 Ecclesiastes 9:9
"Live joyfully with the wife whom thou lovest all the days of the life of thy vanity, which he hath given thee under the sun, all the days of thy vanity: for that is thy portion in this life, and in thy labour which thou takest under the sun"
Song of Solomon 4:10
"How fair is thy love, my sister, my spouse! how much better is thy love than wine! and the smell of thine ointments than all spices"
Philippians 2:3-4
"Let nothing be done through strife or vainglory; but in lowliness of mind let each esteem other better than themselves. Look not every man on his own things, but every man also on the things of others"
1 John 4:7
"Beloved, let us love one another: for love is of God; and every one that loveth is born of God, and knoweth God"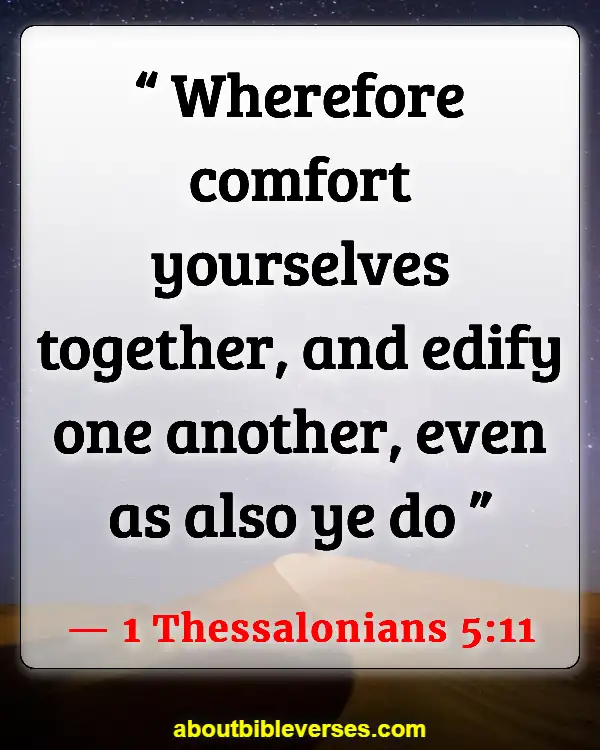 1 Thessalonians 5:11
"Wherefore comfort yourselves together, and edify one another, even as also ye do"
Romans 13:8
"Owe no man any thing, but to love one another: for he that loveth another hath fulfilled the law"
Matthew 19:4-6
"And he answered and said unto them, Have ye not read, that he which made them at the beginning made them male and female, And said, For this cause shall a man leave father and mother, and shall cleave to his wife: and they twain shall be one flesh? Wherefore they are no more twain, but one flesh. What therefore God hath joined together, let not man put asunder"
1 Corinthians 13:13
"And now abideth faith, hope, charity, these three; but the greatest of these is charity"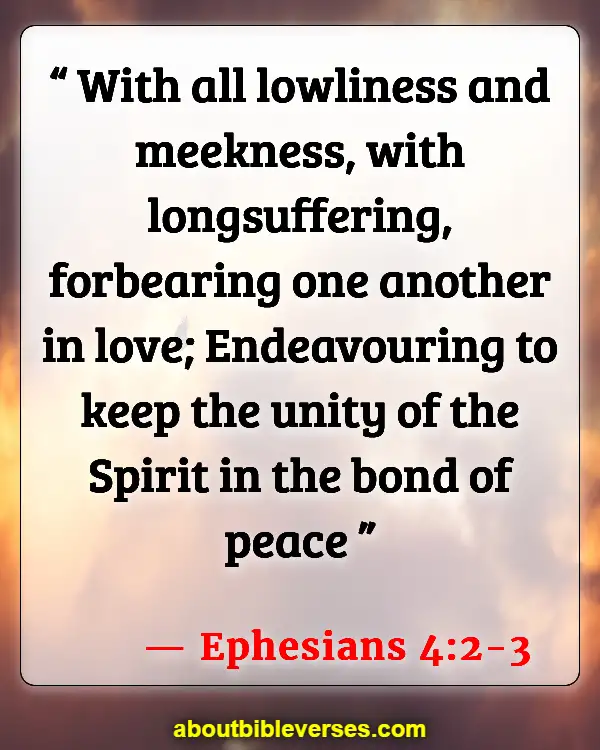 Ephesians 4:2-3
"With all lowliness and meekness, with longsuffering, forbearing one another in love; Endeavouring to keep the unity of the Spirit in the bond of peace"
Romans 12:9
"Let love be without dissimulation. Abhor that which is evil; cleave to that which is good"
1 John 4:11
"Beloved, if God so loved us, we ought also to love one another"
Proverbs 17:17
"A friend loveth at all times, and a brother is born for adversity"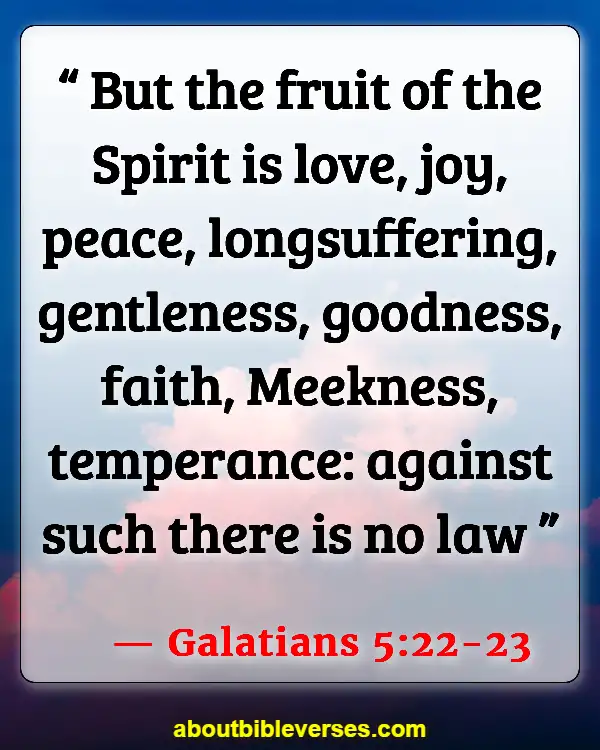 Galatians 5:22-23
"But the fruit of the Spirit is love, joy, peace, longsuffering, gentleness, goodness, faith, Meekness, temperance: against such there is no law"
Colossians 3:14
"And above all these things put on charity, which is the bond of perfectness"
Ephesians 4:32
"And be ye kind one to another, tenderhearted, forgiving one another, even as God for Christ's sake hath forgiven you"
Romans 15:1-2
"We then that are strong ought to bear the infirmities of the weak, and not to please ourselves. Let every one of us please his neighbour for his good to edification"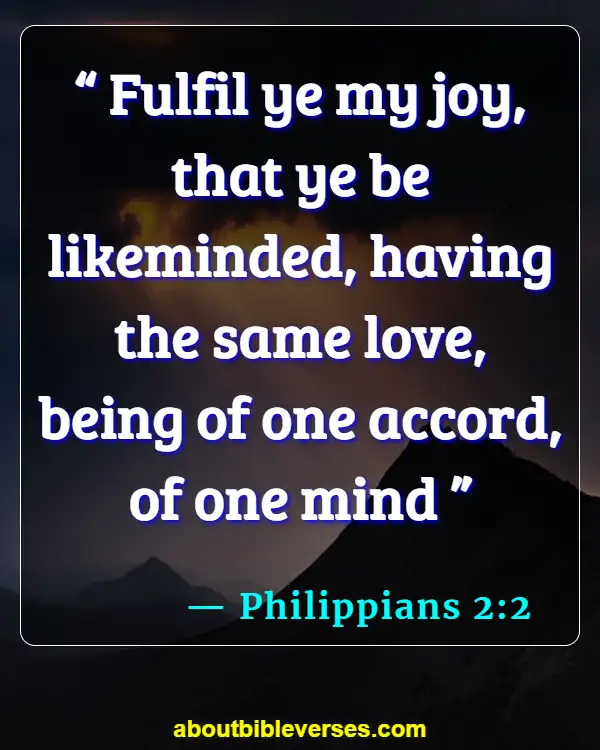 Philippians 2:2
"Fulfil ye my joy, that ye be likeminded, having the same love, being of one accord, of one mind"
2 Corinthians 13:11
"Finally, brethren, farewell. Be perfect, be of good comfort, be of one mind, live in peace; and the God of love and peace shall be with you"
Romans 14:19
"Let us therefore follow after the things which make for peace, and things wherewith one may edify another"
Philippians 1:9
"And this I pray, that your love may abound yet more and more in knowledge and in all judgment"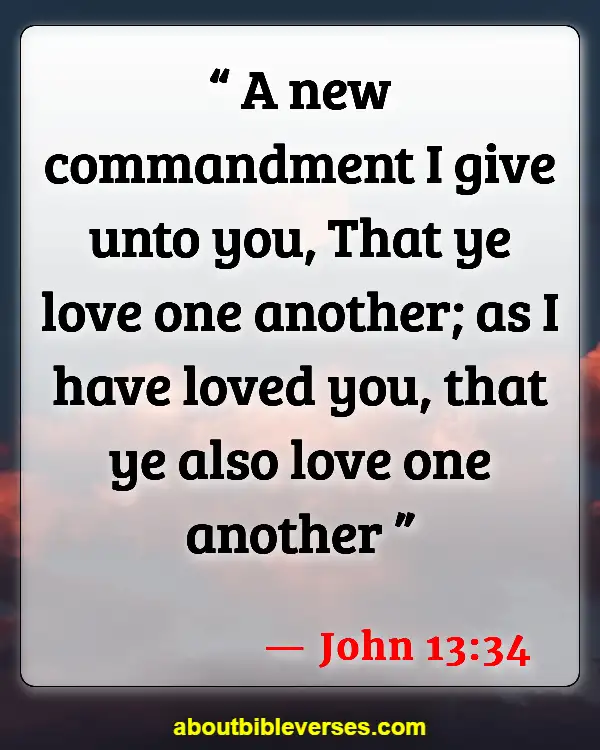 John 13:34
"A new commandment I give unto you, That ye love one another; as I have loved you, that ye also love one another"
Romans 12:16
"Be of the same mind one toward another. Mind not high things, but condescend to men of low estate. Be not wise in your own conceits"
Romans 12:18
"If it be possible, as much as lieth in you, live peaceably with all men"
Colossians 3:12-13
"Put on therefore, as the elect of God, holy and beloved, bowels of mercies, kindness, humbleness of mind, meekness, longsuffering; Forbearing one another, and forgiving one another, if any man have a quarrel against any: even as Christ forgave you, so also do ye"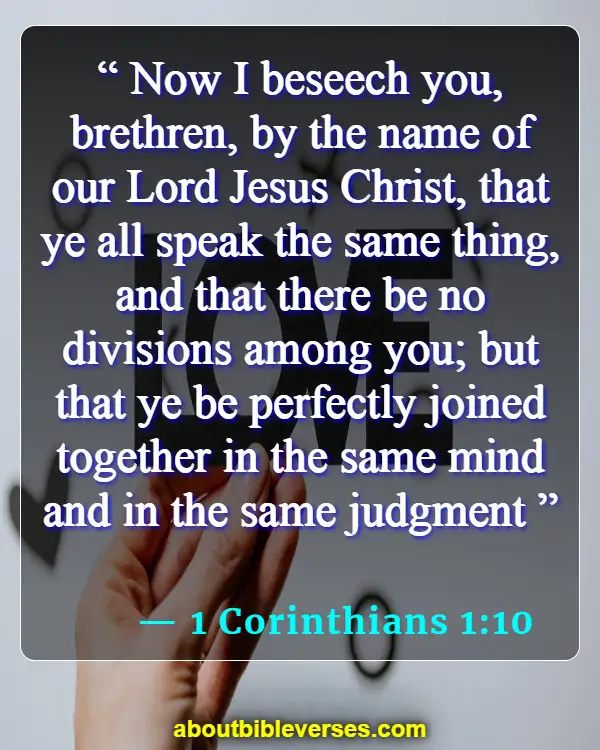 1 Corinthians 1:10
"Now I beseech you, brethren, by the name of our Lord Jesus Christ, that ye all speak the same thing, and that there be no divisions among you; but that ye be perfectly joined together in the same mind and in the same judgment"