Dear friends, Good health and long life are blessings from God that He desires for all people. As our Creator, God knows what is best for our bodies and spirits. He has provided guidance in His Word on how to pursue health and longevity in a way that honors Him.
When we treat our bodies as temples of the Holy Spirit, we will make choices that nourish and care for ourselves. Eating nutritious foods, drinking clean water, getting adequate rest, and engaging in regular exercise are all important physical disciplines.
In addition to caring for our physical bodies, our spiritual health is just as vital. Reading the Bible, prayer, fellowship with other believers, and serving others are ways we can nurture our spirits. A life lived with purpose and meaning, cultivating a love for God and others, can promote inner joy and peace.
Trusting God through life's trials, rather than giving in to fear and anxiety, also contributes to good health. Our sovereign God is always with us, even when we face illness or hardship. Turning to Him as our refuge and strength allows us to experience calm assurance in the midst of uncertainty.
Dear friends, as we strive to honor God with our bodies and spirits, He promises to bless us with health, vitality, and length of days. The Bible encourages us to choose life and prosperity by walking in God's ways.
Health And Healing Are God's Promises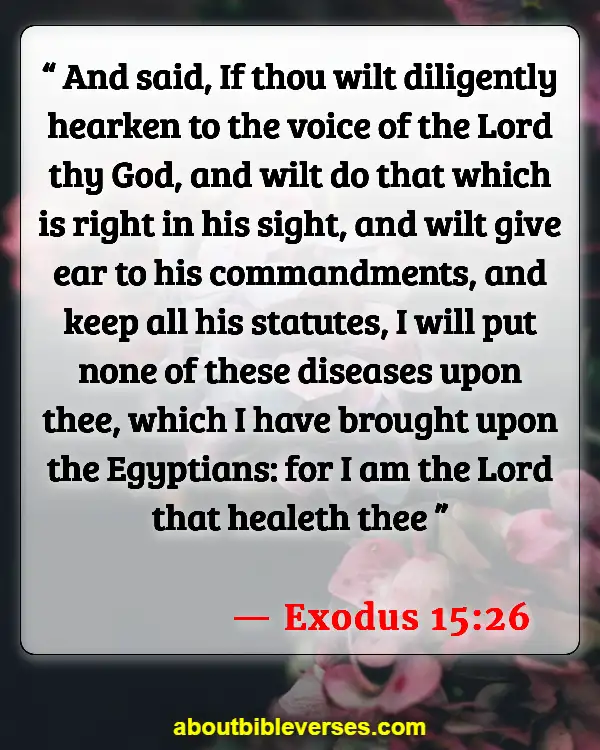 Exodus 15:26
"And said, If thou wilt diligently hearken to the voice of the Lord thy God, and wilt do that which is right in his sight, and wilt give ear to his commandments, and keep all his statutes, I will put none of these diseases upon thee, which I have brought upon the Egyptians: for I am the Lord that healeth thee"
Jeremiah 30:17
"For I will restore health unto thee, and I will heal thee of thy wounds, saith the Lord ; because they called thee an Outcast, saying, This is Zion, whom no man seeketh after"
Psalm 103:2-3
"Bless the Lord , O my soul, and forget not all his benefits: Who forgiveth all thine iniquities; who healeth all thy diseases"
Isaiah 53:5
"But he was wounded for our transgressions, he was bruised for our iniquities: the chastisement of our peace was upon him; and with his stripes we are healed"
James 5:15
"And the prayer of faith shall save the sick, and the Lord shall raise him up; and if he have committed sins, they shall be forgiven him"
Malachi 4:2
"But unto you that fear my name shall the Sun of righteousness arise with healing in his wings; and ye shall go forth, and grow up as calves of the stall"
Longevity As A Blessing From God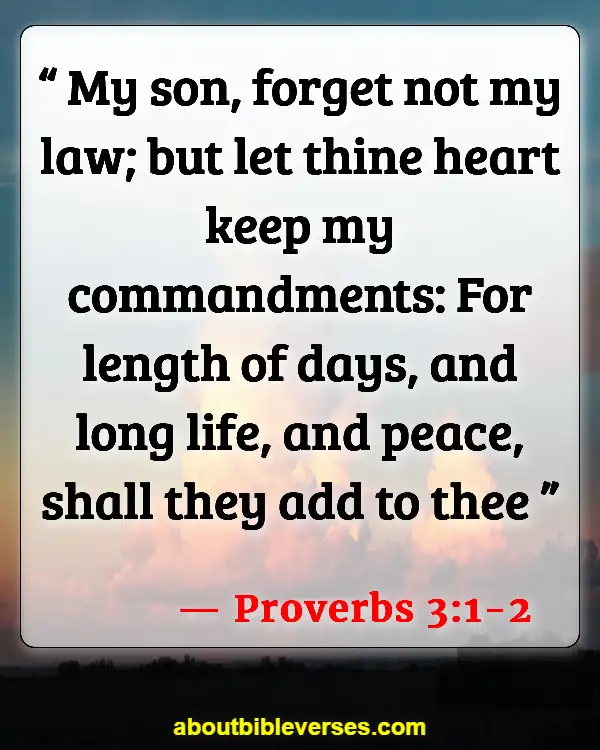 Proverbs 3:1-2
"My son, forget not my law; but let thine heart keep my commandments: For length of days, and long life, and peace, shall they add to thee"
Psalm 91:16
"With long life will I satisfy him, and shew him my salvation"
Proverbs 9:11
"For by me thy days shall be multiplied, and the years of thy life shall be increased"
Genesis 15:15
"And thou shalt go to thy fathers in peace; thou shalt be buried in a good old age"
Deuteronomy 6:2
"That thou mightest fear the Lord thy God, to keep all his statutes and his commandments, which I command thee, thou, and thy son, and thy son's son, all the days of thy life; and that thy days may be prolonged"
Proverbs 10:27
"The fear of the Lord prolongeth days: but the years of the wicked shall be shortened"
Wisdom And Righteous Living Lead To Health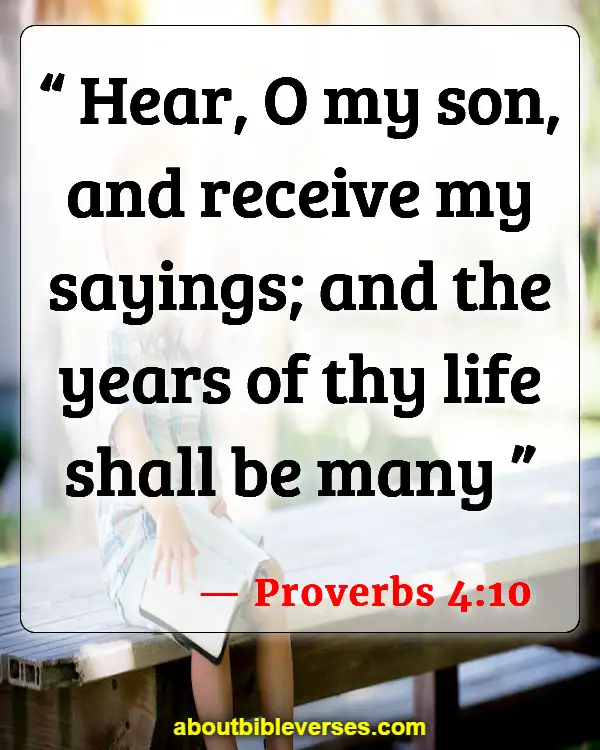 Proverbs 4:10
"Hear, O my son, and receive my sayings; and the years of thy life shall be many"
Proverbs 3:7-8
"Be not wise in thine own eyes: fear the Lord , and depart from evil. It shall be health to thy navel, and marrow to thy bones"
Proverbs 16:24
"Pleasant words are as an honeycomb, sweet to the soul, and health to the bones"
Proverbs 14:30
"A sound heart is the life of the flesh: but envy the rottenness of the bones"
Proverbs 12:18
"There is that speaketh like the piercings of a sword: but the tongue of the wise is health"
Proverbs 13:12
"Hope deferred maketh the heart sick: but when the desire cometh, it is a tree of life"
Physical Health And Spiritual Well-being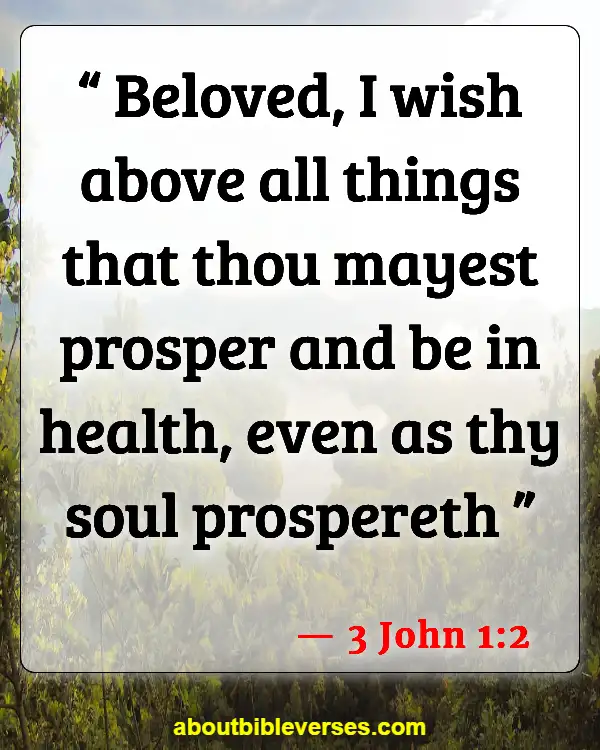 3 John 1:2
"Beloved, I wish above all things that thou mayest prosper and be in health, even as thy soul prospereth"
1 Corinthians 6:19-20
"What? know ye not that your body is the temple of the Holy Ghost which is in you, which ye have of God, and ye are not your own? For ye are bought with a price: therefore glorify God in your body, and in your spirit, which are God's"
Romans 12:1
"I beseech you therefore, brethren, by the mercies of God, that ye present your bodies a living sacrifice, holy, acceptable unto God, which is your reasonable service"
1 Timothy 4:8
"For bodily exercise profiteth little: but godliness is profitable unto all things, having promise of the life that now is, and of that which is to come"
Psalm 38:3
"There is no soundness in my flesh because of thine anger; neither is there any rest in my bones because of my sin"
Psalm 42:11
"Why art thou cast down, O my soul? and why art thou disquieted within me? hope thou in God: for I shall yet praise him, who is the health of my countenance, and my God"
God's Provision For Food, Nutrition, And Health
Genesis 1:29
"And God said, Behold, I have given you every herb bearing seed, which is upon the face of all the earth, and every tree, in the which is the fruit of a tree yielding seed; to you it shall be for meat"
Daniel 1:12-15
"Prove thy servants, I beseech thee, ten days; and let them give us pulse to eat, and water to drink. Then let our countenances be looked upon before thee, and the countenance of the children that eat of the portion of the king's meat: and as thou seest, deal with thy servants. So he consented to them in this matter, and proved them ten days. And at the end of ten days their countenances appeared fairer and fatter in flesh than all the children which did eat the portion of the king's meat"
Psalm 104:14-15
"He causeth the grass to grow for the cattle, and herb for the service of man: that he may bring forth food out of the earth; And wine that maketh glad the heart of man, and oil to make his face to shine, and bread which strengtheneth man's heart"
Prayer And Trust In God For Healing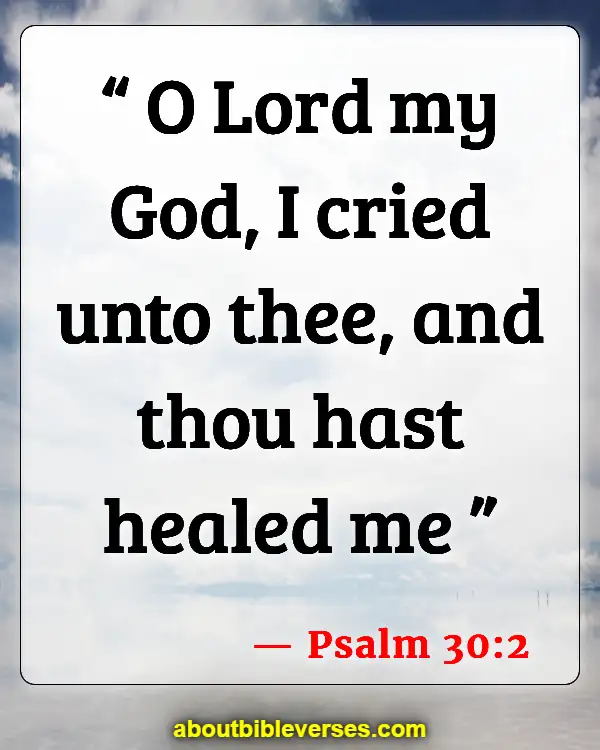 Psalm 30:2
"O Lord my God, I cried unto thee, and thou hast healed me"
Psalm 107:20
"He sent his word, and healed them, and delivered them from their destructions"
2 Kings 20:5
"Turn again, and tell Hezekiah the captain of my people, Thus saith the Lord , the God of David thy father, I have heard thy prayer, I have seen thy tears: behold, I will heal thee: on the third day thou shalt go up unto the house of the Lord"
Psalm 6:2
"Have mercy upon me, O Lord ; for I am weak: O Lord , heal me; for my bones are vexed"
Psalm 41:3
"The Lord will strengthen him upon the bed of languishing: thou wilt make all his bed in his sickness"
James 5:14-15
"Is any sick among you? let him call for the elders of the church; and let them pray over him, anointing him with oil in the name of the Lord: And the prayer of faith shall save the sick, and the Lord shall raise him up; and if he have committed sins, they shall be forgiven him"
Caution And Care For One's Health And Life
Deuteronomy 5:33
"Ye shall walk in all the ways which the Lord your God hath commanded you, that ye may live, and that it may be well with you, and that ye may prolong your days in the land which ye shall possess"
Proverbs 14:27
"The fear of the Lord is a fountain of life, to depart from the snares of death"
Proverbs 3:21-22
"My son, let not them depart from thine eyes: keep sound wisdom and discretion: So shall they be life unto thy soul, and grace to thy neck"
Deuteronomy 4:9
"Only take heed to thyself, and keep thy soul diligently, lest thou forget the things which thine eyes have seen, and lest they depart from thy heart all the days of thy life: but teach them thy sons, and thy sons' sons"
Proverbs 19:23
"The fear of the Lord tendeth to life: and he that hath it shall abide satisfied; he shall not be visited with evil"
Ecclesiastes 7:12
"For wisdom is a defence, and money is a defence: but the excellency of knowledge is, that wisdom giveth life to them that have it"