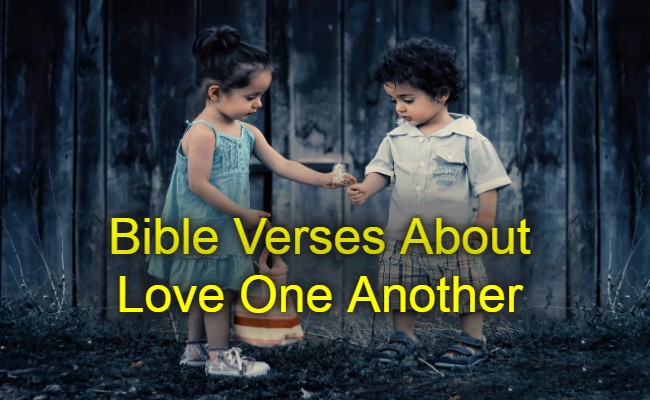 Hello dear friends, welcome to our site in the name of Jesus Christ. Today we will look at the Bible Scriptures About Love One Another In KJV. If you like today's post then definitely comment and share.
Friends, it is God's second commandment to love others. Moreover, the Bible says that we can love God by loving others, thereby forgiving our many sins.
We are here on this earth not to judge others but we must show our love. Satan will always bring confusion and problems in our midst but with love, we can restore everything.
Children should be taught to love one another, to build a better society. Love is to be rooted in the hearts of everyone. It will make to fulfill the will of God. Jesus told us to love one another because it brings God's glory in this sinful world.
Dear friends now let's see the Bible scriptures below that talk about Love One Another.
1 John 4:12(KJV)"No man hath seen God at any time. If we love one another, God dwelleth in us, and his love is perfected in us"
Explanation:-God is spirit so none can see Him, only by experience, belief, and by receiving the Holy Spirit we can understand Him. God will dwell in us if we love each other.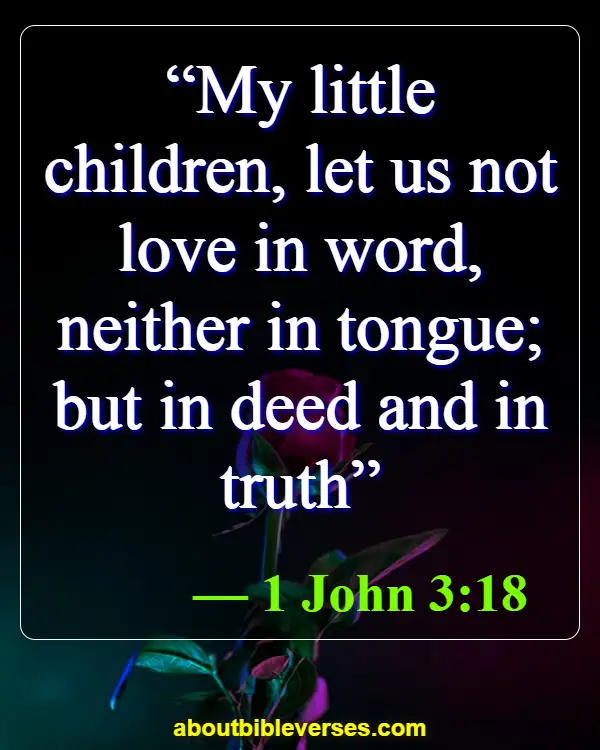 1 John 3:18(KJV)"My little children, let us not love in word, neither in tongue; but in deed and in truth"
Explanation:-People are tended to speak good words but their deeds do not bear their words. But God says to love one another. But the Word of God says that our love will be expressed through work.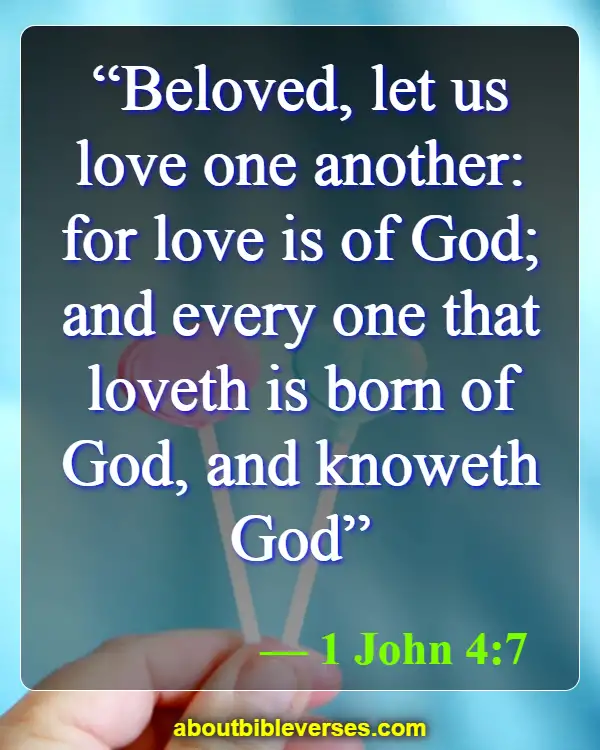 1 John 4:7(KJV)"Beloved, let us love one another: for love is of God; and every one that loveth is born of God, and knoweth God"
Explanation:-One cannot claim that he knows God until he loves people. Love comes from God. Love is an attribute of God.
Matthew 5:44-46(KJV)" But I say unto you, Love your enemies, bless them that curse you, do good to them that hate you, and pray for them which despitefully use you, and persecute you; That ye may be the children of your Father which is in heaven: for he maketh his sun to rise on the evil and on the good, and sendeth rain on the just and on the unjust. For if ye love them which love you, what reward have ye? do not even the publicans the same?"
Explanation:-Jesus taught us to love our enemies so that he will turn to the Lord. Christians should pray for those who persecute them. Love can change the heart of people.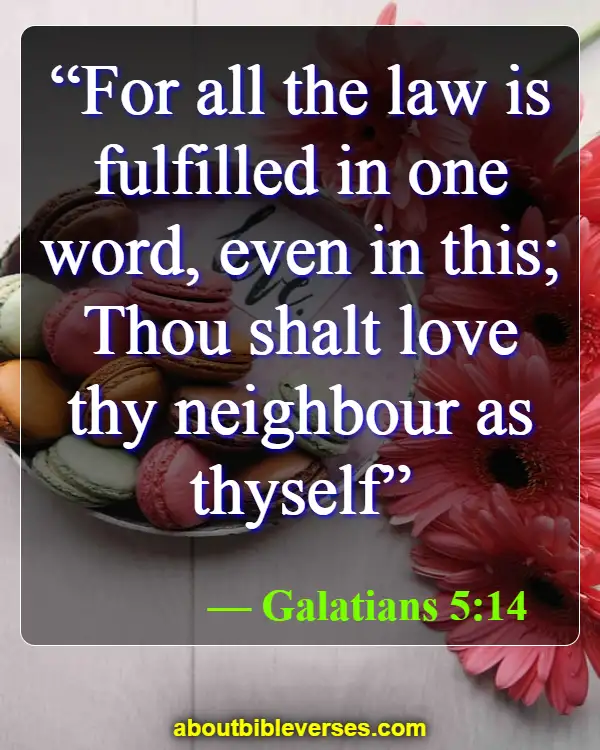 Galatians 5:14(KJV)"For all the law is fulfilled in one word, even in this; Thou shalt love thy neighbour as thyself"
Explanation:-Christians should love their neighbors the way they love their families. This is a law from the Lord. To be a true Christian one must fulfill this(Mark 12:31).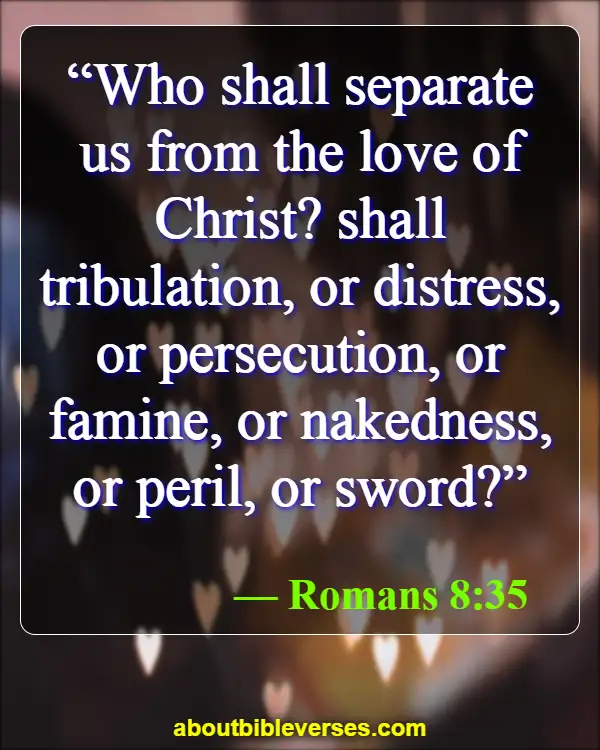 Romans 8:35(KJV)"Who shall separate us from the love of Christ? shall tribulation, or distress, or persecution, or famine, or nakedness, or peril, or sword?"
Explanation:-Nothing can separate a Christian from the love of God. Jesus said till the end of this world He will be with us in every situation. His love is amazing and can cover us from all evil.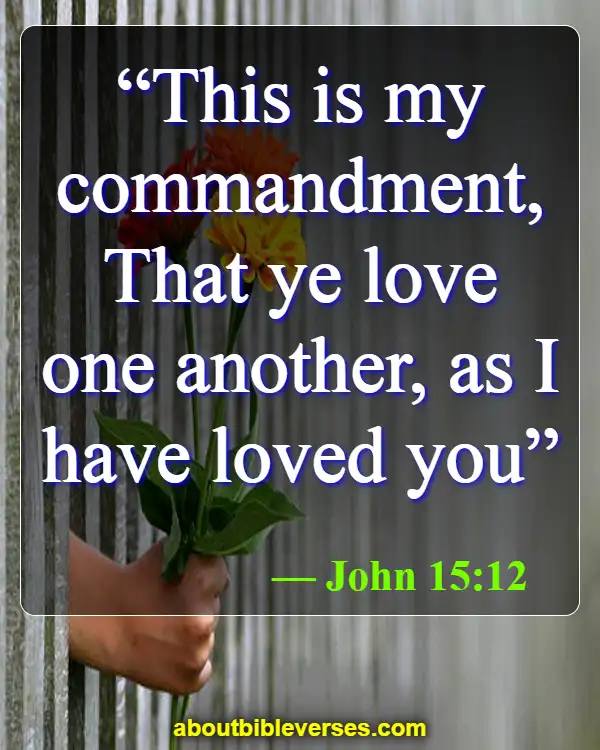 John 15:12(KJV)"This is my commandment, That ye love one another, as I have loved you"
Explanation:-Jesus gave a lesson to His disciples to love one another as He loved them. Love will help to make a better relationship among the believers.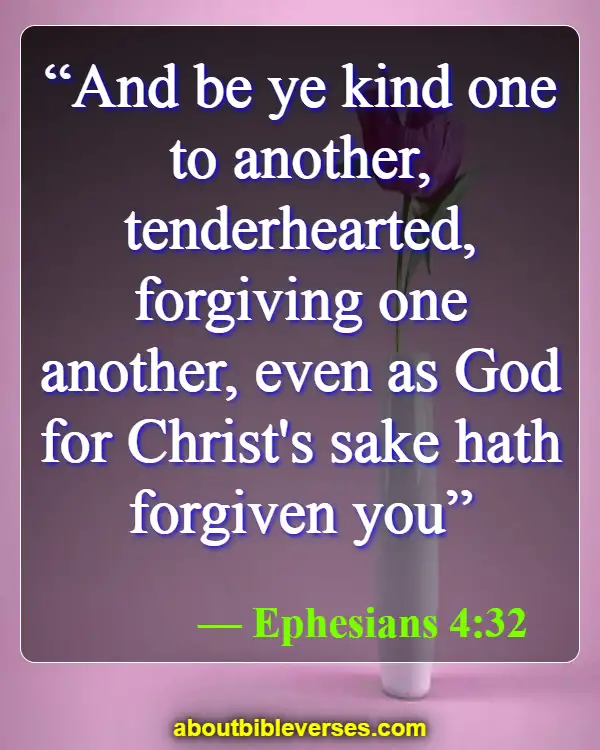 Ephesians 4:32(KJV)"And be ye kind one to another, tenderhearted, forgiving one another, even as God for Christ's sake hath forgiven you"
Explanation:-Jesus showed mercy upon us so He wants us to forgive others. Christians must have tender hearts to forgive others.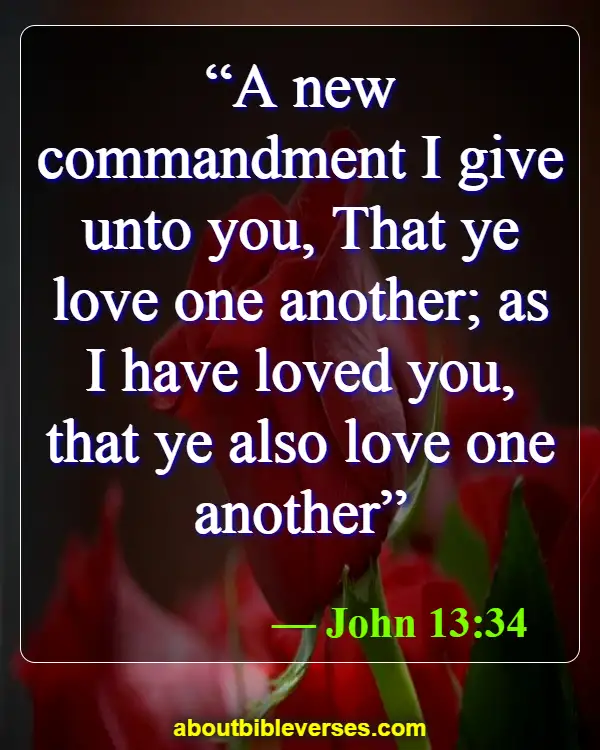 John 13:34(KJV)"A new commandment I give unto you, That ye love one another; as I have loved you, that ye also love one another"
Explanation:-It is important to love each other in spite of all bitterness. Christians would show their loving hearts to others in order to extend the kingdom of God.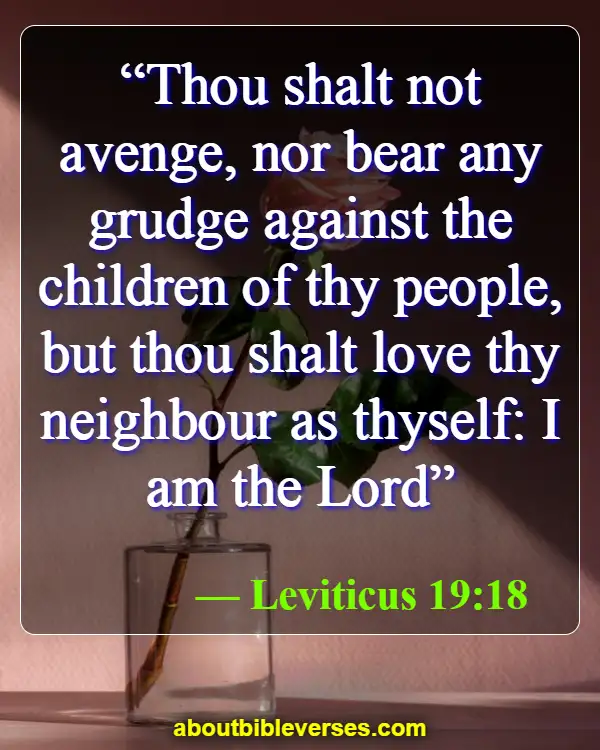 Leviticus 19:18(KJV)"Thou shalt not avenge, nor bear any grudge against the children of thy people, but thou shalt love thy neighbour as thyself: I am the Lord"
Explanation:-Lord ordered not to take revenge on others. Jesus said revenge is mine so we must pray for them. We should also forget their evil deeds toward us.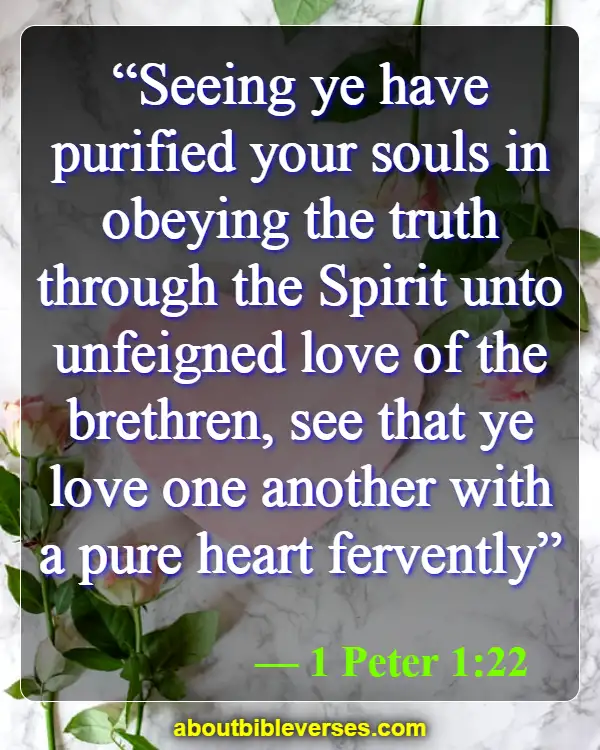 1 Peter 1:22(KJV)"Seeing ye have purified your souls in obeying the truth through the Spirit unto unfeigned love of the brethren, see that ye love one another with a pure heart fervently"
Explanation:-It is important to love each other in spite of all bitterness. Christians would show their loving hearts to others in order to extend the kingdom of God.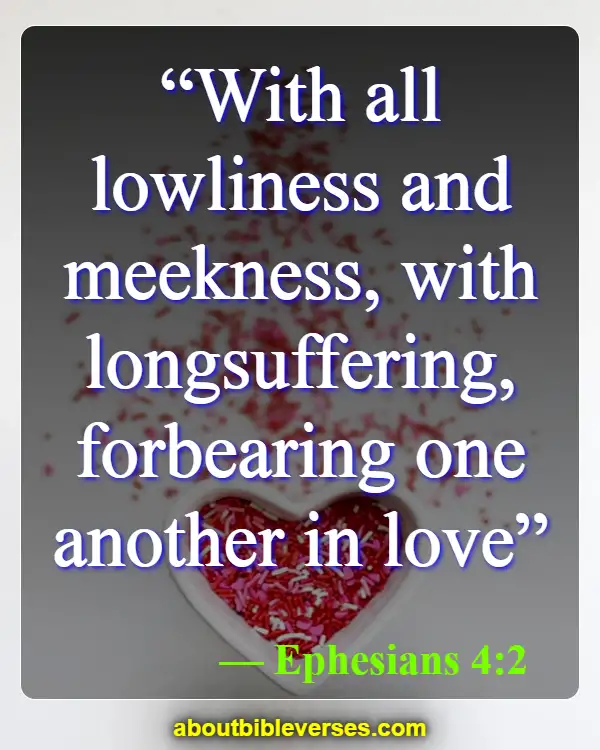 Ephesians 4:2(KJV)"With all lowliness and meekness, with longsuffering, forbearing one another in love"
Explanation:-A Christian must be patient and humble in his action and speech. By doing so he will glorify the name of the Lord.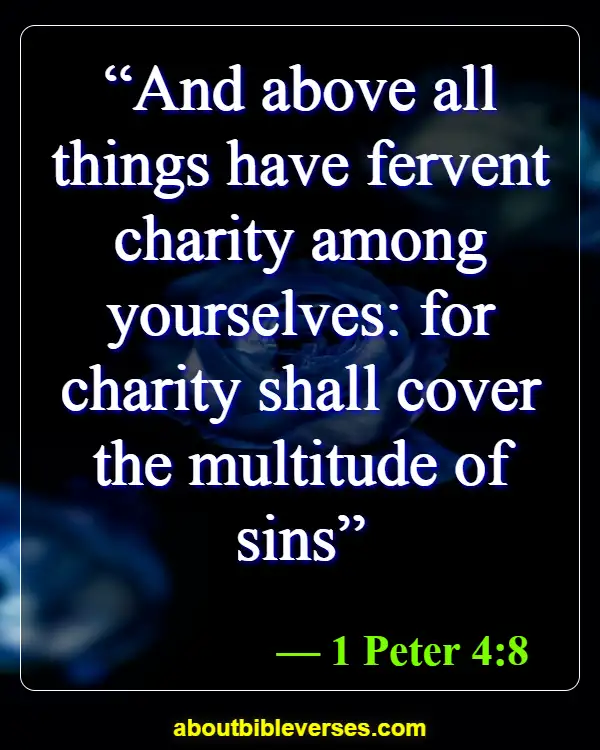 1 Peter 4:8(KJV)"And above all things have fervent charity among yourselves: for charity shall cover the multitude of sins"
Explanation:-Love is a weapon that asides all kinds of sins. Love is the instrument that helps to maintain a healthy relationship.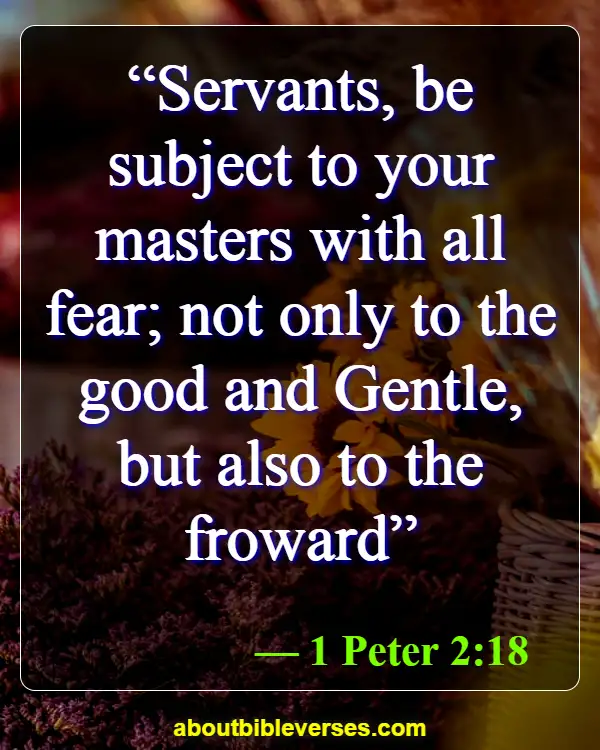 1 Peter 2:18(KJV)"Servants, be subject to your masters with all fear; not only to the good and Gentle, but also to the froward"
Explanation:-Slaves must obey their masters in order to show their love. Masters might be cruel, but still, they should be diligent and faithful in their deeds.