Dear friends, Love is at the very heart of the teachings we receive from the scriptures. Our Lord taught us the profound significance of loving one another, and it's a message that resonates deeply in our souls. We are called not just to love our family and friends, but also those who might seem the hardest to love – our enemies and those who have wronged us.
Dear brother and sister, love is not just a feeling; it's a choice and an action. It is choosing to be patient, kind, and forgiving. It is choosing to act selflessly, without expecting anything in return. Remember the parable of the Good Samaritan? It beautifully illustrates how love transcends boundaries and prejudices. The Samaritan did not think twice about helping a man from a different community, and he showed him genuine compassion and kindness.
Dear friend, love is a force that can heal wounds and bridge gaps. It can bring people together, regardless of their differences. Our Savior showed us the highest form of love by laying down His life for us. In doing so, He set a powerful example for us to follow.
Dear friends, now let's see the Bible scriptures below that talk about "Love One Another".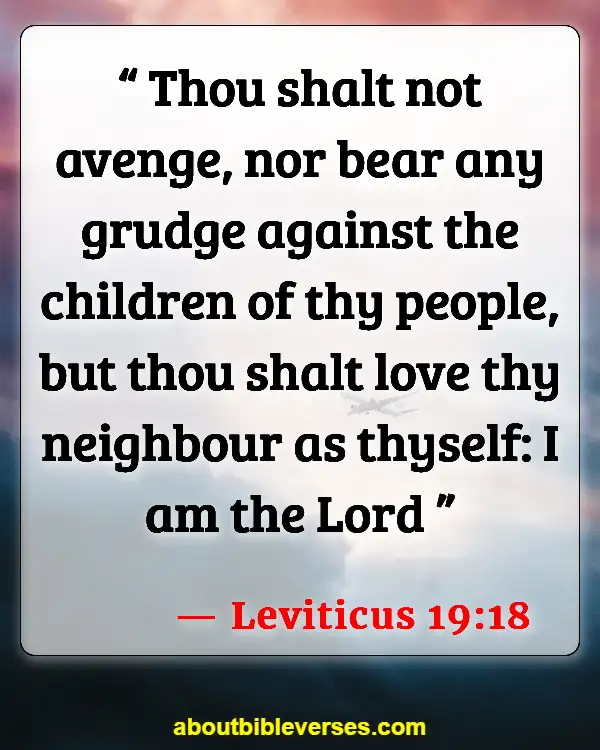 Leviticus 19:18
"Thou shalt not avenge, nor bear any grudge against the children of thy people, but thou shalt love thy neighbour as thyself: I am the Lord"
John 13:34
"A new commandment I give unto you, That ye love one another; as I have loved you, that ye also love one another"
Romans 12:10
"Be kindly affectioned one to another with brotherly love; in honour preferring one another"
Romans 13:8
"Owe no man any thing, but to love one another: for he that loveth another hath fulfilled the law"
Galatians 5:13
"For, brethren, ye have been called unto liberty; only use not liberty for an occasion to the flesh, but by love serve one another"
Ephesians 4:2
"With all lowliness and meekness, with longsuffering, forbearing one another in love"
1 Thessalonians 3:12
"And the Lord make you to increase and abound in love one toward another, and toward all men, even as we do toward you"
1 Thessalonians 4:9
"But as touching brotherly love ye need not that I write unto you: for ye yourselves are taught of God to love one another"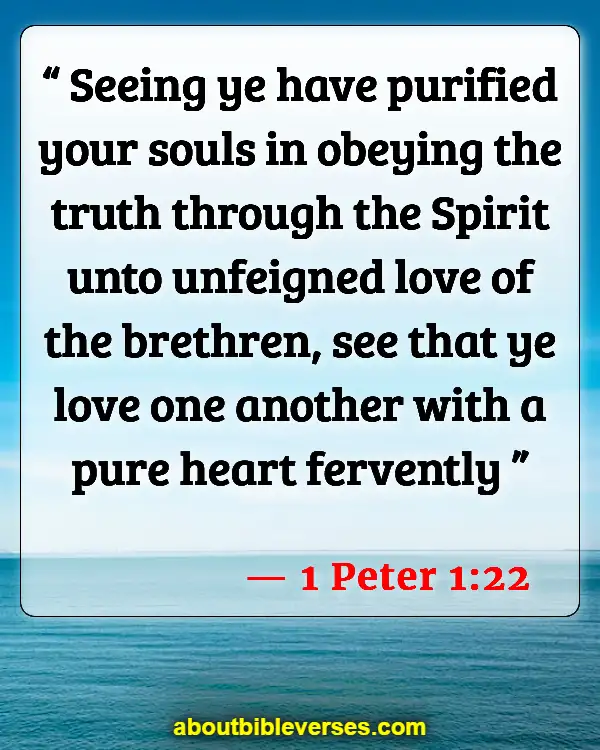 1 Peter 1:22
"Seeing ye have purified your souls in obeying the truth through the Spirit unto unfeigned love of the brethren, see that ye love one another with a pure heart fervently"
1 Peter 3:8
"Finally, be ye all of one mind, having compassion one of another, love as brethren, be pitiful, be courteous"
1 Peter 4:8
"And above all things have fervent charity among yourselves: for charity shall cover the multitude of sins"
1 John 3:11
"For this is the message that ye heard from the beginning, that we should love one another"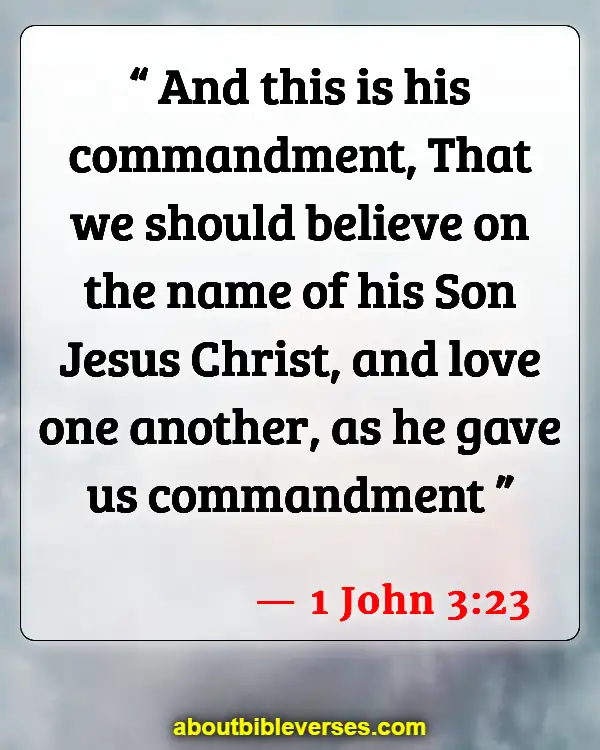 1 John 3:23
"And this is his commandment, That we should believe on the name of his Son Jesus Christ, and love one another, as he gave us commandment"
1 John 4:7
"Beloved, let us love one another: for love is of God; and every one that loveth is born of God, and knoweth God"
1 John 4:11
"Beloved, if God so loved us, we ought also to love one another"
1 John 4:12
"No man hath seen God at any time. If we love one another, God dwelleth in us, and his love is perfected in us"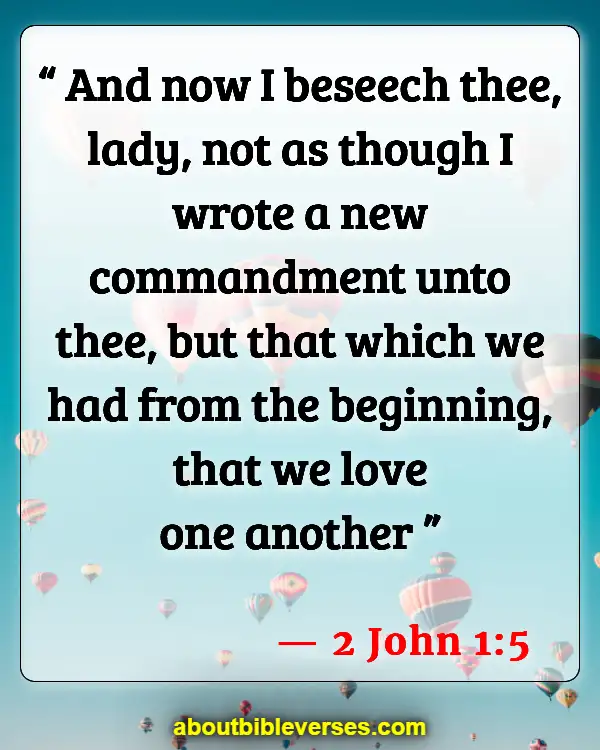 2 John 1:5
"And now I beseech thee, lady, not as though I wrote a new commandment unto thee, but that which we had from the beginning, that we love one another"
James 2:8
"If ye fulfil the royal law according to the scripture, Thou shalt love thy neighbour as thyself, ye do well"
Matthew 22:39
"And the second is like unto it, Thou shalt love thy neighbour as thyself"
Matthew 5:44
"But I say unto you, Love your enemies, bless them that curse you, do good to them that hate you, and pray for them which despitefully use you, and persecute you"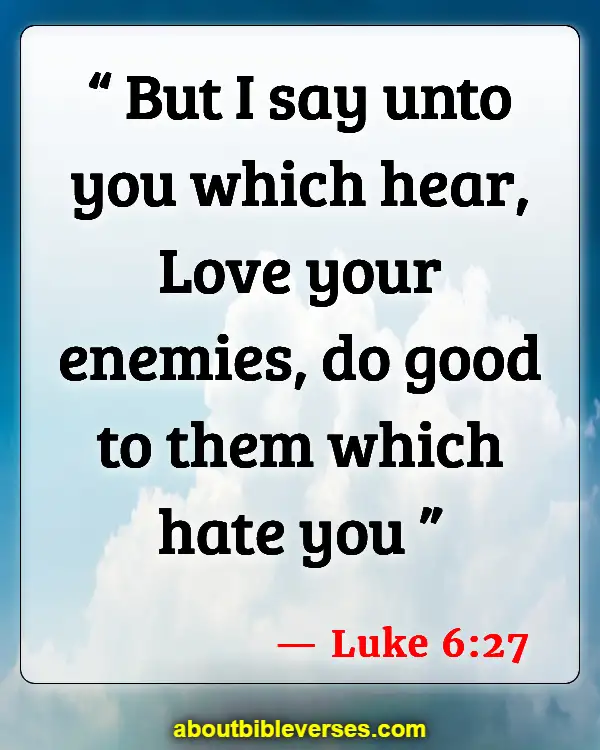 Luke 6:27
"But I say unto you which hear, Love your enemies, do good to them which hate you"
Luke 6:35
"But love ye your enemies, and do good, and lend, hoping for nothing again; and your reward shall be great, and ye shall be the children of the Highest: for he is kind unto the unthankful and to the evil"
Proverbs 10:12
"Hatred stirreth up strifes: but love covereth all sins"
Proverbs 17:17
"A friend loveth at all times, and a brother is born for adversity"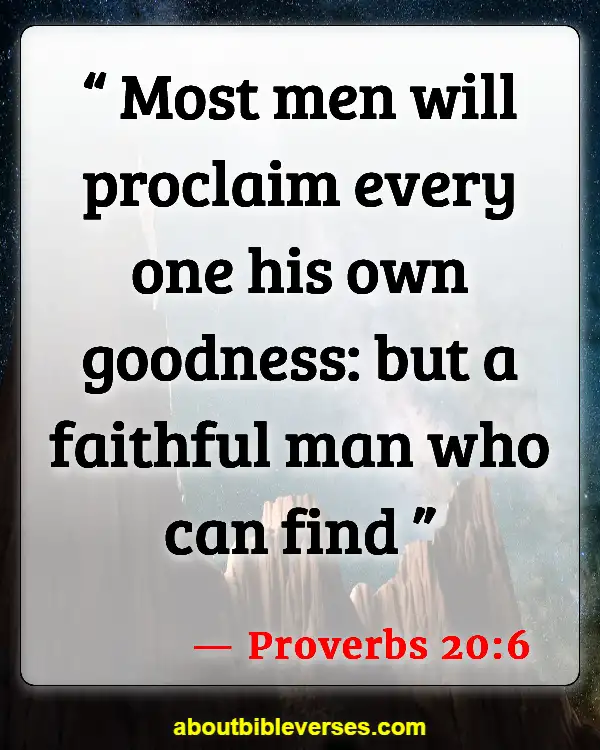 Proverbs 20:6
"Most men will proclaim every one his own goodness: but a faithful man who can find?"
1 Corinthians 13:4-7
"Charity suffereth long, and is kind; charity envieth not; charity vaunteth not itself, is not puffed up, Doth not behave itself unseemly, seeketh not her own, is not easily provoked, thinketh no evil; Rejoiceth not in iniquity, but rejoiceth in the truth; Beareth all things, believeth all things, hopeth all things, endureth all things"
1 Corinthians 16:14
"Let all your things be done with charity"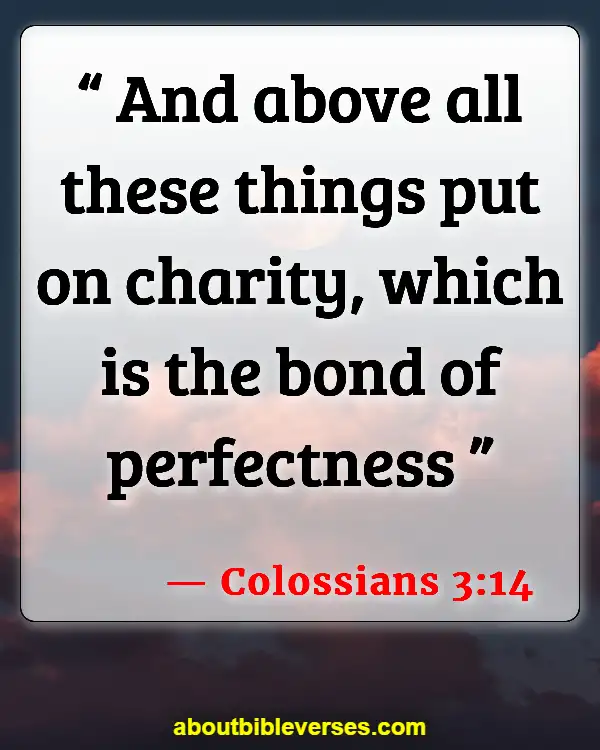 Colossians 3:14
"And above all these things put on charity, which is the bond of perfectness"
Conclusion:
Dear friends, love is the cornerstone of our faith and the essence of our existence. It binds us together, builds bridges, and heals wounds. As we reflect on the scriptures, we see how love was exemplified in the life of our Savior and how it is central to His teachings. We are reminded of the importance of loving not just in words, but in actions and truth. By loving one another, we not only fulfill a divine commandment but also bring joy, peace, and harmony into our lives and the lives of those around us. May we always strive to love as He loved us, and in doing so, make the world a better place.