Hello dear friends, welcome to our site in the name of Jesus Christ. Today we will look at the Bible Scriptures About Cheating In Marriage In KJV. If you like today's post then definitely comment and share.
In the eyes of the divine, marriage is a sacred bond, a holy covenant made not just between two individuals, but with God as a witness. It's more than just a contract; it's a promise of love, respect, and fidelity. Cheating in marriage breaks this sacred promise, violating the trust and unity that should exist within the relationship.
Marriage is like caring for a delicate lamp. If neglected, the light can dim or even extinguish completely. But with love and dedication, the light of the marriage will shine brighter, illuminating the path of truth and righteousness for both partners. Cheating is like throwing a cloth over the lamp, dimming its light and obscuring its purpose.
The Bible encourages us to be faithful not just in action, but in thought and in heart as well. To covet another's spouse is as harmful as the act of cheating itself. Therefore, let our hearts be guided by love and respect for our partners, just as we'd tend to a precious garden with care and reverence.
So, in the end, the Bible's teachings guide us to honor and preserve our marriages, to care for our partners with love, respect, and unyielding fidelity. Cheating disrupts this divine balance, bringing shadows where there should be light. It's up to us to keep our marital gardens flourishing, our lamps burning bright, and our hearts steadfastly faithful.
Dear friends now let's see the Bible scriptures below that talk about Cheating In Marriage.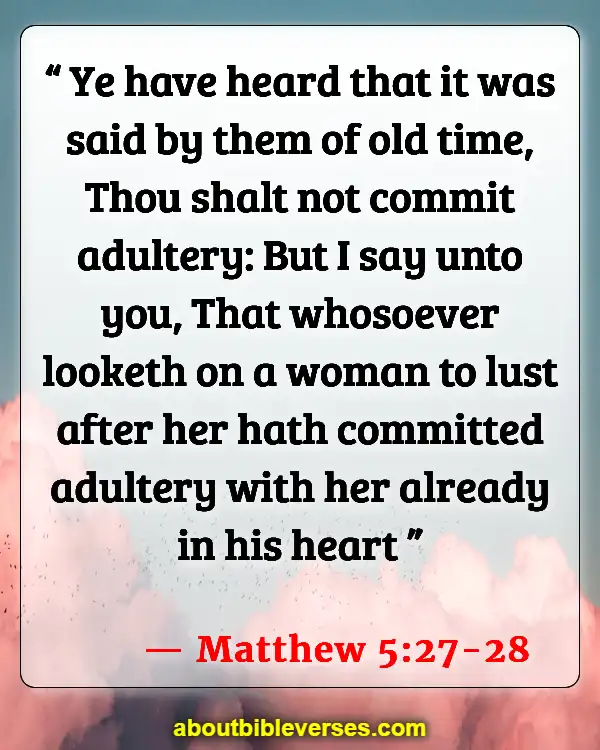 Matthew 5:27-28
"Ye have heard that it was said by them of old time, Thou shalt not commit adultery: But I say unto you, That whosoever looketh on a woman to lust after her hath committed adultery with her already in his heart"
Proverbs 5:15-20
"Drink waters out of thine own cistern, and running waters out of thine own well. Let thy fountains be dispersed abroad, and rivers of waters in the streets. Let them be only thine own, and not strangers' with thee. Let thy fountain be blessed: and rejoice with the wife of thy youth. Let her be as the loving hind and pleasant roe; let her breasts satisfy thee at all times; and be thou ravished always with her love. And why wilt thou, my son, be ravished with a strange woman, and embrace the bosom of a stranger?"
1 Corinthians 6:18
"Flee fornication. Every sin that a man doeth is without the body; but he that committeth fornication sinneth against his own body"
Exodus 20:14
"Thou shalt not commit adultery"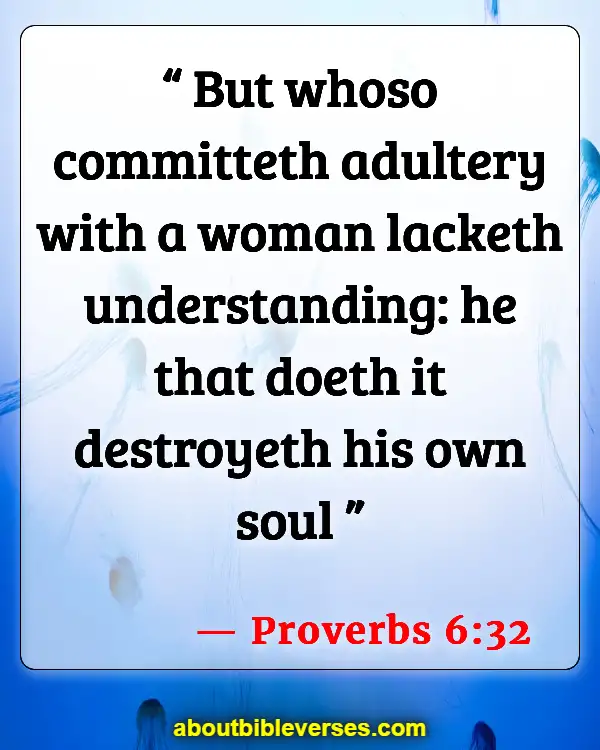 Proverbs 6:32
"But whoso committeth adultery with a woman lacketh understanding: he that doeth it destroyeth his own soul"
Hebrews 13:4
"Marriage is honourable in all, and the bed undefiled: but whoremongers and adulterers God will judge"
Malachi 2:14-16
"Yet ye say, Wherefore? Because the Lord hath been witness between thee and the wife of thy youth, against whom thou hast dealt treacherously: yet is she thy companion, and the wife of thy covenant. And did not he make one? Yet had he the residue of the spirit. And wherefore one? That he might seek a godly seed. Therefore take heed to your spirit, and let none deal treacherously against the wife of his youth. For the Lord , the God of Israel, saith that he hateth putting away: for one covereth violence with his garment, saith the Lord of hosts: therefore take heed to your spirit, that ye deal not treacherously"
Matthew 19:6
"Wherefore they are no more twain, but one flesh. What therefore God hath joined together, let not man put asunder"
1 Corinthians 7:2
"Nevertheless, to avoid fornication, let every man have his own wife, and let every woman have her own husband"
Ephesians 5:31
"For this cause shall a man leave his father and mother, and shall be joined unto his wife, and they two shall be one flesh"
Mark 10:11-12
"And he saith unto them, Whosoever shall put away his wife, and marry another, committeth adultery against her. And if a woman shall put away her husband, and be married to another, she committeth adultery"
Romans 7:2-3
"For the woman which hath an husband is bound by the law to her husband so long as he liveth; but if the husband be dead, she is loosed from the law of her husband. So then if, while her husband liveth, she be married to another man, she shall be called an adulteress: but if her husband be dead, she is free from that law; so that she is no adulteress, though she be married to another man"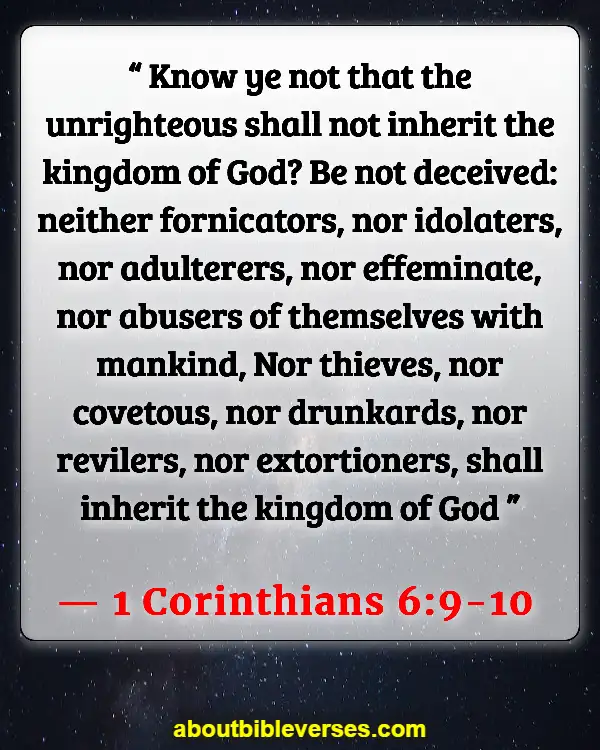 1 Corinthians 6:9-10
"Know ye not that the unrighteous shall not inherit the kingdom of God? Be not deceived: neither fornicators, nor idolaters, nor adulterers, nor effeminate, nor abusers of themselves with mankind, Nor thieves, nor covetous, nor drunkards, nor revilers, nor extortioners, shall inherit the kingdom of God"
Proverbs 6:24-29
"To keep thee from the evil woman, from the flattery of the tongue of a strange woman. Lust not after her beauty in thine heart; neither let her take thee with her eyelids. For by means of a whorish woman a man is brought to a piece of bread: and the adultress will hunt for the precious life. Can a man take fire in his bosom, and his clothes not be burned? Can one go upon hot coals, and his feet not be burned? So he that goeth in to his neighbour's wife; whosoever toucheth her shall not be innocent"
1 Thessalonians 4:3-5
"For this is the will of God, even your sanctification, that ye should abstain from fornication: That every one of you should know how to possess his vessel in sanctification and honour; Not in the lust of concupiscence, even as the Gentiles which know not God"
Galatians 5:19
"Now the works of the flesh are manifest, which are these; Adultery, fornication, uncleanness, lasciviousness"
Job 31:9-12
"If mine heart have been deceived by a woman, or if I have laid wait at my neighbour's door; Then let my wife grind unto another, and let others bow down upon her. For this is an heinous crime; yea, it is an iniquity to be punished by the judges. For it is a fire that consumeth to destruction, and would root out all mine increase"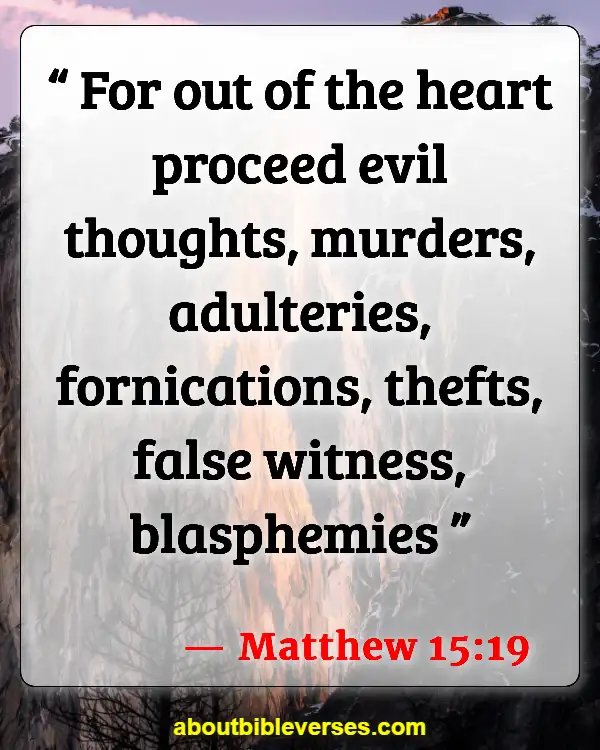 Matthew 15:19
"For out of the heart proceed evil thoughts, murders, adulteries, fornications, thefts, false witness, blasphemies"
Jeremiah 3:8
"And I saw, when for all the causes whereby backsliding Israel committed adultery I had put her away, and given her a bill of divorce; yet her treacherous sister Judah feared not, but went and played the harlot also"
Hosea 2:2
"Plead with your mother, plead: for she is not my wife, neither am I her husband: let her therefore put away her whoredoms out of her sight, and her adulteries from between her breasts"
Proverbs 2:16-19
"To deliver thee from the strange woman, even from the stranger which flattereth with her words; Which forsaketh the guide of her youth, and forgetteth the covenant of her God. For her house inclineth unto death, and her paths unto the dead. None that go unto her return again, neither take they hold of the paths of life"
Luke 16:18
"Whosoever putteth away his wife, and marrieth another, committeth adultery: and whosoever marrieth her that is put away from her husband committeth adultery"
Romans 13:9
"For this, Thou shalt not commit adultery, Thou shalt not kill, Thou shalt not steal, Thou shalt not bear false witness, Thou shalt not covet; and if there be any other commandment, it is briefly comprehended in this saying, namely, Thou shalt love thy neighbour as thyself"
James 4:4
"Ye adulterers and adulteresses, know ye not that the friendship of the world is enmity with God? whosoever therefore will be a friend of the world is the enemy of God"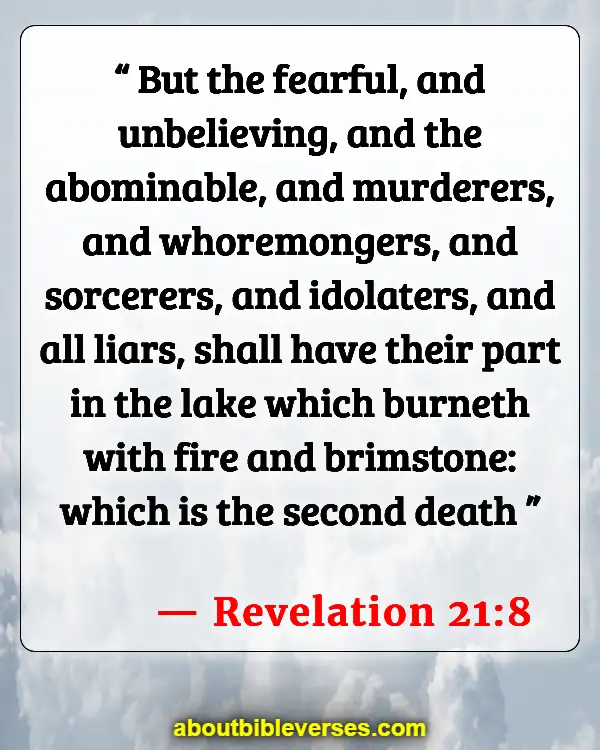 Revelation 21:8
"But the fearful, and unbelieving, and the abominable, and murderers, and whoremongers, and sorcerers, and idolaters, and all liars, shall have their part in the lake which burneth with fire and brimstone: which is the second death"
2 Peter 2:14
"Having eyes full of adultery, and that cannot cease from sin; beguiling unstable souls: an heart they have exercised with covetous practices; cursed children"
Ezekiel 23:37
"That they have committed adultery, and blood is in their hands, and with their idols have they committed adultery, and have also caused their sons, whom they bare unto me, to pass for them through the fire, to devour them"
Leviticus 20:10
"And the man that committeth adultery with another man's wife, even he that committeth adultery with his neighbour's wife, the adulterer and the adulteress shall surely be put to death"
Jeremiah 5:7
"How shall I pardon thee for this? thy children have forsaken me, and sworn by them that are no gods: when I had fed them to the full, they then committed adultery, and assembled themselves by troops in the harlots' houses"
1 Corinthians 6:15-16
"Know ye not that your bodies are the members of Christ? shall I then take the members of Christ, and make them the members of an harlot? God forbid. What? know ye not that he which is joined to an harlot is one body? for two, saith he, shall be one flesh"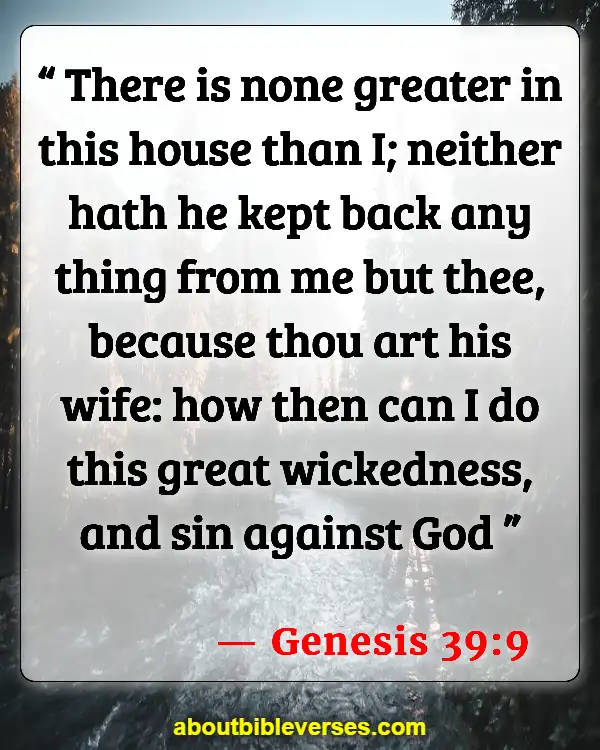 Genesis 39:9
"There is none greater in this house than I; neither hath he kept back any thing from me but thee, because thou art his wife: how then can I do this great wickedness, and sin against God?"