Hello dear friends, welcome to our site in the name of Jesus Christ. Today We will look at the Bible Scriptures About Being Set Apart From The World In KJV. If you like today's post then definitely comment and share.
Separation from the world is an important aspect of the Christian life. That separates us from the sinful and worldly influences around us and calls us to live in a way that reflects God's character. By doing so, we can draw closer to God and fulfill His purpose for our lives.
Believers are called to be separated, not in the sense of physical separation, but in a spiritual and moral sense. This separation means living according to God's commandments and values, and not being influenced by the temptations and sinful desires of the world. Detachment from the world ultimately means leading a life of holiness and devotion to God. Along with resisting infatuation with worldly values and focusing on spiritual matters.
The Bible teaches us to avoid being conformed to the patterns of this world, but to be transformed by the renewing of our minds (Romans 12:2). This transformation allows us to understand God's will and live according to His purpose.
Friends worldly desires and temptations can lead us astray, but by focusing on God's love we can overcome these temptations.
The apostle John also warns against loving the things of the world (1 John 2:15-17), because the likeness of these desires is not from the Father, but from the world. He said that the world and its desires pass away, but those who do God's will live forever.
Dear friends now let's see the Bible scriptures below that talk about Being Set Apart From The World.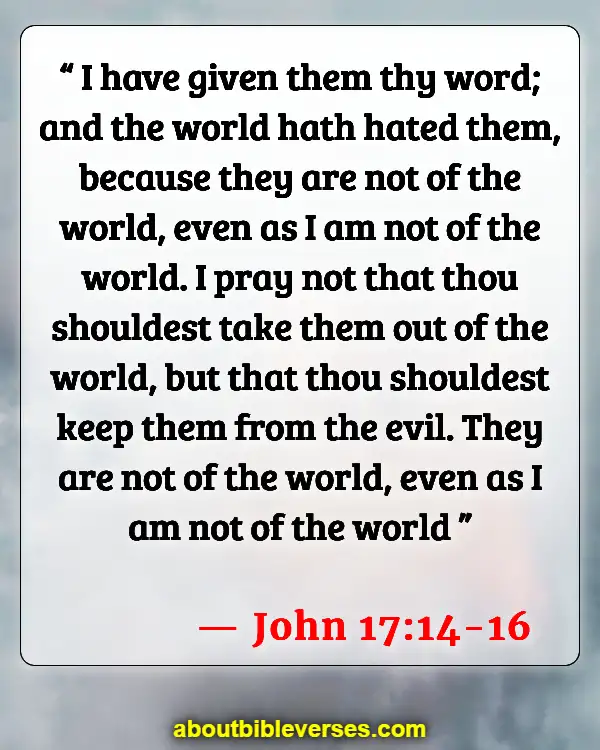 John 17:14-16
"I have given them thy word; and the world hath hated them, because they are not of the world, even as I am not of the world. I pray not that thou shouldest take them out of the world, but that thou shouldest keep them from the evil. They are not of the world, even as I am not of the world"
Leviticus 11:45
"For I am the Lord that bringeth you up out of the land of Egypt, to be your God: ye shall therefore be holy, for I am holy"
1 Peter 3:8
"Finally, be ye all of one mind, having compassion one of another, love as brethren, be pitiful, be courteous"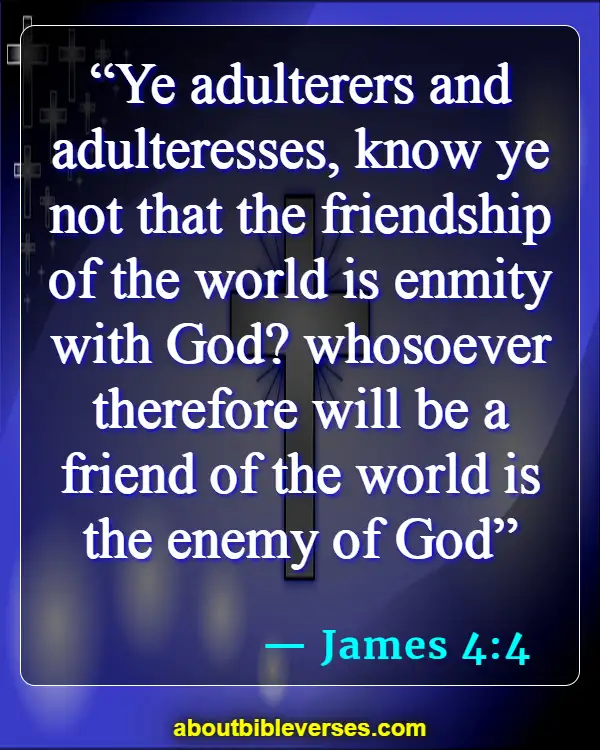 James 4:4
"Ye adulterers and adulteresses, know ye not that the friendship of the world is enmity with God? whosoever therefore will be a friend of the world is the enemy of God"
2 Corinthians 6:17
"Wherefore come out from among them, and be ye separate, saith the Lord, and touch not the unclean thing; and I will receive you"
Matthew 5:13-16
"Ye are the salt of the earth: but if the salt have lost his savour, wherewith shall it be salted? it is thenceforth good for nothing, but to be cast out, and to be trodden under foot of men. Ye are the light of the world. A city that is set on an hill cannot be hid. Neither do men light a candle, and put it under a bushel, but on a candlestick; and it giveth light unto all that are in the house. Let your light so shine before men, that they may see your good works, and glorify your Father which is in heaven"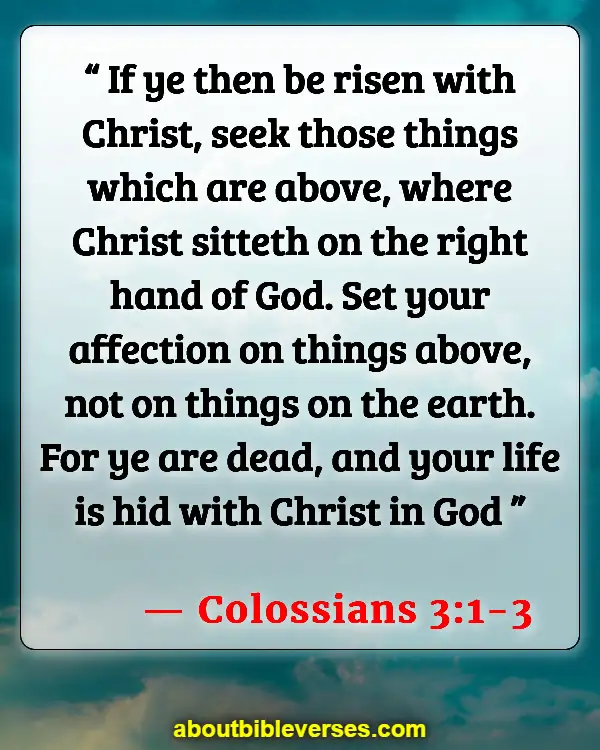 Colossians 3:1-3
"If ye then be risen with Christ, seek those things which are above, where Christ sitteth on the right hand of God. Set your affection on things above, not on things on the earth. For ye are dead, and your life is hid with Christ in God"
Ephesians 5:11
"And have no fellowship with the unfruitful works of darkness, but rather reprove them"
1 Peter 2:9
"But ye are a chosen generation, a royal priesthood, an holy nation, a peculiar people; that ye should shew forth the praises of him who hath called you out of darkness into his marvellous light"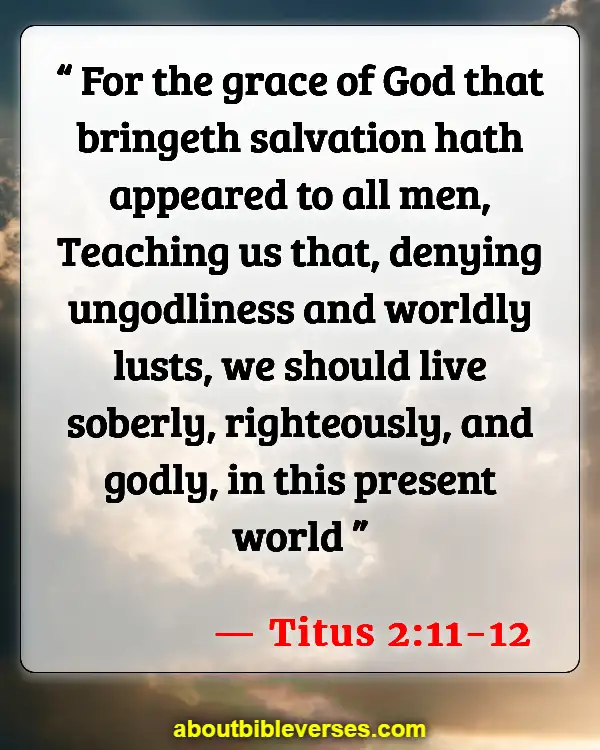 Titus 2:11-12
"For the grace of God that bringeth salvation hath appeared to all men, Teaching us that, denying ungodliness and worldly lusts, we should live soberly, righteously, and godly, in this present world"
Galatians 6:14
"But God forbid that I should glory, save in the cross of our Lord Jesus Christ, by whom the world is crucified unto me, and I unto the world"
1 Corinthians 7:31
"And they that use this world, as not abusing it: for the fashion of this world passeth away"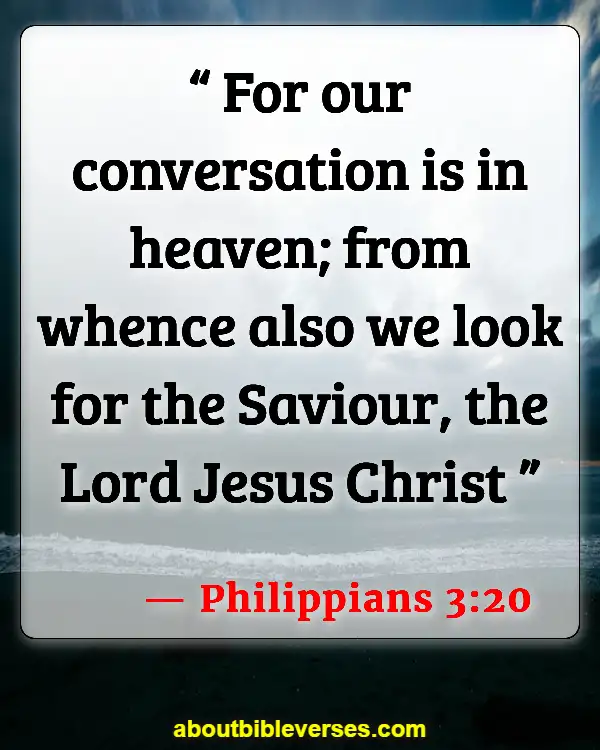 Philippians 3:20
"For our conversation is in heaven; from whence also we look for the Saviour, the Lord Jesus Christ"
1 Thessalonians 5:22
"Abstain from all appearance of evil"
2 Timothy 2:21
"If a man therefore purge himself from these, he shall be a vessel unto honour, sanctified, and meet for the master's use, and prepared unto every good work"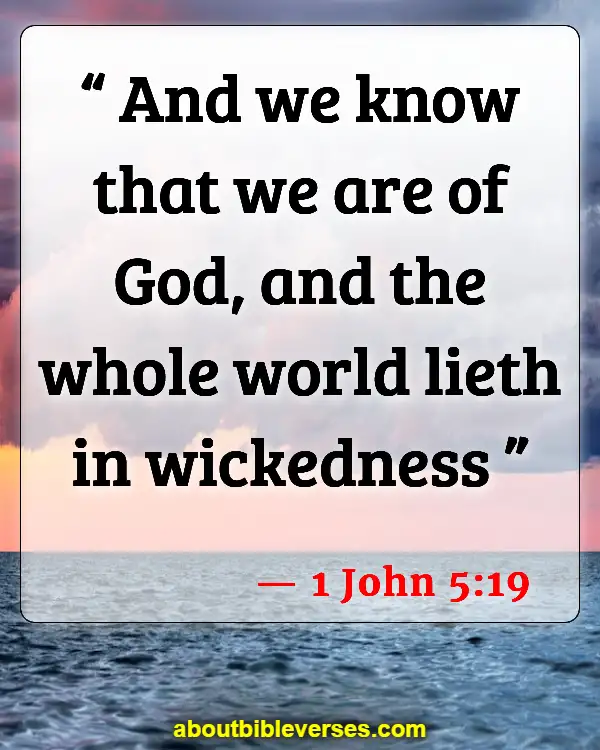 1 John 5:19
"And we know that we are of God, and the whole world lieth in wickedness"
Revelation 18:4
"And I heard another voice from heaven, saying, Come out of her, my people, that ye be not partakers of her sins, and that ye receive not of her plagues"
Hebrews 11:13
"These all died in faith, not having received the promises, but having seen them afar off, and were persuaded of them, and embraced them, and confessed that they were strangers and pilgrims on the earth"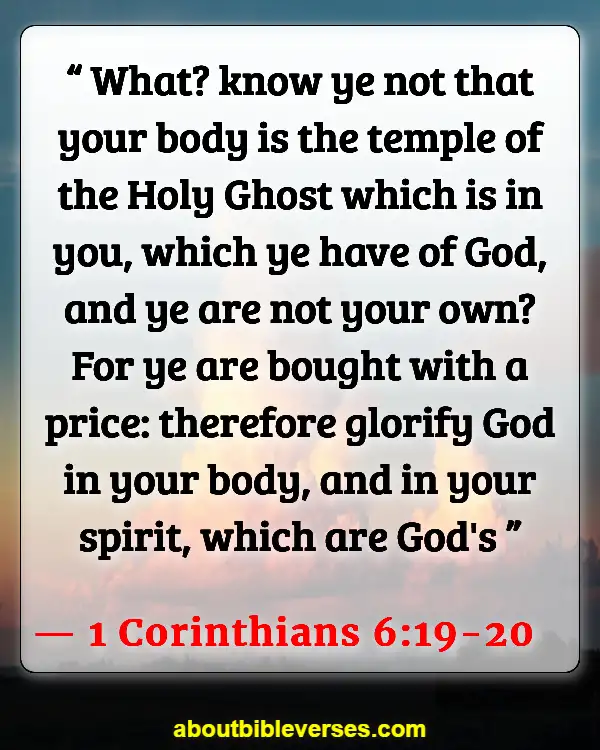 1 Corinthians 6:19-20
"What? know ye not that your body is the temple of the Holy Ghost which is in you, which ye have of God, and ye are not your own? For ye are bought with a price: therefore glorify God in your body, and in your spirit, which are God's"
1 John 3:1
"Behold, what manner of love the Father hath bestowed upon us, that we should be called the sons of God: therefore the world knoweth us not, because it knew him not"
Luke 6:22
"Blessed are ye, when men shall hate you, and when they shall separate you from their company, and shall reproach you, and cast out your name as evil, for the Son of man's sake"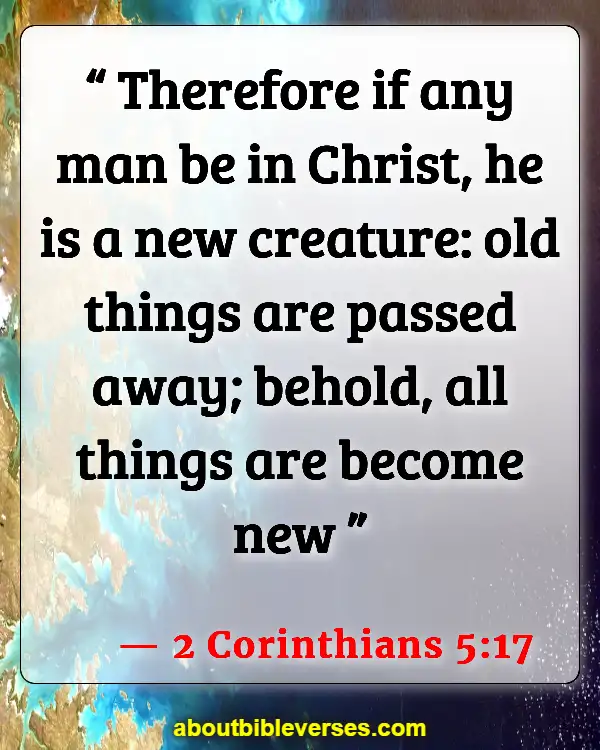 2 Corinthians 5:17
"Therefore if any man be in Christ, he is a new creature: old things are passed away; behold, all things are become new"
1 John 4:5-6
"They are of the world: therefore speak they of the world, and the world heareth them. We are of God: he that knoweth God heareth us; he that is not of God heareth not us. Hereby know we the spirit of truth, and the spirit of error"
1 Peter 1:14-16
"As obedient children, not fashioning yourselves according to the former lusts in your ignorance: But as he which hath called you is holy, so be ye holy in all manner of conversation; Because it is written, Be ye holy; for I am holy"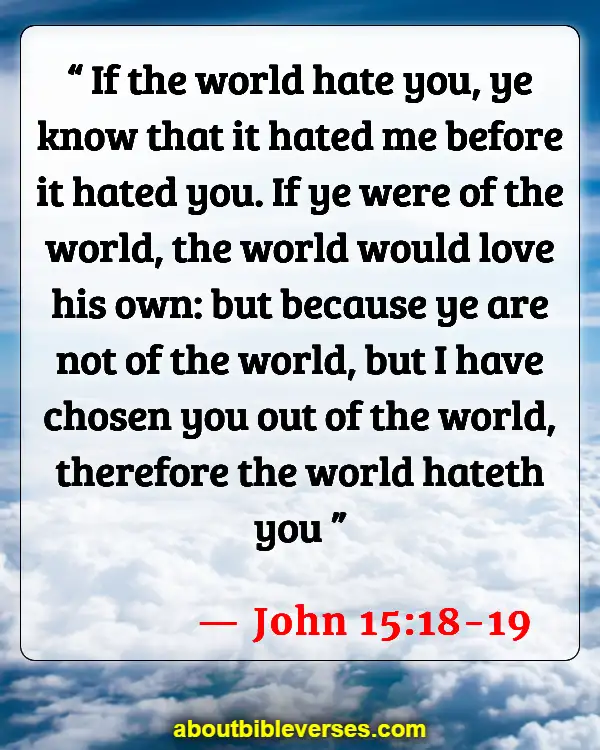 John 15:18-19
"If the world hate you, ye know that it hated me before it hated you. If ye were of the world, the world would love his own: but because ye are not of the world, but I have chosen you out of the world, therefore the world hateth you"
Romans 8:29
"For whom he did foreknow, he also did predestinate to be conformed to the image of his Son, that he might be the firstborn among many brethren"
2 Peter 1:3-4
"According as his divine power hath given unto us all things that pertain unto life and godliness, through the knowledge of him that hath called us to glory and virtue: Whereby are given unto us exceeding great and precious promises: that by these ye might be partakers of the divine nature, having escaped the corruption that is in the world through lust"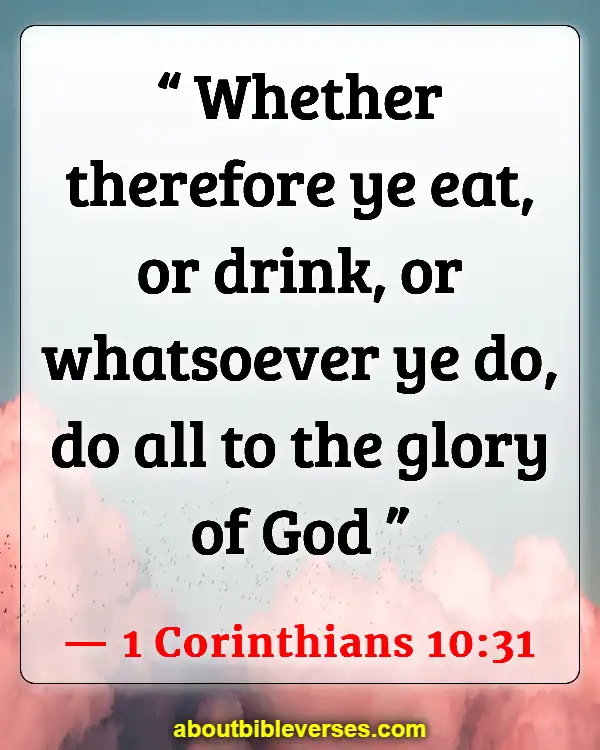 1 Corinthians 10:31
"Whether therefore ye eat, or drink, or whatsoever ye do, do all to the glory of God"
Ephesians 4:22-24
"That ye put off concerning the former conversation the old man, which is corrupt according to the deceitful lusts; And be renewed in the spirit of your mind; And that ye put on the new man, which after God is created in righteousness and true holiness"
1 Timothy 6:11-12
"But thou, O man of God, flee these things; and follow after righteousness, godliness, faith, love, patience, meekness. Fight the good fight of faith, lay hold on eternal life, whereunto thou art also called, and hast professed a good profession before many witnesses"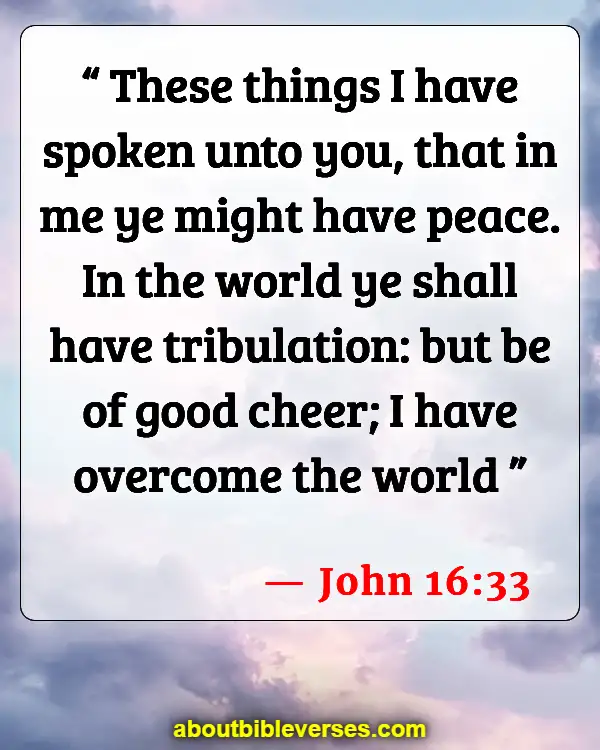 John 16:33
"These things I have spoken unto you, that in me ye might have peace. In the world ye shall have tribulation: but be of good cheer; I have overcome the world"
Matthew 10:22
"And ye shall be hated of all men for my name's sake: but he that endureth to the end shall be saved"
2 Timothy 3:12
"Yea, and all that will live godly in Christ Jesus shall suffer persecution"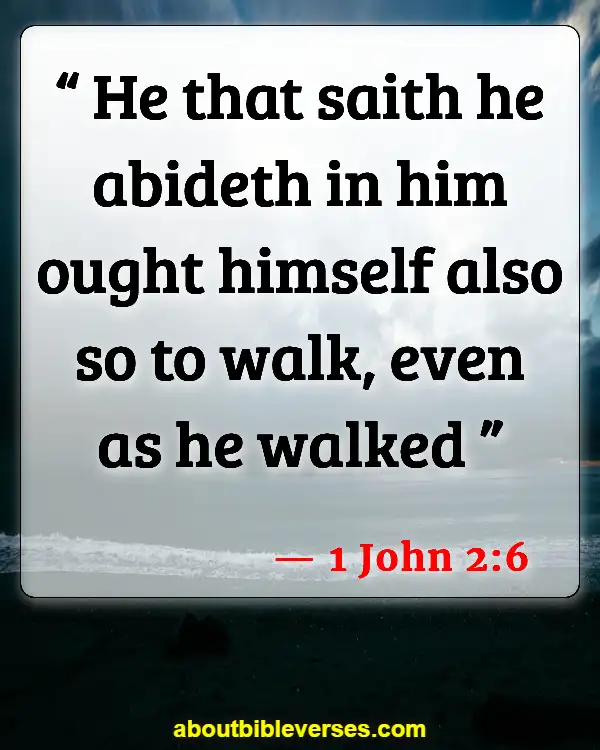 1 John 2:6
"He that saith he abideth in him ought himself also so to walk, even as he walked"
Matthew 6:24
"No man can serve two masters: for either he will hate the one, and love the other; or else he will hold to the one, and despise the other. Ye cannot serve God and mammon"
1 Peter 4:1-2
"Forasmuch then as Christ hath suffered for us in the flesh, arm yourselves likewise with the same mind: for he that hath suffered in the flesh hath ceased from sin; That he no longer should live the rest of his time in the flesh to the lusts of men, but to the will of God"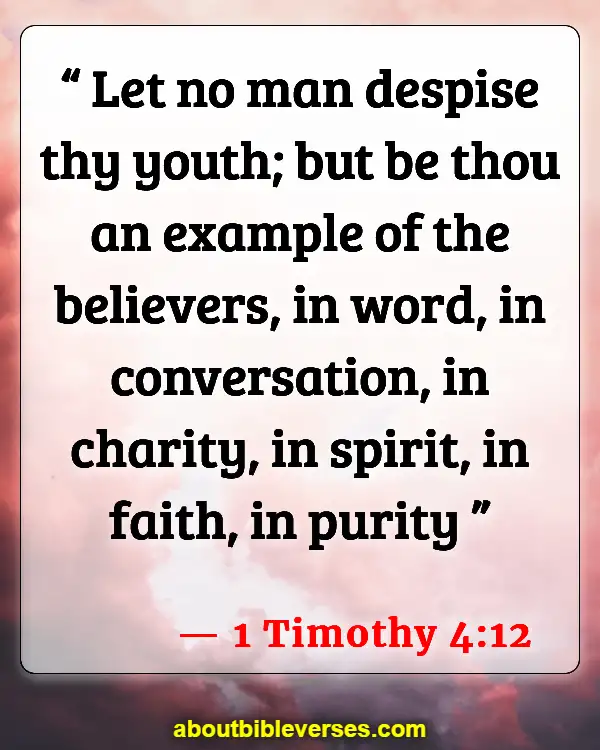 1 Timothy 4:12
"Let no man despise thy youth; but be thou an example of the believers, in word, in conversation, in charity, in spirit, in faith, in purity"
Romans 6:12-14
"Let not sin therefore reign in your mortal body, that ye should obey it in the lusts thereof. Neither yield ye your members as instruments of unrighteousness unto sin: but yield yourselves unto God, as those that are alive from the dead, and your members as instruments of righteousness unto God. For sin shall not have dominion over you: for ye are not under the law, but under grace"
1 Corinthians 3:18-19
"Let no man deceive himself. If any man among you seemeth to be wise in this world, let him become a fool, that he may be wise. For the wisdom of this world is foolishness with God. For it is written, He taketh the wise in their own craftiness"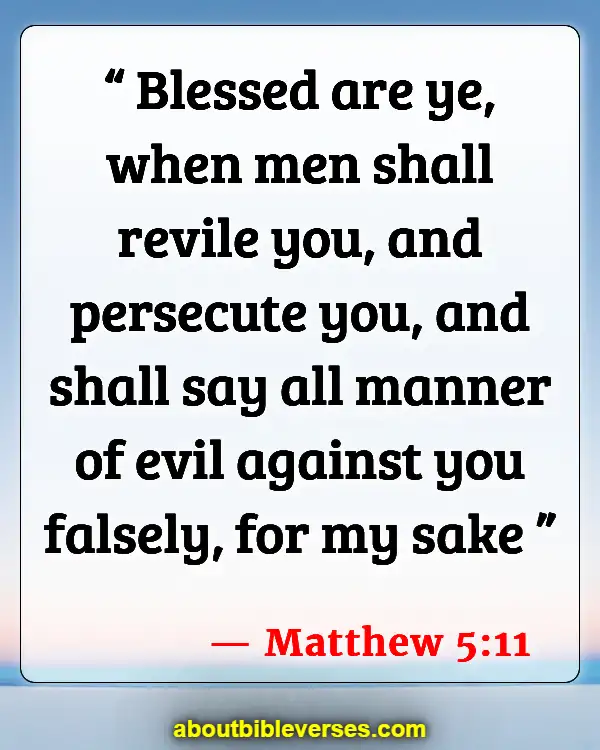 Matthew 5:11
"Blessed are ye, when men shall revile you, and persecute you, and shall say all manner of evil against you falsely, for my sake"
2 Corinthians 4:4
"In whom the god of this world hath blinded the minds of them which believe not, lest the light of the glorious gospel of Christ, who is the image of God, should shine unto them"
Galatians 1:10
"For do I now persuade men, or God? or do I seek to please men? for if I yet pleased men, I should not be the servant of Christ"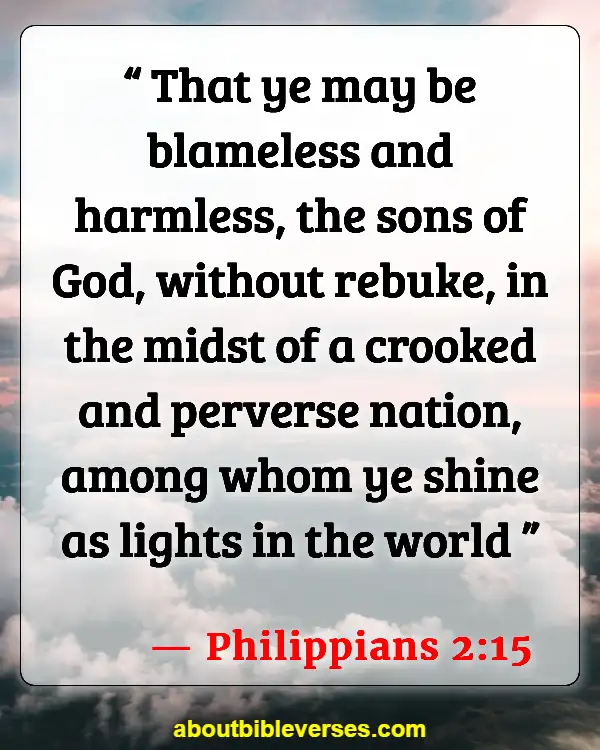 Philippians 2:15
"That ye may be blameless and harmless, the sons of God, without rebuke, in the midst of a crooked and perverse nation, among whom ye shine as lights in the world"
Ephesians 2:2-3
"Wherein in time past ye walked according to the course of this world, according to the prince of the power of the air, the spirit that now worketh in the children of disobedience: Among whom also we all had our conversation in times past in the lusts of our flesh, fulfilling the desires of the flesh and of the mind; and were by nature the children of wrath, even as others"
Hebrews 13:14
"For here have we no continuing city, but we seek one to come"
2 Timothy 2:4
"No man that warreth entangleth himself with the affairs of this life; that he may please him who hath chosen him to be a soldier"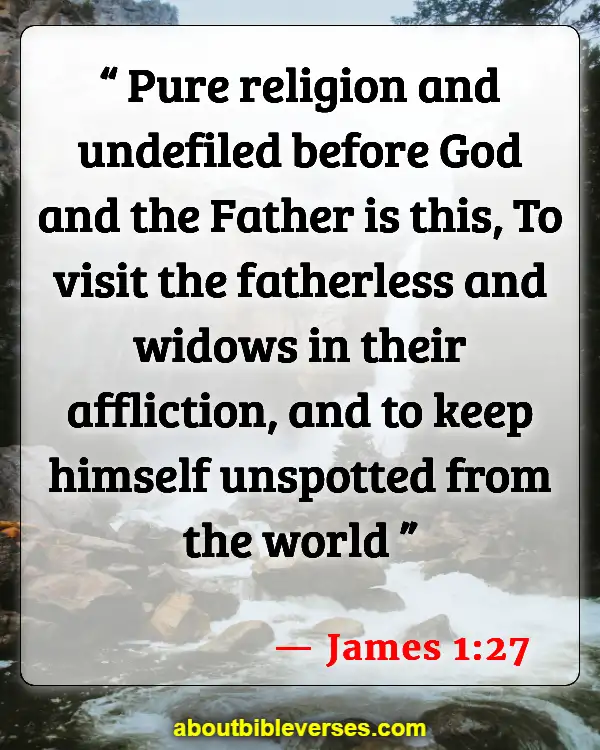 James 1:27
"Pure religion and undefiled before God and the Father is this, To visit the fatherless and widows in their affliction, and to keep himself unspotted from the world"